Product Information

Reinforcing Steel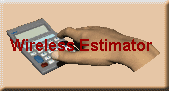 Tower foundation designs are relatively easy for the reinforcement steel fabricator to provide a quick quotation for your proposals. For budgetary considerations, you can use the pricing structure below for pricing by the linear foot or per pound  based upon the foundation design drawings. Smaller projects have been averaging $0.65 to $0.70 per pound. A larger foundation can range between $0.45 and $0.52 per pound. These national averages are for ASTM A-615 Grade 60,  deformed reinforcement bars with a 10% lap allowance, cutting and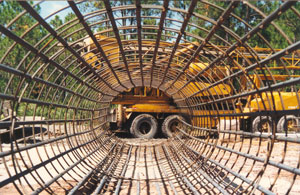 bending as well as shop drawings and delivery to the  jobsite with identify tags per the shop drawings. Add to your material pricing, taxes, chairs, mortar blocks, splicing, spiral caissons, if required. From October of 2003 to 2004, rebar pricing increased 43%. On large projects it is important to get a quotation from your supplier. Many mills are applying surcharges and you may not know what the steel from your fabricator is going to cost you when the project is let. For the past 30 years, reinforcing steel prices have been very steady, keeping in a plus or minus 10% bandwidth. There have been tremendous increases during 2003 and 2004.

Electrically welded steel wire mesh for slab foundations is also priced below with 15% waste and overlap included.
All detailing, fabrication and placing of the reinforcing steels should  conform to the manual of standard practice, ACI 315. If you have trouble remembering how big in diameter a #6 rebar is, multiply 6x1/8" which equals 3/4". Using the same 1/8" calculation, a #4 will be 1/2", etc.
We recommend that you contact our valued reinforcement steel manufacturers and distributors for your site-specific rebar requirements.  
Reinforcement Steel Pricing - Per Linear Foot

 Diameter

 Type

 Pound Per LF

 LF Price

 1/4"

 #2

 0.170

 $0.21

 3/8"

 #3

 0.376

 $0.34

 1/2"

 #4

 0.668

 $0.47

 5/8"

 #5

 1.043

 $0.66

 3/4"

 #6

 1.502

 $0.84

 7/8"

 #7

 2.044

 $1.02

 1"

 #8

 2.670

 $1.25

 1-1/8"

 #9

 3.400

 $1.53

 1-1/4"

 #10

 4.303

 $1.85

 1-3/8"

 #11

 5.313

 $2.13
Reinforcement Steel Pricing - Per Pound

 Diameter

 Type

 Pound Per LF

 LB Price

 1/4"

 #2

 0.170

 $1.21

 3/8"

 #3

 0.376

 $0.90

 1/2"

 #4

 0.668

 $0.70

 5/8"

 #5

 1.043

 $0.63

 3/4"

 #6

 1.502

 $0.56

 7/8"

 #7

 2.044

 $0.50

 1"

 #8

 2.670

 $0.47

 1-1/8"

 #9

 3.400

 $0.45

 1-1/4"

 #10

 4.303

 $0.43

 1-3/8"

 #11

 5.313

 $0.40
Welded Steel Wire Mesh - Electric Weld

 Size/Type

 Unit

Lbs.
100 sq. ft.

 LB Price

 4" x 4" W1.4 x W1.4 (#10 x #10)

 SF

 21

 $0.36

 4" x 4" W2.0 x W2.0 (#8 x #8)

 SF

 29

 $0.42

 4" x 4" W2.9 x W2.9 (#6 x #6)

 SF

 42

 $0.46

 4" x 4" W4.0 x W4.0 (#4 x #4)

 SF

 58

 $0.60

 6" x 6" W1.4 x W1.4 (#10 x #10)

 SF

 31

 $0.18

 6" x 6" W2.0 x W2.0 (#8 x #8)

 SF

 43

 $0.26

 6" x 6" W2.9 x W2.9 (#6 x #6)

 SF

 62

 $0.30

 6" x 6" W4.0 x W4.0 (#4 x #4)

 SF

 86

 $0.44