Material/Installation Information
Bollards
Bollards are used for slowing, redirecting or – hopefully – stopping errant vehicles on communications sites. Clients will require the contractor to install them at locations near generator sets, above ground fuel tanks, equipment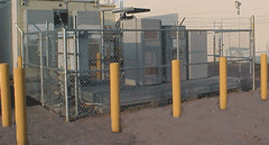 buildings and in front of guy anchor fences to prevent vehicles from clipping the guy wires.
If your project requires compound fencing, get a quotation from your fencing contractor to install the bollards while their crew is on site. Typical details for a bollard will require a 6"x3' above ground galvanized pipe that is encased 2'-6" below ground in a 1'x3' 2000 PSI concrete foundation. The pipe will be filled solid with concrete and crowned at the top. It may be required to be painted safety yellow or be banded with yellow and black.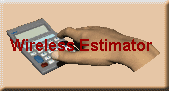 The default pricing is the average budgetary cost for a fencing company, while on site, to furnish and install one bollard as detailed below.
We recommend that you contact our listed fencing companies to obtain additional information about their services, capabilities and 
experience.