Although the nation's major tower owners present a public face of spirited friendly competition and collective initiatives to ensure worker safety, when it comes to protecting their interests it can be a no holds barred battle between them to keep their most valuable assets, their long-term leases. One clash got so nasty that the counter-complainant wanted a leasehold aggregator's executives charged under the RICO Act.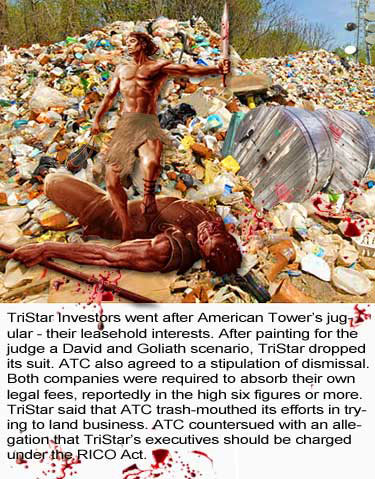 In a lawsuit filed in 2012 requesting a jury trial that was settled last year between lease aggregator TriStar Investors, Inc. and American Tower Corporation (ATC), TriStar alleged that ATC representatives made false statements about their company to landowners to discourage them from conveying their lease to the Pittsburg, Pa.-based company.
It was also found during discovery that two major tower owners were aligned with TriStar to impede ATC's growth.
According to court documents, TriStar alleged that ATC described TriStar's method of operation as "highway robbery" and that the company was a "dirty, rotten, stinking outfit," and a landowner testified that ATC's statements left him "no options" but to stop "entertaining the thought of anything else other than ATC."
TriStar said that rather than competing fairly and acquiring sites through superior offers, ATC systematically deceived landowners across the country, threatening to tear down or relocate towers of landowners who did business with TriStar, and telling landowners that TriStar was going to go bankrupt.
TriStar claimed that it lost property to ATC or paid more to secure a property interest because of ATC's actions at 28 sites.  TriStar claimed that as the number of incidents of misconduct by ATC increased, TriStar's close rate decreased, despite the fact that TriStar increased its marketing expenditures and made allegedly superior offers.
In a court filing, ATC said, "Conspicuously absent from TriStar's Complaint is any reference to the fact that TriStar pursued this lawsuit only after American Tower rejected TriStar's and its bankers' attempts to sell its portfolio of easements to American Tower…".
Crown Castle and SBA sought to keep their ownership silent
In a counter complaint against TriStar, ATC alleged that Crown Castle International and SBA Communications Corporation (SBA) were acting in concert with TriStar to acquire easements under towers operated by them in order to bundle and sell those easements back "at a handsome profit."
ATC said that SBA had made a $2.4 million investment for 9% of TriStar's stock and Crown subsequently bought 14% of it for $13 million and were funding TriStar which ATC said falsely represented itself as "a small feisty competitor to the big tower companies."
ATC also alleged that both SBA and Crown requested that TriStar not disclose to anyone the fact that they had invested in the company that had an acquisition program that was directed entirely at ATC.
In their court testimony ATC alleged: "Crown specifically sent [an email] to TriStar and said, hey, TriStar, to the extent that any landowner with a Crown site approaches TriStar and asks if you're interested in competing for that site, don't tell the landowner about the standstill, or that we're — that we, Crown, are now an investor in TriStar. Instead simply tell them that TriStar is not interested."
The Boston-based tower company also charged them with false advertising and unfair competition.
ATC claimed that TriStar was sending a fraudulent message to ATC leaseholders by telling them that they were a tower operator and when their ATC lease expired, they would share a substantial percentage of revenue being provided by tenants.
There was never an intent to operate the tower sites, ATC claimed, presenting emails to the court where executives from TriStar said "We won't be around in 18 months." ATC said that land grab exit strategy established in 2009 was by design.
In December of 2013 they also stated that TriStar's business model could see the 40-employee business closing their doors by April of 2014 because they were going to run out of cash.
ATC said TriStar had no intention of being a long-term operator since it had been trying to sell its portfolio of easements to ATC and had previously "sold a bundle to Crown." TriStar later admitted that they had also sold easements to SBA.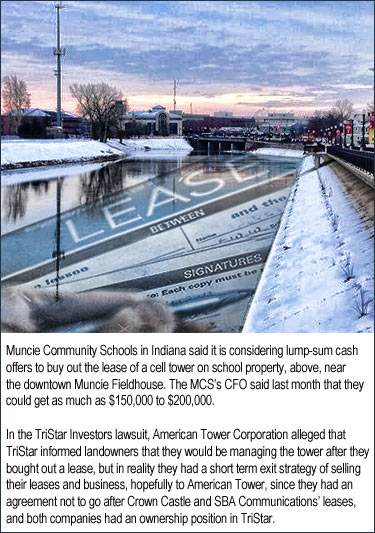 And ATC said that TriStar's commitment to the land owner that they would share in revenues following the lease expiration could not be accomplished because they were going to "either move towers or relocate tenants to neighboring towers wherever possible."
Court document identify that by Aug. 11, 2013, TriStar had acquired property rights, usually in the form of easements, in land on which 594 cell towers were operated by ATC .
TriStar paid approximately $50 million, or $85,000 per site, for these property rights, which allowed TriStar to operate cell towers on these sites when ATC's current leases expired, some as distant as 20 years.
In previous years they had provided a lump sum purchase price to acquire the leases, but in later negotiations offered  the landowner a supplement to their monthly lease rate.
Two towercos invested in land lease protection
Documents were provided by ATC alleging that Crown and SBA had signed a standstill agreement that TriStar would not go after easements under Crown and SBA sites.
ATC said when SBA CEO Jeffrey Stoops was deposed, he said the primary motivation in the transaction was to buy away competition.
Crown's Senior V.P. of Corporate Development & Strategy, Phil Kelley, said, in his deposition, the primary reason for doing the deal, was it allowed Crown to eliminate its "most aggressive vulture competitor."
Antitrust injuries were being sought by ATC and it produced for the court a document from one of TriStar's investors  stating, "I want to hear from TSI management that we are prepared to go to war with AMT, as we will be somewhat single threaded with our targets."
ATC said that Crown and SBA …"would have been interested in weakening one of their stronger competitors by turning TriStar loose and giving TriStar some money."
TriStar would operate in stealth mode, according to ATC discovery.
"They would use Skype so they would have local phone numbers. They would have subsidiaries with names that weren't TriStar. That way American Tower would never know what TriStar was actually doing," ATC informed the court.
When David Ivy, the founder and CEO of TriStar, was speaking to his investors at Wood Creek in 2009, ATC said he stated: "You double, triple, quadruple your acquisition efforts quickly to refocus entirely on American Tower."
ATC said in a court hearing, "The whole point of the scheme to defraud, which, again, must be assumed to be true based upon the evidence, was to acquire fraudulently — fraudulently acquire a critical mass of our tower sites so that they could leverage that into a buyout — a takeout with another standstill agreement. Or better yet, that we would just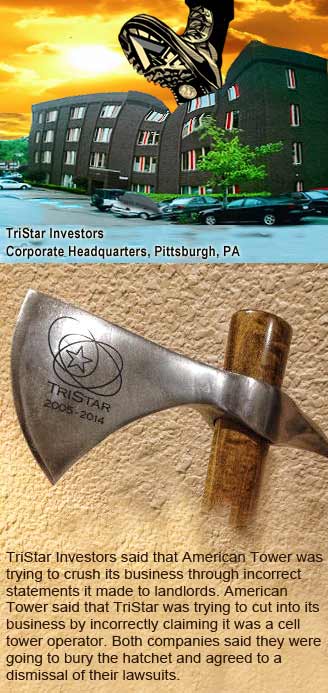 buy them out completely."
Antitrust violations dismissed
Both TriSTar and ATC alleged antitrust violations in their lawsuit, but the court found that ATC lacked standing to pursue a counterclaim antitrust claim against TriStar, and that there was no dangerous probability of ATC successfully monopolizing the national market, given the competition from TriStar, Crown, and SBA.
The court also agreed that ATC's trade secret counterclaim could move forward, but their argument that "promises made with no intention of performing" were not actionable against TriStar's executives under the RICO Act.
While depositions were being taken of dozens of employees and executives, from ATC CEO Jim Taiclet to TriStar CEO David Ivy, who used to serve as Crown's President until 2000, and hundreds of thousands of emails and documents were being requested and reviewed, both parties were unable to settle the case through mediation.
A trial date was set for July 21, 2014, but as it approached, ATC and TriStar agreed to settle the case on July 10, 2014 and absorb all legal and court costs that they incurred, upwards of six figures or more per claimant, according to an attorney familiar with the lawsuits.
By agreement, terms of the settlement were not  disclosed.
Crown might be TriStar's new owner
Last December, Newton, who helped found TriStar in 2005, left the company, according to his LinkedIn page. TriStar did not answer a request for additional details on the settlement. A call to their office last week to inquire if they would be interested in acquiring an American Tower lease was not returned.
An American Tower representative said that it is the company's practice not to comment on litigation.
A number of industry professionals have said that Crown had acquired TriStar in December. A request to the Houston, Tex.-based company for verification has been made by Wireless Estimator.
Earlier this month a landowner with a tower lease received a solicitation from a sales representative with a TriStar email address that identified why working with Crown Castle represented "an excellent opportunity to increase your financial benefit."
The request said that unlike other companies that may have contacted him, Crown was "not here to buy and 'flip' your lease."
The signature block identified that the individual was from Crown Castle at TriStar's Pittsburgh, Pa. address.
Coincidentally, following the TriStar lawsuit, Taiclet, a perennial fixture during PCIA's "View from the Top" conference panel session was replaced by Steven Marshall, EVP and President of American Tower's U.S. division in 2013; the following year Rodney Smith, CFO of American Tower's U.S. tower division represented ATC.
It is not known if Taiclet will join this April's Hollywood, Fla. campfire chat, that is typically bolstered by a bullish future, with the CEOs that attempted to hold his company's leasehold interests hostage for a handsome ransom through TriStar.