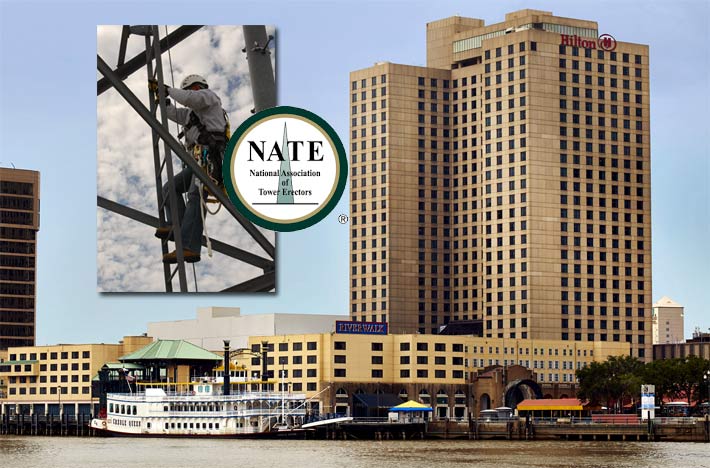 The National Association of Tower Erectors (NATE) today announced the opening of the registration process for the first two Susan Harwood Training grant-enabled courses the organization will be hosting in 2016.
NATE, in conjunction with curriculum and training provider Safety Controls Technology (SCT), is offering a five-day Train-the-Trainer Course from Feb. 21 to Feb. 25 at the Hilton New Orleans Riverside in New Orleans, La. Additionally, NATE will be hosting a five hour Fall Prevention Worker Training Course on on Feb. 25, also at the Hilton New Orleans Riverside.
Applicants do not have to be a NATE member nor register for the NATE conference in order to apply for the free training.
The Train-the-Trainer and Fall Prevention Worker Training courses are offered free of charge to eligible participants and are made possible due to a Susan Harwood Training Grant (SH-27625-SH5) from the Occupational Safety and Health Administration, U.S. Department of Labor. The training grant program honors Susan Harwood, a former director of the Office of Risk Assessment in OSHA's former Directorate of Health Standards, who passed away in 1996. Since 1978, approximately 2.1 million workers have been trained through this program.
"NATE is excited to kick-off our series of 2016 training sessions in February and anticipates that the grant-enabled courses will achieve the Association's primary objectives of helping small businesses enhance worker safety and quality," said Executive Director Todd Schlekeway. "The timing of this training is fortuitous as 2016 is shaping up to be a busy year for the industry's elevated workforce in the wireless, broadcast, public safety and utility sectors," added Schlekeway.
To fulfill the goals of the training grant program, the five-day Train-the-Trainer Course will highlight fall protection in the communication tower industry and will be structured utilizing a trainer apprenticeship model in order to allow course participants an opportunity to gain industry training experience.
The Fall Prevention Worker Training Course curriculum will focus on the hazards in the communication tower industry and includes employee rights, employer responsibilities, whistleblower protection, high angle rescue, principles of fall protection, principles of safe climbing, tower systems, testing safety climb systems, testing personal protective equipment (PPE) and conducting a job safety analysis.
To begin the registration process, interested Train-the-Trainer Course applicants can download the Train-the-Trainer Course registration form . Interested Fall Prevention Course applicants can download the Fall Prevention Worker Training registration form .
Industry employees and employers are encouraged to visit the worker training page on the Association's website for more information on all of training sessions that NATE will be hosting in 2016.