More than 30 years ago, Art Pregler directed the Air Force's complex mission of taking full sized multi-million-dollar fighter aircraft, converting them into drones, and then shooting them out of the sky with new advanced weapons systems.
Today, as director of AT&T's National Mobility Systems, Pregler's role is just the opposite, requiring him to ensure that the carrier's experimental drones remain aloft as long as possible while self-healing AT&T's network with augmented capacity when required, and to make certain that its cell site infrastructure is correctly installed and maintained.
AI could easily provide a pass/fail grade for contractor's work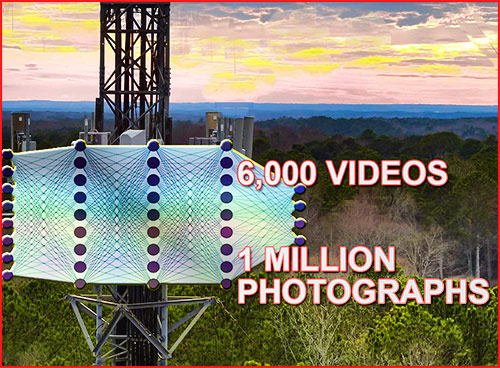 Although AT&T is currently using drones for tower mapping, inspection and network needs, it won't be long before artificial intelligence (AI) software supplants tower tech inspections on equipment from antennas and lines to grounding and other system installations.
And photographs and videos from previous and future work will continue to refine the drone's ability to maintain a high degree of accuracy.
For over ten years AT&T has used a third party audit program that took closeout photographs of their contractors' work, and within the past year the carrier has converted to a video closeout process being completed by tower climbers.
Pregler said that they took six thousand videos and one million photographs and pushed them through a deep neural network to train an algorithm that in the future will identify over 200 components on a cell tower.
"The next step in this process will then be to teach the algorithm good quality versus bad quality. They will do that by pushing a lot of before and after pictures showing examples of bad quality, and after that correction is made, what good quality should look like," Pregler informed Wireless Estimator.
"The algorithm sees these items in the video and it applies a percentage of confidence that it believes that a certain item has."
He said the direction they are going in is to identify the problem and then take the appropriate action which would have their AI digital assistant drone initiate a ticket to dispatch a crew to fix the error.
The next step that AT&T is working on is to train the algorithm to identify defects of the supporting structure.
Will drones cut back on continued tower tech employment?
A report from Price Waterhouse Cooper found that drones could replace $127 billion worth of human labor and services in multiple industries, and one major drone services provider said last year, "We will take tower climbers off the towers. That's our goal and we expect it to fully occur within five years. We are also looking at remote robots that can climb towers. They can use the safety climb as well as the pegs to get up towers."
Pregler believes that is not conceivable in the next four years.
"Our goal is not to take tower climbers off the tower, but to add new resources to their toolkit and help provide an even more safer environment for them. In the future, drones may be able to get to the point where they can fly and clamp on to the tower to do some very minor tasks, but I don't see drones ever – or at least not in the foreseeable future – replacing those types of activities that a tower climber performs," Pregler said.
Drones have reduced manpower for assessing DAS systems
However, it's clear that drones have cut back on the manpower required to assess a stadium venue that requires hundreds of antennas, Pregler said.
He said that in the past, numerous people would have to walk up and down each aisle measuring RF performance so that they could look at the upload and download speeds and latency, and it would take at least four days. With a drone, that same process can be done with a pilot and a spotter in four hours, according to Pregler.
Currently AT&T's drone work is being provided by a number of service providers, but Pregler said that that they were looking at whether it would be feasible to bring  some portions of their drone operations in house.
"We're evaluating whether we want to change that role in the future," Pregler said.
"If a turf vendor wants to use drones, they are welcome to do so providing they are prequalified through AT&T," Pregler said.
Two turf vendors have recently requested to use their own drones and Pregler said that their documentation and programs are currently being reviewed.
A cottage industry of drone service providers has sprung up within the telecom sector offering inspections and training, but many companies have yet to ink their first contract.
Bye, bye, some biologist hours
Since ospreys are fond of nesting on cell towers, especially near a body of water, many states have stringent work site requirements for tower owners, especially during breeding season that requires a biologist to conduct a monitoring observation to make sure that there are no eggs in a nest.
"Instead of having the biologist go out there with binoculars we can now send a drone and fly a non-threatening profile of the tower to know that there is no active nesting on the site. The rest of the process is still the same. And even that imagery is sent to a biologist to make their determination as to whether there is or is not active nesting," Pregler said.
AT&T did a few of the surveys at the end of last year, but the carrier expects to do a lot more, Pregler added.
Drones already paying dividends during inspections
AT&T started inspecting and mapping their towers with drones about a year ago and has the capacity to  perform those services throughout the county, and they went operational in September out of the pilot phase. Pregler said that the inspections have been immensely helpful.
He emphasized the accuracy of the 3D modeling software that provides data that used to be obtained by visual inspections and written size and height references.
Prior to using georeferenced data, heights were calculated through tape drops which oftentimes were as much as six feet or more off in accuracy as they traversed numerous obstacles on the structure.
Pregler said that a key benefit provided by drones is their ability to keep workers from becoming fatigued by multiple climbs.
Nationwide, there have been a number of injuries while tower techs were surveying a tower.
A  22-year-old Lansing, Mich. tower technician  was seriously shocked and burned in 2014 when a measuring tape he was using came in contact with a high-voltage power line adjacent to a self-supporting tower he was working on off of I-96 in Coopersville, Mich.
Security and 5G needs will increase the need for drones
Pregler envisions a number of scenarios where drones can be used in a mobile network.
"There is a point of view within the 5G community to make drones part of the 5G global solution. The 5G network could be a combination of the active cell sites and small cells, and a portion of the network could be comprised of drones that would basically fly around and be controlled by the network where capacity is needed. From 2020 and beyond, it could conceivably happen. There would be a number of regulatory issues that would have to be resolved," Pregler said.
Chopper drone will connect 8,000 users
AT&T is testing a new helicopter drone that has a main rotor with three, two-foot-long blades that can lift 35 pounds. It can rise to 400 feet with a payload of three radios, each of which can provide service to 4,000 people. However, Pregler said, FCC regulations prohibit operators from broadcasting on 850 MHz, so that limits the solution to 8,000 connected users.
The drone may play a key role in AT&T's nationwide FirstNet emergency responders network. The drone employs a tethered cable that connects to a ground connection that supplies the drone with power and a fiber connection, and cell traffic collected by the drone can be backhauled through satellite, microwave or an Ethernet connection.
Pregler said that AT&T had drone crews ready for deployment during hurricane Matthew last September, but the company's hardened network survived the storm and they were not needed.
Pregler, who is responsible for the architecture, development, and evolution of enterprise mobility systems for AT&T, heads the carrier's UAS program and also directs its tower safety program.  AT&T is currently positioning the network to become a backbone for a drone traffic management system.
He previously headed the company's national cell site programs.
Prior to joining AT&T in 2000, Pregler was a policy analyst at think tank Rand Corporation. After being commissioned in the Air Force in 1983, he supported President Ronald Regan's Star Wars Program, and served as an air traffic controller, air weapons controller, and mission control specialist.
AT&T might have a head start on other carriers
Although AT&T has been working on their drone projects for a number of years, other carriers have been slow to embrace the technology.
Last fall, Verizon announced that they were testing a "flying cell site" in New Jersey using a drone with a 17-foot wing span, an initiative in partnership with American Aerospace.
The company also launched a quadcopter to inspect wireless equipment in their regional network following Hurricane Matthew last year.
In 2015 it appeared that T-Mobile was ready to kick start drone usage when it bought a number of UAVs from Dutch drone maker Aerialtronics and was the first carrier known to use them for inspection purposes. But their usage was just in the Netherlands and T-Mobile US, Inc. doesn't appear to employ them in America.
IBM Watson partnered with Aerialtronics to provide an inspection service that would identify damage on cell towers usinging Watson's visual recognition APIs.
The service, said to be similar to AT&T's capabilities, will recognize certain types of structural problems and also apply a confidence rating.
But similar could be far removed from AT&T's algorithm's capabilities and AT&T Labs' experiences that utilize over 130 AT&T patents and 20 years of video analytics and machine research.
Qualcomm's analysis supports the viability of 4G LTE commercial mobile networks
It is likely that Pregler's team was buoyed by last week's extensive report published by chip maker Qualcomm identifying that drones can be safely controlled over LTE networks – providing the carrier with expanded network use opportunities.
The company made over 1,000 flights that showed that drones will get a strong signal at altitudes as high as 400 feet, despite down-tilted antennas, and handover performance was superior to ground mobile devices.
Qualcomm said that existing commercial LTE networks can support initial drone deployment. However, they noted, "LTE evolution will take this to the next level, enabling our vision of wide-scale deployments of drones that are expected to reshape countless industries including construction, delivery, entertainment, insurance, mapping, news gathering, public safety, public utilities, railroads, real estate, agriculture, and wildlife conservation."
Long distance drone delivery record set
A new record has been set in long-distance drone delivery using cell towers to maintain a connection between a drone in the air and a pilot on the ground, rather than relying on a radio frequency.  On May 5, a Nevada UAS Consortium (Team Roadrunner) set the record flying a fixed-wing Unmanned Aerial Vehicle (UAV) over 97 miles to Austin, Tex. using cellular connectivity.