AT&T Labs' top research scientists and engineers, in conjunction with Flex Tape for Towers, introduced a ground-breaking disruptive technology yesterday that is expected to transform the way capacity-challenged towers are retrofitted.
It will also speed up broadband development and add to the towercos' bottom lines, but will clearly force many companies specializing in structural rehabilitation to close their doors as project costs tumble from $100,000 or more to less than $118 which includes labor and free same day delivery.
"The patented carbon fiber tape was envisioned after watching Phil Swift's ubiquitous commercials where he announced, 'I sawed this boat in half'," said AT&T Labs Vice President of Advanced Technology Mazin Gilbert.
"Our team of technocrats would normally ignore this type of partnering opportunity since Swift technically didn't use a saw but employed a discounted Harbor Freight toothless grinding wheel; however, we gave it a shot knowing that if it failed it would never be as bad as our $500 million investment in 1964 for a black and white picture phone that had less than 100 customers. Plus, working on towers is a pleasant change from boring software-defined network advancements that are obsolete a week later," Gilbert informed Wireless Estimator during an exclusive interview.
To demonstrate the tape's other capabilities at the press conference in Florham Park, NJ, Gilbert's research group unsystematically sawed a flying COW into 1,643 jigsaw puzzle-sized pieces and taped them back together, and it was still able to be successfully deployed for nine hours to support the annual Easter weekend Chris Christie George Washington Bridge upper level street fair.
Flex Tape for Towers is available through all major distributors and comes in black and galvanic grey. It meets and exceeds 222-H and is guaranteed not to set monopoles on fire since welding is not required during the less than 15 minute installation  process.
And what day is April 1?
---
Additional April 1 exclusive and investigative Wireless Estimator articles can be found here: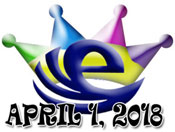 Giant step back for mankind: Supreme Court scrubs Nokia's 4G Moon network launch
Ivanka puts in a hostile bid for 3M, wants crown jewel DBI-Sala
Guyed tower collapses on White House lawn hurling lighting debris into President's office
Anritsu's global success tagged to God and one misspelled word in 1844
American Tower takes AT&T to court and wins a $132 million judgment
From broadband to a blues harp, PCIA Chief splits his time with Broadway