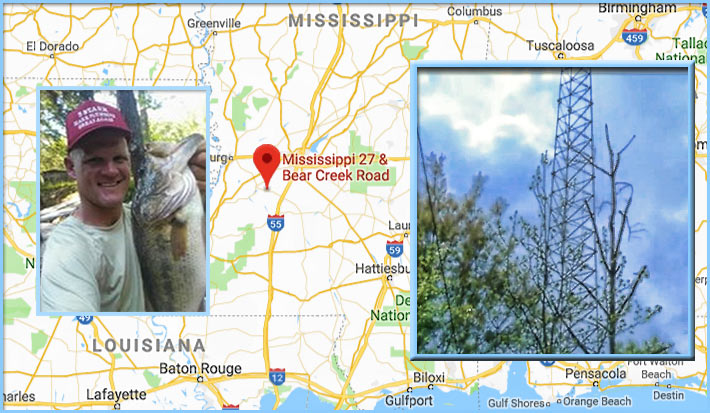 Services have been set for Melvin Ronnie Nelson, Jr., 34, a resident of Foley, Ala., who passed away Mon., April 2, while working on a new Verizon tower installation in Utica, Miss. Nelson was the first industry-related fatality in 2018.
According to Hinds County Sheriff Major Pete Luke, "The tower was being erected just off Hwy. 27 near Bear Creek Rd. in Utica." Investigators are working to determine the cause of the accident. At least two other men were working with the Nelson when the accident occurred. No other injuries were reported, Luke said. The incident happened shortly before 10:00 a.m.
According to an individual knowledgeable of the incident, there were three people on the tower and two on the ground in addition to a crane operator.
Nelson was reportedly tied off twice to an installed waveguide ladder when the ladder failed and detached from the structure. The self-supporting tower was provided by Verizon, according to source information.
The Verizon tower installation's general contractor was Ponte Vedra, Fla.-based Gilly Development Corporation.  Nelson was an employee of Midway Tower Service, Inc., a Saraland, Ala. erection company. Records indicate that Midway was established in 1996 and according to OSHA's database has no citations.
Melvin was an avid outdoorsman, devoted husband, father and son. He is survived by his wife, Teri Nelson, son; Wesley James Nelson, daughter; Clara Elyse Nelson all of Foley, Ala., mother; Elisa Taylor Ramstack (Roger) of Kennesaw, Ga., father; Melvin Ronnie Nelson, Sr., (Mitzy) of Fairhope, Ala., two brothers; William Shane Starr (Randi) of Summerdale, Ala., Michael B. Nelson of Fairhope, two sisters; Tricia Nelson of Fairhope, AL, Sarah Elizabeth Ramstack of Kennesaw, GA, Aunts, Uncles, other relatives and many friends. Funeral services will be held from Robertsdale Assembly of God Church, Saturday, April 7, 2018 at 1:00 pm. The family will receive friends on Saturday, April 7, 2018 from 11:00 am until service time. Interment will follow in Brooke Cedron Cemetery.