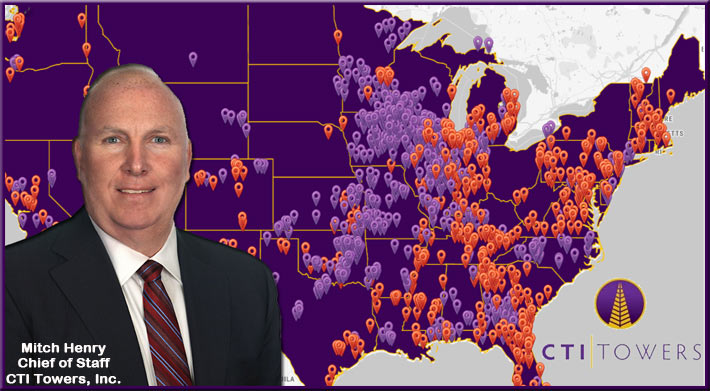 Longtime tower industry veteran Mitch Henry has been named Chief of Staff at CTI Towers. In his new position, Henry will be responsible for managing the day-to-day operations at the company.
"I have known Mitch for almost 20 years and have the utmost admiration for him. He has a complete understanding of the business and has a keen sense of how to improve processes to gain maximum efficiencies in business operations," stated CTI CEO Tony Peduto.
Henry has worked in various management positions at American Tower, and most recently, LendLease, through his career.
"I am very excited to help CTI continue its incredible growth. But with growth, operational challenges dictated by change impact the business. I will be focused on addressing the challenges and working with the team to improve to best serve our customers," Henry said.
CTI owns and manages over 1,100 towers across the U.S.
"As the demand for increased wireless coverage continues in all forms, we believe macro sites will still be the desired locations for our customers when they are sited in areas of demand," Henry added.
With Henry's appointment, Peduto will be focused on continuing to grow the company. "We will continue to aggressively pursue acquisition opportunities that fit our tower profile, but we also will start to move into new businesses in 2020," said Peduto.
Peduto declined to state the "new businesses" the company will pursue in the coming year. "Mitch's hiring is critical to allowing us to work on the new initiatives," Peduto said.