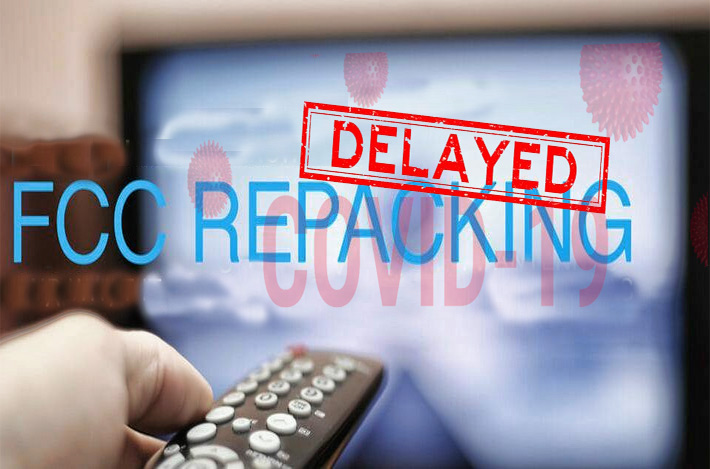 In what appears to be the first instance of COVID-19 directly halting a tower erection and antenna installation's company's obligation to perform contracted services for its broadcast client, the FCC said today that they are aware of and accept the contractor's imposed two-week suspension of field service, including work on repack-related construction, while it evaluates the nation's quickly changing situation for contractors.
"We anticipate that there may be additional suspensions of service and other developments in this unfolding situation that may impact the transition," the FCC said in a statement.
According to Wireless Estimator sources knowledgeable of the contractor's suspension of services, the Southwest company did not have anyone test positive for the virus, but needed to assess its employees' safety no differently than all other businesses in America are reviewing.
The FCC said that the coronavirus has led the agency to allow any station scheduled to complete its post-spectrum auction transition to a new channel in Phase 9 that believes it may be unable to meet the May 1 deadline to apply for a waiver and reassignment to Phase 10.
"We will continue to work with individual stations, including those impacted by COVID-19, on a case-by-case basis. As always, transitioning stations are encouraged to reach out to their assigned Regional Coordinator with specific concerns. At this time, we are not amending any other testing period start dates or phase completion dates in the Transition Scheduling Plan but will continue to monitor the situation and will announce any other changes that may be warranted," the FCC said.
NATE: The Communications Infrastructure Contractors Association welcomed the FCC's extension.
"Over the course of the last week, NATE has reached out to many of our prominent broadcast contractor member companies who are currently on the front lines working on the repack transition. These members provided detailed information to the Association in regards to the challenges the COVID-19 public health threat is having on their respective companies and crews, including the myriad of problems associated with the scheduling, logistics and coordination that are an integral part of this specialized work," said NATE President & CEO Todd Schlekeway.
"NATE will continue to assess this situation by staying in close communication with our broadcast member contractors to monitor both progress and challenges in the event future deadline extensions are necessary," added Schlekeway.
NAB Executive Vice President of Communications Dennis Wharton also agreed with the FCC's decision.
"NAB strongly supports the FCC's additional flexibility with respect to Phase 9 of the TV repack given the uncertainty over tower equipment delivery delays related to the worldwide coronavirus crisis. In this time of uncertainty, it's vital that local TV viewers maintain access to credible broadcast news sources. We look forward to a speedy end to the viral pandemic, and a resumption of work by tower crews to successfully complete the repack and ensure access to our tens of millions of viewers," Wharton said in a statement.
The full statement from the FCC is available online.
---
Editor's Note: If your company has curtailed work or would like to provide information in confidence regarding COVID-19, contact info@wireslessestimator.com.