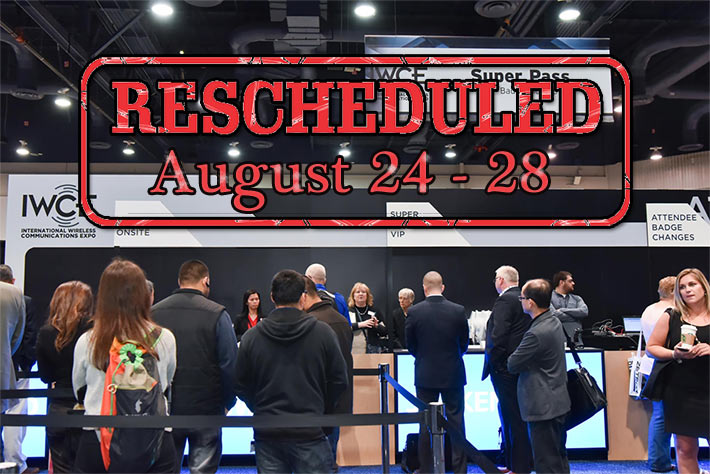 In a there's light at the end of the tunnel announcement, the International Wireless Communications Expo (IWCE) announced that IWCE 2020 will take place on August 24-28, 2020 at the Las Vegas Convention Center in Nevada. ETA's Education Forum will also be rescheduled to take place at this time.
The show had been originally scheduled to begin March 30, but was cancelled due to COVID-19 concerns..
"The health and safety of the IWCE community has always been paramount, so we also appreciate your patience as we have worked through this unprecedented global shift. Keeping the IWCE community informed is our top priority and we understand there will be a lot of questions and concerns following this announcement," IWCE said in a statement.
Questions and concerns should be addressed to iwceoperations@informa.com. Updated show information is available here.
The show, expected to draw over 6,500 attendees from around the world and 400 exhibitors, is the key conference for critical communications professionals.
Vice President Mike Pence said yesterday that Coronavirus disruptions could last 'well into July'.
WIA's Miami show is still a go
The Wireless Infrastructure Association's (WIA) Connect (X) show scheduled for May 18-21 in Miami Beach, Florida has not been cancelled, but industry observers believe it will be due to company travel restrictions that are unlikely to be lifted  by then.
In addition, Miami-Dade County Mayor Carlos Gimenez announced a state of emergency for the greater Miami area, and Miami Beach has postponed all public events.
Forty-two-year-old Miami Mayor Francis Suarez tested positive for COVID-19 on Friday.
In Broward County, three residents of Fort Lauderdale assisted living facilities are believed to be among the latest deaths in Florida from coronavirus, the city's mayor said yesterday.