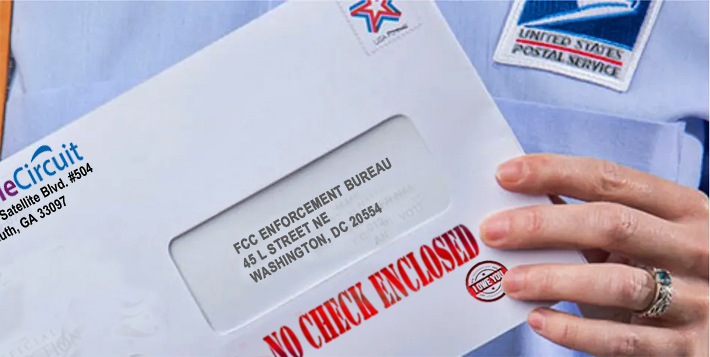 The Federal Communications Commission has fined Norcross, GA-based Tele Circuit Network Corporation $4,145,000 for switching consumers from their preferred carrier to Tele Circuit without permission and adding unauthorized charges to consumers' bills.
Their actions specifically harmed elderly and infirm consumers who, in some cases, were left without telephone service for extended periods while the company refused to reinstate service until the unauthorized charges were paid in full, the FCC said in a statement.
However, the fine appears to be largely symbolic of the FCC's penalizing capabilities, and it's unlikely that the U.S. Treasury will see Tele Circuit pay their federal tab based upon the company's last profit/loss statement that the FCC is aware of that was filed for the month ending January 31, 2020, showing a net loss of $37,472 on an income of $91,775 in its monthly operating report.
Tele Circuit filed for  Chapter 11 voluntary bankruptcy on June 28, 2018, after the FCC proposed a $5,323,322 fine in its Notice of Apparent Liability (NAL) earlier that year.
Its top 20 largest unsecured claims, not including the FCC's contingent liability, totaled $1,571,814, with AT&T accounting for $1,525,309 since Tele Circuit was leasing their wirelines. A subsequent filing identified accounts receivable, cash, and other assets to be $2,697,676.
With approval from AT&T, an order to dismiss Tele Circuit's bankruptcy was issued on March 13, 2020.
Florida had previously cut Tele Circuit's ability to swindle seniors

Tele Circuit ran afoul of the Florida Public Service Commission (PSC) after they investigated a complaint on May 16, 2019 that a customer could not receive the Lifeline discount accorded to low-income customers.
The PSC found that due to a dispute regarding overcharges in billing between AT&T and Tele Circuit, the company was not able to sell wireline service in Florida to new customers. AT&T informed the PSC that it reached a settlement agreement with Tele Circuit that dictated that the company must remove all customers from AT&T lines by December 31, 2019.
The PSC also found that Tele Circuit was untruthful in its 2019 Status of Competition in the Telecommunications Industry Report, failing to state that it filed for bankruptcy within the last year and it was not involved in any FCC enforcement actions within the last two years.
Based upon the information in the FCC's NAL and their research, the PSC issued a Show Cause Order to Tele Circuit requiring them to request a hearing, otherwise, Tele Circuit's ETC status will be revoked in Florida and the company will no longer be able to offer the Lifeline discount to its customers, and Tele Circuit's CLEC certificate will also be removed and the company will no longer be able to provide any wireline service in the state.
Tele Circuit did not respond to the PSC's order. and the commission revoked the company's ETC status and CLEC certificate on December 17, 2019.
According to Tele Circuit's web site promoting their subscription plans available in Florida and other states, the company's ungrammatical promotion states: "We offer subsidiary plans for senior citizen where they can enjoy local, long distance, Wireless and DSL service in very affordable price. In order to have more discount on the home phone service you should be getting any govt. assistance which proofs your low income and we promise you a low rate."
FCC states that Tele Circuit refused to reinstate service unless bogus bills were paid
The FCC yesterday said that Tele Circuit's actions specifically harmed elderly and infirm consumers who, in some cases, were left without telephone service for extended periods of time while the company refused to reinstate service until the unauthorized charges were paid in full.
"Many Americans, especially senior citizens, low-income consumers, and citizens in rural areas, rely on local and long-distance calling services from landline phones to provide a critical link to safety services and their communities. The FCC's Enforcement Bureau investigation—which was first prompted by consumer complaints—also found that Tele Circuit had deceptively marketed its services, including by falsely claiming that its telemarketing calls were from the consumer's current carrier," the FCC said.
According to the FCC, the telemarketers also discussed a fictitious government program for low-income individuals and senior citizens as a way to solicit consumer consent. Following such calls, the company switched consumers' local and long-distance service providers—often called slamming—and, in some cases, added unauthorized charges to the consumer's bill—often called cramming.
Tele Circuit apparently disconnected local and long-distance service in some cases after not receiving payment for the unauthorized charges. Consumers filed complaints with the FCC, state regulators, and the Better Business Bureau, which rates the company with an "F".
Similar to Florida's PSC inquiry, the FCC said Tele Circuit failed to fully respond to formal inquiries from the Commission.