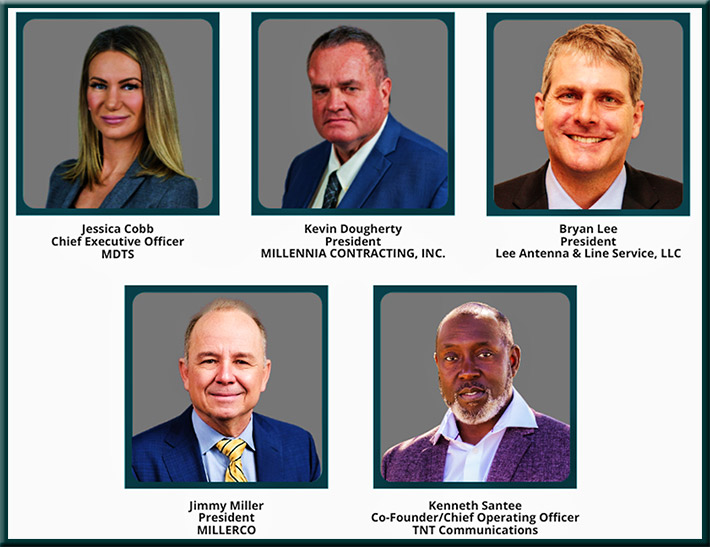 NATE: The Communications Infrastructure Contractors Association released the official results of the 2022 Board of Directors election. The Association announced that Jessica Cobb, Chief Executive Officer of MDTS in Ortonville, Michigan, Kevin Dougherty, President of MILLENNIA CONTRACTING, INC. in New Castle, Delaware, Bryan Lee, President of Lee Antenna & Line Service, LLC in Springtown, Pennsylvania and Jimmy Miller, President of MILLERCO in Gulfport, Mississippi were re-elected and will retain their respective seats on the NATE Board of Directors.
NATE also announced that candidate Kenneth Santee, Co-Founder/Chief Operating Officer at TNT Communications in Frisco, Texas was elected to serve as a new member of the Board of Directors. Santee possesses over 29 years of experience in the telecommunications industry with a significant focus on tower erection, antenna and cable installations, tower modification inspection, and microwave systems.
The five candidates who were elected by their industry peers will officially begin their new terms in February at the Board of Directors meeting that takes place in conjunction with the NATE UNITE 2022 Conference in Las Vegas, Nevada.
"On behalf of the Association's over 1,030 member companies and staff, I would like to offer my congratulations to Jessica, Kevin, Bryan, Jimmy and Kenneth on their successful election bids. I would also like to thank all of the declared candidates who threw their hat in the ring to run in what was a very competitive and closely contested election," said President & CEO Todd Schlekeway.
"2022 is poised to be a banner year for the Association's member companies as generational investments are made for the deployment of mobile broadband infrastructure that will serve to simultaneously help close the digital divide and continue to scale 5G in the United States. Additionally, NATE's leadership will continue to work diligently in the new year to establish a positive rapport and broker meetings with the corporate executives from the industry's top carrier and vertical realtor customers in order to seek collaborative solutions to the current marketplace, pricing and workforce pressures that small business contractor firms are experiencing,"  Schlekeway added.