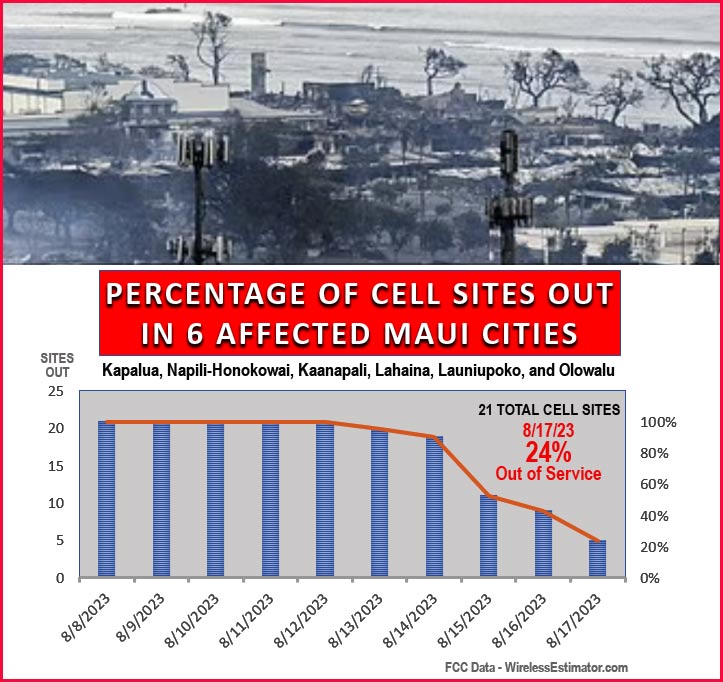 Although cell phone coverage has improved significantly in Maui today with only five out of 21 cell sites on the west coast out of service, the death toll has risen to 111, and according to authorities, more than 1,000 people are estimated still to be missing.
The five sites represent an out of service amount of 24%, about half of what it was just two days ago.
The FCC said that numerous wireless companies have deployed mobile assets to support their services while fixed cell sites are being restored..Cable and wireline companies reported 16,700 subscriber not having service in the six city disaster area, the same amount they reported on Tuesday.
Most of the cell sites out of service were on top of buildings. Two key cell sites in Lahaina were Crown Castle multi-tenant 120-foot monopoles that survived the firestorm, but some base station equipment might have been damaged.
Yesterday, Maui's Emergency Management officials defended their position of not using the island's sirens, stating that they would typically be used to warn of a tsunami which would have had residents and tourists running to higher ground where the wildfires were more severe.
On Wednesday, officials said that 35 autopsies have been completed and seven people have been identified — five by fingerprints and two by DNA.
There has been wide speculation that downed power lines sparked the wildfires.