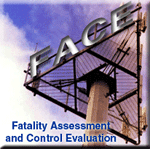 Improper equipment and rigging techniques will eventually lead to a catastrophic failure
Every accident that occurs provides us with a learning opportunity. In this case, the results were catastrophic, but the learning opportunity cannot be overlooked. Only by reviewing the facts that are known can we truly appreciate what happened, and take step to make sure it never happens again.

Based on the information available, we can determine:

Rope and Loading

Weight of load on the line:
(3) men averaging approximately 200 lbs each
(3) safety harnesses, tools, etc… averaging approximately 40 lbs each
rest platform approximately 175 lbs
Rope weight at the hoist (approximately) = 280 lbs
10% friction value of load weight applied to hoist block = 117.5 lbs

Total weight on line (approximately): 1,292.5 lbs
The rope involved must also be considered:
¾" diameter NYLON rope breaking strength: 14,200 lbs
¾" diameter NYLON rope weight per 100': 14 lbs
¾" diameter NYLON rope safe working limit: 7:1 (2,028 lbs)
¾" diameter NYLON rope safe working limit reduction due to knots or loops tied within: 40% - 60%
Approximate safe working limit of rope used considering all factors: 1,216.8 – 811.2 lbs

Capstan Hoist Safety Awareness

Hubbell Power Systems has an excellent article online. Please see: Capstan hoist safety.

Certainly, there are some basic tenants of capstan safety that are brought to light herein, the most notably being: "Never lift people or loads over people". Additionally, we previously identified that the approximate load on the line was 1,279 pounds, yet the capstan hoist rating at the time of the accident was 1,000 lbs. Again, we can appreciate why the failure occurred.

Additional Thoughts & Lessons Learned

A capstan hoist should never, under any circumstances, be used to hoist personnel to any height. These devices are not "man rated" and are not safe when used to hoist personnel.

What system was used to "dog" or tie-off the fall line? Capstan hoists are generally equipped with a rope lock device specifically designed to lock the rope in place in the event of slippage or loss of control with the load. While a response to this question has not appeared in the report, it is worthy of consideration.

Improper rigging techniques and calculation methods can eventually lead to a failure of any or all rigging systems. A knot or loop tied into a section of rope can reduce the breaking strength of the rope by as much as 80% depending on the type of knot or loop used. This is very significant when the weight of the load is considered, and must be incorporated into every engineering calculation.

Finally, despite the tragic outcome, we must again question what valid and formal experience and/or training did each employee possess? Proper training would have taught the employees that techniques used were not safe or in accordance with industry standards, and may have avoided the tragic outcome.

In this industry, with the risk factors ever present, managing the risks become critical. Safe work practices, enforcement of safety rules and regulations by supervisors, errorless engineering, and well maintained equipment is critical.

Steve Wilder
Jason McBride
Steve Wilder is V/P of Training and Development for CITCA, the Communications Industry Training and Certification Academy in Bradley, IL. He can be reached at 815-933-8662. Jason McBride is a Senior Project Manager for Midwest Underground Technologies, Inc. in St. Louis, MO.