PA site audit climb is fatal for New Jersey worker
April 13, 2006 - A 40-year-old New Jersey man died yesterday afternoon while climbing a monopole in Rockledge, PA to photograph existing antennas for Cingular Wireless.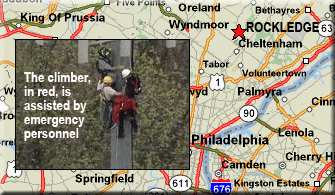 Police authorities say that Gerardo Rivera of Paterson, NJ, was climbing the cell tower in order to take photographs of the existing antenna array when he lost consciousness and fell backwards into his safety harness.
Two climbers from another contractor were on the ground and saw Rivera hanging from the pole. They quickly climbed the structure and contacted the Rockledge Fire Department.
The man was transported to Abington Memorial Hospital where he was later pronounced dead. Officials believe he may have suffered from a heart attack or some kind of seizure. The Montgomery County Coroner's Office will conduct an autopsy to identify the cause of death.
Suspension trauma could have contributed to Rivera's death. Industry experts say that following an arrested fall, climbers that remain suspended in an upright position for more than five minutes can die from the trauma that occurs when blood flow is restricted to the heart. (See: Will your safety harness kill you?)
Chief Gerald Morris of the Rockledge Fire Department had a different accounting of why the climber was on the tower in one media report, stating that the man was an employee of a sign company and had permission to climb the tower to take photographs of the area.

Mississippi man's death sets fatality numbers above total of all of last year
April 11, 2006 - A 51-year-old Mississippi man fell to his death yesterday afternoon from a 185' monopole that he was working on in The Woodlands, TX, according
to Precinct 3 Constable's Sgt. Kevin Ray.
The decedent was identified as Roy Allen Greenwood of Horn Lake, an employee of American Tower Corporation. Ray said the cause of Greenwood's fall is unknown and investigators were taking physical evidence from the scene so that it would be available for OSHA inspectors that were expected to be on site today. The monopole is owned by American Tower Corporation and was equipped with a safety climb device, but it was not known if Greenwood was attached to it when he fell.
Sgt. Ray said that the rigger was the only person on the tower when the accident occurred at 3:30 p.m. Two other employees were working as ground personnel.
Greenwood's passing is the eighth industry death this year of workers falling from a communications structure. Last Thursday, 39-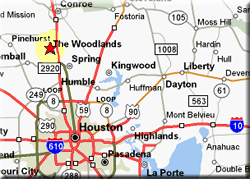 year-old Steve Gates fell from a cell tower in Milan, Tennessee. He reportedly fell from approximately 40' and hit an equipment shelter prior to landing on the ground. The climber was a resident of Walnut Ridge, Arkansas.
The alarming frequency of fatalities during the first four months of this year has industry safety leaders concerned. During 2005 there were only seven deaths.

PCIA urges Ninth Circuit to uphold District Court decision regarding 1996 Telecommunications Act
April 10, 2006 - PCIA - The Wireless Infrastructure Association and member company T-Mobile jointly filed an Amicus Brief with the United States Court of Appeals for the Ninth Circuit (Ninth Circuit) supporting Sprint Telephony PCS, L.P. (Sprint) in the case of Sprint Telephony, PCS v. County of San Diego.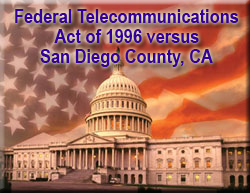 The case comes before the Ninth Circuit on appeal by the County of San Diego challenging the decision of the District Court for the Southern District of California (San Diego) in favor of Sprint. The District Court ruled that Section 253 of the Federal Telecommunications Act of 1996 preempted the San Diego County Ordinance, which governs the siting of wireless facilities, because the overall effect of the ordinance would prohibit the provision of telecommunications services.

"This case has the ground-breaking potential to finally clarify the relationship between localities and the federal government in wireless siting," said PCIA President & CEO Michael Fitch.

"Section 253 of the '96 Act enables wireless providers to challenge local zoning ordinances on their face - to limit the applicability of this section would dramatically alter the delivery of wireless services across the country," Fitch explained.

Limiting liability for negligent hiring of independent contractors if they cause an accident
By Mark A. Lies, II
In the wireless construction industry, it is frequently necessary for a party (e.g., employer, landowner) to hire an independent contractor to perform a task
which requires specialized knowledge or expertise (e.g., construction, demolition) or tools or equipment (e.g., cranes, excavation equipment, welding, etc.). The organization that hires the independent contractor as a general contractor, subcontractor or otherwise to perform the work does not want to incur liability for the acts of the independent contractor if it causes an accident involving personal injury or property damage to third parties. This article will discuss the potential liability issues involved and recommend certain steps to limit liability. See: Contractor Liability.

Simon's American Idol is partly to blame for Cingular's stand down resulting in idle crews
March 31, 2006 - An inordinate amount of service complaints by Cingular Wireless customers in the past month forced the cellular carrier to quickly identify where the network problems were coming from.
Thousands of dropped text messages contributed to customer complaints, many of them coming from irate American Idol fans unable to vote for their favorite contestants where candidate selection is allowed up until midnight - a time when some cell sites are taken out of service for maintenance.
Cellular contractors were informed late Monday evening that all projects affecting cell site service, such as antenna swap outs and power bay changeovers were to be discontinued until next Tuesday, say contractors who have received written notification. The hiatus will allow Cingular to identify what portion of their customer problems resulted from sites being taken off the air.
Earlier this month, Cingular projects under the management of Bechtel Corporation were stopped for a few days while the company assessed contractors' safety programs following a rash of tower climber accidents and fatalities. Rumors spread throughout the industry this week regarding the cause for Cingular's construction halt.
This week's Cingular shutdown required some contractors to move their crews to unaffected Cingular installs or other wireless projects. Smaller companies were forced to provide shop time for their employees or have them remain idle for the week.

Vandals topple four 197-foot Arizona
guyed towers

March 29, 2006 - Vandals took a torch and toppled four 197-foot radio towers that were part of a seven-tower AM array in Black Canyon City, AZ, authorities said today.

The guyed structures were heavily damaged, ripping up ground screens as they collapsed.
A Yavapai County sheriff's office spokeswoman, Susan Quayle, said the vandalism occurred late Tuesday at the Krazy Horse Ranch Polo Club, which is west of Interstate 17 in the community 30 miles north of Phoenix.
The polo club's ranch manager heard the towers crash and reported the incident about 10 p.m., but there were no injures to people or horses at the ranch, Quayle said.
See: Station may be sold.

One dead, one injured when cable snaps during descent following Virginia antenna installation
March 28, 2006 - An Alaskan rigger was critically injured and his Virginia co-worker was killed yesterday when the hoist line they were riding snapped as they were being lowered to the ground following an antenna installation in Martinsville, Virginia.
Martinsville police officials say that Gregory David Harrington, 60, of Long Island, VA
was pronounced dead at Memorial Hospital of Martinsville & Henry County shortly after the 3:30 p.m. accident. Michael John Hinsberger, 48, of Kasilof, AK, was transported to Roanoke Memorial Hospital. Both broadcast technicians were employed by Sky Tower Service of Lynchburg, VA.
Harrington and Hinsberger were reportedly being lowered to the ground by the winch operator when the hoist cable broke at approximately 30'. They had just completed installing a 30' broadcast antenna for WYAT-TV on the 403' WMVA-AM radio tower when the accident occurred. Both stations are owned by Martinsville Media Group.
The Sky Tower Service crew had been working on the installation project since Thursday, a spokesman for WYAT-TV said. The station was moving their antenna from their Chestnut Knob tower location to the WMVA-AM self supporting tower on Chatam Heights Road.
WYAT previously told their viewers that the antenna removal and installation was designed to keep the station off air time to a minimum yesterday. "Our engineers have installed new equipment so that the change on Monday is hoped to happen much like an "unplug it - move it - and plug it back in," said Bill Wyatt, the station's owner.
Virginia OSH was expected to be on site this morning. One area of their investigation will be to identify whether the tower crew did pre-lift testing, had the proper equipment, and followed the safety requirements set forth in the OSHA Instruction for hoisting employees on the hoist line. Investigators will also identify whether the wire rope used to lower the men came in contact with a high radio frequency field on the AM tower causing RF arcing which could part the cable and cause it to break.
Harrington was the the sixth tower worker this year to be killed after falling from a communications structure.

Purchase of AAT expands SBA's tower count by
55 percent, shrinking the big five to four

March 17, 2006 - SBA Communications of Boca Raton, FL, is boosting its tower portfolio with the purchase of AAT Communications Corp., the fifth largest tower owner in the US and the only remaining privately held company with a large national footprint. The $1 billion deal involves $634 million in cash and 17 million shares of stock.
According to company news releases, the AAT asset agreement will increase SBA's tower portfolio by 55 percent. AAT's portfolio consists of 1,855 owned tower sites and 250 managed sites in 44 states. SBA owns and operates 5,500 towers in 47 states, Puerto Rico and the U.S. Virgin Islands. The combined company expects to report annual savings of between $8.5 million and $10.5 million, according to SBA.
Please see: AAT Purchase
Serious injuries suffered by Miami rigger

March 16, 2006 - A 23-year-old tower technician was seriously injured this afternoon after falling from a 40' rooftop mounted guyed tower in Miami, FL.

He was working on the cell site structure on top of a three-story BellSouth building at Southwest 17th Avenue when he fell to the roof. Miami-Dade emergency personnel lowered him to a waiting ambulance using an aerial truck ladder.

The tower technician was brought to Jackson Memorial Hospital with multiple head and body injuries described as being serious by rescuers. Emergency responders said he was wearing safety equipment when he fell. Miami-Dade officials did not identify the man's name or his employer.

Iowa climber dies after falling 150' in Kansas
March 14, 2006 - A 28-year-old Iowa man died this afternoon after he fell 150 feet from a communication tower in Gladstone, KS.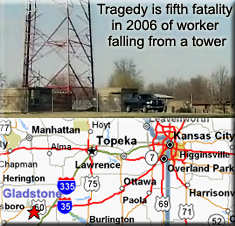 Police officials say Kyl Scieszinski, 28, of Knoxville fell approximately 150' while working for Interstate Tower Inc. of Hawarden, Iowa.

He is the fifth tower worker this year to be killed after falling from a communications structure. Last Friday an Alabama tower technician, was killed after an antenna fell upon his head as he exited an equipment shelter.

Today's accident occurred about 1:30 p.m. near the intersection of North Forest and Northeast 68th streets. Investigators have not determined how the man fell. He was one of two workers on the tower, and three other workers were on the ground at the time of the accident, said Sgt. Richard King of the Gladstone Department of Public Safety.

King said the Occupational Safety Health Administration was investigating. He also said the man was wearing a harness when emergency crews arrived, but authorities were trying to determine how he could have fallen while wearing it.

A supervisor with the crew, Jason Kohnen, said the tower crew occasionally does fall protection training. The crew had been working about two weeks on an upgrade for cell phones at the site, Kohnen said.

"Not only was he our friend," Kohnen said, "but we have to continue to work and make sure things are safe for workers," Kohen told the Kansas City Star.

Unavoidable employee misconduct seen as valid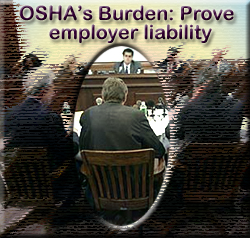 defense to OSHA citations

By Mark A. Lies

As most employers are (or should be) aware, there are literally hundreds and, in some industries, thousands of federal and state OSHA regulations regarding occupational safety and health which may apply and which create potential civil and criminal liability for the employer and managers. There is a primary defense available to an employer against such liability - unavoidable employee misconduct.
Please see: OSHA Burden


Wall Street cool to Crown's strong revenue growth
March 1, 2006 - Although wireless tower operator Crown Castle International Corp. yesterday reported an 11% year-over-year increase in site rental revenue, which decreased the country's second largest tower owner's fourth quarter loss, the market discounted the good news and Crown Castle's shares dropped almost 5 percent in value, down $1.46 to $29.89.
Crown Castle said its net loss in the fourth quarter was $23.3 million, or 21 cents per share, compared to a loss of $87.7 million, or 44 cents a share a year earlier. Excluding special items, the company had been expected to lose $24.5 million, or 10 cents per share.
Total revenue was $178.6 million, up from $157.7 million a year earlier and ahead of the average forecast of $174.7 million. Please see: Crown Castle


Erectors association selects Doty to lead industy

February 13, 2006 - At its annual meeting today in Orlando, the board of directors of the National Association of Tower Erectors elected Don Doty to head the organization during 2006.

Doty replaces Craig Snyder who resigned as chairman after serving NATE for the past four years. Also selected by the board to fulfill key roles were Pat Cipov, Vice Chairperson and Terry Sharp, Secretary/Treasurer.

Please see: NATE Election

National Association of Tower Erectors 2006
Directors
Don Doty, Chairman
Doty-Moore Tower Service, LLC;
Cedar Hill, Texas


Pat Cipov
Cipov Enterprises, Inc., Vice Chairperson; Sumter, South Carolina

Terry Sharp
Secretary/Treasurer, Grant Tower, Inc.; Grant Michigan

Ron Romano
Installation Services, Inc.; Genoa, Illinois
Jim Coleman
Southern Broadcast Services, Inc.; Pelham, Alabama

Dave Anthony
Shenandoah Tower Service, LTD; Staunton, Virginia
William Gathright,Sr.
Brook Hill
Communications, Inc.; Mechanicsville, Virginia
John S. Hanna, Jr.
Tower & Communication Services, Inc.; Florence, South Carolina
Kevin Reski
Great Plains Towers, Inc.; West Fargo, ND
Cell tower climbers surface as having the most dangerous job in America
January 30, 2006 - Based upon the latest national census of fatal occupational injuries from the Department of Labor's Bureau of Labor Statistics, workers who are required to climb cell towers and other communications structures throughout the country have been identified as having the most dangerous job in America.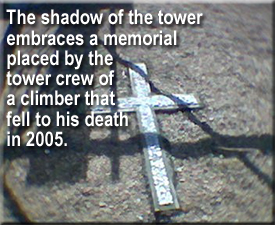 In previous years, inaccurate Occupational Health and Safety Administration coding and an unknown total of tower climbers prevented the tower erection and maintenance industry from revealing the most fatalities per 100,000 workers.

Although tower climbers are one of the smallest specialized construction groups with approximately 8,700 employees, they had ten fatalities from workers falling from a tower in 2004, representing 115 deaths per 100,000 workers. Please see: Climber Fatalities .

Andrew and American Tower compete to wire New
York's subway stations
January 19, 2006 -- Following years of divesting itself of holdings that did not meet its core business model, American Tower Corporation has changed its strategy and hopes to wire 280 subway stations for cell phone use and run the system for 10 years, the Associated Press reported yesterday.
The New York City bids received Wednesday mark a significant step in a long-running effort to make cell phone service available to the millions of New Yorkers who lose mobile phone communications when using the subways. Please see: Subway Contract


Tower industry personnel become nature's target of choice during winter construction months
January 11, 2006 - A South Carolina tower tech curses the bone-chilling 30°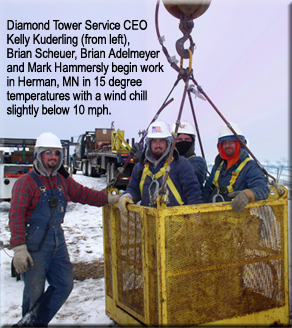 temperature he's working in. From his advantage point of 160 feet above I-26, he wouldn't be surprised to see an Iditarod dog team heading towards Columbia on a rarely seen snow dusted highway.
At the same time a Fairbanks, Alaska climber is thrilled with the morning's warm weather report of -20° for most of the day in an environment that can see extreme cold temperatures of -60°.
However, both climbers are equally as susceptible to lose too much body heat causing the inner body temperature to fall to dangerously low levels which can cause hypothermia and even death. Numerous fatalities a year are attributed to hypothermia which results when the body's internal temperature drops below 95 degrees F. Please see: Cold Weather Work