Industry safety report card:
IT'S APPALLING!
August 16, 2007 - Last year was a slightly safer one in general for workers in the United States; 5,703 died on the job, down from 5,734 deaths during 2005. The rate was 3.9 per 100,000 workers, minimally lower than the 4.0 per 100,000 in 2005.
Unfortunately, for workers earning their living by erecting or installing equipment or providing maintenance on communications structures, the fatality rate skyrocketed making the niche industry construction group the most dangerous profession in America.
*The most dangerous jobs by fatality rate in 2006:

Rank

Occupation

Death rate
per 100,000

Total deaths

1

Tower erectors/climbers

183.6

18

2

Fishers and fishing workers

141.7

51

3

Aircraft pilots

87.8

101

4

Logging workers

82.3

64

5

Structural iron and steel workers

61.0

36

6

Refuse and recyclable material collectors

41.8

38

7

Farmers and ranchers

37.1

291

8

Electrical power line installers/repairers

34.9

38

9

Roofers

33.9

82

10

Driver/sales workers and truck drivers

27.1

940

*Bureau of Labor Statistics. Tower erectors/climbers statistics from WirelessEstimator.com
Eighteen workers died in 2006 from falling from a communications tower in a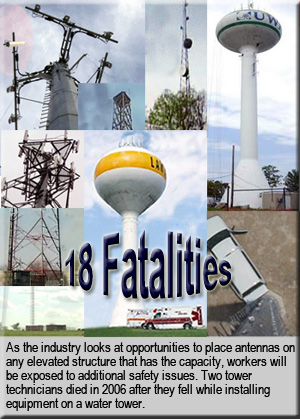 profession that has approximately 9,800 employees that work on elevated structures primarily for the cellular and broadcast industries - although broadband activity is increasing throughout the country and wireless internet service providers' installations are adding to the current busy workload.
With a failing report card of 184 deaths per 100,000 employees, tower climbers surpassed fishing workers' 142 fatalities. Aircraft pilots came in third with 88 fatalities and structural iron and steel workers were at 61 deaths per 100,000 workers, according to annual statistics released last week by the Department of Labor's Bureau of Labor Statistics. Fatal tower worker injuries and the national number of climbers were compiled by WirelessEstimator.com.
BLS statistics have become the recognized bellwether for annual rankings for identifying dangerous professions although some of the data is based upon surveys that might be skewed by incorrect fatality classifications.
Cause for rise remains elusive
During 2005, the number of wireless construction fatalities totaled seven, down from a 2004 count of ten. Safety initiatives and training seemed to be working and the industry exhaled a collective, but short-lived sigh of relief. Eighteen fatalities during 2006 had company owners, climbers and safety professionals struggling to identify what happened.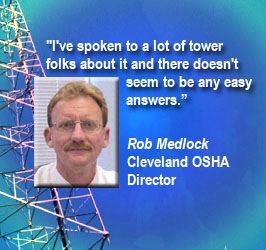 "I think everyone associated with the industry was very concerned with the jump in fatalities last year," explained Cleveland OSHA Director Rob Medlock.
"I've spoken to a lot of tower folks about it and there doesn't seem to be any easy answers. There has been so much progress and emphasis on tower safety over the past several years that we had been hopeful of a continued decrease in the fatality rates and not the contrary," he said.
"I think we must be careful not to judge the tower industry's progress and commitment to safety solely by the fatality rate. It does, however, demonstrate that we can never be satisfied with status quo and must always strive for improvement opportunities."
Medlock was OSHA's first director to embrace the need to work in concert with the National Association of Tower Erectors. He said he is excited about the new NATE / OSHA National Partnership that began this year, and also with some of the outreach efforts that OSHA is undertaking such as the OSHA 500 tower courses scheduled later this year with the University of Cincinnati OSHA Ed Center.
Stronger regulations urged to stem fatality tide
Steve Wilder, Vice-President, Training and Development for CITCA - The Communications Industry Training & Certification - agrees that the NATE / OSHA partnership provides valuable benefits, but he emphasizes the need for accountability in the industry, stating, "There are still companies out there taking the 'any port in the storm' approach. Their only focus is on speed and cost…get it done as fast as possible at the lowest cost. Worker safety receives little if any attention."
Wilder says that as an industry, reputable companies must continue to push for stronger regulations that will require solid safety programs, and place the most severe penalties on companies that fail to comply.
He emphasized that training can't be a shortcut to meet minimum OSHA requirements. "I've heard all the arguments against an organized training program, and they fall on my deaf ears. The industry has a high turnover rate, and yes, training can be expensive. Just the same, until our industry has established minimum training standards for all tower climbers, I don't see the needed changes happening as expediently as they should," he said.
Wilder said that many company safety officers are promoted from within, and accept the new responsibility with the best of intent, but without the proper training, "they will be about as effective as a garden hose at a five alarm fire!"
Putting safety above all else
Bubba's rope and a truck company has long been vilified as the primary reason for the high fatality count, but statistics partially counter those claims.
In 2006, although some of the 18 fatalities were from small, fairly new companies, the majority were established businesses. One company was a well-known Iowa erector that had been operating one and two crews for 23 years and took an active role in supporting NATE's safety initiatives. The owner and two of his employees died in June after they fell 1,100 feet from a television tower when the line they were riding snapped.
Wayne Bowyer, Shenandoah Tower Service's safety director, is convinced that too many companies do not truly care about their people and do not put safety above all else.
"They need to realize that their people are their most valuable and precious asset. They need to train and equip their folks to get the job done and more importantly - get it done safely!"
"This industry has so much going on today that too many people think they can get into it and get a 'piece of the pie'. Buy a truck, harness, tools and a little insurance and you're in business. That's just the tip of the iceberg. There's much more under the surface that you have to be aware of," he cautions.
"Too many customers just want to 'get it done so we can get on the air'! As a result, they push the contractor and the contractor pushes the employees. And the employees are falling," he said.
Additional companies entering the industry
Many general contractors are keeping their climber count at a minimum, preferring to manage the project instead of maintaining a large workforce in a volatile market that can see multi-million dollar projects put on hold for as long as six months or more.
A number of companies that had over 20 field personnel in 2005 are still in business, but have pared their workforce to only a few climbers and project managers with some of their former employees providing subcontracting services.
Jim Braniff IV, Area Sr. Vice President for Arthur J. Gallagher Risk Management Services, has seen part of that business model shift. "In the last four months we have seen a 40% increase over last year in new businesses," he said.
AJG manages the NATE insurance program that has also seen a marked improvement over last year of 35% new clients from the safety group.
Braniff said that many of the companies he is insuring have been in business for a period of time, but have joined NATE to be able to capture many of AIG's benefits that are provided to the association's members. The insurance program in the last couple of months has been underwriting automobile, property and inland marine, which includes equipment floaters. It previously provided primarily general liability and workers compensation coverage.
Sarah Barton, who manages the insurance program for AJG and NATE, said that there is a growing concern about workers compensation categories that some new and established companies are using -- with tacit approval being provided by other insurers. They're purposely misclassifying their employees' work in order to take advantage of lower rates, she said.
According to Barton, 7612 is the main climbing code but sometimes companies will put it in 7601 (telephone or telegraph line construction), 5190 (electrical wiring within buildings), 9014 (building maintenance), or 9516 (television, radio, audio, video equipment installation and repair).
"Sometimes they try to use 5606 (executive supervisor) and classify the supervisor's payroll in this code. That's okay as long as the supervisor is not supervising climbers and climbing himself," she said.
Although Barton said that audits will oftentimes identify these inaccuracies, and the insurer will charge the company if they're still in business, she believes that that type of management reflects upon the company's culture and they will oftentimes sacrifice safety over earnings.
For some contractors a safety program is just a formality
A certificate of insurance is the extent of the overall risk management focus for some companies that are entering the industry and are required to provide proof that they are insured. Small and mid-size general contractors seldom request and review their subcontractors' safety programs. Although most of the major tower owners will request a copy of the contractor's program, it is oftentimes a formality to avoid litigation in the event of a fatality or serious accident.
In addition, some companies entering the market will copy their former employer's health and safety manual and present it as their own. This is an often seen practice, according to one risk management officer of a major tower owner.
"I've seen on numerous occasions where they changed the cover sheet in the binder and didn't change any of the subsequent pages that referred to another company."
"If they didn't take the time to read what they were sending in, it's doubtful that their employees have even seen their program," he said.

Walking the talk can reduce fatalities
A seemingly safety-conscious company had two fatalities this year in separate incidents, both deaths attributed to employee error, according to OSHA findings. However, some companies display a reckless abandonment of proper safety practices and walk away each day unscathed.
Why are some tower service companies more effective in preventing accidents? Although there are many presumptions heard in conferences, posted on bulletin boards and shared around the water-cooled winch, a number of safety officers believe it's the company and individual's culture that prevents deaths, not necessarily a lack of safety knowledge or programs.
Don Espach, Manager of Safety and Health for Andrew Systems, Inc., one of the industry's largest tower service companies with over 100 field employees that climb, says that while any company can experience a serious accident or death, "The companies that 'walk the talk' are the ones that have fewer incidents."
"In these companies, management understands that a deadly accident can happen at any time and continually impresses this on their supervisors, foremen and climbers through their words and deeds, he said."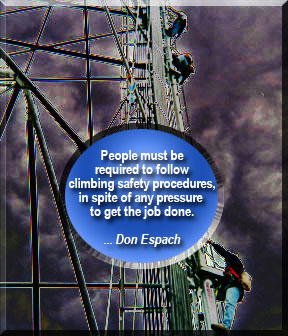 Espach explained that successful companies provide the best tools, equipment and fall protection gear and replace it when needed. "They hold safety meetings that are serious and cover pertinent topics rather than using canned tool-box topics to satisfy a perceived belief that it's necessary to cover every conceivable subject to maintain an excellent safety program."
"People must be required to follow climbing safety procedures, in spite of any pressure to get the job done. Foremen have to look out for their crews, and crew members must look out for each other. In other words, safety is a serious business," Espach said.
The Certified Safety Professional, with over 30 years' experience in solving occupational safety and health problems, says that public/private partnership programs add value to overall safety, but too often they are incorrectly viewed as a panacea for reducing the number of serious accidents and fatalities.
As a former Director of Safety at GTE, a $20 billion Fortune 50 corporation with over 150, 000 employees at 120 manufacturing plants and seven telephone operating companies, Espach says that a company's culture must change before there will be any appreciable results.
"Some companies will proudly emblazon their marketing material with 'Safety is Job 1', and that's great. However, that can only be effective when safety is truly integrated with production," Espach said.
No matter how you crunch the numbers they're appalling
During 2005, WirelessEstimator.com performed an extensive three-month survey that identified that there were approximately 8,700 employees nationwide that climbed communications supporting structures for their employer or as a tower technician hired as a 1099 contractor. A total of 1,477 companies that employ climbers were identified.
Additional information received saw that total adjusted to 9,800 climbers in 2006. In comparison, during the same year, structural, iron and steel workers totaled 59,000 employees, according to the BLS, and the profession suffered 36 fatalities versus the tower industry's 18 deaths.
The BLS's data is obtained by analysts collecting State and Federal information, reviewing news accounts, death certificates and workers compensation records, in addition to OSHA 36 forms - a pre-inspection form used to record data pertaining to a fatality which is completed at the time the event is initially reported to the agency.
However, OSHA investigators will oftentimes provide an incorrect standard industrial classification (SIC) code. Of the ten tower industry fatalities in 2004, it was found that many were incorrectly assigned to other professions or disciplines.
SIC Code assigned to tower-related fatalities in 2004:

Amount:

SIC Code:

SIC Code Description:

2

1623

Water, Sewer, Pipeline, and Communications and Power Line Construction

1

1629

Heavy Construction, Not Elsewhere Classified

1

1731

Electrical Work

2

1799

Special Trade Contractors

1

3441

Fabricated Structural Metal

1

3663

Radio and Television Broadcasting and Communications Equipment

1

4812

Radio Telephone Communications

1

4832

Radio Broadcasting Stations

Complicating fatality analysis, much of the BLS data comes from research within the
North American Industry Classification System (NAICS) that is replacing SIC categories from 30 classifications to one: NAICS 237130 - Power and Communication Line and Related Structures Construction .

News may be a bugle call to the industry
Winton W. Wilcox, President of ComTrain LLC, the industry's largest fall protection training company, believes that the number of national climbers may be higher than 9,800, but he's convinced that even if there were 20,000 climbers, 2006's 18 fatalities is "appalling".

Wilcox is concerned that the media will capitalize upon the tower industry's ranking and "increase the horror stories about the trade."

"The alarmist press will probably result in increased legislation, increased client pressures, increased cost and endless debate. The question is whether it will be effective in stopping what we all agree is unacceptable," he said.

"The up side of this information is that maybe it is a bugle call to the industry. We need to step up the pressure to change the culture and increase the professionalism. We need to work to generate some positive press on the accomplishments the industry has made toward safety," Wilcox said.

He said that he receives several calls each year about successful rescues and he's extremely gratified by his former students' capability to respond to accidents rapidly and with knowledge both in rescue and first aid.

"Unfortunately, most companies that have an incident don't want the facts published," Wilcox said.

By the nature of the business, tower construction and maintenance will always be a dangerous profession, but the industry is working hard towards celebrating the day when climbers no longer dominate the BLS's most dangerous profession list.


Rank

Occupation

Death rate
per 100,000

Total deaths

1

Fishers and fishing workers

118.4

48

2

Logging workers

92.9

80

3

Tower erectors/climbers

80.4

7

4

Aircraft pilots

66.9

81

5

Structural iron and steel workers

55.6

35

6

Refuse and recyclable material collectors

43.8

32

7

Farmers and ranchers

41.1

341

8

Electrical power line installers/repairers

32.7

36

9

Driver/sales workers and truck drivers

29.1

993

10

Agricultural workers

23.2

176

*Bureau of Labor Statistics. Tower erectors/climbers statistics from WirelessEstimator.com
*The most dangerous jobs by fatality rate in 2004:

Rank

Occupation

Death rate
per 100,000

Total deaths

1

Tower erectors/climbers

114.9

10

2

Logging workers

92.4

85

3

Aircraft pilots

92.4

109

4

Fishers and fishing workers

86.4

38

5

Structural iron and steel workers

47.0

31

6

Refuse and recyclable material collectors

43.2

35

7

Farmers and ranchers

37.5

307

8

Roofers

34.9

94

9

Electrical power line installers/repairers

30.0

36

10

Driver/sales workers and truck drivers

27.6

905

*Bureau of Labor Statistics. Tower erectors/climbers statistics from WirelessEstimator.com