DA says he will not file charges against Charlotte officer that killed an AFL Network Services tech
September 5, 2006 - Mecklenburg County North Carolina's District Attorney Peter Gilchrist has decided to not press charges against Charlotte-Mecklenburg Police Officer Anthony Payne for the fatal shooting of Anthony Wayne Furr on July 20,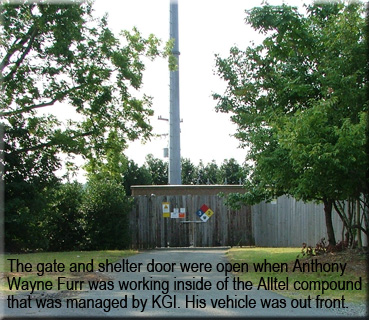 according to Charlotte-Mecklenburg Police Department Captain Cam Selvey.
At approximately 1:30 a.m., Furr, a technician employed by AFL Network Services, was working inside a 12'x20' cellular equipment building in east Charlotte. A 911 caller reported to police that someone was dumping refuse at the tower and was trespassing.
When officers arrived, Officer Anthony Payne, in uniform, went inside the equipment shelter where he was reportedly confronted by Furr after identifying himself as a police officer.
Payne said Furr had a gun and did not respond to his commands to put the gun down. The officer drew his own weapon and fired three times, killing the Oakboro resident and father of two children.

Internal investigation continues
The criminal investigation by the CMPD was presented to the District Attorney's office by the CMPD homicide sergeant who supervised the investigation.
The CMPD's separate internal investigation to determine compliance with departmental policies and procedures is still ongoing, according to Selvey. He said that once Internal Affairs completes its investigation, the officer's chain of command will conduct a hearing to determine whether the shooting was justified, not justified or accidental.
Until that process is complete, Selvey said in a provided statement, it would be inappropriate for CMPD to comment on this case beyond what is already a matter of public record. The hearing will be later this month.
Deputy Chief K.D. Williams told WirelessEstimator.com that CMPD Chief Darrel Stephens will provide a statement once the hearing has concluded.
Charlotte has three citizen groups involved in the police disciplinary review process. The Charlotte-Mecklenburg Community Relations Committee (CRC) participates in investigations involving complaints against police and in disciplinary hearings and shooting review boards. CRC's representative also makes recommendations should disciplinary action against the officer be necessary.
In addition, the Citizens Review Board hears appeals from citizens in cases involving use of force, unbecoming conduct, arrest, search and seizure or any discharge of a firearm that results in injury to or death of a citizen.
Furthermore, the Civil Service Board has sole authority to approve the hiring, promotion and termination of police officers and firefighters.
FBI investigation can be requested
However, if any of Furr's family members are not in agreement with Gilchrist's findings or the investigation conducted by the CMPD they can request that the FBI conduct an independent investigation if they believe that Furr's civil rights were violated.
The District Attorney's office revisited the scene on the night of August 3 to view in context the evidence and testimony gathered in the weeks following the shooting.
In a rare endorsement of a decedent's stellar character support being voiced by community leaders, friends and neighbors, the CMPD release said, "What we learned about Mr. Furr after the events of July 20th makes this incident especially tragic."
Still, Selvey explained, the investigative and review process is designed to determine the fundamental situation Officer Payne encountered that night, to separate facts known at the time of the incident from those learned later.
"It is a difficult process and emotions, justifiably, run high. Thorough investigations and review by experts inside and outside CMPD, oversight by independent citizen groups and media scrutiny all contribute to the integrity of the process. While we cannot change the outcome of what happened that night in the cell phone tower, we can ensure our shared goal is met," Selvey said.

Although Selvey said that outside investigators were involved in the process, Chief Stephens had the option to request, in addition to his department's investigation, an independent inquiry by the NC State Bureau of Investigation that could have assured public and police confidence. Early on in the investigation Chief Stephens decided that he was not going to use the SBI's resources.

Furr's death marked the third time in little more than a year that Charlotte-Mecklenburg police shot and killed a suspect. No officers have been charged in the cases.

Tower maintenance workers and Furr's associates believe that Officer Payne may have acted with unnecessary force while investigating a trespassing complaint. Furr's vehicle was parked at the open tower compound and was clearly marked with a company sign and phone number.
In addition, Furr was dressed in company kakis and an embroidered logo shirt when he was confronted by Payne. He was described as a religious community volunteer that was active in his children's high school.
Known for not being an aggressive person, family, friends and neighbors - some of them police officers - could not reconcile Payne's statement with the person that they knew, that Furr kept advancing towards him with his gun drawn after he was told three times to drop his weapon.

Terrell Watts, pastor of the First Baptist Church of Oakboro, where 41-year-old Furr was an active member, is one of the many people who would like to have his and his congregation's questions answered.

Most importantly, Watts said, his children want his name cleared.

Payne was reportedly back on duty approximately two weeks prior to today's announcement by Gilchrist.