Step bolt liability suit to weigh decedent's reluctance to follow OSHA's 100% tie off rule
December 19, 2007 - At first glance, a review of a recent eight count lawsuit filed against Edmiston Tower, Inc., UNR Rohn and its parent company, Radian
Communication Services, Inc. has the appearance of a resourceful product liability attorney championing the rights of a deceased tower technician's parents to sue the companies that they are convinced were responsible for their son's death after he fell from a 150-foot self supporting tower.
A closer examination might indicate that it wasn't a product failure that was responsible for the fatality in Ebensburg, PA , but the climber's reluctance to follow proper safety requirements known to him and the failure of his employer to provide the proper safety equipment and have a written safety policy.
On Friday, May 5, 2006, Michael Sellers, 25, fell approximately 70 to 80-feet to the ground, according to a co-worker, and died after suffering numerous broken bones and massive internal injuries. The single father of two children, Daysha, now 4, and Denna, 2, was employed by Last Mile, Inc., doing business as Sting Communications, Inc.
Sting, a 20-employee company located in Lebanon that provides broadband services to rural and underserved areas of PA as well as the state's regional education network, owns approximately eight towers, including the one that Sellers fell from behind Bishop Carroll High School on school property.
Attorney Edward J. Coyle, who represents the plaintiffs, Karen A. Alexander and Gary M. Sellers, who are administrators of their son's estate, alleges that a metal "step prong" was defective and broke while Sellers was climbing the tower, resulting in his death.
According to the suit, "The aforementioned 'step-prong' is a metal prong upon or to which an individual climbing [a] tower would attach or place his hand, foot arm, leg or safety gear for support of the climber and the climber's weight."
Although the tower was originally manufactured by Rohn in the late 60s or early 70s, Edmiston Tower Inc. is a defendant, according to Charles Edmiston, owner of the Ebensburg company, because he bought the structure from a third party, had it re-galvanized, and sold it to Sting Communications during July of 2004.

Suit hinges on step bolt
The lawsuit hinges upon the failure of a step bolt, that Coyle believes should support safety gear, a statement that is at variance with safety professionals.
No witnesses on site could identify that the step bolt failed as Sellers fell. In addition, Pittsburgh's Occupational Safety and Health Administration investigation acknowledged that "It could not be determined if the broken step peg was involved [in] the accident."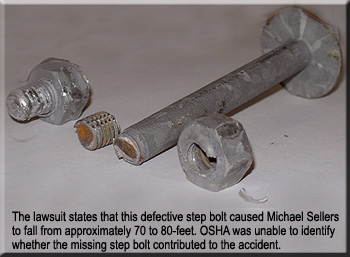 "What is known for certain is that the employee was not using fall protection while he was climbing the tower," said the OSHA Compliance Safety and Health Officer assigned to the investigation.
OSHA issued Sting a "Serious" citation on June 8, 2006 for not providing a personal fall arrest system with a proposed penalty of $7,000.
During a June 27, 2006 informal conference, Darol Lain, Sting Communications' President and CEO, said he was not contesting the citation, but requested a reduction in the penalty amount.
He said that following the accident Sting had inspected all existing safety equipment and purchased over $5,000 worth of safety related material, and contracted with Edmiston Tower to replace all step bolts and install a permanent fall prevention cable on the Bishop Carroll tower at a cost of $3,318.
Lain also stated that the repercussions associated with Sellers' death prevented his company from meeting a contractual deadline with the school district and penalties were tallying in the tens of thousands of dollars.
OSHA said that their investigation found that other employees had been free climbing on the same structure on multiple occasions and they would not mitigate the penalty. They did, however, agree to Sting's request to make monthly payments of $500 each to pay the fine.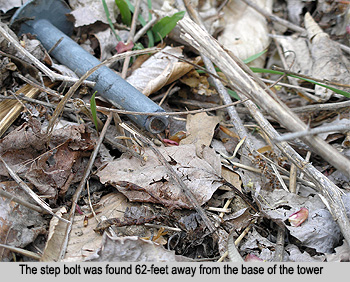 Sting's primary SIC Code, according to OSHA records, is 1731 - Electrical Work.
Sellers had previously been employed in the drywall installation and tree trimming industries. He joined Aerial Communications of Lebanon in March of 2004 and the family owned and operated communications company provided him with ComTrain's Tower Climbing Safety and Rescue Training. His certification was issued November 5, 2004.
A year later he applied for employment at Sting Communications, enticed by a $4.00 per hour increase to $19.50 per hour, plus the opportunity to grow with an expanding company. In his application to Sting, Sellers said, "I'm always safety oriented. I love being in the air and getting the job done." He was hired on January 3, 2006.

Co-workers say fall protection was never used
During the investigation, Sting's management and employees told the compliance officer that fall protection was not used at all on the tower while they were climbing and descending or otherwise getting into position to where they needed to do their work. However, once they arrived at the work site on the tower they would tie off and stay tied off while they worked.
A co-worker said that although Sellers had a six-foot fall protection lanyard, he was using a three-foot positioning lanyard with a pelican hook to tie off to the structure. Although he did not know how Sellers tied off prior to falling, he said it would not be uncommon for workers to throw the pelican hook over the mushroom cap of the step bolt and lean back to rest prior to again climbing the tower.
The employee said that he had heard Sellers unclip and only seconds later he heard him yell. The ground worker looked up and saw Sellers falling. He told the investigators that Sellers did not hit anything on the way down.
The company told the investigator that all employees go through ComTrain training before they are allowed to climb towers. Glenn Hess, manager of field operations, said that employees are to be tied off 100% of the time when they are on the tower.
Hess said that this is what is taught by ComTrain. However, some of the employees disagreed, stating that they were taught in ComTrain that they only needed to tie off if it was practicable.
"That is clearly incorrect," said Winton W. Wilcox, president of the country's oldest tower safety training business. "We have always instructed climbers to be tied off 100% of the time. In addition, we're opposed to the idea of creating a qualified climber that is authorized to free climb," he said.
Employees said that prior to the accident they would frequently free climb. They told the OSHA compliance officer that they felt confident when they were climbing and descending the tower and they did not need to tie off.
Kenneth Rabedeau, Vice President of Engineering and Operations for Sting Communications, said the company did not have a written safety policy prior to the fatality, and to his knowledge no employee has ever been disciplined for not using personal fall protection equipment.

Sixteen page safety policy provided
Sting cobbled together a 16-page company safety policy for the informal conference. Mostly generic in nature, their fall protection requirements are five short paragraphs. Their horizontal lifeline for a tower calls for a minimum of a 2-inch diameter wire rope. Although company employees install microwave radios on towers for high bandwidth applications, they did not have a RF energy exposure policy.
By comparison, a basic guideline safety policy provided by the National Association of Tower Erectors to their members is in excess of 250 pages. Some tower companies' safety policies submitted to vertical realtors as part of their contractor approval process total 400 pages or more.
During the inspection by OSHA it was found that the broken part of the step bolt appeared to have rust on its broken face indicating that the step bolt was at least partially broken at the time of the accident.
Three days prior to the fatality a Sting employee said that he had free climbed the structure and did not recall a missing step bolt. The bolt was later found in a field 62-1/2-feet from the tower base.
Edmiston contends the accident was solely climber error. He said that if Sellers had been following mandated safety procedures of having the safety lanyard properly tied off at all times, he would not have fallen to the ground.
He also said even if Sellers was free climbing and observing the industry practice of three points of contact at all times, he should not have fallen.
Edmiston said that his employees used 100% fall protection when they erected the tower for Sting in 2004 and they use it every day.
"Now I've got to pay to defend myself for nothing I've done wrong, simply because a climber didn't follow the guidelines that would have saved his life," he said.
A Radian Communication Services, Inc. spokesperson said that their counsel hadn't fully reviewed the lawsuit.

Effective January 1, 2006, proper attachment points are required to be utilized by climbers.

By the nature of the tower construction and maintenance industry, every day, workers will stand upon elements of the structure, such as mounting frames, bracing and other accessories, including step bolts, that are not designed by the manufacturer to support additional heavy loads or to be able to meet anchorage point standards.

OSHA defines anchorage as "a secure point of attachment for lifelines, lanyards, or deceleration devices." Subpart M, 1926.502(15), in part, states that "anchorages used for attachment of fall arrest equipment shall be independent of any anchorage being used to support or suspend platforms and capable of supporting at least 5,000 pounds (22.2 kN) per employee attached."

Be prepared to provide more than a bill of sale
As tenant additions exceed capacity of many structures, a greater portion of these used towers are being sold throughout the country outside of traditional channels. Some deals are made with a handshake while other sales are carefully written contracts that exclude the seller's liability for hidden or latent faults that exist in the product bought if they were present at the time of sale.
Attorney Mark A. Lies II , who specializes in product liability cases as well as tower erection industry issues, said that there are potential legal liabilities under contract and negligence if a party purchases a product and sells the product and it contains a defect which causes personal injury or property damage to a third party.
"The scope of such liability is determined under state law using the state's commercial code and common law to define the basis for liability as well as damages. The seller should seek to limit its liability by appropriate disclaimer language under state law and also purchase liability insurance," he said.

In all actions in Pennsylvania brought to recover damages for negligence resulting in death or injury to a person, the fact that the plaintiff may have been guilty of contributory negligence does not prevent a recovery by the plaintiff or his legal representative where such negligence was not greater than the negligence of the defendant or defendants, if any is found.

If the lawsuit goes to a jury trial, the plaintiffs' attorney will be challenged to provide an eyewitness that can state that they saw Sellers hold on to or place a foot on the step bolt, causing it to break.

OSHA's investigation, through interviews with employees that were present on site at approximately 9:30 a.m. the morning of the accident, did not identify why he fell, other than the fact that he fell because he was not using fall protection equipment.

Among other areas, the defendants will argue that the step bolt could have been already missing at the time Sellers was climbing; or it broke as the climber fell when he came in contact with it since the only witness to the event saw his co-worker fall after he was below the missing step bolt.

The plaintiffs are claiming damages in an amount in excess of $50,000, together with delay damages, interest and the costs of the lawsuit.