MidAmerica Tower Service proves it can be done as…
OSHA chief presses the tower industry
to get off of the top ten fatality list
February 18, 2008 – While the PCIA – Wireless Infrastructure Association show was winding down last October, if you stepped into an adjacent conference room you would have heard the head of the Occupational Safety and Health Administration tell a Florida human resources conference that he had "irrefutable evidence that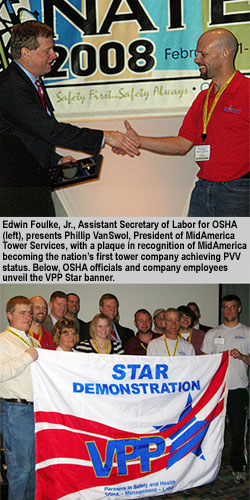 protecting employees is good for business."

The economies of a safe workplace is a frequent thread in presentations made by Edwin Foulke, Jr., Assistant Secretary of Labor for OSHA, a topic he touched upon at the National Association of Tower Erectors' conference on February 13, 2008. He also heralded OSHA's web site as an excellent resource for occupational safety information.

During many of his speeches following his confirmation by the Senate on March 15, 2006, he credentialed his ability to lead the 2,200 employee group by informing conference attendees of his prior employment as a partner with the law firm of Jackson Lewis, LLP in Greenville, S.C., and Washington, D.C., where he chaired the firm's OSHA practice group.

However, during his NATE presentation, he passionately departed from his customary talk by reminding audience members, "Unfortunately, tower climbing does remain the most hazardous industry, or maybe the most dangerous job in America."

In addition, Secretary Foulke sadly reflected upon a personal involvement he had with a tower erection company that had a fatality while he was in private practice as head of the firm's tower erection group.

He still sees the fatality
Secretary Foulke said he had worked with a number of tower erection companies and one of them had a fatality. Having completed over 200 fatality investigations, more than most workplace safety lawyers in the country, Secretary Foulke said that the one that was indelibly etched in his memory was a climber that had fallen from a communications tower.
Secretary
Foulke's presentation can be heard by downloading these two files.
Depending upon your internet speed, please allow up to two minutes to load.


"Quite frankly, I can still see, right now, pictures in my mind of the person that died. It was a person who tried to help somebody. It was a newer employee. As they were bolting up one of the cell towers, he hooked his lanyard on one of those pegs that sticks out that are used to climb the tower. And he was moving over to help that person to get his bolts into place and the thing just slid off the peg and he fell. There were pictures of the fatality and I can see them, right now. So it is important personally to me as to what you all are doing," Secretary Foulke said.

"The type of work you do is somewhat unique, in fact it's very unique. And I've dealt with your industry so I know why this is so important, and that's why I'm so glad that we got involved with this," he explained.

Effective November 8, 2006, OSHA and NATE signed a three year national partnership to promote safety and help participating companies eliminate job-related accidents, illnesses and fatalities (See current 97 participants).

"Through the partnership, we sent letters out to all the major owners, carriers and general contractors asking them that they adopt 100 percent fall protection for all worksites. And that is what it is going to take to get to zero where we have to get to. That has to be your goal, and that has to be the goal of every employer in the United States. We have to focus upon getting to zero in injuries, illnesses and fatalities," Secretary Foulke said.

"You may have to set interim goals to get there. But you can get there. I have seen companies get there," he said.

Citing the most current information his agency had available, based upon data obtained by WirelessEstimator.com and OSHA officials in a joint effort to identify the industry's ranking in regards to the number of fatalities per 100,000 workers, Secretary Foulke said that in 2006, the deaths of 18 tower workers that fell from a communications structure equated to 183.6 per 100,000 workers . Fishing workers, he said, were second at 141.7.

In 2007, the industry saw a marked improvement with ten recorded fatalities, still up from 2005's seven deaths. There have been no fatalities reported in 2008.

First VPP erector participant in the country is NATE member
In addition to the OSHA/NATE partnership making an impact upon worker safety, Secretary Foulke emphasized the rewards achieved by companies that are awarded his agency's Voluntary Protection Programs Star status, stating that he was proud to present the coveted achievement status to MidAmerica Tower Service, Inc. of Mahomet, Illinois.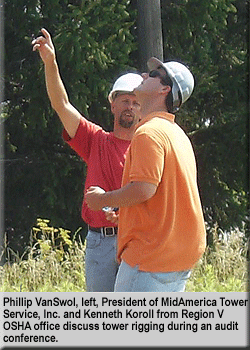 Approval into VPP is OSHA's official recognition of the outstanding efforts of employers and employees who have achieved exemplary occupational safety and health. NATE membership is not required to apply for recognition.



Raphaella Garrett, safety and training coordinator with MidAmerica Tower Service, said the company was founded as a small tower contractor located in central Illininois by Phillip VanSwol who has had a long standing history with NATE.

VanSwol attended the original NATE meeting in Fort Worth, Texas as a representative of one of the founding members. In 2000 he formed his own company with just four field employees, including himself, and over the past eight years has grown to a full turnkey contractor with a combined field staff and administrative staff of 13 employees, most of which attended the VVP Star flag presentation made by Secretary Foulke.

The company joined NATE as a member from the first day of business and during the first year, VanSwol served on NATE's Safety and Education Committee. As NATE developed the Climber Training Standards, he modeled his own safety standards and policies on those recommendations. When OSHA's Region V entered into the first NATE-OSHA Partnership in 2002, MidAmerica's safety policies were already meeting or exceeding the requirements of the partnership, and with the opportunity there to take advantage of the benefits of the partnership, MidAmerica was one of the first tower contractors in Region V to apply and be accepted into the partnership.

Capstan accident put OSHA in a new light
The turning point for the company was during June of 2006 when they experienced a severe accident involving a capstan hoist.

"Being a small company, we consider ourselves family and this accident was devastating on many levels. The seriousness of the accident prompted an OSHA investigation. It was during this time that we learned two very important things," Garrett said.

She said that they first learned that OSHA was not there to point fingers, write citations, and place blame.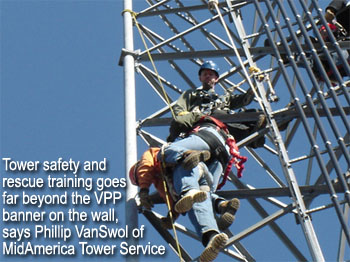 "They were fair and thorough and gave us an opportunity to learn and grow. We discovered that OSHA was not an entity to be afraid of, but an organization that is there to keep employees safe which became our common goal."

"The second thing we learned is that there was no negligence on the part of the company or employees. Employees were where they were supposed to be, doing what they were supposed to be doing and no safety policies were violated. The accident was just that: an accident. It became very clear that there is no such thing as 'safe enough'," she said

Garrett was hired at that time as a full time safety and training coordinator and she and VanSwol began to put their heads to together to find a way to take their safety program to a whole new level.

The newly hired safety coordinator learned about VPP from a Region V OSHA presentation in the Spring of 2007. She said she was interested in the program, but was a little intimidated because of the large companies she saw participating such as GE.

However, two months later their VPP application was submitted to the Region V office. The application was reviewed and in July of last year, OSHA conducted audits of their job sites and corporate office operations. Finally, on September 28, Secretary Foulke placed his signature on their application and MidAmerica Tower Service became the first tower contractor in the US to be accepted into the VPP program.

The benefits of the VPP reach beyond the obvious: Lower accident/illness rates, lower workers compensation rates, a lower EMR rating, or promotional opportunities. It also provides companies with an opportunity to be recognized for something positive rather than something negative in the eyes of their peers, customers, and their industry.

It provides recognition for employees who do much more than just sign safety manuals and wear hard hats. They've made the commitment to be leaders in safety.

Lastly, the most valuable benefit of all, according to Garrett, is that the company has developed an open and positive relationship with OSHA.

"By participating in VPP, we have proven to OSHA that we are continually striving for excellence in safety and where we may not be perfect ,we are committed to reaching a level of safety above and beyond our industry and OSHA's standards, and assuring that we keep our family whole," VanSwol said.

Secretary Foulke said that he believes that MidAmerica's commitment to the program has resulted in an enviable injuries and illness rate of the company and its contractor employees that has been zero for the last few years.

"Now let me ask you this," he questioned, "are you all at zero?"
Company

City

State

Advanced Tower Services, Inc.

Albuquerque

NM

Advanced Wireless Solutions, Inc.

Gray

TN

American Communications

Santa Barbara

CA

Asbuilt Construction, Inc.

Reedsburg

WI

Atlantic CommTech Corporation

Norfolk

VA

Atlantic Tower Services, Inc.

Orlando

FL

B-C Walker, Inc.

Harrah

OK

Black & Veatch

Overland Park

KS

Blackhawk Tower Communications, Inc.

Sun Prairie

WI

Bright Lighting, Inc.

Tulsa

OK

Brook Hill Communications, Inc.

Mechanicsville

VA

Central General Engineering & Maintenance Ltd.

Trace Chase

Trinidad

Communication Services, Inc.

Tempe

AZ

Communications Infrastructure, Inc.

Plainfield

IN

COM-TECH SERVICE GROUP, INC.

Westfield

IN

Cross Development, LLC

Bossier City

LA

CSG Wireless, Inc.

Chandler

AZ

D&H Builders, Inc.

Laurel

MD

Deerfield Construction Group, Inc.

Lockport

IL

Dietz Brothers, Inc.

Spicer

MN

Dish Technologies

Elm City

NC

Doty Moore Tower Services LLC

Cedar Hill

TX

Dynamic Construction Services, Inc.

Forest

VA

Dynamic Construction, Inc.

Pataskala

OH

Eagle Communication Services, Inc.

Gig Harbor

WA

Eastern Communications, Inc.

Saco

ME

EasTex Tower, Inc.

Colorado Springs

CO

eciWireless LLC

Dillsburg

PA

Elite Wireless

Louisville

KY

E.M. Enterpises General Contractors, Inc.

Tampa

FL

Emergency Radio Service, Inc.

Ligonier

IN

Empire International

Temeula

CA

Excalibur Communications Inc.

Sewell

NJ

Excell Communications, Inc.

Trussville

AL

GMT Service Corp.

Conroe

TX

Great Plains Towers, Inc.

West Fargo

ND

Green Mountain Communications, Inc.

Wolfeboro

NH

Hayden Tower Service, Inc.

Topeka

KS

Hightower Communications, Inc.

LaGrange

NC

Hoosier Tower Service, Inc.

Humble

TX

Hydaker-Wheatlake Company

Reed City

MI

JDH Contracting, Inc.

Plainfield

IN

Lee Antenna & Line Service, Inc.

Hellertown

PA

Legacy Telecommunications, Inc.

Burley

WA

McCabe-Orin

Richfield

OH

MEI - Morgantown Excavators, Inc.

Morgantown

WV

Mid Atlantic Contracting, Inc.

Woodbine

MD

MidAmerica Tower Service, Inc.

Mahomet

IL

Midwest Underground Technology, Inc.

Gibson City

IL

MIKAB Corporation

Dumont

NJ

MILLENNIA CONTRACTING, INC.

New Castle

DE

Mountain Valley Tower Service, Inc.

Staunton

VA

Netrepid

Enola

PA

New Wave Communications, Inc.

Franklin

IN

Nex-Tech, Inc. - Mobile Radio Div.

Lenora

KS

Noash Construction

Sebree

KY

Northern Pride Communications, Inc.

Tophsham

ME

Paramount Advanced Wireless

Pennsauken

NJ

PERFECT WIRELESS, INC.

Indianapolis

IN

Phoenix of Tennessee, Inc.

Nashville

TN

Phoenix Tower Service, LLC

Horton

KS

Professional Resources & Services Inc.

Concord

NC

Proventus Structural Services, LLC

Columbus

OH

Radian Communication Services Corp.

Oakville

ON

Radiofrequency Safety International (RSI)

Kiowa

KS

RIO Steel & Tower, Ltd.

Burleson

TX

Seacomm Erectors, Inc.

Sultan

WA

Shenandoah Tower Service, Ltd.

Staunton

VA

Sioux Falls Tower & Communications

Sioux Falls

SD

Skyhook, Inc.

Nescopeck

PA

SOLO Romania

Brasov

Romania

South Seas Inspection (S) PTE LTD

Singapore

Singapore

Southern Broadcast Services, Inc.

Pelham

AL

Speelman Electric, Inc.

Tallmadge

OH

Stewart Electric & Communication

Chandler

AZ

Synergy Concepts, Inc.

Hazelwood

MO

System One Communications

Houston

TX

TEAM Communications

Gilbert

AZ

Texcom Construction LLC

Cedar Hill

TX

Tower & Communication Services, Inc.

Florence

SC

Tower 2000

Sauk Rapids

MN

Tower MRL, Inc.

Madison

WI

Tower Systems, Inc.

Watertown

SD

Tower Technologies, LLC

Prairie Du Sac

WI

Tower Works Inc.

Batavia

IL

TowerTel USA LLC

Houston

TX

TR Systems Inc.

Lakemoor

IL

Train's Towers, Inc.

Haddon Heights

NJ

TriCon/TowerWerks, Inc.

Acworth

GA

Trillium Development, Inc.

Sartell

MN

Trusty Construction, LLC

Lewisville

TX

United States Tower Services, LTD

Fredrick

MD

WAVE Communications

Sun Prairie

WI

WesTower Communications

San Antonio

TX

Wireless Horizon

St. Peters

MO

Wireless Infrastructure Services
Corona
CA
Wireless Legacy Corp.
Avoca
WI
Source: OSHA and NATE statistics, February 18, 2008. Partnership is effective May 1, 2007 through September 30, 2008.