Product Information
Ground Rods
Simply stated, the primary reason you use a larger diameter electrode is to ease the driving process. That is, in normal soil conditions you may select a 5/8" diameter copper clad rod whereas in rocky soil you may have trouble with a 3/4" diameter rod. The increase in diameter has minimal impact on improving ground resistance, yet it has a considerable affect on the ground system price. Some plans call for a 3/4" rod in sandy soil conditions, providing an average 60% increase in material cost.
Although the performance characteristics of galvanized ground rods parallel that of the UL-listed copper clad rods, copper clad rods are specified in most wireless construction projects. However, galvanized rods would be a better alternative for guy anchor grounding to reduce corrosion of the steel anchor shaft which is the anode and the copper ground rod the cathode. Copper when coupled with steel will produce a measurable current. The primary reason for copper plating is corrosion resistance of the rod. The copper becomes the cathode when joined together with less noble metals in the presence of water, an electrolyte. Less noble metals become the anode and corrode over time. Local codes also need to be considered.
Chemical Rods may be an alternative for difficult soil conditions.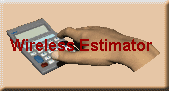 The following ground rod and coupling pricing reflects average distributor pricing. Although there is a minimal plating of copper on the ferrous rod, the rod cost will increase when there are volatile copper and steel pricing swings. Pricing does not include installation, overhead and profit, taxes and freight.
GROUND ROD/COUPLING PRICING

Weight

Standard

Sectional

Coupling

Description
(lbs)

Rod

Rod

5/8" x 8'

Copper Clad Ground Rod
7
$10.17
$10.91
$5.48
5/8" x 10' Copper Clad Ground Rod
9
$13.69
$14.44
$5.48
3/4" x 8'

Copper Clad Ground Rod
10
$16.32
$16.99
$8.94
3/4" x 10' Copper Clad Ground Rod
13
$19.86
$20.76
$8.94
We recommend that you contact our valued ground rod and coupling distributors for your site-specific requirements.