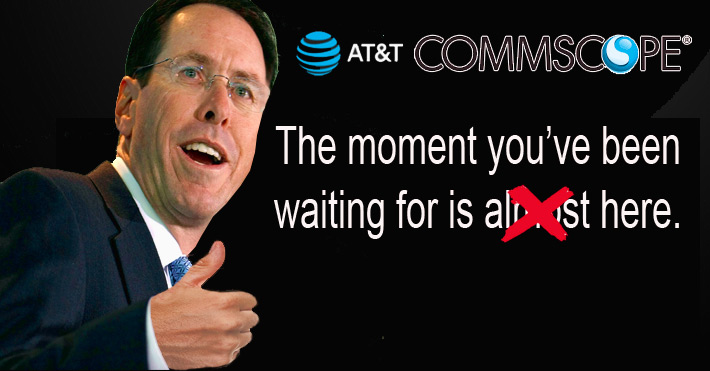 In March, Barclays said that AT&T could start deploying the First Responder Network Authority (FirstNet) as early as June, but the announcement was one of many short-lived guesstimates. However, according to CommScope, they have received antenna orders from AT&T for FirstNet.
In a Nov. 1 earnings call with analysts, Mark A. Olson, EVP & CFO of CommScope Holding Company said, "Looking ahead into 2018, we're confident about our opportunity with the FirstNet development and continued North American wireless densification. And in fact, we've already received the initial FirstNet orders during the fourth quarter."
He expects FirstNet spending to begin the first half of 2018. "We believe that we have the winds at our back right now with respect to FirstNet," Olson said.
FirstNet antennas described
CEO Marvin Edwards said he believes that "it's not apparent" to towercos what a FirstNet antenna is.
"These antennas look no different on the outside than our traditional high-port antennas, and so we feel very comfortable with where we are relative to others, and we feel good about our approval rate and the coverage that we have. So, we still think it will be a meaningful part of our business, but it's not yet determined exactly when it will start in earnest, but certainly during the course of the first part of 2018."
He said it is just an adaption of other antennas, but "more complicated."
Edwards said that AT&T has been very open about not wanting to touch the tower but once. "And I think that's been impactful for us, it's probably as well as their customers, as to waiting to go out to a tower and only climb that tower once or have people climb it for them once and defray the cost of deployment."
AT&T on their earnings call mentioned they would be ramping up FirstNet in January.
"These antennas are going to be side-by-side on the tower, and they want to do this all in concert to make sure that they don't have to send crews out multiple times. And the economics of that are extreme, if they would have to do that, so it would be done in concert. So, we would see orders, and then the tower companies would see amendments," Edwards informed analyst Walter Piecyk of BTIG LLC.
It has been reported that AT&T is selecting multiple antenna manufacturers for the first responder's network; however what market share CommScope will get is unknown.
CommScope is actively marketing to the AT&T representatives in each of the 27 states/territories that have opted into the FirstNet platform, according to Ken Schmidt, President of Steel in the Air, Inc.
SBA says it is seeing some initial FirstNet applications
During an Oct. 30 analysts call, SBA Communications CEO Jeffrey Stoops talked about strong drivers for the industry, including FirstNet.
"We've begun to see some initial applications from AT&T incorporating FirstNet needs, although nothing material yet. As of today, 25 states and 2 territories have opted into FirstNet, and many more are expected over the next couple of months. We are excited about the prospects for SBA associated with FirstNet and expect to see deployment starting some time in 2018."
Stoops echoed Edwards' comments regarding touching the tower once.
"I do believe AT&T should be taken at their word when they say, 'We are really trying to do this as best as we can in one truck roll,' so they are continuing to kind of do a lot of work on their side. There is a lot of fieldwork being done in terms of auditing the assets, figuring out exactly what is there now and what kind of space is available and then them figuring out what exactly they want to do in that one truck roll."
"So, I think 2018 is going to be an active year for the industry and certainly for SBA in that front. But I mean, given the fact that you're talking about 700 megahertz spectrum, which promulgates pretty well, I don't know, the exact number of cell sites for AT&T, but it's pretty big, I think you're going to see certainly for us mostly amendment business," Stoops said.
He also noted that accrual revenue  might lag 3 to 6 months or more after an amendment.
"Amendments typically go faster than colos but there's always a lag period from the time you actually sign the amendment up to the time that the work gets done and the equipment gets put on the site. And I wouldn't expect that to be really any different than the typical business," Stoops informed analyst Ric Prentiss of Raymond James & Associates.
Stoops said he believes that FirstNet is going to require new radios.
"And generally, I think you're going to see new antennas, so I think that's going to be, at worse, a good moderately sized amendment."
EVP and CFO Thomas Bartlett said in American Tower Corporation's Oct. 31 earnings call, " As was the case when we updated our outlook last quarter, we have not included any leasing expectations from FirstNet deployments or any material contributions from the expected rollout of the 600 megahertz spectrum."
CEO James Taiclet, Jr. said FirstNet was going "to be constructive to the tower industry next year and for many years to come."
During their Oct. 16 earnings call, Crown Castle International CFO Daniel Slanger said, "We have not included any contribution from the FirstNet as part of our 2018 outlook. We are however optimistic about the FirstNet rollout and recognize there is additional growth potential once the deployment begins."
In a research note about the CommScope announcement and the prospect for tower companies, Schmidt indicated that he believes that American Tower and  Crown Castle are receiving applications as well, but given that the changes to equipment will likely require negotiation of an amendment to their master lease agreements with AT&T, they aren't yet ready to add the uptick in tower cash flow to their guidance for 2018.  Schmidt said he expects that to change by year end.