Commentary –
The March issue of a well-respected magazine published by The National Association for Amateur Radio (ARRL) will most likely latch onto the literal lunacy award for depicting in a photograph the most egregious tie-off violations one could imagine.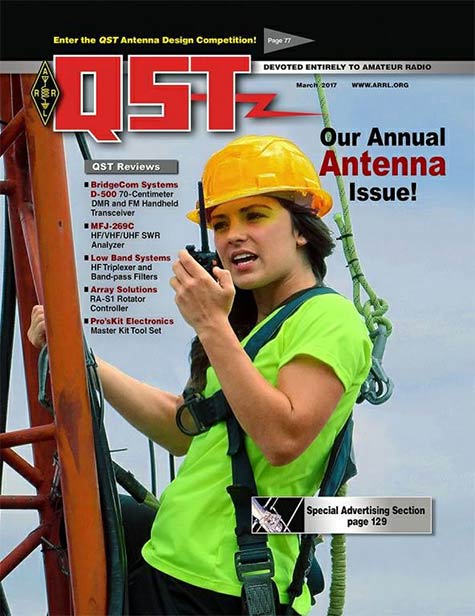 In QST's latest edition, their antenna issue, the cover shows a picture of Chase Mertz of Eldorado, Tex. climbing a tower while working on a project with the Eldorado Space Program, an Eldorado High School program that teaches students to design instrumentation packages and launch them into space, according to the magazine's cover notes.
Unfortunately, it illustrates an unacceptable tie off procedure that could easily launch students off of a tower to their deaths.
Professionals will easily identify the host of 100% fall protection safety violations that are pictured such as an improper dorsal assembly system with an unacceptable knot that has its trailing end tied off with cable ties.
ARRL should know better than to promote such an unsafe photograph, recognizing that many of their members are now silent keys after they fell from a tower.
The photograph was provided by the Eldorado Space Program which is troubling since educators are allowing their students to engage in dangerous and possibly deadly activities.
The program identifies their members as The League of Extraordinary Space Cowboys. Ironically, cowboy is a term given to early industry climbers that disregarded safety disciplines and fell to their death.
ARRL Chief Executive Officer and QST Publisher Tom Gallagher, should reach out to the National Association of Tower Erectors and they will in all probability provide timely and accurate information for an upcoming QST edition regarding the need for the observance of  professional climber safety precautions while working on ham radio structures.
He should also contact the space program's student advisor, teacher Paul McWhorter, to immediately stop any of the group's members from climbing towers.
Students climbed to 300 feet
On the group's Facebook page, a post said: "Space cowboys took some time from their development work on EAGLE VI to climb the KLDE radio tower in Eldorado. The tower has the 2 M repeater the team uses to communicate between mission control and the chase crew. Danny Boyer taught the students how to safely scale a 300 foot tower. The students were introduced to all the latest safety equipment and climbing techniques. The space program introduces the students to many skills few High School students get to experience."