A representative of the Eldorado Space Program, an Eldorado, Tex. high school program that teaches students to design instrumentation packages and launch them into space, said on its Facebook page Saturday that a cover story photograph in the March edition of QST published by the National Association for Amateur Radio, represented an inaccurate, unsafe depiction of a student climbing a 300-foot tower, and they were "sorry for the confusion and worry the original post generated."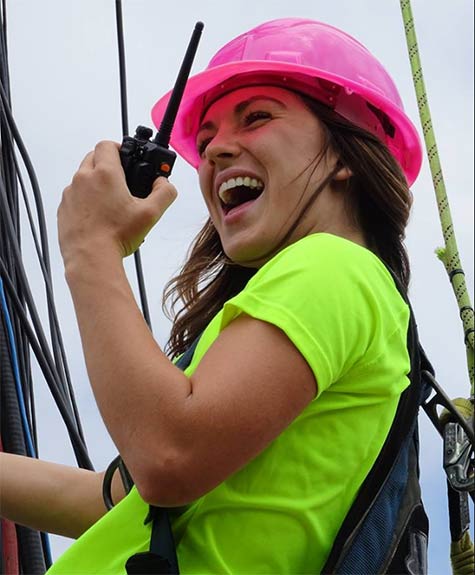 The statement said the student was only four feet off of the ground when the photo was taken, and "the rope on her back is not suspending her. It is used to pull something up from ground if needed. It was not part of safety or this climb."
However, thousands of concerned industry professionals viewed it differently since, as in the picture at right, the climber had it attached to her dorsal assembly system with an unacceptable knot that has its trailing end tied off with cable ties.
"They got to put the equipment on, and see how with the two clips, you can climb, always keeping one clip clipped to the tower, while moving the other one up. It was explained that with such a technique, if a climber were said to for any reason at any time lose their hold or even their consciousness, they would still be securely clipped with at least one clip," the post clarified.
The group said that a previous post that stated she was being taught "how to safely scale a 300-foot tower," was not meant to imply that she climbed to the top of the tower.
John Bloodgood, Emergency Coordinator & Public Information Officer for Region 2 District 2, Colorado, informed Wireless Estimator that a lesson learned and being shared among amateur radio PR officers is that they have to be reminded: "Be careful of your pictures and videos — any safety violations, real or perceived, will be noticed immediately and criticized soundly."
Bloodgood's message is also relevant to industry Facebook groups that will delete climber safety news and training initiatives, but  will frequently allow the posting of pictures with safety violations.
The incident was a topic of conversation by many attendees today at the National Association of Tower Erectors conference being held in Fort Worth.
The KLDE tower that the student climbed, listed by the FCC as being 320-foot in height, is located in Eldorado and serves San Angelo.
It is not known if the individual teaching the students how to climb alerted them to the dangers of climbing for the first time by reminding them of an incident that occurred to a San Angelo 28-year-old woman who was also on a tower for the first time being instructed on safety in March of 2015 and fell to her death.