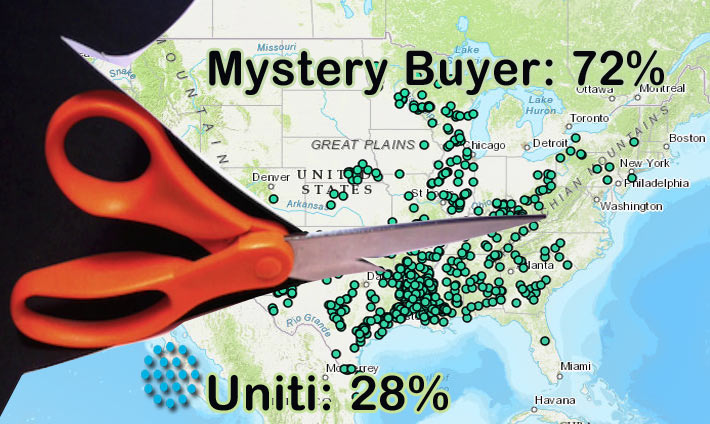 Fiber and tower owner Uniti has announced that it is selling 486 of its 672 towers located across 32 states to an unnamed buyer for $190 million, 30 times annualized tower cash flow.
During a Q4 analysts call last Thursday, Executive V.P. and CFO Mark Wallace said for the full year 2019, Uniti completed 240 towers and the acquisition of two towers in the US, bringing completed and in-service tower count at year-end to 672 towers.
He noted that currently Uniti has approximately 270 additional towers in various stages of development.
Uniti CEO Kenny Gunderman said that Uniti isn't exiting the cell tower business but is instead using the sale as an "opportunity to inject liquidity in a volatile capital market period and this is a good way to add liquidity versus issuing expensive securities."
"Our focus will continue to be owning and operating a premier portfolio of communications infrastructure assets, while providing a wide variety of solutions to our wireless carriers and other customers," Gunderman said.
He said that upon closing of the tower sale, they expect to initially use the net proceeds to repay borrowings under their revolver credit facility, but ultimately reinvest the proceeds in towers and fiber assets.
"This carefully structured transaction affords us the opportunity to continue building macro towers uninterrupted, but in a reduced CapEx manner at our choosing. We continue to view macro towers is an important part of Uniti's unique full service 5G offering to our wireless carrier customers," said Gunderman.
Uniti Towers is a division of Uniti Group Inc. which provides access to capital and states on its web site that its long-term mission is to build and own thousands of sites, and it will not flip its assets for short-term gains.
Phoenix closes acquisition of 197 towers
Earlier this month, Phoenix Tower International ("PTI") announced that it had acquired  197 towers from Tower Ventures Holdings, LLC.  The transaction provides PTI ownership and control over high quality wireless telecommunications infrastructure assets strategically located along the Atlantic seaboard, South, and Midwestern regions of the United States. Terms of the transaction remain confidential between the parties.
"PTI is excited to invest further in the United States and continue to grow its tower portfolio in advance of significant 5G deployments and ongoing 4G densification across the country," stated Dagan Kasavana, Chief Executive Officer of Phoenix Tower International.
He continued, "The Tower Ventures team has a great reputation and has constructed and operated high quality sites that we believe will see continued growth through lease-up and provide the wireless operators more best in class locations to achieve their network coverage needs alongside our existing towers and growing DAS and small cell business.  We are proud we have completed this transaction with Tower Ventures and look forward to working with them across the United States in the future."
Commenting on the transaction, Tower Ventures President and CEO, William Orgel, said; "Dagan and the wonderful team he has built in the past seven years were an absolute pleasure to work with on this transaction. They are professional, intelligent and have immense knowledge of the tower industry. Tower Ventures looks forward to a continued relationship with PTI as we move forward in developing more towers and managing our remaining portfolio of owned and managed sites."