Tornado takes out 350-foot tower in Nebraska
May 31, 2008 - A tornado toppled a 350-foot communications tower in Aurora,
Nebraska Thursday evening as powerful storms blasted through central Nebraska,
Built in 2001, the solid leg Cellxion structure is owned by American Tower Corporation. The self supporting tower had one tenant, Alltel Communications.
A FOX 4 photographer was traveling near the site when he noticed the tornado form. In his video, a brief outline of the tower can be seen near the 27th second as lightning strikes, prior to the collapse of the tower.
The tower was designed to TIA/EIA 222-F. Hamilton County requires a basic wind speed of 85-miles-per-hour.
Aurora is located north of the I-80 corridor where American Tower owns dozens of communications towers

Crown Castle North Carolina guyed tower toppled during retrofitting project
May 29, 2008 - Crown Castle International's contractor was in the process of shortening their tower in Browns Summit, NC, from 732-feet to 499-feet, but a
construction accident today reduced the above ground level height to zero as the guyed tower collapsed in this rural community.
Firefighters were called to 7760 Ferring Road at about 10:15 a.m. following a report of the tower's failure and found the structure lying behind a home. No injuries were reported, but power lines were pulled down when the structure fell.
Crown Castle did not respond to a request for information, but a worker familiar with the accident said the guyed tower failed as a crew was changing out turnbuckles.
The tower had been erected in 1978. A number of months ago, workers started a project to shorten the tower, according to Keith Hudson, a nearby resident. In recent weeks, he said crews had added lights, repainted the structure and were in the process of reguying the tower.
Hudson said he saw tower technicians about halfway up the tower, about an hour before it fell. He witnessed the tower leaning about five feet, then watched as it fell to the ground. Hudson said he was concerned about the tower workers' safety until he saw them emerge from the woods.

NATE's June 2 webcast to highlight 100% tie-off
May 29, 2008 - In response to the high number of accidents and fatalities occurring in the past two months, the National Association of Tower Erectors will host a webcast entitled "Tailgate Talks," focusing on the association's top five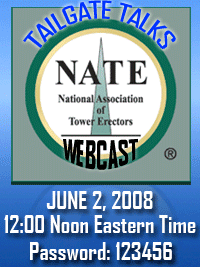 recommended safety topics.
The goal of the June 2, 2008, 12 Noon Eastern Time webcast is to remind crews to focus on what really matters - going home safely at the end of each day. NATE is taking this opportunity to proactively remind workers that the only acceptable way to do a job is to do it safely.
This presentation will stress the importance of 100% tie-off, and why safety has to be a dedicated commitment.
Originally planned for presentation to just NATE members, the association's directors decided that the message was too important and should be heard by everyone in the industry.
Don Doty, NATE Chairman of the Board of Directors and presenter, will encourage industry professionals to take action and play a lead proactive role in changing the way the industry operates.
During the webcast, Doty will present NATE's top five topics for safety professionals to discuss with their crews during daily tailgate meetings:
1. Potential hazards (weather, environmental hazards, tower corrosion or structural damage, electrical hazards, other hazards unique to the job at hand)
2. Pre-climb check of personal protective equipment
3. 100% tie-off is mandatory
4. Lock-out/tag-out procedures, and
5. What to do in an emergency
To view the live 20-minute webcast on June 2, click here and use the following password: 123456. For those people without access to a computer, dial (866) 699-3239. The event number is 669 182 347.
After June 2, the recorded presentation will be posted on the NATE website.

Alarmed by crash, police nab cell site thief
May 27, 2008 - Although it is not known if he is a tower technician, a 28-year-old man might have used a TRACcess key to disable an alarm and gain entry to two rooftop cell tower locations in Elmont, New York, to allow him to strip the sites of its copper.
However, he initiated his own less than silent alarm when police officers stopped at a nearby red light at 570 Elmont Road and heard a loud crash. They investigated and noticed Mohammed Yassine of West Hempstead on top of the roof and noticed copper cables and grounding bars at the base of the building.
The Nassau police officers stopped Yassine last Wednesday as he left the building and found that he was carrying a set of bolt cutters in a bag. He ran away, and after chasing him on foot for a short distance, the officers caught Yassine, who struggled to avoid arrest.
Yassine's destruction to the AT&T and T-Mobile cell sites caused approximately $25,000 worth of damage. He was charged with one count each of burglary and resisting arrest and two felony counts of criminal mischief.

Tower tech falls to his death in South Florida
May 22, 2008 - A worker employed by Structural Systems Technology, Inc. of McLean, Virginia fell to his death at 12:04 p.m. today north of Miami, Florida, according to a spokesman for Miami Dade Fire Rescue.


Darren Joe Reed had been performing maintenance work on the Channel 7 WSVN tower at 502 NW 207th St.
The area is called the antenna farm, where many broadcast companies maintain towers. The structures are landmark locations and can be seen while flying into Miami or Ft. Lauderdale airports, and are visible from I-95 and the Florida Turnpike.
The death was the seventh fatality this year of a worker falling from a communications structure.
A spokeswoman for the Fox affiliate said that the station did not have any additional information at this time.
Structural Systems Technology has been designing and constructing towers and related facilities worldwide for over 30 years.

On June 2, 1988, three SST workers were killed when the 2,000-foot Kirksville, MO television tower they were reinforcing collapsed. The KTVO-TV tower, owned at that time by Federal Broadcasting, was undergoing a structural upgrade and fell during calm weather as braces were being replaced.

A SST worker was injured on January 11, 2008, when a 2,000-foot TV tower collapsed in Redfield, Arkansas while a crew was reguying the structure.

Indiana death marks nation's sixth fatality
May 17, 2008 - A tower technician fell to his death Friday off of Warrenton Road in Haubstadt, Indiana, according to the Gibson County Coroner's office. The worker was on an AT&T UMTS project managed by General Dynamics. Some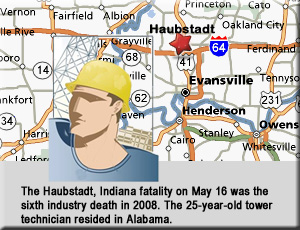 crews in the market were shut down until further notice.
The 25-year-old Alabama man, Jonathon Guilford, was the nation's sixth fatality of a tower worker falling from a structure.
The Indiana Department of Labor has been contacted and is investigating the accident.

Preliminary reports indicate that although he wore the required safety equipment he was not secured to the tower.

The climber was employed by All Around Tower.

General Dynamics has scheduled a mandatory safety evaluation meeting this afternoon with approximately 15 crews that are working in the Evansville market. OSHA officials are expected to attend the meeting, but it is anticipated that the fatality will not be discussed until such time as they complete their investigation.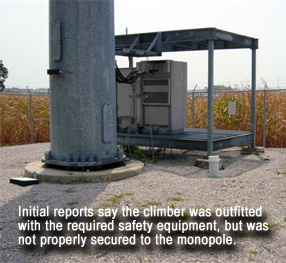 A number of industry workers familiar with the fatality said that OSHA will be investigating reports that the technician had been rapelling down a load line attached to a block on a 200-foot monopole when he suddenly stopped at approximately 140 feet.
Co-workers said that the abrupt stop might have caused the rope to bounce back up like a bungee cord, allowing the block to disengage itself from the carabiner that secured it to the monopole.
Although the technician suffered extensive trauma, he remained alive for a period of time, although in shock, questioning his condition as his crew members attempted to summon emergency help, said a technician knowledgeable about the fatality.
A crew member was required to seek medical attention when he complained of chest pains following the accident, according to numerous reports.
The industry had suffered no fatalities from early December of 2007 through April 12, 2008, but within 12 days five tower technicians fell to their death.
At least half of this year's fatalities happened while the tower worker was on an AT&T project.

Three trespassers die after entering secured sites
May 17, 2008 - A Westwood, Kansas 17-year-old was the third resident in past weeks to die after trespassing on a tower site. Police say that about 9:00 a.m. this
morning a passer-by discovered the youth's body in a two-tower compound at the Entercom Inc. building at 50th Street and Belinda Avenue.
It appears, police say, that the trespassing teen fell from the 500' tower, the shorter one of the two structures.
On Wednesday, a 42-year-old man had climbed a monopole in Travis County, Texas and apparently fell while on the structure. However, he became wedged between the pole's safety climb and an accessory on the tower and dangled there until a resident noticed him hanging at the 30-foot level at about 8:00 a.m.
The Travis County Medical Examiner's Office said that he appeared to have died from positional asphyxia. He had been hanging upside down for an extended period of time and was not able to breathe.
On April 26, a despondent 20-year-old man reportedly ended his life after he climbed a communications tower in Warwick, NY and then jumped to his death.
Officials found that at all three sites the compounds had been properly secured.
Rumors had been circulating throughout the industry that the New York resident who fell was a tower technician. At the same time, bulletin boards were abuzz with a report of a tower worker dying after he fell from a tower in Long Island, New York.
The Long Island Occupational Health and Safety Administration area director reviewed their records and found that they had no information regarding such a fatality, stating that the police departments on Long Island have a great record of referring this type of information to their office.

Commentary
Climbers Hall of Shame shouldn't be necessary
May 9, 2008 - When five climbers died within 12 days last month the industry shook its collective head in disbelief, and questioned what it could do to put an end to
casualties. Days later, Bechtel Corporation and AT&T required their contractors to stand down and attend mandatory meetings designed to reinforce appropriate safety practices with each of its employees and subcontractors.
A number of contractors groused about the lost time and revenue, and saw the meeting requirement as a reactive rather than a proactive program. Almost all of them echoed the "closing the barn door" cliché.
Thankfully, once those contractors' representatives had the opportunity to attend the sessions, they discovered that both companies truly have a fervent desire to end deaths and injuries.
One hundred percent tie off was emphasized in the meetings, as it should have been, since the majority of those five deaths - most likely all of them - occurred because the tower technician was not tied off and fell while transitioning or free climbing.
No different than a number of safety practitioners, some medical doctors will overlook the treatment of common ailments as they search for uncommon causes and cures. In the tower industry, people die from falling. The indisputable cause: blunt trauma. The irrefutable cure: 100% tie off and proper training.
Company managers and their employees know this. So why do some technicians not practice 100% tie off? It could be bravado, a false sense of security, a youthful belief of immortality. Others believe that pricing pressures are at fault.
The answer might be that tighter supervision on all levels of the industry is needed to ensure that climbers tie off 100% of the time. It's not being done. And the industry knows it, but will not dedicate the manpower and the inherent cost to do it.
The above pictures, taken in Oklahoma last week, is a perfect example. These two technicians are not employees of Bubba's Bucket and Rope LLC. They are employed by a company that has multiple crews and has been serving major tower companies and carriers for years. The employees know better than this. Their company knows better than this.
But here we have two young men, without a hard hat, that appear to care less about their safety and are free climbing because the structure doesn't have a safety climb. Neither tech is wearing his Y-lanyard to ensure 100% fall protection as required by law. The only false sense of protection they have is their positioning lanyard.
Therefore, we are not proud to announce that they are the first inductees into WirelessEstimator.com's Tower Climbers Hall of Shame. But we'd rather have the two climbers almost drown in their own pool of embarrassment, rather than audition for fatality six and seven.
We hope that their company takes the appropriate administrative actions and ensures that observed and enforced 100% fall protection becomes a culture, not a command.
---Craig Lekutis

Viewers watch tower's collapse in a scene that might make Spielberg blush with envy
May 8, 2008 - Using blue screens, clay models and other special effects, film makers would find it difficult to replicate the collapse of a 300-foot guyed tower in Woodridge, Ill that took place yesterday, just south of the intersection of Lemont Rd. and 103rd St during morning rush hour.
To imitate life, their movie set storyboards would have to detail the following, without any exceptions:


* Find a heavily traveled four-lane road in Illinois.

* Erect a 300 foot-guyed tower weathered to show at least 30 years of age, but put on a new coat of paint to accent its still remarkable condition. For local flavor, replicate an 80D Rohn tower that would have been manufactured in Peoria.

* Pan in with an overlay date of 1973 showing the local vertical landmark in its full regal state, then segue into vignettes of it callously, but profitably being passed on as a commodity to numerous companies such as Pipeline Tower, Shaffer & Associates, Pinnacle Tower and Crown Castle International.
* As the camera pans from the top of the tower's obstruction lighting and brings the tower's three tenants into focus, capture a distant shot of a tanker truck heading southbound towards an intersection near the tower.
* Zoom into its federal warning signs that show that it's carrying a highly flammable chemical, benzene.
* Provide inside shots of the drivers of two passenger vehicles just before one becomes distracted and crashes into the other car. Have one of the cars veer off into a ditch alongside the road and crash head on into the anchor supporting the southeast guy wires. (Note to set builders: Do not put a fence or bollards around this anchor so that the car can easily strike it.)
* In order to have the tower fall exactly where we want it, the anchor that is struck must show some damage and flying debris; however, graphically demonstrate the guy wires vibrating and transferring the load to the tower and then to the southwest anchor. In a close shot, show the anchor head breaking above ground where it is welded to the anchor rod.
* Take multiple shots of numerous witnesses, some stuck in traffic, others traveling close to the tanker truck.
* In a complex Sam Peckinpah-type shot, have the tower fall for an almost exaggerated amount of time so that it can be later described by witnesses as falling in slow motion.
* Do a number of tight shots of drivers' expressions as they helplessly watch as it falls towards the tanker truck, some barely seeing it out of the corner of their eye, others staring at the full collapse in awe.
* As the tower falls straight over - ensure that it does not buckle at any point during the collapse - when it is 30 feet above the road, have the area between the truck's cab and tanker directly underneath. You'll have about one foot on either side to thread this needle, but have the tower shear off a foot or two of the thin metal covering of the tank, exposing the insulation. Do not pierce the tank.
* The tanker will not explode and its driver will be uninjured; however, have the tower take out a live primary electrical wire next to the tanker. As the primary starts arching, show the tower ripping additional power lines and pulling down the cross-arms on at least 14 poles.
* As police and emergency vehicles cautiously pull up to the guy and electrical wire-strewn accident site, have the driver climb down from his cab and stand next to exposed live wires. Have him light up a cigarette, and slowly survey the tower and the damage on the front of the tank to see if the membrane has been ruptured.

* All of the preceeding scenes must be exactly as they happened. However, we've received approval to take a little cinematic license. Have the tanker driver turn around after exiting his cab. While rubbing his chin's two day beard, he'll raise his head and try to envision how the top of the tower might have looked prior to the accident.
* Speaking to a nonexistent audience, as he often does during lonely long hauls, he says, "Those guys who climb those things must be nuts. You'd never get my ass up there. It's going to rest down here in my cab where it's always nice and safe."

* Fade to aviation orange.

Sprint Nextel to merge its broadband

segment with Clearwire
May 6, 2008 - While speculation spreads regarding Sprint Nextel's shedding of its Nextel unit, news reports say that a $12 billion joint venture that would have Sprint Nextel Corp. merging its wireless broadband segment with Clearwire Corp. is imminent.
The venture will be backed by a total of $3.2 billion in cash investments from cable giants Comcast, Time Warner and Silicon Valley powerhouses Google and Intel.
Last November, Sprint and Clearwire mutually agreed to terminate a previous agreement when they could not resolve complexities associated with their terms of transaction.

Some observers say it's not too early to push to talk about the impact of a Nextel spin-off
May 6, 2008 - In a move that will have a significant impact on the tower siting community, Sprint appears to be assessing spin-off options that would slice the company into a number of parts, according to a report in The Wall Street Journal.
The industry's number three carrier is seeking to sell its Nextel operation, its Achilles heel that has crippled the company's earnings. Last year they posted a $29.6 billion loss from writing down the value of the Nextel unit, which lost subscribers after complaints about customer service and poor call quality.
The potential move would help to remove the neglected iDEN two-way radio network off Sprint's hands now that the 2005 merger has been widely seen as a failure.

Unconfirmed reports indicate that Sprint is also looking to sell its long distance/fiber optic holdings.

The Journal reported that Deutsche Telekom AG, which owns T-Mobile's U.S. unit, might seek to buy Sprint. Deutsche Telekom and Sprint declined to comment. Shedding Nextel, acquired for about $35 billion, may help make the company a more attractive acquisition target, the Journal said.
Please see: Siting community might suffer
_________________________________________________________________


HIS IQ MUST BE EQUIVALENT TO HIS NECK SIZE, says the viewer who sent WirelessEstimator.com this picture that was taken in the vicinity of Tampa, FL. Neither the tower technician's name nor the company he was employed by is known, but the climber is a poster child for a small number of climbers that ignore safe climbing procedures in an industry that is inherently safe when 100% fall protection is observed. We're hoping that this climber has the ability to read, therefore, please
note: You must have the equipment necessary and the knowledge required to observe 100% fall protection. Also, many T-arms are not man-rated and antenna mounts are prone to spinning.

Cell tower's resident raptor freed in early
morning rescue mission
May 2, 2008 - Emergency nighttime work for tower erectors oftentimes involves a host of unexpected maintenance issues, but two New Jersey tower technicians were tasked with an unusual project when they arrived at a cell site last Friday in Lower Mount Bethel Township, PA.

Instead of a job site meeting with the tower's owner, Crown Castle International, Steven Mulligan and Steven Carroll from Presidential Tower Co., located in West Berlin, NJ, were given instructions by Brad Kreider, a Pennsylvania Game Commission wildlife conservation officer.

Their mission, far removed from maintenance, Kreider explained, was to quickly learn proper raptor rescue techniques and free an osprey that had been stuck upside down on the monopole at the 100-foot level for at least eight hours, before it became a retrieval effort.

Please see: Talon caught behind antenna pipe
Two copper thefts at site within three days
May 2, 2008 - Raleigh County sheriff's officials say copper thieves struck a cell phone tower twice in three days' time.
About 800 feet of copper wire was stolen from a Verizon cell tower in Bolt, WV, between Monday and Wednesday. When the tower was first hit, a tower crew repaired the damage and replaced the stolen wire.
Then the thieves stole what was replaced. Both thefts cost Verizon an estimated $15,000 in material and repair costs.

Tower site fatality wasn't industry related
May 1, 2008 - A despondent 20-year-old man ended his life last Saturday after he reportedly climbed a communications tower in Warwick, NY and then jumped to his death.
Police are ruling the death as a suicide. Upon their arrival, officers found that the site's compound had been locked, but the young man had apparently climbed over the barbed wire topped fence.
Baseless rumors had been circulating throughout the industry that the New York resident who fell was a tower technician.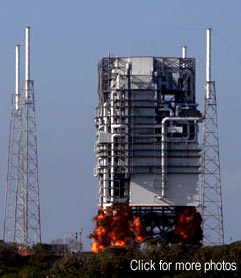 Erector helps in changing
Cape Canaveral's landscape
April 28, 2008 - Most tower contractors are hired to assist in the erection of structures, but few are accorded the opportunity to aid in the demolition of towers, especially one that is 265 feet tall and weighs in excess of 6,500 tons.
However, employees of Lit Systems, Inc. of Signal Mountain, TN, led by Chad Stiles, had front row seats yesterday morning as they watched the demolition of a Titan-era gantry as it was blasted to the ground to clear the historic Air Force launch pad for new commercial rockets in Cape Canaveral, FL.
Lit Systems had previously relocated guy wires late last week near the structure so that the launch tower could be demolished without taking down the lightning control towers adjacent to the Complex 40 mobile service tower that was built in the early 1990s.
Crews of Controlled Demolition, Inc. of Phoenix, MD, utilized approximately 200 pounds of explosives that were strategically placed in nearly 500 locations in the lower portion of the gantry, and successfully toppled the structure, once called the largest moving structure in the world.
"It actually fell short of where we thought," said Kevin Hooper, 45th Civil Engineering Squadron project manager for the pad demolition.

"It appears that it fell down, then fell over...it collapsed more," he said.

Space Exploration Technologies plans to transform the complex into the East Coast home of its Falcon 9 family of rockets now under development. Those boosters are designed to be assembled horizontally and rolled to the pad shortly before launch, making a mobile service tower no longer necessary.
Controlled Demolition is well-known throughout the country for its demolition expertise, from the Seattle Kingdome to the Alfred P. Murrah Federal Building in Oklahoma.
During June of 2006, they were contracted to remove the WFXL-TV broadcast tower in Doerun, GA after it had been structurally damaged after an Army Chinook helicopter crashed near the top of the guyed tower, killing four servicemen.
WFXL's tower appeared to be a picture perfect drop until its top guy wire wrapped around WALB's top guy wire, causing both towers to collapse during this demolition.

Click here for more pictures of the Cape Canaveral demolition.

Fifth fatality has industry troubled about sudden rash of climber deaths throughout the nation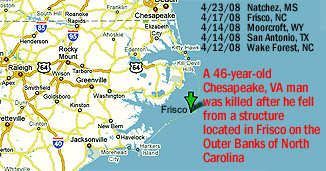 April 23, 2008 - (Updated April 28, 2008) While family, friends and coworkers were paying their respects today during funeral services in Virginia Beach, VA, to a 46-year-old Chesapeake man who died after falling from a communications tower on April 17, another tower worker fell to his death in Natchez, MS.
Mark F. Haynes, of Griffin, GA, died after falling approximately 100-feet, according to Adams County Coroner James Lee. He said Haynes' death was caused by extensive head and chest injuries.

Haynes was employed by Overland Contracting Inc., a Black & Veatch Company, and was reportedly hanging boom gates on a Cell South tower when the accident occurred.

Haynes' death is the fifth fatality within 12 days, which has the construction industry duly concerned about the sudden rash of incidents following a fatality free period since December 5, 2007. Some management companies are calling for stand downs to address their safety concerns.
Chesapeake worker is North Carolina's second fatality
A representative of the North Carolina Department of Labor said that William Edward Bernard, Jr., of Chesapeake, VA, fell while working on a tower in Frisco, NC last Thursday, and that additional details would not be provided until their investigation is complete.
Bernard was employed by Brook Hill Communications, Inc. of Mechanicsville, VA. Memorial donations may be made to the Appalachian Trail Conservancy, P.O. Box 807, Harpers Ferry, WV 25425.
On April 14, another tower technician fell to his death in Moorcroft, WY, according to a Moorcroft Police Department administrator and Crook County Sheriff Steve J. Stahla.
The worker was employed by Cornerstone Tower of Grand Island, NE.
Officials of the Wyoming Occupational Health and Safety organization were at a state-wide conference this week in Casper and were unavailable for comment.
On April 12, a worker fell to his death while transitioning on a monopole in Wake Forest, NC. Two days later a tower technician fell 225-feet off of a guyed tower and died.
Concerned about the losses within the industry, the National Association of Tower Erectors sent a newsletter to their members yesterday emphasizing the need for companies to remind their climbers of the importance of following the training they have received, specifically that 100% tie-off is mandatory.
"Above all else, take this opportunity to let them know that their decisions are essential; their lives depend on the choices that they make," said NATE Executive Director Patrick Howey.

Two of the fatalities occurred while the climbers were performing work on AT&T related installations. A previous report that one was on a Bechtel Corporation project was incorrect.

Bechtel Corporation's northeast regional and market construction managers are holding mandatory safety stand down meetings this week for its construction employees and their subcontractors and their subtier subcontractors.
Their safety topic will be refreshing the back to basics with a strong focus on working at heights. Attention is being focused on this subject because of the fatalities which have recently occurred. They said that AT&T has required its contractors and suppliers to immediately hold the stand down meetings.

They informed their subcontractors that they might be contracted to work for other AT&T contractors, who will also be convening safety stand down meetings. They told their contractors that they would prefer that they attend Bechtel's stand down meetings.

AT&T re-emphasizes zero accident expectation
In an effort to re-emphasize the importance of good safety practices and AT&T's zero accident expectation, AT&T said that they were instituting a construction stand down to give each of their construction suppliers an opportunity to reinforce appropriate safety practices with each of its employees and subcontractors.

Their notice to contractors read, "AT&T therefore requires you to hold, at a minimum, a half-day safety refresher training course this week with all of your construction employees and subcontractors providing services for AT&T. Upon completion of the safety refresher training this week, AT&T expects that you will reinforce this training with additional random safety checks at the construction sites to ensure that appropriate safety measures are being used."

Second tower climber's death in past three days
mars four fatality-free months
April 15, 2008 - (Updated April 17, 2008) James Friesenhaun, 38, was killed yesterday when he fell 225 feet from a guyed tower located near Northwest Military near Camp Bullis, in San Antonio, TX, according to Sergeant Ted Prosser of the San Antonio Police Department.

Friesenhaun was employed by Ransor Incorporated of Schertz, TX, according to a San Diego OSHA representative.

Ransor Incorporated, a company that has been building wireless telecommunications tower sites for over 26 years, had been hired by CPS Energy to provide reinforcements on its guyed tower.

The worker reportedly was loosening bolts on the steel that he was attached to when he fell. Two other technicians working on the tower said that they saw their co-worker "sort of lean back a little bit, and apparently, after the last bolt that he loosened, he just fell down 225 feet," according to Sergeant Prosser.
CPS Energy, a utility owned by the city of San Antonio, would not provide any details regarding the accident.
The tower erection industry had been cautiously enjoying a fatality-free period for over four months, but was saddened by the nation's first death last Saturday in Wake Forest, NC.

Judge seals settlement in obstruction lighting suit that questioned whether TV station was at fault
April 14, 2008 - The families of most of the Army soldiers killed in a helicopter crash near Fort Hood, Texas in 2004 have settled their lawsuit against the owners of an 1,800-foot television tower involved in the accident.
The plaintiffs alleged that a primary cause for the crash was because the television station's obstruction lighting system was not operating in compliance with Federal Aviation Authority standards and was in need of repair.
However, the details of the suit and the plaintiff's arguments will not be known since U.S. District Judge Walter S. Smith Jr. closed the hearing to the public last Friday and sealed court records.
The families of seven military personnel killed sued Centex Television Limited Partnership, which owns and operates KXXV-TV, Channel 25, in Waco; KSWO Television of Texas Inc., a general partner of Centex Television; and KSWO Television Co.
Army investigators ruled that pilot error caused the accident, stating that pilots were flying too low and relying on their vision rather than flight instruments during poor weather conditions.
The lawsuit alleged that the defendants were negligent by failing to repair, maintain and keep the obstruction lighting in order; by not maintaining an automatic alarm system designed to detect and alert the station's engineers to a lighting failure; by not observing the inoperative warning lights on the tower within 24 hours of the crash either visually or by observing an automatic indicator designed to register the failure; and installing warning lights on the tower that were inoperative, inadequate.
It is not known if Centex Television settled the lawsuit to mitigate potential high awards if it were to go to trial. For additional information regarding the civil suit, click here.

Oklahoman succumbs after 150-foot fall
April 13, 2008 - A Midwest City, Oklahoma man died yesterday afternoon after falling 150 feet from a monopole located in Wake Forest, North Carolina.


Authorities say that Charles Wade Lupton, 34, was working on the cell site structure with a co-worker from MJM Group LLC from Franklin, Tennessee when he suddenly fell.

OSHA is investigating the incident, the nation's first death in 2008 of a communications worker falling from an elevated structure.

The monopole is owned by Crown Castle International.

Lupton, an experienced tower technician, was taken from the tower site at 11156 Capital Blvd. to the North Carolina Examiner's Office in Chapel Hill for an autopsy.

Bidding blunders forum assists contractors from not repeating the same tower siting errors
April 10, 2008 - If a seasoned telecom estimator was applying for a position with a new company and said that he or she had never made a formidable bidding error,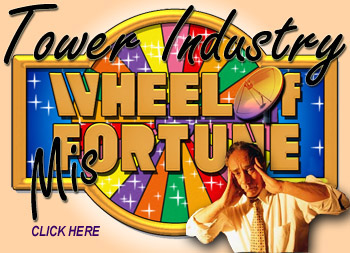 most HR-types would quickly usher them to the door.
In a rushed tower siting environment where bidding errors or omissions will happen, many mistakes are unable to be discerned prior to submitting a proposal. Other problems, from pink towers to improper password protection, only surface once the work begins.
Most bidding errors are typically discussed at an unhappy happy hour, if they're thrashed out at all. However, now there is a forum about Beautiful Bidding Blunders and How To Avoid Them that is being shared with the industry in an effort to keep mistakes from happening again.
Since you can sometimes learn more from one unsuccessful bid then from all of the ones that were successes, WirelessEstimator.com invites you to share your proposal problems or other companies' bidding errors that you are aware of that have been made.

You'll also be entered into a random drawing in June, July and August where you can win $100 in cash from WirelessEstimator.com plus a $100 gift certificate from PRIMUS Electronics.
Some people believe that mistakes are merely steps up the ladder to success. We agree, but think that it is also nice to have a financial fall protection forum to assist you while climbing towards profitability.

TV viewing helps to nab suspected copper thief
April 8, 2008 - A New Caney, Texas, man's five seconds of fame on television was rewarded last Thursday by a visit from less-than-admiring members of the
Montgomery County Sheriff's Office after he was identified as the person shown on a hidden camera stealing copper wire from a communications tower in East Montgomery County.
Sheriff's officials say Christopher Burton Thomas, 36, was charged with two counts of theft of copper, valued at less than $20,000, a state jail felony punishable by 180 days to two years in jail and a fine of up to $10,000 per count; unlawful use of a criminal instrument, also a state jail felony; evading arrest or detention, a Class B misdemeanor; 16 outstanding warrants from Precinct 4, including no driver's license; failure to appear; no liability insurance; failure to identify; expired motor vehicle registration; 11 warrants for judgments; and an outstanding warrant from the 221st District Court for surety with possession of a controlled substance.

Last week, Houston's KTRK Channel 13 broadcast a video of a copper thief in action. Deputies received a tip that Thomas was the man in the video stealing copper and when they went to his home to investigate, they found him with other stolen items.
Many states are considering legislation to assist in controlling copper thefts. In New Jersey, a bill moving quickly through the House and Senate would make such theft a first-degree felony, punishable by up to 30 years in prison and a $10,000 fine.

PCIA and state wireless groups team up to advance advocacy projects in nine states
April 1, 2008 - As advocates for the wireless industry, state wireless associations and PCIA - The Wireless Infrastructure Association, have made a significant impact across the country, according to Nancy Chrisman of PCIA.


Chrisman recently detailed the advocacy projects in nine states that will make a significant difference in tower siting.

One example noted was the efforts of the Alabama Wireless Association, PCIA, and a broad coalition of carriers, to have pro-siting legislation enacted in Alabama.

Various municipal groups oppose the effort on grounds that such legislation unfairly removes local authority from municipalities to regulate wireless facilities within their jurisdiction, so the industry coalition is revising the bill to make clear that municipalities retain such rights and distills the legislation to its essential elements of collocation by right, limitations on fees, and limited RF review.

The revised legislation will be submitted to the Alabama Legislature in late March, after it returns from spring recess, and will include a commitment to participate in an off-session study committee to review contentious points after the session concludes in summer 2008.

Andy Rotenstreich, President of the AWA, has coordinated and spearheaded this effort. Please see: Pasadena tower zoning ordinance.

Three arrested may be linked to 60 New Jersey and Pennsylvania cell site copper thefts
March 22, 2008 - Three men were arrested this week and charged with stealing copper from a cell phone tower in East Brunswick, NJ. Authorities suspect they committed up to 60 similar thefts across New Jersey and into Pennsylvania.
Jorge Rasteiro, 24, of Elizabeth, and Andreas Gardner, 21, of Jamesburg, were arrested Wednesday night after State Police responded to an alarm at the T-Mobile cell tower just off of the New Jersey Turnpike. Matthew Torre, 22, of Sayreville, a third suspect was arrested the following day and charged with conspiracy to commit burglary and theft.
As troopers arrived, Restiaro and Gardner fled, but Restiaro was captured by East Brunswick police who responded to assist. Gardner escaped but left behind a red Honda Accord registered to his father, and officers arrested him later after tracing the registration to his Jamesburg home, police said.
Following Rasteiro and Gardner's arrest, State Police contacted members of a task of police officials, including officers from 20 departments in Morris, Middlesex and Hunterdon counties that formed in February to investigate thefts at cell towers. Members of the task force arrested Torre.
News reports show that from November through February, thieves hit at least 25 cell towers in New Jersey, making off with the copper grounding bars that protect the structures from damage during lightning strikes. Phone carriers identified the cost of repairs at $125,000.
However, State Police this week said there had been a total 60 similar thefts and believe that Rasteiro and Gardner might have been involved.

Anchor system failure fells California AM tower
March 18, 2008 - On Saturday, KFI-AM personnel welcomed the long-awaited construction of their 684-foot guyed tower in La Marida, CA as they watched its stub being set.


As the Clear Channel Radio employees saw the structure approaching its mid level height, they breathed a sigh of relief after waiting almost three and one-half years for the tower to be erected after it was felled when a small plane hit it on December 19, 2004.

At 2:04 P.M. today, they watched in disbelief as the new tower crashed to the ground as a tower crew prepared to pull tension on the third level of seven guy wires. A tower rigger employed by the erection contractor, Seacomm Erectors, Inc. of Sultan, WA, received minor injuries.

The collapse was reportedly a result of a failure of a back guy rod of an elevated anchor system. The tower was engineered and manufactured by Magnum Towers, Inc. of Sacramento, CA.

No riggers were on the tower when it collapsed. The injured worker was getting ready to pull tension on the guy wire atop the elevated guy anchor using a come-along to take up the slack. He either jumped or fell when the tower began to fall.

A photograph of the tower failing was captured by Dino Darling.

For almost three years, Fullerton airport and city officials joined with local pilots in protesting plans for the tower's reconstruction, saying it was too tall and would pose a hazard to pilots. They didn't want the new tower to rise more than 500 feet.

The La Mirada City Council unanimously approved the new tower in January.

"We still stand behind the Federal Aviation Administration finding that this would present no greater hazard," La Mirada City Planner Rueben Arceo said.
Clear Channel Radio engineers are investigating why the structure failed. The existing foundations of the original tower were not damaged.

For more photographs of the tower failure, click here.

Backup power appeal sets back FCC's eight-hour

nationwide mandate
March 8, 2008 - A federal appeals court in Washington, D.C., has granted a request by Sprint Nextel to stay the Federal Communications Commission's eight-hour backup power regulations so the court can also review an appeal submitted by the CTIA and wireless carriers.
In their appeal for the FCC to delay implementing the change, Sprint Nextel stated that the rules would lead to "staggering and irreparable harm" for the company. The cost couldn't be recouped through legal action or passed on to consumers, the carrier said.
Following the destruction of communications systems by Hurricane Katrina across the Gulf Coast in 2005, the FCC issued a mandate that most cell sites in the United States should have at least eight hours of backup power for use in emergencies.

While some carriers are already implementing the FCC backup power requirements, others say that the order is too costly and in some cases impossible to implement.
The FCC said it was disappointed with the court's February 28 decision. Oral arguments for the appeals case are scheduled for May.
Jackie McCarthy, director of governmental affairs for PCIA - The Wireless Infrastructure Association, said the FCC should allow the industry to decide how best to keep its networks running. She said that the PCIA believes that no matter what the redundancy in backup power, nothing will help a cell tower destroyed by wind or wildfires.
"Our members' position is that the 'one size fits all' approach to requiring eight hours of backup power at all cell sites really doesn't accomplish the commission's stated purpose of providing reliable wireless coverage," McCarthy said in a press report.