Lawsuit says cop fired blindly at tower technician
February 9, 2007 - Family, neighbors, friends and tower workers nationwide believed that AFL Network Services' tower technician Anthony Wayne Furr might have been a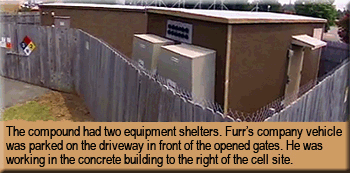 victim of an overzealous or frightened police officer when Anthony Payne of the Charlotte-Mecklenburg Police Department shot and killed the forty-one-year-old inside an equipment shelter on July 20. Payne said he was in fear of his life because Furr pulled a gun on the veteran cop.
A lawsuit filed January 19 by Furr's family might finally provide some answers to the Charlotte, North Carolina tragedy.
Suit says veteran cop was at fault
Police investigations found that Payne followed policies and procedures and the district attorney later cleared him of any wrongdoing . Many industry workers called for an independent investigation of the shooting, but Police Chief Darrell Stephens said his department would handle the matter internally and he would not utilize the services of the NC State Bureau of Investigation that could have assured public and police confidence.
During an October 26 news conference, Stephens said that his department's investigation into the death of Furr was finished and Payne's actions were justified.
Police say Payne, acting upon a trespassing complaint , walked into the open door of the cell site equipment building where Furr was working and identified himself, but Furr pointed a gun at the officer and refused orders to drop it. That's when Payne opened fire, striking Furr twice and killing him instantly.

According to Furr's autopsy report, a light was out on the outside of the building which could have made it difficult for Furr to see who was in the doorway, Stephens said.
The lawsuit says the officer did not properly identify himself and shot blindly into the shelter. It also identifies that Payne failed to investigate why Furr was at the tower site and then failed to properly identify himself. During the police investigation Payne said he informed Furr that he was an officer and Furr failed to comply when he ordered him to drop the weapon.
However, the family charges in the suit that Furr never pointed a handgun or any tool at the officers. The suit claims that he threw his handgun outside of the equipment shelter when he finally realized that there were police outside the doorway. Furr frequently carried the handgun at night for protection.

Whereas earlier reports said Payne was fully visible to Furr when he shot him when he felt that his life was in danger, the suit argues that Payne ducked behind the doorframe of the concrete shelter, reached around with his hand and fired three shots, two hitting the technician.One round struck the door outside of which Officer Payne was standing and two of the rounds hit Furr in the chest area.

The suit also alleges that the CMPD failed to advise patrol officers of the legitimate late night employment activities of cellular telephone technicians and the need for use of restraint when encountering or investigating such persons at jobsites in the early morning hours;

An attorney for the family had reportedly been present during a police reenactment of the event.

The suit filed by Furr's estate accuses Payne of negligence, assault and battery, and malice outside the scope of his duty. It also accuses the city of negligent hiring and training, and wrongful death. The suit seeks an unnamed amount in punitive and compensatory damages.
Furr was wearing the company uniform of a golf shirt with the AFL logo and khaki pants while he was performing equipment maintenance in the shelter. His company vehicle was parked outside of the cell site compound and was clearly marked with the company's logo.
AFL Network Services' human services director, Michael Hackett, said that there is a company policy against employees carrying weapons. An informal poll conducted following the shooting identified that 58% of 517 tower technicians said they carry a handgun for protection when they are working alone at night in high crime areas.
Friends and coworkers were shocked by Furr's reported actions when the incident was first reported. He was described as being a level headed, caring and giving person that did not have the temperament to be aggressive to a police officer or anybody else. He was active in his church and other community groups. Furr was a single parent of two children, Emily, 18 and Ryan, 20.

Police officials said they will not comment upon an ongoing lawsuit. City Attorney DeWitt "Mac" McCarley said that based upon information contained in the internal and criminal investigative files, he intends to provide a vigorous defense for Officer Payne and the City of Charlotte.

The lawsuit was filed on behalf of the family by Furr's sister, Audrey Lowder.