Free turbocharged industry job board is the
largest and fastest in the nation
August 30, 2010 - While the nation's unemployment rate is just south of 10%, the wireless siting and development industry - buoyed by America's insatiable need for
data - is booming and employers are becoming anxious about their ability to staff experienced personnel.
To assist the industry to be able to reach qualified individuals in all areas of design, development and construction, WirelessEstimator.com has introduced its turbocharged employment job board.
It is unquestionably the most comprehensive with the quickest search capabilities in the nation, according to employers and staffing executives who teamed with WirelessEstimator to develop the employment portal.
The module's lightning-quick programming allows viewers to search over 150 jobs or companies during the past 31 days in less than a half a second.
Although an intuitive and quick search application was at the top of employers' wish
lists, a primary concern was the niche industry's lack of standardization of job titles.
The most challenging position title for both employers and employees alike was for a Tower Tech. A search of over 3,500 help wanted advertisements on WirelessEstimator.com provided 17 frequently used titles for the same described position.
In an informal poll of 1,206 visitors last year, Tower Tech was selected as the most popular term over Tower Climber, Tower Technician and Tower Hand.
The employment site now presents standardized titles for positions with subtitle descriptions for the profession to easily assist potential candidates.
Ads are now required to contain only one position. Previous headings such as Tower Personnel and Crew Members didn't identify the position and were apt to be viewed less by job seekers, employers said.
Another instituted suggestion requested by employers and candidates was to require employers to provide an operational web site so that candidates can access additional information about the company.
They noted that with today's inexpensive hosting fees and easy web building capabilities it's no longer a burden to have one, but a necessity.
"It will help candidates to be able to identify if the company is working out of their basement or if it's a legitimate enterprise," said an Indiana contractor.
WirelessEstimator.com maintained its policy of having employers verify that the advertised positions are for temp to perm or full time employment and it was not 1099 Misc. employment, an often abused and sometimes illegal practice in the industry.

Quebec tech's death mars Canada's enviable
record of limited fatalities
August 27, 2010 - A 26-year-old tower tech fell to his death on Thursday in Ontario,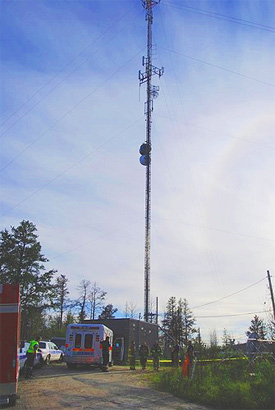 ending a long-standing record of safety in Canada during a period when fatalities in the U.S. continued to rise.
The Timmins Police Service and the Ontario Ministry of Labour are investigating the fatality that occurred while the unnamed man was working on a guyed tower on Gold Mine Road, reportedly owned by Northern Tel Mobility.
Emergency services were called out around 6:15 p.m. after receiving a call from a co-worker of Technicom who said that the tech had fallen. The Quebec man had been working on a microwave dish at about the 100 foot level when he suddenly fell.
Minutes after paramedics and police arrived on the scene, it was determined that the ambulance was not required. Police immediately cordoned off the scene with yellow tape. Firefighters who arrived to lend assistance were told they were not needed
The contractor was reportedly working directly for Northern Tel Mobility/Telebec.
Canada has been recognized as having the lowest fatality rate of tower technicians of any country where adequate records are available for analysis.
Please see: International Fatalities

Minnesota man dies while building ISP tower
August 23, 2010 - A Braham, Minn. tower technician was killed Saturday when the lift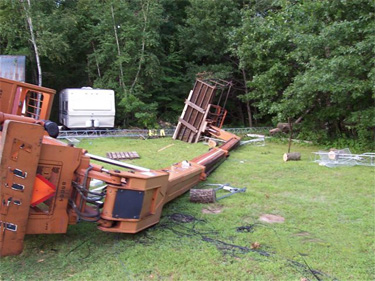 truck he was on tipped over while he was installing a communications tower for an internet service provider.

The Isanti County Sheriff's Office said that Mark Robert Anderson, 40, was assisting in the erection of a tower for Genesis Wireless at 3389 Helium St. NW in Wyanett Township when the Lull Telehandler - with the boom fully extended approximately 40 feet - fell over.

Anderson was transported to Cambridge Medical Center where he was pronounced dead of injuries he received in the fall.

Jay Richard Mankie, 47, of Braham, and owner and founder of Genesis Wireless, was operating the unit and suffered non life-threatening injuries.

Founded in Braham, Minn. in 1999, Genesis says it has a network of over 40 towers to offer their high speed wireless internet in East Central Minnesota.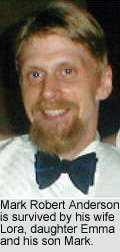 "The accident was work related and that is why OSHA was called," said Isanti County Chief Deputy Bill Guenther.

"They will be doing an investigation to determine what happened. I can't speculate as to why the Telehandler tipped over and I believe that OSHA will determine that when they complete their investigation."

Assisting at the scene was Dalbo Fire and Rescue, Isanti County Fire and Rescue and Allina Ambulance.

A Funeral Service for Anderson will be held on Thursday, Aug. 26 at 2 p.m. at Stanchfield Baptist Church. A time of visitation will be from noon to 2 p.m. at the church. Arrangements are with the Rock Ingebrand Funeral Home of Braham.

Anderson was the seventh tower tech to die this year while working on a communications structure. See: Industry Fatalities

Outdated paperwork halts tower generator thefts
by former Arkansas contractor
August 19, 2010 - A two-year-old work order helped to trip up three Arkansas men in their attempt to steal a generator from a Waleska, Ga. tower site earlier this month.


It also put a stop to their alleged ongoing enterprise of stealing other gensets and equipment from communications towers throughout the southeast and selling it in Mexico and South America.

Brooke Anderson, a deputy with the Cherokee County Sheriff's Office responded to a 4:00 p.m. call on August 3 in reference to a suspicious truck at the tower on Garland Mountain Trail, the sheriff's report said.

After arriving on the scene, the deputy noticed a Dodge backed up to the tower with a trailer behind it.

According Anderson's report, when she approached the truck, Glen Hogue, 45, of Benton, Ark., was standing on the trailer with a tool in his hand.



Another co-worker, Herbert Morgan, 57, of Benton Ark., was standing inside the building near the door and was on his cell phone providing someone with his credit card number, she noted.

When the deputy asked the men why they were at the tower, they said that they were a subcontractor for Vangard Wireless, LLC and were preparing to remove generators from the building.

Anderson said the men showed her paperwork authorizing a work order with Vangard.

At first the paperwork appeared to look authentic, detailing that the work would be done in August and September. However, the deputy noted that the authorization was for work to be performed in 2008.

Deputy Anderson then began searching the premises and found a phone number to call in order to gain confirmation that these two individuals had permission to be on the property.

She contacted Christian Carmody, Director of Tower Operations for InSite Towers of Alexandria, Va. He explained that InSite had bought Vangard's tower portfolio and all previous orders for work on the sites were cancelled.

Morgan, according to the report, was no longer doing business with InSite and all contracts he had with Vangard were for other sites in the past in another state.

A representative for InSite arrived and confirmed that a padlock had been cut and replaced and a cover plate had been removed from a generator inside the building.

Carmody said the men were trespassing and damaged his property; therefore he wanted to press charges. He further explained InSite had been burglarized at other tower sites of similar equipment.

The deputy then placed both parties under arrested for commercial burglary and criminal trespass.

After arresting Morgan and Hogue, detectives learned of a possible third suspect, who reportedly fled the scene when the deputy arrived.

Dewey Fulton, 41, of Little Rock, Ark., was found a day later in a Canton hotel after investigators learned of his involvement with the operation through information obtained from Morgan and Hogue

Additional charges are expected from Walton Co.

Trucks, trailers and a large collection of tools were seized by detectives, since they were used in the commission of a felony commercial burglary.

Emergency module becomes program of choice for industry's wireless contractors
August 17, 2010 - Just six months after its introduction, WirelessEstimator.com's Jobsite Emergency Action Plan has become the preferred communications safety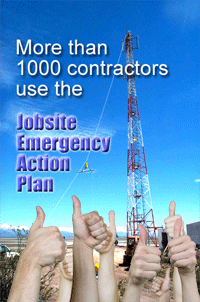 tool for more than 1,000 contractors throughout the nation.

The lightning-quick emergency services locator easily populates the nearest acute care hospital along with a travel route with a map and contact information for local fire, police and sheriffs' departments.

With thousands of jobs being rolled every week, contractors were expending an inordinate amount of time to meet OSHA requirements to provide resources for emergency services and first aid. Most importantly, however, information being obtained through web searches oftentimes contained inaccurate results.

Last month WirelessEstimator.com asked viewers to provide comments regarding their user experience with the safety module and we were overwhelmed with the response from dozens of companies.

Many of their remarks are appreciatively listed here.

Improvements are continuously being made to the module based upon the valuable suggestions of the program's users.

A hybrid mapping system within the program uses both Google and Yahoo resources to identify a correct address. Bing's digital mapping data partner is the same firm used by Yahoo Maps, NAVTEQ.

LightSquared's plans for the nation's new 4G-LTE network to be discussed at PCI show
August 13, 2010 - If you're trying to get a leg up on the business opportunities that will be provided by LightSquared's $7 billion investment in the nation's first wholesale-only integrated wireless broadband and satellite network, you'll get an opportunity at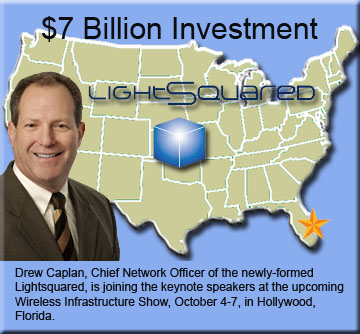 PCIA's Wireless Infrastructure Show, October 4-7.
PCIA announced that Drew Caplan, LightSquared's Chief Network Officer is joining the keynote speakers at the upcoming show in Hollywood, Fla.
Caplan is leading the development and deployment of the company's next generation network. In his first presentation since the formation of LightSquared, Caplan will speak about the new entrant's plans for building its 4G-LTE network.
A 25-year veteran of the wireless industry, Caplan previously served as CNO for SkyTerra Communications prior to its acquisition by LightSquared.
From 2005 to 2007 Caplan consulted with venture capital and private equity firms investing in telecommunications and technology companies.
From 1996 to 2005 he founded and led Nextel Communications' national engineering organization, responsible for development, engineering, planning, and deployment of new technologies, products, and services, highlighted by the introduction of Nextel's nationwide and international Push-to-Talk feature.
Prior to joining Nextel, he served in progressive engineering, operations, and product development roles with MCI Communications from 1983 to 1995.
The LightSquared network is expected to consist of approximately 40,000 base stations and cover 92% of the U.S. population by 2015.
Caplan is joining an impressive keynote roster that includes:
• Dr. John Saw, CTO at Clearwire
• Magnus Ojert, Vice President Deployment & Operations at Ericsson
• Kevin P. Jones, Global 4G Evangelist at Intel Corporation
• Tower Owner CEO's Richard Byrne, Marc Ganzi, Ben Moreland, Jeff Stoops and Jim Taiclet
Connecting participants from the entire wireless infrastructure ecosystem, the 2010 Wireless Infrastructure Show spans 3 days and includes more than 20 sessions covering the latest in wireless infrastructure policy, finance, technology, and architecture.
For more information: www.wirelessinfrastructureshow.com

FCC reaffirms shot clock deadlines
August 5, 2010 - The FCC has reaffirmed its decision that the timeframes –
90 days for collocations and 150 days for other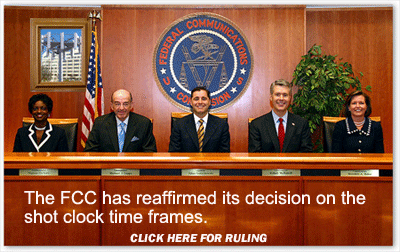 wireless facility siting applications – are automatically tolled only when the reviewing government notifies the applicant of the incompleteness within the first 30 days after receipt.
Five municipal and planning organizations had asked the FCC for reconsideration, stating that the 30 day incompleteness deadline allowed the FCC to exceed its interpretation of its authority.
The associations also provided various arguments that the 30 days is too short considering the possible multiple steps necessary.

"PCIA has stressed the importance of determining whether an application is complete at the outset within a reasonable period of time throughout this proceeding," said Michael Fitch, President and CEO of PCIA. "We are pleased that the FCC recognized that this component of its rule is an integral element in its effort to accelerate the pace of deployment of wireless infrastructure."

Click here for the FCC Ruling.

Three-tower-array gives in to Ohio storm
August 4, 2010 - For over 80 years three solid AM sentinels kept watch over Belmont
County in Ohio as torrential storms tested their capacity and lost, but a severe weather outbreak toppled WWVA 1170's array today at around 4:00 p.m.

The three 400-foot self supporting towers date back to the late 1930s and broadcast the Wheeling West Virginia's 50,000 watt signal.

The site, just off of Barton Road, two miles northeast of St. Clairsville, has become a tourist destination as residents view the felled towers.

The station is currently having crews working to put in place temporary towers.

WWVA is owned by Clear Channel Communications.

Tower-side employment takes a huge surge
August 2, 2010 - Online advertised employment vacancies in the U.S. rose slightly in July following a very small increase in June, according to the Conference Board
Help Wanted OnLine™.

"After rising sharply in December and January, online job demand for the nation as a whole has settled into a more modest pattern over the last six months," said June Shelp, Vice President at The Conference Board.

However, based upon conversations with a number of HR directors aligned to the wireless design, maintenance and construction industry, current workloads are outstripping available resources.
Help wanted ads placed on WirelessEstimator.com last month bear out their increased needs for qualified employees.
In July, help wanted ads reached a record number, soaring over 185% over the previous year.
"A number of industry executives have told me that they anticipated July to be a busy month," said Ron Deese, president of TelForce Group, a consulting firm specializing in telecommunications employment.
He also sees LightSquared's national buildout further straining the industry's workforce with its plans to build 40,000 sites.
The telecommunication segment in general continues to lose jobs. Almost 49,000 workers were let go during the past year. Employment in the wireless subsector was down close to 3,000 according to the U.S. Bureau of Labor Statistics.
But Deese says that from his research he sees a robust period for at least a year or two for the tower-related development and construction industry.
"There are a number of data collection practices that enable us to get the 50,000-foot view of our industry," said an HR director for a major tower owner, "but the best barometer is to look at, is the industry hiring?"

Two Alabama men die after guy wire is clipped
Update: August 3, 2010 - A wrongful death lawsuit has been filed in east Alabama by the family of a man who died after a radio tower collapsed. The incident happened last Thursday in Fort McClellan.


A truck hit the tower causing it to fall while the tower technicians were at the 40-foot level.

The family of Barry Sloan has filed a lawsuit against the driver of the truck and the truck's owner, Barnhart Crane and Rigging Company Incorporated.

Barnhart has over 20 branches across the U.S. and is frequently used by the industry to install and maintain communications structures.

Attorney Chris Glover said a bucket truck was parked close to the tower's guy wires.

"The men had finished their work and everyone was clearing out," Glover said.

"Stephens was in the process of moving the truck. He did not manage the space around the vehicle well and became entangled in the support wire."

According to Glover, the tower then began to fall, but Stephens probably didn't realize it until the tower was already down.

"At the very least, they should have paid more attention to their surroundings," he said. "At the very least you sit still until the men get down. You have to be aware of your surroundings when you're driving any vehicle."

Barnhart Crane and Rigging Company said in a statement, "The radio tower collapse at the Fort McClellan Industrial Park is a great tragedy. Our thoughts, prayers, and deepest sympathies go out to the families involved. Barnhart is cooperating fully with all authorities in investigating the accident to determine the cause."
_ _ _ _ _ _ _ _ _ _ _ _

Update: July 26, 2010 - Services have been announced for two Albertville, Ala. men who died Thursday when the guyed tower they were working on collapsed after a truck snapped a guy wire.

Visitation for Jonce Jerrus Hubble, 41, will be held today from 6:00 p.m. to 9:00 p.m. at the Guntersville Church of Christ with the funeral there tomorrow at 10:00 a.m. Burial will be in Marshall Memory Gardens.

Services for Barry Marshall Sloan, 37, will be today at 2:00 p.m. at Pickle Funeral Home in Amory, Miss.
- - - - - - - - - - - - - - - - -

July 22, 2010 - Two tower technicians died after the Anniston, Alabama guyed tower they were working on Thursday was accidentally knocked down.


Calhoun County Coroner Pat Brown pronounced Barry Sloan, 37, of Albertville dead at the scene at 4:16 p.m. His co-worker, Jonce Hubble, 41, of Albertville died in surgery at UAB Hospital around 9 p.m.

Both victims were employees of Anniston-based McCord Communications and were working on a tower off of Alps Drive in McClellan.

Brown said according to preliminary estimates, the two victims fell about 40 feet.

Both the police department and the federal Occupational Safety and Health Administration are investigating the incident.

Brown said he could not release the exact cause of the accident, but noted the incident involved a vehicle.

The two tower technicians were on the tower and there was a truck which hit a guy-wire, which caused the tower to fall, Brown said.

"There were several people around working on the scene," Brown said. "Both men received assistance right away."

An OSHA spokesperson said he would not identify whether the truck belonged to McCord Communications, stating that there will be no comment until the agency's final report is complete and ready to be made public.

Sloan and Hubble were the fifth and sixth tower technicians to die this year after falling from a structure. In 2009 five workers were killed.

The guyed tower, just shy of 200 feet, is not registered with the FCC. It is located about a mile east of Highway 21 in Fort McClellan on property leased to the Alabama National Guard . It is part of a system that provides communication to personnel at Pelham Range through the Chemical Stockpile Emergency Preparedness Program.

Following the U.S. Army base's closure in 1999, the property was turned over to the City of Anniston for economic redevelopment and McClellan has become home to over 900 residents and a work place for more than 3,000 employees.

Established in 1947, McCord Communications specializes in two-way, mass notification and broadband systems design and installation. Their main office is in Anniston with service centers in Gadsen and Albertville.

Over 40,000 new tenants for towercos, contractors
July 21, 2010 - Private-equity firm Harbinger Capital Partners on Tuesday revealed details of the launch of its wireless network, LightSquared, which promises to be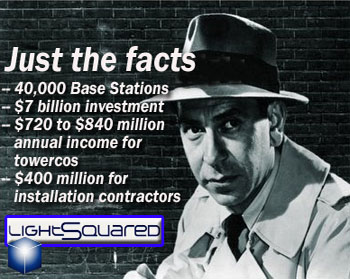 beneficial to tower owners and contractors.
Although it will provide sales to tower manufacturers' components groups, it is expected that there will be limited towers needed to complete the tens of thousands of base stations.

What is happening? A private-equity firm, Harbinger Capital Partners, is setting up a nationwide wireless broadband network. It will start next year in Las Vegas, Phoenix, Denver and Baltimore. LightSquared will be selling only wholesale data.

What is the cost? Nokia Siemens Networks a venture of Nokia and Siemens has been outsourced as the network builder, which should cost approximately $7 billion over eight years.

What does it mean for tower companies? The LightSquared network is expected to consist of approximately 40,000 base stations and cover 92% of the U.S. population by 2015. The major towercos are excited about the potential for a new national tenant, but it appears that there will not be a need for too many new towers.

Raymond James summed it up in an industry brief yesterday: The bottom line is 4G wireless networks and devices are coming to the U.S. quicker than many thought and we added a new formula today: L 22=GFT 22 (LightSquared = Good For Towers Squared).

What does it mean for tower contractors? The ambitious buildout will strain an already busy workforce.

What additional revenues will there be?
Tower companies will receive the biggest windfall with additional co-location fees from $720 to $840 million per year. Equipment installation on towers and buildings will boost the nation's wireless contractors' revenue between $350 and $400 million and provide for ongoing maintenance opportunities.

What does it mean for consumers? If the new network gets over some regulatory and financial hurdles, it could provide an alternative to those of the big phone companies — AT&T and Verizon Wireless.

Why doesn't it happen more often? Fresh, nationwide wireless spectrum is rare. LightSquared is repurposing spectrum originally intended for satellite telephones, and is still subject to some of the regulatory requirements for a satellite-based network.

Who is the competition? Verizon Wireless and AT&T Inc. have firm plans to build nationwide networks using the same, fourth-generation network technology that LightSquared will use. Sprint Nextel Corp., through its Clearwire Corp. subsidiary, is building a third one with a different 4G technology.

Jobs out of touch with tower approvals
July 19, 2010 - While trying to mitigate the iPhone 4G's antenna problems responsible for increased drop calls on the AT&T network, Apple CEO Steve Jobs on Friday demonstrated his disconnect with the infrastructure that helps to deliver his paycheck.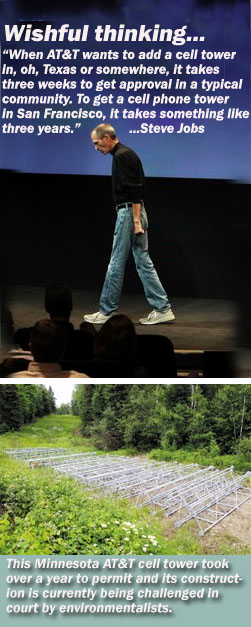 When questioned whether the handset had any role in congestion management on AT&T, Jobs placed part of the reception problem upon the carrier's inability to get a cell phone tower in San Francisco.
It's not clear why he singled out the hilly city that through a new historic and contentious law requires retailers to post the amount of electromagnetic radiation cell phones produce, except that he said it's not a "typical community."
He described a typical community as one that speeds along tower siting approval.
"When AT&T wants to add a cell tower in, oh, Texas or somewhere, it takes three weeks to get approval in a typical community. To get a cell phone tower in San Francisco, it takes something like three years," Jobs said.
Stating the obvious, Jobs said, "None of us want a cell tower in our backyard...that is the single biggest problem keeping more towers from going up."
"To say that a cell phone tower site application can typically get approval in three weeks is ludicrous," said a site acquisition manager who contracts with AT&T throughout the New England market.
"There have been times that I have had to wait three months just to get an application before a zoning commission and then have it rescheduled to the following month's meeting."
"But it's really in our interest to let them have time to make their decision if they're sincere in their efforts," she said.
With moratoria, preliminary filings and other obstacles, three months can appear to be an expedited schedule in a process that is rife with delays.
Other obstructions can also impede a project. Officials in Lake County, Minnesota granted a conditional use permit for a 450-foot guyed tower for AT&T almost a year ago after the required hearings.
Last month the tower sections were delivered to the site and construction was to begin.
However, The Friends of the Boundary Waters filed suit in Hennepin County on June 22, asking the court to enjoin AT&T from further construction on the proposed tower and declare it in violation of the Minnesota Environmental Rights Act.

A hearing on the case is scheduled for August 4.

Last November the FCC enacted a shot clock procedure that required state and local authorities to approve or deny permits for cell towers or co-locations within a certain period of time.
By law, agencies now have to act within 90 days of the filing of a complete application for a co-location and 150 days for a new tower.
The siting community heralded the new requirements as a way to speed up the approval process, but after seven months most tower developers will privately state that it is still business as usual and it won't be affective until a number of lawsuits are filed against municipalities.
Verizon has filed one lawsuit to get a decision on a cell tower permit based upon the FCC mandate, but the judge issued a decision within a week denying the permit.
The carrier spun it as a success story because it brought closure to the siting process and allowed Verizon to move ahead with other options.

Unpreventable employee misconduct reviewed
July 16, 2010 - Where an accident results from a technical violation of an OSHA standard, employers may be able to utilize the affirmative defense of unpreventable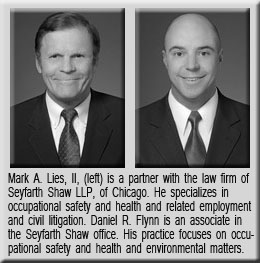 employee misconduct or isolated event.
Historically, OSHA's Review Commission has been reluctant to find that employers have established this defense where an accident has occurred, particularly a fatality.
However, attorneys Mark A. Lies II and Daniel R. Flynn were successful and Judge Covette Rooney last month ruled that a New Jersey tower erector was compliant with industry safety standards and should not have been cited following the death of an employee.
The attorneys have written an article that discusses the fundamental legal framework for litigating OSHA citations, the recent case involving Paramount Advanced Wireless, the resulting developments in the primary defenses available to an employer against OSHA liability, and the steps employers in the tower erecting and other industries must take to prepare these defenses and protect their business from legal liability.
Please click here.

Virginia SEAL's tower jump proves to be fatal
Update: July 18, 2010 - The U.S. Navy says a Navy SEAL who died after parachuting off of a 246-foot tower in Virginia was a New Hampshire native who graduated from the University of New Hampshire.
Thirty-year-old Tyler Stimson was from Wakefield. He was a member of a Navy SEAL
team based out of Norfolk, Va., and was living in Virginia Beach.
The Navy says Stimson made multiple combat deployments in Iraq and Afghanistan for which he received several combat awards and decorations.

Investigators have determined that as Stimson fell, his legs got caught in the lines of his canopy, which would have caused it to fail to fully deploy.
- - - - - - - - - - -

July 16, 2010 - Suffolk, Va. police say one of two men died after BASE jumping from an American Tower Corporation self supporting tower located in the 4500 block of Godwin Boulevard early this morning.


A 30-year-old man whom police have identified as a Navy SEAL died early today after "BASE" jumping from a cell phone tower.

Police charged a second SEAL, 31-year-old Jason James Tompsett of Virginia Beach, with trespassing. Tompsett also jumped from the tower, police said.

The man who died was not named Friday at the request of the military, according to police. His family had not yet been notified.

Suffolk police spokesperson Debbie George said the man's friend reported the incident just before 5 a.m. The man was pronounced dead at the scene.
A parachute was found near the tower compound, George said.

Neighbors said Friday that they saw lights in the area before 5 a.m., which is unusual. They also saw a white truck going into and out of the area Thursday night, and saw a similar truck being towed away from the scene after Friday's incident. The tower is surrounded by trees on three sides.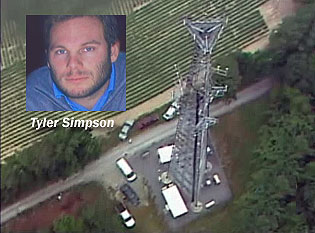 BASE jumping is the act of jumping from a fixed object with a parachute, such as a building, antennae, span or earth.

The last fatality of a tower BASE jumper was last December in Casa Grande, Ariz. when a man died after parachuting from a cell phone tower and hitting high voltage lines at the site.

Typically, BASE jumpers will select taller towers in their extremely deadly sport.

The jumper needs at least one or two seconds for his canopy to deploy and allow him to land safely.

The ATC structure is 246 feet tall, and an object falling from the top of the tower would hit the ground in less than three and one-half seconds.

Prime time TV tower special seen in Seattle
Update: July 22, 2010 - The man who scaled the KIRO 7 TV tower on Queen Anne last week has been ordered to stay away from that tower for at least two years. Joseph Anthony Pidgeon was released from jail yesterday.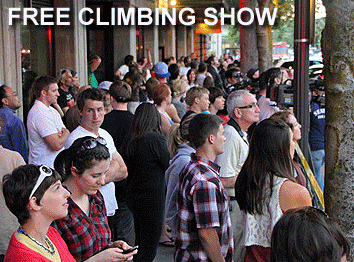 The City Attorney's office said Pidgeon pleaded guilty to second degree Criminal Trespass.

He received a sentence of 90 days in jail, of which 80 days were suspended. A $1000 fine was also suspended.

Pidgeon told a police officer that he scaled the tower "because it was there," a quotation attributed to George Mallory on why he climbed Mount Everest.
- - - - - - - - - - - - - - - - - -
July 15, 2010 - Key West buskers provide sunset entertainment every evening, including Dave and Tobin, fire juggling acrobatics performing 20 feet in the air.
This evening, Seattle's normally sedate Queen Anne Hill area diners and drinkers were entertained for over an hour as a 53-year-old man performed a balancing act a little bit higher at 609 feet atop KIRO-TV's self supporting tower.
Hundreds of onlookers that poured out of local homes and more than a few neighborhood bars and restaurants for the show were spared the possibility of witnessing an unsuccessful attention-getting performance as the man was persuaded by authorities to return safely to solid ground.
The Seattle Fire Department was first called at about 8 p.m. when the man was already 50 feet up. Fire crews initially geared up to climb the tower, but then the man made it to the top and began descending. Crews decided not to go up because they didn't want to slow his climb down.
At one point, he performed a balancing act for the crowd.

When he neared the bottom, he paused and then started climbing up again, causing many in the crowd to yell at him to come down. He eventually descended the tower, prompting applause among the spectators, and was taken into police custody unharmed.
The still unidentified man was transported to a ground level location with a less spectacular view, a jail cell.
KOMO News did not identify the climber, but they said police records indicate the man has been arrested a dozen times in the past, most recently for investigation of criminal trespass in King County earlier this month.
He also has several prior convictions, including violation of the Uniform Controlled Substance Act and driving under the influence.
A KIRO engineer was working with authorities and it is not known if they reduced power on the tower's broadcast antenna to prevent high levels of RF exposure to the man who has been charged in the past for indecent exposure.

CSA investigating fixed rail protection system
July 14, 2010 - A tower technician in Canada was attached to a fall protection system when he fell over 60 feet, but the system malfunctioned and he received serious leg injuries, prompting the Ontario Ministry of Labour to issue an alert to climbers.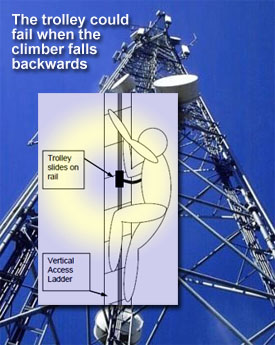 In conjunction with the Canadian Standards Association the MOL determined that the design of the frontal-fixed rail ladder fall protection system may not adequately protect workers who fall backward while connected to a vertical rail.
Leaning back pulls the trolley's internal braking system off the rail, allowing the trolley to slide down the rail.
If a rigger falls backwards - as opposed to straight down or inwards - the trolley may not lock, allowing a worker to falls.
This type of fall protection system certified to CSA standard Z259.2.1-98 and the CSA stamp on the side of the trolley unit does not guarantee worker safety, the Ministry said.
The MOU further stated that employers who own or rent structures equipped with a FRL fall protection system must ensure that it is capable of protecting a worker from any type of fall, including a backward fall, before it is used.
Following the MOU announcement, Prestige Telecom issued a notice to its customers stating that although their RAM Safety Trolley & Rail System currently meets all CSA testing requirements and has not had a CSA safety failure reported, they have decided to stop selling the product
They recommended that tower climbers use the double hooking /tie-off procedure or other means to ensure 100% fall protection.

Alleged thief adds copper to benefits plan
July 13, 2010 A Zullinger, Pa. man has been accused of stealing reels of copper wire from his employer, WesTower Communications of Hagerstown.


According to Pennsylvania State Police in McConnellsburg, Matthew Ray Provard, 35, entered the company's cell tower project at 2529 Bark Road and took reels of wire between 10 p.m. June 15 and 4:30 p.m. June 16. Police said Provard stripped off the wire and sold it to American Recycling.

One reel was found and returned to the company, police said.

Cell towers are the target of opportunity for thieves, but broadcast towers are also prime prospects for theft.

KMBC(TV) in Kansas City was knocked off the air in April when vandals cut away and stole a large section of 2-inch conduit from the side of a transmitter building. The tubing was part of the transmitter's cooling system.

KPFT 90.1 FM of Houston was off the airwaves for more than 36 hours after thieves cut two locks at the Northwest Harris County property where the transmitter tower building is located.

Then, they cut a high-voltage drop line about 30 to 35 feet off the ground, which cut power to the tower on June 28.

Major builds and major pay scale differences
July 9, 2010 - With three major new wireless carriers in Canada and their ambitious construction schedule required to be competitive with Rogers Communications, Bell Canada and Telus Corp., tower technicians are being lured across the border to
assist - with salaries and benefits oftentimes exceeding what they were making stateside.
However, India is currently undergoing the largest tower infrastructure buildout in the world and there are few American workers assisting in its completion.
If there ever was a need to question why? - the answer could be easily summed up with the Clintonesque catch phrase: "It's the economy, stupid!".
Salaries in India for tower technicians with the same skill sets as their U.S. counterparts earn $5 to $7 dollars per day.
Although technicians still have to be concerned about their safety while working aloft - two riggers died in 2009 when the cell tower they were erecting collapsed - they're also presented with another safety concern.
On Wednesday, authorities say tower technician Anil Srivastava was on his way to perform maintenance at a tower site and while he was travelling near the Payagpur police station he was kidnapped at gunpoint by a number of people in a car.
India has the highest kidnapping rate in the world, but Since Anil is from a working class family, his ransom could be as low as $1,000, about 30 weeks of his pay.
If you're a site acquisition specialist, you may reconsider relocating after visiting Monster's India job board positions. Five years of experience will provide you with a handsome salary of $4,100 per year.
Another ad seeks a BTS/BSC/MSC installation and commissioning engineer for $3,600.
A project manager with the ability to complete "huge infrastructural or construction projects" for a major buildout would surely be enticed with an offering of $8,500.
In the mid 90s when the talent pool was drying up and workers were frequently leaving companies for ever-escalating salaries, some telecom construction companies in the U.S. entertained the idea of bringing in Indian tower trainees on a work visa.
However, the cost was considerable and the compliance requirements were too challenging to serve the industry's immediate needs and the plans were scuttled.
If you're still considering the site acquisition position, you'll find that the Indian immigration structure is easier.
In India, work permits, often referred to as employment visas, can be issued either to skilled professionals or to people immigrating to India to fill a specific position for a named company.

It's back to a men's club on the executive level of publically traded tower companies
July 2, 2010 - It's doubtful that you'll see power players in pantsuits in the three publically
traded tower company boardrooms for a while. Today's departure announcement of Jean Bua of American Tower Corporation has returned the industry's leadership to an all men's club.
Key executives of SBA Communications and Crown Castle International are all males.
Bua is leaving her position as Executive Vice President, Finance and Treasurer on September 30, American Tower said in a short statement. No reason was provided for her departure.
Bua joined American Tower in 2005 and was named Executive Vice President, Finance and Corporate Controller in 2007.
When CFO Brad Singer resigned in 2008, Bua became the interim CFO. However, American Tower looked outside of the organization for Singer's replacement and hired Tom Bartlett for the executive post on April 1, 2009.
Prior to joining the company, Bartlett served as Senior Vice President and Corporate Controller with Verizon Communications.
According to Forbes.com, Bua received a salary of $300,000 in 2009. With an incentive plan compensation of $210,000, along with options, stock awards and other benefits, her total compensation was listed at $1,328,865.
American Tower's severance plan benefits program allows for 78 weeks of base earnings for an executive vice president.

Forbes.com says Bartlett's salary during 2009 was $489,760. His total compensation was $3,679,701.

When reviewing management of most major wireless firms it is difficult to find many women executives. The telecom industry is notoriously male-dominated and the tower ownership segment is no different.
Privately held tower companies fare a little better with their executive balance. Global Tower Partners' Chief Financial Officer is Jane O. Salter and Lisa Aliperta serves as its Vice President, Finance.
TowerCo LLC's chief executives are males and a number of other smaller tower companies have no female executives.
However, the industry has expanded through the efforts of many women who have management positions at major companies.
In addition, many other profitable firms are woman-owned such as Horvath Communications, Inc. Jackie Horvath founded the company in South Bend, Ind. in 1996 when it owned a couple of towers in the northern part of the state. It now owns over 175 throughout the Midwest.
Women have also taken leadership roles in educating legislators about problems and inconsistencies in how towers were built across their state.

Janet Gill, Director, Network Strategy at Mobilitie, LLC, helped to found the State Wireless Association Program (SWAP) after she started the first state group in Tennessee.
Since then, other women have taken the helm of their state association with Stacie Curtis in New Jersey., Michelle Roth, Nebraska-Iowa, and Sarah Berry, Wisconsin.

Crown Castle and American Tower out of deal that could promote major consolidation in India
June 29, 2010 - Crown Castle International and American Tower Corp. were left at the bidding altar as GTL Infrastructure becomes the favorite suitor in a deal in India that
cost GTL $12 billion to create the world's largest telecom tower company not controlled by a carrier.
GTL Infrastructure Ltd and Reliance Infratel, a subsidiary of Reliance Communications Ltd entered into an agreement in which GTL will purchase approximately 50,000 towers from Reliance in its second acquisition this year.
Upon closing, GTL will own over 82,000 towers and have 125,000 tenancies from over 10 telecom operators.
The Economic Times newspaper said two weeks earlier that American Tower and Crown Castle were going to provide a proposal for Reliance's towers.
Crown Castle was reportedly being assisted in the venture by private equity Blackstone.
Billion dollar purchases are the norm for the U.S.'s two largest tower owners, but the $12 billion Reliance sale eclipses any deal they've made.
In 2005, American Tower bought SpectraSite for more than $3 billion in an all stock deal. In 2006, Crown Castle International Corp acquired Global Signal for $4 billion in cash and stock.
GTL said it's open to more acquisitions as intensifying competition pushes India's telecommunications industry toward consolidation.

"If any existing tower company came in for consolidation, and that made business sense, we'd look at it," Chairman Manoj Tirodkar said in an interview in Mumbai yesterday. "I see ultimately India having one, or maximum two, tower companies."

American Tower owns 2,600 tower sites in India.

Tirodkar said GTL does not need to bring in private equity or strategic investors to complete its deal.

"At this stage it may not be required. But we will see as we move along, because many people are approaching us," Tirodkar said in a telephone interview.

Tirodkar agreed to pay more than $2 billion five months ago for 17,500 phone towers owned by Aircel. Tirodkar's professed goal is for GTL Infrastructure to have 100,000 cell sites by 2013.

India has 260,000-plus cell towers, of which about 105,000 are owned by Indus Towers, a consortium that includes carriers Bharti Airtel, Vodafone and Idea.
.
New Jersey man dies in West Philadelphia accident
June 28, 2010 - Relatives and friends are invited to attend the celebration
of Stanley J. Zarzecki, Sr.'s life on Wednesday, 2:00 p.m. at the Adams-Stiefel Funeral Home, 203 W. Broad St., Paulsboro, N.J. Friends may call after 12 noon.

Zarzecki passed away Thursday evening after falling from a rooftop in West Phila.

He is survived by his wife Cara (nee Voll), two sons Stanley J., Jr. and Zachery Xaiver; his mother Diane of Phila. and a brother Eric of Phila.

In lieu of flowers the family requests donations be made to The Stanley J. Zarzecki, Jr. Children Fund C/O TD Bank, 1450 Clements Bridge Road, Deptford, N.J. 08096.
- - - - - - - - - - - - - - -
UPDATED: July 12, 2010 - An industry manager knowledgeable of the accident, stated that the initial police report indicating that Zarzecki tripped on gravel and fell off the roof was incorrect.
He stated that Zarzecki fell off of the Sprint/Nextel equipment platform and over the side of the short parapet wall.
In addition, although construction drawings do not show a railing around the 11-foot by 22-foot platform, there was a railing around it when he fell, he said.

UPDATED June 28, 2010 - A technician working on the roof at the Walnut Park Plaza in West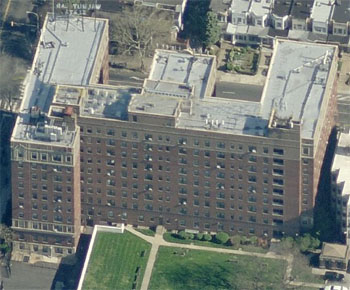 Philadelphia fell 120 feet to his death Thursday evening.

Philadelphia police say Champion Communications employee Stanley Zarzecki, 32, of Deptford, N.J. was working on transmission lines on the roof of a nine-story building at 6250 Walnut Street at about 9 p.m. when he reportedly slipped on the gravel roof.

Authorities say Zarzecki hit the edge of the roof and fell to his death.

He was pronounced dead at about 10:15 p.m.

Zarecki was reportedly working on a Clearwire project.

Clearwire, which is majority owned by Sprint/Nextel, oftentimes colocates their equipment on existing Sprint sites.

Sprint/Nextel has an 11-foot by 22-foot equipment platform on the Walnut Park Plaza rooftop approximately three feet from the parapet wall which is one-foot or less in height. It reportedly does not have any guardrails.

Other wireless tenants on the rooftop include AT&T and T-Mobile.

Authorities have not released where Zarzecki was working when he fell.

According to OSHA Standard 1926.501(b)(1) regarding unprotected sides and edges, "Each employee on a walking/working surface (horizontal and vertical surface) with an unprotected side or edge which is 6 feet or more above a lower level shall be protected from falling by the use of guardrail systems, safety net systems, or personal fall arrest systems."

After learning of the accident a number of companies held a conference call with their project managers to emphasize the need to be vigilant in their josbsite safety compliance.

Owned by Robert Kelhower, Champion Communications LLC is located in Westville, N.J.

Citing climber error and rebuking compliance officer, OSHA Judge vacates tower contractor's fine
June 23, 2010 - An administrative law judge for the Occupational Safety and Health Review Commission ruled Monday that a New Jersey tower erector was compliant with industry safety standards and should not have been cited following the death of
an employee.
Judge Covette Rooney's ruling also provided a stinging rebuke to the OSHA compliance officer, stating that she misinterpreted the statements of witnesses. Judge Rooney also credited the testimony of the erector's employees over the inspector's findings.
On July 18, 2008, Gerard M. LeClercq, 55, was working on a Crown Castle International self supporting tower performing a retrofitting project for his employer, Paramount Advanced Wireless, LLC of Pennsauken, N.J.
At approximately 10:50 a.m. the experienced tower technician fell approximately 60 feet from the Vineland, N.J. tower while changing out braces and became the eighth tower worker to die during 2008, a year that witnessed 12 fatalities of workers falling from a communications structure.
Please see: Owner charged with serious violation

Camera helps to corral cell site copper thieves
June 23, 2010 - Louisville Metro Police have arrested three suspected copper thieves that have been accused of stealing copper from at least seven tower sites in Kentucky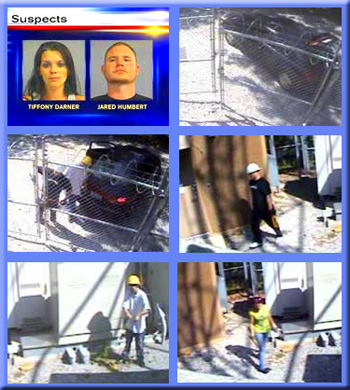 .

One of the trio, authorities say, used to work for a tower erection and maintenance company.
Former technician Jared Humbert, 31, was arrested along with Tiffony Darner, 29, and Charles Thompson, 20.
Police were able to capture the three after their surveillance pictures taken around 3:30 p.m. on April 30 showed the suspects in Waverly Park cutting the lock to a gated complex belonging to MetroSafe Communications.
"Obviously, he (Humbert) had the knowledge of what to look for, how to get in, and how quickly to get it off," said LMPD spokesman Dwight Mitchell. "The other two appear to be accessories to that. They're going in, salvaging it, and making money from it. And obviously it was pretty quick money."
What cell site knowledge Humbert apparently didn't have was that the compound had a security camera that clearly showed him in his hard hat along with his other two hard at work assistants.
Veteran climber on the mend following fall
June 18, 2010 - Friends of Tremaine "Tree" Gaines say he is recovering at Tallahassee Memorial Healthcare in Tallahassee, Fla. after he reportedly fell over 140 feet from a communications tower in Fla. and landed on a waveguide bridge earlier last month.

It has been reported that it will be a slow recovery, but he is doing well and is alert. Gaines is a veteran climber.

Cluster of Missouri towers bought by American Tower in an $88.5 million deal
June 18 , 2007 - Brothers Michael Roberts Sr. and Steven Roberts Sr., owners of Roberts Cos., based in St. Louis, have sold their portfolio of communications towers to American Tower Corporation for $88.5 million in a deal that added 164 towers to
the Boston-based company's holdings.

The St. Louis Business Journal reported today that the sale took place in the first quarter.

American Tower did not provide a news release about the deal, but did state in their May 4 quarterly report that they had spent $88.5 million during the period to purchase an aggregate of 164 towers in the U.S.

The financial journal reported that American Tower acknowledged that all 164 towers were from Roberts Cos., but the tower consolidator provided no other details about the transaction.
Roberts Tower Company, a subsidiary of Robert Cos., owned, according to their site locator, 143 communications structures, mostly self supporting towers totaling 102. Additionally, the company had 33 guyed towers, nine poles, eight monopoles and one flagpole site.
One hundred and thirty six of the structures are located in Mo., with one in Kan., three in Okla., and 14 in Ill.
The Roberts Cos. also owns a TV station in St. Louis, Mo.; Columba, S.C.; and Jackson, Miss. along with a radio station in Jackson.
It says it also owns and operates TV broadcast towers in Mo., UT, N.M. and Tenn.
A price of approximately $540,000 per tower falls on the high side of the valuation range of $400,000 to $600,000 per tower typically found in the industry today, depending upon locations and the number of tenants.

However, if any of the sales were broadcast towers owned by the brothers, which normally sell at a higher price, the per tower cost could be lower.

During American Tower's recent conference call, an analyst said that purchase multiples in the U.S. are currently well over $500,000 per tower.

In the late 1990s the Roberts brothers launched Roberts Wireless Communications, and along with Sprint, they built wireless networks in Missouri, Kansas, and Illinois.
Lucent Technologies lent $56 million to the project, whose cost totaled $78 million. In 2001 Alamosa Holdings, a Sprint affiliate at that time, bought out Roberts Wireless Communications for $300 million.
In addition to expanding Roberts Tower Company, the well-respected African-American businessmen used their Sprint Nextel proceeds to shape the Roberts Cos. into a multifaceted enterprise, including a group office hotels and conference centers, urban shopping centers, office buildings, residential developments, a management consulting firm, and an aviation company.
The Roberts Cos. reported revenue of $135 million last year, up 8 percent from $125 million in 2008.
The tower sale will provide the Roberts Cos. with substantial liquidity to shore up its other business interests and take advantage of acquisition opportunities, said Chief Executive Michael Roberts.
The brothers have acknowledged the recession, coupled with tightened credit markets, has put a squeeze on cash flow for at least some of their operations the past few years.
Particularly hit hard was Roberts Broadcasting due to the unavailability of private or public debt or equity.
A $2 million lawsuit filed by Twentieth Television Inc. and Twentieth Century Fox Film Corp. over program licensing fees has been settled out of court. The agreement is scheduled to take effect by July 4, at which time the case will be dismissed.

New calendars will keep industry abreast
of training and events
June 14, 2010 - To assist the industry in being able to track events and training schedules in one location, WirelessEstimator.com has introduced two new calendars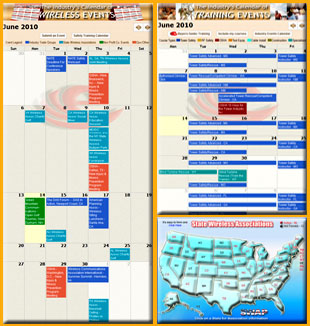 that are up to date and chock full of accurate information.

The website has also launched an interactive module providing State Wireless Association information.

If it's industry training you're seeking, you'll no longer have to guess where the closest or best training classes are available after nearly Googling yourself to death and not finding the information you need. Just bookmark and visit: Training Schedule Calendar.

However, if you're interested in the next NATE or PCIA Conference, or a State Wireless Association meeting, or any other industry invent that will provide you with additional knowledge to gain a head start for your career or company, here's the most comprehensive Industry Events Calendar on the internet.

And if you're interested in finding out contact and additional information about the many State Wireless Associations, you'll really enjoy this easily navigated SWAP Map Module.

As a benefit to their members and site visitors, a number of State Wireless Associations have provided links from their website to the events calendar and SWAP map.

Leaking propane kayos Iowa Verizon site
June 11, 2010 - A temporary cell phone tower is now in place to provide wireless service to area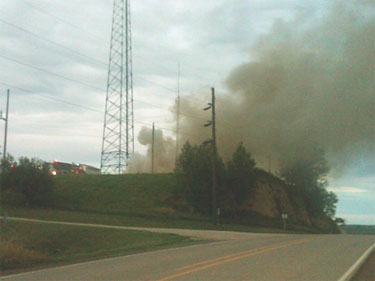 subscribers in Hinton, Iowa after a fire damaged the site on Wednesday.

Verizon Wireless announced it has activated the temporary Cell on Light Truck unit

Wednesday night's explosion destroyed a 10-foot by 20-foot equipment shelter next to an existing self supporting tower.

Hinton Fire Chief Chad Beck said the explosion was reported about 8:30 p.m. in the small building at the base of a cell phone tower.

Although the blast didn't appear to damage the tower, Beck said it destroyed the building and the base station equipment.

He said a leaking propane tank from a backup generator allowed gas to fill the small building, which blew up when a spark ignited the gas.

Hinton firefighters were joined at the scene by a crew from Merrill.

Google helps trio in targeting copper theft opportunities in Oklahoma
June 9 - Canadian County Okla. sheriff's deputies arrested three men Monday for allegedly stealing copper from a cell phone tower and found maps of other towers
including an Edmond site that reported a theft.
Their Google views of cell site locations have been replaced by a view of locked cells at the Canadian County jail.
Edmond Police responded to a U.S. Cellular tower site at 1425 S. Santa Fe Ave., according to Edmond Police Officer Chad Brown.
They spoke with a U.S. Cellular employee who said that sometime between Friday and Monday someone had cut the padlock off the gate surrounding the tower, entered the area and took 200 feet of copper wire worth $1,800.
That same day, Edmond Police Officer Aaron London spoke to an employee with Crown Castle International.
The employee said he was contacted by the land owner of a tower site in Canadian County on Saturday and told that their gate was open, police said. An employee checked the site and found that copper bars and $2,000 worth of copper wire had been removed.
Canadian County Sheriff Randall Edwards said one of his deputies was driving south on Banner Road from Interstate 40 Sunday afternoon when he spotted a vehicle coming from a seldom-used road.
The driver was stopped and the deputy saw him concealing something between the seats, Edwards said. During the conversation, the driver admitted to having a methamphetamine pipe and an empty baggy of meth in the vehicle, he said.
A search of the vehicle revealed a large amount of cut copper wire in the trunk, Edwards said. The driver said he had removed it during a demolition at a construction site.
The Canadian County deputies arrested Jason Wade Sanders, 36, of Yukon on multiple complaints, Edwards said.
Canadian County deputies located two additional suspects walking in the area. Eric Shane Selby, 19, of Oklahoma City, and Justin Dean Tyner, 31, of Oklahoma City, said they were looking for their friend who had dropped them off.
The suspects had maps and locations of other cell towers, including the Edmond cell phone tower. Deputies also found 15 Google maps showing the locations of other cell phone towers in the vehicle, according to London's report.
Edwards said Canadian County deputies checked the surrounding area and found that copper wire had been stolen from two other towers. It was later learned that several locations in Norman and possibly Oklahoma City had been hit as broken into as well.
All three suspects were arrested on complaints of concealing stolen property and copper theft and transported to the Canadian County jail.
As of Tuesday, Sanders was in the Canadian County jail on complaints of receiving/possessing concealed/stolen property, possession of a controlled substance/possession CDS and unlawful possession of paraphernalia. His bond was set at $13,500.
Tyner was in the Canadian County jail on complaints of receiving/possessing concealed/stolen property, receiving/possessing/transporting stolen copper and carrying firearms after conviction/during probation. His bond was set at $11,000.
Selby was in the Canadian County jail on complaints of receiving/possessing/concealing stolen property and receiving/possessing/transporting stolen property. His bond was set at $10,000.

Impaired semi driver takes out 180-foot IDOT tower
June 7, 2010 - Indiana State Police arrested a Chicago truck driver early today after he crashed his semi into a 180-foot self-supporting Pi-Rod
tower, causing it to fall across both lanes of the ramp at I-65 and I-80.

The seven obstruction marking bands and incandescent lighting might have been missed by the driver who might have had as much as seven beers.

He was arrested on charges of operating while intoxicated and criminal mischief. The tower is owned by the Indiana Department of Transportation.

OSHA's blacklist begins this week coupled with higher contractor penalties
June 7, 2010 - As a result of OSHA's new Severe Violator Enforcement Program (SVEP) effective yesterday, tower contractors could easily find themselves out of business due to a federal flogging in the news media and carrier and other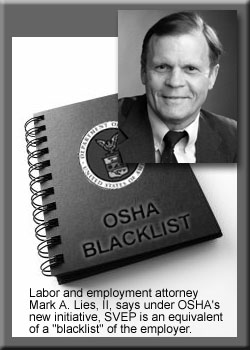 company boycotts.
Whether or not companies make the severe violator list, OSHA says that they can be assured that if they are cited for safety violations, the penalty costs will be considerably higher under their new policy announced in April.
Since the tower construction industry is in OSHA's high-emphasis hazard of specific fall standards, if an employer is classified as a severe violator, OSHA says it's going to let the public know through press releases and a log on the OSHA website.
The agency says it will also inspect other locations of the company for worksite hazards and it has the ability to ask for a list of every jobsite that crews will be on every day.
"If an employer's citation history causes it to be identified as an employer classified as a severe violator under the SVEP, it will face significant OSHA scrutiny and, since the SVEP is equivalent to a 'blacklist' of the employer, it will cause the employer to be viewed very negatively throughout its industry and impact its ability to qualify for business opportunities," said labor and employment attorney Mark A. Lies, ll, a partner with the law firm of Seyfarth Shaw LLP.
OSHA says employers can be "lined out" of the SVEP log by entering into a formal or informal settlement agreement in which the citation is deleted, or if an administrative law judge, review commission, or court decision vacates the citation.
However, it is suspected that removal from the SVEP log will come too late, as the employer will already have suffered damage to its goodwill and reputation by being identified as a severe violator. Please see: Too low fines raised

Tower techs could play a greater role in safety
June 7, 2010 - I2P2 sounds like a Star Wars character, but it's a catchy name for a new OSHA standard that is being seen as a considerable shift from previous OSHA regulations.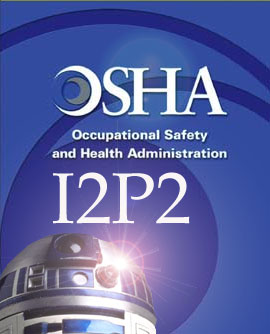 OSHA's spring 2010 regulatory agenda includes the new standard that would require each employer to implement an injury and illness prevention program tailored to the actual hazards in the workplace.

The standard isn't intended to be a substitute for other OSHA standards but rather will clearly shift the burden and responsibility of identifying individual workplace hazards to the employer.

That means it will be the employer's responsibility to identify all hazards in its workplace, and then the actions taken to control those hazards will be governed by existing OSHA standards and the general duty clause.

The standard will detail considerable employee participation, including areas such as involving employees in establishing, maintaining and evaluating the program. It will also provide an employee role in incident investigations.

Some tower installation and maintenance managers and tower technicians believe that the standard might have the capability to provide for a safer work environment for tower crews.

"I'm hoping that it will allow us to address working on antenna mounting frames that are unsafe," said a New Hampshire site supervisor for a major national contractor.

"To me, that's a workplace hazard and it should be listed on every site that you're on," said the 18-year industry veteran.

"I don't agree that for every installation project you need a boom truck and a man-rated basket to work on a mount, but if you're going to use rigging to ensure your safety, there should be a site specific plan of how you're going to handle the installation safely and meet all OSHA standards."

"I'm glad to see that climbers may have some input into these concerns since it's their lives that are at stake," he said.

Two more stakeholder meetings will be held prior to rulemaking: June 10 in Dallas, TX and June 29 in Washington, D.C. Information can be obtained in WirelessEstimator's Events Calendar.

Teen worker succumbs following fall from Arkansas self-supporting tower
Updated: June 1, 2010 - Services have been announced for Ethan Wayne Ray Hutchinson, age 18, of Ava, Mo, who passed away Friday in Ark. after he fell from
a communications tower.

"Little Britches" was born in Springfield on June 22, 1991 to Ralph Mason and Melissa Deanna (Adams) Hutchinson.

He leaves behind his parents and a brother, Nathan Everett and wife Erica (Strong); a sister Deanna Jean Porter and husband Clinton; his grandparents, Larry and Wanda Hutchinson, and Garland and Barbara Combs; a great-grandmother, Faye Maggard; nephews, aunts and uncles; cousins; and many friends.

Ethan was an active member of Eastern Gate Missionary Baptist Church. He loved life, his friends and family. His favorite hobbies were hunting, fishing, working on automobiles and teasing others.

Funeral services will be 2:00 p.m. Saturday, June 5, in Adams Funeral Home, Ozark, with Pastors Joe "Cub" Lafferty, James Orick, and Jon Mitchell officiating. Burial will follow in Harvill Cemetery. Visitation will be from 6:00 - 8:00 p.m. Friday in the funeral home.

Memorials may be made in Ethan's name to Missouri Baptist Children's Home or St. Jude Children's Research Hospital.

- - - - - - - - - - - - - - - - - - - - - - - - - - -
May 30, 2010 - The Baxter County Sheriff's office says an
18-year-old Missouri man has died after falling from a cell phone tower he was working on in Mountain Home, Ark.

Baxter County Sheriff John Montgomery says his department responded to a call at 6:05 p.m. Friday of a job site-related accident at the intersection of State Highway 5 and the US 62/412 Bypass.

Ethan Wayne Hutchinson of Douglas County, Mo., was pronounced dead at the scene.


Authorities said a six-person crew from Dallas-based TECHSICO Enterprise Solutions was finishing work on the tower when Hutchinson fell about 200 feet, dying upon impact.

The 250-foot self supporting tower was built in 2001. TECHSICO was reportedly doing an upgrade on the Brunson Lane AT&T-owned tower.

The Ava resident's body was sent to the Arkansas State Crime Lab for an autopsy.

The Occupational Safety and Health Administration is investigating.

Founded in 2001 and headquartered in Tulsa, Okla., TECHSICO specializes in furnishing low voltage systems. Although the company's website does not identify that it provides installation, retrofitting or maintenance of communications structures, it does state that it provides staff placement services.

Hutchinson was the third climber to fall to his death in 2010 from a communications tower. The last fatality was on May 4. Wreath photo courtesy: Blake Bowers