Family: Tech's death was due to electrocution
Update: December 28, 2011 - Sixty-one-year-old Nick Rouskey, president of Broadcast Services Tower & Antenna, Inc., died after being electrocuted while
replacing a beacon on the top of a Bonita Springs, Fla. 733-foot tower on Monday, according to Rouskey's daughter-in-law, Amy Rouskey.

She said medical examiners told family members that, according to an autopsy, Rouskey was electrocuted.

However, officials at District 21 Medical Examiner Rebecca Hamilton's Office said they have not released findings and won't issue a cause of death until results of lab tests are received.

The Lee County Sheriff's Office's investigation of the accidental death will not be completed until detectives receive reports from the medical examiner.

OSHA is also investigating the accident.

Rouskey's 19-year-old grandson, Dylan Rouskey, who was assisting Rouskey as a cathead operator at the base of the tower, called Rouskey's wife, Kathy, after losing radio contact with his grandfather around 1 p.m., according to a Lee County Sheriff's Office report. Kathy Rouskey came to the scene and attempted to contact her husband using an air horn, but was unsuccessful. She and her grandson then called 911.

Emergency responders from two counties were dispatched to the scene around 4:40 p.m. When they finally got to Rouskey he was unresponsive. Reaching and bringing him down took about five hours.

A rescue worker said that Rouskey was in a safety harness when they reached him.

Rouskey was a Vietnam Veteran serving in the U.S. Army from 1967-1969, and received a Bronze Star for bravery during his military service.

He is survived by his wife of 41 years, Kathleen (Szymanski); one son, Nick J. (Amy Skomer) Rouskey; and two grandsons, Dylan and Ian. Also surviving are his mother, Patricia J. Sullivan; brother, Chris D. (Patricia) Rouskey, and a special uncle, Nick (Judy) Rouskey. Numerous aunts, nieces and nephews also survive.
- - - - - - - - - - - - - - - -
December 27, 2011 - A tower technician at a Florida broadcast tower site has died, according to authorities who attempted to rescue the man from approximately 700 feet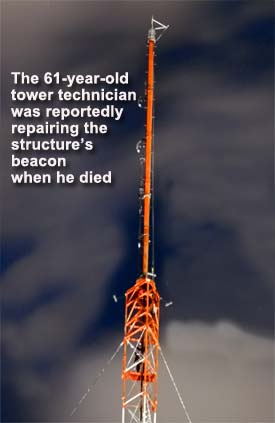 in the air yesterday evening.

Officials say 61-year-old Nick Rouskey, the owner of Broadcast Services Tower & Antenna, Inc. of Cape Coral, was working on the structure when he reportedly fell, getting tangled, rescue workers said.

Rouskey was alone on the tower, Bonita Springs fire deputy chief Frank Giuliano said.
The victim's grandson was working at the base of the tower. It's believed the grandson called rescuers, Giuliano said. The two men were performing electrical maintenance on the tower, Giulian thought, but he said he was not sure.

A station engineer thought that he was changing out a beacon bulb at the time of the accident.

The guyed tower is set back behind Channel 30 Drive, along Old U.S. 41 in Bonita Springs.
The victim's body reached ground at about 9:30 p.m., Giuliano said. Collier County rescuers were dispatched to the scene at about 4:40 p.m., joined by Bonita Springs fire responders, both county sheriff's offices and other agencies.
A group of eight rescuers, including an Urban Search and Rescue team, worked to untangle the man and bring him down.
Officials cut power on the tower during the rescue mission for safety, having the FAA divert aircraft from the area.

They reached the technician about 7:30 p.m. Rescuers then discovered the man was dead.

"At that point it became a body recovery, as opposed to a rescue," Giuliano said. "We slowed down and took our time."

As they were preparing to climb the structure a sheriffs' helicopter circled the tower and reported to rescuers that the man had been unresponsive for almost three hours.

The cause of death remains under investigation, although it appears to be an accident, Giuliano said.

The 733-foot tower is owned by Super Towers Inc. of Manchester, Mass.
-
Tech's condition is stable after an 80-foot fall
Update: December 23, 2011 - According to a Maynard Fire Department spokesperson, the tower technician who fell over 80 foot from a monopole in Marcy, NY yesterday was transferred to Strong Memorial Hospital in Rochester and is in critical, but stable condition. "It's truly a miracle that he's alive. I've seen many falls and it's amazing that he survived," he said.

The monopole the tower tech was working on is owned by Crown Castle International. It is not known if the Patriot Towers Inc. crew was working for Crown or a carrier collocating on the site.

OSHA is investigating the accident.
- - - - - - - - - - - - - - - -
December 22, 2011 - A tower technician working on a cell tower in Marcy, NY received serious injuries after he fell more than 80 feet this morning, according to
Maynard fire officials.

The man, whose name hasn't been released, had multiple broken bones and other severe trauma injuries after he fell and reportedly landed on top of an elevated platform which might be the monopole's waveguide bridge, fire officials said.

He was working with other members of his crew at the time of the accident. The tech is in his late 20s and was employed by Patriot Towers Inc. of Scottsville.

A representative of Patriot said she was not aware of the current condition of their employee.

According to an unconfirmed statement from someone assisting at the accident site, the worker was tied off to a safety climb on the structure when it failed, causing the tech to fall while attached to it.

Firefighters responded to the call on 9083 River Road River Road at about 9:18 a.m.

An Oneida County Emergency Services employee told Wireless Estimator that the man was transported by Kunkel Ambulance. A representative of Kunkel Ambulance said they could not provide any additional information about the technician they took to St. Elizabeth Medical Center in Utica.

Members of the Whitesboro Fire Department also assisted at the scene.

Wireless Estimator will provide additional information regarding the worker's condition when it becomes available.
-
The fat lady has sung at a performance
cost for AT&T of $4 billion
Update: December 20, 2011 - Investors had the evening to assess how AT&T's decision to abandon their plan to purchase T-Mobile USA would impact public tower companies, and they welcomed the news as towerco stocks surged in early morning
trading.

Although Wall Street jumped 2% in a broad rally as positive economic data at home and abroad cheered investors, tower stocks saw an average 4.2% increase most of the day.

American Tower Corporation hit a new high of $59.98 in afternoon trading.

Following the failure of the deal, the cell tower companies will likely benefit from the continued use of towers by an independent T-Mobile, a number of analysts said.

Moreover, T-Mobile may now look to build an LTE network using the $4 billion breakup fee it will receive from AT&T, and the tower companies would significantly benefit from such a development, Goldman Sachs said, according to The Wall Street Journal.
- - - - - - - - - - - - - - - - -
December 19, 2011 - Although an overweight soprano could be heard practicing her scales on Thanksgiving Day after the Federal Communications Commission issued a scathing report that helped to tank AT&T's chance of buying T-Mobile USA, it wasn't until today that the fat lady's final aria closed the curtain on the deal with no shouts from the wireless infrastructure industry for an encore.
In grand opera style, AT&T assembled large scale casts and tried to orchestrate the deal, in part, by lobbying the federal government at a cost of $9.2 million in the past six months, according to their quarterly disclosure reports.
But after the Department of Justice and the FCC gave it a resounding two thumbs down, AT&T said it is closing its request to acquire T-Mobile at a breakup cost of $3 billion in cash to T-Mobile and about $1 billion in other assets as part of their failed performance.
Scrapping the $39 billion takeover is a major setback for AT&T, which had pinned its hopes for growth on the acquisition. The carrier wanted T-Mobile's spectrum to relieve its congested network and offer faster service for data-hungry devices.

The deal's end leaves T-Mobile, the weakest of the four national operators, with an uncertain future.
A merger of the two companies, consumer advocates had said, would have created a duopoly of AT&T and Verizon Wireless with almost three-quarters of the market between them.

"Consumers won today," Sharis A. Pozen, the Justice Department's acting assistant attorney general for antitrust, said in a statement. "Had AT&T acquired T-Mobile, consumers in the wireless marketplace would have faced higher prices and reduced innovation."

U.S. Sen. Al Franken was pleased to hear that AT&T announced it was abandoning its merger.

"This merger would have put us one step away from the monopoly we had during the Ma Bell years. Wireless telecommunication plays a central role in the 21st century American economy, and I'm relieved that we are no longer at risk of concentrating such enormous power in the hands of AT&T and Verizon."

Majority of infrastructure providers sigh with relief
The wireless infrastructure industry largely thought the deal would not be beneficial although major tower owners identified that they did not see it as a detriment for future lease-ups and growth, possibly stated at the behest of AT&T, one of their primary tenants.
"Actually, for my company it would have been better since my rural footprint would have been beneficial to AT&T and I believe it would have provided a number of additional leases," said a smaller tower owner.
However, contractors were unanimous with their concerns about taking another carrier out of the marketplace and having one less mobile operator to work for.
Research by Wireless Estimator has shown that AT&T's turfing contractors will take up to 45% or more from the amount AT&T is paying them to build a new cell site or perform equipment upgrades and maintenance.
AT&T's driver pricing has often been cited by contractors as being too low to maintain any profitability in an industry that is fraught with permitting, supplier, management and weather delays seldom compensated by change orders.
The collapse of the deal is confirmation that the Obama administration has reinvigorated antitrust oversight that it said had become weak under President Bush.
The Justice Department took the aggressive step of suing to block the deal in late August, while the FCC had signaled its intent to fight the merger last month.
A senior communications analyst informed Wireless Estimator in May that he believed the Justice Department would not take the risk to litigate a complex case if they found that the merger involved some public interest concerns, "but it now appears that they were taking antitrust enforcement very seriously," he said.

What's in your future wallet, T-Mobile?
A number of scenarios regarding T-Mobile's future have been surfacing following the FCC's Thanksgiving Day Massacre. Since Deutsche Telekom, T-Mobile's parent company said it will no longer fund the U.S. wireless market, option possibilities could be:
-- T-Mobile, liquid with AT&T's $3 billion, being spun off with an initial public offering
-- A purchase by MetroPCS or Leap Wireless for some or all of T-Mobile's assets
-- Dish Network could purchase T-Mobile to complement the wireless spectrum it has been buying
-- T-Mobile and AT&T living together with a roaming agreement without benefit of marriage
AT&T is not conceding the merger was a bad idea.

"The actions by the Federal Communications Commission and the Department of Justice to block this transaction do not change the realities of the U.S. wireless industry," the company said in a statement.

"It is one of the most fiercely competitive industries in the world, with a mounting need for more spectrum that has not diminished and must be addressed immediately. The AT&T and T-Mobile USA combination would have offered an interim solution to this spectrum shortage."

AT&T disagrees with the DoJ and claims the failure of the deal to go through will ultimately impact customers negatively: "Customers will be harmed and needed investment will be stifled," the carrier said.

To view or provide your comments about this article, click here .
-
US tower design standard might be
translated for Spanish markets
December 19, 2011 - The TIA TR-14.7 Committee for Structural Standard for Antenna Supporting Structures and Antennas, is seeking donations from its members to generate a Spanish translation to the TIA-222-G standard.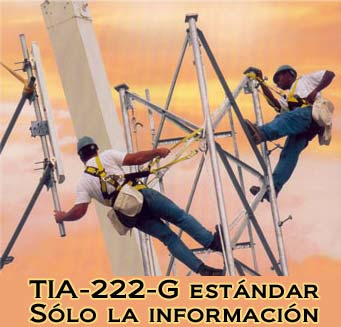 According to Chairman Brian Reese, the TIA has offered to finance $5,000 of the $10,000 translation project. To raise the additional $5,000, contributing members will receive a thank you and acknowledgement in the beginning of the document. They will also be interviewed during one of the TIA's regularly scheduled "innovating standards" TV programs.

The Spanish translation of 222-G would not have to pass through TR-14 as either a TIA or ANSI standard. The document will be labeled as TIA-222-G, but it will clearly be identified as an "information only" document.
As an information only document, there will not be an on-going maintenance or question submittal process similar to the English version of 222-G.
The translation is expected to take approximately one to two months to complete once the funds are secured.
Reese said this opportunity may be of interest if a member's company is already working in Spanish markets or is interested in pursuing opportunities in these markets.
The pricing for the translated document and the English version may be the same as 222-G or discounted for foreign markets, Reese said.
-
Crown Castle becomes the king of DAS
with $1 billion NextG acquisition
Update: December 17, 2011 - Moody's Investors Service put Crown Castle International Corp.'s rating on review for possible downgrade after the company unveiled its $1 billion deal to acquire NextG Networks Inc.

The ratings firm still rates Crown Castle at Ba2, two notches below investment-grade
territory. Moody's said its review will focus for now on Crown Castle's debt financing plans, which the company has not yet detailed.

Although DAS networks have been complementary to traditional macro cell tower infrastructure, according to the ratings firm, Moody's said it has not yet seen similar economies of scale on DAS networks that tenant collocations provide on traditional wireless tower sites.

Moody's expects the adjusted EBITDA-Capex/Interest Expense ratio to be around low 1x's for the next year or so, until the company is able to leverage the DAS infrastructure to lure other carriers.
- - - - - - - - - - - - - - - -
December 16, 2011 - Crown Castle International Corp. announced today that it has entered into a definitive agreement to acquire NextG Networks, Inc. for approximately $1 billion in cash.
NextG, the largest provider of outdoor distributed antenna systems, currently has over 7,000 nodes-on-air and a further 1,500 nodes under construction. In addition, NextG has rights to over 4,600 miles of fiber. DAS is a network of antennas connected by fiber to a communications hub designed to facilitate wireless communications services for multiple operators.
The acquisition will expand Crown Castle's portfolio of DAS, providing additional wireless coverage and capacity solutions to customers beyond those areas traditionally served by towers. The acquisition is expected to close in the second quarter of 2012. Crown Castle expects to fund the acquisition with debt financing.

"Increasingly, we believe that small-cell architecture, such as DAS, will be an important complement to traditional macro tower installations," said Ben Moreland, Crown Castle's President and Chief Executive Officer.
"We are very pleased with our anticipated acquisition of NextG, which furthers our ability to extend wireless infrastructure beyond those areas traditionally served by towers, thereby broadening our service offering in this growing market and positioning us to benefit from the continued demand for wireless data. We expect the impact to recurring cash flow per share from the contemplated acquisition and related expected debt financing to be approximately neutral at closing. Further, we believe this acquisition increases our growth rates and is accretive to long-term recurring cash flow per share," Moreland said.
"Our agreement today is testament to the market leadership NextG has achieved over the past few years and to the increasingly critical role small-cell solutions, including DAS, have played and will play in the future to ensure reliable and comprehensive wireless infrastructure," said Steven Moskowitz, NextG's Chief Executive Officer. "I am proud of all that our employees have accomplished. We have significantly expanded our footprint, broadened our customer relationships, improved our network deployment efficiency, and continuously upgraded our technology and customer service. Our technology solution will be additive to Crown Castle's industry-leading offering, and I am confident that NextG and its employees will be strong contributors to Crown Castle's success for many years to come."
Crown Castle used to be Moskowitz's primary competitor when he served as American Tower Corporation's president of its U.S. tower division.
He was appointed to the CEO position at NextG in May of 2010.
Consistent with Crown Castle's focus on the top 100 BTAs in the US, over 90% of NextG nodes are in urban and suburban locations, with 80% in the top ten US metropolitan areas, including New York, Los Angeles, Chicago and Dallas Fort Worth.

The NextG assets are expected to provide significant growth, as they currently average only 1.25 tenants per network. Following the contemplated acquisition, Crown Castle expects to be the largest independent DAS operator in the US, with approximately 10,000 nodes and 26 venues in operation or under construction.
NextG is to be acquired from a group of investors led by Madison Dearborn Partners, a private equity firm. Madison Dearborn, Accel Partners, Redpoint Ventures and Meritech Capital Partners purchased NextG in 2009. NextG is being advised by Deutsche Bank Securities Inc., Kirkland & Ellis LLP and Kelley Drye & Warren LLP. Crown Castle is being advised by Cravath, Swaine & Moore LLP.
-
FCC implements application procedures
for new towers and collocations
Update: December 15, 2011 - Comments from a tower company zoning and site acquisition manager stating that she believed the new procedures required a notice for a number of collocations since their mounting frames would exceed the width of
the structure have been removed. The interim procedures allow an appurtenance to extend either 20 feet from the edge of the tower or the width of the tower at the level of the appurtenance, whichever is greater.
- - - - - - - - - - - - - - - -
December 14, 2011 - The Federal Communications Commission has released interim regulations governing tower siting that it believes strike a balance between protecting migratory birds and the needs of companies that need to build communication towers.
Zoning and site acquisition officials have been scrubbing the new environmental filing requirements since their release on Friday to fully understand how the procedures affect new tower builds as well as substantial changes to existing structures.
Although the FCC is expected to put permanent procedures in place in conjunction with the U.S. Fish and Wildlife Service and other agencies, the new regulations will apply to tower applications filed after an effective date to be announced.

Pending applications for towers on that date won't be required to complete the environmental notification process; however applications submitted after that date would need to go through the environmental analysis process.

The new environmental notification procedures will apply to all structures that require FCC Antenna Structure Registration such as those above 200 feet in height or a structure near an airport runway.
In the case of replacement towers or modifications to existing towers, including collocations on existing towers or other structures, the applicability of the environmental notification process will depend upon the nature of any change to the existing structure.
The memorandum of understanding defines a replacement tower for which public notice should not be required as a communications tower the construction of which does not involve an increase in 10% of the size of the tower it is replacing or by the height of one additional antenna array with separation from the nearest existing antenna not to exceed 20 feet.
Other changes include adding an accessory to the tower that would protrude from the edge of the tower more than 20 feet, or more than the width of the tower structure at the level of the appurtenance, whichever is greater, or if the mounting of the proposed antenna would involve the installation of more than the standard number of new equipment cabinets for the technology involved, not to exceed four, or more than one new equipment shelter.

The FCC said it would not require notice "where an antenna is being placed on an existing tower or non-tower structure and the placement of the antenna does not involve a substantial increase in size or excavation more than 30 feet beyond the property."

Many of the FCC's iterim regulations came from the FCC's Antenna Collocation Programmatic Agreement.

The new procedures will not generally apply to ASR modifications that only involve ownership, address or contact changes, or that do not alter the physical structure.
An exception applies to structures on federal land under the jurisdiction of another federal agency.

Structures not exempt from ASR registration that are over 450 feet high are subject to the further requirement of submitting a full environmental assessment containing considerable detail, a process that may affect the timely construction or retrofitting of taller towers.
They will also be required to allow the public time to comment on where a new tower would be sited before construction, such as publishing a newspaper notice or by going through a local zoning public notice process.
The FCC will also post information about the proposal on its website and its staff will consider any comments received from the public to determine whether an EA is required for the tower.
An environmental notice is also required if an applicant changes the lighting of an existing tower "to a less preferred" style.

There is no official lighting ranking yet, however the commission says recommendations from federal agencies suggest that L-810 steady-burning red lights pose the greatest risk to migratory birds, and the differences among flashing and blinking lights are not statistically significant.

The FAA may soon allow red flashing or blinking lights without steady-burning L-810s, according to the FCC, which eventually intends to rank tower lighting in its final regulations.

Commissioner Michael J. Copps submitted a statement with the new procedures saying, in part, "Today, at long last, the Commission has responded to the DC Circuit's rebuke to our previous rules that fell short of meeting our responsibilities under the National Environmental Policy Act, the Endangered Species Act, and the Migratory Bird Treaty Act. While I am disappointed it has taken nearly four years to respond to the court, I am encouraged these interim rules will give more parties greater opportunity to register their concerns about migratory birds when a tower goes up, including ranking tower lighting styles based on their effects on migratory birds."
"To be sure, we are mindful of the need for towers for quality voice and data services. But this isn't an either/or proposition -- we can fulfill both these critical purposes with some careful work."
"We have waited far too long for these interim requirements. Let's hope that we do not have to wait nearly as long to get permanent rules in place," Copps said.

"As Commissioner Michael Copps stated, these interim rules reflect a joint effort by conservation groups and the Infrastructure Coalition, of which PCIA is a member, to craft policy consistent with the decision of the Court of Appeals for the District of Columbia Circuit in American Bird Conservancy v. FCC," said PCIA-The Wireless Infrastructure Association in a press statement to Wireless Estimator.
-
State of cell site and DAS builds is extremely healthy according to the PCIA and The DAS Forum
December 8, 2011 - In comments to the FCC, PCIA and The DAS Forum highlighted the robust competition in the wireless infrastructure industry, noting such competition is characterized by many deployment options, a vibrant macro site market and a growing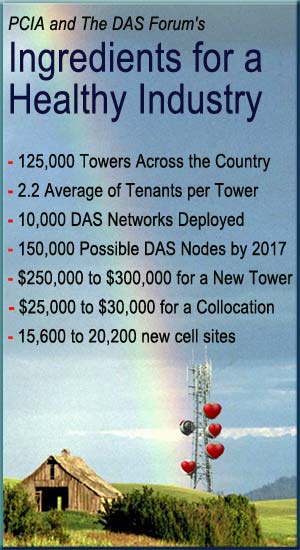 and competitive DAS market.
The trade groups also pointed out that today's wireless infrastructure market enables competition among wireless service providers and thereby enhances investment and innovation throughout the entire wireless industry.
In their comments, PCIA & The DAS Forum reiterated the argument raised in comments and reply comments filed in response to the FCC's Broadband Acceleration Notice of Inquiry that, despite the importance of wireless infrastructure, there remain barriers to wireless infrastructure deployment that are frustrating the development of the wireless industry as a whole.
"Local governments continue to impose significant burdens on wireless infrastructure deployment. Some jurisdictions utilize a review process for efficient deployments, such as collocations, that requires the same amount of documentation and review as an entirely new wireless facility. These processes not only significantly delay wireless infrastructure deployment, but also add to its cost, reducing the available resources to meet the modern capacity demands of new mobile devices and applications," PCIA & The DAS Forum said.
PCIA's members own and manage more than 125,000 telecommunications towers and antenna structures across the country upon which cell sites can be collocated.
Their comments to the FCC stated that there is no single "type" of wireless infrastructure owner in the U.S. and no monopolies of control; "therefore, the tower market in the United States is highly diversified and competitive, which provides for high levels of innovation and price competition."
PCIA said its members estimate that an average new build costs approximately $250,000 - $300,000. In comparison, they estimate that an average collocation costs $25,000 - $30,000 to deploy, though costs can vary greatly depending upon the type of local zoning regulations and the type of architectural integration necessary.
They also noted that in the last ten years the number of tenants per towers has increased almost 100% from an average of 1.5 tenants per tower in December 2000 to an average 2.2 tenants per tower in June 2011.
Identifying that the DAS market is newer than the traditional tower industry and continues to grow, PCIA & The DAS Forum said providers of DAS solutions include specialty DAS providers, traditional tower companies and carriers, creating a competitive dynamic similar to that of macro site infrastructure industry.
"An estimated 10,000 DAS networks have been deployed in the United States, and the number of DAS nodes could double by the end of 2012 and reach as high as 150,000 by 2017," the FCC submission noted.
Utilizing analysts reports, PCIA said that cell sites grew from December 2000 from 104,288 to 271,081 in June 2011.
They also stated that new cell site additions for 2011 should be between 15,600 and 20,200.
-
Lifts and lanyards are being recalled
December 8, 2011 - Although there are no known accidents that have occurred due to their use, Genie is
recalling a number of lifts and Capital Safety is requesting that some of their lanyards should be taken out of service.
Genie has determined that some of their lifts, specifically models GS-2669, GS-23369 and GS-4069 in serial numbers GS6911-101 to GS6912-412 may have been assembled incorrectly causing the oscillating axles to function improperly and possibly resulting in the loss of machine stability.
The company is requesting that contractors remove the machines from service so that the oscillating systems on the units can be rewired and replumbed.
Capital Safety is aware of a reported inadvertent disconnection during use of the locking snap hook used in a series of Y-shaped Protecta lanyards with twin elastic lanyard legs that both attach directly to the eye of the snaphook. The locking snaphook used on these lanyards is part number 9502573.
In a particular configuration when the twin lanyard legs are pulled upwards simultaneously and the snaphook gets compressed against the d-ring, the combination of forces acting on both the locking mechanism and the gate opening of the snaphook may cause the snaphook to disconnect from the d-ring.
Capital said that the snaphook is a catalog item that may be found on lanyards supplied by other manufacturers.
For additional information see: Genie or Capital Safety
-
Georgia monopole fire takes out six tenants
Update: December 8, 2011 - Crown Castle had awarded the welding project to Tower Reinforcement, Inc. of Evansville, Ind.

Mike Kopshever, the company's owner, said that Telecommunications Contracting Company, Inc. of New Jersey was his sub contractor on the site when the blaze occurred. He said he could not discuss the incident since it was still under investigation.
- - - - - - - - - - - - - - - -
December 5, 2011 - At a height with antennas of 199 feet, a Lilburn, Ga. monopole constructed in 1998 is not required to be lamped to meet FAA obstruction lighting requirements. On Friday, however, the Crown Castle International tower could
be seen by a news helicopter and other aircraft for miles around as its transmission lines burned for hours before the Gwinnett County Fire Department assisted in extinguishing burning coaxial cables.
The name of the contractor that started the blaze as they were welding on the structure was listed on GCFD's incident report as Joseph Flannery.

Crown Castle is recognized for having the most comprehensive welding hazard analysis plan in the industry.
A water source capable of wetting the structure and site is required and the contractor must coordinate with the local fire and emergency departments regarding upcoming construction activities and possible fire and safety hazards.
A crew member is required to be at all times solely dedicated to fire watch and must remain upon the site location for two hours after welding has been completed.
Amongst other requirements, the contractor is required to inspect the interior of the monopole for flammable debris with a remote viewing device.
The fire started sometime near 3:00 p.m. and was extinguished by 6:30 p.m.
About 25 children were evacuated from the Education Station Daycare building located approximately 75-feet away.
At first, the owner and teachers first went to a nearby playground, as they had practiced in fire drills, but as the tower began to lean, staff members had the children in vans and buses and headed away from the site.
Fire officials were concerned that if the structure collapsed from its base plate, it could have fallen on top of the daycare building, throwing flames and debris and flames onto the roof and into the playground area.
A gas station near the tower was also evacuated as a precaution as firemen fought the fire. Fire crews wet the surrounding area to prevent the fire from spreading.

Fire officials said that crew members were welding at approximately the 150-foot level when they noticed smoke coming from the area where they were working.

They attempted to put water and a chemical extinguisher on the fire without success.

Although there have been a number of monopole fires over the years that were caused by welding there is only one known recent incident where the structure collapsed.
An AT&T Wireless 110-foot monopole, located in Wellesley Mass, burned for approximately 25 minutes in January of 2009 before it collapsed within a few feet from the entrance of a closed and uninhabited Wellesley Travel Inn.

More often the monopole will bend from the intense heat, but will right itself considerably after the fire has been quelled.
"These fires are happening far too often. There are welding procedures available to prevent this. The bidding process should allow for them," a regional manager of a major telecom contractor said after learning of the Georgia incident.

The Lilburn structure was completely destroyed and is being removed as cells on wheels are being brought in to provide temporary coverage. Fire officials said the damage has been assessed to be over $1 million, but an accurate estimate of what it will cost to build a new structure is not known.

However, it is expected to be a considerable insurance claim since the monopole had six tenants: Sprint/Nextel, Verizon Wireless, T-Mobile, Metro PCS, AT&T and Clearwire.
-
Quit now AT&T, stop embarrassing yourself
Commentary
December 2, 2011 - In keeping with all of the untruths in their proposal to the FCC to buy T-Mobile, AT&T should name their next smart device the iPhony. That way they
can sell a vowel and show additional inaccurate cost reductions to regulators reviewing the deal.
AT&T is now saying that the FCC was unfair and staffers only cherry-picked what they wanted in order to condemn the T-Mobile acquisition when they released their findings on Tuesday.
But they believe that buying off congressmen and spending $40 million on advertising for lobbying efforts is fair.
The FCC has a responsibility to represent the country at large and not one giant carrier - and that they did. And we thank them.
In just one of their many Pinocchio presentations, AT&T said the merger would create almost 100,000 new jobs at AT&T and other companies.
You be the judge.
Do you really think that engineering, site acquisition, tower owners, contractors and other wireless infrastructure companies will be adding new employees after T-Mobile is out of the picture?
We think not. They'll probably be downsizing.
Plus, their margins will continue to shrink. And the real casualty could be a reduction in contractor safety initiatives that could see an even larger count of tower technician deaths on AT&T cell site projects - already at a level that is way too high for the Think Possible folks who seem to think very little about fostering safety on their projects.
What they thought would be an enticement to the FCC and the Department of Jusitice that they were going to move a call center back to the U.S. if the agencies would give them two thumbs up, helping to reduce today's 8.6% unemployment rate, failed miserably.
Call centers are valuable assets to a mobile operator, but because the new employees will no longer be paid with a few rupees, AT&T will end up cutting service to their subscribers in order to pay $10 to $12 per hour.
They'll also continue, through their turfing vendors, to skin the hides of their contractors and suppliers in order to cut capital expenses.
In their report, the FCC says this: "It also comports with the CWA's observation regarding the net reduction in jobs resulting from prior AT&T wireless mergers, namely that 'In 2002, there were 70,000 employees at AT&T Mobility and its predecessor companies. Since then, AT&T merged with Cingular, Dobson and Centennial. Today, there are 67,000 employees at AT&T Mobility.' Direct employment cannot therefore be part of a public interest benefit with respect to job creation."
So, where would the new 100,000 jobs be coming from if the merger went through? Not from the skeletal base of T-Mobile employees which would wipe out the call center additions. Not from the industry servicing the wireless infrastructure. Perhaps in AT&T's convoluted dreams.
Again, thank you FCC for pointing this out with your exhaustive evaluation.
Every day AT&T is enjoying the first-at-bat blog wannabes identifying that there is still a chance that there could be a new promise of a deal through a joint venture with Deutsche Telekom or a sale of spectrum.
Enough is enough, Jim Cicconi, AT&T's senior executive vice president of external and legislative affairs. It's not going to happen, so get over it!
Your immediate concern should be in hiring a damage control public relations firm before your stockholders revolt at your foolishness.
Sadly, AT&T could have used the $4 billion breakup fee they're going to pay T-Mobile to pay suppliers and contractors an equitable fee for a quality cell site installation.
Their low bid, low quality installations will eventually catch up with their network and create more problems than they could have ever imagined.
-
FCC report attacks AT&T's T-Mobile bid,
stating they can just lease or buy towers
Update: December 8, 2011- AT&T Chief Financial Officer John Stephens says the carrier will not cave in in its efforts to acquire T-Mobile, no matter how the FCC feels, and has the resources to close the deal quickly. "We continue to move forward with our efforts to complete the T-Mobile transaction ... and we will continue to pursue the sale," Stephens said.
- - - - - - - - - - - - - - - -
November 30, 2011 - AT&T withdrew its Federal Communications Commission bid to buy T-Mobile USA for $39 billion on Thanksgiving Day, identifying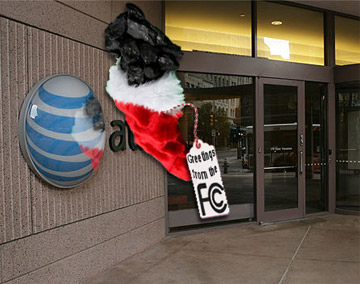 that it wanted to concentrate on the Department of Justice's antitrust lawsuit, possibly hoping that FCC Commissioners would not approve an administrative hearing as requested by Chairman Julius Genachowski.

Instead, FCC staffers spent the following days redacting a 266-page document, shaving off 109 pages of confidential information and issued the FCC's analysis and findings: a holiday stocking gift to AT&T full of lumps of coal which they can use to burn through $4 billion in a one-time charge for this quarter to reflect the risks of a collapse of the deal.

AT&T objected to the release of the report, calling it "troubling" and "improper."

"It has no force or effect under law, which raises questions as to why the FCC would choose to release it," they said.

The FCC, which said it released the report in the interest of transparency, had earlier in the day approved AT&T's request to withdraw its merger application before the commission.

FCC officials said that their evaluation of the deal found that the merger between AT&T and T-Mobile would create an "unprecedented" level of concentration in the wireless market. In a briefing with reporters, officials went on to say that it was impossible to see how the deal could serve the public interest.

Although the FCC and the DoJ have been conducting their own independent investigations, it's apparent that the FCC has been paying close attention to the DoJ's lawsuit by stating in their report: "Staff thus finds, as has DoJ, that the proposed transaction would likely lead to a substantial lessening of competition in violation of the Clayton Act. A transaction in violation of the Clayton Act would not be in the public interest."



You can view the FCC findings and analysis here (13 MB) or visit the Community Forum to read comments regarding the FCC's analysis of AT&T's proposal.

AT&T in its earlier filing said that T-Mobile played a "diminished market role" and that it's "struggling for relevance."

The FCC tackles that belief by stating that the transaction would eliminate "a nationwide rival that has played the role of a disruptive competitive force in the marketplace."

Cell site statistics disputed
Although the FCC agreed with AT&T that "cell site complementarities can lead to capacity benefits," the report stated that the benefits would arise when the sites that AT&T acquires from T-Mobile are located only "where they can relieve capacity."

Despite FCC staff requests for the necessary information, AT&T did not submit a nationwide analysis of how many of the integrated T-Mobile sites would actually improve capacity in each year based on network traffic projections.

Instead, AT&T said the FCC should assess San Francisco where they claimed that 43% of the T-Mobile sites would be retained and that this is representative of AT&T's nationwide network.

The FCC said it found conflicting reports with other AT&T documents.

However, to further validate AT&Ts claims with respect to capacity, the FCC conducted a site-by-site integration analysis using a computer model based on wireless network engineering principles.

The analysis suggested that far fewer than (redacted) T-Mobile sites are "instantly" available to relieve constraints. Moreover, the FCC said, when using the AT&T's engineering model network traffic projections, in every year but one until 2016, the number of additional T-Mobile sites available annually to relieve congestion on the AT&T network is less than AT&T's current build rate.

The FCC report stated, "While we accept that it is unlikely that AT&T could build (redacted) sites in two years, our analysis suggests that the magnitude of the benefit is substantially lower than what the Applicants have suggested. Similarly, based on the evidence in the record, it appears that AT&T could acquire the same number of capacity relieving cell sites without acquiring T-Mobile, either by leasing, co-locating or even acquiring T-Mobile towers. For example, we note that only about (redacted) of the sites that AT&T would acquire from the proposed transaction are actually owned by T-Mobile; the remaining sites are leased from third parties."

After performing the same analysis they performed for the T-Mobile site locations on the locations that could be leased, the report said that the results suggest that (redacted) the number of the T-Mobile sites AT&T would need annually to relieve capacity constraints could be acquired through leasing agreements with American Tower Corporation, Crown Castle International and SBA Communications.

Agency dumps on AT&T's cell splitting and DAS data
AT&T provided the FCC with an engineering model that attempted to approximate how each carrier independently and alternatively the combined firm would manage congestion on its network and what the costs would be.

Their model used cell splits and outdoor and indoor distributed antenna systems to address evolving network capacity requirements and project related costs in fifteen "representative" markets.

AT&T said that the model established that the incremental costs of adding network capacity for the combined firm would be lower than if AT&T and T-Mobile operated their networks separately.

Although the FCC said that they agreed in principle that the combination could result in technical efficiencies, their assessment was that AT&T did not provide sufficient evidence to support their assertions concerning the size of those benefits and how they balance against the harms that will result from the proposed transaction.

The FCC report stated that AT&T's engineering model's cell-splitting algorithm contained an error that effectively builds cell sites uniformly across a CMA instead of targeting congested sites.

"As a result, after cell splits are implemented in their Engineering Model, nearly all of the congested sites remain overloaded. The Engineering Model then resolves these congestion issues by building more expensive Outdoor Distributed Antenna Systems ("oDas") and Indoor Distributed Antenna Systems ("iDas")," the report noted.

The result of this error, according to the FCC, is that marginal cost estimates are overstated for two reasons: (1) cell site splits raise costs without relieving congestion and; (2) expensive oDas and iDas systems are required to relieve traffic congestion that should have been relieved by cell splits.

AT&T claimed that the engineering model reflected their regular business and network engineering practice, but the FCC stated that it was in fact developed specifically for the purpose of obtaining regulatory approval of the proposed transaction.

They also noted that the 15 markets chosen by the AT&T "do not seem to be particularly representative."

You can view the FCC findings and analysis here (13 MB) or visit the Community Forum to read comments regarding the FCC's analysis of AT&T's proposal.
-
Prestige Telecom's assets may have been
bought at fire sale pricing
November 29, 2011- Former power player Prestige Telecom Inc. has filed for bankruptcy protection in Canada and the Quebec Superior Court has approved the
sale of substantially all of its assets to a subsidiary of Thornhill Investments, Inc.
Established in 1980, Prestige previously had over 1,000 employees in 18 offices spread across Canada and held major contracts for network deployment in Canada as well in the U.S. through a subcontractor agreement under the trade name Prestige Comforce Professional Services based in Plano, Tex.
Industry managers familiar with Prestige have informed Wireless Estimator that the company has seen a number of its engineers and service employees leave and the firm is not being represented during recent bid walks.
Folded into Prestige is Radian Communication Services Limited, a broadcast industry leader for more than 45 years in the design, production and erection of tall broadcast towers and other structures.
Radian, formerly LeBlanc Broadcast, was acquired by Prestige in 2008 for $20 million plus assumed debt of $611,000 to help build out carrier networks in Canada and the U.S.
Radian was 89% owned by Onex Corp. The Radian purchase involved $7.5 million in cash and $12.5 million in shares.
Although at the time of the sale Radian was showing positive EBITDA, it had struggled for a number of years with negative cash flow.
The Radian sale did not include the Rohn Products Division it purchased in 2004. In 2008 Radian sold Rohn to O'Brien Steel, also of Peoria, Ill., for an undisclosed amount.
Not being part of the Radian sale allowed Rohn to regain its prominence as a leading communications tower manufacturer.
Also sidestepping Prestige's current collapse was WesTower LLC of Houston, Tex.
When the Radian deal was announced, Prestige said it was also buying WesTower for $80 million. The owners were to receive $20 million in shares and $5 million in promissory notes along with $55 million in cash.
Calvin Payne, the CEO of WesTower, was to join the board of Prestige and be appointed its vice-chairman.
Six months later Prestige announced that due to the difficult conditions in the Canadian equity markets the company would not be proceeding with the WesTower acquisition.
However, the Radian purchase was able to be salvaged when Cirque du Soleil founder Guy Laliberté invested $4.5 million in Prestige to help fund the deal.
Last June cash-strapped Prestige had its board of directors request bids for the sale of the company's assets.
The terms of the sale, including the price paid, will be announced upon receiving the approval of the court and executing a formal agreement with Thornhill.
Prestige also announces the resignations of Robert Blain and Pierre Yves Méthot as directors of the company as well as the resignation of Pierre Yves Méthot as Chairman and Chief Executive Officer.
Thornhill Investments, a holding company that was incorporated in 2002, is headquartered in Laval-sur-le-Lac, Quebec. Its chairman and main shareholder is François Gaudreau.
Gaudreau is also invested in Demarcation Point, a Canadian national company specializing in the cabling infrastructure industry for voice and data.
Prestige has been hemorrhaging its remaining cash and it is expected that Thornhill will pick up the company at a deep discount.
Prestige filed the results of their fourth quarter and the balance of their fiscal year 2011 on August 18, more than two months late.
Annual revenues of $137.9 million were up 11% for the year, but they had a net loss of $19.7 million, against a loss of $0.8 million for fiscal year 2010.
CIBC, FIER CPVC Montreal and nearly a thousand employees are the major secured creditors in the bankruptcy of Prestige.
Prestige has $26.1 million in unsecured liabilities.
-
In a Thanksgiving Day announcement, AT&T yanks its FCC application for its T-Mobile acquisition
Update: November 28, 2011 - Public Knowledge and Media Access Project said today that AT&T and T-Mobile were engaging in "litigation gamesmanship" in the companies' attempt to withdraw their merger application from the Federal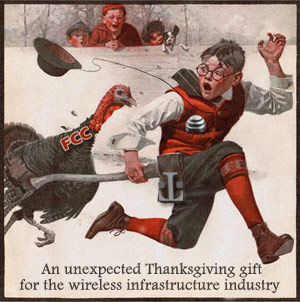 Communications Commission.

In a filing with the FCC, the groups also said that the Commission's order designating the transaction for a formal hearing should be released because "the public deserves for the Commission's determinations to see the light of day."

The companies have said publicly they aren't withdrawing their application because they are reconfiguring their business deal, but "rather because they intend to seek a favorable decision in federal court, which the companies can then use to pressure the Commission to approve the merge," according to the filing from PK and MAP.
- - - - - - - - - - - - - - - -
November 24, 2011 - In what might be the best Thanksgiving Day present wireless infrastructure suppliers, tower owners and contractors could ever expect, AT&T has announced that it has given up its effort to gain Federal Communications Commission approval for its merger with T-Mobile. At least for now.
AT&T said it is withdrawing its request to transfer T-Mobile's wireless licenses while it tries to fight off a Justice Department lawsuit blocking AT&T from buying T-Mobile's other assets from its parent company Deutsche Telekom. Deutsche Telekom is also withdrawing their application.
"AT&T Inc. and Deutsche Telekom AG are continuing to pursue the sale of Deutsche Telekom's U.S. wireless assets to AT&T and are taking this step to facilitate the consideration of all options at the FCC and to focus their continuing efforts on obtaining antitrust clearance for the transaction from the Department of Justice," AT&T said in a statement. The company said it is still trying to resolve the matter through other means as well.
AT&T says it plans to seek FCC approval again "as soon as practical."
The action comes two days after FCC Chairman Julius Genachowski circulated a draft order, which, if approved, would have referred the case to an administrative law judge, a major blow to AT&T's chances. See below.
As a result of withdrawing its application, AT&T told its investors it could lose as much as $4 billion in break up fees to Deutsche Telekom.
Numerous industry observers are now stating that AT&T will be hard pressed to ever gain approval in the future.
Although tower owners have been supportive of the acquisition, stating that it might actually help business based upon previous post-merger details, a number of them have told Wireless Estimator that it would be difficult to not support AT&T, one of their major customers.
The Thanksgiving Day announcement by AT&T could result in increased T-Mobile buildouts.
An acquisition of T-Mobile by AT&T was generally seen by contractors and suppliers as an event that would erode their business as AT&T took another major carrier out of the market.
They also believe that AT&T would then use their increased strength to further reduce margins already described as being near unprofitable levels due to turfing contractors taking the greater portion of AT&T's driver pricing.
-
FCC issues a new lighting fine and denies a Pennsylvania tower owner's appeal
November 24, 2011 - By failing to maintain the required red obstruction lighting on his 240-foot tower for over two months, and by failing to update the ownership information for the antenna structure for over two years, a Cawelo, Calif. man has been fined $13,000 by the FCC's Enforcement Bureau.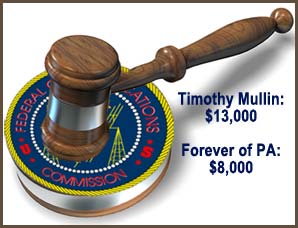 The agency has also denied the appeal of a Pennsylvania tower owner's $10,000 lighting violation fine, but did reduce it $2,000 based upon the company's compliance record.
On December 15, 2010, in response to information that the lights on Timothy J. Mullen's Cawelo tower had completely failed, an agent from the Enforcement Bureau's Los Angeles office contacted the registrant of record for the structure and was informed that ownership of the structure had transferred to Mullen in 2008.
The following day a Los Angeles agent inspected the tower after sunset and observed that none of the lights—including the red obstruction lights—on the structure were working.
On December 22, 2010, the agent telephoned Mullen who confirmed that he owned the tower. On April 5, 2011, in response to a letter of inquiry, Mullen stated that, based on his power bill, the lights on the structure had failed in late October of 2010, and that that the lights were non-operational from October 22, 2010, until December 28, 2010, when they were repaired.
Mullen could not confirm that he notified the FAA of the outage.
The lighting compliance fine is $10,000 and the ownership notification violation is $3,000.

Forever of PA's outage appeal denied
The penalty against Forever of PA Inc. in Hollidaysburg, Pa., was for violations which require either daily observation of obstruction lighting or an automatic alert system that detects and reports failures.

The FCC received a report of a light outage after a pilot reported it to the FAA in 2006. During an inspection an agent determined that the tower lights were functioning except for the top beacon light. A portion of Forever of PA's appeal involved whether the owner and chief operator knew the monitoring system was not configured to detect individual light outages.

The FCC planned a fine of $10,000. The owner did not dispute that the beacon had been unlit or that it did not notify the FAA of the outage, according to the FCC. But the owner argued that it had been unaware of its monitoring system's limitations until the inspection, and thus its actions were not willful.

The agency rejected the arguments and upheld the $10,000 fine. Forever of PA appealed again.

In its new ruling the FCC says, "Forever again raises the very same argument already considered and rejected in the Forfeiture Order, that the violation was not willful because Forever was unaware of the monitoring system's deficiencies."

It was the Forever of PA's statement that it relied on a system that did not have the necessary interface to detect single light outages, according to the FCC.

The FCC said that if the company had complied with rules that require tower owners to "inspect at intervals not to exceed 3 months all automatic or mechanical control devices, indicator and alarm systems associated with the antenna structure lighting," Forever of PA would have found that its system was incapable of detecting single light outages.

Forever of PA's new fine is $8,000.
-
Industry icon Donald Rohn passes away at 72
November 23, 2011 - Donald D. Rohn, an industry leader in communications tower manufacturing, passed away on Nov. 21 at age 72 at Riverview Manor Care in East
Peoria, Ill. where he was being treated for an injury he suffered from a fall a number of months ago.
In the late1950s Don began working at his father Dwight's tower manufacturing plant prior to graduating with a bachelor's degree in business from the University of Illinois.
Founded in 1948, Rohn's primary product line was small residential television towers.
But as TVs evolved in the 1950s from utilitarian wonders to pieces of fine furniture art, coupled with speakers that were as large as the screen, the tower structures didn't change.
In fact, they began to show considerable weathering as rust streaked sides of homes they were attached to.
Rohn was the country's first manufacturer to see the need for galvanizing their towers and built their own galvanizing plant.
The extra hot dipped galvanizing production cost paid handsome dividends for the company in a competitive market as their sales increased dramatically, requiring the company to expand to 40 employees.
Although the company had grown by building small guyed towers, Rohn's largest tower order ever, a major contract for towers for Nashua, New Hampshire-based Sanders Associates was sold in 1965.
Don told Wireless Estimator last year that the deal provided the opportunity for the company to consider other manufacturing options in the telecommunications industry and they moved quickly to capture the opening.
Don was part of the team that introduced the Rohn catalog, a catalyst for the
company's rapid growth as it became the largest tower manufacturer in the world for a number of decades.
The Rohn catalog was iconic in the industry and was known as the "tower bible". Its wealth of products and industry information served as the basis for buyer and design decisions for many years.
Retiring as Rohn's president in 1997, Don was an early advocate of climber safety and created a company culture that saw Rohn provide safety climb systems before it became an industry requirement.
"He knew that non-professionals were climbing towers and he went to great lengths to warn people because it was the right thing to do," said David Brinker, Rohn's Vice President of Engineering.
"Don truly put his heart, soul and life into the company and made it grow the way it did throughout the cellular boom. He will be long-remembered as a leader in the tower industry," Brinker said.
Bill Carlson, President of Tower Systems, Inc. of Watertown, SD, recalls working with Don on numerous projects since the 1960s.
"It would be typical for me to be in the office on a Sunday and whenever I had a question, I would pick up the phone and usually Don was there to provide assistance," Carlson said.
"We communicated more on the weekends than during the week. I respected his work ethic and he was the type of person that knew what was going on at all ends of the business."

Competitors always spoke highly of Don's business acumen.

"Don was a really fine individual. I remember meeting him and his brother Richard for lunch many years ago in Kankakee, ILL. We were competitors, but it was good to see that they nor we had three heads. I got to know Don later in the 90's and Pi-Rod and Rohn came very close to merging," said Myron Noble who was then president of PiRod.

"It is a shame that Don did not have the opportunity to continue to be part of Rohn. I always marveled at what great shape Don was in. He was a good person and he will be missed by many," Noble said.

Born on Sept. 3, 1939, in Beardstown, Ill., Don was preceded in death by his parents, Dwight and Lela M. (Dodds) Rohn.

Surviving are his wife, Joyce of Dunlap and three sons, Thomas D. (Belinda) Rohn of Dunlap, Timothy D. (Malisa) Rohn of Peoria and Alan D. (Wanda) Rohn of Bradenton, Fla. Also surviving are five grandchildren, Emma, Kyle, Hunter, Kamy and Daniel; one brother, Richard L. (Dixie) of Birmingham, Ala.; and several nieces and nephews.

He was a member and Past Chapter Chair of S.C.O.R.E. and a member of Central Illinois Angels. He also served as treasurer of the Limestone Alumni and Friends Association and served as a board member of the Greater Peoria Family YMCA.
He was an avid volunteer and supporter of the Peoria community as well as being an avid Bradley and Illini basketball fan.
A memorial service will be at 1 p.m. Saturday, Nov. 26, 2011, at Davison-Fulton-Woolsey-Wilton Funeral Home in Peoria. The Rev. Jack Thompson will officiate. Memorials may be made to the Greater Peoria Family YMCA, 7000 N. Fleming Lane, Peoria, IL 61614, or to the Salvation Army, 414 NE Jefferson Ave., Peoria, IL 61603.
-
Proposed FCC roadblock could sound
death knell for AT&T's T-Mobile bid
November 23, 2011 - AT&T Inc.'s $39 billion bid for T- Mobile USA Inc. faces a new obstruction after Federal Communications Commission Chairman Julius
Genachowski asked commissioners to send the proposal to an agency judge for a hearing.

The hearing, which could lead to a rejection of the deal, was proposed in an order that Genachowski offered for consideration by the full FCC after agency staff said they had found the proposed merger would significantly diminish wireless competition.
The hearing would take place after the resolution of a Justice Department court challenge to the transaction, the FCC officials said. The antitrust case is scheduled for trial in February.

AT&T is "reviewing all options," Larry Solomon, senior vice president of corporate communications, said in an e-mailed statement.

"The FCC's action today is disappointing," Solomon said. "It is yet another example of a government agency acting to prevent billions in new investment and the creation of many thousands of new jobs at a time when the US economy desperately needs both."
"The record clearly shows that -- in no uncertain terms -- this merger would result in a massive loss of U.S. jobs and investment," a senior FCC official said.

The agency also concluded that the merger would not result in significantly more buildout of next generation 4G wireless service than would occur absent the transaction.
AT&T has agreed to pay T-Mobile parent Deutsche Telekom a breakup fee of $3 billion as well as spectrum if the deal collapses for a total package valued at as much as $7 billion.
"As (FCC Chairman Julius Genachowski) said in August when the Justice Department filed its antitrust lawsuit against AT&T, the record before the FCC presented 'serious concerns about the impact of the proposed transaction on competition,' " said Vonya McCann, senior vice president of government affairs for Sprint Nextel. "That record is complete and more than justifies moving this matter to an administrative law judge for a hearing. We appreciate Chairman Genachowski's leadership on this issue and look forward to the FCC moving quickly to adopt a strong hearing designation order."
"With the Justice Department having sued in late August to derail the deal, AT&T has been thrust into potentially prolonged battles on two fronts. AT&T's options for salvaging the T-Mobile purchase are narrowing. Likely upcoming government approval of AT&T's purchase of Qualcomm spectrum is increasingly looking like a consolation prize," said Jeffrey S. Silva, a senior policy director at Medley Global Advisors, LLC.

Silva said that Genachowski's decision to seek agency approval to refer the merger to an administrative law judge, as the 180-day merger-review shot clock winds down, might suggest by inference AT&T is making little or no progress in pursing settlement talks with DoJ antitrust lawyers.
-
A Carlyle Reliance buy could increase CommScope's market share in India
November 22, 2011 - If the United States-based private equity giant The Carlyle Group is successful in purchasing India's Reliance Group's 50,000 cell towers, CommScope,
Inc. of Hickory, NC would benefit from an alliance with carrier tenants as it continues to increase its sales in Asia.
Earlier this month, it was reported that The Blackstone Group and Carlyle were close to purchasing Reliance's towers, but it was not known whether it would be a consortium or a direct buyout expected to be in a $3 to $4 billion range.

As the former owner of Global Tower Partners, Blackstone has a proven track record of success in the vertical real estate industry.

Earlier this year, US-based Crown Castle International and American Tower Corporation were reportedly talking to Reliance to buy the company's towers.

Carlyle, with over $153 billion of assets under management, acquired CommScope last January for $3.9 billion, the biggest takeover in the telecommunications-equipment industry in at least two years.
CommScope acquired Andrew Corporation for $2.65 billion in 2007.
According to the Wall Street Journal, other buy-out funds such as The Blackstone Group have raced ahead in striking deals with a few majority and many minority stakes in their portfolios. Carlyle's fund has been a little more cautious.
"We have an overall philosophy of being disciplined and being patient and waiting for the right deal," said Devinjit Singh, managing director of Carlyle India.
Whether an acquisition of Reliance's towers will be the appropriate deal is expected to be known in December, but in the meantime Carlyle is still benefitting from CommScope's major presence in India.
With an ISO 14000 certified antenna and cable manufacturing plant in Goa, the CommScope facility may be the world's largest telecom plant at 2,236,000 square feet. Andrew started the plant's operations in 1997.
Idea Cellular Ltd., India's third largest wireless operator, announced last month that it has selected CommScope's smoothwall RF feeder coaxial cable product to replace most use of traditional corrugated copper cabling in its network.
Competition for subscribers is intense in the rapidly expanding Indian wireless marketplace raising the stakes for local operators as they balance the need for high performance in their networks with keeping costs low.
CommScope contends that the FXL smoothwall cable, already installed in more than 100,000 sites throughout India, is delivering a new level of benefits in wireless network performance and reliability compared to its corrugated copper predecessor Heliax VXL.
Tata Teleservices Limited announced earlier this month that it too will utilize the high-performing coaxial cable for its new base station sites in India.
Following in the footsteps of rival private equity firms KKR and Apollo, at the beginning of September Carlyle filed with the US Securities and Exchange Commission its intention to become a public company. Proceeds from the offering could total $1 billion.
-
Open Range's creditors' white knight backs out
November 19, 2011 - Open Range Communications' assets will be liquidated and its WiMAX service shut down in a dozen states after the company's only bankruptcy bidder backed out of a deal on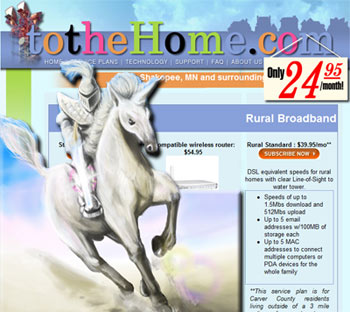 Tuesday.
TotheHome.com, a small Minnesota ISP, had provided a $2 million bid for Open Range's assets in a Nov. 2 purchase agreement, but notified Open Range that it was backing out.
TotheHome President Shawn Sprengler said during a hearing in U.S. Bankruptcy Court in Wilmington, Del., that the company received "some information Friday that was not what we expected." He didn't identify what the information was.
"We find this to be very irresponsible, and probably actionable, on their part. Unfortunately, Open Range will be shutting off its service and liquidating its assets by the end of the year. This is a very tragic end to what seems like a doomed company," said Chris Ward, counsel for Open Range's unsecured-creditors committee, in a statement to the Denver Post.
Open Range was scheduled to give the court what it called a plan for "an orderly liquidation." It is set to end high-speed Internet and digital voice services to 26,000 subscribers by year's end.

The House Energy and Commerce committee launched an investigation into the Department of Agriculture's $267 million loan to Open Range last week.
Six bipartisan members of the committee sent a letter to Rural Utilities Service Administrator Jonathan Adelstein, a former FCC Commissioner. The outstanding balance of the loan, which was the largest in a series of loans made to rural broadband providers between 2002 and 2008, remains $73.5 million.

Tower companies and contractors may not fare well after the USDA steps in front of the line of creditors seeking payments from Open Range.

One of Open Range's top creditors was network designer and builder Velocitel. The company's filing identifies that it owes the company $5,590,037.

Site developer Black Dot Wireless is owed $742,316 and AT&T Towers was listed as being owed $344,536 for lease obligations. Other towerco creditors were American Tower, $124,313; Crown Castle, $115,196; and SBA Communications, $112,623.


Top 30 Creditors - Open Range Communications

Adesta, LLC
$7,574,352.26
CallComm Construction, Inc.
$294,543.02
Velocitel
$5,590,037.27
Statera Inc.
$280,040.00
One Equity Partners (Chase)
$2,787,809.55
BCI Communications Inc.
$260,461.86
Alvarion
$1,960,149.57
Frontera Consulting
$251,849.00
Black Dot Wireless, LLC
$ 742,316.19
Aviat US Inc.
$195,069.00
Globalstar
$ 735,826.54
Alianza Global Communication
$185,431.00
Cloud 10 Corporation
$ 649,860.00
SiteMaster, Inc.
$175,061.00
Communications Test Design
$ 633,898.00
Zayo Bandwidth, LLC
$161,040.00
RT & Sons
$ 441,002.50
PVSL Solutions, Inc.
$128,515.00
Aerios Direct Inc.
$ 417,764.00
American Tower
$124,313.00
Level 3 Communications LLC
$ 393,549.00
Crown Castle Holdings LLC
$115,196.00
Drinker Biddle & Reath LLP
$ 370,490.00
SBA Structures, Inc.
$112,623.00
Netlink Software Group America
$ 347,183.00
Pinpoint Staffing, LLC
$103,763.91
AT&T Towers
$ 344,536.00
Kentucky Data Link, Inc.
$ 96,684.30
Latham & Watkins LLP
$ 335,000.00
Nexgen Wireless Inc.
$ 96,381.50
-
Court says broadcaster was allowed to walk away from $1 million tower lease obligation
November 11, 2011 - An Iowa Court of Appeals has ruled that a tower tenant could skate away on almost $1 million in lease payments American Tower Corporation says it was owed after the TV broadcaster vacated their tower for another broadcast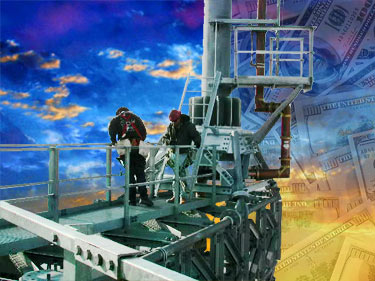 structure.
According to a November 9 court decision, ATC agreed to lease space on its Slater, IA tower to WHO-TV for a period of fifteen years. WHO-TV was later sold, and the lease agreement was assigned to Local TV.
Local TV decided not to broadcast its digital signal from the Slater tower, as it had an ownership interest in another tower that was cheaper to use.
Having made that decision, Local TV did not seek or obtain the Federal Communications Commission permits that would have been needed to broadcast from the Slater tower. Local TV also stopped making rent payments to ATC.
American Tower sued Local TV, asserting claims of breach of contract. The company sought the "total amount due from the date of Local TV's last rent payment through the end of the Lease term," which it alleged was $982,687.03.
Local TV countered with a motion for summary judgment on the ground that the lease agreement allowed it to take the action it did.
The district court agreed with Local TV, concluding "the unambiguous language" of the lease agreement afforded Local TV "the right to cause termination of the lease by failing to seek a permit to continue its broadcasting activity from the Slater tower."
The court stated, "The consequence for Local TV's choice not to continue to use the Slater tower is its forfeiture of any amount of prepaid rent," rather than the amount due on the balance of the fifteen-year lease.
American Tower appealed, but the court upheld the district court's ruling, primarily citing the following paragraph in the lease agreement:
"In the event that Lessee's failure to acquire, or loss of, its license or permit is due to any fault or act (or failure to act) on the part of Lessee, then Lessee shall be entitled to no refund of rental payments previously made, but shall be relieved of any further obligations to make Lease payments or to perform any of its other rental obligations for any period after the date of such termination (provided, however, that it nevertheless shall pay any unpaid additional rent or other authorized charges which may be owed through the date of termination)."
"I've read the court's ruling," a competing tower company executive said to Wireless Estimator, "and I don't agree with their findings."
"American Tower appeared to be offering the broadcaster a good faith opportunity to break the lease if the FCC terminated their license and their tenant used it to walk away from their obligations. Unfortunately, the court didn't see it that way."
-
Former US tower owner is back with a bid
to buy 50,000 towers in India
November 11, 2011 - Reliance Communications of India is in exclusive talks with private equity firms Blackstone Group LP, a former owner of Global Tower Partners, and Carlyle Group to sell its telecom tower unit, the Times of India reported today,
citing an unnamed source.

Reliance, controlled by billionaire Anil Ambani, has spent a year looking for a buyer for the 95% stake in its Reliance Infratel tower unit, as the country's second largest mobile phone carrier by subscribers struggles with its more than $7 billion net debt.

However, it was not clear whether the private equity firms are acting together or individually and whether they are negotiating on behalf of someone else.

US-based Crown Castle International and American Tower Corporation were reportedly talking to Reliance to buy the company's 50,000 towers.

It had also been rumored that Global Tower Partner's owner was viewing Reliance's tower assets.

In 2007, a consortium led by Macquarie Infrastructure Partners acquired from the Blackstone Group 100% of Global Tower Partners for approximately $1.4 billion.
Macquarie and State Bank of India are currently raising up to $1.5bn for a fund which will primarily invest in infrastructure assets and businesses in India.

The pair has made five investments in India, one being in tower firm Viom Networks. The company has a portfolio of over 38,000 towers and has plans of rolling out nearly 25-30,000 additional towers in the next two years.

Viom says it has a tenancy rate of over two tenants per tower, the highest in the country.

The Reliance deal, which is likely to be wrapped up by December, is expected to value the tower arm at more than $3.5 billion, the paper reported, citing an unnamed source familiar with the process.

Reliance is seeking $5 billion for the tower unit, but industry observers feel that the figure is way above the actual valuation of the company.
-
Towercos strive to profit in India in spite of a culture of corruption and business roadblocks
November 2, 2011 - Buoyed by voice and data penetration projections, the nation's publically traded tower company executives are quick to inform analysts how they're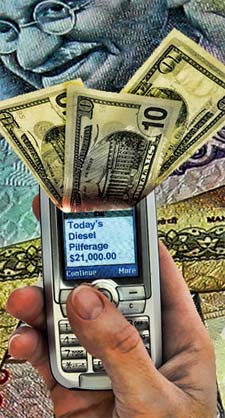 propping up their consolidated income through strategic investments in other countries.
However, business cultures can collide and companies that are structured by their domestic achievements oftentimes find that they can't rely upon their successful origins and expected operating expenses, especially in India where American Tower Corporation owns 8,414 towers, equal to approximately 40% of the Boston-based company's 21,209 domestic structures.
According to ATC's third quarter report released yesterday, the company owns 39,669 towers, with an international footprint of 18,460, representing 47% of all of its towers.
Understanding India's culture and its telecom and business development issues is uncomplicated for ATC's president of its Asian subsidiary, Amit Sharma.
The well-respected former member of Motorola's Asia-Pacific executive leadership team seems to have tailored his education to be able to successfully lead ATC in its India expansion: an MBA in International Business from the Wharton School, an MS in Computer Science and a Bachelor of Technology in Mechanical Engineering from the Indian Institute of Technology.
But there are some aspects of trade that neither Sharma nor any other tower company in India can budget for or anticipate in its business model: A rising tide of corruption and pilferage, and tower prices plummeting as operational costs rise.
Please see: Pilferage is a problem
-
Instructor dies during tower training course

November 2, 2011 - An Ivy Tech Community College faculty member died Wednesday after he fell from an 80-foot self supporting tower on the Lafayette, Ind. campus while providing instruction during a wind energy course sponsored by the College. IOSHA is investigating.

Craig Porter, 36, was on the tower around 12 p.m. conducting a training exercise with Matt Rogers, a student in Porter's sustainable energy program, when he fell approximately 70 feet.

The specially designed Valmont Structures tower was installed in 2009 and is used to train students how to climb up and down a wind turbine.

An engineered 8-foot side arm is capable of sustaining two men falling simultaneously and the tower is inspected every quarter to ensure that it meets TIA/EIA standards.
The structure also has a safety line on all legs.

Porter had reportedly climbed to the side arm with Rogers and handed him a block which would be later used to haul up equipment during the training.

Rogers briefly turned away and he then saw Porter fall. Although IOSHA will determine the cause of the accident, those familiar with the tragedy believe that Porter was not 100% tied off.

Rogers, a second year student at the college, has taken tower rescue training, it is not known whether Porter was certified.

Both he and Rogers had taken training in the College's indoor training facility which has a 20-foot tower. Rescue training for students in the program is provided by third party trainers.

Other students were at the site when Porter fell. The college is investigating the fall along with IOSHA.

Porter began working at Ivy Tech this semester and was the head of the sustainable energy program, the only program of its kind in Indiana. The program offered concentrations in wind turbine technology, renewable energy systems technology and home technology integration.

Ivy Tech issued the following statement:

"We are saddened by our tragic loss. Craig was conducting a training exercise with students at the time of the fall. Student counselors in the Student Support Center have been made available to counsel students. The college's contracted employee assistance counselor is also on campus and providing counseling services to faculty and staff. The College is cooperating fully with local law enforcement officials who are investigating the scene of the accident and the College will also conduct a full investigation. Classes were canceled for the rest of the day, and will resume tomorrow morning. Our thoughts and prayers are with Craig's family and friends, his students, and his colleagues in the wake of this tragic event."
-
FCC seeks $55,000 for light, paint and fence fines
UPDATE: November 1, 2011 - The FCC announced that another tower owner will be required to pay $3,750 for not lamping their tower in Oplin. Tex.

The original fine requested for the July 2011 incident where there was no red light obstruction lighting observed by an FCC agent was $10,000, but Andrews Tower Rental, Inc. said that they could not afford to pay it and that they would be removing the structure.

The FCC reviewed the income for the tower and agreed that a fine of $3,750 would be more fitting for the structure's zero tenant base.
- - - - - - - - - - - - - - -
October 31, 2011 - The Federal Communications Commission is seeking $55,000 in fines from two North Carolina broadcasters and a New Jersey station
owner.

The commission notified East Carolina Radio in Columbia, NC, of its apparent liability for a $10,000 fine for failure to exhibit red obstruction lighting from sunset to sunrise and failing to maintain required logs regarding lighting outages and regular maintenance of its remote monitoring equipment. The company owns WERX.

The FCC also finalized a $25,000 fine against Spirit Broadcasting and station WGTM in Wilson, NC, for failure to maintain operational Emergency Alert System equipment, enclose an active antenna tower within a locked fence and maintain a public file.

The commission said the station did not appeal the notice of apparent liability issued in July.

The commission notified Equity Communications, which owns WMID in Atlantic City, NJ, of a planned fine of $20,000 for failure to repaint its antenna structure and enclose it within a locked fence. Agents said that an inspection in March 2010 found the tower faded and chipped, and with an unlocked gate.

The fine was increased, the commission said, because WMID's violations had not been addressed when agents came back and despite "repeated" warnings about faded paint and unlocked gates.
-
NATE's San Antonio show to feature 19 educational sessions for management and tower hands
October 21, 2011 - Registration is now available for the National Association of Tower Erectors' 17th Annual Conference and Exposition to be held February 6-9, 2012 in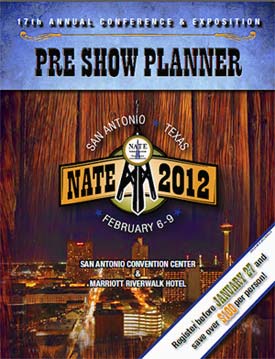 San Antonio, Tex.
Attendees can take advantage of a $100 per person discount if they register before January 27.
Nineteen focused educational sessions will be presented in two tracks - management and tower hand - covering a broad range of subjects from safety and quality installations to business development opportunities.
Identified as the industry's best networking event, the conference and expo will be held at the Henry B. Gonzalez Convention Center located on the famed River Walk.
The trade group's Pre-Show Planner points out some great area attractions such as the Alamo, Fort Sam Houston, and one of San Antonio's favorite destinations, the Tower of Americas, a 750-foot-tall tower offering a breathtaking view.
But for many NATE attendees who have seen numerous breathtaking views across the nation at even greater heights, the difference here is they can sit around untethered and enjoy fine dining and a cocktail or two.
"Our outstanding conference educational sessions are specifically designed to provide in depth interaction and exchange of ideas on the challenging issues facing the telecommunications and broadcast tower construction, service and maintenance industry. Add that to the opportunity to network with friends and professional colleagues and you have the elements for the best show in our industry," said NATE Chairman Jim Coleman.
-
Firefighters rescue ill tech in South Carolina
October 14, 2011 - A tower technician had to be rescued yesterday in Lamar, SC after he was unable to descend from a 300-foot guyed tower owned by AT&T.
Members of the Darlington County Specialized Emergency Rescue Team conducted a high-altitude rescue when an unidentified worker called 911 reporting that he was on the top of a 300-foot guyed tower off of Windhamtown Rd. and was unable to come down after becoming ill.
When responders from Darlington County, Darlington, Hartsville, Cheraw and Florence arrived on site to help in the rescue, as well as high rescue teams from Nucor and Sonoco, the technician was able to make it down to the 150-foot level.
At that height he was assisted by rescuers.
The worker, who was performing maintenance work on the structure, was taken to an area hospital and is expected to recover.
The Darlington County district fire department could not provide information regarding the rescued worker's name or the company he was employed by.
Darlington County Emergency Management Agency Director Linwood Epps told Wireless Estimator that he was aware that another employee was on site at the AT&T tower, but he did not know if any other workers were assisting in the maintenance project.

Tower tech dies following 1,000-foot fall while doing routine maintenance
UPDATE: October 15, 2011 - The tower technician who died on Wednesday in Newton, Mass. appears to be Matthew D. Goodner, 30, of Ford Dodge, Iowa.
A spokesman for the Middlesex County district attorney's office previously confirmed that the worker was a 30-year-old from Iowa, but would offer no additional information since the death was due to an accident.
Yesterday, the Gunderson Funeral Home and Cremation Services in Fort Dodge placed an obituary notice that they were handling the services for Goodner who died on October 12 in Newton, Mass.

- - - - - - - - - - - - - - - - - - - - - - - - -

UPDATE: October 13, 2011 - OSHA will be reviewing information obtained during an on-site inspection yesterday and today to determine if applicable standards were being complied with by a tower technician who fell to his death from a Newton, Mass. 1,253-foot guyed tower.

They will also be investigating whether the contractor, Ultimate Tower Service Inc. of Midlothian, Tex., was in compliance with safety standards. If there were violations, the erector could be issued citations and have fines imposed.

OSHA must complete their investigation within 180 days.

According to OSHA's database, the company has not been issued any citations since its founding in 2004.

Ultimate Tower Service's president is Michael S. Lee.

The decedent's name has not been released.
- - - - - - - - - - - - - -

October 12, 2011 - A worker died today after falling 1,000 feet from a 1,253 foot tower in Newton, Mass., according to fire officials.
The incident happened on Chestnut Street near the intersection of Eliot and Needham streets just before 1 p.m.
The unidentified worker was a contractor who was installing a safety ladder and performing routine maintenance for the tower owner, Boston-based American Tower Corp.

The worker, reportedly from Iowa, worked for a Texas-based company.

"We are deeply saddened by the death of one of our contractors. Our thoughts and sympathies are with his family and co-workers during this difficult time. We are working closely with the relevant authorities and cooperating fully with all inquiries into the cause of this tragic accident," said Matt Peterson, vice president of communications for ATC in a statement.
Peterson said the company suspended all work at the site pending a thorough review of the incident.

Although authorities have said the worker was at approximately 1,000 feet, Peterson said he had no information regarding the actual height.

Jessica Pastore, a spokeswoman for the district attorney's office, said there were other tower technicians on the tower at the time of the incident, but none of them was injured.

No other details were immediately available. The Middlesex County District Attorney's Office is investigating the incident.

The Newton death was the sixth fatality this year of a worker falling from a communications structure.

The tower is used by Clear Channel's WJMN; CBS Radio's WBZ-FM and classic hits WODS; and Boston University's WBUR.

According to FCC records, ATC purchased the tower in 2001 from Intracoastal Broadcasting, Inc.

The tower, a landmark along Route 128, is also used by two television stations in the Boston Market.

Additional details will be provided as they become known.
-
ERI argues IOSHA's findings following $91,500 fine
October 12, 2011 - The Indiana Occupational Safety and Health Administration has received a formal contest from Electronics Research, Inc. of Chandler, Ind. regarding a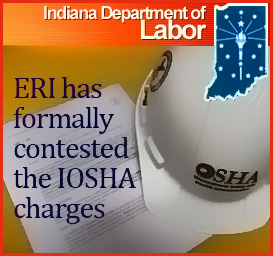 lleged safety violations and $91,500 in fines levied against the company on Sept. 14 regarding an April 13 accident in which two tower technicians fell to their death while erecting a guyed tower.
ERI had until Oct. 5 to either pay the fines or petition IOSHA to review the charges.
IOSHA's review could take from weeks to months. A representative of the state agency said she could not discuss ERI's objections to their findings, but they were the result of a lengthy investigation.
An informal review of IOSHA's initial fault-finding report was done after its September release following a request from ERI officials, but only a minor subsidiary name change was made in the report at that time.
ERI's management did not want to discuss the reasons why they believe the charges were incorrect.
The two Texas riggers killed were Ernesto Garcia, 29, of Laredo, and Paul Aliss, 32, of Mesquite. They were working with an additional three crew members at the tower site near the intersection of County Roads 600 North and 900 East by Colburn.
For additional information regarding IOSHA's findings and charges following their five month investigation, click here.
-
American Tower puts on the gloves and
pummels a siting consultant before the FCC
October 8, 2011 - While PCIA panelists this week in Dallas, Tex. were discussing strategies for overcoming the variety of local level barriers to a national broadband
rollout, American Tower Corporation was operating at the federal level by taking a number of well-placed jabs at one of the nation's most adversarial siting consultants - The Center for Municipal Solutions.
In a filing from ATC released by the FCC on October 3, Paul Roberts, Vice President - Compliance, requested that the Commission should clarify that its use of the term "essential communications" in other proceedings is not intended to suggest that towers used as a platform for commercial wireless service are Class III facilities under the TIA-222-G design standard.
Roberts said that it could have the unintended result of requiring all new towers, and any collocations on or modifications to existing towers, to comply with substantially more rigorous construction requirements.
Please see: Consultants said to be misinterpreting Revision G
-
Feds may deplete tower company and contractor payments in Open Range bankruptcy
October 7, 2011 - Tower companies and contractors may not fare well after the U.S. Department of Agriculture steps in front of the line of creditors seeking payments from Open Range Communications.
When ORC filed for Chapter 11 bankruptcy protection yesterday, the Greenwood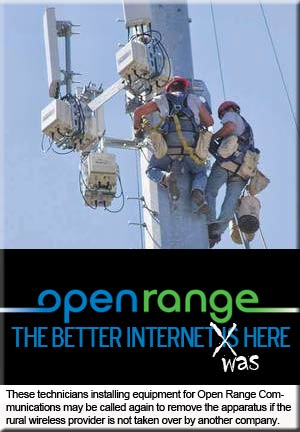 Village, Colorado-based rural wireless provider listed about $114 million in assets and $110 million in debts.
The U.S. Department of Agriculture said it will be working with the Department of Justice to "protect the federal government's interest" in being repaid for a loan issued to ORC.

The USDA had given ORC a $267 million loan under the Rural Utility Service's broadband loan program in January 2009. The current balance of the loan is $73.5 million and the agency has a priority interest in ORC's assets so it is first in line among the company's creditors.
One of ORC's top creditors was network designer and builder Velocitel. ORC's filing identifies that it owes the company $5,590,037.
Site developer Black Dot Wireless is owed $742,316 and AT&T Towers was listed as being owed $344,536 for lease obligations. Other towerco creditors were American Tower, $124,313; Crown Castle, $115,196; and SBA Communications, $112,623.
Founded in 2004, ORC launched service in 2009, but struggled to attract customers with its data-only WiMax service, marking about 20,000 subscribers earlier this year.
The company thought it could survive through a deal with LightSquared, by moving its service from WiMax over to LightSquared's planned LTE network.
However, LightSquared experienced problems of its own this year, after its plans to roll out LTE wholesale service were put on hold because of federal concerns that it may interfere with GPS systems.

LightSquared's delay may have played into ORC's demise by keeping the company on data-only WiMax service rather than LTE broadband, which would have allowed it to offer faster service to more rural customers.
In a bankruptcy filing document, Edwards, in part, blamed the company's financial problems on "sporadic" funding from the USDA loan. Other problems include more nonpaying customers than anticipated and an inability to gain broadcast spectrum.

"During the first 30 days of this case, the company will market its assets to determine whether there are any potential bidders," Chief Financial Officer Chris Edwards said in court papers. "If the sale process is unsuccessful, then the company will immediately shut down its network and begin a wind-down of its operations."
ORC let go 126 of its 174 employees just before the bankruptcy filing. Chief executive Bill Beans has resigned.


Top 30 Creditors - Open Range Communications

Adesta, LLC
$7,574,352.26
CallComm Construction, Inc.
$294,543.02
Velocitel
$5,590,037.27
Statera Inc.
$280,040.00
One Equity Partners (Chase)
$2,787,809.55
BCI Communications Inc.
$260,461.86
Alvarion
$1,960,149.57
Frontera Consulting
$251,849.00
Black Dot Wireless, LLC
$ 742,316.19
Aviat US Inc.
$195,069.00
Globalstar
$ 735,826.54
Alianza Global Communication
$185,431.00
Cloud 10 Corporation
$ 649,860.00
SiteMaster, Inc.
$175,061.00
Communications Test Design
$ 633,898.00
Zayo Bandwidth, LLC
$161,040.00
RT & Sons
$ 441,002.50
PVSL Solutions, Inc.
$128,515.00
Aerios Direct Inc.
$ 417,764.00
American Tower
$124,313.00
Level 3 Communications LLC
$ 393,549.00
Crown Castle Holdings LLC
$115,196.00
Drinker Biddle & Reath LLP
$ 370,490.00
SBA Structures, Inc.
$112,623.00
Netlink Software Group America
$ 347,183.00
Pinpoint Staffing, LLC
$103,763.91
AT&T Towers
$ 344,536.00
Kentucky Data Link, Inc.
$ 96,684.30
Latham & Watkins LLP
$ 335,000.00
Nexgen Wireless Inc.
$ 96,381.50
-
Two states respond to rescue two
tower techs stranded in a bucket truck
October 3, 2011 - A dozen departments of firefighters in southern Wisconsin rescued two tower technicians from SAC Wireless of Schaumburg, Ill. last night after they became stranded in a man lift for almost three hours.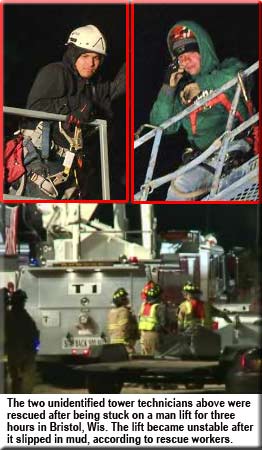 The men were working at approximately the 110-foot level of a monopole in Bristol when their lift's safety mechanism locked up, according to Somers Fire Chief Steven Krause.
"They were stuck in there. The machine had kind of tipped on some uneven muddy ground, and all of the safety locks kicked in and they couldn't move the machine," Somers said.
Bristol Fire Chief Peter Parker coordinated the efforts of 12 Wisconsin and Illinois fire and rescue departments, as well as a commercial heavy equipment operator who arrived with a 135-foot crane from Klaus Cranes in Racine.

Because Bristol's tallest lift platform could only reach 75 feet, and another responding department's 105-foot platform also fell short of the pick height, the Klaus crane was called to the scene early on but was unable to reach the site until about 10 p.m.

Parker said it wasn't clear whether the lift mechanism was operable or the decision not to attempt to lower it was due to its instability.
Rescue workers had climbed the monopole to a platform even with the stranded technicians and tossed them two ropes to help stabilize the hydraulic lift they were in.
Two safety lines were also thrown across the 30-foot gap and the unidentified tower technicians tied off to them until they were brought down by Klaus's crane.
The techs had been working on the site all day and became stranded in the evening, calling rescue workers to assist them at approximately 8:00 p.m. after a technician from the equipment rental firm reportedly was unable to lower the lift. They were brought down about 11:00 p.m. by rescuers.
The cell site is located on a beef and hog farm.
-
Retractable lanyards being recalled by 3M
September 30, 2011 - Tower contractors are being requested to identify if they have any 3M retractable lanyards that are being recalled because some of the units do not properly achieve lock up during the user pre-inspection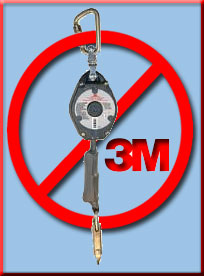 pull test on the webbing lifeline as required by the user instructions and OSHA.

An analysis of some of the GW-7 and GW-11 series self-retracting lanyards were returned to 3M and the company has identified that some of them do not work properly.

The models are: GW-7, GW-11, GW-7-0241A, GW-7-0241H, GW-11-0241A, GW-11-0241H, GW-11NS, DLGW-7, DLGW-7-0241A and DLGW-11-0241A.

The company is requesting that you stop the use of and quarantine all inventory of G series products and contact Ray Mann at 704-743-2406 for product return information.

Last July, Petzl America Inc. voluntarily recalled about 375,000 Scorpio and Absorbica shock-absorbing lanyards that have been sold since 2002. Some of the lanyards are missing a safety stitch on the attachment loop, which could cause the lanyard to separate from the climbing harness.
-
Problems and questions prompt a PIM Corner
September 26, 2011 -Today, with up to a dozen components in the RF path, it's not your dad's network any longer with a simple antenna and cable assembly coupled to a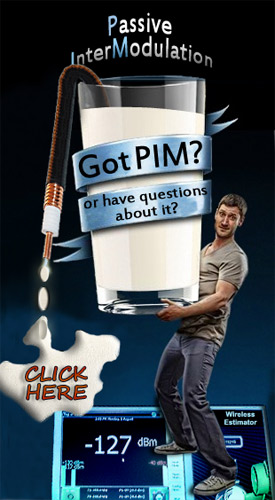 radio configuration.
Riding on the coattails of diplexed transmitters and receivers, transmitter channels sharing a common antenna, high receiver sensitivity and high transmitter signal levels is network efficiency-depleting passive intermodulation distortion - PIM.
PIM is the unwanted signal or signals generated by the non-linear mixing of two or more frequencies in passive devices.
Filtering can reduce or eliminate the PIM generated by active devices such as amplifiers, but passive components such as cable assemblies cannot be filtered and manufacturers are continuously working to create low PIM connectors and higher QC on welds along the seam in annular and corrugated cables.
Carriers sometimes create a Catch-22 with their stated desires to have low PIM devices with an even greater interest on cost reduction.
The most common causes of high PIM levels, however, are how connectors and cables are prepared, integrated and tightened by tower contractors.
It's not uncommon to put an assembly on a PIM test set up and see excellent results in a static condition. But install it in the field and wind and vibration can have a devastating impact.
Add to the mix of PIM factors such as ferromagnetic materials in or near the current path and insufficient metal plating thickness on components, and it makes it difficult to immediately identify why a system is not performing correctly and where the fault lies.
Then Mother Nature steps in, causing thermal loading by the sun, moisture, airborne dirt and temperature variations that will result in a cell site performing below its design.
PIM is clearly a consequence of design, manufacturing, installation and maintenance issues.
As requested by a number of viewers, Wireless Estimator has introduced a PIM Corner to discuss these topics. You're invited to provide your questions, comments, troubleshooting issues or any other matter regarding PIM that will result in higher quality networks.
-
IOSHA hits ERI with $91,500 fine after investigating an accident that killed two riggers
September 22, 2011 - The Indiana Occupational Health and Safety Administration has sent a debt collection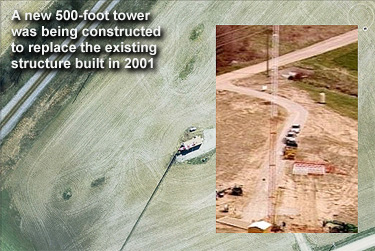 notice with penalties totaling $91,500 to Electronics Research, Inc. of Chandler, Ind. for alleged violations following the death of two tower erectors who fell approximately 320 feet on April 13.
Initial accident reports indicated that they were attached to a 90-foot gin pole that was being jumped prior to the crew raising additional sections when a rigging failure caused the pole to come free of the tower.
The Indiana Department of Labor's enforcement agency issued 5 serious safety orders, each with a penalty of $1,500 and 4 knowing orders, with a proposed penalty of $21,000 each.

The current maximum penalty for a serious violation, one capable of causing death or serious physical harm, is $7,000 and the maximum penalty for a willful or knowing violation is $70,000.

Serious citations by IOSHA were:
1. Under a general duty clause (IC 22-8-1.1 Section 2) that requires employers to furnish a place of employment which is free from recognized hazards, that could cause or likely cause death, IOSHA said that ERI did not have a manufacturer's identification plate and/or markings on their gin pole to reference the load chart as identified in TIA-1019, an industry gin pole standard. Fine: $1,500.
2. IOSHA said the company's designated competent person on the site failed to identify existing and predictable hazards or take the necessary measures to alleviate the hazards of falls and gin pole operations.
Please see: ERI Penalties
-
Global Tower Partners acquires former Unison property interests from Goldman Sachs
September 21, 2011 - Approximately 1,600 communications tower site and rooftop landowners sold their lease interests to New York-based Unison beginning in 2003.
I
n 2007, Unison sold those assets to Goldman Sachs Global Infrastructure Partners 1 for more than $375 million, but continued to manage them.
On Monday, Global Tower Partners of Boca Raton, Florida announced it had acquired those property interests from Goldman Sachs for an undisclosed premium.
"GTP views this acquisition as an excellent opportunity to acquire rights to market and lease premier rooftop and tower locations to our customers while investing in the high quality rent roll currently in place," said Marc C. Ganzi, Global Tower Partners Chief Executive Officer.
"This acquisition also represents a further investment in the wireless infrastructure ecosystem for GTP as the underlying real estate rights acquired are long-term in nature, allowing us to better serve our wireless customers for the life of their underlying occupancy at these sites," said Ganzi who was the sole founder of Global Tower Partners in 2003.

Ganzi said that Unison is currently co-managing the sites with GTP.
American Tower Corporation announced earlier this month that it was purchasing 1,800 realty assets from Unison for $500 million. Some of those easement interests were on property where their competitors owned towers.
Likewise, GTP's Goldman Sachs' deal has property interests where there are ATC, SBA Communications and TowerCo towers, according to Ganzi.
The sale of 3,400 of Unison's managed and owned property interests essentially depletes their portfolio, but it is expected that the company will continue to purchase lease interests throughout the nation.
GTP is majority owned by infrastructure funds managed by Macquarie Infrastructure Partners Inc. Simpson Thacher & Bartlett LLP acted as legal advisors to GTP and MIP.
GTP owns, manages, or master leases more than 13,000 wireless sites and is the largest privately-owned tower operator in the U.S.
Lease consolidator and competitor Communications Capital Group, LLC yesterday announced the completion of a senior secured term loan facility with up to $75 million of availability with a subsidiary of Macquarie Bank Limited.
-
Tower companies are accenting their lease assets
September 15, 2011 - A high percentage of perpetual or long term lease easements under a cell tower is viewed to be an asset by analysts and the three publically traded tower companies are quick to
highlight them during financial presentations and annual reports.

Unfortunately, the way those numbers are presented, it's difficult for both investors and analysts to compare the three public companies' lease assets since each tower company presents it differently.

Yesterday, Jay Brown, Crown Castle International's Chief Financial Officer informed attendees at the Bank of America Merrill Lynch 2011 Media, Communications & Entertainment Conference that 90% of his company's site rental gross margins were generated on towers that were either on company-owned land or properties that had 10+ years of a remaining ground lease and that throughout 2011 they would use part of their $1+ billion in equity to purchase land.
In previous presentations Brown has said that approximately 22% were 10-20 year leases and 69% were either 20+ years or perpetual easements.
American Tower Corporation recently said that over 25% of the land under its U.S. towers is owned or operated under a capital lease and the average remaining ground lease term is approximately 22 years. The company says it has a renewal rate of 99% and its average term extensions are over 20 years.
Aggregators such as Unison, a company that ATC recently inked a deal with to purchase 1,800 lease interests for $500 million, collectively own approximately 3% of the land under their towers, according to ATC.
In its 2010 annual report, SBA Communications said it would continue to purchase and enter into long-term leases to the extent that the company was able to obtain reasonable agreements.

They stated that they owned or controlled, for a minimum period of fifty years, land under 31.1% of their communication sites.

Last year, SBA paid $9.0 million for long-term lease extensions and $25.0 million for land and perpetual easement purchases.
-
American Tower is buying the leases from underneath its competitors' compounds
September 12, 2011 - American Tower Corporation inked a half billion dollar deal last week and didn't go through normal public relations channels with a press release, and p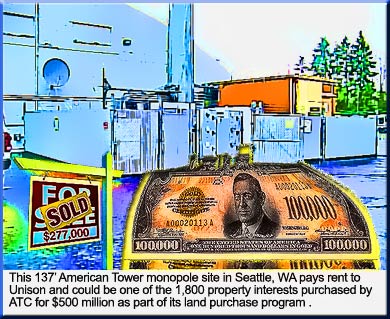 robably would have kept it as an internal memorandum had they not been required to file a Form 8-K to notify the Securities and Exchange Commission of an important material event.
That event, announced Wednesday, said that they were buying from Unison Holdings and Unison Site Management II, a portfolio of property interests of 1,800 communications sites for approximately $500 million.
The short market filing said the acquisition is in sync with ATC's land purchase program as well as property interests under carrier, customer and other third-party communications sites, providing "complementary leasing" and recurring cash flow.
ATC and Unison did not return Wireless Estimator's inquiries for additional information about the deal, but a lease consultant said that the acquisition might have been downplayed because ATC will now become the lease owner on not only some of their towers, but their competitors as well such as SBA Communications, Crown Castle International and others including carriers T-Mobile and AT&T Mobility.
What's love got to do with it?
Tower consolidators over the years have been at odds with lease buyout companies such as Unison, labeling them as site revenue scalpers, vultures and other pejorative names.
Crown Castle International even devotes a page on their website, identifying what they say are scams by third party agents.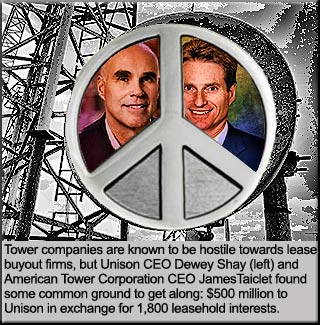 However, according to a sales representative from one of the major lease acquisition firms, Crown Castle is doing the same thing that his firm is undertaking.

"They're trying to get their current landowners to renegotiate their leases to 40 years or more. They're also providing cash payouts. There's no difference, although they would like their landowners to believe there is," he said.
Crown Castle uses California-based Lyle and other companies to resolve their aging lease portfolios, according to the company's web site. Lyle's president, Pat Poling, was formerly employed as a director of development by ATC.
Companies like Unison, Wireless Capital Partners, Communications Capital Group, Landmark Dividend and AP Wireless Infrastructure Partners will typically purchase a perpetual easement in exchange for a lump sum in cash of 8 years or more worth of the current rent amount.
Depending upon the negotiating skills of the salesperson or the location and tenant base of the tower, multiples could be considerably lower.
Church leases are typically considered as the industry's low hanging fruit due to lower contributions from congregants and the church's non-profit status that will prevent a cash payment from being taxed.
A cottage industry of consultants has grown over the years assisting landowners in assessing what might be in their best interest.
"Unison tries to convince the landowner that they will buy the lease and then market the rooftop or tower that the lease sits upon. They do this even if there is little chance that the location will ever see additional tenants or produce revenue to the landowner," said Ken Schmidt, President of Steel In the Air, Inc., one of the nation's leading consulting firms.
"Unison is clearly very effective at reaching out to landowners and convincing them to sell even in situations where we would have strongly advised the landowner not to sell. For instance, there are very few situations where a landowner should sell an American Tower, Crown Castle, GTP, SBA, or TowerCo lease to Unison because each of those companies will pay more for their lease than Unison does," said Schmidt.
ATC's lease purchases unknown
Unison's database shows close to 3,600 unique site locations.

It is unknown as to what sites ATC purchased in the deal, but 253 ATC structures are within 200' of the listed Unison leases.
Similarly, Crown Castle has 213 sites and SBA Communications has 36 sites.
Exact coordinate matches found by Wireless Estimator for two public companies show that there are only 30 ATC sites and 3 SBA sites.
It is also not known if Unison owns all of the 3,600 sites listed or just manages some of them for Goldman Sachs.
In 2007, according to Unison's former co-CEO, Andy Cooper, Unison sold a portfolio of assets to Goldman Sachs Global Infrastructure Partners for more than $375 million.
A rumor that Global Tower Partners was entertaining buying those assets might have been strengthened by the ATC-Unison deal. GTP Vice President Robert Raville had served as Unison's senior site development officer when the company was first formed.
A landowner said that he had been recently contacted by Unison and the representative said that the company was in the process of selling a portion of their portfolio to ATC, the majority of them being rooftop systems; however, Unison's database identifies only 730 leases for rooftop locations.

The account administrator said that "technically only a part of Unison was being bought and that the rumor that they were being bought out entirely was false," according to the landowner.
If Unison continues to purchase tower leases, it would be likely that ATC would have an agreement in place preventing Unison from soliciting their landowners.
Founded in 2003, Unison's CEO is Dewey Shay, a former co-founder of an internet service provider that went public and was subsequently sold to Earthlink.
Unison's Chief Counsel and Chief Investment Officer, James Holmes, previously held a senior legal position at ATC.
Unison's primary interest is in buying out the landowner's revenue stream, but they also promote a program where they will provide a 50/50 revenue split on any additional income they can bring to the tower. However, the trade-off is typically a requirement to provide additional property.
Purchase might be REIT driven
ATC recently took another step toward becoming a real estate investment trust by agreeing to merge with an entity called American Tower REIT Inc. and wants REIT status for federal income tax purposes by next Jan. 1.
As a REIT, ATC would receive special treatment for federal income tax purposes, but in order to maintain their status as a REIT, 75% of their gross income must be derived from real estate, which principally includes gross income from the leasing of their communications sites and rental-related services.
Industry observers say that the Unison purchase will assist in maintaining that 75% requirement.
The purchase $500 million price is expected to be satisfied with approximately $304 million in cash and the assumption of approximately $196 million of existing indebtedness.
ATC paid $277,000 per site for the lease interests. At a 10X multiple of annual rent, the average monthly rent would have been $2,300.
Unison's investors are TowerBrook Captial Partners, L.P. and American Securities Capital Partners L.L.C.
The acquisition is expected to close in the fourth quarter.
ATC spent $48.6 million to purchase land under their towers during the first half of this year.
Lease buyout firms ramped up their sales efforts in March when the AT&T / T-Mobile merger was announced. However, following the Department of Justice's lawsuit to stop the merger on August 31, sales representatives' aggressive messages that landowners had to act immediately or they would not be able to make a deal have lost their impact.
Unison and the other lease consolidators inform landowners that their business model pools together large, geographically diverse portfolios, allowing them to absorb the risk of site terminations.
-
FCC environmental assessment draft belies inflated annual tower bird kill count of 40 to 50 million
September 6, 2011 - A high avian mortality count, as a result of migrating birds being killed after flying into communications towers or their supporting guy wires, has been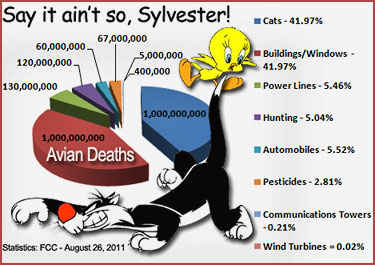 the clarion call for wildlife conservation groups asking government to take drastic measures ranging from no new construction of towers to reducing their maximum height.
In 2001, Albert M. Manville, II, Senior Wildlife Biologist, USFWS Division of Migratory Bird Management , estimated annual bird mortality from communications towers at 4 to 5 million birds and indicated that mortality might actually range as high as 40 to 50 million birds.

Although still unsure of its accuracy, FCC uses 5 million
The higher total was used as ammunition by avian groups to try to severely restrict tower development, but the FCC has issued a draft Programmatic Environmental Assessment (PEA) that states for purposes of assessing impacts of new towers, it has decided to use an estimated annual avian mortality of 5 million birds.
The FCC also acknowledged that there is also considerable uncertainty associated with estimating the 5 million deaths since existing studies describe extreme episodic events of a limited geographic scope, and those studies are not based on typical conditions at a majority of tower sites.
The U.S. Court of Appeals for the District of Columbia Circuit in American Bird Conservancy, Inc. v. FCC (2008) determined that the FCC has not adequately evaluated the potential effects that its current ASR program has on threatened and endangered species and migratory birds.
In response to the court's decision, the FCC has prepared and sought comment on draft procedures designed to help ensure that the environmental effects of proposed communications towers, including their effects on migratory birds are considered in their Antenna Structure Registration Program approval. To view the 148-page document, see: FCC PEA.

Although some industry analysts believe that avian deaths are not significant enough to be of concern, the FCC in its PEA provides a breakdown of the primary causes of bird deaths, but doesn't comment upon the small percentage of all deaths attributed to towers.

Bad, Sylvester, bad!
Whereas bird deaths caused by buildings/windows and cats equally accounted for 2 billion annual deaths, representing 84% of all fatalities, and power lines, hunting, automobiles and pesticides raised the total to 99.77%, towers caused only 0.21% and wind turbines weighed in at 0.03%.
The FCC draft states that the federal agency believes that almost all fatalities are caused by towers 200' or more and are registered in the FCC database. It assumes that the number of towers to be constructed over the next 10 years over 200' will be approximately 2,800 every year, possibly less based upon industry mergers.
These 28,000 towers represent an approximate 33% increase over the 85,261 registered communications towers in the existing environment as of June 28, 2011. Based on the estimated current annual avian mortality of 5 million birds, by the year 2021 the annual avian mortality from new and existing towers would reach 6.6 million if no action was to be taken by the FCC.
One consideration the FCC is exploring is removing red steady-burning lights, a change they believe could result in the reduction of 50 to 70% of all fatalities at guyed towers, based upon two industry studies.
In implementing NEPA compliance procedures, the FCC was allowed to explore and objectively evaluate reasonable alternatives, but said it dismissed four of them because they did not meet the project's purpose or were not feasible.
Alternatives that were shelved were prohibiting all new tower construction, prohibiting towers that exceed a certain height, prohibiting towers in certain locations, and prohibiting guy wires on new towers.

EA height of concern is above 450'
In partial response to the court's decision, the FCC has provided draft procedures, and if adopted, would require:
-- Applicants for new tower registration to provide a 30-day opportunity for public comment on the environmental effects of the proposed construction; and
-- On an interim basis, pending completion of their PEA, preparation of an Environmental Assessment for a proposed tower more than 450 feet in height to address its potential impact on migratory birds.

The FCC is seeking written comments on the draft PEA by October 3, 2011.
Groups authoring a memorandum to the FCC which was used in forming the draft, were the Infrastructure Coalition (comprised of CTIA-The Wireless Association, the National Association of Broadcasters, the National Association of Tower Erectors and PCIA-The Wireless Infrastructure Association) and the Conservation Group (comprised of the American Bird Conservancy, the Defenders of Wildlife and the National Audubon Society).

Coalition calls for a FONSI
Three weeks prior to the FCC releasing its draft, the infrastructure group wrote the FCC, stating that they believed that agency statistics show that communications towers are responsible, "at most, for a minute fraction of human-related bird deaths."

They presented their rationale and the limited case law available identifying that the FCC could find that the highly insignificant number of fatalities could justify a finding of no significant impact.

"The Coalition is heartened that 99.5 percent of avian mortality is attributable to causes other than communications towers and that the FCC, Infrastructure Coalition, and the Conservation Groups are attempting to take measures to further reduce that remaining 0.5 percent. Moreover, in this case, the Commission can issue a mitigated FONSI, based on evidence that its adoption of interim ASR rules will dramatically reduce the susceptibility of birds to collisions with towers," wrote the coalition's counsel, William J. Sill.


-
Leaving its door cracked, DOJ files suit
to block AT&T's T-Mobile merger
September 1, 2011 - When the Department of Justice announced yesterday that it had sued to block AT&T's proposed $39 billion takeover of T-Mobile, saying the
combination of the second and fourth largest mobile carriers would hurt competition and likely raise prices, all three publically traded tower companies saw an immediate spike in their stock as the investment community reacted to the news.
In March when the deal was announced, shares of cell-tower operators hit 2011 lows following the realization that AT&T could go from a net builder of cell sites to a net reducer of cell sites in the next four years following the acquisition.
Although Crown Castle International and American Tower Corporation provided information pertaining to how lease-ups and revenues historically rose following a merger, the data didn't correlate to the tremendous impact that the acquisition would have upon their companies and the industry in general.
"I believe those presentations were introduced because AT&T was one of their primary customers. There was no recognition of the predatory affect it would have upon tower companies when the country's major carriers are reduced to two," an investment banker told Wireless Estimator.
To assuage investor concerns in March, American Tower announced that in 2010, T-Mobile represented 8% of its consolidated operating revenues. However, the percentage would be closer to Crown Castle International's 11% if it was based upon U.S. revenues. SBA said that T-Mobile represented $40.1 million of their site-leasing revenue of $535.4 million, almost 8%.
If the acquisition were to be approved, the impact would further commoditize pricing for contractors and suppliers already dealing with shrinking margins.
"Consumers across the country, including those in rural areas and those with lower incomes, benefit from competition among the nation's wireless carriers, particularly the four remaining national carriers," said Deputy Attorney General James Cole. "This lawsuit seeks to ensure that everyone can continue to receive the benefits of that competition."
In a statement, AT&T said it was "surprised and disappointed" by the government's suit.
Facing a $3 billion breakup fee in cash, and billions in spectrum and roaming rights, Wayne Watts, AT&T's general counsel said, "We intend to vigorously contest this matter in court."
He said the merger was in the best interests of consumers and would allow AT&T to expand its fourth-generation wireless network to 97% of the U.S. population.
Sharis Pozen, the acting chief of the department's antitrust division said at a news conference that AT&T has been in constant discussions with the department, and she did not exclude the possibility of an eventual settlement.
"We apprised them of our serious concerns, and as any party can do, our door is open," Pozen said. If they want to resolve those concerns, we can certainly do that. Here we filed a lawsuit and we'll proceed in court. We'll see what happens next."
"In light of the government's mixed record in merger litigation, the political sensitivities associated with the deal in advance of the 2012 presidential-election year and the curious earlier-than-expected action by DOJ, there's a possibility litigation could be intertwined with negotiation that may yet result in a settlement/consent decree down the road," said Jeffrey S. Silva, a senior policy director for Medley Global Advisors.
The Federal Communications Commission also has been conducting an extended review of the proposed merger, but the FCC has never approved a deal that the Justice Department has rejected.
-
Howey steps down as head of erector's association
August 30, 2011 - The National Association of Tower Erectors informed its membership today that Executive Director Patrick Howey has stepped down.


In its short statement, the association said that they would like to thank Howey for his service and wish him well.

No reason was provided for Howey's resignation that was tendered yesterday.

NATE said that Operations Director Paula Nurnberg has assumed the day-to-day supervision of NATE management.

Howey was appointed to his position by NATE's Board of Directors in July of 1999. He replaced then Executive Director Dave Brotzman.

During Howey's tenure, NATE witnessed a considerable increase in membership.

Howey was also instrumental in implementing the NATE/OSHA Strategic Partnership in 2007 as well as the organization's NATE Star Initiative.

Howey previously worked as an assistant for then South Dakota Senator Tom Daschle, the Democratic Party's Minority Leader.

NATE held its annual board and committee member summer meeting in Minneapolis, Minn. the week of August 12.

A number of attendees told Wireless Estimator that they were surprised by today's announcement since Howey was enthusiastic about new association projects that he would be involved in during the coming months as well as the San Antonio conference that is expected to be one of the NATE's best ever.

NATE Chairman Jim Coleman said the association's board of directors has no immediate plans to replace Howey.
-
AT&T's stolen COW parts valued at $30,000
August 30, 2011 - As California goes, so goes the nation is an adage that AT&T Mobility would like to disprove by not having to report any new COW-part thefts.
Earlier this month the carrier notified Moraga, Calif. police that sometime between Aug. 16 and Aug. 18 someone made their way onto Saint Mary's College campus and removed three frequency modulators from a cell on wheels.
AT&T said the stolen equipment was valued at $30,000, but reportedly asked authorities to not take any action since its own personnel would investigate the theft.
The COW was guyed near a wooded area next to the college's tennis courts.
It is suspected that the thief may be associated with the industry and will try to sell the equipment in the surplus market.
Three years ago, a Georgia man was arrested after stealing cell site circuit boards valued at about $23,000 each from Metro PCS and Verizon Wireless cell sites in the Atlanta area.
Authorities believe the former Metro PCS employee may have stolen up to $6 million in computer cards.
Copper theft, however, is the primary concern of tower owners as larcenies continue to rise.
A Lakeville, Mass. police officer recently noticed a man removing copper on a cell tower at approximately the 100-foot level. Although the man came down the tower, he immediately jumped over the compound fence and eluded a later search by a K-9 team.
Nevertheless, police were able to later identify the suspected thief as Adam Haller, 26, of New Bedford and arrested him.
A rash of cell site burglaries have been reported recently in Spartanburg, S.C.
AT&T Mobility reported four thefts in one day. Police said the rise in copper thefts may have been prompted by a new law to take effect later this month that will require anyone selling copper to obtain a permit from the county sheriff.
-
Most cell sites weather Irene's ferocious rains
Update: August 29 , 2011 - 4:30 p.m. - Updated figures released by federal officials on Monday showed 6,500 cell towers and sites were damaged or disrupted as a result of Hurricane Irene.

The total includes approximately 44% of all cell sites in Vermont, which suffered massive flooding that cut off dozens of towns.

The FCC updated its count of outages at 3:00 p.m. today, based on reports by registered communications providers.

The FCC reported more than four times as many cell site outages on Monday than it did Sunday afternoon, due to the more recent flooding and storm damage of Irene in New England states.

Two TV stations and 10 radio stations were down as of Monday afternoon, the FCC
said.

The updated FCC figures show about 44% of all cell sites were out in Vermont, 35% in Connecticut, 31% in Rhode Island and 25% in Virginia. In North Carolina, the percentage dropped to 11% of cell sites down, an improvement from 14% of the total registered Sunday, the FCC said.

With no industry-wide reports of cell towers collapsing, the outages appear to be caused by loss of power, flooding or antennas being blown out of alignment.
- - - - - - - - - - - - - -

August 29, 2011 - FCC Chief Julius Genachowski said that wireless networks held up well against Hurricane Irene despite widespread losses of power along the coast.

The FCC, which activated the Disaster Information Reporting System, an internet program that assists the agency in gathering information to assess the extent of damage to the communications networks, is still gauging the disruptions.

It said on Sunday that it had received no reports of public safety communications disruptions or 911 centers without service.

Genachowski said that a small number of radio sites and thousands of wirelines went down during the storm, leaving 132,000 landline subscribers without service. The majority of those were concentrated in North Carolina and Virginia.

The federal agency reported that 1,400 cell sites along the coast were down, and several hundred were running on backup power.

A T-Mobile representative said that the damage to their networks was nominal. Troy Edwards, a spokesman for T-Mobile said that they were seeing a 10 percent impact across the East Coast due to power outages and flooding, most of them being in their Virginia and Carolinas markets.

AT&T is still working to assess the storm's damage and the carrier has contractors on the ground this morning assessing the damage.

Verizon's network was "performing well," said a spokesman, Howard Waterman. "Some cells in areas that lost commercial power have backup generators helping us continue to deliver wireless service," he said.

Hard hit cell service areas were in Lenoir, Greene and Carteret counties of North Carolina, where 50 percent to 90 percent of cell towers went offline at one point, said Rear Adm. Jamie Barnett, head of the public safety bureau of the FCC.

New York City, where it was initially predicted that the city would suffer catastrophic flooding and damage, saw only one percent of cell towers go off the air, Barnett said.

The list of broadcasters off the air was quickly growing across a number of states as the water dumped by the storm swamped transmitter and tower sites.

Four black SUVs, known as "Roll Call" trucks, were out surveying Hurricane Irene's damage as soon as the storm passed. The vehicles are equipped with receivers and spectrum monitoring equipment, computers and FCC licensing databases that are used to scan primarily for public safety, mobile and broadcast communications.

Their results show which radio-based communications systems are operational within a 30-mile radius.
-
Contractors finally told that their resources are needed as Irene heads to the Northeast
Update: August 26, 2011, 1:30 P.M. - In the past six hours carriers have been contacting contractors and requesting that they be ready to mobilize if needed.
- - - - - - - - - - - - - -
August 26, 2011 - Crafted from what appears to be the same template, all of the major mobile carriers have issued press releases regarding their preparedness
efforts to combat network outages that might be caused by Hurricane Irene this weekend.
The undertakings include:
-- Additional generators ready to be transported to impacted areas
-- The pre-staging in neighboring markets of Cell-On-Wheels
-- Microwave radio equipment brought in to facilitate communications to network switches
They're also using the opportunity to trumpet their hardened and more resilient wireless networks.
But for many of them, as well tower contractors in the Northeast, it may be baptism by fire in getting cell systems up again since they have not witnessed a major hurricane since Hurricane Gloria. The 1985 hurricane made landfall in numerous states on September 27 as a Category 3 hurricane.
At that time, however, mobile service was not in widespread use and less than 900 towers were scattered throughout the country.
The Weather Channel announced today that "The potential is real for the strongest hurricane hit on the Northeast in at least a couple decades this weekend!"
A critical element of AT&T's efforts to maximize network reliability is its ability to respond swiftly when disaster strikes, the carrier said in a release.
However, according to six major Northeast tower contractors contacted by Wireless Estimator, none of them has been contacted to be on standby for emergency services as of Friday morning for the hurricane that could hit Norfolk, Va. as early as Sunday morning.
An industry staffing firm representative said that he had been contacting a number of his clients in the Northeast and they too had not been apprised as to what resources the carriers would need on standby.
By not providing a more formal agreement with contractors, tower owners could find themselves scrambling to employ qualified companies if the storm causes catastrophic damage.
"Although we have some preferred customers, we're going to take the first requests that come our way and we might have to turn them down," said a New Jersey contractor.
Another northeast contractor said he was lining up other tower companies that he has done business with in the past that are outside the projected path of the hurricane in case he has a need for additional resources.
Although carriers employ the greater amount of tower crews, the number of other towers affected by a storm requiring emergency repairs would further weaken available resources.
Many contractors have open purchase orders for emergency services - mostly at their standard hourly rates and overtime rates for nights and weekends - and restoration projects due to the nature of their urgency can be very profitable for some.
However, for those companies not doing repair and service work, a catastrophic hurricane can be disastrous to their bottom line as ongoing projects are put on hold.
-
Four techs rescued in Houston after their
load line energizes water tower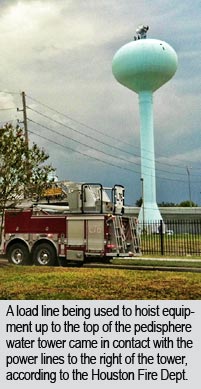 Update: August 26, 2011 - A cell phone video and a security camera captured the accident that could have been fatal. Click here.
- - - - - - - - - - - - -
August 25, 2011 - One worker was seriously injured and four others were stuck on top of a 250-foot water tower after their rigging equipment touched power lines in Houston, Tex. on Thursday.

With help from firefighters, the men were able to avoid suffering from electric shock after a live wire caused the water tower to be energized.

Firefighters arrived at the work site on South Dairy Ashford Rd. near Brant Rock Dr. and found four workers on top of the tower.

A spokeswoman for the Houston Fire Department told Wireless Estimator that the tower crew was bringing communications equipment up to the top of the structure when the wire rope they were using to hoist it came in contact with a live electrical wire.

One tower technician was within a safe distance from the ground and jumped from the tower, according to Alicia Whitehead of HFD's Public Affairs Office.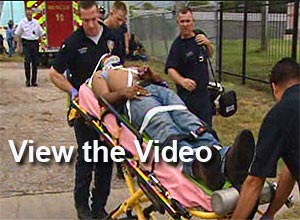 Witnesses said they heard several transformer explosions in quick succession.

A crew from CenterPoint Energy de-energized the structure which allowed firefighters to assist the workers down from the pedisphere tower through its access tube at around 12:15 p.m. They were taken to the hospital for precautionary reasons.

A fifth worker reportedly suffered severe burns.

Whitehead said her department was not aware of the workers' company that was contracted to do the communications installation project.

American Tower takeover report seen
as out of touch with reality
August 24, 2011 - A number of American Tower Corporation's 860 employees took considerable interest this week in a Deutsche Bank AG report that their company has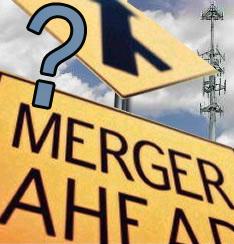 been listed as one of the top 30 of Standard & Poor's 500 Index companies most likely to attract a takeover offer.
However, an industry merger and acquisition executive contacted by Wireless Estimator believes that the announcement is not based upon reality.
Rochester Cahan, a quantitative equity strategist, and Yin Luo, global head of quantitative strategy for Deutsche Bank said they used 16 characteristics such as relative stock performance, market value, total assets and earnings yield to identify its most eligible list.
They also included surges in stock and options trading, as well as higher prices for bullish options versus bearish ones.
"That is just pure speculation based on a quantitative model and not merger and acquisition dynamics," said an investment banker who has shepherded a number of major tower company mergers.
His read is that ATC came up in their model as a result of various financial and trading metrics that the analysts used in their model and it was not based on any reality.
"If someone would want to know who the buyers would be, someone should ask the analysts who came up with this list to create a list of buyers based on quantitative analysis. My assumption is that the buyer list will be equally inane," he said.
Other telecom takeover candidates on Deutsche Bank's list included Frontier Communications Corp., Metro PCS Communications Inc., Sprint Nextel Corp. and Verizon Communications Inc.
ATC is one of the world's largest vertical realtors with approximately 38,000 towers.
It was recently reported that they have been contacted about buying a $5 billion stake in an India-based telecom tower company.

Reliance Communications is looking to sell its 95 percent stake in Reliance Infratel and has approached American Tower and several other companies, along with tower owner Crown Castle International and private equity firms.
Reliance Infratel has approximately 50,000 towers, but industry observers believe that the $5 billion is an inflated asking price and an actual sale, based upon previous acquisitions in India, might be closer to $4 billion.
With 15 operators in India's 23 telecom circles, the carrier landscape is hypercompetitive and revenues are being cut considerably.
Statistics at the end of June show that India had 852 million mobile subscribers, however, another report identifies that one in three subscribers in India are inactive.

Towers okay, but cell networks go down
after East Coast earthquake
August 23, 2011 - Communications towers appeared to be unaffected by today's 5.8 magnitude earthquake that hit the U.S. East Coast, but cell networks failed miserably
as carriers struggled with the high demand of callers.
All major carriers said that there were outages on their network and advised their customers to use SMS or email.
CTIA released a statement after the earthquake saying "The industry's infrastructure appears to be intact, but because many wireless consumers are using the networks, we are experiencing higher than normal traffic. In these high volume instances, there can be delays. We encourage people to send text messages and emails to contact their loved ones until volume returns to normal."
T-Mobile, Verizon and AT&T saw outages as distant as NYC, where service was reportedly down in Manhattan, Mid-Town and other areas. All three carriers saw their service collapse in Washington DC.
Although interruptions were short-lived and service has been reported back to normal, the episode highlights Americans' growing dependence on their wireless devices — and that technology's shortcomings in emergencies.
The cellular outages were "significant," according to a Federal Communications Commission statement.
"We are conducting a thorough assessment of the outages to determine appropriate next steps to improve communications services during emergencies," the agency said regarding the temporary mass calling event.
Emergency call centers reported becoming overwhelmed with residents reporting the earthquake.
-
Twenty-one-year-old is industry's fifth fatality
August 15, 2011 - A 21-year-old tower tech fell to his death last Thursday off of a tower near Brookfield, Mo.
He was employed by Hayden Tower Service, Inc. of Topeka, KS.
Jacob Von Kopfman was the fifth tower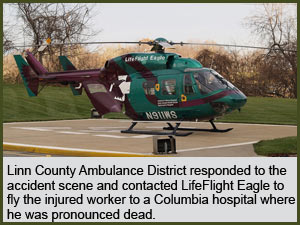 technician to die this year from falling from a communications structure.

The Linn County Sheriff's office, Brookfield Police Department and the Missouri State Highway Patrol said that they had no record of the accident.

Missouri OSHA said the decedent was LifeFlighted to a Columbia hospital where he was pronounced dead, but said they could not provide any additional details about the accident until their investigation is completed.

Jacob Von Kopfman was born on May 8, 1990, the son of Darryl Von Kopfman and Kathy A. (Higgins) Kopfman. He grew up at Burlington, and graduated from Burlington High School in the Class of 2009, where he participated in football and wrestling. He had attended Washburn Rural High School in Topeka his sophomore year.

He then attended and graduated from Missouri Welding Institute in Nevada, Mo.
He had been employed for Blue Dot in Topeka, Schlafly Bottleworks, Northrop Grumman, and most recently for the Hayden Tower.
He leaves his father, Darryl Von Kopfman, Topeka, KS; his mother, Kathy A. Kopfman, Burlington, KS; his twin brother, Jordan Kopfman, Topeka, KS; his sister, Kierston Kopfman, Hays, KS; paternal grandparents, Ray and Karen Kopfman, Jasper, TX; maternal grandparents, Janice Higgins, Camdenton, MO, and Bobby Higgins and wife Linda, Grove, OK; several aunts and uncles; many other relatives and friends.

Services will be held 10:30 a.m. Tuesday at the Burlington Middle School gymnasium.
A visitation will be held 6:30 to 8:00 P.M. Monday at Jones Funeral Home in Burlington.

Memorial contributions may be made to the Topeka Rescue Mission and may be sent in care of Jones Funeral Home, PO Box 277, Burlington, KS 66839.

Founded in 1979, Hayden Tower has been active for many years in promoting industry safety throughout the U.S.
-
"Tower Man" rescued after refusing to come down from an Oklahoma cell tower for six days
Update: August 17, 2011, 7:00 a.m. - After unsuccessful attempts by numerous negotiators, retired Tulsa police detective Tyrone Lynn successfully talked William
Sturdivant off the Clear Channel tower yesterday evening where Sturdivant resided for almost six days, five of them without food and water.

Sturdivant was lowered in the Tulsa Fire Department's ladder truck's bucket after Lynn's seven hours of conversations with Sturdivant gained the man's trust.

Lynn told reporters that his main strategy was patience. "Take my time and develop some rapport. And kind of keep things on his terms as much as possible," Lynn said.

He said he and Sturdivant talked about everything from their families to their faith and how Sturdivant could use his experiences to help others in similar situations.

Throughout the final three-hour cat and mouse scene where Lynn would taunt Sturdivant by offering him scraps of food and throwing water at him as well as giving him access to bottles of water that were drained to only a drop or two, it appeared to observers that Lynn was using the tactic to lure the seriously dehydrated man into the bucket so that he could be restrained by the impressively large and fit officer.

At one point it appeared that it worked as Lynn was seen trying

to pull Sturdivant by his legs into the open door of the bucket on a live streaming video of the negotiations. However the 25-year-old continued to hold a vise like grip on the angle iron.

Oklahoman staff photographer Mike Simons also thought that Lynn tried to grab Sturdivant and a short tug of war ensued which Simons captured with his camera.

Lynn says that wasn't what happened, explaining that
Sturdivant went into a convulsion and started shaking real bad.

"He started to pass out and I grabbed him to keep him from falling. So for a minute there he just was completely out so I was just holding on to him. And then he just sort of snapped back into it and then we started over again," Lynn told reporters after the successful rescue.

Sturdivant quickly went from the edge of the bucket to the tower and took a cat-like defensive position on the bracing.

He then pointed to Lynn and told him to take his bucket to the ground.

Lynn, as he had previously done when Sturdivant became agitated, moved the bucket away and had the truck's operator return him to the ground.

Shortly thereafter, Lynn returned to Sturdivant's perch and was able to talk him into the bucket and be lowered to the base of the tower to awaiting emergency services personnel at 6:40 p.m.

Once he is treated and has recovered, Sturdivant is expected to be transferred to a mental health facility for observation, according to Tulsa police.

Lynn is back on the job this morning running a construction company, one that is far removed from working on a cell tower as he was yesterday.
- - - - - - - - - - - - - - - - - - - - - - - - - - - - -
Update: August 16, 2011, 5:30 a.m. - "Tower Man," only known as William for the past five days while he has been on a Tulsa 300-foot tower, has been identified as William Sturdivant.
Police say he has a criminal record including burglary and
drug convictions, and a history of mental illness. Even though he told negotiators he would jump if they attempted to approach him with any rescue apparatus, police do not believe that he is suicidal.
Officers were playing recordings from his family early this morning, asking him to come down.

Even though he was standing on a tower mount at 5:30 a.m., they say he is showing serious signs of weakness and is starting to lose his balance as he moves slowly on the structure.
Heat stroke or dehydration could cause muscle cramping, even kidney failure. It can affect the brain directly and cause him to lose control of his body or simply pass out. The lack of food and water will cause Sturdivant's body to slowly shut down, one system and organ at a time and suffer fatal heart arrhythmias, doctors say.
On Monday evening he removed his bright red socks and was lowering himself on the tower on a tower leg that did not have step bolts.
Although he appeared to want to climb back to bracing he had previously been on, something he's done dozens of times over the past five days, it appeared that he did not have the energy to pull himself back up.

Later in the morning he seemed to gain strength and was able to climb back to the Verizon tower mount where he was hanging on to an antenna.

Negotiators say Sturdivant has exhibited bizarre behavior in the past, including walking all the way from Tulsa to Dallas. Last month, he stood on a bridge in Missouri for hours.
Police were asking residents to stay away from the scene. They say, in some cases, spectators have hampered efforts to get him to come down.
Temperatures could reach 100 degrees today with the possibility of noontime thunderstorms.
- - - - - - - - - - - -
Update: August 15, 2011, 9:00 a.m. - Police have been talking to William for about
two hours this morning. They have the fire department's ladder and bucket near his position on the Verizon antenna mount, but he has made no attempt to get in it. In another two hours he will be going into his fifth day on the tower without food. He hasn't had water since Thursday.
- - - - - - - - - - - - -
August 14, 2011 - A 25-year-old mentally challenged man was still taunting police at 12:30 p.m. after refusing to come down from a 300-foot Clear Channel Communications tower in Tulsa, Okla. where he has been perched since 11:00 a.m. Thursday.

Police have identified the man only as William, but throughout the community and media, he has been given the moniker "Tower Man".

Offering him food, cigarettes and counseling help if he will make his way down the tower, with or without assistance, police continued to negotiate overnight.
This morning authorities said he looked more drawn and was considerably dehydrated. Today's temperatures are expected to rise to the mid-90s.
A tactical squad officer climbed the tower on Thursday and provided William with water and a cell phone. However, the battery died later in the day and police negotiators have been communicating since then by hollering back and forth.
He welcomed this morning's sunrise by crowing like a rooster and requesting a hamburger.
He denies that he plans to commit suicide. "There's no such thing as suicide," he said.
"I don't listen to that negativity, that flimflam stuff," William could be heard to say as police tried to explain that he is putting himself in danger.


He has been observed taking cat naps cradled on Verizon's cell antenna mounts. The carrier has deactivated their antennae during the crisis.
Before sleeping for a short while on Saturday, William took off his Nike shoes and they fell off the tower, so he now is clad only in shorts, a T-shirt and red socks.
Family members have been to the scene and are being updated, said a chief Tulsa Police Department negotiator. He said the man appears "afraid of people," is "paranoid," and a "loner." The police official remains confident the man will come down and it's just a matter of when.
However, at about 5:20 a.m. on Friday, police took more aggressive action by firing pepper balls, or powdered pepper spray, at William.
Firefighters used a ladder truck to raise a basket to William to coax him into it multiple times on Friday, but he wouldn't get into it to be lowered to the ground.
As he continued to shuffle around the tower Friday night, rain began falling again as another thunderstorm moved into Tulsa. He withstood 60 mph winds but was starting to act tired, police said.

The tower is located at 27th St. and Memorial Dr.

William had been seen on Wednesday on the top of a building at the site, but was chased away.

An employee of Fox23 News whose studios are at the tower site said that William might have been sneaking into the building somehow and sleeping in the basement, allowing him access to the self supporting tower's step bolts.

Towers are targets of choice
Towers are oftentimes the vehicle of choice for a number of people who use them to commit suicide.
They're also used by some to gain attention such as the case where a woman in India threatened to jump if her parents made her go through an arranged marriage.
Last April, Usha Bala, 22, held authorities at bay at the 60-foot level of a cell tower as more than 500 people watched for an hour.
She requested police to call her grandfather on his cellphone. After her grandfather assured her that nobody in the family will get her married against her will, she came down.
Last year, a Seattle man performed for an hour in front of Queen Anne-area residents on KIRO 7 TV's tower at the 609-foot level before descending to the ground and being arrested
Joseph Anthony Pidgeon told a police officer that he scaled the tower "because it was there," a quotation attributed to George Mallory on why he climbed Mount Everest.
-
Tower collapse prompts crane company's
$300,000 lawsuit in North Dakota
August 10, 2011 - Wanzek, a MasTec Company based in N.D., filed a lawsuit yesterday against a Tenn. tower erector as a result of a December 11, 2009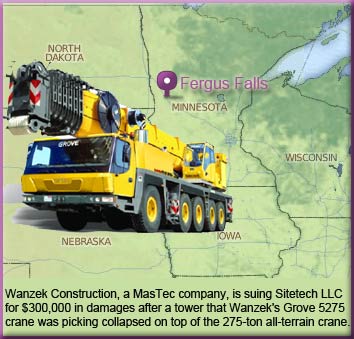 Fergus Falls, Minn. accident that it alleges cost the company $298,723.00
In Wanzek's lawsuit filed in the U.S. District Court, Northeastern Division against Sitetech, LLC of Dickson, the construction company says that their crane operator was requested to remove a 320-foot tower with one pick.
As the cell tower was being removed from its foundation it collapsed causing damage to the company's Grove 5275, a 275-ton all-terrain crane.
Wanzek said that in addition to their crane's damage, they were required to rent two alternative cranes while the damaged one was being repaired.
The lawsuit states that when the crane operator arrived at the job site near the intersection of Main St. and Broken Down Dam Rd., he was informed by Michael Calandros, Sitetech's job superintendent, that the cell phone tower would be taken down in one piece.
Although Wanzek's lawsuit states that there was an awareness by the plaintiff that dismantling a tower is often done in "several pieces as is standard and customary in the industry," "Mr. Calandros had control of the job site and the overall job of dismantling the tower, and thus, had the only authority as to the method to be used to dismantle said cell phone tower."
During the pick the tower collapsed onto the crane and Sitetech was requested to pay for the resulting damage and refused to compensate Wanzek.
In their lawsuit, Wanzek says that Sitetech must pay for repairs and rentals because Calandros had signed an agreement that stated, in relevant parts: "To the fullest extent permitted by law, Customer agrees to indemnify and save Wanzek, its employees and agents, harmless from all claims, loss, damage or injury to... property including without limitation the crane... regardless of any negligence or the other fault of Wanzek or the crane operator or a defect or failures in the crane. Customer's duty to indemnify shall include all costs and expenses associated with the foregoing, including without limitation all court and/or arbitration costs, costs of investigation, attorney fees and costs of settlement ...".
The Grove 5275 has a 223-foot 7-section main boom with a 69-foot bi-fold swing away extension for a maximum tip height of 302 feet. Lattice extensions can increase the crane's tip height to 354 feet.
The lawsuit did not identify who owned the tower, but FCC records show that a tower at the described location was owned by Charter Communications and was dismantled in December of 2009. The guyed tower, constructed in 1982 was listed as being 540-feet above ground level.
-
Teen technician's death is fourth fatality this year
August 9, 2011 - Services were held this morning for an 18-year-old tower technician who fell to his death last
Wednesday in Hollister, N.C.

Keith Joshua Caleb Stull of Pinnacle, N.C. had been working on a United States Cellular Corporation self supporting tower at 40989 Highway 561 when he suddenly fell from approximately the 50 foot level of the 300-foot structure built in 2008.

He was transported to Nash General Hospital where he was pronounced dead.

Stull was employed by Sink Tower Erection Co., Inc. of Lexington, N.C., a company formed in 1995 by its president, James H. Sink.

Stull was the fourth tower technician to die this year from falling from a structure. View nine year history here.

North Carolina was the first state OSH to develop a communications tower standard and a fall protection standard in 2005.

The NCDOL approved a non-ionizing radiation standard the follow year.

The last fatality in the state of a tower tech falling from a structure was on April 18, 2008 in Frisco.

Born on August 8, 1992 in Snowflake, Ariz. to Charles Kenneth Stull of Pinnacle and Jhonda Anderson of Kentucky, Keith Stull was an avid wrestler in high school.
In addition to his parents he is survived by two sisters; Rhinna Stull of Idaho, and Victoria Stull of Pinnacle; one brother; Charles Michael Stull and girlfriend Amber Brickell of Pinnacle; two uncles Keith Stull and wife Kimberly, and Michael Stull all of Winston-Salem; Grandmother Ellen Graham of Winston Salem; two nieces Sarah and Elizabeth Stull.
-
Here's a $150,000 tower paint job that would elevate any company's interest
August 9, 2011 - If you saw this proposal: Eastern city needs its 240-foot self supporting tower painted. Anticipated budget is $150,000, you and hundreds of other tower companies would be lining up at
the City of Annapolis, Maryland's Gorman Street Central Services Department to obtain bid packages.
Although that's what Annapolis believes it would cost to keep the structure within FCC aviation obstruction marking compliance, they're not going to put the project out to bid.

They want to put the tower up for sale - just say no to paint mitts or spraying - and let the new owner handle it.
Professional tower painters might agree that the painting price appears to be high, even if the tower might have lead paint and abatement measures to comply with during the project.
The city obtained ownership of the tower and a small transmitter building about 20 years ago when it bought the land beneath it for a park.
Last year, the FCC noticed that the tower wasn't in compliance with its color tolerance chart and informed the city that it had to repaint the tower.
The city then turned to the tower's tenant, WYRE-AM (810), a historic Annapolis radio station, and informed them it was their responsibility for maintenance under their lease agreement.
The broadcaster's parent, Bay Broadcasting Corp., said it was tapped out and couldn't afford it and Annapolis's budget couldn't meet the expense as well.
A city attorney has been in touch with federal regulators and has informed them of Annapolis's plans to sell the tower. To date, the FCC has not issued any fines.

The city believes it could make between $50,000 to $100,000 a year with a purchase agreement from a vertical realtor and they would still be able to keep the land, according to the Annapolis Capital.
The tower, on Silopanna Rd. off Spa Rd., should be of interest to tower consolidators due to its height and prime location, although possible engineering, detuning and retrofitting costs to bring the structure into compliance for additional collocations would be a primary concern.
Once it is purchased it will be interesting to discover if the new owner budgets $150,000 to have the tower painted.
-
Firefighters rescue tech in Texas after
18 hours on a guyed tower
August 5, 2011 - As a spell of suffocating heat grips the South again today, with temperature advisories in place for 14 states, tower technicians will be taking precautions against heat stroke, especially after learning about a dehydrated worker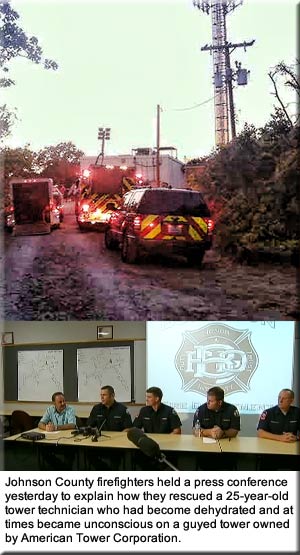 who could have died upon a Texas guyed tower yesterday had firefighters not been able to bring him down from the structure after a rescue that took seven hours.

With temperatures reaching over 100 degrees on Wednesday, Mike Howard, 25, was working with his four-man Tower Lighting of Texas crew on an American Tower Corporation-owned guyed tower located at the 3700 block of County Road 919 in Johnson County, Tex.

Howard ascended the tower about 9:00 a.m. and anticipated remaining on the structure until 5:00 p.m., although seemingly too long of a stay by the general public, an oftentimes necessary period of time when you're working at great heights.

Towards the end of the day, according to authorities, Howard began cramping and found himself too weak to climb down and used a rest platform at approximately 750 feet where he could lay down.

But the high temperatures and lack of fluids took their toll and Howard began to drift in and out of consciousness, according to Lance Trout, chief of the Mid-North Johnson County Volunteer Fire Department.

A fellow crew member tried to climb the 760-foot tower to reach Howard, but was unable to continue as he too started to be overcome by the heat.

Trout said they received a call for assistance at about 7:45 p.m.

Upon arrival, rescuers made contact with Howard, who was at that time conscious and alert.

Firefighter Dallas Fowler was the first one up. He said it took him about an hour to climb the tower.

"I was cramping. I had to stop several times. My arms were cramping. My legs were cramping," Fowler said during a press conference.

Fowler said Howard informed him he got claustrophobic inside the tower and went outside on the platform. "I don't know why. And he felt restrained in his harness so he got out there and laid down on that platform," Fowler said.

Firefighter Bill Buchanan ,who is 56 years old and an avid rock climber, brought up the rope.

"Approximately half way up the rope was getting extremely heavy so I told them they needed to send a third climber up to help me tow the rope up to the top," Buchanan said.

Matt Moseley, the youngest of the group, said he also felt strained by the climb and he didn't get any water until he got to the top.

"I think the wind had something to do with it. The stuff that was on my harness it was blowing it around. So when I was taking breaks I wanted to drink so bad but it was actually tied in a way that I couldn't get the bottle loose and get the water out," Moseley said.

Since they couldn't immediately get to Howard out onto the platform, they said they tossed him a bag of saline intended for an IV, which he drank.

A crew of about 20 people assisted in lowering Howard through the center of the tower at about 1 a.m. Thursday.

By 2:30 a.m., they had successfully brought Howard back down to the ground. He was transported to Huguley Memorial Hospital in Burleson and is in stable condition.
-
FCC drops bombshell data request to ATC, SBA and Crown Castle in AT&T / T-Mobile probe
Update: July 27, 2011 - A representative of SBA Communications has identified that the Boca Raton-based company has also been requested by the FCC to provide data for all of their sites.

AT&T says T-Mobile's towers are located near its own, adding to the benefits of the merger.

In a filing to the FCC, AT&T explained that although merger opponents argue that they could accomplish cell splits on its own by relying on existing towers or other structures, there are not nearly enough structures that are located where AT&T needs them to effectively relieve capacity constraints and fill in gaps in its network, have suitable height, orientation, and lack of obstructions, and have space available for AT&T equipment in addition to other providers' equipment.
- - - - -
July 27, 2011 - In trying to identify if AT&T's application to acquire T-Mobile would serve the public interest, the Federal Communications Commission contacted Crown
Castle International and American Tower Corporation yesterday requesting sensitive documents pertaining to the two largest tower owners in America's entire portfolio.
In a letter from Rick Kaplan, Chief, FCC Wireless Telecommunications Bureau, the federal agency requested detailed data regarding the companies' towers by August 5, although Kaplan did not identify how the information would be used to assess the proposed acquisition.
While much of the requested information is readily available in the tower companies' public databases, such as the structure's physical address, latitude and longitude, type, height, MTA, BTA, and CMA, the FCC is asking for information that is proprietary to ATC and Crown Castle's business model and may not be easily identified without considerable engineering expenses.
The FCC is requesting, among other sensitive material, the total number of tenants the tower can accommodate as well as the name of each tenant on the structure and the unutilized capacity.
Kaplan is also asking for the current number of additional tenants that can be accommodated assuming each tenant will require 6 panel antennas (2 per sector) plus the tower-top radio remote unit (1 per sector) and fiber optics and power cables.
It is not clear as to why some of the requests were identified by the FCC, whose researchers might not understand design and loading considerations for a structure, but they have also asked for antenna length and width for available spaces.
The agency is also requiring that the companies provide information that might not be available unless a considerable amount of time and expense is put into the project, if it is even possible to accomplish the tasks in ten days.
ATC and Crown Castle are being requested to identify, if each tower is at capacity, can it be "expanded" to accommodate additional tenants - and how many?
Another numeric the FCC wants to know is: "If the tower can be expanded what would be the tenant's cost of expansion assuming each tenant will require to install 6 panel antennas (2 per sector)?"
The FCC said that it realizes that some of the data contains "disaggregated highly sensitive or confidential business information," and informed the towercos that they could ask that it be treated as confidential.
It is not known if ATC and Crown Castle will inform Kaplan that they might not be able to comply with the request due to the onerous administrative and costly expenses that would be involved.
"It's doubtful that these companies have all of the site data being requested and it would involve reanalyzing many thousands of towers to provide this information," said a Columbus, OH structural engineer.
He questioned how structural design and increased capacity costs interplay with the AT&T / T-Mobile acquisition.

A request to other major tower owners by WirelessEsitmator.com could not immediately identify whether they too had been asked to assess all of their towers and provide the FCC with the requested data.
-
American Tower closing in on Crown Castle with the largest USA tower ownership
July 27, 2011 - Through new builds and acquisitions American Tower Corporation is closing in on Crown Castle International's ranking as the largest tower owner in the U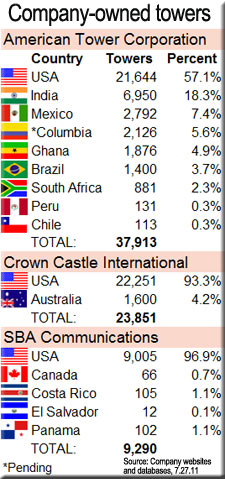 nited States.
Although Wall Street used to be impressed solely by the number of structures in the air, it's now tenants per tower, current price multiples and the consistency of past earnings and cash flow that are key concerns.
However, being the largest still brings smiles in the boardrooms.
With approximately 21,600 company-owned towers, ATC trails Crown by just 600 structures.
Internationally, however, ATC's eight-country presence eclipses Crown's 1,600 structures in Australia.
With the recent announcement of the purchase of 2,126 towers in Columbia, upon closing, ATC will
own 16,269 towers internationally, representing 43% of the company's total structures.
SBA Communications, the nation's third largest publically traded company is also expanding internationally, but their purchases in Canada, Costa Rico, El Salvador and Panama only represent 3% of their company-owned towers.
ATC announced last week that Millicom International Cellular S.A.'s subsidiary, Colombia Móvil S.A. had accepted its offer of $182 million to buy their 2,126 towers.
To support Colombia Móvil's wireless network and future deployment plans, Colombia Móvil and ATC Infraco will enter into a long term leasing and build-to-suit agreements.
The towers are expected to be transferred in a series of closings beginning during the fourth quarter of 2011, subject to customary closing conditions.
Last September, ATC launched operations in Colombia, where it entered into an agreement to purchase the exclusive use rights for up to 458 wireless communication tower sites from Telefonica S.A.'s Colombian subsidiary, Colombia Telecomunicaciones S.A.
-
Dutch communications tower collapses after blaze; second tower site fire kayos broadcasters
July 15, 2011 - A fire caused a partial collapse of a 996-foot communications tower in northern Netherlands today,
knocking out television and radio stations, a local municipal official said.

The fire at the Hoogersmilde television mast in the Drenthe province, about 100 miles northeast of Amsterdam, broke out around 2:00 p.m., said Midden-Drenthe municipality spokeswoman Miriam Fokkema.

"There was a fire shortly before 2:00 p.m. and then at about 3:45 p.m. the upper part of the mast collapsed," Fokkema said.

"Nobody is believed to have been injured," said Fokkema, adding that the area suffered severe communication problems with the tower used as a major broadcast hub for television, radio and telephone communications.

Officials are investigating to see if the fire started in the HVAC rooms below the Zendstation Smilde guyed mast sitting on a concrete structure. They are also trying to identify if the blaze could have been started by lightning.
The collapse was caught on the video below as the news media watched the structure burning.

Zendstation Smilde was built in the Netherlands in 1959 for directional radio services and TV and FM-transmissions.

It consisted of a 262-foot high reinforced concrete tower with a guyed mast mounted on top. When first built, the tower, including the mast, was 885 feet high. The addition of a new mast section increased its total height to 996 feet.

Nine years after it was built it came close to collapsing in 1968 when a US Air Force plane, an F-100 from the Lakenheath Air Force Base in England, was involved in an accident in heavy low clouds where the tip of a wing hit and broke one of the guy-wires of the tower.

The collision caused the upper section of the tower to bend. The airplane managed to land on base with only minimal damage.

Transmitters at Lopik/IJsselstein's facilities also caught fire today. The 1,203-foot high tower (view photos) was not damaged. Fire officials expected the facility to remain off the air at least through Saturday until they can identify the cause of the fire that might have been caused by a short circuit.

According to Dutch press reports, about 80 percent of the Netherlands is without over-the-air FM radio due to the twin transmission tower troubles. Stations are continuing to carry programming online and via some cable systems, as well as on medium wave from other sites.
-
US underwrites shadow cell phone system as troops pull out of Afghanistan
July 14, 2011 - Armed insurgents destroyed four cell towers recently in northern Balkh and southern Ghazni provinces in Afghanistan as part of an ongoing effort to exert
control over the official network.
A policeman and four rebels were wounded in one clash in June, but the insurgents again identified that the Taliban has the ability to shut down Afghan mobile services, seemingly at will, a concern of U.S. military officials.
Maj. Gen. Steve Fogarty, in charge of military intelligence in Afghanistan has said that an operating mobile system is important for the country's economy.
He also noted that social intelligence was important in tracking enemy networks, and he has previously asked officers to count things such as the number of cell phone towers in an area, as a measure of success equal to the number of insurgents killed.
However, Lt. Col. John Dorrian, of American-led International Security Assistance Force, has confirmed to the media the existence of a project to create an "expeditionary cellular communication service" in Afghanistan as a backup to traditional service.
He said the project was being carried out in collaboration with the Afghan government in order to ensure cellular access.
Pegged at a cost of between $50 and $250 million, the independent cell phone system, named the Palisades project, uses towers on protected military bases inside the country.
Afghan officials, who anticipate taking over American bases when troops pull out, have insisted on an elaborate system, according to the New York Times.
The Palisades project has been described as a kind of 911system that would be available to anyone with a cell phone.
As U.S. troops began returning home this month, President Obama's gradual scaling back of American operations and ambitions in Afghanistan will bolster the need for Afghanistan to maintain a secure mobile phone system.

Asiacell towers under attack
By disabling mobile service, the Taliban is also finding it to be a successful strategic tool in Iraq as a reminder to its citizens that they are still in control in numerous areas of the country.
Asiacell, the first and largest private Iraqi telecommunications company and the first mobile telecom company to provide coverage for all of Iraq'
s 18 provinces, called for greater government protection of the company's staff and communication towers in a letter sent Tuesday to the Communications and Media Commission and related security officials after recently coming under attack by armed terrorist groups in Mosul and other areas.
The GSM operator said that their recent service disruptions were the direct result of the sabotage of its towers. Seven towers were recently attacked and destroyed, which has left several other towers unable to transmit.
The carrier stressed that it will not be intimidated by the threats of terrorists who are bent on hindering the country's progress and reconstruction efforts.
Asiacell is requesting that the Iraqi government provide the necessary security measures to protect the interests of its subscribers and the company's significant investments by safeguarding its infrastructure and the lives of its employees.
-
Fort Worth tower is elevated to high art
July 8, 2011 - Cell and other towers have been called everything from a junkyard on a stick to another quill in the porcupining of America's landscape.
Fort Worth, Tex., however, is the nation's first city to elevate the structure to high art.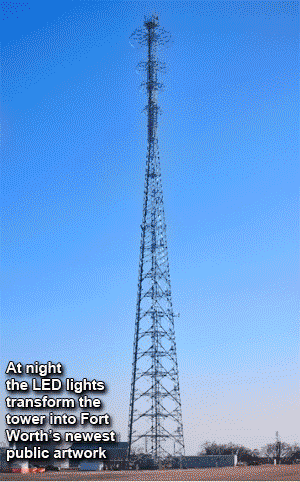 Inspired by the classic RKO Radio Pictures trademark, Connie Arismendi and Laura Garanzuay have reinvented the most recognizable symbol of communication technology in the 1930s through a grant from Fort Worth Public Art.
Central to the artwork on the almost 500-foot-tall self-supporting tower are five rings, graduating in size from 12 to 50 feet in diameter and mounted at heights of 460 feet.
The integration of the LED lighting system and rings into the tower structure was achieved through the artists' close collaboration with the city's telecommunications consultant, Kevin McNamara, and Sabre Towers & Poles, the tower design and construction contractor.
McNamara, who worked for RKO General in the 1970s, was prepping a building for demolition and came across some discarded, decades-old blueprints: plans for an RKO Radio tower such as the one featured in the famous logo, which was never built.
He held onto the plans no one wanted, unaware that one day he would be a vital part of realizing RKO's intended structure in the form of public artwork.
Towers have become ubiquitous structures and Arismendi in a news article said, "...but do they have to be ugly?"
Not wanting to just put lipstick on former pig iron, the artists provided five LED rings of color-changing programs to provide an awe-inspiring sight for the tens of thousands of motorists who pass by the tower every night.
The rings of light are visible for several miles each way on I-20 as well as on Interstate 35W.
Arismendi and Guaranzuay painstakingly designed four light programs, each inspired by the seasons of the year, as well as a celebratory 4th of July program for the Night Song repertoires.
Night Song, to be dedicated next month, is the newest landmark in Fort Worth and is perhaps the only public artwork integrated into a tower in the U.S.
RKO Pictures was known for its Dick Tracy movies, starring the intrepid detective who easily collared criminals with the assistance of his two-way wireless wrist radio.
The canny variation of a wrist radio and watch device was considered too futuristic by many when it was introduced in 1946.
-
Injured tech to see if bullet can be removed
July 5, 2011 - A surgeon today will evaluate a 35-year-old Missouri tower technician's leg wound and let him know if a .22 caliber bullet lodged in his right thigh should be removed or if leaving it in place might be a safer alternative.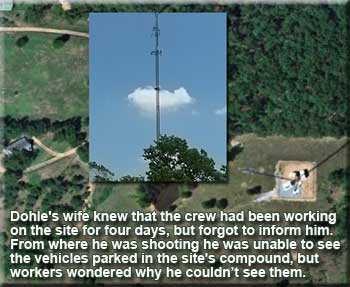 Robby Wilson of PDQ Tower Services, Inc. was installing T-Mobile transmission lines on an SBA Communications 320-foot guyed tower east of Siloam Springs, Ark. on June 24 when a homeowner shot him in the leg.
According to the Benton County Sheriff's Office, 46-year-old James Ray Dohle, a cross country truck driver had returned home about 5:30 p.m.
Fueled by a half pint of Jägermeister - German for "master hunter," - Dohle grabbed his rifle and tried to hone his hunting and marksman skills by shooting a few rounds at a fence post in his back yard.
Sheriff's records indicate that Dohle then stated that he looked at the tower in another direction and decided to take a "pop shot" at it.
Jerry Lee Lane Jr., PDQ's crew leader told authorities that he was on the ground while Wilson and two other techs, Talon Bales and Clinton Riggin were at the 300-foot level when he heard several rounds being fired in the area.
Lane stated that after a second burst of rounds were fired Wilson said that he had been shot.
While the crew members were coming down the tower, Lane said Dohle walked up to the site and said that he had shot at the tower, and asked if he had hit anyone.
When Lane told him he had, Dohle began apologizing and stated he did shoot toward the tower, but had no idea anyone was there.
According to Lane and court records, at the time while Wilson was getting close to reaching the ground while using the tower's safety climb, the injured tech was cursing and yelling at Dohle.
Although Lane suggested to Dohle that it would be in his best interest to go back to his house, about 600 yards away, before Wilson came down, Dohle was very persistent about staying on the scene, and even told the workers he deserved whatever they did to him.
Dohle told the crew members to "Please ****ing hit me" several times. They refrained from hitting Dohle and waited with him until authorities and emergency services arrived.
Wilson, a construction worker who had been climbing for approximately three months, was transported to Northwest Hospital in Springdale where he was informed that the physician did not want to remove the round from his leg since it might cause further damage.
Dohle was arrested for the offenses of battery in the second degree and damaging wires and other fixtures of telephone, cable, and electric power companies. Bond was set at $10,000.
Wilson stated when the round first struck him he saw a car in the median of a four lane highway.
He stated he initially thought that was where the shot came from. Wilson was bent over installing transmission line and his head was close to where the bullet struck him.
According to PDQ field service manager Ron Sperry, Wilson is back to work and has been working on a rooftop site, but is not currently climbing.
-