FAA issues guidance on marking MET towers
June 30, 2011 - The Federal Aviation Administration has released guidance for marking MET towers less than 200 feet above ground level in remote and rural areas.
The FAA said those towers should be painted with alternating bands of aviation orange and white and have eight orange marker balls, as well as brightly painted
sleeves or flags, attached to guy wires.
Although the guidance is only voluntary, the suggested guidelines will provide ammunition to a potential plaintiff in a lawsuit involving a crash.

The issue gained traction, according to an FAA report released Friday, following the death of agricultural pilot Stephen Allen, who crashed into an unmarked tower on a remote Delta island in Contra Costa County in Calif. six months ago.

The FAA agrees that "marking these structures would enhance the conspicuity of these METs, particularly for low-level agricultural operations."
Meteorological towers are designed to evaluate the potential of wind turbines in a given location.

The FAA stated it was not practical for the agency to recommend lights for METs, as pre-existing power sources were not present in many remote locations and the use of solar lighting had not been studied.
In addition, while the FAA did not feel it was feasible for the agency to maintain a national database of MET towers, they did not object to state or local jurisdiction maintaining or providing a source.
The American Wind Energy Association proposed painting only the top 1/3 of METs, but the FAA said that painting the entire structure provides the best visibility for pilots.
AWEA also stated that there was a limit to what the guy-wires could hold in terms of weight and were concerned that sleeves marking them would stress the towers, yet the FAA concluded that sleeves and spherical marker balls would enhance the conspicuity of METs particularly for low flying agricultural and other aviation operations.
The National Agricultural Aviation Association appealed to the FAA in a strong lobbying effort and was successful in obtaining most of their requests following the Calif. crop duster accident.

To read the recently released FAA notice in its entirety, please click here.
While the FAA guidelines for marking METs are voluntary, a bill currently being considered by California's senate would effectively make a failure to mark METs a misdemeanor. Local law enforcement would be responsible for enforcing the law. Click here.
-
Employee's wife and her boyfriend linked to
death of tower company owner
June 27, 2011 - John Aegerter, 63, was found dead last Wednesday in the garage of his Brookfield, Wisc. home. The cause has not been released by the medical e
xaminer's office, but authorities said Aegerter, president of Air Page Corp. and other communications businesses that owned dozens of towers, was brutally beaten and had strangulation marks and an electrical cord around his neck.
He may have been strangled or had his neck broken during the attack at his home sometime after 9 p.m. Tuesday, court records state.

In custody awaiting possible homicide charges are two people, according to probable cause documents, who said they confronted Aegerter over pay he allegedly owed to an employee.

Tommy V. Douyette, 42, was ordered held on $750,000 bail on suspicion of first-degree intentional homicide and Lynn M. Hajny, 48, was ordered held on $500,000 bail on suspicion of first-degree intentional homicide, party to a crime. No formal charges were filed Thursday during their initial court appearances.
A hands on owner, Aegerter was to meet a tenant on one of his towers at 6:00 a.m. Wednesday to repair a tower in Menomonee Falls that was struck by lightning during Tuesday's thunderstorms.
Aegerter's body was discovered by Brookfield police about 9:55 a.m. Wednesday after officers were asked by one of his employees to go to his home in the 14300 block of Golf Parkway and check on him because he had not shown up for work.

His body was found face down in the garage. Aegerter's ankles were tied with a black electrical cord, and a white electrical cord was around his neck, court records state. A sleeping bag had been placed partially over the body.

Court documents allege that Douyette and his girlfriend Hajny went to Aegerter's home late Tuesday to "hit and hurt him," because he owed Hajny's husband, Albert, two to three months of pay.
According to police, Hajny told her cousin Brenda Eddy that she and Douyette were going to get a freezer and get hydrogen peroxide so that they could attempt to dissolve the body. She said they also told her that there were soda cans in the refrigerator with their prints, but they were going to return to Aegerter's house and clean them up.
When Eddy asked Hajny how they killed him, she said her cousin stated, "Tom snapped his neck."
Eddy then contacted police and informed them of Hajny's and Doyette's statements.

Albert Hajny was not arrested in connection with Aegerter's murder and police said he was not involved. When Aegerter did not show up at the Menomonee Falls tower, Hajny was called in to assist with the repairs.

Keefe John, president of Ethoplex, a provider of dedicated internet and metro ethernet services based in Germantown, said he didn't believe that Aegerter owed Al Hajny money.

"He was the type of person who never paid a bill late in his entire life," John told the Brookfield Patch.

John, who collocates on Aegerter's towers, said Aegerter was supposed to meet one of John's employees at the tower site, but never showed up.

A ham radio operator and radio communications expert, Aegerter worked at WISN before starting his communications business in the late 1960s.
An only child whose parents, Clifford and Irene Aegerter, are deceased, Aegerter never married or had children.
Visitation will be held from 4 to 6 p.m. Wednesday, followed by a memorial service at Harder Funeral Home, 18700 W. Capitol Dr., Brookfield.
-
Tipsy Arkansas tower landlord shoots tech
June 25, 2011- Tower techs have one of the most dangerous jobs in America, according to OSHA, but a crew worker had no control over his safety yesterday when he came close to being killed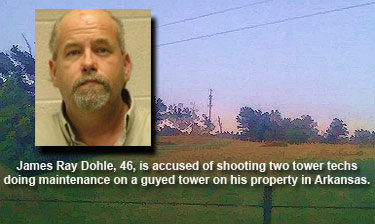 by a tipsy landlord.
Authorities say a 46-year-old Benton County, Ark. man shot a tower technician through the leg on Friday evening while the worker was doing maintenance on a guyed tower located on the homeowner's property.
Although James Dohle's wife knew the four-man crew was working on the structure in their back yard, she did not tell him and when Dohle came home he said he believed they were trespassers and shot at them with his .22 rifle.
Police said he hit one man in the calf. The victim was recovering at Northwest Medical Center in Springdale with non-life-threatening injuries.
A co-worker reportedly was grazed in the neck.
Dohle was arrested and charged with Second Degree Criminal Mischief and Second Degree Battery.
He later told investigators that he came home drunk about 6:30 p.m. and began shooting in the back yard and had no idea that the men were on the tower.
The shooting occurred at an SBA Communications 325-foot guyed tower east of Siloam Springs near the intersection of Old Highway 68 and U.S. Highway 412.
Police would not release the name of the injured worker or his employer.

Benton County, known as the cornerstone of the state, is quickly cornering the reputation for having a strange attraction between galvanized steel and cold, hard steel.
On June 12, Benton County deputies arrested a 55-year-old man after he climbed a cell tower and started firing at police officers.
Ronald Jeff Grigg was arrested in connection with felony aggravated assault, felony first-degree terroristic threatening and misdemeanor drunken, insane and disorderly persons after a six hour standoff.
-
Monopole fire displaces its penthouse tenants
June 21, 2011 - An OB-1 obstruction light electrical malfunction appears to have caused a fire early Monday morning that was
responsible for destroying a 150-foot Verizon monopole in Poulsbo, Wash., according to Tina Turner, Kitsap County deputy fire marshal.

Turner said nesting Ospreys most likely damaged the light or its connecting wire.

After the nest was ignited, it dropped inside the tower and got lodged there. The jacketed transmission lines then caught on fire, Turner said.

The tower leaned precariously, raising concern it could fall across the highway. The state Department of Transportation closed both lanes of SR 305 and detoured traffic through Lemolo for almost 12 hours.

Verizon, which co-locates on the structure with AT&T, dispatched a crane company to dismantle the tower.

The raptors remained in the area while the structure was being lowered.

According to witnesses, one of the Ospreys appeared to have suffered burns to feathers on one wing, possibly while trying to remove a clutch of young birds.

Ospreys are protected under the federal Migratory Bird Treaty Act and state laws.

In the past, Verizon has funded the construction of numerous Osprey towers to relocate the birds from their cell towers.

The major tower companies have an in-house bird site program.
-
Cell site gunfight by high loon ends
with a smoke break in Arkansas
June 14, 2011 - It is not known why a 55-year-old Madison County Ark. man climbed a cell tower and started firing at police
officers.

What is known is he enjoyed his arsenal of weapons and cache of cigarettes, the latter possibly keeping him from being shot to death by Benton County law enforcement authorities.

Ronald Jeff Grigg, 55, of 382 Madison County Road 7105 near Huntsville, was arrested Sunday in connection with felony aggravated assault, felony first-degree terroristic threatening and misdemeanor drunken, insane and disorderly persons after a six hour standoff with police in Cave Springs, a rural farming community of 1,100 residents.

Grigg was being held Tuesday in the Benton County Jail without bond.

Police say Grigg was sitting on top of the tower with five guns, but either because he was intoxicated, clumsy, or afraid of heights, he began to accidentally drop most of them.

Then while trying to light a cigarette he dropped his lighter.

"Then, he decided it was time to come down," said Lt. Rich Conner.

Negotiators were called, but Grigg surrendered after he started jonesing for a cigarette.
-
Lit butt field fire stokes the need to
review site safety hazards
June 13, 2011 - Although most job site assessment forms will require a crew to view the potential for a fire hazard, that concern is typically consigned to hot work where a fire could easily endanger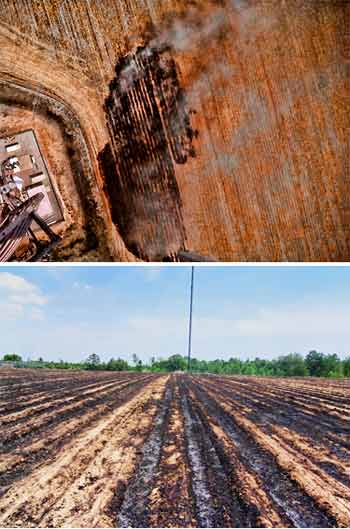 property, workers and others in the adjoining area.

However, a field fire surrounding a guyed tower last Wednesday emphasized the need for companies to monitor the tension-relieving addiction enjoyed by 37% of America's construction workers - smoking.

While working on a South Georgia tower, it appears that a tower technician discarded a cigarette into a surrounding field that quickly caught fire, according to authorities.

Lauren County and Georgia Forestry emergency crews extinguished the fire, but not until it burned approximately a dozen acres.

Fortunately the wheat had just been harvested the previous week, although it is not known whether the fire damaged seed and fertilizer planted the day before the field burned.

While the fire was able to be extinguished before it spread throughout the area causing additional damage, it had the potential to be catastrophic, especially if the project was near tinder-dry vegetation.

According to the U.S. Fire Administration, a discarded cigarette is one of the leading causes of wildfires.

The largest and most expensive tower-construction-related fire in America was caused when a tower worker accidentally touched off a wildfire on Santa Catalina Island in Calif. in 2007.

Dennis Hunt was sentenced in Long Beach Superior Court to serve 90 days in jail and ordered to pay what might reach more than $5 million in restitution to victims of the fire.

Hunt started the blaze while cutting a guy wire on KBRT-AM 740's tower.
-
Shell site developer allegedly paid PA commissioners $14,000 in bribe to build tower
UPDATE: June 10, 2011 - The head of the Lackawanna County Pennsylvania Center for Public Safety, Thomas K. Dubas, saw a disaster in the making, but didn't call his office, contacting the FBI instead and providing investigators with information that ended in an additional indictment against former commissioner Robert C. C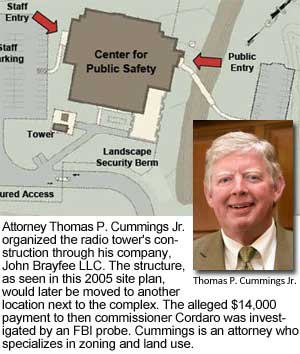 ordaro.
Cordaro's trial, a 39-count indictment against the Dunmore attorney, began Monday.
Federal investigators also charged Commissioner A.J. Munchak with 25 counts, stating he too lined his pockets with taxpayers' money.
One of the charges against Cordaro alleges that he received approximately $14,000 from John Brayfee LLC, a newly formed tower cell site developer that received a no-bid contract from the county for $257,933.
The 190-foot self supporting tower was to be constructed at the soon to be built $18 million 911 center in Jessup.
In testimony yesterday, attorney Thomas P. Cummings Jr., who organized the radio tower's construction through his company, John Brayfee LLC, said that P.J. McLaine, of Acker Associates brought him in on plans to build the tower in 2005, and suggested he talk to West Scranton funeral director Al Hughes.
In testimony, McLaine said he had used Hughes as a "bagman" to deliver payments to Cordaro.

Acker Associates reportedly paid Cordaro $10,000 a month between January 2005 and January 2008, a total of $360,000 in kickbacks to continue to receive county contracts.
According to court testimony, Hughes suggested an arrangement with four partners in the tower - himself, McLaine, Cummings and businessman Glenn Gress.
The cell tower was expected to turn a 28% net profit of $70,000 for the company that was formed at a cost of $500 to cover copying and other minor startup costs.
At some point the county commissioners decided the county would own the tower and, according to Cummings, Hughes said, "I have to have another share if this is going to go."

According to Cummings, Hughes did not identify who the extra share was for, but Hughes later testified that he gave the other share - one of five $14,000 shares of profit - to Cordaro.

Hughes held no position within the county, but Cummings said McLaine advised him he should utilize him as a go-between because he could "facilitate" in getting the project approved.

The payoff by Brayfee might not have been discovered if Dubas didn't become concerned that Cordaro was trying to throw him under the bus.

Dubas testified yesterday that after Cordaro was indicted, the former commissioner called him and said that he never told him to use Brayfee for the tower project as Dubas had previously stated in an interview with the Times-Tribune.
"I basically said I was not going to take a fall for anyone," said the former police chief and chief county detective during a period of 26 years before he became the head of the county's emergency services group.
Brayfee also received two change orders on the project for $23,895 that appear to have been marked up 300% or more over expected industry proposals.
- - - - - - - - - - -
June 8, 2011 - While many people throughout the country are riveted to the Casey Anthony trial, Lackawanna County, Penn. residents are focused upon a court case that began Monday involving a county commissioner and his former colleague who
are accused of taking bribes and extorting businesses for hundreds of thousands of dollars.
One alleged bribe involved the construction of a cell tower at the Lackawanna County 911 Center in Jessup.
Commissioner A.J. Munchak and former commissioner Robert Cordaro are charged in a 41-count indictment. Cordaro is alleged to have received a $14,000 kickback for the award of the 190-foot self supporting tower in 2006 to a company in his hometown.
The federal indictment refers to Cordaro entering into "an agreement involving four individuals whereby the individuals constructed a cell tower at the Lackawanna County 911 Center, defendants Cordaro and Munchak caused the county to buy it for approximately $257,933, and Cordaro received approximately $14,000 (or one-fifth) of the profit."
A month after the initial contract was awarded to John Brayfee LLC on Oct. 31, 2006, the county administration under then-majority Commissioners Cordaro and A.J. Munchak approved an additional $14,509 purchase for the company for a medium intensity dual lighting system .
Although the tower did not require lamping since it was under 200 feet in height, 911 Center Director Tom Dubas said it was later requested since there was a nearby heliport.
In February 2007 the county spent another $9,385 for an ice bridge.
The bridge, with no posts or foundation, based upon an aerial view of the installed structure, is approximately 8 feet or less.
According to an estimator from a major tower contractor, a 24" x 8' Grip-Strut ice bridge with vertical t-brackets would typically cost between $800 to $1,100 to furnish and install it.
Regarding the cell tower project, during a meeting at which county commissioners approved the contract, Dubas said, "the price came in a little bit under what we had anticipated."
The tower serves as the county's 911 radio tower for emergency communications between 911 and local police and fire departments and ambulances. The tower has space that can be rented to cell phone companies.

Brayfee was not charged in the indictment. The Dunmore company subcontracted the construction to SBA Communications Corp.; Sabre Towers and Poles provided the structure.
Bob Bamford, of Bamford Construction Management Services, said the cell tower was built separately of the 911 Center project he oversaw. He said he recalls Dunmore Borough solicitor Thomas P. Cummings Jr., who was involved with John Brayfee LLC, coming to a construction meeting. Cummings replaced Cordaro as borough solicitor.
State records show Cummings was involved with Brayfee, but he has refused to say whether he was an owner of the company, profited from the sale, or who else was involved with the company.
Cummings told the citizensvoice.com that his name is the only one on the paperwork "because I'm the individual who filed the registration papers with the secretary of the Commonwealth ... I'm listed as president by virtue of my position of having filed the paperwork," he said.
Brayfee was created as a business entity in Penn. on Dec. 13, 2006, just weeks after the commission awarded the contract, according to the Department of State. The incorporation papers list Brayfee's address at 224 S. Blakely St., the address of Cummings' law office in Dunmore.
The same address is listed on the construction invoice sent to the commission, though the invoice does not name Cummings.
Cummings told The Times-Tribune that he has "eight years of experience in the telecommunication industry," including representing multiple companies in the construction of between 90 and 120 cell phone towers.
Other than the Lackawanna County tower, Brayfee has not been visibly engaging in additional projects in the siting community.
Cordaro, an attorney, also resides in Dunmore. Stating that he didn't have the time to manage radio station WITK and his law practice, he sold the AM station in 2007. At one time Cordaro owned five radio stations.

County officials say they have no record of competitive bids for the Jessup tower construction. The commissioners' office also has no record of a bid opening meeting, according to county spokeswoman Lynne Shedlock.

Dubas said he was unaware of any bidding, and assumes there was none because he was not asked to be part of any pre-bid conference. He also said that if there was the county could have probably obtained the tower for less money.

One contractor has testified that his business made monthly $10,000 payments totaling more than $360,000 to Cordaro between 2005 and 2008 to obtain county contracts, according to prosecutors.

It is anticipated that some people expected to testify against Cordaro and Munchak have been given immunity. It is not known if Cummings was offered it by federal prosecutors.

Cordaro faces up to 459 years in prison and Munchak up to 343 years if convicted of all charges in the indictment.

The trial is expected to run for another three to four weeks.
-
American Tower seen as top suitor
in acquisition of 50,000 towers
June 8 , 2011 UPDATE: - U.S. private equity firms TPG Capital and Carlyle Group are in talks to buy a stake in the tower unit of Indian telecom company Reliance Communications , Bloomberg reported, citing people with knowledge of the matter.

According to CNBC TV-18, Crown Castle International is likely to be backed by Carlyle and has placed a higher offer than American Tower Corp.

Reliance Communications, controlled by billionaire Anil Ambani, has also received interest from Blackstone Group and London-based Apax Partners , Reuters reported today.
- - - - -
June 3, 2011 - India's Reliance Communications announced Tuesday that it's considering selling its 50,000 towers again and said it has received several offers to acquire as much as 95 per cent in Reliance
Infratel Ltd, the company that owns the structures.
The statement that Reliance had received "formal indicative offers," came a day after mobile service provider R-Com, a unit of Reliance Anil Dhirubhai Ambani Group late Monday posted a bigger-than-expected drop in its first quarter net profit, which tumbled 86%.
Industry observers felt that the disclosure of renewed talks on the sale of its telecom tower assets was made to soothe investor concerns over the company's dismal performance.
CNBC-TV18 says that American Tower Corporation may have submitted an offer for $4.3 billion, but did not provide details as to the extent of ownership the offer would provide.
In September, Reliance walked away from a deal to sell a controlling stake in Reliance Infratel to GTL Infrastructure Ltd. when the two companies could not agree upon the valuation of the tower assets.
The initial amount offered by GTL was just shy of $12 billion.
American Tower also provided an undisclosed offer and Crown Castle International also expressed interest in acquiring the 50,000 towers.
If Reliance were to keep a partial interest in its tower assets, industry insiders believe that American Tower would be the more favored suitor since the company has international experience with a considerable amount of its 35,000 tower portfolio in other countries, with 7,600 towers in India.
In addition, ATC's Executive Vice President and President, Asia, Amit Sharma, is well-respected and connected in India. Prior to joining American Tower, Sharma led country teams in India and Southeast Asia for Motorola, as Country President, India and as Head of Strategy, Asia-Pacific.

Acquisition of Reliance's towers would make American Tower the second largest tower owner in the world behind Indus Towers - a joint venture among mobile services providers Bharti Airtel, Vodafone-Essar and Idea Cellular - with about 110,000 structures.

GTL's Chairman Manoj Tirodkar said, "I see ultimately India having one, or maximum two tower companies," when his offer was conditionally accepted by Reliance last year.
However, Tirodkar's original proposal of $240,000 per tower - although - a respectable amount in other nations, appeared to be too high in a country that is fraught with tower permitting, existing structural concerns and lower operating costs.
In India, according to ATC, construction costs are approximately $40,000 to $60,000 per tower versus $125,000 to $175,000 in Latin America.
ATC reports that maintenance of lighting systems, grounds upkeep and other site expenditures average only $500 per year internationally for each tower, whereas in the U.S. it averages $1,500.
ATC also benefits from considerably lower rent costs in India, but the consolidator is burdened by additional operating expenses for security.
In a cattle car buy of 50,000 sites, due diligence would be a mammoth undertaking.
Ministry officials in India have stepped up enforcement to require carriers and tower owners to remove towers that were not permitted or do not meet the country's construction code.

In most cities the structure must withstand wind speeds of 85 miles per hour, but during the feverish build-out in India to meet the increasing demand for wireless coverage, thousands of towers were installed without proper approvals.
Of the country's more than 400,000 telecom towers, about 25 percent are located in rural areas.
The largest tower acquisition in the U.S. occurred n 2006 when Crown Castle International Corp acquired Global Signal for $4 billion in cash and stock.
-
American Tower gets SEC subpoena
for tax-related documents
June 3, 2011 - American Tower Corp. has received a subpoena from the U.S. Securities and Exchange Commission related to the company's tax accounting and reporting.

In a company release ATC said it will cooperate fully with the SEC's request for certain documents from 2007 through the present.

Last month, ATC received board approval to take the steps necessary to reorganize as a real estate investment trust no earlier than Jan. 1, 2012. At the time, American Tower said converting to an REIT structure was the optimal cash distribution and tax strategy given the nature of its assets and business.

ATC estimates that the amount of the special distribution will be no more than $200 million, and expects to pay it solely using cash on hand.

The company also reported in May its first-quarter profit declined 4.6% as operating margins fell and interest expenses grew.

Shares were trading down over 8% in early trading this morning. The stock has risen 28% over the past year, as of Thursday's close.
-
GPS tests fail as LightSquared positions itself
with Sprint for $16 billion
June 1, 2011 - LightSquared's interference problems could slow down FCC approval of its new national wireless broadband network after initial tests suggest the start-up wholesaler could knock out some GPS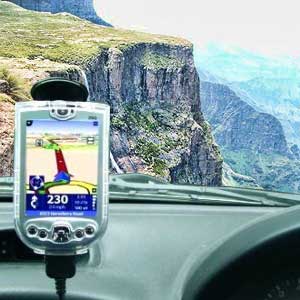 systems.
However, LightSquared executives insisted they can solve the problem.
They also believe that another quick fix for rolling out their network is to strike a $2 billion a year network sharing agreement with Sprint Nextel Corp.
According to a report in Reuters today, the eight-year contract would allow LightSquared, a start-up backed by Philip Falcone's Harbinger Capital Partners, to use Sprint's network equipment on 40,000 cellular broadcast towers along with its own wireless airwaves, to launch its own high-speed service.
LightSquared would basically be a tenant on Sprint's network, according to the person familiar with the details of the plan.
The agreement would help Sprint pay for a $5 billion network modernization plan it announced late last year.
It would also reduce LightSquared's expenses for launching its service compared with the cost of building its own network.
One looming question, according to Reuters and the Wall Street Journal, is where LightSquared, which has openly talked about filing for an initial public offering, would come up with the $2 billion in annual payments.
The company, which has sold more than $1 billion in high-yield debt, has received a $3 billion equity infusion from Falcone's Harbinger funds.

LightSquared says that it will be done with GPS interference testing by June 15 and will then have to wait for the FCC's ruling. The carrier still expects to launch in 2012 and is required to cover 100 million people with service in the U.S. by the end of that year.

LightSquared's executive VP of regulatory affairs and public policy, Jeffrey Carlisle, held a teleconference today to update reporters on the GPS issue as the testing time draws to a close.
"The FCC has only said that they will talk the report over with other government agencies ... and issue a letter," Carlisle said.
Tests at Holloman Air Force Base in New Mexico in April knocked out the GPS receivers used by first responders. However, more recent testing in Las Vegas has not resulted in any interference problems, so far.
-
Two Blaw-Knox towers bow to Mother Nature
May 31, 2011 - Strong storms last night knocked out power to an estimated 26,000 people in the Fargo, ND area, along with
hundreds more in rural areas.

WDAY-AM radio says it was also affected and this morning placed on its web site: "Due to power outage, WDAY-TV and WDAY-AM will be off the air until further notice."

However, once Xcel Energy restores power, Fargo's first radio station that first signed on the air in 1922 might have a longer wait before it can broadcast its local news - or at least the news that that two of its three 250-foot Blaw-Knox four-legged self supporting towers folded over due to the storm.

The Memorial Day storms caused widespread damage in the Fargo-Moorhead area, with top wind gusts of 72 mph, said Mike Lukes, a weather service hydrologist.

He said it is believed the string of storms, called a "bow echo," carried straight-line winds.

On the Beaufort Scale used to measure winds, 72 mph gales fall just short of being categorized as hurricane force winds.

Photo Courtesy: Great Plains Towers
Missouri T-Mobile monopole
destroyed by fire
May 27, 2011 - A tower crew retrofitting a T-Mobile structure on Thursday in Kansas City, MO accidentally set the transmission lines on fire and destroyed the monopole.

Fire officials weren't concerned as much about the polyethylene jacketed cables burning, but were troubled by the possibility that the 140-foot monopole could fall upon nearby high tension lines that would then fall on busy highway I-435.

Police closed the interstate between Winner Road and Front Street for almost three hours after the fire started at 1:10 p.m.

The cause of the fire is under investigation.

Welders from K&S Construction Services of Wilson, NC were working on the tower located at the 7300 block of Hawthorne Rd. when the fire broke out.

T-Mobile told authorities that the tower was not in danger of falling once the fire was extinguished, and service was not interrupted.

However, it was apparent that service was spotty for T-Mobile subscribers who were stuck on I-435 as they were handed off to the next cell site.

The monopole was destacked by Lewis Tower Services, LLC. SiteMaster installed a 125-foot two carrier COW for T-Mobile. Crews from ALT, Inc. installed an 80' COW for co-locating carrier Verizon.
-
Seventeen towers toppled by tornado that killed at least 116 in Missouri
May 24, 2011 - While rescue workers are searching for additional survivors from
Sunday's deadly tornado, tower contractors are installing cell towers on wheels to provide emergency communications in Joplin, MO after the deadliest U.S. tornado in nearly six decades ripped through the city.
Governor Jay Nixon's office said that at least 17 cell towers were toppled by the monster tornado that killed at least 116 people when it tore through the heart of the city destroying thousands of homes and businesses.
Weather officials said the twister that struck the city of 50,000 at dinner time on Sunday was the deadliest single tornado in the United States since 1947 and the ninth-deadliest tornado of all time.

Verizon Wireless announced that they were sending three cell towers to Joplin after many were damaged.
John Baker, U.S. Cellular director of network operations, today said, "We recognize how important wireless services are during this time -- our engineers are working diligently to restore service in Joplin and Southern Missouri. We have approximately 33,000 customers in the metropolitan Joplin area, and coverage areas east of Joplin are experiencing service issues due to damage to the land-line infrastructure that connects wireless towers in southern Missouri."
Other carriers were also sending in COWs to assist in the recovery effort.
T-Mobile had a COW installed by Lewis Tower Services of Pleasant Hill today after a self supporting tower owned by SBA Communications was toppled behind the Walmart near E. 15th St. and S. Range Line Rd.
Two other towers in the same cluster were also destroyed, said Ed Lust, Vice President of LTS.
Walmart issued a rare "code black," meaning customers were ordered to move against a wall at the edge of what the store called its "safe zone," but emergency officials later found a number of deceased shoppers, according to news reports.
LTS was in Joplin with eight personnel hours after the tornado hit to triage T-Mobile's towers and co-locations. Other tower companies, including Skyview Crane of Washington are in the city setting up emergency communications.
Roaring along a path nearly six miles long and about 1/2 mile to 3/4 mile wide, the tornado flattened whole neighborhoods, splintered trees and flipped over cars and trucks.
High winds clocked in excess of 190 mph caused a 157-foot wireless Internet tower to come tumbling down, landing on an equipment building.
-
Crown's colo contract will help Pennsylvania reduce bloated tower construction costs
May 20, 2011 - Crown Castle International Corp. has entered into a multi-year agreement with the Commonwealth of Pennsylvania to lease space on its 496
public radio safety network's towers.
Crown said it will also have the opportunity to construct new towers on state-owned property at the discretion of the commonwealth.
Although tower company proposals were received in 2010 and the contract was awarded to Crown last January, the state partially preempted this week's announcement with its own on February 16, stating that the initiative will expand access to technology, but equally as important it would generate revenue.
They even put up a leasing form on their web site for potential tenants shortly after awarding the contract to Crown.
Revenue for the first two years is guaranteed to be at least $175,000, but expected revenue over the life of the contract is $500,000 annually, according to a commonwealth official.
While states are always fond of announcing new revenue initiatives, some industry observers believe that the announcement might have been made to help to assuage legislators' growing cost concerns about the commonwealth's public radio safety network, PA-STARNet - a project that began in 1999 and still has 33 tower sites in development.
On April 27, Pennsylvania's Senate Communications and Technology, Law and Justice, and Transportation Committees held a hearing to investigate why the project has been delayed for so many years and why costs have doubled.
George White, Pennsylvania's Chief Information Officer, appeared before the committees, explaining that commonwealth agencies were using separate analog radio systems and the legislature appropriated $179 million to replace them with a statewide digital network supporting voice and data communications.

Final tab doubles to $368 million
However, according to White, bids came in at $200 million and the legislature in 1999 increased the total amount of funding to $222 million. Between 2000 and 2008, further appropriations raised the total amount for capital expenditures to $368 million.
As of February 2011, $295 million has been spent and $27 million has been encumbered for current contracts. The balance of $46 million remains available for further capital expenditures.
"In the fifteen years since its inception, the project has weathered many challenges, which hopefully has produced a stronger system," White said.
The PA-STARNet project was the first of its kind. The conceptual design of the system called for technologies that were new at that time.
"As a result, there were no existing models upon which more accurate cost estimates could be based," White said.
But he also noted that the bankruptcy of the original tower contractor stopped site development work for nearly nine months.
According to contract documents the contractor provided the state with a performance bond to cover completion costs for its $60 million portion of the project.

Zoning issues also took their toll
"The complex and difficult process of obtaining permissions to construct sites has repeatedly led to system coverage design changes whose effects ripple through the project's cost and schedule," said White.

The difficulty and expense of providing roadway coverage in the mountainous terrain of the sparsely populated northern counties contributed to escalating costs per square mile of coverage as the system neared completion, White said, also noting that a mandate by the FCC's requirement for wholesale shifting of frequencies used by PA-StarNet also impacted the cost.

White said the network has been very reliable with 17 state agencies as well as a number of other organizations using it.

"The system is handling an average of more than 131,000 push-to-talk transmissions daily, with 99.99% network availability." White told committee members.

Pennsylvania State Police troopers, however, have reported a number of problems with the system.

"Some of the issues are due to interference from commercial cellular carriers, others result from maintenance being carried out at a tower or microcell site, and a number come from radio maintenance or installation problems or from a need for radio user training," White explained.

"Sometimes an additional radio site is required to increase coverage. In the last 24 months, the Office of Administration has built 32 more microcell sites and 44 sites are in the design stage in response to reported system coverage issues," he said.
-
Safety professionals sought to assist in
design of an industry JSA
May 18, 2011 - OSHA says that a Job Safety Analysis or Job hazard Analysis should
be performed at a work location to identify hazards before they occur.

However, the federal enforcement group doesn't state what should be analyzed since every job holds a special relationship between the worker, the task, the tools, and the work environment.


Safety stalwarts like Bechtel Corporation and Black & Veatch have been tweaking their JSAs for years and numerous companies have taken all or part of those forms as the basis for their JSA.

As new contractors enter the market they're apt to reprint or massage a former employer's JSA, sometimes providing the same spelling errors and, on occasion, leaving their previous company's name in the content or company-specific requirements that they can't even identify what they stand for when questioned.

Then there are some crew supervisors that never fill one out or aren't aware that it's an OSHA requirement.

"The JSA is the most overlooked and unappreciated document, because the mentality in the field is that it's just another piece of paperwork that's necessary to be compliant," said Ed Dennis, Director of Safety Training for Com-Tech Services.

Although Dennis believes that most tower-construction-related JSAs can be re-designed to be more encompassing and easier to fill out, "convenience shouldn't take the place of getting all employees involved in assessing each work site," he said.

Volunteers needed
WirelessEstimator.com is seeking industry safety professionals to assist in developing an industry JSA that will benefit all workers by providing an invaluable tool for identifying hazards.

Interested individuals can obtain additional information by emailing info@wirelessestimator.com .

You can also participate by sending in your company's JSA to assist the committee in evaluating current industry practices and form content.

"Knowing what you folks did in developing the JEAP (Jobsite Emergency Action Plan) program, I believe that the end result here will be an extremely valuable JSA," said Dennis who will be a committee participant.

OSHA maintains that it is important to involve your employees in the hazard analysis process.

"They have a unique understanding of the job, and this knowledge is invaluable for finding hazards. Involving employees will help minimize oversights, ensure a quality analysis, and get workers to 'buy in' to the solutions because they will share ownership in their safety and health program," according to their website.
-
Climbing instructor helps to save lives
above the ground and in the air
May 10, 2011 - As an instructor for the past five years, Amber Mamp has been dedicated to tower rescue and safety training, unabashedly preaching that "people
need to get trained, stay trained, and make sure they're prepared in case an emergency happens."
While her 11 years of climbing and safety knowledge would allow her to rescue people at any elevation on a tower, Mamp's philosophy was demonstrated on Friday when she helped to save the life of an elderly Michigan woman at 30,000 feet.
Mamp was on her second leg of a Southwest Airlines flight from Las Vegas where she just completed conducting ComTrain's tower safety and rescue course, emphasizing to her 20 students the need to be prepared.
Sitting in the first row of the Phoenix to Detroit flight allowed Mamp to relax after her busy week.
For the frequent traveler it was enjoyably quiet.
The bulkhead seat allowed for the absence of elevated casino winnings conversations in front and an elderly Detroit couple in their 80's along with their daughter behind her could barely be heard.
One hour into the flight Mamp heard the husband's increasingly louder calls for his wife to wake up.
As she looked to her rear, Mamp immediately recognized that the woman could have gone into cardiac arrest or suffered a debilitating stroke.
"I quickly did a tap and shout, but there was no response," said Mamp, who then grabbed her backpack in the overhead bin that contained a mask and gloves.
"I had everybody move out of the way and moved the woman off her seat, then laid her down in the center of the isle. At that time there was blood dripping from her ear," Mamp said.
She then had a flight attendant get the oxygen bottle and the automated external defibrillator while another attendant checked unsuccessfully to see if there was a doctor on the 121-passenger flight.
Mamp found that the woman had a heartbeat, but her breathing was so shallow it could hardly be detected.
"After five minutes of the oxygen she began blinking her eyes and it was a huge relief for everyone," Mamp said, including an RN that elevated the woman's feet.
An emergency landing at Albuquerque International Sunport was made and emergency medical service workers transported the woman to a hospital.
Mamp, whose husband Stanley supervises tower crews, had considered taking training to become a diesel engineer after high school, but once she was exposed to the tower erection industry there is never a day she regrets her decision, the 30-year-old safety advocate said.
Neither will the Detroit family whose lives she touched.
-
American Tower sees a profitable upside
to the proposed AT&T/T-Mobile merger
May 4, 2011 - You can listen to hundreds of quarterly earnings calls and it's doubtful that you'll find a CEO feeling obliged to take the opportunity to refute one incorrect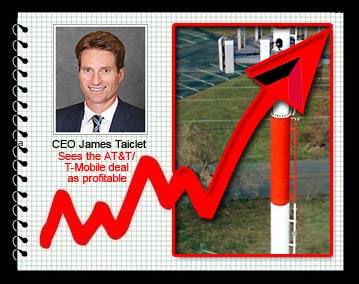 news report, especially if no other media picked it up.
However, American Tower Corporation's CEO, James Taiclet, said he felt obligated to present to the investment community that his company was not against AT&T's acquisition of T-Mobile. In fact, he said the deal was positive for American Tower.
"Now you may have seen a few weeks ago in the press a contrary view attributed to our company. This report misrepresented the position of American Tower and relevant facts were taken out of context," Taiclet said during ATC's quarterly analyst call yesterday.
Although an extensive internet search could not find the article he was referring to, Taiclet said, "We've requested a correction be made, but we just wanted to take this opportunity to set the record straight for our investors."
That could also be read as American Tower wanted to set the record straight for what might be their largest client, AT&T, who would be nonplussed by any press less than positive for the deal.
After the merger was announced American Tower issued a statement that AT&T and T-Mobile accounted for approximately 20% and 8%, respectively, of their consolidated operating revenues.
For domestic revenues, that percentage is significantly higher when you take into account that their international tower holdings represent approximately 42% of their towers.
AT&T's U.S. revenue percentage American Tower could reach 30% or more. And with T-Mobile's additional 12%, it would make sense to support AT&T Mobility's merger with T-Mobile.
Armed with revenue data, Taiclet told analysts that American Tower reviewed previous deals and concluded that revenue from the combined carriers two years after the mergers closed was higher than pre-merger levels.
"In our experience as a major wireless network infrastructure provider, we've seen three previous examples of wireless carrier mergers that were immediately followed by strategic initiatives by those newly combined carriers to launch or accelerate next generation technology deployments," Taiclet said.
He cited the 2004 combination of Cingular and AT&T wireless. "Post merger," Taiclet said, "the larger and financially stronger company deployed 3G then at a faster pace than we believe Cingular and AT&T wireless would have done independently."
He also said that Sprint's merger with Nextel in 2005 and Verizon's acquisition of Alltel in 2009 led to better technology for subscribers and more business for his company.

"In the case of both the Cingular AT&T wireless and Verizon Alltel, our post-merger tower revenue two years later was approximately 30% higher than pre-merger levels."

"In the case of Sprint Nextel, revenue was approximately 40% higher. In other words, accelerated technology deployments and other network improvements were in excess of any short-term churn," Taiclet said.

Last week Jay Brown, CFO of Crown Castle International, said that what his company saw prior to the merger of AT&T and Cingular was that "the amount of leasing that those two firms were doing independently was much less than the level of activity that we saw once they were combined."

In the meantime, another major client of American Tower, Sprint Nextel, is taking its battle against AT&T's acquisition of T-Mobile to the states, starting with a request for the West Virginia Public Service Commission to investigate and block the deal.

In a filing Monday with the state commission, Sprint Nextel said the agency has a mandate to ensure mergers don't harm the public.

"Clearly the interest of the public in this state will be adversely affected by the proposed merger because it is anticompetitive and will hurt consumers by raising prices, restricting innovation and limiting choices of wireless providers," Sprint said in its filing.
-
High bail for driver who kayoed AT&T site
May 1, 2011 - After a 22-year-old Morrisville, Penn. man crashed into an AT&T cell site co-located on a PECO transmission line tower yesterday he was charged with an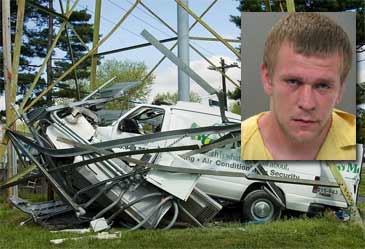 accident involving a personal injury - his own, requiring five stitches in his arm.
He was also charged with unauthorized use of a motor vehicle, driving under the influence of alcohol and or drugs, driving without a valid license, and careless driving.
But an additional charge against Kevin Breese - accidents involving damage to unattended vehicle or property - might have been the reason District Judge Robert Wagner, upon a request by Breese after his arraignment to release him on his own recognizance, said no.
In Pennsylvania, bail for DUI vehicular homicide can be as high $250,000. A Doylestown man who was nearly three times over the legal limit was charged with DUI recently when his SUV slammed head-on into a sedan, killing a 50-year-old woman.

He was released on $100,000 bail.

But Breese didn't kill an individual; he just killed a transceiver, a power supply and bowed a transmission tower, and a $50,000 bail might have been considered draconian by Eighth Amendment observers.
However, after learning from a Falls Township police officer that the damage could be as high as $1 million for the PECO tower and AT&T co-location, Wagner, a former police officer, set bail at a staggering $5 million.
Breese reportedly told police, "C'mon, accidents happen."
-
Police investigating why fatal fall occurred
May 1, 2011 - Cincinnati police are investigating the non-industry-related death of a man who reportedly fell approximately 900 feet from the 1,018-foot WLWT tower on
Chicasaw Street in Clifton Heights early this morning.
Police initially responded to a call after a severed hand was found at the corner of Rohs and Warner Streets, and then found a number of body parts in the neighborhood with the torso of a white male at the bottom of the tower.
A local resident said that at about 4:30 a.m. he was outside on a friend's porch when he "heard a noise and I looked up and I saw a body falling from the sky. I heard a thud and another thud."
He said he saw the body fall from approximately two-thirds of the way up the self supporting tower.
Authorities have not identified the victim yet, although a wallet was found at the base of the tower containing a University of Cincinnati student ID.
One neighbor said: "They found bloody underwear in a tree … body parts strewn throughout the woods. Pieces of meat everywhere … bloody chunks in my yard."
Police could not identify whether the man committed suicide or accidentally fell in a dare gone wrong.

However, WLWT quoted police saying they linked the severed hand to a break-in at the station's transmitter.

Richard Dyer, WLWT president and general manager, said police asked the station's permission to enter the tower property Sunday morning.
-
Tower erectors' redemption day may be in an upcoming Dirty Jobs episode
April 27, 2011 - When NBC Dateline profiled tower crews in 2008 in Tower Dogs many people thought the industry was given a national black eye; some people thought it was an accurate slice of life program.
In another month or two America will once again view the tower erection and maintenance profession - but this time in a more respectful tone as they take a front row seat as a tower is erected in North Dakota on the Discovery Channel's "Dirty Jobs with Mike Rowe".
Rowe scours the country looking for unsung heroes who are willing to get dirty and do the jobs that make civilized life possible. Rowe said this tower erection project was ideal.
So did Kevin Reski, President of Great Plains Towers, who was approached by Rowe's production company last December to consider the plan to film construction.
Reski, a former director of the National Association of Tower Erectors, had some reservations at first, but felt comfortable after viewing a number of Rowe's episodes and thought he was fair in his job depictions.
"I wanted to portray the industry in its best face. If I turned it down, I was afraid that there might be a chance that they would find a crew with baseball caps and tennis shoes and I didn't want that," Reski said.
After two days of filming in Dickinson that ended yesterday, Reski said he believes the episode will show the professionalism required to erect a tower without overemphasizing the omnipresent need for safety.
Whereas Tower Dogs stressed that tower erectors have the most dangerous job in the nation, Rowe's episode most likely will emphasize the vagaries of the weather and other possible jobsite hazards that must be considered, Reski said. "If anything, he certainly witnessed the weather we oftentimes have to work in."
On Monday and Tuesday winds were blowing between 15 miles to 30 miles-per-hour-with occasionally higher gusts.
"This was fairly miserable, but we laughed most of the day," a soaked Rowe said. "It starts blowing sideways and raining and you are soaking wet," he said. "It is a dirty job."
Reski had Rowe assist in jumping a gin pole and stacking the remaining sections of a 330-foot by 42-inch wide Ehresmann Engineering guyed tower.
Rowe also gave a hand in pulling guy wires and attaching them to their anchors.
Safety of Rowe and his four member filming crew on the tower was a major concern for Reski.
"I made sure that they had all of the proper fall protection equipment and were tied off at all times; had chin strap hard hats; everything we require of our employees," Reski said.
He believes that his crew and the filming crew were all compliant with OSHA regulations as they assisted in the erection.
"I will have a lot of discriminating eyes when this airs, won't I?" said Reski.
Not much of what transpired during the two 12-hour days was missed by Rowe's 10-member production company, Pilgrim Films & Television, producers of a number of reality shows including American Chopper and Extreme Loggers.
In addition to head cams on two of Great Plains' workers, eight other cameras were constantly filming. Up close views should be available during the episode since one videographer was always atop a 300-foot guyed tower only 50 feet away.
Plus, a specially equipped helicopter was brought in on a flatbed from North Carolina to assist in the filming.
Reski, known for his Garrison-Keillor-type humor, said at times it was exhausting to ensure that both crews were working safely together.

Rowe recently said that when he began the series he wanted to honor his father and grandfather, by bringing fame to "less-than-glorious" careers.

The tower was being constructed for Stark County Emergency Management.

The episode air date is unknown. For more information see http://dsc.discovery.com/ or watch WirelessEstimator.com's Breaking News for further details.
-
Towers toppled in severe storms
April 27, 2011 - Severe storms and tornadoes swept through Alabama today, with hurricane force winds snapping trees, tearing off roofs and taking down one tower and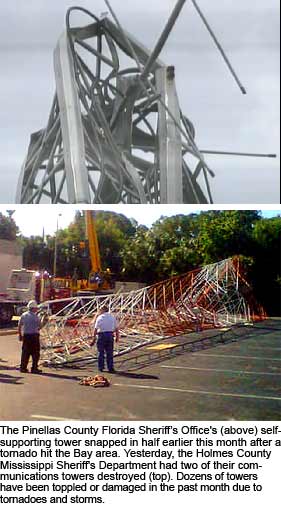 damaging at least one other. In Birmingham, WAGG lost one of its two self-supporting towers.

In Tuscaloosa, Clear Channel's country WTXT tower site suffered damage but is on the air.

Yesterday in Cullman, a local broadcast tower for TV 27 also collapsed and a St. Clair County communications tower in Pell City was knocked down by the storm.

In Mississippi the Holmes County Sheriff's Department was hit hard after its main communication tower was bent completely over, as well as its backup communication tower.

Dozens of cell towers throughout the seven states that were hit by the violent storm systems are being repaired by tower crews.

The Mississippi Emergency Management Agency has confirmed 32 fatalities. The hardest hit state was Alabama with 128 deaths.

Two weeks ago, at least 47 people died as storms tore a wide path from Oklahoma to North Carolina.

Governors called out the National Guard to help with rescue and cleanup operations, and states of emergency were declared in Alabama, Arkansas, Kentucky, Mississippi, Missouri, Tennessee and Oklahoma.
-
Possible Sprint leasing agreement could be seen as beneficial by AT&T's regulators
April 21, 2011 - Sprint Nextel Corp. is in talks to lease space on its wireless network to LightSquared and Clearwire Corp., people familiar with the negotiations said, according to a number of news
reports.

The business shift by Sprint may be reactionary to AT&T's agreement to buy T-Mobile USA and emphasizes how U.S. wireless carriers are looking to consolidation to reduce costs and secure access to needed spectrum.

Sprint is still outspoken against the AT&T deal and is expected to ratchet up criticism of the mobile marriage through public statements, regulatory filings and stepped-up lobbying, according to Jeffery Silva, Senior Policy Director, Telecommunications, Media and Technology, Medley Global Advisors, LLC.

"Sprint does not believe there are any combinations of conditions, concessions and commitments from AT&T that would remedy a merger that it believes would be harmful to competition, consumers and innovation," Silva said.

However, Silva believes that if Sprint does rent space on its network, the move "could improve the comfort level of policymakers in considering the proposed union between the No. 2 and No. 4 wireless operators."

He sees it as a potential paradox for Sprint as government antitrust lawyers and federal telecom regulators begin to delve into their comprehensive reviews of the AT&T/T-Mobile transaction.

RCA opposes AT&T acquisition of T-Mobile
The Rural Cellular Association announced earlier this week its opposition to the proposed AT&T acquisition of T-Mobile.

"Further consolidation within the wireless industry will harm competition, negatively impact consumers and will inhibit innovation," RCA said

The trade group is strongly urging the Department of Justice and the FCC to intimately review the proposed merger, and the negative impact it will have on the industry and consumers.

RCA President & CEO Steven K. Berry said, "RCA is absolutely, unyieldingly opposed to the AT&T/T-Mobile merger as presented. We do not view this merger as beneficial to consumers or to the wireless market in the United States."

"As proposed, it is a horizontal merger that will significantly reduce consumer choices and provide fewer partnering options for smaller carriers, and will strike a devastating blow to an already increasingly consolidated industry that competition may never recover from."

Silva, a former Washington Bureau Chief

at

Crain Communications Inc. for 26 years, believes that the merger, subject to conditions and company commitments, has the opportunity to survive rigorous antitrust and regulatory scrutiny.

Sprint had itself considered a merger with T-Mobile, a unit of Deutsche Telekom, but if the deal goes through the carrier will face the challenge of going it alone against a much bigger AT&T and current market leader Verizon wireless.
-
Two Texas tower techs die following a gin pole
failure during an Indiana broadcast tower erection
Update: May 1, 2011 - A lengthy 911 call was released (click here) of the request for assistance at the site.

It contains disturbing and heart rending conversations with a tower technician and the dispatcher. It is being presented solely to bring attention to the alarming number of industry deaths witnessed each year that have been reduced to statistics versus the human impact these deaths have on family, friends and crew members.

The call lasted for almost nine minutes until the first responders arrived. The area is served by a volunteer fire department and one ambulance, according to the dispatcher.

The distraught caller told the operator that he already knew that his co-workers were dead.
- - - - - - - - - - - - - - - - - - -
Update: April 14, 2011 - Indiana Occupational Safety and Health officials were again on site today investigating the accident that killed two ERI, Inc. employees yesterday near Colburn.

The tower erectors died after they fell approximately 340 feet. Initial reports indicate that they were attached to a 90-foot gin pole that was being jumped prior to the crew raising additional sections when a rigging failure caused the pole to come free of the tower.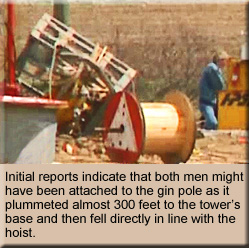 One of the riggers was reportedly still attached to the bottom of the gin pole at the point of impact and the other crew member was found near the top of the pole.

It fell straight down to the base of the structure, narrowly missing the concrete caisson, leaving a four foot deep depression, and then fell over directly in line with a double drum hoist.

It appears that it may have also struck a man basket at the base of the tower.

Vice President of Engineering of ERI's structural division, Ernie Jones, was also at the scene today to assist in investigating how the accident occurred.

IOSHA will be reviewing the crew's hoist, gin pole, rigging and personal protection equipment to ensure that they meet standards in addition to ensuring that a load chart, a pre-lift proof test and other required documentation were on site.

Jones has been dedicated to worker safety for many years. He is co-chairman of the subcommittee responsible for developing the TIA/EIA-PN-4860-Gin Pole Standard.

He is currently the co-chairman of the TIA\EIA TR14.7 subcommittee responsible for writing the proposed industry construction standard for the installation of antenna towers and antenna supporting structures.

Public information officer for IOSHA Stephanie McFarland said that the investigation could take months to complete because of the nature of the accident. McFarland said construction on the tower will not continue until the investigation is over.

Managers from the tower's owner, Schurz Communications, were also on site today along with a representative from their insurance company, Cassady Neeser & Brasseur.
* * * * * * * * * * * * * * * * *

April 13, 2011 - Two Texas tower technicians died this morning after falling approximately 340 feet off of a new guyed tower they were erecting for WXXB-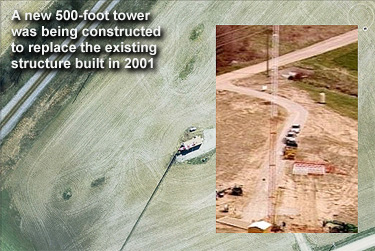 102.9 FM in Indiana.
The Tippecanoe County Sheriff's Department identified the two riggers as Ernesto Garcia, 29, of Laredo, and Paul Aliss, 32, of Mesquite.

They were working at the site with an additional three crew members for Chandler, Ind.-based ERI Inc.

The accident was reported at 8:51 a.m. by a co-worker.

Emergency crews spent much of the morning investigating at the site and the bodies of the two victims were not removed until close to 11 a.m.

Authorities said they fell while they were in the process adding a section or other accessory on the 500-foot tower; however, until IOSHA investigates the exact details will not be known.

Steel or rigging fell as well but no other injuries were reported, Tippecanoe County Sheriff Tracy Brown said.

Initial reports say both men were wearing safety harnesses when they fell, but there was a malfunction with "a parallel support device attached to the tower".

Accident photos show that there was no gin pole remaining at the top of the tower and a man basket was damaged at the base of the tower.

Deputy Coroner Tony Kenner said autopsies will be performed tomorrow.

ERI is replacing an existing 498-foot tower constructed in 2001that is located about 1,500 feet from the new structure.

The tower had to be removed to accommodate the new Hoosier Heartland Corridor.

The county's Board of Zoning Appeals signed off on the new tower construction last August and the work started earlier this spring, according to John Schurz, general manager of the WASK radio group that's building the tower.

WASK is owned by Schurz Communications. Schurz owns 13 radio stations, publishes eleven daily and eight weekly newspapers, has ten television stations, two cable companies, a phone directory and a printing company as well as a number of specialty publications and shoppers.

The tower site is near the intersection of County Roads 600 North and 900 East by Colburn.

Founded in 1943 to develop antennas for military aircraft, in the early 1990s ERI began designing, manufacturing and installing broadcast towers.

It is not known if the erection crew members worked for ERI or were subcontracted to install the tower.

Garcia and Aliss were the second and third tower technicians to die this year after falling from a communications structure.
-



million dollars is the total value of American Tower Corporation stock owned by its CEO, James Taiclet Jr., as of April 6, 2011.

Crown Castle International's CEO W. Benjamin Moreland has $2.15 million - that is in extra cash -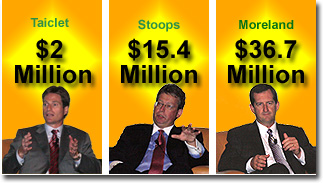 after selling 50,000 shares recently at $43 apiece, according to an FCC filing.

But he still has a few more shares left, 857,395 to be exact, at a value of $36.7 million.

Although he's ahead of SBA Communications CEO Jeffrey Stoops' Class A company stock valued at $15,438,692, Stoops could receive an $8 million payday this week if he were to exercise his available options.

In addition, Stoops has an indirect beneficial ownership of an extra 585,063 shares of Class A Common Stock through a trust for his children and through a Delaware limited partnership worth an additional $22,829,158, requiring him to manage $46,381,549 in SBA stock.

The Chief Financial Officer of Crown Castle, Jay Brown, owns shares valued at $12,578,278; SBA CFO Brendan Cavanagh, $788,088; and American Tower CFO Thomas Bartlett, $511,188.
CEO - TOWER COMPANY
Class A
Common
Stock
Closing
Price
4.6.11
Stock Value

Exercisable
Options
Value

TOTAL
VALUE
James D. Taiclet Jr.
American Tower Corporation
39,475
50.90
$2,009,278
$ -
$2,009,278
*Jeffrey Stoops
SBA Communications Corp.
395,661
39.02
$15,438,692
$8,113,699
$23,552,391
W. Benjamin Moreland
Crown Castle International
857,395
42.80
$36,696,506
$ -
$36,696,506

*CEO Stoops has an indirect beneficial ownership of an additional 585,063 shares of Class A Common Stock through a trust for his children and through a Delaware limited partnership worth an additional $22,829,158. Stock options that are immediately exercisable total another 522,201 Class A Common shares.



months. That's what research firm Strategy Analytics predicts that it will take for the T-Mobile USA and T-Mobile deal to close, a third more than the estimate provided by AT&T.

Based on recent telecom mergers and acquisitions, Strategy Analytics calculates that it will take at least 18 months to complete the approval process, including:

Judiciary and Commerce committee hearings in both the House and Senate;
Regulatory and Attorney General inquiries, state by state;
Department of Justice investigations;
Federal Trade Commission questions; and
Federal Communications Commission final approval.


The $39 billion acquisition is being opposed by Sprint and has already come under scrutiny from lawmakers.

If regulators approve AT&T's purchase of T-Mobile, the company would become the largest wireless operator in the country and create a near-duopoly between AT&T and Verizon wireless.

T-Mobile declined to comment on Strategy Analytics' report as did AT&T.
Suppliers and contractors are concerned that T-Mobile might halt their build program while federal and state agencies review the deal.

According to Phil Kendall, Director, Strategy Analytics Global wireless Practice, "This deal challenges Sprint, Clearwire and LightSquared and raises the stakes for Verizon wireless."



thousand dollars is the number that was floated by a manufacturer as a guesstimate during a conference last year for the cost of an audio visual warning system (AVWS) that is designed to help aircraft avoid collisions with antenna
structures.

A request for pricing to OCAS, Inc., a manufacturer of an AVWS system, was not returned.

The FCC has released a Further Notice of Proposed Rulemaking in Docket No. 10-61 requesting comment on proposed rules to permit the operation of audio visual warning systems.

OCAS is requesting that the Commission amend Part 87 to clarify that antenna structures equipped with or supported by AVWS stations are exempt from the continuous lighting requirements of a tower or other structure that is required to be lamped.

It states that, in contrast to the continuous lighting of obstacles, deployment of AVWS will engender public benefits beyond those related to aviation – benefits including lower energy consumption, reduced light pollution, and increased protection of migratory bird populations.

OCAS Inc. is a U.S. subsidiary in Vienna, Va. of the Oslo Norway-based company, Obstacle Collision Avoidance System.

"There is a problem here," said a representative of a major U.S. tower owner. "We want to be responsive to the community and to aircraft safety, but if it's going to be too expensive to install the system it won't be a viable option."

OCAS was approved by the FAA in 2009. It has also been approved by Transport Canada and was recently accepted in Sweden regulatory.

Comments must be submitted to the FCC by May 31, 2011, reply comments by June 28, 2011.

For additional information about OCAS, click here.




days is the time electric utilities will be required to allow most broadband services to attach lines to poles after a request, with a deadline of 178 days for putting wireless broadband antennas on top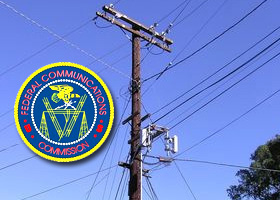 of utility poles.

The FCC voted unanimously on April 7, 2011 for new pole-attachment rules. Pole owners, which also include some telecom providers, would have an extra 60 days for requests involving large numbers of poles.

One hundred and forty eight is also the estimated number, in millions, of poles in the U.S.

The new rules are a "major step in reducing barriers to broadband deployment," said FCC Chairman Julius Genachowski . "Our actions will enable and accelerate billions of dollars of private investment in the 21st century infrastructure America needs to create jobs, grow our economy, and compete globally."

The FCC took "concrete steps to address key issues affecting wireless broadband infrastructure deployment," CTIA said.

The federal agency also voted to open a notice of inquiry focused on providing broadband rights of way on U.S. government property and on speeding up the siting process for towers.





jobs were posted in March on WirelessEstimator.com's Help Wanted page, a 7% increase over the previous month and a whopping 79% over the
previous year.

The national unemployment rate for March was 8.8%.

For the week ending April 2, 2011, jobless claims were down again. Lincoln Neb. had the lowest rate in the country at roughly 4.2%, and Centro Calif. had the highest unemployment rate at 26.9%.

The national unemployment rate in March for Canada was 7.7%.

Positions Wanted advertisements for the wireless industry also saw an increase in March.
-
DNA and digital cameras assist police
in tower site investigations
April 1, 2011 - An Attleboro, Mass. man is being sought by police for a break-in and
theft of a satellite dish and other items totaling $10,000 from a TV station's tower in 2009 after authorities matched his DNA to blood left at the scene of the WJAR Channel 10 transmitter facility on Pine Street in Rehoboth.
Police are looking for the suspect, William J. Statkiewicz, 25, Police Chief Stephen Enos said yesterday.
Enos said blood found at the scene was analyzed at a state police laboratory, but took some time because of a backlog of DNA cases. Local detectives recently received the results and obtained a warrant for Statkiewicz's arrest.
Statkiewicz is awaiting trial in Attleboro District Court on several cases, including the theft of copper.
There's a good chance authorities may find two copper thieves who struck Salt Lake City, Utah's KSL-AM.
As they recently hauled of copper and other station property valued at $30,000, they were clearly recorded by video cameras at the site.
Police are now investigating, and reviewing the tapes.
In Florida, Daytona Beach's WNDB-AM was yanked off the air Wednesday for almost eight hours when thieves vandalized the station's transmitter during an early-morning robbery, stealing copper from the station's broadcast tower.
The damage was estimated at $10,000.
Police are investigating the theft of copper materials from two Lancaster County, Pa. cell phone towers.

Authorities said someone entered the property of an AT&T tower in Colerain Township and removed approximately100 feet of copper wire from the tower along with ground bars.

Another theft occurred at a Verizon tower in Fulton Township, where police said someone broke through a combination padlock. Copper ground wires totaling 28 feet in length were stolen from the tower and the equipment shelter.
-
Carrier chiefs duel, but some contractors and suppliers will be in survival mode
Updated March 28, 2011 - "Sprint urges the United States government to block this anti-competitive acquisition," said Vonya McCann, senior vice president, Government Affairs for Sprint today. "This transaction will harm consumers and harm competition at a time when this country can least afford it. As the first national carrier to roll out 4G services and handsets and the carrier that brought simple unlimited pricing to the marketplace, Sprint stands ready to compete in a truly dynamic marketplace. So on behalf of our customers, our industry and our country, Sprint will fight this attempt by AT&T to undo the progress of the past 25 years and create a new Ma Bell duopoly."
- - - - - - - - - - - - - - - - - - - -

March 25, 2011 - The nation's three largest mobile carriers' chiefs took playful jabs at each other during the CTIA keynote address in Orlando, Fla., but suppliers and contractors said the proposed AT&T and T-Mobile marriage will be another fight for survival as consolidation continues to commoditize the industry.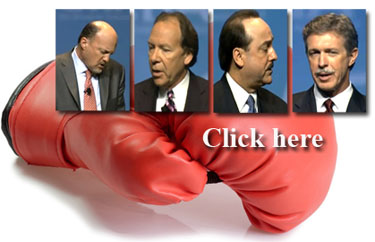 Steve Largent, President and CEO of CTIA, made a bold move this year to remove himself from the typical CEO roundtable session where softball questions are expected by the association's carrier members.

On any given day Jim Cramer of CNBC's Mad Money would have been a great choice to liven the panel discussion, but with Sunday's announcement of AT&T buying T-Mobile, Cramer came armed with the questions that the standing room only audience wanted to hear.

It was difficult to tell who was more entertaining, Cramer or Sprint CEO Dan Hesse whose stage presence and quick wit added to the fast-paced and dynamic panel discussion.

Joining Hesse were CEOs Dan Mead of Verizon and Ralph de la Vega of AT&T. T-Mobile CEO Philipp Humm did not join the panel although he was scheduled to appear.

Cramer began the session by asking Mead why his Verizon bill was so high and why
is he subsidizing big bandwidth hogs such as his two children? Mead politely parried the question, and graciously thanked Cramer for being a Verizon customer.

De la Vega was asked by Cramer why, while watching a video on his cell phone, the picture freezes on occasion?

As de la Vega considered the question and was ready to answer it, Hesse jumped in and said, "I think you have Verizon."

Hesse also said that he agreed with the New York Times article stating that the AT&T/T-Mobile deal was bad for consumers.

Mead was cool and untroubled by the merger and held a strong stance on his company's network and market share to make them competitive.

Dinner reservations for many dozens of meetings with AT&T executives were canceled after hundreds of AT&T employees were told not to attend the CTIA show Sunday evening after the announcement.

Although T-Mobile Towers had an exhibit within the Tower Summit section, T-Mobile employees were also noticeably absent.

After polling over two dozen vendors, it was unanimous that the AT&T/T-Mobile deal would be bad for business.

"Although I'm sure that the DOJ does not want the two companies discussing plans while it's investigating the anti-trust aspects, you can rest assured that they are talking. I hope they (AT&T) don't tell T-Mobile to stop any new builds," said one tower manufacturer executive.

Contractors at the show also had reservations about the consolidation.

"I gave up doing AT&T work because of the turfing vendor problems and we're doing quite a bit with T-Mobile. If this thing goes through there will only be three major players and we'll be asked to reduce pricing even further," said one Maine contractor at the show that attracted over 40,000 attendees.

Tower consolidators will also feel the co-location drain from the acquisition. One major tower company executive put a positive spin on the deal.

"I'm a half-glass-full kind of person," he said, not wanting to dwell upon possible negative consequences.

He might privately agree that on Sunday morning he woke up with a full glass and following the announcement a considerable amount of it was drained.

"All of the tower owners are talking about their multi-year leases with T-Mobile. Once this deal is put through the 8,000-pound gorilla is going to put pressure on the towercos to cancel them," said a site acquisition manager.
-
Ice takes out Wisconsin's tallest tower
March 23, 2011 - WEAU-TV's 1,998-foot broadcast tower collapsed about 8:30 p.m.
yesterday evening after ice assisted 40-mile-per-hour winds in toppling the state's highest structure.
The guyed tower is located near Highway H in the town of Fairchild in eastern Eau Claire County and stood on a hill that was 1,097 feet above sea level.
Station management said that there was ice as thick as 3½ inches surrounding some tower sections.

Revision G of TIA-222 identifies a maximum ice loading requirement in Eau Claire County of 3/4-inch. See database.

Parts of the tower fell on Highway H and closed the roadway until the steel was later removed this afternoon by county and state highway crews.

No injuries were reported following the collapse that damaged the station's transmitter building.

Efforts among other broadcast stations and a cable station provider allowed WEAU to return to the airways at about 10:35 a.m. this morning.

"I have to thank our fellow broadcasters," General Manager Terry McHugh said. "They all came together to help us. Their response was phenomenal."

He said building a new replacement tower could take six months to a year.

The tower ruptured an LP tank which tipped over and was allowed to vent out.

The structure went down during WEAU's telecast of NBC's "The Biggest Loser."
-
AT&T's acquisition of T-Mobile raises monopoly and profitability concerns across the U.S.
March 21, 2011 - AT&T Inc., known for its inability to keep up with growing mobile data usage, believes it has found the solution to its network woes, the acquisition of T-Mobile USA from Deutsche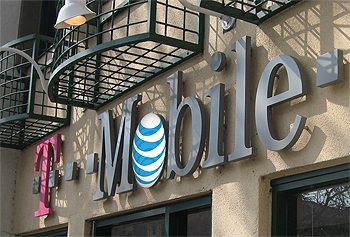 Telekom for a mammoth amount of money - $39 billion.
It may also be the final key to locking out any profitability for the nation's infrastructure suppliers and contractors.
AT&T's announced move yesterday will create the nation's largest wireless carrier if approved by U.S. regulators. AT&T will retire the T-Mobile name.
The deal, approved by both boards, would provide Deutsche Telekom with $25 billion in cash, the rest in stock. It would also provide Deutsche Telekom with an 8% stake in AT&T.
AT&T pitched the arrangement as a way to solve network congestion, by combining two operators using the same technology and alleviating a spectrum shortage that would keep T-Mobile from building a next-generation network.
The carriers said they would be able to make an estimated $40 billion in cost cuts.
The move will provide AT&T with nearly 130 million customers, about one third more than the current market leader by revenue, Verizon wireless, and more than twice as many as No. 3 Sprint Nextel Corp., which will have an even harder time competing.
Industry observers say that the acquisition isn't about subscriber bases, though; it's about improving AT&T's reliability and preparing it for the 4G era of wireless communications.
Earlier this month the nation's media picked up on a Bloomberg.com news report that
Sprint Nextel was reportedly in talks with Deutsche Telekom and the price would be between $15 and $20 billion.
The Wall Street Journal said that AT&T has committed to pay Deutsche Telekom a $3 billion fee, in addition to handing over some spectrum, if the deal doesn't close. These terms helped AT&T win Deutsche Telekom's support of the transaction, according to people familiar with the deal.
Good for AT&T, troubling for others
There will be some immediate casualties if the acquisition is approved. The first to suffer would be the expected loss of thousands of jobs. AT&T employs 267,000 people, while T-Mobile employs about 38,000 in the U.S.
The deal that combines the No. 2 and No.4 U.S. wireless carriers reduces the market to three national players: AT&T, Verizon and Sprint.
Handset makers, network equipment suppliers, Google and U.S. consumers are going to lose, according to a number of articles published following the announcement as the competitive landscape shifts.
Tower companies, infrastructure suppliers and especially contractors will be impacted by the carriers' marriage as well.
Earlier this year Deutsche Telekom said that it wanted T-Mobile to consider selling its approximately 8,800 towers in the U.S. to raise capital.
Analysts said the price could reach $2.75 billion, but yesterday's announcement will put a hold on any immediate consideration of selling those assets.
It may also create a serious competitor for the nation's two largest tower owners, Crown Castle International and American Tower Corporation.
Combined with AT&T's 10,300 towers, the 19,000-plus portfolio will be formidable competition.
In addition, AT&T will co-locate upon a T-Mobile tower wherever possible.
A New Jersey contractor views the deal as an opportunity to allow AT&T to further reduce its driver pricing on new site builds and upgrades.
"At least with T-Mobile there is an opportunity to work for someone else and marketplace competition allows for a small increase in AT&T's pricing based upon demand," he said. "But with AT&T becoming the primary player and knocking out a quarter of their competition, it's going to be the last straw for contractors. We might as well close up shop."
Recently AT&T has come under fire from contractors and suppliers for utilizing turfing vendors that will take 40% to 50% off the top for administrating site builds. See AT&T for turfing vendor concerns and contractor comments.
The consolidation also puts pressure on Sprint Nextel and Clearwire over the current tension between the companies regarding a pricing dispute as well as their plans for expanding Clearwire's current WiMAX network.
CTIA wireless 2011 will open tomorrow with the CEOs of the four largest U.S. mobile carriers sharing the stage for a keynote roundtable.
Yesterday's announcement will surely provide for a standing room only provocative discussion.
"They'll put a nice spin on it," said a small tower owner attending a pre-conference session this morning. "Unfortunately, it's the worst possible thing that could happen to the industry. They'll have a monopoly and every one of us will suffer. This must be challenged, but it's doubtful you'll see CTIA doing anything about it because AT&T and T-Mobile have too large of an influence in the organization."

Raymond James analyst Ric Prentiss downgraded American Tower, Crown Castle and SBA to outperform from strong buy following the AT&T announcement.

BC Capital Markets analyst Jonathan Atkin said he was standing by his outperform rating on all three stocks, recommending investors buy on the weakness. They weren't.

In mid day trading American Tower was down 8.5%; Crown Castle, -5.1% and SBA Communications, -9.8%.

In response to media requests regarding American Tower Corporation's exposure to the AT&T deal the company in a statement said for the year ended December 31, 2010, AT&T and T-Mobile accounted for approximately 20% and 8%, respectively, of American Tower's consolidated operating revenues.

ATC said it has separate leases for antenna space with AT&T and T-Mobile on the same site at approximately 3,100 communications sites owned or operated by American Tower. The revenue generated from T-Mobile on these sites represented approximately 4% of American Tower's consolidated operating revenues.

The average remaining current term on the long-term lease arrangements with AT&T is between nine and ten years, and with T-Mobile between five and six years.

SBA Communications says in an 8-K filing that as of today it has "separate leases for antenna space with AT&T and T-Mobile on the same tower at approximately 1,533 of the Company's 9,260 total current owned tower sites," and that, "The total annualized site leasing revenue generated by T-Mobile at these sites is approximately $40.1 million" while "the total annualized site leasing revenue generated by AT&T at these sites is approximately $53.6 million. The weighted average remaining current term of these leases is approximately 3 years."

Crown Castle International said in its press release that, "As of December 31, 2010, AT&T and T-Mobile represented 21% and 11%, respectively, of Crown Castle's consolidated revenues. Further, there are approximately 4,000 Crown Castle towers on which both carriers currently reside. Crown Castle's revenue from T-Mobile on these 4,000 towers represents approximately 6% of Crown Castle's consolidated revenues. In addition, there is an average of approximately 12 years and 7 years of current term remaining on all lease agreements with AT&T and T-Mobile, respectively.

AT&T expects the deal to close within 12 months if the Department of Justice's antitrust review is approved and FCC spectrum concerns are resolved.
-
NATE's Oklahoma show seen as a huge success
March 10, 2011 - With perfect weather, excellent presentations and sought after social events filling an event packed four days in Oklahoma City, the National
Association of Tower Erectors ended its 16th Annual Conference & Exposition on February 24 with attendees agreeing that it was one of the best shows NATE has held.
For pictures of the conference activities, click here.

"I attended many of the educational sessions and each one was exceptional," said Kevin Reski, president of Great Plains Towers who was accompanied by his wife, Joy, and a number of the company's tower technicians from West Fargo, ND.
First time attendee Glenn Cunningham, safety coordinator for Diverse Power Incorporated of LaGrange, GA said he was equally as impressed with the presentations.
Cunningham stated that his electrical cooperative was going to be expanding their tower portfolio and would be looking to develop co-locations on their structures.
"Safety has always been a top priority of our transmission line workers and it is important for us to ensure that we're fully compliant with any work being done on communications towers," he said.
Exhibitors were also impressed with the number of attendees visiting their booths.
"It's been a really good show for us," said Dana Lee, marketing administrator of Spinner Atlanta, Inc.
The "Best of Show" booths were presented to Midwest Unlimited, 10'x10'; Hutton Communications, Inc., 10'x20'; and Talley, Inc., 10'x30' or larger.
Criteria was based on a variety of items, with emphasis placed on how the booth designs incorporated the NATE 2011 safety theme - Tower Safety…It's Up To You!!
Additional criteria included: exhibit booth design and presentation, product display, appearance and creativity.
Next year's event will be held in San Antonio, Tex., February 6 - 9.
-
Routine tower maintenance finds a suicide victim at 1,000 feet in Michigan
March 10, 2011 - A broadcast tower maintenance crew in Oak Park, Mich. made a
dreadful discovery on Tuesday near noon when they found a dead body on top of the candelabra at approximately the 1,000 foot level of a 1,086-foot guyed tower owned by Richland Towers of Tampa, Fla.

Authorities did not provide the name of the company servicing the structure, but they said the technicians found the deceased man, Lasharr Gullap, 23, of Detroit, while they were doing routine maintenance work.

CBS's WWJ, MyNetworkTV-affiliate WMYD, and PBS-affiliate WTVS all went off the air on Tuesday afternoon in order to power down their antennas as rescue crews retrieved the body.

According to an Oakland County investigator with the Medical Examiner's Office following an autopsy yesterday, Gullap died of multiple blunt force trauma.

Investigator James Martinez said it appeared that Gullap climbed towards the top of the tower and jumped to the candelabra mount below where he lay for an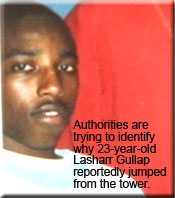 undetermined amount of days.

Gullap's family reported him missing to Detroit police on March 3, said Oak Park police Sgt. Jason Ginopolis.

"The last time they saw him was Feb. 28," Ginopolis said.

Witnesses on site said that he was wearing only a t-shirt and underwear. Temperatures fell below freezing during the past two weeks.

An elevator in the tower stops about 45 feet short of the top. Ginopolis said the man did not appear to have access to the elevator, which is kept locked.

"The only thing it's safe to assume is that he got there under his own power," Ginopolis said. "You have to climb the tower get to the top."
-
SBA COO's message:
Lower turfing pricing doesn't have to
evolve into a higher injury rate
February 24, 2011 - Although safety was the key component of SBA Communications Inc.'s Chief Operating Officer Kurt Bagwell's keynote speech yesterday during the
National Association of Tower Erectors' conference in Oklahoma City, he touched upon how middle management and turfing contractors have changed the landscape.
"Over time it's very hard not to get caught up with some of the project pressures, especially the way the site buildout model is," said Bagwell.
"By the time it trickles down and some of us get at it, it's very tough to make a buck," he said, noting that even though companies are being forced to accept today's business model of price point contracts, "with awareness with training, with constant vigilance, people don't have to get hurt."
Bagwell said that complacency is a contributing factor in high accident and fatality counts, not necessarily the drive for profitability.
"Why not slow down and do it right?" he said. "I think it's human nature. People get comfortable with something; they get good with something; they then gravitate towards simpler methods and they fall away from the discipline of not doing everything necessarily right. It's unfortunate, but I think that's what happens."
"It's a dangerous business, but it doesn't have to be," he told the audience at NATE's 16th annual conference and exposition.
Bagwell stated that while climber safety continues to be a challenge, current regulatory standards enforced by the Occupational Safety and Health Administration are adequate.
"Generally, we feel the current standards are sufficient if they're followed."
Bagwell complimented NATE upon being the voice of the tower construction industry, noting that CTIA and PCIA have evolved into organizations that do not represent tower erectors.
During Bagwell's presentation, SBA's Director of Risk Management, David Sams, said that SBA, whenever possible, would prefer to hire a NATE contractor.
Discounting the addition of any work in 2011 from LightSquared and Clearwire, Bagwell said the capex spending for the major carriers' expansion of their 3G and 4G networks will provide plenty of work in 2011 and beyond. "I think business is booming and will keep going," he said.
Bagwell emphasized that companies must make a financial commitment to safety.
"A safe environment costs money, but we're also saving money. If you're not running a safe operation it will catch up to you. I've seen small companies have one accident and they lost their whole business," he cautioned.
Alcatel-Lucent's new micro cells - that have some saying will replace towers - are not a major concern to SBA, and if anything, could free up space on their towers and assist in furthering deployment needs, according to Bagwell.
He said they were a "nice niche product".
Of the three major public tower companies, SBA is the only one that has successfully maintained and grown their construction services group.
Approximately 350 of their 750 employees are dedicated to construction. SBA expects to do approximately $700 million in revenue this year, Bagwell said.
American Tower Corporation used to have an equal amount of employees in their construction group, but sold that division, ATC Tower Services, Inc., for $10 million to Andrew Corporation in 2004. The group's annual sales were approximately $60 million.
Since then Andrew Systems, Inc. has considerably reduced the number of employees that were obtained in the acquisition.
-
Fatal fall is industry's first in 2011
February 22, 2011 - A 43-year-old Georgia tower technician fell to his death from a 300-foot self supporting tower in Okeechobee, Fla. on Sunday.


An Okeechobee County Sheriff's spokesman said that deputies were dispatched to the NW 144 Drive at 3:06 PM for a report of a person falling off a communications tower.

Employees of Davis Specialties of Waycross, Ga., were on the structure installing antenna transmission lines for South Florida Water Management, the owner of the tower. The antennas operate the locks along the river.

The victim and a co-worker were installing the wires on the tower about 110 to 120 feet off the ground when the victim, identified as Michael Anthony Scott of Hazlehurst, Ga., fell to his death.

Scott was the first industry worker to die in 2011 from falling from a communications structure.

This case is also under investigation by the Occupational Safety & Health Administration. OSHA will complete their own investigation on the job site and determine if safety measures were followed, authorities said.

Sott's safety harness appeared to be intact. The exact cause of death will be determined by the medical examiner's office.

The tower was constructed in 2009.
-
Commentary
Carrier is crippling nation's contractors
February 15, 2011 - AT&T Mobility no longer has exclusivity of the iPhone, and it doesn't hold the distinction of being the only carrier that is reducing capex, but it is the second largest mobile phone company in the nation and how it manages its infrastructure contractors is a strong indicator of how the industry will prosper.
It won't if AT&T's turfing firms continue their current practice of requiring their contractors to fund their business while reducing their margins and delaying payments.
AT&T has their turfing contractors manage the project for them, based upon hundreds of driver ID matrix prices.
The turfing contractor in turn lets their contractors know the maximum price they will pay per driver description and typically selects those businesses that can perform the job at the lowest price as long as they can meet insurance, safety and other pass down requirements.
It's a standard business model and it can work.
But it's not. And many contractors are at the crossroads of exiting the business or letting bankruptcy close their doors.
An ancillary effect as a result - in some cases - is that the carrier could be signing off on a poorly installed structure that can jeopardize its network. More importantly, contractor pressure to get the job done with overly ambitious price cuts will affect worker safety.
According to documents reviewed by WirelessEstimator.com, some management firms will take upwards of 40% or more of the amount provided by carriers on many project requirements.
Without knowing the sundry costs associated with these firms, it would be difficult to say that it's way too high.
What's not complicated to state is the remainder sparingly dished out to the contractor is way too low!
In addition to project management, the contractor has to pay for materials, expensive installation and test equipment, vehicles, on-going training, per diem, skilled and safe crews, warehousing and office space.
Then, such as in MN, add in a $28.47 per $100 workers compensation rate for tower technicians versus the turfing contractor's clerical rate of $.31 and many tier one contractors will find themselves trying to survive on an anorexic net of 5 to 8%.
That's if the contractor never saw a rain day; never had incorrect material delivered; never had a permit delay; never had remobilization or was saddled with unexpected consequences caused by others that were not reimbursable.
Plus, because the turfing contractors are primarily funding AT&T's project, they expect the contractor to bankroll their expenses.
It's not untypical to find payment policies by turfing contractors of pay-when-paid or net 90. That's presuming that a project manager didn't lose some paperwork or a field inspector misdiagnosed a problem.
From the issuance of a notice to proceed to the receipt of payment, oftentimes it can be 120 days or more, oftentimes past the allowable filing window for a lien.
One turfing contractor says they will assist the contractor in getting paid within 60 days. But it comes with a heavy burden - a required 5% reduction in their project price, making payday loan companies look like philanthropies.
Since the contractor is bankrolling the turfing contractor and AT&T, its financing must come from traditional lending sources such as banks.
Unfortunately, they're going to discount all receivables that are over 90 days.
Have no doubt about it. From day one, AT&T's buildout program sets every contractor up to fail; accepting work at the current pricing offered by the turfing contractors is not sustainable as a tier one contractor.
Second and lower tier contractors will be the first casualties.
Being a tower contractor has always been a hardscrabble business, but many have survived and prospered through their great efforts made in the face of difficulties.
Today, a number of new and successfully-established companies are barely holding on, risking everything they've worked for; putting up their homes, 401Ks, their children's college tuition and every other asset they can capture to keep afloat.
The odds are stacked against them.
A few years ago a turfing contractor established its own construction group to build a carrier's projects and awarded them contracts based upon the price levels being provided to other contractors.
They failed miserably and closed their wireless construction division. But they continue to expect their contractors to provide safe, quality installations at even lower price points.
If a turfing contractor fails - and it's possible - will AT&T compensate unpaid contractors? Contractually they're not obligated to, and by past experience with the major bankruptcy of AT&T contractor Prince & Associates, they will not.
The conundrum facing contractors is whether they should lien the tower owner for sites they've built and haven't been paid for or continue to fund the turfing contractor and let their remaining unused minutes go to waste and prevent them from placing a mechanic's lien.
In addition, most agreements require the contractor to waive its ability to file a lien.
There is an answer, say four of the nation's leading construction contractors contacted by WirelessEstimator.com: Have the turfing companies self perform with their own crews the management and construction or provide it to established companies that can.
AT&T used to successfully rely upon qualified contractors to develop and build their sites, emphasizing safety at all costs.
It's now all about costs. So much so that when tower technicians are seriously injured or killed while working on an AT&T installation, the carrier doesn't even contact the tower owner for information about the incident.
AT&T CEO Randall Stephenson said yesterday that the carrier's loss of its iPhone exclusivity has benefited the industry.
The loss of a worker's life, possibly through pricing and scheduling pressures, benefits no one, Mr. Stephenson.
--- CEL
.
CARE TO RESPOND TO THE AT&T COMMENTARY?
Please send your comments to info@wirelessestimator.com. All responces will be reviewed before they are posted. You do not have to provide your name with your comments; however, a city and state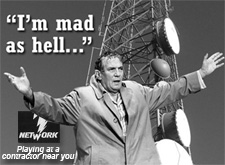 should be provided. No email addresses will be published.

March 27, 2011
Do workers' rights only apply
to AT&T workers?
The Communications Workers of America came out and supported the AT&T and T-Mobile deal.

No surprise there. AT&T is union and T-Mobile is not and you can rest assured that most of T-Mobile's employees will be . . . More.
.
LightRadio may lighten company profits
Eleven ounce base transceiver station
could shrink infrastructure business
February 8, 2011 - Alcatel-Lucent's unveiling of its mini base station yesterday - one that can literally be held in the palm of a hand - is receiving an enthusiastic reception
from carriers, but the new technology might not bode well for some wireless infrastructure businesses, according to industry observers.
Alcatel-Lucent's research arm, Bell Labs, has shrunk the radio components — diplexer, radio, amplifier and passive cooling — and put them into a small cube, weighing about 11 ounces, which can be connected to a fiber network.

Marketed as LightRadio, Alcatel-Lucent will begin customer trials in the second half of 2011, including China Mobile. The units will become available for commercial deployment in 2012.
"LightRadio is a smart solution to a tough set of problems - high energy costs, the explosion of video on mobile, and connecting the unconnected," said Ben Verwaayen, the chief executive of Alcatel-Lucent.

The new base station, according to Verwaayen, will cut the power required for a BTS as well as eliminate some of the physical infrastructure that goes along with it.
Alcatel-Lucent said it believes that both the power consumption and overall cost can be reduced by half, and that it could essentially replace a cell site with just the small component as well as the antenna.
Wim Sweldens, the president of Alcatel-Lucent's Wireless Division, said at the launch in London that the LightRadio cube can be used for 2G, 3G or 4G transmission as needed.
"At the click of a button, it can address any frequency used by any operator in the world," Sweldens said.
He stated that the device was capable of dynamically adapting the radio signal and radio power to address demand in real time. "This cube is a fully functional unit — you just need to connect it and you have replaced all these technologies."

Verizon may already be on board with the new technology and gave a conditional thumb up.
"Verizon looks forward to learning more about the benefits of LightRadio technology and how they could be applied as we continue to expand and evolve our LTE network," Tom Sawanobori, vice president of technology planning for Verizon, said in a statement.
Sweldens claimed that, over three years, LightRadio would be able to cut the total cost of owning and operating a mobile network by more than 50 percent.
He also stated that the units would have a tremendous effect upon reducing CO2 emissions.

Orange, Verizon, China Mobile and two other as-yet-unidentified operators have signed up for trials, he said.
LightRadio will be demonstrated for the first time at the Mobile World Congress in Barcelona next week.
If a number of carriers adopt Alcatel-Lucent's new BTS in the U.S., it could have an impact upon the revenues of tower companies, contractors and suppliers. The technology is drawing guarded interest and some skepticism.
LightRadio said at the launch that around 20 LightRadio stackable cubes would be needed to replace the average 3G base station, although this number can vary dramatically according to site traffic.

Cube is the beginning of a trend
Ericsson, Huawei and others have also been working on software-defined radio technology. But Sweldens believes that Alcatel-Lucent is the first company to announce plans for these products.

"This is indeed part of a general trend in the industry," he said. "But what we've done is made a breakthrough by building the smaller cubes that fit together. We feel pretty confident that we are the first to commit to such a product road map."

Installation costs to be pared
The technology will reduce the expense of base station installations. An average BTS would weigh 14 pounds and would not require foundations, extensive grounding and other contractor costs associated with current installation practices.
Compound footprints would be reduced and could affect lease rates.
A number of tower companies and suppliers contacted by WirelessEstmator.com said that it was too early to assess what the industry impact will be.
"This could be an operator-grade version of a femtocell," said one supplier.
A site acquisition specialist registered her concern about Alcatel-Lucent's announcement.
"For years we have had to field comments at hearings by residents who state that their community should hold off on making a siting decision because new technology is on its way that could replace towers. But they could never offer any documentation," she said. "They're going to run with this announcement."
The U.K's mainstream press is already heralding the BTS introduction with headlines that promote the demise of cell towers, stating that "Monster masts" will disappear with the advent of the new technology.

One well-respected website said: "LightRadio System to Eradicate Mobile Masts, Towers."

Not so, says Michael Jude, telecommunications program director for Frost & Sullivan.
"Coverage is a function of power, and a 6-cm cube is only going to be able to handle so much power," Jude told TechNewsWorld. "This approach could certainly improve coverage in urban areas, but it would be a total bust in rural areas, because the coverage footprint would be rather small."
Wall Street yawned regarding its potential affect upon tower company profits.
Although the Dow closed up 69 points yesterday, American Tower Corporation, Crown Castle International and SBA Communications all dipped slightly. At 11:00 a.m. today they had recovered most of their loss.
-
Towers kayoed by storm, stupidity and
reportedly the small-minded
February 7, 2011 - The station famous for giving Oprah Winfrey her start in high school went off the air last week when vandals cut the wiring in the equipment
enclosures of each one of the six-tower AM array in North Nashville, Tenn.
Station management for WVOL-AM said they believe it was connected to the open-air forum show of T. J. Graham, known as the "king of controversy".
Prior to the damage there was racially charged language used by callers, both black and white, as well as a lot of profanity.

Death threats have been sent to radio hosts.

Although local authorities and the FBI have been called in to identify who vandalized the towers, Mother Nature took full credit for knocking down an AM tower in Shelbyville, Ind. on February 3.

WSVX's management said ice from a severe winter storm caused the collapse of one of their guyed towers in their three-tower array.
However, no one from Next G Communications is taking credit for building a tower for Metro PCS in Brookhaven, NY on the lawn of a homeowner without the owner's or community's permission. It might be too embarrassing.
"I can find no better example of the abuse of our quality of life here in Brookhaven than this kind of corporate arrogance," Brookhaven Highway Supervisor John Rouse said.
Next G said they would remove the tower by Brookhaven's deadline of Feb. 13.
"This pole is coming down. And believe you me, if it doesn't come down at the hands of Next G we will be in that bucket truck, if I have to be in it myself taking it down," Rouse said.
Next G has put up nine other towers, but now they must be reviewed to see if they too have to come down.
-
New Jersey fire totals AT&T monopole
Updated January 25, 2011 - A monopole fire on Saturday in Tinton Falls, NJ closed an exit of
the Garden State Parkway as firefighters from five local fire departments extinguished the blaze which totaled the multi-carrier tower.

Firefighters were called to the scene at approximately 1:30 p.m. (See video below. Caution: coarse language)

A tower crew had been welding upon the structure when the transmission lines caught fire, according to firefighters on the scene.

The parkway exit was reopened later in the day.

Authorities contacted could not immediately identify who the contractor was that was working on the monopole when the lines ignited.

A SmitHahn Company Inc. crane was on site when the fire occurred. A request to the Bethlehem, Pa. welding, fabrication and erection company for additional information about the blaze was not returned

The 152-foot monopole, owned by AT&T, was completely destroyed. No injuries were reported.

Costly workers and damage
It is not known what the damage will cost AT&T and the contractor's insurance carrier, but the tab will be considerable after the extent of the destruction is assessed, possibly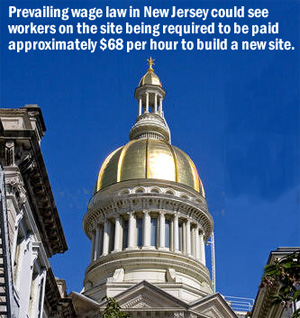 reaching $250,000 or more.
The location is one of AT&T's busiest interchanges along the parkway where I-195 connects travelers to Asbury Park and other bustling New Jersey shore communities.
The location, prior to the fire, already had a COW in place to handle traffic.
In addition, New Jersey requires that construction work on publicly-owned property, such as the AT&T monopole site, is subject to the prevailing wage law, even when the property is leased to a private business such as AT&T and the private business contracts for construction work.
The tab: a journeyman iron worker, such as a tower tech welding on the structure must be paid $37.34 in wages and $38.94 in benefits for a total of $76.28 per hour for straight time in Monmouth County. Although contractors can deduct for the annual cost of health care and other benefits, those might only total $6 to $8 per hour, still requiring payment to the worker of a healthy $68 per hour.
As onsite workers on Sunday startled dismantling the structure, their salaries could have been at a level of $136 per hour for double time wages.

Thirty-three states and the federal government have prevailing wage laws for public projects, but New Jersey's is the most far reaching.

Washington's laws also have a considerable impact upon worker wages. If 50% or more of a structure's improvement is for a state or local government entity, the project is considered prevailing wage.
-
T-Mobile's towers back on the bidding block with a price tag that could reach $2.75 billion
January 20, 2011 - T-Mobile USA attempted to sell their cell towers in 2007, but after
venture capitalists and tower companies spent two million dollars or more in due diligence and were ready to ink an agreement, at the eleventh hour the carrier bowed out, deciding that the timing and the potential returns were not right.
However, in order to raise additional funds for capital spending, a sale may be more attractive now, according to the head of the No. 4 U.S. mobile service's parent company, Deutsche Telekom.
Chief Executive Rene Obermann said today that a sale of T-Mobile's towers could generate "significant" funding to improve the financial self-sufficiency of T-Mobile, which has been a drag on Deutsche Telecom's results.
But he provided the expected caveat and cautioned reporters at an analyst meeting in New York stating, "We're definitely not in a rush," adding that a sale would depend on whether "the financials work out."
T-Mobile's most recent database count shows that the carrier has 8,782 towers.
According to industry observers, based upon the nearly 9,000 towers, offers would most likely begin at $2.25 billion and possibly reach $2.75 billion.
"It's been rumored for several months that T-Mobile would formally explore a sale of their towers as a way to raise capital to invest back into their network," said R. Clayton Funk, Managing Director of Media Venture Partners, LLC.
Wireless carriers, in the past, have viewed their towers as a core asset but that perception has been rapidly changing over the years, Funk said.
"Given how there is plenty of capital available for tower acquisitions and merger and acquisition prices are at all-time highs, T-Mobile's timing is perfect to maximize the value of their tower portfolio, "Funk said.
It's rare that a tower deal of this size comes to market and it should be of interest to the public companies and the larger privately held tower companies such as TowerCo and Global Tower Partners.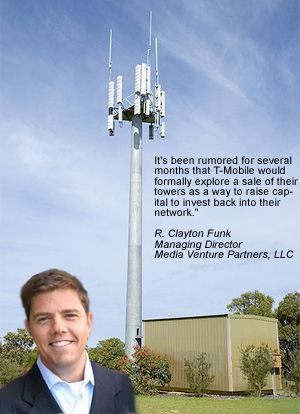 Over the years, carriers who have sold their towers and entered into leasebacks have figured out ways to maximize the value of their sites without sacrificing too much in terms of reserving future loading space on the towers.
"It's a relationship that has to make sense for both parties. The buyer is paying a price that they hope is attractive, but also one where they can still make money from the towers post-closing, while the carrier wants to ensure they are turning over the ownership of their towers to someone they can work cooperatively with in the future," Funk said.
Funk, who has orchestrated a number of large tower asset sales, believes that a sale-leaseback, operationally, makes sense for nearly every owner and operator whether they are a broadband carrier, broadcaster, government entity, or any other wireless operator.
"Tower companies are proficient at owning, managing and maintaining the sites so the former owner entering into the leaseback can focus on their core business of selling minutes, data plans, advertisements or programming. The biggest issue is if the deal makes financial sense to the seller. Given where tower valuations are in today's market there is a wide valuation gap that favors the carrier, broadcaster or operator," Funk said.

How T-Mobile addresses their network upgrades will affect the price offered for their tower assets.

If their expansion plans show that they're going to build out their high speed network through partnerships with Clearwire or LightSquared, additional co-locations for the acquiring tower company will be limited.

Who's at first?
Obermann stated at the presentation that out of its competitors in the U.S., T-Mobile owns the most towers.
According to WirelessEstimator.com's company ranking, AT&T Towers has a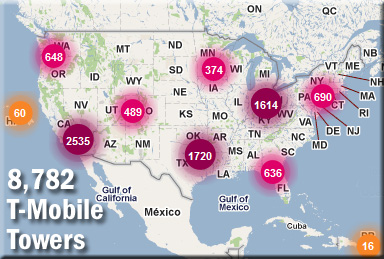 considerably larger portfolio.
Although AT&T states that they have 10,798 tower sites in their database as of Dec. 2010, after deducting pico cells, cell on wheels towers, rooftops without a tower, and other sites that would not traditionally fall under the heading of towers, the number is approximately 10,312, but still ahead of T-Mobile's count.
T-Mobile suitors from 2007 will have an easier opportunity to look at the carrier's current assets and provide a proposal.
However, T-Mobile's holdings totaled only 5,500 towers at that time. The majority of the carrier's new builds were constructed with added capacity and some with a committed client base.
For information regarding the 2007 race to buy T-Mobile's towers, click here.

-
Contractor projects put on hold - possibly for months
Space problem is fixed, but not LightSquared's earthly FCC and financial woes
January 18, 2011 - Boeing Space and Intelligence Systems announced on Dec.14
that the 22-meter-diameter L-band antenna on the SkyTerra 1 mobile broadband satellite had been successfully deployed after they encountered an unexpected problem that for weeks had threatened to torpedo the mission and a timely launch of LightSquared's $7 billion broadband network.
It was a largely unpublished problem that could have derailed the project for a period of time since LightSquared is required to maintain a functioning satellite to serve its customers outside the reach of its terrestrial network to provide mobile broadband throughout the United States.

The satellite was insured for about $268 million, a policy for which LightSquared paid a $37.5 million premium. A second identical satellite is nearly completed at Boeing and presumably could be launched within a year if needed. LightSquared said it has spent $600 million to launch the first satellite.

However, there was an even greater challenge for LightSquared's executives.

Over 22,000 miles below LightSquared's satellite, the National Telecommunications and Information Administration was creating an even bigger problem for the fledgling LTE network provider.
The NTIA informed the FCC on Jan. 12 that several federal agencies including Homeland Security are concerned that LightSquared's satellite-terrestrial LTE network will interfere with government communications services.

NTIA chief Lawrence Strickling said that LightSquared's hybrid mobile broadband services raise "significant interference concerns."
LightSquared wants the FCC to issue a waiver that would let it offer terrestrial-only LTE services on its satellite spectrum. NTIA wants the FCC to defer that waiver until the interference concerns from the federal agencies are addressed.

LightSquared said it will meet the FCC's integrated service requirement by ensuring that dual-mode handsets are available, but their wholesale model draws no economic or technical distinction between end users who select dual-mode handsets and end users who do not make this selection.

LightSquared also informed the FCC that it will charge the same integrated price to all of its retail customers, without regard to handset, and all traffic will be carried on the same integrated core network regardless of whether it originates on the satellite portion of the network or the terrestrial portion.

Strickling asked the FCC to work to ensure that LightSquared's services do not affect federal communications services such as GPS receivers, maritime and aeronautical emergency communication systems, and Inmarsat receivers.

Public comments regarding LightSquared's request are available here.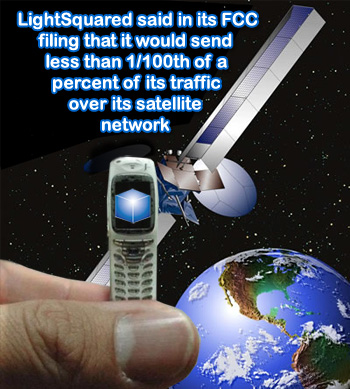 "Grant of the LightSquared waiver would create a new interference environment and it is incumbent on the FCC to deal with the resulting interference issues before any interference occurs," Strickling said.

Strickling also stated that as the number of terrestrial base stations increases and/or the duty cycle of base station transmissions increase to support the new network, NTIA is concerned that the likelihood of GPS and GNSS receiver in-band interference will also increase.

LightSquared CEO Sanjiv Ahuja informed Strickling that his company would organize and lead an industry group to examine the interference concerns.
Ahuja said a final report would be released in July. He said that LightSquared would commit up to $20 million for the study.

LightSquared said in a November filing to the FCC that it would provide 500 kilobytes of satellite capacity for every gigabyte of terrestrial capacity, indicating that it would send less than 1/100th of a percent of its traffic over the satellite network.

LightSquared hopes to convince the FCC that the traffic split still means it's providing a dual-network service, and squares it away with the constraints attached to its spectrum.

Adding to LightSquared's troubles, Reuters reported last week that employees at Harbinger Capital are departing on the heels of investors in the fund pulling out their money and shrinking the asset base.
Reuters says Harbinger has tied up 40 percent of its assets in LightSquared, and its investors are anxious.
Joining the nervous investors' concerns are tower owners, contractors and suppliers, who are banking upon the $7 billion nationwide network that has promised 40,000 sites with 5,000 going up in 2011.
A number of contractors contacted by WirelessEstimator.com said that their projects have been put on hold and they believe it had the potential to become a nationwide shutdown until LightSquared's interference and funding concerns are resolved.

Brighter spot than LightSquared is Clearwire
LightSquared's troubling industry news was offset partially by the announcement today that Clearwire's board of directors has elected noted dealmaker John Stanton as chairman of the company, replacing Craig McCaw, a Clearwire founder who resigned last month.

Stanton has served on the WiMax carrier's board since 2008 and has a long track record in the mobile industry. He was chairman and CEO of Western Wireless from 1992 until 2005, after it was acquired by Alltel. He also served long stints as chairman and as CEO at VoiceStream Wireless, which later became T-Mobile USA.

T-Mobile has been seen as a possible partner for Clearwire, with T-Mobile turning to Clearwire for spectrum while providing an additional source of subscribers to the WiMax network. Given his historical connection to T-Mobile, having Stanton in the chairman's seat might help in discussions with that carrier, according to industry analysts.
-
Two iconic towers; one is forced to retire
January 17, 2011 - Amongst many, America has two tower icons, but one will end up in
the junk yard this week and the other might gain national prominence and be assured longevity.

A 432-foot self supporting tower has stood in the center of Honolulu since 1962 but it's almost completely down.

A crew from Sky Jack Communications, in Hanapepe, HI started dismantling the structure in October of last year and were supposed to be finished by now, but weather conditions and structural challenges have held up consistent progress.

The now-vacant structure was owned by Raycom Media and most recently aired DTV signals for KGMB-TV (CBS) until October 2009, when it combined news operations with KHNL (NBC) and KFVE (MyNetwork TV).

The three stations are now co-located at KHNL's facility in Kalihi, on Palehua Ridge, which overlooks downtown Honolulu.

"We're taking this down in a neighborhood with people walking underneath on the sidewalk and cars going by on the street," Rick Blangiardi, general manager of Hawaii News Now, a Raycom Media company.

For years the tower stood out at night in the Honolulu skyline, but the tower site and studios are being converted into 17,000 square-foot retail and restaurant complex.

WSM Tower could be put on register
If Tennessee's State Review Board recommends it, and the U.S. Department of Interior agrees, Brentwood's iconic WSM transmitting tower at Concord Road and Interstate 65 will become the newest historic site on the register. It was built in 1932.

On Wednesday, the State Review Board will meet to discuss whether the radio tower and transmission complex, plus eight other proposed Tennessee sites, should be placed on the National Register of Historic Places.

For almost 80 years, the WSM-AM 650 radio antenna on Concord Road has transmitted a signal that has brought The Grand Ole Opry to the world.

WSM, which first went on the air in 1925, started using the tower on Oct. 5, 1932. Previously, the station started using a much smaller tower in Nashville.

A local historian said the tower's installing contractor hired out mules in the area to pull the cabling that would erect the antenna.

In the early years, broadcasts came from a studio at Seventh Avenue and Union Street in Nashville and were carried to Brentwood and the tower through analog telephone lines.

Today, WSM transmits from a studio at the Gaylord Opryland Resort & Convention Center via digital phone connection.

When it was built, the Brentwood tower was the tallest in North America. Originally, the diamond-shaped Blaw-Knox tower was 878 feet, but the top 70 feet were removed in 1939 to provide better reception.

The Blaw-Knox company was a manufacturer of steel structures and construction equipment based in Pittsburgh, Penn. The company was best known for its radio towers, most of which were constructed during the 1930s in the United States.

Although Blaw-Knox designed and built many kinds of towers, the term Blaw-Knox tower usually refers to the company's unusual "diamond cantilever" design, which is held upright by guy wires attached only at the vertical center of the mast, where its cross-section is widest.
-
Monopole blaze becomes up close and personal for California firefighters
January 14, 2011 - Neither snow nor rain nor heat will keep mail carriers from their
appointed rounds - unless the heat is from a flaming monopole.

Rancho Cucamonga, Calif. postal service workers were evacuated yesterday along with fire station employees when a nearby monopole caught fire while a tower crew was working on the structure.

Firefighters at Station 171, 6627 Amethyst Ave., reported the blaze about 10:20 a.m. after seeing smoke and flames coming from the top of the tower.

About 35 firefighters put out the blaze by 11:20 a.m., according to Eric Noreen, acting battalion chief for the Rancho Cucamonga Fire Department.

Noreen said firefighters were worried the tower would collapse into the fire station and post office.

Although it will need to be replaced, the monopole did not fall and evacuees were eventually allowed back into the buildings.

BCI Communications West employees were working on the tower when the transmission lines ignited.

Crews worked overnight dismantling the remainder of tower which was totally destroyed by fire, authorities said.

The fire station has two cell towers on its property.

There were no reported injuries and the fire station was not damaged.

It was not immediately known who owned the tower or if the tower crew was welding on the structure when the coaxial cable ignited.
-
Suffering from a narcissistic personality disorder
Guilty cell site developer could receive
55-year prison term, $2 million fine
By Craig Lekutis, Publisher, WirelessEstimator.com
January 6, 2011 - On a talk radio business show broadcast in July of 2008 - What Does It Take To Become a Billionaire Entrepreneur? - well-known wireless cell site build-to-suit and project management entrepreneur Clovis Prince cautioned his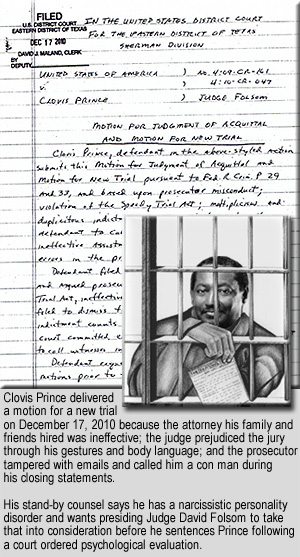 audience to recognize that "Some of the things you need in business to be successful is to have a strong business plan; a strong financial model; have a strong financial institution behind you as well as having a strong exit plan."
However, when Prince's numerous enterprises started to fail after his strong financial institutions were no longer standing behind him, but suing him, and he was in the throes of bankruptcy, his exit plan in 2010 included a high speed car chase as federal agents tried to arrest him in Oklahoma City, Okla. on March 17.
He lost control as he turned his lights off during the pursuit and crashed his 2007 Lexus - a step down from his $200,000 Bentley that had been recently repossessed - and while injured, tried to run away from the agents and a city patrolman.
After being captured he was transported to the University of Oklahoma Presbyterian Medical Center and kept overnight for observation, providing him with another opportunity to review his exit strategy.
The following morning Prince said he needed to use the toilet and was escorted by a hospital worker and an agent to the nearest restroom.
After a few minutes the federal agent heard a loud crash and then forced open the barricaded door where he found the toilet pulled away from the wall with ceiling tiles scattered around it.
The agent said that it appeared that Prince was standing on the toilet in an attempt to pull himself through the ceiling and escape.
Another strategy in Prince's exit plan was to falsely state that he was not a beneficiary in a family trust although it was later found that he was; and he illegally transferred money during his bankruptcy proceedings.

Or so say the jurors for the U.S. District Court for the Eastern District of Texas who convicted him on December 9, 2010 of 23 counts of bankruptcy and 15 counts of bank fraud and money laundering after less than three hours of deliberation after a 14-day trial.
They also returned an additional verdict of a judgment in the amount of $15,477,554, money illegally obtained by Prince, most of which is unaccounted for in his bankruptcy financial statements.
U.S. District Judge David Folsom has withheld sentencing for Prince, who elected to serve as his own counsel for the bank fraud and money laundering counts, until he receives a psychological study to determine if Prince is suffering from "diminished capacity".
His standby attorney in the trial, Sherman attorney Don Bailey, believes that the evaluation will show that Prince suffers from a narcissistic personality disorder and he wants Judge Folsom to consider Prince's personality disorder before sentencing him.
Prince did not oppose the motion which stated that he has a grandiose sense of self-importance.
Sentencing guidelines for the 38 counts allow for up to 55 years in jail and a $2 million fine.

Entrepreneurial icon to con man
In his closing argument, U.S. Assistant United States Attorney Randall Blake
described the 60-year-old Prince as a "con man".
Also, Judge Folsom didn't appear to be fond of Prince's pretrial and courtroom behavior which included numerous motions for mistrial and continuance as well as multiple attorney changes.
He ordered Prince to be ready on December 8, 2010 to make his closing arguments after Prince claimed he was suffering from dehydration, although medical tests identified that he was not.
Judge Folsom wrote that "The Court is of the opinion that Mr. Prince is attempting to avoid trial by misrepresenting or exploiting his medical condition."
The judge said that after innumerable attempts at delay, the court was not surprised by Prince's alleged medical situation.
"In fact, the court anticipated and expected such an occurrence," Judge Folsom said.
He further stated that it was "no more than another attempt by Mr. Prince to delay proceedings and to game the system."

The rise and sudden fall of Clovis Prince
Clovis Prince was born in 1950 in Guthrie, Okla. and was the middle child of 12 children in a family where his father fostered a strong work ethic, according to Prince.
"I guess I started becoming an entrepreneur at age six. I started cutting yards in my neighborhood so that I could have some additional money," Prince said during a radio talk show in 2008.
Prince attended the University of Oklahoma where he earned his B.A. degree in 1971.
After graduating from college, Prince was hired by General Motors as a manager and worked in that capacity until 1985, according to an interview he provided to African American HistoryMakers.

In 1986, he said he founded Prince & Associates which among other services, the company provided legal assistance to the public and private sector, an area of expertise that would later assist him with court filings as he represented himself against federal bank fraud charges.

A rich work history rife with inaccuracies
However, whereas Prince told HistoryMakers that he was working for General Motors until 1985, he informed another interviewer that he was at that time heavily entrenched in the wireless industry and not the auto industry.
"We started in the 70's and we completed in the 80's, so I guess the very first network that we turned hot was like '81, '82," he said during the interview where he also stated he was the project/program manager for the very first cellular network built in the U.S.
"We built about 60 sites and was able to launch a cellular network, and the rest is history," said Prince.
In 1991, Prince said he expanded his wireless business throughout the United States and overseas, which would have been a difficult task since he was serving a prison term at that time.
On February 27, 1986, Prince was convicted on 25 counts of mail fraud and sentenced to 15 years in prison. His crime: He collected for auto parts which he did not deliver.
He began serving his sentence on or about March 21, 1986. Prince then escaped from a halfway house around May 27, 1991, and he was apprehended in July 1992. He was released from prison on or about February 26, 1993, Blake said.
Judge Folsom ruled that the incarceration information could be presented to the jury following the prosecutor's argument that Prince "made fraudulent misrepresentations about his work experience in order to gain the trust of banks and to create the image that he was an exceedingly skilled and successful businessman with whom a loan of a million dollars could be entrusted."
He said, however, that the prosecution could not let jurors know about Prince's escape since it was not relevant to his intent to defraud.
Please see: Carriers and contractors taken in by Prince
- -