Material and Installation Information

Mat Foundation
The mat foundation design is used for monopoles and self supporting towers as well as the support structure for a guyed tower base. Excavation, carpentry, concrete and reinforcing steel skills are required to provide a safe, as-designed installation.
Using the correct loading, a structural analysis of the tower must be provided with base reactions in order for an engineer to provide a foundation design. A geotechnical/soil report is normally required in order to obtain sealed design drawings for a building permit.
Even though a mat foundation is one of the easier foundations to install, its monolith design requires installation by foundation professionals.
Although the specifications will provide you with the reinforcing steel sizes and placement, concrete PSI requirements and the mat size, the excavation and formwork requirements are to be designed by the contractor. Soil conditions for some sites may allow the walls remaining after the excavation to serve as forms; other sites may require full forming. See formwork .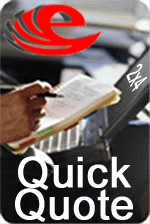 The default pricing is a baseline of averages throughout the country for a mat foundation in normal soil within 120 miles of the contractor's office. The total includes excavation, forming materials, reinforcing steel, 3000 PSI concrete and installation. The size of the foundation will influence the cubic yard pricing provided. Prices will vary based upon soil conditions, location and additional design requirements. Add concrete testing to your proposal. If your bid documents require you to provide a proposal using "normal soil" conditions, try to get the owner to provide soil borings with a report to ensure a competitive bid environment.
Mat Foundations

Monopole and Self Supporting Tower
In "My Estimator" enter the mat square and mat depth for total cubic yards and average baseline pricing.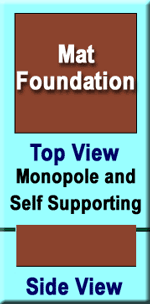 We recommend that you contact our listed foundation installation companies to obtain additional information about their services, capabilities and experience.