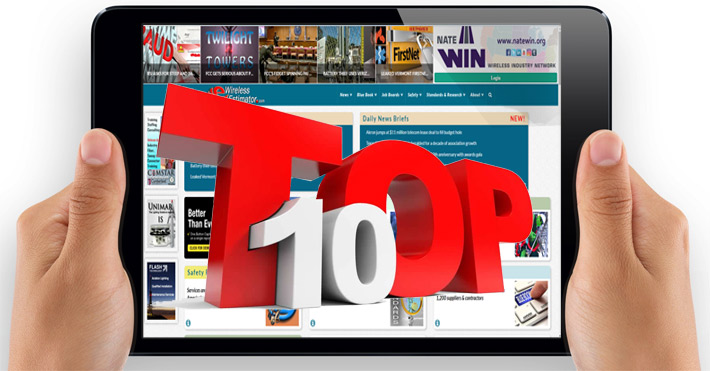 Below are the top 10 articles that appeared in Wireless Estimator during 2017 based upon the number of views each one received, such as the September rigging accident that claimed the lives of three industry workers. It had 6,000 Facebook likes, was shared on LinkedIn over 900 times, and had been viewed over 48,000 times
With Wireless Estimator's safety-centric audience of over 378,000 users who viewed over 1.5 million pages in 2017, according to Google Analytics, fatalities are typically the most viewed articles and were the top five stories detailing seven deaths, but four of them are not listed below in order to show other high-trafficked articles such as a story about a violent contractor charged in a Department of Defense bribery scheme. Over 26,000 Wireless Estimator viewers read the article.
A news article that doesn't have as many views as another story doesn't necessarily identify that it wasn't important to industry readers. It just meant that it appealed to a more select group of the site's viewers.
In reviewing article statistics, coming in with the lowest views were articles pertaining to the FCC, its disdain for net neutrality and its commissioners' omnipresent squabbles; however, one story about an industry worker illegally taking ownership of over 40 towers in the FCC's database captured over 21,000 views.
Nonetheless, even if it had only 21 views, the many hours it took to research documents, conduct interviews and write the article were well worth the effort since it exposed the problem of a database flaw that allowed the thefts to occur.
Fake news also made the top 10
One article that made this year's top 10 was a fake story about Ivanka Trump putting in a hostile bid on April 1 for conglomerate 3M in order to capture its crown jewel, DBI-Sala.
Published on a Saturday, the April Fool's satire was read by many thousands of viewers.
---
2017's TOP 10 NEWS ARTICLES
Three Tower King techs killed in Florida after gin pole rigging failure
Violent Florida contractor charged in $16 million DOD bribery and kickback conspiracy
FCC investigating unlawful transactions after contractor takes ownership of 40-plus towers
Engineer sentenced to 8 years for billing over $400K for missing equipment, 6 tower climbs
Cover girl climber shot could send high schoolers to their death
Mobilitie thumbs its nose at Houston's pedestrians as it plants poles in the middle of sidewalks
Endangering daughter's life on communications rooftop is beyond comprehension
Dumb RF engineer who shut down smart meter base stations is sentenced to jail
One tower installation error adds up to a half million dollar add on
Ivanka puts in a hostile bid for 3M, wants crown jewel DBI-Sala