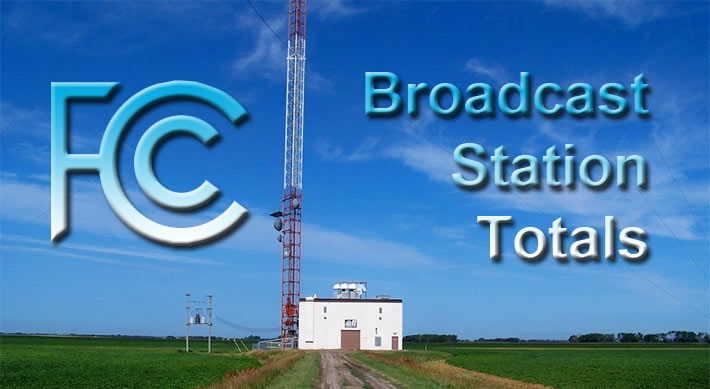 According to newly released statistics by the FCC, the nation saw an addition of 449 broadcast stations, the majority being 246 low power FM stations as of March 31, 2017.
Low Power FM (LPFM) radio stations are authorized for noncommercial educational and public safety and transportation broadcasting only and operate with an effective radiated power (ERP) of 100 watts (0.1 kilowatts) or less, with maximum facilities of 100 watts ERP at 30 meters (100 feet) antenna height above average terrain.  The approximate service range of a 100 watt LPFM station is 5.6 kilometers (3.5 miles radius).
(VIEW BROADCAST CATEGORY COUNTS BELOW)
The quarter saw the continuing decline of AM stations, losing three broadcasters. During 2016, the nation saw 15 struggling stations go off the air.
A total of 189 additional stations were represented by AM and FM translators and boosters, and TV translators.
Translator stations are primarily not new stations, but are stations that rebroadcast the signal of a broadcaster to provide service to areas in which direct reception is unsatisfactory due to distance or terrain barriers.
They may also be used by a radio station on either AM or FM to establish a presence on the other band.
The FCC will see the biggest drop ever in their TV station count following the contractual completion of the reverse auction when broadcasters are given the opportunity to be paid and relinquish their licenses.
Broadcast Stations
Total Broadcast Stations as of March. 31, 2017 compared to Dec. 31, 2016

AM STATIONS
4666

(3)

FM COMMERCIAL
6754
8
FM EDUCATIONAL
4112
11
TOTAL
 
 
15,532
16
UHF COMMERCIAL TV
1033
0
VHF COMMERCIAL TV
350

(1)

UHF EDUCATIONAL TV
289
0
VHF EDUCATIONAL TV
105
0
TOTAL
 
 
1,777

(1)

CLASS A UHF STATIONS
393
0
CLASS A VHF STATIONS
24
0
TOTAL
 
 
417
0
FM TRANSLATORS & BOOSTERS
7453
200
UHF TRANSLATORS
2905

(6)

VHF TRANSLATORS
873

(5)

TOTAL
 
 
11,231
189
UHF LOW POWER TV
1598

(2)

VHF LOW POWER TV
367
1
TOTAL
 
 
1,965

(1)

LOW POWER FM
1924
1,924
246
TOTAL BROADCAST STATIONS
 
 
32,846
449

Total Broadcast Stations as of Dec. 31, 2016 compared to Dec. 31, 2015

AM STATIONS
4669
 

(15)

FM COMMERCIAL
6746
45
FM EDUCATIONAL
4101
 6
TOTAL
 
 
15,516
 36
UHF COMMERCIAL TV
1033
2
VHF COMMERCIAL TV
351

 (5)

UHF EDUCATIONAL TV
289
 0
VHF EDUCATIONAL TV
105

 (1)

TOTAL
 
 
1,778

 (4)

CLASS A UHF STATIONS
393
 7
CLASS A VHF STATIONS
24
 5
TOTAL
 
 
417
 12
FM TRANSLATORS & BOOSTERS
7253
 747
UHF TRANSLATORS
2911
 147
VHF TRANSLATORS
878
 38
TOTAL
 
 
11,042
932
UHF LOW POWER TV
1600
 127
VHF LOW POWER TV
366
 17
TOTAL
 
 
1,966
 144
LOW POWER FM
1678
1,678
245
TOTAL BROADCAST STATIONS
 
 
           32,397
1,365

Total Broadcast Stations as of Dec. 31, 2016 compared to June 30, 2016

AM STATIONS
4669
 

(7)

FM COMMERCIAL
6746
 32
FM EDUCATIONAL
4101
 2
TOTAL
 
 
15,516
 27
UHF COMMERCIAL TV
1033
 1
VHF COMMERCIAL TV
351

 (2)

UHF EDUCATIONAL TV
289
 0
VHF EDUCATIONAL TV
105

 (1)

TOTAL
 
 
1,778

 (2)

 

CLASS A UHF STATIONS
393

 (9)

CLASS A VHF STATIONS
24
 8
TOTAL
 
 
417
 

(1)

FM TRANSLATORS & BOOSTERS
7253
 437
UHF TRANSLATORS
2911
 120
VHF TRANSLATORS
878
 11
TOTAL
 
 
11,042
 568
UHF LOW POWER TV
1600

 (102)

VHF LOW POWER TV
366

 (22)

TOTAL
 
 
1,966

 (124)

LOW POWER FM
1678
1,678
 113
TOTAL BROADCAST STATIONS
 
 
 32,397
581