American Tower's Sharma seen poised in India for inking the best opportunities
October 18, 2007 - India's Bharti Airtel and Reliance Communications are planning to sell up to 25-percent equity in their tower business, and American Tower Corporation appears to be positioned to zero in on the offerings guided by their head of Asian operations, Amit Sharma.
Sharma joined ATC last month as president of the tower company's Asian operations and is based in the company's new office in Delhi, India. He is also responsible for pursuing opportunities to extend ATC's wireless communications site leasing business into Southeast Asia, according to Chief Executive Officer, Jim Taiclet.
Although ATC established a meaningful presence in Mexico in the late 1990s, at a time when wireless subscribers totaled 6.9 million in the country, they managed to be very successful with a relatively unseasoned management team.
For their entrance into India, the world's fastest growing wireless market, ATC sought experienced leadership and was fortunate to bring on board Sharma who has led country teams in India and Southwest Asia for Motorola since 1992.
He also served on Motorola's Asia Pacific Board and was a member of its senior leadership team. Prior to joining Motorola, Sharma was with GE Capital, serving as Vice President, Strategy and Business Development, and prior to that, with McKinsey, New York, serving as a core member of the firm's electronics and marketing practices.
Industry executives say that Sharma has the capability and contacts to provide ATC with a presence throughout Southeast Asia. However, given government regulations and many carriers' insistence upon maintaining a controlling stake, it is doubtful that the U.S.'s second largest tower company will be able to purchase a large tower portfolio to create a country-wide footprint.
According to a recent research report by First Global Securities Ltd, the Indian telecom industry will need another 150,000 towers by 2011, when the country reaches the 500 million subscriber mark. Bharti Infratel Ltd, the tower ownership subsidiary of Bharti Airtel, will have nearly 61,000 towers by 2010, while Reliance will have around 50,000 towers by then, the research reports.
India doesn't have a history of bidding prices for tower buys and analysts are waiting for the nation's first large portfolio purchase to estimate potential returns on ATC's and other tower companies' investments. However, the answer might come soon.
"We are already in discussions with several operators in the country," Sharma told India's press last week.
Sharma earned his MBA in International Business from the Wharton School, University of Pennsylvania, where he was on the Dean's List and the Director's Honors List. Sharma also holds an MS in Computer Science from the Moore School, University of Pennsylvania, and a Bachelor of Technology in Mechanical Engineering from the Indian Institute of Technology.

Contractor CEO back at the helm after accident
October 17, 2007 - Tower and Land Communications, located in Pompano Beach, FL, has announced that wireless industry veteran Nancy Nieto has returned to work full time after a devastating non-work-related accident that left her in a coma for six weeks, in the hospital for months and in physical therapy for several more months.
Twenty-four months later, the wireless contractor's CEO is back to work full time and determined to pick up where she left off.
"Although this has been a very trying time for me, my family and my team, the support I have received from clients has given me the strength and desire to resume my responsibility at the forefront of a company that has so much to offer and an endless possibility to succeed," said Nieto.

Cattle car tower buy of 338 structures made
by Tower Ventures
October 11, 2007 - Tower Ventures, a national provider of wireless communications structures located in Memphis, TN, has acquired 338 towers which will be marketed to all wireless and broadband carriers. The towers were purchased from Global Tower Partners, according to a company spokesperson. A purchase price was not disclosed.
"The acquisition takes Tower Ventures from its traditional role as a regional tower owner to a national player in the wireless infrastructure business," said Billy Orgel, President, Tower Ventures. "We look forward to repositioning this portfolio and marketing it to existing and new wireless tenants."
Tower Ventures complete portfolio includes 400 sites in 22 states across the U.S. providing strategic solutions for carriers and the coverage needs of their customers. The site locations allow Tower Ventures to be a strong competitor in each state's major cities with sites also available in growing rural areas. For additional information, visit www.towerventures.com.

American Tower Corporation chief will head wireless infrastructure association
October 10, 2007 - PCIA - the Wireless Infrastructure Association announced its new Board Officers during its 5th Annual Wireless
Infrastructure Show in Orlando, FL, last week. James "Jim" Taiclet will serve as PCIA's new Chairman.

The Board consists of James "Jim" Taiclet, Chairman, Chairman & CEO of American Tower Corporation; Marc Ganzi, Vice Chairman and Secretary, CEO & President, Global Tower Partners; Thomas (Tam) Murray, Treasurer, Founder & Managing Member, Community Wireless Structures; John P. Kelly, President & CEO, Crown Castle International; Jeffrey A. Stoops, President & CEO, SBA Communications Corporation; David Weisman, CEO, InSite Wireless, LLC; and Michael T.N. Fitch, President & CEO, PCIA.

"I thank Jeffrey Stoops for his guidance as past Chairman of the Board." said Michael Fitch, President and CEO of PCIA. "Our organization continued its growth during his tenure as Chairman and will continue our successful efforts on behalf of the wireless infrastructure industry."

Optasite secures $85M in new funding;
agrees to acquire 210 towers
October 2, 2007 - Tower consolidator Optasite Inc., based in Westborough, MA, has secured $85 million in new funding, bringing the company's total financing raised to date to more than $330 million, the company said.
With the new funding, Optasite also announced it has entered into agreements to acquire 210 towers, bringing the total number of Optasite-managed towers to 511 in 29 states and the U.S. Virgin Islands.
The funding included a Series D round of equity led by Citi and a $50 million subordinated debt facility from Morgan Stanley. Columbia Capital, an investor in the company's first three equity financings, also participated in the Series D round, according to Optasite.
Jim Eisenstein is the vertical realtor's chairman and chief executive officer. Prior to joining Optasite he was CEO of Concourse Communications Group LLC, a developer of in-building distributed antenna systems. He also served as chief development officer for American Tower Corporation, a company he helped to found in 1995.

Ranking high in magazines' picks, MUTI moves to its new facility in Champaign, IL
October 1, 2007 - Midwest Underground Technology, Inc. has moved into its newly constructed 60,000-square-foot office and warehouse complex located at 2626 Midwest Court in Champaign, IL.
The new facility was designed to accommodate the rapid growth and expansion of MUTI's numerous industry capabilities and its customers. In addition to a modern, high tech office environment, the new facility will provide secured warehousing storage for customers, computerized material control features, streamlined project material staging, loading, and off-loading.
The facility has over 60 power and telco supplied shelter storage locations, a gantry crane for timely and safe handling of shelters, a modernized vehicle repair and a maintenance facility as well as a beta tower for testing various industry related antennas, attachments, and coax.
Additionally, the tower will serve as a safety training structure for climbing and rescue training. The facility is located adjacent to Interstates 72 and 57.
MUTI's growth, sales and profit, during 2006 warranted being listed as the 199th fastest growing, profitable company in the US, according to Entrepreneur Magazine's list of 500 companies they surveyed.
"This is a phenomenal accomplishment after seven years of being in business, and reflects the character and vision of MUTI's, management and employees," said Darrin Peters, the company's president.
MUTI was also listed as number 1,036 on Inc. magazine's 5000 list, and number 65 in the Inc. 5000 top companies in construction.
William Vance is the company's executive vice president.

CellXion acquisition will position Sabre Industries as leading full service tower and shelter provider
September 18, 2007 - Corinthian Capital Group, LLC has announced the acquisition of CellXion, LLC and the establishment of a new holding company, Sabre Industries, Incorporated. Sabre Industries, Inc. will be the parent company of both Sabre Communications Corporation and CellXion, LLC, and the combined operations will include: Sabre Towers and Poles, Sabre Site Solutions, Sabre Tubular Structures, Sabre Defense and Homeland Security Systems, CellXion, LLC and CellXion Wireless Services, LLC.


The combined entities have manufacturing facilities located in Sioux City, Iowa; Fort Worth, Texas; and Bossier City, Louisiana.

Through its various divisions, Sabre Industries will continue to be focused on providing infrastructure products and services to its clientele across various domestic and international markets.
James D. Mack, President and Chief Executive Officer of Sabre Industries, Inc., stated, "This transaction combines the world's leading tower manufacturer with the largest telecom shelter company. Sabre Industries, Inc. will be the only company in the tower industry that can offer customers a complete package. The increased capacity and broad range of products and services offered provide Sabre Industries, Inc. with unsurpassed capabilities."
Steve Schoonover, Chairman of CellXion, LLC, said, "This is the most exciting combination in the telecom infrastructure products and services industry I've seen during my 25 years in the business. I used to tell my customers that nothing happened on a site until the building got there. Now Sabre Industries, Inc. can build the site, manufacture the tower and shelter, install the equipment, and turn on the site. That is a powerful combination."
Both Sabre and CellXion will retain their brand names, facilities, executive staff and sales force. Located in Bossier City, Louisiana, the addition of CellXion doubles Sabre's number of employees and adds sales offices throughout the United States. Together, they will provide customers with towers and monopoles, tower accessories, equipment shelters, equipment integration, and a full range of site construction and field maintenance services.
Charlotte Wingfield, President of CellXion, LLC, noted, "We are pleased that Corinthian Capital Group has given us the opportunity to join Sabre Industries, Inc. This exciting merger will create new products and services for our customers and new opportunities for our management team and employees. Our combined management teams will focus on growing the business and continuing to provide the best products and services available in the industries we serve."

KGI's new agreements add over 700 towers to their national footprint of wireless sites
September 18, 2007 - KGI, a leading marketing and licensing firm for the wireless industry, recently finalized agreements to promote 400 CitySwitch towers, 300 towers for Alltel's Midwest Wireless and 15 Gulf States Towers sites. KGI also completed a comprehensive marketing audit for 360 Adelphia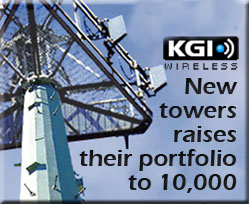 cable towers, identifying new collocation revenue opportunities for KGI client, Time Warner Cable.
The addition of this new tower inventory helped the 10-year-old Austin-based company reach a portfolio milestone -- 10,000 towers and other sites representing over two billion dollars worth of prime radio tower assets for wireless carriers and cable companies.
"It's been a busy summer for us," said KGI principal Scott Greenwell. "In addition to signing new agreements and expanding our tower marketing program to increase collocation revenue for all of our clients, we are also getting ready to participate in many activities during the upcoming PCIA show."
KGI is a Platinum Sponsor of PCIA's annual Wireless Infrastructure Show in Orlando, Florida on October 1-4. As a Platinum Sponsor, KGI will be actively involved in special events, speaking engagements and promoting collocation opportunities for their clients.

MetroPCS's contractors see Leap acquisition as an opportunity to increase their project prospects
UPDATE, September 16, 2007 - S. Douglas Hutcheson, president and chief executive officer of Leap, said in a letter today to Roger Linquist, MetroPCS chairman and chief executive officer, that the proposal was not in the best interests of Leap and its shareholders and "completely inadequate in a number of critical areas."

Hutcheson wrote that the proposal doesn't take into account Leap's growth possibilities. He also mentioned the hundreds of millions of dollars Leap invested to launch its broadband offering.

September 12, 2007 - MetroPCS's unsolicited bid for Leap Wireless last week has created the perfect storm for Leap's executives and many are leaving the wireless carrier before a buyout reshuffles key management positions. Leap's contractors are also concerned about continued business if the acquisition occurs.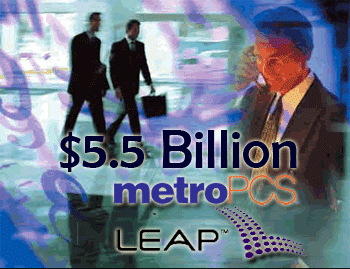 A few days ago, Leap's chief financial officer, Amin Khalifa, tendered his resignation, followed by the resignation of the head of investors for the wireless carrier. Today, Director James Dondero, president of Highland Capital Management, L.P., resigned from the board. Highland is the third largest shareholder of Leap.
"My experience tells me that it is best for me to come to a decision sooner rather than later," Dondero said.
Following months of speculation, MetroPCS Communications Inc. said on September 4 that it was offering to exchange 2.75 of its own shares for each share of San Diego, California-based Leap. The deal is valued at $5.5 billion.
Both cell phone carriers have been very successful in offering prepaid service to customers, some with risky credit ratings. MetroPCS has networks in large metro areas while Leap offers a wider national footprint with services in suburban and rural areas.
MetroPCS's favored installation contractors see the buyout as an opportunity to increase their business opportunities. A number of Leap's current installation firms registered concern about continued project prospects if the companies merge into a nationwide network.

The two companies have discussed a merger for four years with no results, MetroPCS Chief Executive Roger Linquist said last week; however, the recent executive resignations might indicate a successful outcome this time.
It is not known how a merger would effect redundant cell sites and lease revenues for the major tower companies. Although vertical real estate executives will provide a public persona that acquisitions can be healthy for the industry, their management teams will privately disagree.

Suppliers will also be monitoring the merger very carefully. Last week Andrew announced that it will supply Leap Wireless with HELIAX® aluminum cable, accessories, Positive Stop™ connectors, steel installation products and other wireless network equipment for deployment at Cricket sites over the next two years.

If consummated, a merger of the two no-contract mobile phone service providers would create the country's fifth nationwide wireless provider. MetroPCS touts the deal as a way to create a national service that could compete against giants such as AT&T Wireless, Verizon Wireless, Sprint Nextel and T-Mobile.

TWR Lighting awarded placement in Inc.'s 5,000 list for 2007 for exceptional three years of sales
September 11, 2007 - Inc. today ranked Houston,Texas-based TWR Lighting, Inc. No. 3,497 on its first-ever Inc. 5,000 list of the fastest-growing private companies in the country. The Inc. 5,000, an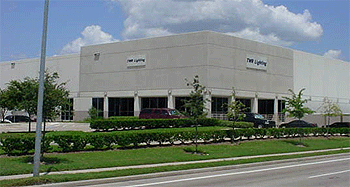 extension of Inc. magazine's annual Inc. 500 list, catches many businesses that are too big to grow at the pace required to make the Inc. 500, as well as a host of smaller firms. Taken as a whole, these companies represent the backbone of the U.S. economy.
"The Inc. 5,000 provides the most comprehensive look ever at the most important part of the economy - the entrepreneurial part," said Inc. 5,000 Project Manager Jim Melloan.
TWR Lighting, Inc., with an exceptional three-year sales growth of 84%, from $7.5 million in 2003 to $13.8 million in 2006, is a 26 year old, privately held Texas corporation which designs, engineers and manufactures high quality aviation obstruction lighting systems to be installed on the top of man-made structures over 150 feet tall.
TWR Lighting markets and distributes the latest in patented hazard lighting technology worldwide for numerous types of applications including communications and broadcast towers, wind turbines, smokestacks and industrial chimneys, water tanks, bridges and building tops.
Meeting the strict standards of the FAA and numerous other international aviation regulatory agencies, TWR Lighting backs its diverse family of products with rigorous quality processes, rapid response customer service and 24/7/365 system monitoring and technical support.
Complete information on this year's Inc. 5,000, can be found at www.inc.com/inc5000. Additional information about TWR Lighting can be viewed at www.twrlighting.com .

Multi-billion-dollar funding could propel relatively new firm to top five tower company ranking
August 29, 2007 - Eagle International Communications, Inc., a fast-growing developer, owner and operator of telecommunications tower sites, has recently completed a multi-billion-dollar special purpose financing facility. Eagle plans to use this funding capability to fuel its growth through acquisitions ranging in size from 100 to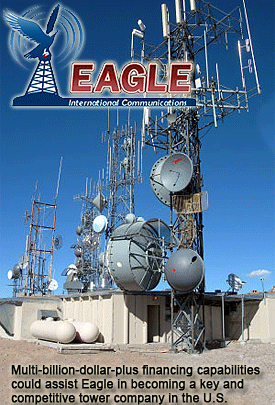 2,000-plus towers which are strategically located within Eagle's target geographic footprint in major metropolitan areas and along major interstate highways in the U.S.
The special purpose credit facility was completed through the efforts of IEV Capital, along with its private equity partners to back Eagle's aggressive acquisition strategy. Eagle will use this new capital to expand its tower portfolio through both the development of new towers and the acquisition of existing tower portfolios. Eagle already has strong telecom roots in Africa and Europe.

"Eagle is very pleased with this new round of funding," said Gavin Zietsman, Chairman and Chief Executive Officer of Eagle. "We greatly appreciate the confidence and enthusiasm of our investors. As we continue to build our company, we are encouraged by the number of towers moving through our development pipeline as well as the number of attractive acquisition opportunities being presented to us."
Zeitsman said that Eagle is currently in negotiations with numerous tower owners to acquire their portfolios. He said that that three of the companies have a considerable amount of towers, "with one large group in excess of 500 towers."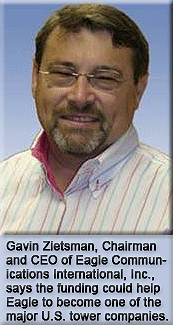 "We're very enthusiastic about this funding for Eagle," said Ryan Sumstad, Chief Executive Officer of IE Ventures, parent company of IEV Capital. "The combination of the industry expertise in Eagle's management team and their seasoned approach to acquiring and developing a high quality portfolio of towers is the reason this facility came together so quickly. The successful syndication of this facility shows how strong Eagle's prospects and the entire telecom industry's prospects truly are given the instability in today's commercial capital markets," Sumstad said.
Zietsman's executive team includes industry veterans Clay Elledge, President & CEO of International Wireless Services, and Gunther Trillsch, Vice President of Marketing & Sales for IWS.
The last major tower company purchase was announced in early July when Global Tower Partners, with approximately 2,500 communications towers and 4,600 rooftop sites in its portfolio, said it will be acquired by Macquarie, Australia's largest investment bank for $1.43 billion dollars from Blackstone Group.
Headquartered in Houston, Texas, Eagle's goal is to become one of the top five tower companies in the U.S. The Company currently has a strong international presence and is expanding its footprint into the U.S. For more information, visit www.eagleintcom.com .

National Grid Changes Name to Lightower
August 20, 2007- National Grid Wireless of Boxborough, MA, announced that it has changed its corporate name to Lightower. The name change comes after the completion of the purchase of the wireless assets, fiber optic infrastructure and wireless services organization by M/C Venture Partners and Wachovia Capital Partners, announced in May 2007.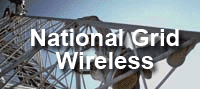 "We're excited to have selected a name that truly communicates our business and our vision for this company moving forward, now that we are no longer a part of National Grid," said Doug Wiest, Lightower's CEO.
"The transition of ownership, as well as our name change, is rejuvenating for all of us here at Lightower. Both are important steps in our company's evolution, positioning us for success in a rapidly growing, profitable marketplace," Wiest said.
"Lightower controls an attractive portfolio of communications infrastructure assets," said Jim Wade, Managing General Partner with M/C Venture Partners. "We believe these assets are well sited and prepared to exploit the continued growth in wireless and broadband communications."
Lightower operates an extensive communications network infrastructure portfolio consisting of approximately 350 communications towers, access to over two million distribution poles, and the most extensive dark fiber network in New England, with over 1,100 available route miles. In addition, the company is a pioneer in outdoor distributed antenna systems (DAS), having launched the first, multi-carrier DAS in the US on Nantucket three years ago.

The tower company introduced their new web site this week.

Crown appears to be letting Modeo fade to black
July 24, 2007 - Crown Castle International appears to have given up on Modeo, the mobile TV service based on the DVB-H standard that it tested successfully in New York City earlier this year.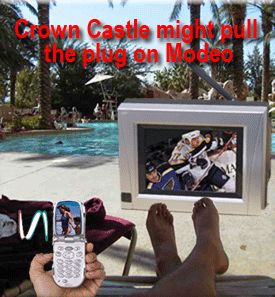 In a press release issued late Monday, Crown Castle said it will lease the spectrum used for Modeo to two private equity firms for $13 million a year and write off Modeo's physical assets, which includes an operations center in Pittsburgh and various small transmitters in the New York area, while retaining the spectrum itself.

Crown Castle says it will lease the U.S. nationwide 1670-1675 MHz spectrum it used for Modeo to a venture formed by Telcom Ventures, LLC and Columbia Capital, LLC, two communications-focused private equity firms, for a $13 million annual lease fee beginning July 23, 2007, and running until Oct. 1, 2013.

At the termination of the lease, Telcom Ventures and Columbia Capital will have the option of acquiring the spectrum for $130 million or renewing the lease for a period of up to 10 years on the same terms, but at an increased annual fee of $14.3 million. As part of the deal, Crown Castle is handing over the physical assets related to its New York trial and serve as "the preferred provider of tower infrastructure" for future tower sites for the new wireless venture.

Crown Castle had previously said it expected to incur roughly $10 million in operating and administrative costs this year relating to the Modeo effort, but as result of the spectrum lease deal it now says "substantially all of the operating and general and administrative expenses in Modeo are expected to be eliminated." The company will adjust its full-year 2007 financial outlook in conjunction with the release of its second quarter 2007 earnings on July 31, 2007, and expects to "write-off all, or substantially all, of its Modeo assets, other than its Spectrum, in the third quarter 2007."
What Columbia Capital and Telcom Ventures will do with the Modeo spectrum and assets remains unclear.

AT&T and Verizon decisions to go with MediaFlo hurt Modeo
Modeo had not been successful in inking a deal with a carrier willing to share its network development costs and subscribe to its service. A potential customer, Verizon Wireless, signed on in 2006 with a rival venture backed by Qualcomm. Modeo suffered a second major setback in early 2007 when AT&T also decided to go with MediaFlo.

Crown Castle originally paid $13 million for the licenses, and although the tower consolidator says the recent agreement had a very profitable outcome, the company will not say how much it invested in developing Modeo, building the New York network, or running that trial.

Last week the European Commission endorsed a Nokia-backed mobile TV standard DVB-H (Digital Video Broadcasting for Handhelds), saying Europe needed to pick one technology over others and promisied to look at ways to mandate its use. DVB-H is an open standard that can be licensed by anyone

With 30 new cell towers planned, AT&T views Florida as a top priority market
July 19, 2007 - AT&T Inc. will be spending more than $130 million in Florida to expand the former Cingular wireless network and add 30 cell towers statewide, many of them in Metro Orlando, the company said yesterday.
San Antonio-based AT&T's latest expansion in Florida will almost double the number of cell towers it erected last year, officials said. The company has spent more than $800 million on its Florida wireless network since 2005. AT&T acquired BellSouth Corp. and the Cingular brand last year.
Customers in Orlando, Daytona Beach, Ocala, Jacksonville and Fort Myers will benefit from the latest improvements in coverage, according to AT&T
The telecommunications giant said Florida was a "priority market" in its wireless expansion. Florida has drawn more investment than many other markets.
Earlier this week, AT&T announced a $53 million expansion in Minnesota and in the Northern Plains region, adding 64 new cell sites.
Tennessee's wireless network's expansion will total $13 million which will include seven new cell sites.
Nationally, over the past two years, AT&T has spent more than $16 billion in an aggressive program to upgrade and expand wireless service and to give customers access to approximately 45,000 cell sites -- more than any other wireless carrier in the country.

Diamond Communications acquires Southeast Towers' 180 tower sites in eight states
July 19, 2007 - Diamond Communications has announced it has acquired Southeast Towers, LLC, a communications tower portfolio company of Seaport Capital located in Atlanta, GA.
The acquisition adds a portfolio of 180 tower assets to Diamond's inventory, expanding Diamond's operations across the Southeastern United States. The towers are located in Alabama, Florida, Georgia, Mississippi, North Carolina, South Carolina, Tennessee and Virginia. The price of the acquisition was not disclosed.
"We are excited about this acquisition," said Ed Farscht, CEO of Diamond Communications. "Southeast has a strong portfolio of well positioned assets. This purchase is consistent with Diamond's strategy to expand its business through both new tower development as well as strategic acquisitions. The newly acquired assets will allow Diamond to better serve its customers that include all major U.S. wireless service providers and communication companies."
Prior to founding Diamond Communications, Farscht was Senior VP, Corporate Development for AAT. His previous employment was with Bear Stearns as a managing director with responsibility for communication tower coverage.
"We partnered with Carrie Kirk and her team in 2004. The entire Southeast Towers team accomplished a lot over the last three years in building one of the largest privately held tower development companies in the country," said Bob Tamashunas, Principal of Seaport Capital. "We believe Diamond Communications will be a solid business partner for Southeast going forward."
Media Venture Partners served as exclusive financial advisor to Southeast Towers and Seaport Capital in this transaction.

OSHA expert to join CITCA in presentation of development program for safety personnel
July 6, 2007 - CITCA, the Communications Industry Training and Certification Academy, has announced a new safety training program designed for the professional development of safety officers, company owners / operators, supervisors, compliance officers, and field foremen: The role of the company safety officer .
According to Steve Wilder, President of Training and Development with CITCA, the two-day presentation will be unique and informative in its presentation with the addition of, Jocko Vermillion, one of OSHA's leading experts in telecommunication tower erection and safety.
"As a key player in the implementation of the NATE /OSHA partnership, Jocko's technical expertise and professional relationships within the industry have earned him the reputation as the industry expert," said Wilder.
In constant demand as a speaker and trainer, Vermillion has provided training to groups large and small across the nation. He has been a key figure in several OSHA accident investigations and the subsequent litigation, and is frequently asked to contribute thoughts and opinions on the development of industry safety standards.
"His easy and likeable style, combined with his knowledge and expertise of tower industry safety standards make him a popular speaker at the national level," Wilder said.
Wilder will be co-presenting with Vermillion at the programs, the first one to be held August 8 and 9 in Richmond, VA.
With over 25 years of experience as a safety professional, Wilder has worked with companies across the US in designing and implementing safety and security management programs. He authors numerous columns for magazines, trade journals and other media.
For additional information, visit: http://www.citca4training.com/

With a possible eye towards T-Mobile, Macquarie acquires Global Tower Partners' 2,500 towers
July 2, 2007 - Global Tower Partners, with approximately 2,500 communications towers and 4,600 rooftop sites in its portfolio, will be acquired by Macquarie,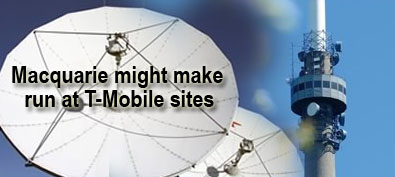 Australia's largest investment bank for $1.43 billion dollars from Blackstone Group.
Rumors of an impending sale had been circulating for months with Crown Castle International being seen as a favorite suitor of the Boca Raton, Florida-based tower company. In early June, Macquarie turned serious about making a deal, performing post securitization inspections on Global's sites throughout the country.
T-Moble, Verizon, Sprint Nextel and at&t will account for more than 60% of Global's revenue following the completion of at&t's acquisition of Dobson Communications, a major Global client.

Industry insiders say that Macquarie may not be satisfied with just acquiring Global and is considering a close to $2 million due diligence effort next month to investigate purchasing T-Mobile's tower assets. T-Mobile announced in February that it was interested in selling up to 5,500 of its United States towers.
Please see: Macquarie's UK group has exclusivity with T-Mobile

SEC probe of Crown Castle terminated
July 2, 2007 - A Securities and Exchange Commission inquiry into Crown Castle International Corp.'s accounting practices ended with no recommendation for enforcement action, according to a regulatory filing by the tower company today.
The SEC informed the Houston-based cell phone tower operator of the inquiry's completion in a letter dated June 26.
Crown Castle first received notice of the informal inquiry in July 2006. Among the issues explored in the inquiry was the possible backdating of stock option grants.

Following failed first try, rival CommScope to buy Andrew Corp. in deal valued at $2.6 billion
June 26, 2007 - CommScope Inc. agreed to pay $2.6 billion today to buy larger rival Andrew Corp., reviving its offer less than one year after an unsolicited bid was spurned.
Back in August, the company's $1.7 billion offer to Andrew was dismissed as "wholly inadequate." But ardent suitor CommScope never gave up and Wall Street provided an early morning engagement gift to Andrew, raising the company's share price over 12% to $14.60.
The rival companies say they can now generate big savings and provide a comprehensive set of products to network operators with little overlap in products, said to be approximately 2%. Under the agreement, CommScope will pay $15 for each share of Andrew, 90% of which would be paid in cash. The offer represents a 16% premium over Andrew's Tuesday closing price of $12.98.
Andrew's stockholders are guaranteed to receive $13.50 per share in cash, with the rest being paid in CommScope stock, cash or a combination of both. The companies expect the deal to close by the end of 2007.
CommScope estimated it could generate annual pretax cost savings of up to $100 million in the second full year after the deal is consummated.
Please see: Non core assets to be sold

Rohn and TESSCO help to address Rev G questions in industry's first webinar
June 21, 2007 - Rohn Products and TESSCO Technologies have teamed together to present a free two-hour seminar to address the many questions that the industry shares regarding the revised ANSI/TIA/EIA standard.
In the easily navigated presentation that provides audio and graphics, David Brinker, P.E., S.E.,VP of Engineering for Rohn details the reasons for the standard's changes and explains how they may affect all segments of the industry.
The webinar can be easily accessed at Rev G Webinar .
Revision G represents the most drastic change to the Steel Antenna Towers and Antenna Supporting Structures standard since it was first published in 1949.

The new standard radically changes the loads and design criteria for communication towers and poles, and has a major impact on the load carrying capacity of existing structures.
Brinker is a member of the EIA's Executive Committee and is Chairman of the Editorial and Technical review committee for the ANSI standard. His presentation is very informative yet easy to understand for "non-technical" attendees.
Some of the topics covered include: Domestic & International Acceptance, New Data on Wind, Ice & Earthquake; Site Specific Options; New Research on Design & Analysis; Material Requirements; Corrosion Control; and Emphasis on Climber Safety.

LCC International completes acquisition of WFI's U.S. engineering business for $39 million
June 4, 2007 -- LCC International, Inc., of McLean, VA, a leader in advanced wireless services and solutions, announced today the completion of its acquisition of Wireless Facilities, Inc. U.S. engineering business.


The $39 million cash transaction is expected to be accretive in 2007. With the announced completion, the company is now focused on implementing a smooth integration and leveraging all cost synergies.
The addition of these engineering resources to LCC's North America operations furthers its customer reach and expands the current services offering as well as service delivery models.

This acquisition allows LCC to augment its already broad set of experienced engineering resources and retain the most extensive set of intellectual capital in UMTS, HSDPA, WiMAX, spectrum management, fixed network engineering, E-911, and land mobile radio services.

"The successful completion of this acquisition positions LCC as one of the leading independent RF engineering companies in the world," said LCC President and Chief Executive Officer Dean Douglas.

"We remain committed to delivering a broad portfolio of services to the marketplace and will continue to focus our U.S. efforts on providing our customers with the tools and services needed to maximize their investments in wireless technologies including emerging broadband networks," said Douglas.

WFI will continue to own and operate its wireless network deployment services business, government services and enterprise network services organizations.

National Grid Wireless US's towers and fiber acquired by private equity firms for $290 million
National Grid Wireless US
Tower Locations

AR
1
MD
1
RI
7
CA
9
ME
10
SC
4
CT
8
MO
14
TN
17
FL
37
NH
12
TX
53
GA
2
NM
1
VT
9
IN
4
NY
20
WV
9
KS
25
NC
5
TOTAL:
312
MA
32
OK
32
Source: Company Records 5/17/07
May 17, 2007-National Grid Wireless US, a leading wireless and fiber optic infrastructure provider to the communications industry, today announced that it has moved under the wings of private-equity firms. M/C Venture Partners and Wachovia Capital Partners have agreed to purchase the business from National Grid plc for $290 million.

National Grid Wireless, located in Westboro, MA, was put up for sale last year by its British utility parent, which has its U.S. headquarters in Westboro. The U.S. wireless operations were formed in 2002, led by CEO Doug Wiest, American Tower Corporation's former COO, to help cell phone carriers locate their network equipment on National Grid's electric transmission towers. The company also owns and builds towers apart from National Grid's. Please see: Strong revenue growth

Pegasus Tower to increase U.S. tower portfolio with $15 million credit facility
April 24, 2007 - Pegasus Tower Development Company, LLC, a Richlands, Virginia-based wireless tower development firm, announced the closing of a new $15 Million credit facility with National City Bank. This facility was established to provide additional funding for the development and acquisition of wireless communications sites throughout the U.S.
Pegasus Tower Development Company was formed in 2006 with a $20 million equity commitment through a joint venture arrangement, between Pegasus Tower Company, LTD, of Richlands VA, and investment firms, Peppertree Capital Fund LP and Primus Capital Fund V Limited Partnership, both of Cleveland, OH. Through such partnership, Pegasus Tower Development Company already has over 40 wireless communications sites under development or completed.
Jonathan Simmons, CFO of Pegasus, noted "This credit facility will provide additional capital for achieving our collective goal of aggregating a sizable tower portfolio over the coming years. We are excited about our new relationship with National City Bank and appreciate their confidence in our business strategy."
Gary Hearl, President & CEO of Pegasus Tower Company, LLC, founded the company in 1999 to develop, acquire, and manage wireless telecommunications structures.

Pleiss replaces Hardee at Sabre Site Solutions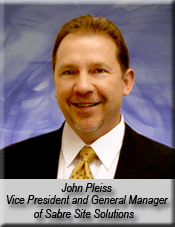 March 27, 2007 - Sabre Site Solutions, the tower accessory catalog division of Sabre Communications Corporation, has announced the retirement of James (Fred) Hardee and the appointment of John Pleiss to fulfill Hardee's management position.

Having spent more than 29 years in the tower industry, Hardee has decided to step down from the position he accepted last year so he can spend more time with his family.

Pleiss will serve as the company's new Vice President and General Manager of Sabre Site Solutions. He has been in the tower industry for 21 years. Before joining Sabre, he was employed with Valmont Industries.

He has extensive experience in the wireless communications industry
including his most recent position as Business Unit Manager of Valmont's components division. Pleiss' new responsibilities include formulating strategic plans, developing new products, and overseeing the day-to-day operations of Sabre Site Solutions.

A Nebraska native, Pleiss holds a Bachelor of Science degree in Marketing from Bellevue University and an Associate Degree from Southeast Community College. He and his family reside in Omaha, Nebraska.

Sabre Communications Corporation, in business since 1977, is a leading manufacturer of guyed towers, self-supporting towers, monopoles, utility structures and tower accessories. For more information on Sabre, their products and services, visit www.sabrecom.com.


Andrew and Beverly reach settlement on stackable hanger and grounding clip infringement case
February 21, 2007 - Andrew Corporation and Beverly Manufacturing Company have reached a settlement of a patent infringement lawsuit brought by Andrew of violating its patents on cable hangers and grounding kits.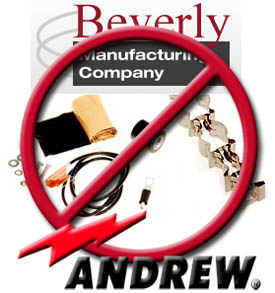 Under terms of the settlement, Beverly had acknowledged its infringement of Andrew's patents for certain cable accessory products and will pay an undisclosed sum to the company. Andrew filed the suit in 2004 accusing Beverly, based in Tinley Park, IL, of infringing on its patents for cable transmission line hangers and grounding clips used in wireless networks. The settlement also requires that Beverly cease any further production of these products.

In an industry where manufacturers are constantly trying to improve upon a competitor's product and eliminate a step along the way, cease and desist orders can oftentimes follow product introduction. It has been questioned whether Beverly was penalized early on in the dispute when a merged Chicago law firm violated conflict of interest rules.
Please see: Firm declines to represent both parties

New office to specialize in steel erection insurance

January 23, 2007 - Crump Insurance Services of Houston has announced the opening of a new branch office in Austin, Texas. Crump Austin will provide specialized insurance programs for high hazard businesses nationwide.
Patrick Shea, Scott Hermesmeyer, Delia Phillips and Karie Brewer bring a combined 50 years of expertise in this area. In addition to the programs, this exciting new group will be developing a property/casualty brokerage team.
Patrick Shea has more than twenty years in the insurance industry, including retail agency, carrier and national program experience. He is a graduate of Southwestern University and attended the University of Texas Petroleum
School.
Scott Hermesmeyer has more than ten years experience with a major retail brokerage firm and national program industry. He is a graduate of Angelo State University.
The Crump Austin office has specialized expertise in the following industries: steel erection and fabrication, elevated construction exposures, commercial fishing fleets, commercial meat processing, and hazardous transportation.
The Austin team can be reached at 800.420.2079.

Carlson and Hayden to join 2007 NATE Board
January 22, 2007 - Kari L. Carlson and Kevin J. Hayden were recently elected to the National Association of Tower Erectors Board of Directors. They will begin serving their two-year term at the annual meeting in February in Nashville, TN.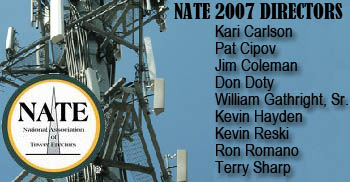 Carlson, Chief Operating Officer and Director of Operations for Tower Systems, Inc., was selected by the membership last November. Hayden, President of Hayden Tower Service, Inc. and a former Chairman of the Board of NATE, was elected this month during a special runoff election held to fill a vacant seat that was not filled during the organization's first ballot.
Running with Hayden for the position were: James Graf, Skyline Tower Service Inc.; Barbara Houdek, Trillium Development, Inc.; Norman Jeweler, United States Tower Services, LTD; and Larry Whaley, Mercomm, LLC.
Carlson and Hayden filled vacancies created by Dave Anthony of Shenandoah Tower Service, LTD and John S. Hanna, Jr. of Tower & Communication Services, Inc. Both directors resigned in order to provide opportunities for other members to serve the erectors' group.
Running unopposed were directors Don Doty of Doty Moore Tower Services LLC, and Terry Sharp of Grant Tower, Inc.
Carlson is the daughter of founding director Bill Carlson who many members say was responsible for the organization's initial success when it was first organized in 1995. In a male dominated field, Carlson joins a growing number of women who are successfully managing and assisting in the development of tower design, construction and maintenance companies.

Learn to say hello at&t, goodbye Cingular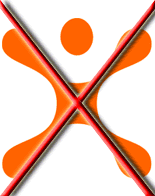 January 8, 2006 2007 - Now that wireless suppliers and contractors are proudly boasting that they no longer type 2006 in company correspondence, they'll be wrestling with the Cingular to at&t (Yes, it's now lowercase.) name change as it begins to evolve from market to market beginning this week.

They'll also be anxious to see if many of the 2006 fourth quarter Cingular projects will be taken off hold following the AT&T and BellSouth Corporation approval by Federal regulators on December 29.

Many contractors are hopeful that new service integrations from the merged companies will increase the amount of work they will receive from Cingular AT&T at&t. Please see: Acquisition chronology .