Second manufacturer warns of possible injuries or death to climbers through use of safety sleeve
March 21, 2007 - Antenna Products Corporation has found that a reported defect in another manufacturer's safety sleeve could possibly occur with their SCE-2 safety
sleeve and cause serious injuries or death when the tubular rail safety climb unit allows the climber to fall without immediately arresting his descent. Their system is designed to absorb the impact load of 500 pounds in a 12-inch free fall and to support a minimum static load of 1,000 pounds.

APC said they have tested their equipment and will modify the sleeves returned to them to ensure that they meet industry safety standards. Some units might be replaced, said a company spokesperson who said his firm wanted to get the message out to climbers that their safety is APC's highest priority. Although they have had no reported incidents of equipment failure, they are requesting that climbers should only use the existing sleeve when it is supplemented with their Y lanyard procedure .

Many tower owners are unaware of the type of safety climb system their structures are equipped with. In addition, the SCE-2 sleeves have been resold through government surplus auctions as well as on e-Bay and the current owners are not known by APC.
Please see: North Safety Products first to identify problem

WirelessEstimator begins expanded coverage of national tower siting and zoning news
March 20, 2007 - Last week an area near a historic red covered bridge in Connecticut was slated to receive a proposed monopine, but critics say the structure would be quite visible since the Nextel concealed tower would reach at least 20-feet
above the existing trees. Yesterday, Hamilton, Illinois residents were elated to find that the local zoning board approved a structure that will assist U.S. Cellular in filling in a "black hole" of coverage, as described by many residents.
Beginning today, WirelessEstimator.com will be providing additional coverage to breaking stories that affect wireless site deployments. WirelessEstimator is the industry's first news portal to actively cover the wireless design, deployment, construction and maintenance industry and is pleased to be able to provide this expanded coverage. Please see : Tower Siting and Zoning News.

Second Texas tower technician killed is second
fatality in Louisiana
March 16, 2007 - A 72-year-old tower worker fell to his death this morning while installing equipment on a tower at the Port of Shreveport/Bossier in Louisiana.
Caddo Parish investigators say Anthony Shands of Gilmer, Texas had just finished his work atop the 150 foot tower when he fell.

Shands was pronounced dead at the scene. The accident occurred at approximately 10:35 a.m. Investigators say all of his equipment still remained at the top of the tower. Baton Rouge OSHA compliance officers were not aware of the incident as of 4:00 p.m.

Sheriff's Department spokeswoman Cindy Chadwick said Shands had been in radio contact with co-workers who were inside a building when they suddently lost contact, heard a noise and went outside and found the that he had fallen.

Shands and his wife operate Service Tower Company in Gilmer. The cause of the accident remains under investigation. He is the oldest technician to die in the past
According to records available since 2003, Shands is the oldest worker to have died from falling from a communications structure. A 60-year-old Virginia man succumbed from a fall last March in Martinsville, VA.

Shands is the second Texan to die from falling from a communications structure this year. A 29-year-old technician fell to his death on February 7 in Golden Meadows.

Alabama and California rulings could impact regulation of cell towers nationwide
March 16, 2007 - Two cases have recently been decided that should have a positive impact on industry siting battles in the country. The first, an Alabama case decided last Friday by the Alabama Supreme Court; the second is a Federal lawsuit from California that was affirmed by the Ninth Circuit Court of Appeals on March 13.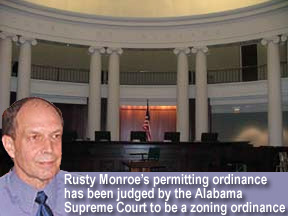 The Alabama Supreme Court affirmed a lower court decision holding that a local ordinance, patterned after one provided by the Center for Municipal Solutions, and promoted throughout the nation by CMS's founders, Lawrence (Rusty) Monroe and Dick Comi, is a zoning ordinance and not a permitting ordinance. This is significant, siting attorneys say, in that zoning ordinances cannot be enforced in the police jurisdictions, an area comprised of one to three miles outside of the city limits, while permitting ordinances can be imposed in the PJ.
Monroe and Comi have consistently argued that this ordinance is a permitting ordinance, thereby allowing their municipal clients to require carriers to file applications and pay fees associated with both new towers and collocations within the PJ.

The municipal advocates say their philosophy is to protect and to provide the community with a means and mechanism to be proactive so that the community makes its own choices and controls its own destiny to the extent allowable under law. Some opponents say their permitting ordinance is designed to be a revenue source for the municipality. Please see: Siting issue started in Selma

LA death provides focus upon ensuring accuracy in climber fatality count and lessons learned
March 15, 2007 - Assistant Secretary of Labor for Occupational Safety and Health Edwin Foulke cautioned attendees at the National Association of Tower Erectors' conference in Orlando on February 14, "This is a dangerous industry and we have to do whatever we can to develop a program and get people trained, to ensure that they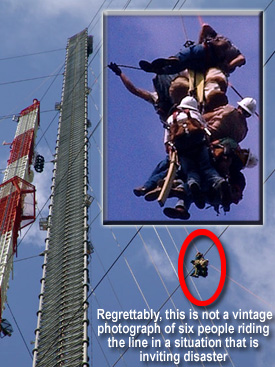 get to go home safe and sound, every day." His impassioned teleconference concern wasn't motivated by a tower technician's death the previous week because he wasn't aware of the fatality.
OSHA officials who closely monitor the industry handed out toolbox review literature in the exhibition hall the following day and discussed how pleased they were that there were no reported deaths from falling from a communications structure in 2007, the last one occurring more than four months earlier. They too didn't know that a Texas resident died after falling 125' while working on a retrofitting project.
A record number of NATE members left the conference that evening sharing a communal pride that education, a national partnership program and a renewed dedication to safety enforcement was helping to usher in a better year than 2006's 18 fatalities as reported by Foulkes. They also weren't aware that one of their fellow-member companies lost an employee on February 7 when he fell from a 330' self supporting tower in Golden Meadows, LA.
The 29-year-old tower technician's death in a community of 2,193 residents came close to becoming one of the industry fatalities each year that might not be reported in mainstream media, bulletin boards or through a nonexistent auditing process of OSHA to alert managers charged with monitoring high risk industries and partnership programs to be able to assess positive progress.
It was simply another fatality under Special Trade Contractors, Not Elsewhere Classified, an OSHA Standard Industrial Classification (SIC) that covers 53 professions from bath tub refinishers to window shade installers.
Please see: Tech's death investigated

Tower failure blamed upon installation or
design failure, not Mother Nature
March 6, 2007 - An anchor system failure may have caused the collapse of 760' of a 1,036' North Carolina tower that was under construction, according to Glenn Holterhouse, president and general manager of WSKY. The tower had been under construction for about three months and collapsed during storms that passed through Camden County early Friday morning. The structure was to be completed in another three weeks.
Holterhouse said he believes that the construction failure "will cost some structural engineers a couple million dollars," since the storms should not have caused the tower to fail. The unfinished tower toppled and crushed a new transmitter building after winds suddenly gusted to about 40 mph. The governing wind speed for design of a structure in Camden County should be compliant to the national standard, TIA/EIA-222-F at 100 mph. Under Revision G, the wind speed is between 100 and 115 mph depending upon the structure's location within the county.
Tower Innovation manufactured the guyed tower, but it was not immediately known who designed the tower's screw anchor foundations or who installed them. Insurance companies will investigate whether proper soil analysis was used in the design of the anchor system and if they were installed correctly.
Oftentimes a pull test is required to ensure that the installed foundations can meet the tower's loads prior to the structure's installation. Designed correctly, screw anchors can be safe, economic alternatives to more costly drilled pier or deadmen anchor systems.
The erection contractor was not on site during the failure, but suffered the loss of a damaged gin pole and rigging equipment. Thankfully, his crew was not working on or near the structure when it failed.
Located about one mile south of the Virginia line, the tower was being constructed to replace an analog signal tower in Powells Point for digital broadcasting.

Big 4 tower owners likely to join the race to purchase T-Mobile's 5,500 US tower assets
March 5, 2007 - T-Mobile USA Inc. indicated last Thursday that it is interested in selling up to 5,500 of its United States towers and the four major tower companies are racing to see who will be wearing the yellow jersey following their first round of offers to the number four carrier.
T-Mobile's portfolio of towers, the largest group in California totaling 1,307, could bring upwards of $1.5 billion or more, according to analysts who believe that this cattle car offering could help some of the major tower owners to gain a competitive edge in many markets. The impact upon the tower owner will be substantial, they say, and could reestablish a dominant position for American Tower Corporation if they're successful in their T-Mobile negotiations.
ATC lost it status as the nation's largest tower owner last October when Crown Castle International Corp. announced that it was purchasing Global Signal Inc. for $5.8 billion, including debt. That deal allowed Crown to surpass ATC by approximately 2,000 wireless sites with a total of 24,000 structures.
T-Mobile, known for excellent management of their towers, will be able to easily provide due diligence information. During the explosive growth of the 90s, oftentimes there was minimal investigation performed in major acquisitions when tower count was king. Management later discovered that some structures were already over capacity or in some cases, not even built yet.
Please see: Is Global Tower Partners a player?

New York State readies nation's 16th state wireless association launch with Dimitroff at helm
March 2, 2007 - The New York State Wireless Association's kick off luncheon scheduled for March 6 in Albany is but one of many state wireless association events
being held in March throughout the nation. Georgia will be meeting on the same day to discuss TIA/EIA-222-G, the national standard's seventh revision for Steel Antenna Towers and Antenna Supporting Structures.

Pat Miller, Tennessee Regulatory Authority Director, will be the Tennessee Wireless Association's guest speaker at their March 8 luncheon. An early St. Patty's Day evening social will be on tap for the same day by the New England State Wireless Association following their business session.

On March 14 an environmental review of wireless facilities will be the topic for the Missouri/Kansas association. The Carolinas State Wireless Association will hold a March 15 luncheon to discuss attorney requirements for zoning review representation. Also at noon the Illinois State Wireless Association will kick of the group's activities at a luncheon in Oak Brook. That evening the Ohio Wireless Association will hold their inaugural event in Columbus.
Half of country represented
With 16 active associations throughout the country representing 25 states, the groups have been instrumental in educating their memberships and promoting positive wireless industry awareness.
The Tennessee, Georgia and Alabama associations will be hosting a joint meeting in Chattanooga on June 14 and 15 at the Chattanoogan Hotel. Additional meeting details and guest speakers scheduled for the event will be announced.

Due to scheduling problems, the first quarter meeting of the Arkansas-Oklahoma Wireless Association has been cancelled.
Please see: State Wireless Associations

Lawsuit says cop fired blindly at tower technician
February 9, 2007 - Family, neighbors, friends and tower workers nationwide believed that AFL Network Services' tower technician Anthony Wayne Furr might have been a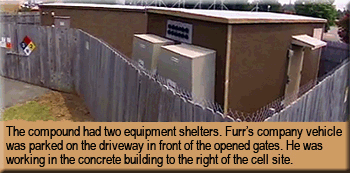 victim of an overzealous or frightened police officer when Anthony Payne of the Charlotte-Mecklenburg Police Department shot and killed the forty-one-year-old inside an equipment shelter on July 20. Payne said he was in fear of his life because Furr pulled a gun on the veteran cop.
A lawsuit filed January 19 by Furr's family might finally provide some answers to the Charlotte, North Carolina tragedy.
Please see: Suit says veteran cop was at fault

Fish and Wildlife Service's recommendations could reshape tower industry if accepted by FCC
February 6, 2007 - Although the U.S. Fish and Wildlife Service is of the opinion that some of the recent actions of the Federal Communications Commission in respect to communication towers tread upon FWS authority, the bureau is championing the FCC to move forward with changes that will dramatically reshape the industry.
As expected, say tower industry observers, the FWS is in agreement with many of the FCC's proposed initiatives, many of which have been lobbied for by the wildlife service agency during the past seven years.
In a February 2 letter to the FCC , Acting Deputy Director Kenneth Stansell outlined the service's concerns and suggestions as they addressed migratory bird deaths caused by collisions with communications towers throughout the nation.
The FWS provided their comments to the FCC's Notice of Public Rulemaking (WT Docket No 03-187 ) request In the Matter of Effects of Communications Towers on Migratory Birds, questioning whether the deaths of birds caused unintentionally, as by the operation of a communication tower, can make a regulatory commission like the FCC liable?
Please see: FWS recommendations

Radio station tower felled by Florida Groundhog Day twister that killed 19 residents
February 2, 2007 - Cox Radio station WCFB-FM suffered complete devastation at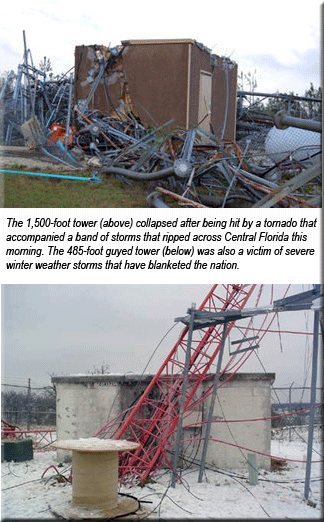 their tower and transmitter site on the Lake-Volusia county line in Florida this morning from a tornado that has killed at least 19 people. The 1,500-foot guyed tower was toppled by the Groundhog Day twister, sending it down on top of the transmitter building. The entire site is a total loss. The station's engineers are working on getting the station back on the air via a temporary transmitter and tower site.
Powerful thunderstorms spawned at least one tornado that cut a deadly, destructive path across central Florida during the early morning darkness smashing dozens of homes and businesses and suddenly awakening thousands of terrified survivors with a roar.
Officials were surprised at the extent of the damage to allegedly well constructed homes, allegedly designed to sustain hurricane-force winds. A radio station employee said that he was not aware of what design criteria was used for the WCFB tower.
Fierce winter weather was responsible for the collapse of a 485-foot Western guyed tower in Mt. Vernon, MO on January 16. The 32-year old structure owned by Tell-stat Company supported approximately eight antennas and lines and failed at about the two-foot level where its legs buckled and collapsed from a reported 6-inches of ice on the tower.
According to Rick Lauchner of Towers, Inc., a new Sabre Communications structure with a 36-inch face will be installed by his firm in mid March.

New York legislators want to accelerate buildout following unnecessary death of Brooklynite
January 31, 2007 - Three 100-foot tall cell towers and another four 75-foot structures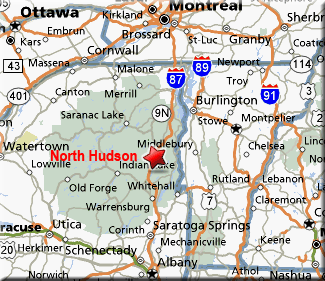 are on the fast track to be reviewed and possibly built in the North Hudson, NY area, but it took the death of a 63-year-old Brooklyn man last Thursday to advance the long-sought-after communications towers.
Police say Alfred Langner died from hypothermia after driving off a remote location of Interstate 87 in the Adirondacks. Langner and his wife Barbara were trapped in their car and were incapable of calling for help because of a lack of cell phone coverage in the area.
State police confirmed to WirelessEstimator that the couple had tried to call for help following their 19-hour ordeal. The Langners were driving south sometime at 1:30 a.m. Thursday morning about a mile north of Exit 30, when their car went off the road, hit a culvert and became airborne, State Police said. The 1989 Lincoln Town Car landed in a grove of pine trees that hid it from view of passing motorists.
Please see: Legislators to push for coverage

SC bill would prevent officials from imposing many unfair siting compliance requirements
January 23, 2007 - Tower site development took a step forward in South Carolina last Wednesday when Representative Kristopher R. "Kris" Crawford introduced a bill in the Senate regulating the manner in which counties and municipalities
may regulate the construction and placement of new wireless communications sites and modifications to existing structures. See: H 3302
The bill's language is similar to the PCIA - The Wireless Infrastructure Association's template for model state legislation plus language circulated at the American Legislative Exchange Council and the National Conference of State Legislatures. The amendment has been referred to the Committee on Labor, Commerce and Industry.
The legislation would prevent municipalities and counties from conditioning an approval of a new support structure or co-location on the agreement of the structure owner to provide space on the structure for local governmental services at less than the market rate. It will also prevent governing bodies from imposing environmental testing, sampling, or monitoring requirements or other compliance measures for radio frequency emissions on wireless communications facilities that are categorically excluded under applicable Federal Communication Commission rules for radio frequency emissions.
According to PCIA's Director of Government Relations, Andrea Bruns, South Carolina tower development professionals can assist in the facilitation of the legislation by providing PCIA with zoning problems they face in the state and the trends they see as well as why this bill is important to ensure the continued growth of the industry. She can be contacted at: andrea.bruns@pcia.com.

Ninety-day extension given to avian/tower groups
January 19, 2007 - A request by avian and tower industry groups to obtain additional time to address
the complex issues being explored regarding bird fatalities at communications sites has been approved by the Federal Communications Commissioning, extending the agency's public comment deadline from January 22, 2007 until April 23, 2007, according to Fred B. Campbell, Jr., Chief of the Wireless Telecommunications Bureau. A new date of May 23, 2007 has also been set to reply to submitted comments.
Cambell said it is the policy of the Commission that extension are not routinely granted, but since the request for an additional 90 days was requested by active participants in the WT Docket No 03-187, the additional time would serve the public interest.

Comments submitted to WirelessEstimator.com will be provided to the FCC prior to the April 23, 2007 deadline.

Spring-like temperatures only a memory for many
of nation's tower workers
January 16, 2007 - New England wireless construction projects were put on hold in many areas for the past couple of days after a storm blew through snapping tree limbs, shorting out transformers and knocking out power to about 145,000 customers in New York and New Hampshire. Maine received more than 10 inches of snow. A wave of arctic air trailed the storm, dropping temperatures into the single digits as far south as Kansas and Missouri.
The 7 a.m. temperature this morning at Kansas City, MO, was just 2 degrees, while Bismarck, ND, had a reading of 16 below zero, with a wind chill of 31 below, the National Weather Service reported. The death toll from the storm was at least 45 in a half-dozen states.
The transient nature of tower construction oftentimes requires below the Mason-Dixon Line tower technicians to head to points north for available work. Many of them can adjust to the bone-chilling temperatures, others will head to companies in warmer climes at the first opportunity. Some just quit the profession altogether.
Although many workers have enjoyed the unseasonably mild spring-like temperatures the nation has been receiving, those days are distant memories and employees are required to adjust to the plunging temperatures. It's not so difficult if you dress for success and observe safe working guidelines. Please see: Cold Weather Work

Texas-size ice loading collapses two towers
January 16, 2007 - Sunday night's ice storm that rolled through Abilene, TX was blamed for the collapse of KRBC TV Channel 9's 500-foot broadcast tower located off of Highway 83/84. A station engineer stated that prior to the structure's failure the guy wires were caked with several inches of ice, causing the 7:43 p.m. failure.
Station management is looking to provide a temporary structure. It's not known if the existing foundations for the guyed tower were damaged during the collapse. The transmitter building weathered the incident.
The station is back on the air operating on an auxiliary antenna on full power. It is also available on Dish Network. The tower also held microwave relay equipment for their sister stations KLST TV and KSAN TV in San Angelo.
A 200' communications tower for the View Volunteer Fire Department also collapsed during the storm. A temporary communications system has been put in place.

NATE Nashville conference expected to see excellent attendance February 12-15


January 12, 2007 -- The National Association of Tower Erectors' annual confab scheduled for February 12-15 is expected to be one of the best ever, according NATE administrators.
The conference and exhibition has grown in size and scope and is one of the must attend events every year for many key industry professionals in the tower construction, service and maintenance industries.
Attendance is expected to beat last year's numbers and visitors will enjoy the excellent offerings from many exhibitors that will be at the Gaylord Opryland Resort & Convention Center in Nashville, TN. Please see : Schedule and Exhibitors.

Landmark radio towers felled in New Jersey
January 11, 2006 - Three 700-foot tall radio towers received a stay of demolition last September when Lyndhurst, New Jersey police halted contractors from cutting the guy wires because they were worried about safety and feared some people might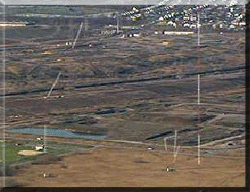 confuse the demolition with a terrorist attack.
However, today, after assurances that it would not endanger the community, they were put to rest at 11:00 a.m. in a planned collapse of WOR Radio 710's AM towers.

Two of the towers were collapsed almost simultaneously, the third was felled shortly thereafter. They have been a fixture for about four decades alongside the New Jersey Turnpike.

The decommissioning project was handled by Northeast Towers out of Burlington, CT.

WOR Radio Vice President Bob Brunso said they were demolished to make way for a golf course and new construction sites in the area.

"It's sad to see them go because of the history of the old facility, and the different people and voices that have passed through those towers," engineering Director Tom Ray said. "But in another way, it's a new start, it's a new beginning," he noted.

WOR has built a new, state of the art facility about a half-mile north in Rutherford. They say the future of WOR radio is to go completely digital.

Avian and tower interests ask for FCC extension
January 8, 2007 - In an attempt by avian and tower industry groups to explore the complex issues being addressed by the Federal Communications Commission
of birds being killed by crashing into communications towers, both factions have come to an agreement in an attempt to narrow the parties' differences. They're requesting that the FCC extend the time for public comments until April 23, 2007 on the Notice of Public Rulemaking , and until May 23, 2007 to file reply comments. The current comment date is set for January 22, 2007.
In what is being described by both groups as a groundbreaking effort by environmental and communications infrastructure organizations to work together to explore avian safety, today's FCC request came out of a December 13, 2006 meeting where initial discussions were held to narrow areas of disagreement.
Authoring the joint request for additional time were: PCIA - The Wireless Infrastructure Association, National Association of Broadcasters, CTIA - The Wireless Association, National Association of Tower Erectors, American Bird Conservancy, Environmental Defense, Defenders of Wildlife and National Audubon.

Accident at ATC Georgia site sends electrician accomplice to the hospital, two co-workers to jail
January 5, 2007 - Job sites accidents are typically followed up by an Occupational Safety and Health Administration investigation. A Dahlonega, Georgia American Tower Corporation equipment building electrical explosion injury, however, saw a different group of examiners, the Lumpkin County Sheriff's department.
Where there is believed to be a liability on the employer's part, OSHA will issue a notice of unsafe or unhealthful working conditions. In this accident, two of three self employed Paulding County men bypassed OSHA and went straight to jail.
A December 15, 2006 attempted copper theft that went bad ended in the arrest of Larry Winters, Rodney Hines Benson and Jeff Wheeler for felony burglary and resulted in severe burns to Winters' face and hand.
Please see: Copper caper goes wrong


Ice load topples quarter of
1000-foot Kansas tower
January 1, 2007 - Thousands of western Kansas residents began the new year without power today, as the region started digging out from a storm on Saturday and Sunday that left up to 36 inches in some areas.

The ice also took down 250 feet of a 1000-foot radio tower near Copeland, knocking radio stations KJIL and KHYM off the air in the Garden City-Liberal-Dodge City area, said Delvin Kinser, news director. Some communities that get the stations' signals via transponders or satellites were still receiving the station.

The stations, located in Meade, planned to affix antennas on its remaining tower until it can be replaced, which could take several weeks, Kinser said. Damage was estimated at a half-million dollars.