SoftBank's Son says he's "fully prepared to die" over spectrum concerns
July 31, 2013 - As planned, Sprint pulled the plug on its Nextel system last month. Unplanned by its corporate communications department
was SoftBank Corp.'s announcement by its CEO, Sprint's new owner, that he was going to pull the plug on his life if he didn't get his message across in Japan.

Although it appeared to be a figurative versus literal statement by Masayoshi Son, in a less metaphorical tone during an earlier interview, Son had threatened to set himself on fire in the offices of Japan's telecommunications ministry if he didn't get some regulatory changes he wanted.

Earlier this month when the Japanese government awarded unused spectrum licenses to SoftBank's chief carrier competitor, KDDI, Son said in an interview, "Softbank will be at a huge disadvantage. The process is ridiculous and very unfair. We need to fight for our users. I'm fully prepared to die if necessary to say this."

Hopefully, he won't die until he captures for Sprint some of the coveted spectrum to be auctioned off by the FCC in 2014.

If he doesn't agree with the bidding process, he should consider less Draconian measures such as threatening to Cadweld without goggles or using a Dremel drill for dental work.

Whoa! That will surely get Tom Wheeler's attention.

The telecom vet, former lobbyist and Obama loyalist was approved yesterday by the Senate Commerce Committee as the nominee for FCC Chairman.

It could not be confirmed whether Wheeler said that if he didn't get an immediate and successful floor vote that he would drive while texting on the Beltway with no seatbelt and a lidless hot cup of McDonald's coffee between his legs.
Popular capstan hoist inspection announced
July 29, 2013 - A widely used capstan provided by numerous distributors might require an inspection after Primus Electronics alerted Reliable Equipment & Service Co., Inc. that their REL-CH-1000 capstan has the potential for the line to walk off of the drum in some applications.

Primus noted that there have been a few isolated incidents where the rope began walking off the drum during the lowering process. The company said that Reliable believes that they had a batch of hoists that had drums with rough grooves in them.

Reliable has provided replacement drums that can be installed if your drum, upon inspection, has unacceptable grooves in it.

For further information, contact Primus at 800-435-1636, your distributor, or Reliable at 800-966-3530 with any questions or concerns regarding this issue.

Reliable said that the product is not being recalled.
Puerto Rico-based tower technician succumbs from 200-foot fall in Maryland
July 26, 2013 - A 41-year-old tower tech from Puerto Rico died yesterday about 5:45 p.m. while performing services on a cell tower in Vienna, Maryland.

According to Maryland State Police officials, Michael Frontiero Cortes, 41, of Morovis,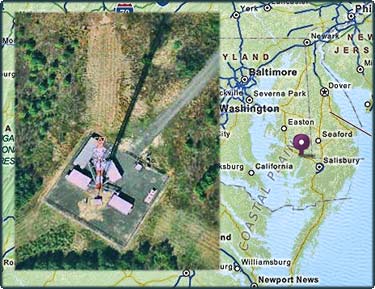 Puerto Rico fell approximately 200 feet to his death
"He was between 180 and 250 feet up on the tower working on a satellite dish. He fell to the ground. Emergency medical personnel responded, but Mr. Cortes was dead on arrival. His next of kin were notified in Puerto Rico," said Lt. Brent Black.
The tower technician worked for the Konet Corporation, a telecommunications company based in San Juan, Puerto Rico.

Authorities said that Cortes and a co-worker were working on the tower. The unidentified tech told police that the pair was working on a satellite dish. He was providing tools to Cortes with a rope and pulley system.
Police said the co-worker heard a thud, looked behind him and saw Cortes lying unresponsive on the ground.
The 355-foot guyed tower is owned by Crown Castle International. The company had a nationwide contractor stand down today
Cortes was the seventh technician to die this year after falling from a communications structure. In 2012 there was only one fatality.
Analyst accuses American Tower of possible fraud as Wall Street falls in love with SBA
Update: July 18, 2013 - American Tower Corporation President and CEO James Taiclet, Jr. told CNBC Mad Money's Jim Cramer last night that he wanted to set the record straight, stating that the Muddy Waters report writer didn't fully understand the

way in which the company funded its Brazilian transaction and they filed a report with the SEC identifying that the full amount was paid in the deal.

The Muddy Waters report had said there was a $ $250 million discrepancy between
the price American Tower said it paid for towers in Brazil and the actual sale price.

Taiclet also said the reports' inference that he didn't believe in the company because he sold 90% of his stock was also inaccurate. He told Cramer that "two-thirds or more" of his net worth was invested in American Tower stock.

According to an Edgar filing as of July 8, 2013, Taiclet owns 100,041 shares, valued at $7.4 million based upon yesterday's closing price.

In 2012, Taiclet made $11,161,164 in total compensation. Of this total $1,100,000 was received as a salary, $2,035,000 was received as a bonus, $4,000,017 was received in stock options, $4,000,054 was awarded as stock and $26,093 came from other types of compensation.
- - - - - - - - - - - - - - - - - -
Update: July 17, 2013 - In a statement released this evening, American Tower says it "disputes a number of statements" in Muddy Waters' report regarding its 2011 purchase of 666 Brazilian towers.


American Tower, accused by Muddy Waters of paying $250M less for the towers than claimed, says it paid a full $585M for them via $335M in intercompany loans, $184M in equity contributions, and cash from operations.

The tower consolidator did not address why it paid $879,000 per site, seen by many in the industry to be higher than current international or domestic sales amounts for tower buys.
- - - - - - - - - -
July 17, 2013 – Shares of American Tower Corporation dropped sharply this morning after Muddy Waters Research stated that the company's stock, $73.06 at today's opening, was worth less than $45.
American Tower may have committed fraud by dramatically overstating the amount of money it paid for towers in Brazil, Muddy Waters claimed.
"There is an approximately $250 million discrepancy between what AMT claims to have paid for the acquisition of towers in Brazil, and the actual selling price. AMT claimed to have paid $585.4 million for the towers, but the real price was close to $300 million. If AMT is aware of this discrepancy, it would amount to fraud. We have provided our research to the SEC," stated Muddy Waters' report.
They also said that their information was based upon review of financial statements of the acquired company and Central Bank of Brazil records.
American Tower had previously said that they were buying the towers from "an independent tower company," but would not disclose the name of the company.
An industry insider familiar with the acquired company, told Wireless Estimator last year that the tower firm was Site Sharing NE, and the structures were in prime locations and were built before siting was a major concern in Brazil. He also believed that structures were sold in the range of $300 million.

Although the Site Sharing structures were commanding higher rents, carriers are negotiating with American Tower for lower leases or they will relocate when their leases are up, according to a Wireless Estimator source in Brazil.

But the Muddy Waters report questioned why the $879,000 per site cost was 33% higher than even recent US prices.
Muddy Waters, a firm that specializes in identifying companies that it believes are significantly overvalued, also said that the American Tower's CEO, James Taiclet, Jr., has shown a lack of confidence in it by consistently selling 90% of the shares he receives from options.
However, not holding onto options doesn't mean that American Tower isn't going to be successful.
In a 2010 article, Wireless Estimator identified that the three publically-traded towerco CEOs would have collectively earned an additional $70 million if they didn't exercise their options. If Taiclet had held his stock over the years he would have seen a valuation increase of $19.5 million.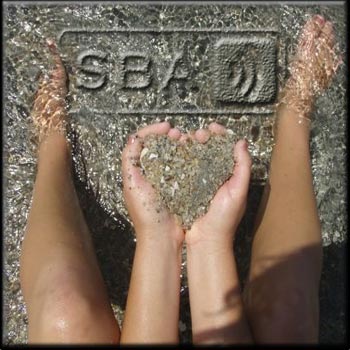 SBA Communications' shares were trading at $77.65 this morning, topping Crown Castle at $74.56 and American Tower's at $72.54.
The company, whose stock has risen 39% in the past 12 months, was again buoyed by their announcement that they had struck a $302.6 million deal with Brazilian telecommunications service provider Oi SA under which the Boca Raton, Fla.-based company will have exclusive use rights for 2,113 towers in Brazil, strengthening its presence in the South American nation.
Last December, SBA launched operations in Brazil when it acquired 800 towers from Telefonica's Brazilian subsidiary Vivo S.A. for approximately $175 million.
This week's deal is part of a fixed wireline concession granted by the Brazilian federal government.

Once the agreement closes, Oi will sign a long-term lease with SBA, with monthly lease payments, for antenna space on each of these towers. In exchange, SBA will assume all responsibility of operating and maintaining the towers and will have the right to lease space on the towers to other telecommunications service providers.
The towers currently have 1.15 tenants a tower and include leases with all of the major wireless carriers in Brazil.
The deal is expected to close by the end of this year.
SBA said it expects the towers will contribute $32.4 million of revenue and $29.6 million of tower cash flow for 2014. It expects the deal, when it closes, to immediately add to per-share adjusted funds from operations.

To view Muddy Waters Research's 118 page analysis, click here.
AT&T's acquisition of Leap will have minimal impact upon the nation's top towercos
July 16, 2013 – Following AT&T's announcement Friday that it had entered into an agreement to acquire Leap Wireless, the three publically traded tower companies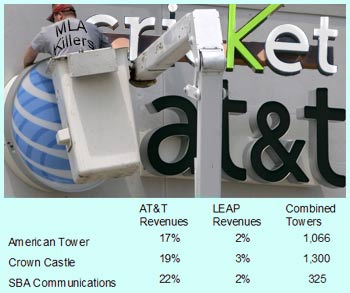 released information pertaining to the impact the proposed acquisition will have upon their revenues.

However, their Leap lease terms they're presenting to shareholders in their master lease agreement are possibly enforceable, but not practical.

SBA Communications, with 2% of its revenue coming from Leap, will be impacted the least since AT&T and Leap co-locate on only 325 of their towers. American Tower has 1,066 towers and Crown Castle has 1,300 towers where both carriers are tenants.

It will be expected that once the acquisition is completed, which is anticipated to be within the next six to nine months, that it will be a year or more before the Leap sites begin to be decommissioned. That could be even longer due to AT&T's need to use all available tower crews to build out their LTE network.

Although Leap's lease terms range from three to eight years, A&T will ask for an earlier termination without penalties, and it is expected that the major tower companies will honor that request since AT&T provides an average of 20% of their revenues and Leap only accounts for slightly more than 2%.

AT&T might keep some of the Leap leases to augment their network requirements, and possibly abandon some legacy sites for more suitable Leap locations.

AT&T will retain the Cricket brand name, provide Cricket customers with access to AT&T's 4G LTE mobile network, utilize Cricket's distribution channels, and expand Cricket's presence to additional U.S. cities.

Carriers typically buy each other for their subscribers, footprints and networks. However, AT&T is buying Leap for a single asset only, spectrum, which will cost AT&T $4 billion, $1.2 billion for Leap and $2.8 billion in Leap debt.

If AT&T had been successful in acquiring T-Mobile in 2011, it would have severely impacted revenues for tower companies. When the deal was announced American Tower said that AT&T and T-Mobile made up 20% and 8%, respectively, of the company's revenue. American Tower also had 3,100 communications sites it owned or operated where it had separate leases for the two carriers.
Male dominated tower erection industry to be led by its first woman as Pat Cipov takes the helm
July 11, 2013 - Neither glass nor cloud ceilings prevented Pat Cipov from excelling in the tower construction and maintenance industry, and today she's at another highpoint
of achievement as she takes over the reins of the National Association of Tower Erectors (NATE) as its first chairwoman in the association's 18-year history.

NATE Executive Director Todd Schlekeway announced the appointment of Cipov, of Cipov Enterprises, Inc. of Sumter, SC, to replace Chairman Jim Coleman who resigned from the position due to additional responsibilities he will be assuming following the recent acquisition of Midwest Underground Technology, Inc. (MUTI) by Sabre Industries.

MUTI had acquired Coleman's company, Southern Broadcast Services, Inc., in April of 2012.

"I am honored and humbled to assume the position of NATE Chairwoman," said Cipov. "I sincerely appreciate this opportunity and look forward to continuing to work hard every day to ensure that safety remains the top priority in the industry."

"I
would like to thank the NATE member companies and Board of Directors for entrusting me with the responsibility to serve as their chairman," stated Coleman. "I will remain involved with the NATE OSHA Relations Committee and it is our plan at Sabre/MUTI to continue to support the association's priorities and projects moving forward."

From a CPA firm to a history of affirmative safety
Cipov, then Pat Turner, left her position in a CPA firm in 1978, and at age 28 went to work for her brother-in-law who had a small tower company in Sumter, SC where she met Mick Cipov.
In 1980, she and Mick struck out on their own and started a successful tower erection and maintenance company, which Pat runs today.
They married the following year, balancing a family and business.
Cipov had enjoyed climbing, sometimes as high as 750', but Mick had taught her how to operate the winch and she became the company's hoist operator in addition to bookkeeper and the many other roles that small business owners must assume.
When Cipov first joined NATE in its early years she said that she was aghast when she discovered what her company should have been practicing for a safe employee environment. "Everything hit us like a sledge hammer," she said, resolving then to bring her company into compliance.
Since then she has become a strong safety advocate. "I have set a personal goal - and NATE is the conduit for it - that every tower climber is taught to work safely and that they all do work safely," Cipov said in an earlier Wireless Estimator interview.
She was elected to the organization's Board of Directors in 2000 and to the position of Vice Chairman of the trade group in 2006.
She hung up her climbing belt in 1998, but fortunately for the industry not her enthusiasm for helping to ensure a safe and profitable environment for tower erection companies.
"I would like to congratulate Pat Cipov on being named Chairwoman of NATE," said Schlekeway. "Pat has faithfully served the association for many years as a member of NATE's Board of Directors and will provide steady leadership moving forward in her new role as chairwoman."
Two techs die in North Dakota cell tower accident
UPDATE: July 9, 2013 - Mountrail County Sheriff Ken Halvorson released the names of the two men who were killed after they fell approximately 250 feet from a tower yesterday morning: Namon Smith, 42, of Chattanooga, Tenn., and Zachary Roberts, 25, of Homerville, Ga.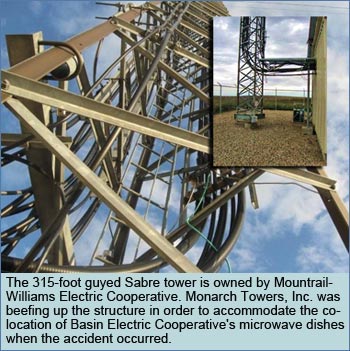 Halvorson confirmed earlier reports provided to Wireless Estimator that one of the men was transitioning on the tower when he fell and struck the other man, causing him to fall.

However, OSHA is on site investigating and will identify how the accident occurred.

The 315-foot guyed Sabre tower, located six miles NNE of New Town, is owned by Mountrail-Williams Electric Cooperative. Monarch Towers, Inc. was beefing up the structure in order to accommodate the co-location of Basin Electric Power Cooperative's microwave dishes.
- - - - - - - - - - -
July 9, 2013 - The Bismarck, N.D. area Occupational Safety and Health Administration office is investigating the deaths of two tower technicians who fell from a cell tower in Mountrail County.

According to the Mountrail County Sheriff's Department, the workers fell 250 feet yesterday.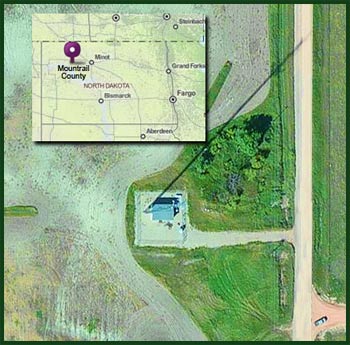 The agency said that the cellphone tower technicians were employed by Monarch Towers, Inc.
Monarch's president, Jack Boone, was reportedly on his way to the accident site to assist in the investigation.
The company is based in Sarasota, Fla. where Boone also owns Broadcast Technologies, Inc.
The men were members of a crew that was retrofitting the structure.
The Sheriff's Department could not immediately provide information regarding the tower's owner.
Boone has been a long-time advocate for climber safety. Both of his companies specialize in broadcast work but will provide some cell site services, especially in reinforcement efforts.
He also owns a tower services company in Puerto Rico. Boone has been active in the development of industry standards and has often been hired to investigate or provide expert witness services in tower construction accidents and fatalities.
Yesterday's fatalities brought 2013's total deaths of workers falling from a communication structure to six. The last fatalities occurred on May 28 when two workers were killed in Georgetown, MS.

Wireless Estimator will update this story when additional information becomes available.
Cell phone inventor to address the tower workers who installed the backbone for the "Brick"
By Craig Lekutis
June 29, 2013 – The first message sent in American Morse Code by Samuel Morse to officially open the Baltimore-Washington telegraph line on May 24, 1844 was "What
hath God wrought."

When Martin "Marty" Cooper of Motorola, world-recognized inventor of the portable cell phone, made his first mobile phone call to razz his archcompetitor, Bell Labs' Joel Engel, to let him know that he had lost the handheld mobile phone race, he started with: "Joel, this is Marty Cooper."

Since that April 3, 1973 Manhattan, N.Y. call it appears that it might have been more appropriate for his lead engineer, Donald Linder, to have called then FCC Chairman Dean Burch and ask, "What has Marty wrought?"

What Cooper helped shape was a nation addicted to their cell phones and other wireless devices where individuals of all ages start jonesing if their phone's battery is south of 30% capacity and there is no immediate fix.

He also helped set the path for multi-billion dollar enterprises and a continuing increase in worldwide GDP growth and personal productivity, lessening of world poverty and health problems, and other global achievements that would make industrialists like Eli Whitney blush with envy.

And two weeks ago President Obama issued a directive for the country to immediately move forward in researching, testing and implementing spectrum sharing, although the nation was given that wake-up call by Cooper more than 20 years ago.

Following Cooper's first call, due to glacial speed FCC rule making, administration objections and lawsuits, it would be another 10 years before Motorola commercially introduced its first handheld phone, the DynaTAC8000x, nicknamed the "Brick," at a handsome price of $3,995.

Adjusted for inflation, today that phone with a talk time of 35 minutes requiring 10 hours for a full charge would cost $9,388.

By 1998, the cellular products group that Cooper had managed before he left Motorola in 1983 had grown to provide 42% of Motorola's $30 billion in revenue.

The FCC approved commercial cell phones on a regular basis starting in 1982, and by 1984 there were 91,600 cell phone users, many of them proudly sporting the DynaTAC.

But in the ensuing years, appreciable increases in portable phone sales for Motorola, Nokia and other manufacturers were dependent upon contractors building out the first analog and 2G networks to handle the pent-up demand for mobility without painful pricing.

Cooper will meet many of those men and women when he provides the keynote speech at the National Association of Tower Erectors' annual conference, NATE UNITE 2014, to be held in San Diego, Calif., Feb. 24-27, 2014.

Continued: Expected profits mired by Japan's phone dumping
Monopole fire loss could reach $1 million or more
Update: June 22, 2013 – AT&T released a statement regarding yesterday's cell phone tower fire on a structure they owned in Bensalem Township, Pa., saying their network team was working to bring in temporary facilities to support wireless service in the area.


Fred Harran, Public Safety Director for the township said welders were working at the 70-foot level when sparks set off an intense fire ten feet above them. They tried to put it out, but ended up having to race down to get help.
Harran said the two workers rappelled quickly down the structure and called 911.
"We had some people who were inconvenienced, but no structural damage to anything except the cell phone tower, and no injuries. So it's a good day's work here," he explained to reporters.
The tower was taken down about 9:30 p.m. last night after a crane laid the monopole on the ground.
- - - - - - - - - - - - -
June 21, 2013 - A 110-foot-tall communications tower that caught fire this morning in Bucks County, Pa. was structurally damaged and will be required to be dismantled and removed, officials say.
The AT&T monopole on Byberry Rd., behind the Bensalem Township public works building, was at one point in danger of falling and a nearby retirement home was evacuated, according to authorities.
The fire broke out before 11:30 a.m. An hour later PECO had shut off power to the area, including the tower and nearby homes.
The fire appeared to have burned out two hours later but there was still some smoldering on the multi-tenant tower.
"At this point we are still waiting on structural engineers to arrive, said Bensalem Police Department Sgt. Andrew Aninsman. "The tower is still not stabilized, it is still swaying," he said.
The top of the tower caught fire while a tower crew was working on it, but authorities did not immediately know if they had been welding on the structure. They also did not know the name of the contractor.

No injuries were reported.

A Philadelphia tower erector who has worked on the structure said that AT&T might be seeking as much as $1 million or more in reimbursement from the contractor to remove and replace the structure as well as put up a temporary tower, and to replace the existing carrier equipment on the heavily loaded monopole.
A message left with the Bucks County Emergency Management Agency by Wireless Estimator was not immediately returned.
Pride in photographing unsafe practices indicates
the industry still has a long way to go
Commentary
June 10, 2013 – Two testosterone-pumped tower techs proudly flexed their muscles on a T-arm last week in a Facebook photo in an
embarrassing disregard for safe working practices.

The two men were photographed on the end of an antenna mounting frame with one of the techs inverted underneath the other – appearing as tritely-captioned refrigerator magnets on a sliver of life support, stating: Stupid is as Stupid does.

Greenhorns know that you don't tie off to an antenna mounting frame because they're not man-rated, especially not two-man-rated.

The Facebook photograph is disturbing inasmuch as a number of its associated comments said it was an awesome picture and one tower tech was upset that he hadn't thought of doing something like dumb and dumber did.

Another viewer commented that the industry should get a grip and the picture police should back off.

Why didn't the techs' co-workers immediately stop the photo staging being taken by a third elevated worker?

These techs weren't reportedly working for the usually maligned Bubba's Truck and Rope Company, or for one of the newly formed enterprises seeking LTE projects, but for a long-established mid-sized company which heralds its stringent safety policies.

It appears that this company needs to strive for a greater workforce involvement in safety, as do others in this industry.

It's apparent that in the rush to build out LTE, stupidity is not a handicap. It's just deadly.

This incident is clearly a top candidate for our Tower Climbers Hall of Shame.
.



NATE and Wireless Estimator unveil national
Wireless Infrastructure Workforce Survey
June 4, 2013 - The National Association of Tower Erectors (NATE) and WirelessEstimator.com announced the launch of the national Wireless Infrastructure Industry Workforce Survey.

The comprehensive, user-friendly, online survey is designed to capture the most up-to-date and relevant workforce data and trends in the tower industry. All tower construction firms, general contractors and other companies who conduct work on communications sites are encouraged to respond to this quick, convenient survey program.

Upon completion, the data and results of the workforce survey will lend invaluable insight regarding the current marketplace to all stakeholders involved in the industry including carriers, tower owners, wireless infrastructure firms and tower construction companies. It will be provided to all industry companies at no charge as a public service.

"It is high time to conduct an updated, comprehensive industry workforce survey due to the evolving nature that the industry currently finds itself in as a result of the rapid expansion of 4G/LTE network build-outs," said NATE Executive Director Todd Schlekeway.

"The survey collaboration between NATE and Wireless Estimator will allow us to utilize our industry influence, contacts and geographic footprint in order to extrapolate the most credible and reliable data upon completion of the survey," said Schlekeway.

"After an extensive survey in 2006, Wireless Estimator provided the first industry snapshot of the number of employees that were regularly working on elevated structures," said Craig Lekutis, president of WirelessEstimator.com.

"But today's advanced survey modules and our extensive databases of the majority of industry companies will clearly assist us in being able to provide analytical data that has been sorely needed."

"There is not a week that goes by where there isn't a request to us for this information from carriers, manufacturers, analysts and others trying to structure their business," said Lekutis.

To access and complete the online survey, tower industry firms should visit:
Wireless Workforce Survey.

To complete the survey, your company name must be included. All of the individual company information provided in the survey will be kept confidential.

If requested, companies providing a survey will be identified in a future listing available to the public of tower and cell site installation and maintenance contractors offering services in each state.

"This will be an excellent tool for interested parties to identify the contractors in each state no matter what size their employee count is," said Lekutis.

About National Association of Tower Erectors
The National Association of Tower Erectors (NATE) is a non-profit trade association in the wireless infrastructure industry providing a unified voice for tower erection, service and maintenance companies. Today the Association boasts over 600 member companies located throughout the United States, Bahamas, Canada, Jamaica, Philippines, Puerto Rico, Saudi Arabia, Singapore, South Africa, Sweden and Trinidad. NATE Members include tower construction firms, general contractors, tower owners, wireless carriers, manufacturers and distributors. For additional information on NATE, please visit www.natehome.com .

About WirelessEstimator.com
Since its introduction in 2004, through the generous and active support of industry professionals and vendors, WirelessEstimator.com has become the premiere, most visited industry website in the wireless infrastructure industry. The telecommunications and investigatory news portal also provides a number of public databases such as the industry's largest tower owners as well as an extensive composite of worker fatalities since 2003. Design and safety standards are also available online. They maintain the largest help wanted infrastructure listings in the nation. Visit the site at: www.wirelessestimator.com.
Gin pole catastrophe kills two in Mississippi
UPDATE: May 29, 2013 - According to Copiah County coroner Ellis Stuart, the two tower technicians who died yesterday when a falling gin pole struck them were Michael A. Castelli, 42 of Baton Rouge, La. and Johnny Martone, 32 of Taylorsville, Miss.
- - - - - - - - - - -
May 28, 2013 – Two tower technicians were killed this afternoon when a gin pole they had on the guyed tower in Georgetown, Miss. to hoist cell site mounting frames and antennas reportedly had a failure in its rigging, causing the men to fall to their death at the base of the tower where they were pronounced dead by authorities.

A
n aerial photograph shows one man at the base of the tower's foundation where the gin pole struck and then fell across a security fence. The second climber was less than 20 feet away within the compound.
Copiah County Sheriff Harold Jones said it appears that a "catastrophic failure of a cable" caused the two men to plunge to their deaths.
However, according to two industry sources familiar with the accident, the cable did not break and they surmised that it might have been a block or some other rigging failure.
Jones said he hasn't released the men's names, but he said the techs are ages 32 and 42. One of the men is from Mississippi and the other is from out of state.
He said the men's bodies have been taken to the Mississippi Crime Lab for examination.
The tower is located on Highway 27 north of Highway 28. The 300-foot structure is owned by SBA Communications.
OSHA Area Director Clyde Payne said that his agency is investigating the fatalities and is currently on the accident site.
Randle Drane, of the Copiah County Emergency Management Agency, said the men worked for a company out of Baton Rouge, La.
Although the contractor is Byrd Telecom, according to onsite personnel, a company by that name is not registered in La. Sonny Byrd is the owner of Byrd Telecom.
Initial reports indicate that the gin pole was being raised to the top of the structure and suddenly plummeted. The two men were at approximately 150 feet when the gin pole was slightly above them. When it fell it struck both technicians when it came down, according to a crew member.
Four crew members were on site when the accident occurred. A fifth member had reportedly just left the job site.

When the gin pole broke from its rigging a third crew member was on the tower, but was able to climb down uninjured.

The work on the structure was being performed for Verizon.

The last industry-related fatality in Miss. occurred on June 3, 2009 in Leland when a 28-year-old technician fell 217 feet while working on a T-Mobile installation. According to OSHA, he was not tied off.

Prior to that death, Miss. had three other fatalities since 2003.

The Georgetown fatalities were the third and fourth deaths in 2013.
Monopole fire takes Crown pole out of service
May 21, 2013 - A Middletown Township, N.J. monopole was destroyed last Thursday after transmission lines ignited on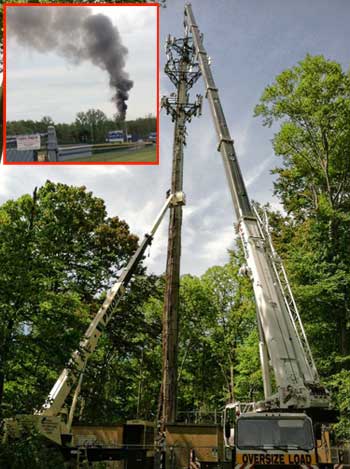 the tower causing structural and equipment damage.

According to the Middletown Township Fire Department, the fire is still being investigated by their fire prevention bureau.

A tower crew, reportedly employed by an Edison contractor, had been working on the monopole. Fire officials did not immediately confirm a request for the company's name.

About 30 firefighters from four companies responded to the call.

The 3-carrier monopole, off of Normandy Rd., is owned by Crown Castle International. Crown did not respond to a request for information.

Firefighters arrived shortly after their 11:14 a.m. call, but were unable to begin to quell the flames until crews from Jersey Central Power arrived to shut down power to the cell site, approximately 20 minutes later, according to a fire department statement.

The monopole is located on property adjacent to Middletown's fire academy and behind the athletic fields of Middletown High School South.

In 2007, Verizon received approval from the board of education to lease land for a cell site at the high school, but the board later asked Verizon to release them from their contract because numerous residents said the board acted too hastily.

Verizon didn't cancel the agreement and went before the Zoning Board of Adjustment, but was rejected by the township agency. Members of the board said that the fire academy would be a better spot for the tower.
Impact with guy wire might have saved tech's life
UPDATE: May 16, 2013 – An officer of Metro Site Telecom Services, Inc. said that he was sincerely saddened by last Thursday's accident in Alabama which severely injured Michael Erives, and would ensure that everything possible will be done to identify how the accident happened and how it could have been prevented.

Although OSHA doesn't require a company to contact them if there is only one employee injured, no matter how serious the injuries are, Scott Ledford informed Wireless Estimator that immediately after learning of the accident he requested OSHA to investigate.

Ledford said that he requested the agency's assistance to ensure that an independent and thorough investigation would be made. He also stated that once OSHA issues their findings he would be pleased to share them with the industry so that any lessons learned can benefit everyone.

Ledford said that he was in close contact with Erives' family members and his employees as they work through this tragic accident.

He said that Erives was a full time employee of his company and to his knowledge had never been employed by JAG Industrial and Marine Services. However, Ledford said that he does use JAG's services to recruit employees for his firm.

Ledford is also the owner of Metro Site Fabricators, also located in Commerce, Ga.
- - - - - - - - - - - -

May 15, 2013 – According to a witness contacted by Wireless Estimator, Michael Erives, who fell approximately 240 feet from a guyed tower last Thursday, had his fall slightly lessened after he struck a lower guy wire and appeared to have straddled it for a moment before continuing to fall, which could have been another 50 feet. (See article below.)

Erives was a member of a crew employed by or working under the direction of Metro Site LLC out of Commerce, Ga.

The tower site is in Alabama, near the Mississippi state line. An earlier report incorrectly stated that the tower was located in Meridian.

Three major tower owners have informed Wireless Estimator that they believe that the structure was not in their portfolio.

According to Erives' Facebook page, the Silsbee, Tex. resident posted that he began employment with JAG Communications late last February.

It appears that the company that hired Erives is a staffing company as well as a self- performing service company, but their name is JAG Industrial & Marine Services, a firm that seems to have been heavily recruiting wireless industry workers since January.

Their web site is under construction and provides limited information about the company, but on their Facebook page they state: "Jag industrial and Marine Services places skilled laborers. We provide competitive, competent, and timely industrial, telecom and marine services."

Although they have a Georgia landline telephone number in Cumming, there is no corporate filing for the company in a Secretary of State document search.

JAG advertises in numerous media for crews and personnel. One Craig's List request was for a cell site electrician on the East Coast for a four-month project that said: "The flight will be payroll deductible and 2 weeks lodging will be payroll deducted if needed."

Their Facebook page promotes a photograph of crew members working at a Metro Site project and explains how they're striving to recruit telecom workers.

It is not known if there are any cross-ownership interests between JAG and Metro Site.

Executives from both companies received emails and voice messages, but did not respond to Wireless Estimator's request for additional information.

According to family members, physicians are stabilizing Erives and building up his strength so that they can perform back surgery.

Individuals knowledgeable about the tower owner and the company Metro Site was providing services for are requested to contact Wireless Estimator.
Texas tech still critical after 240-foot fall
May 14, 2013 – A Silsbee, Tex. tower tech is in stable, but critical condition after falling almost 240 feet from an Alabama structure he was working on last Thursday, according to his aunt.
Dana
Heiman said on her Facebook page that Michael Erives had undergone approximately 10 hours of surgery for his injured arm and leg, but doctors were not able to operate on his pelvis and back until severe swelling subsides, possibly sometime later this week.

She said he was responding to voices by opening his eyes. "God is good and is working in that hospital!" said Heiman.

Erives, who is in his early thirties, is married and has an eight-year-old daughter. His wife Theresa and other family members are at his side daily and strongly believe that the power of prayer will help him to recover.

Erives' Facebook page said that he started working in the industry on February 22 for JAG Communications.

One Facebook poster thought that JAG Resources out of Eagleville, Tenn. might have been Erives' employer and provided a link to their company web site.

"That's not so," said JAG's President, Jeffrey King, who wasn't aware of another industry company called JAG Communications.

King, who employs 63 field personnel, said he checked his employment records to ensure that Erives wasn't a short-term employee at some point.

King said that numerous people had called him when they had read that one of his employees had been seriously injured.

"It's too sad," said King, "I hope we're not going to see more of this because of the LTE build-out."

JAG was established in 2001.

Individuals knowledgeable about Erives' incident and employment are requested to contact Wireless Estimator.
Canada's low fatality rate takes a hit with its second death in three years
May 9, 2013 - A 25-year-old Ottawa, Can. tower tech died Sunday after falling 193 feet from a cell tower on the south side of Red Deer in Alberta while installing antennas on a Rogers Communications-owned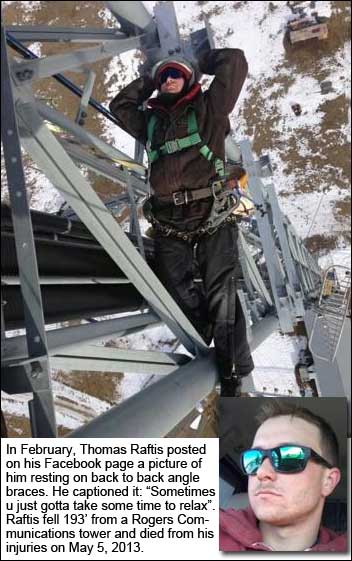 structure.

Authorities say that Thomas Raftis appeared to have proper safety equipment when he fell from the top of the tower, but could not identify if he had been tied off to the structure.

Employed by Advanced Tower Services, Raftis was pronounced dead at the scene following the 2 p.m. fall. Human Resources and Skill Development Canada said it is investigating the accident which occurred in a field behind the west side of Gasoline Alley, a commercial area.

Advanced, a turnkey fabricator and installation firm, has been in business since 1976.

Canadian workers who take pride in their low fatality rate were saddened by the death. The last fatality occurred in Quebec when a tech was working on a microwave dish at a level of 100 feet when he fell in 2010.

In 2005 a tech fell off of an AM tower at the 55-foot level while hoisting transmission line. Similar to many U.S. accidents, he was wearing the correct personal protection equipment but he was not tied off to the tower.

Prior to that incident a tech died in 1998 when he fell in British Columbia after belting off on a lightning rod to change a beacon light on a 300-foot tower. The rod failed.

Rogers, who reportedly had a stand down Monday morning, is Canada's largest wireless and cable provider. It also owns 55 radio stations as well as numerous TV networks and has over 50 magazine and trade publication in its media group.

Rogers is in an ambitious build-out program to bring LTE to 44 new markets in Atlantic Canada, Alberta, Ontario and Quebec within the next couple of months.

For a comparison of international versus domestic fatalities, click here.
English speaking tower climbers should get Sprint's work says suitor's chairman
May 2, 2013 – Cloaking himself in the American flag, Dish Network Chairman Charlie E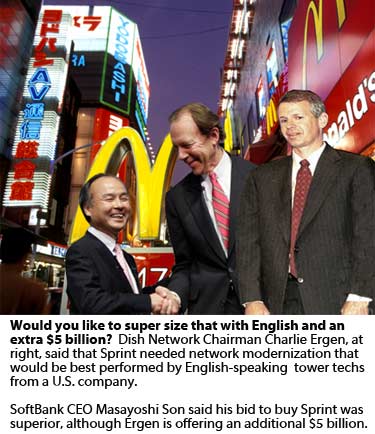 rgen provided a new description for the well-known acronym LTE: Long Term English.

Ergen said in an interview in USA Today yesterday that Japan's SoftBank's offer for a 70% stake in Sprint for $20.1 billion should be reconsidered by Sprint's shareholders since his $25.5 billion offer is far superior. They'll do that on June 12 when they vote to approve or strike down Ergen's deal.

But Ergen says there is more at stake than just the price.

"We are an American company and the modernization of Sprint's network will have to be done from the U.S. You have to climb the towers here, and you'll have to have U.S. employees who speak English. Operations command control will be in America. That's good for jobs. It doesn't mean that the other guys are bad. It's just that we have an advantage."

Son said he expected that he'll win the bidding war without raising his offer.

Ergen, a former professional gambler, said that he is confident that Son will raise his $20.1 billion bid. "That was the biggest bluff of the day," says Ergen. "It's like the guy who says 'to be honest with you.' "

Son has said the numbers Ergen is proposing are misleading. Son says that if you factor in both cost savings and potential costs like delays, SoftBank's offer was worth $7.65 a share, while Dish's was valued at $6.31.

Son also said that Ergen has admitted that he's a neophyte in the mobile industry. Ergen said that Dish grew without previous experience in the satellite business, much the way SoftBank evolved from technology investor to wireless carrier.

If Ergen's xenophobia becomes a model for assessing acquisitions in other countries, American Tower Corp. will have to change their help-wanted advertising boilerplate to: Applicants must be fluent in German, Hindi, Spanish, and Bantu, among other languages as may be required.
Rescuers pull two concrete crew workers from collapsed cell tower foundation excavation
April 28, 2012 - Two foundation crew workers employed by Raytex Construction were rescued after a cell tower foundation excavation they were working in collapsed in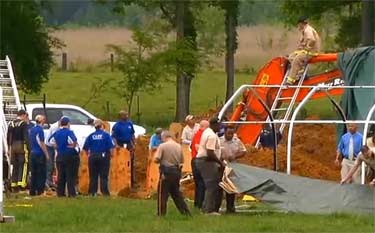 Hope Hull, Ala.

Authorities say that a co-worker of Austin Leonard and Todd Burnside called 911 at about 11:30 a.m. on Wednesday after the men were partially covered with dirt when the foundation, reported to be almost 12 feet deep, collapsed as they were setting a rebar cage.

According to Montgomery County Assistant Fire Chief Kelly Gordon their injuries, although serious, were not life threatening.

The first worker was pulled from the hole two and one-half hours after rescuers removed two feet of dirt surrounding his feet by shoveling small shovels full of the soil into five gallon buckets.

Rescuers were able to create a ventilation hole for the second worker, who remained alert and was able to communicate with the rescuers. He was trapped under four feet of dirt.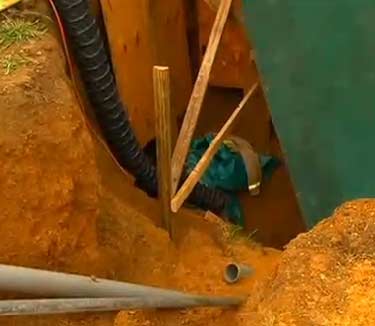 Before they could pull him out they had to cut away part of a 4-foot by 2-foot by 12-foot rebar cage he was trapped in after the collapse.
He had been trapped for approximately four and one-half hours. Gordon says it's unclear what led to the hole partially caving in.
Leonard and Burnside were airlifted to a local hospital.
OSHA is currently investigating the accident to identify whether proper safety standards were followed.
The agency requires that trenches and excavations 5 feet deep or greater must have a protective system unless the excavation is made entirely in stable rock.
Excavated soil and other materials are required to be placed at least 2 feet from the edge of the excavation.
OSHA's acceptable protective systems including benching, sloping, shoring or shielding.
The last known industry fatality involving a foundation worker was in 2003 when a man was killed when the walls of a tower foundation excavation he was working in completely buried him after they collapsed.
You'll have approximately two seconds to regret
the error of not tying off 100%
Commentary
April 18, 2013 - Since the pragmatic safety requirement to tie-off 100% of the time doesn't resonate with some tower technicians, they might be helped by understanding
the severity of The Mississippi Rule.

In most cases they'll only have two seconds or less to regret not tying off; or they can spend it remembering family and friends or wondering if their name might be misspelled on their toe tag.

Try it. Not falling, but counting out loud: "1 Mississippi, 2 Mississippi."

It's not much time for your remaining time on earth just before you hit it. And it's certainly not enough time to imitate a Jason Bourne-type lifesaving grasp of a load line.

Sadly, as identified by reviewing the majority of industry fatalities, dozens of deaths could have been avoided if the technicians had taken the additional time, perhaps as much as 3 or 4 Mississippies, to ensure that they were tied off.

Physics recognize that falling off of a tower starts at 32.2 feet per second, but it increases an additional 32.2 feet every second until maximum velocity is reached at 177 feet per second.

One could contend that these figures might change slightly based upon variables such as weight and the orientation of the falling body.

However, one cannot argue that there is ever an occasion where you cannot be tied off.

Even at 10 feet above ground level you can reach a velocity that's terminal.

Take the pledge to never test The Mississippi Rule.
American Tower shutters its doors following deadly Boston Marathon bombings
April 16, 2013 – American Tower Corp., whose corporate office on Huntington Ave. is just one block south of where the second Boston Marathon bomb exploded yesterday,
has reported that its employees and their families are safe, but they would be shutting down their office today.

Shortly after the explosions, the company implemented an emergency response action including an expedited assessment regarding their employees and their family members that may have been present at the corporate office or who may have been running or watching the race, according to spokesperson Matt Peterson.

Based on that assessment, Peterson said, all of their employees and their family members appear to be safe at this time. Employees were asked to stay home today due to the fact that their office is located on the edge of the investigation area. However, they expect normal hours of operation tomorrow.

American Tower has witnessed terrorist attacks first hand.

General Telecom, a former subsidiary of American Tower, with headquarters on the 83rd floor of One World Trade Center, lost 13 employees after a plane commandeered by terrorists crashed into the tower on September 11, 2001, collapsing the 110-story building.

Cell site shutdown denied
Wireless carriers are denying an Associated Press report citing an unnamed source who claimed they interrupted cell service in the Boston area to prevent the remote detonation of more bombs from cell phones.

At one point, police officials thought there may have been additional bombs other than the initial two that exploded near the Boston Marathon finish line yesterday.

Verizon Wireless and T-Mobile denied any interruption of service in the area. AP later retracted the story.

"Verizon Wireless has not been asked by any government agency to turn down its wireless service. Any reports to that effect are inaccurate," a Verizon spokesperson said.

All carriers said that if their service was intermittent immediately following the bombings it was likely caused by abnormal caller traffic.

Some investigators theorized that the bombs could have been set off by a mobile phone; the second bomb exploded just 10 seconds later, about the time required to dial and connect to a new number.

The two bombs that ripped through the crowds at the Boston Marathon, killing three people and wounding more than 170, were reportedly fashioned out of pressure cookers and packed with shards of metal, nails and ball bearings, a person briefed on the investigation said today. No mention was made as to how they were triggered.

Victims fund set up
According to the New England Wireless Association, a fundraiser on fundraise.com has been set up to benefit the victims of the horrible tragedy.

TUGG and the technology community are supporting those impacted by the bombings at the Boston Marathon.

All proceeds will be donated completely to programs working with victims of the attacks. They are consulting with the Mayor's office, the hospitals that cared for the patients, and other responder teams to assess the most pertinent needs and to deliver funding directly to those impacted.

Since midnight the fund has raised over $63,000 for victim relief; however, it is expected that it will far exceed their $100,000 goal.

The state wireless group is asking that you make a donation and share the information with your entire network: https://www.fundraise.com/boston
New NATE tool assesses a climber's company fit before tackling elevated work
April 12, 2013 – Taking a page out of American Express's marketing playbook, the National Association of Tower Erectors (NATE) is once again identifying that membership has its privileges.
The newest benefit of many provided by the trade group in the past 18 years is a Tower Climber Orientation program that will enable an employer to determine if the tower climbing profession is a good fit for an applicant before making a final employment offer and investing significant training dollars into the individual, according to NATE Executive Director Todd Schlekeway.
The invaluable resource produced by the organization's Safety & Education Committee is a free, online orientation program designed to introduce prospective tower climbers to the profession, focus on the unique responsibilities of a tower climber and shine the spotlight on the prominent role a tower climber plays in the industry.
The Tower Climber Orientation, a detailed 59-slide PowerPoint presentation, allows a prospective tower climber to gain a greater understanding of the physically challenging, yet rewarding aspects of the job, the OSHA regulations that govern the industry and how to effectively utilize the tools and safety equipment that all workers in the profession are required to use.
"The Tower Climber Orientation is intended to provide a much needed awareness to the profession and ultimately encourage more men and women to pursue a career as a tower climber," said Schlekeway.
"This resource will also serve as a screening tool for NATE member companies to utilize as a prerequisite of employment with their company."
The Safety & Education Committee is chaired by Ryan Tracy; providing Board of Directors oversight is Jim Miller.
NATE members can download the program from the association's website.
Overloaded Minnesota tower falls to Mother Nature
April 11, 2013 - Nobles County in Minnesota has one of the state's highest ice loading design requirements for towers, according to Revision G of TIA/EIA 222 – one inch. B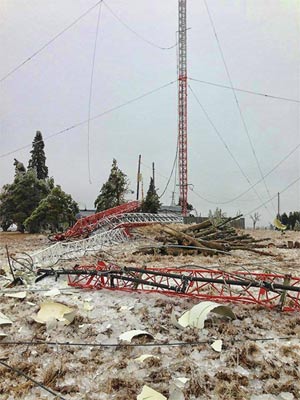 ut Mother Nature wrapped structural members of a tower in Worthington with twice that amount and it failed.

The Radio Works' country "US-95" KUSQ, Worthington, MN and CHR sister "Party 104.1" KZTP, Sibley, IA were knocked off the air when at least 300 feet of their shared 500-foot tower was brought down by ice yesterday.

According to Radio Works General Manager Chad Cummings, the tower had more than two inches of ice built up on it. He said trees were down everywhere and the devastation had been massive.

Radio Works has hired a tower contractor to assess and remove the damaged structure.

Gov. Mark Dayton called out the state National Guard yesterday to help residents of southern Minnesota after an ice storm knocked out power to thousands of people and another storm threatened to dump several inches of wet snow today.

Dayton said the storms were taxing the resources of local and county governments and that conditions were expected to worsen. He issued an executive order activating the guard.
Carriers on the offensive with a battery
of money to win dedicated crew wars



April 4, 2013 – AT&T's battle to gain 4G supremacy has a $22 billion budget, set by Chairman Randall Stephenson, and tower service companies are finding that they will be finally sharing in some of it with respectable pricing being offered, instead of being forced to accept unprofitable driver pricing that saw a number of companies fold in the past few years.

Throwing money at a problem to fix it is oftentimes ineffective as witnessed by a number of government program failures. And in most business circles throwing money at a problem is considered reckless, futile and wasteful by shareholders and management.

But AT&T and other carriers see that there is no other option if they want to obtain capable service companies to meet their announced 4G coverage projections.

AT&T once viewed contractors as a commodity where annual contract pricing required a mandatory discount from the previous year.

However, while they and other carriers were focused upon the technology necessary to bring LTE to America, they failed to assess how they were going to capture the manpower to achieve their ambitious build-out goals, according to a number of marketing executives from major services companies.

"They've had this cavalier idea that 'You need us, we don't need you,' and they're finally starting to realize that they need us. Turnabout is fair play," said one regional vice president for a service company with more than 200 tower technicians in the field.

However, he said that the workforce shortage didn't provide a license to take advantage of his clients since, "One never knows what is going to happen after 4G and you don't want to burn any bridges."

A Kansas-based general/turfing contractor recently loosened up AT&T construction dollars to its subcontractors last month.

Although the amount they are providing to their subcontractors is not known, one of their mid-sized Northeast subcontractors mailed a request to a number of its contractor associates and asked them to provide AT&T dedicated RF crews in return for a series of monetary incentives.

Although they didn't have exact amounts in writing yet from the turfing contractor, the company said that they would pay a $2,000 referral fee to anyone who refers a subcontractor to them that can qualify.

They said that if a contractor had one dedicated crew, and they were able to complete three sites in a 30-day period, the contractor would get a bonus of $4,000 for the first site, $5,500 for the second site, and $7,500 for the third site, a total crew bonus of $17,000 for the month.

If you have a top gun crew that can handle five sites a month, the bonus goes up another $21,000 to $38,000.

The company said that depending upon the statement of work, project pricing ranged from $12,500 to $25,000.

Sprint is trying to boost its crew count through its Preferred Vendor Program, where the company is offering bonuses and higher pricing.

T-Mobile has also been known to provide bonuses for crew commitments.

But it is not known how much T-Mobile USA CEO John Legere is entrenched in his company's LTE construction program.

If he understands the serious shortfall of qualified workers and crews, and knows that AT&T is trying to usurp the workforce, he may come out swinging.

Legere has made it known that he will do everything necessary to disrupt the industry, as witnessed by the frontal attack he is currently waging against AT&T.

Legere said that "customers are really pissed off" at current contracts and pricing models.

Substituting "contractors" in lieu of "customers," would also apply to the service sector, according to industry observers.
Tech survives 100-foot fall in Alabama
UPDATE: April 5, 2013 - According to Sgt. Jack Self of the Jefferson County Sheriff's Department, the technician that fell over 100 feet Wednesday was 25-year-old Johnny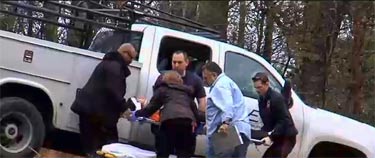 Colby West of Tuscaloosa, Ala., who was taken to UAB Hospital in Birmingham.
West is employed by Excell Communications, Inc. of Trussville.
Two industry workers, who stated that they are familiar with the accident, said that West was reportedly not tied off while he was working on an LTE upgrade.
He fell to a platform below him and was able to grab a load line as he continued to fall. His arm became entangled in the rope which is what stopped him around ten feet from the ground.
Self said that the monopole's site ID shows that it is a T-Mobile tower. However, it appears that the structure is one of the approximately 7,000 towers that Crown Castle International purchased for $2.4 billion, closing the deal last December.

OSHA will be investigating the accident, according to Self.

A request to Excell Communications for additional information was not returned.

Co-workers have said that West's injuries were not serious.
- - - - - - - - - -
April 4, 2013 – A tower technician working on a 150-foot tall Crown Castle International monopole in Birmingham, Ala., fell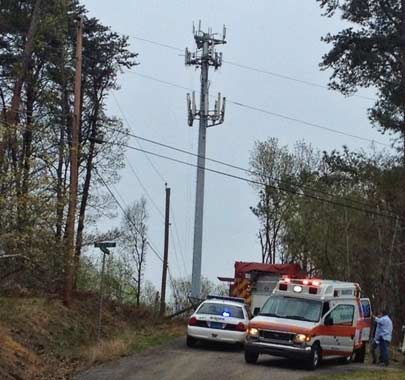 approximately 100 feet yesterday, but he is expected to survive, according to emergency responders.
The Jefferson County Sheriff's Office said that the worker was alive after plummeting from the cell tower located off of Bonnie Ave.
The accident happened about 11 a.m.
Jefferson County Sheriff's Chief Deputy Randy Christian said the worker fell from the structure, but a rope caught him just 10 feet from the ground, severely injuring his hand.

Additional information regarding the worker's name and his employer is being requested by Wireless Estimator.
LTE workforce shortage evokes
laughs in Hitler "Downfall" parody
March 27, 2013 - The 2004 critically acclaimed movie "Downfall", a film about Adolph Hitler's last days and inner circle, has been used hundreds of times for parodies on YouTube, a popular one showing Hitler's angry reaction to the iPad.

Using inside industry humor, another YouTube video by Dustin Drollinger, is
making email rounds this week. Liberally laced with the F word, it uses a segment of the film where Hitler lambastes his senior officers to parody the LTE workforce shortage.
As for the idea of such a serious scene being used for laughs, the film's director, Oliver Hirschbiegel, thinks it actually fits with the theme of the movie.
In a 2010 interview, Hirschbiegel said, "The point of the film was to kick these terrible people off the throne that made them demons, making them real and their actions into reality."
"I think it's only fair if now it's taken as part of our history, and used for whatever purposes people like."
He added, "If only I got royalties for it, then I'd be even happier."
Drollinger may not be suggesting that the industry kick terrible techs off the tower, but he does humorously highlight the problems created by an unskilled workforce.
One of Hirschbiegel's favorites was in 2009 where Hitler hears of Michael Jackson's death, and to prevent text messages reaching him about it he orders his staff to burn every cell tower to the ground.
AT&T won't confirm, but a 14,000-plus
tower sale might be in the offering
March 15, 2013 - AT&T media advisor Brad Burns said that an analyst's comment that AT&T was ready to sell its cell towers was just conjecture and he would not address
speculation.

However, he fueled today's media frenzy by couching the stand-by maxim of "Everything is for sale for the right price," with: "In all cases, our decisions are driven by what's right for the company and for our shareowners, so in that sense, nothing's off the table."

RBC Capital analyst Jonathan Atkin not only thinks the sale is front and center on the table, but the successful suitor would most likely be American Tower Corporation.

"We believe AT&T is actively considering the monetization of its tower assets in a similar fashion to several of its peers in the wireless industry. We calculate that these assets could fetch mid-$5 billion or more for AT&T's 14,500 sites, based on recent tower-industry transactions and assuming roughly $400,000 per site," said Atkin in a report released yesterday.

"We think American Tower is best positioned to act on this opportunity based on its low balance-sheet leverage and Crown Castle's and SBA Communications' focus on the integration of their recent acquisitions," said Atkin.

If American Tower acquires AT&T's towers it would rocket ahead of Crown Castle's lead by 23%, but if Crown Castle provides the successful offering the company would dominate the industry, doubling American Tower's tower count.

Although considered a long-shot by industry observers, if SBA Communications was
the best bidder, it would tie Crown Castle's structure count, leaving American Tower in a distant third position.
One industry executive told Wireless Estimator that he believes this is an ideal time for AT&T to offload its portfolio and concentrate on other opportunities, stating that he considers that tower valuations are currently at a high level and will see lower values in following years, perhaps even precipitous drops due to emerging technologies and carriers moving towards installing macro and micro base stations.

Bruce Wendt of SteelTree Partners also agrees that it is an opportune time.

"We think that the rumored AT&T planned divestiture of its tower holdings makes perfect sense at this time for the carrier. Besides the expected goal of raising capital, a transaction is appropriately timed for several reasons. First, AT&T has what we suspect is a strong portfolio of towers in contrast to the other larger carrier portfolios traded as of late. Unlike the T-Mobile tower portfolio, for example, where a good portion of the towers were built as single tenant structures with many of the growth towers acquired by others in BTA contracts with Mobilitie and ATC whereas, AT&T has maintained its own portfolio over time."

Wendt said that AT&T recognized the collocation model early on yielding a relatively high proportion of multiple tenant assets and untapped capacity.

Secondly, we suspect that AT&T well understands the current M&A environment in that the global market is hovering at its peak and is likely unsustainable. Furthermore, as the carriers focus on small cells and consolidation between carriers continues, the number of new macrocells is going to continue at historically lower levels that we have seen in the last two years."

"While capital is cheap and tower aggregator stock prices are near or at all-time highs it appears to us to be an opportune time to divest under favorable leaseback terms. We do not think that a sale to one of the U.S. based public tower companies will occur privately without a process and that a transaction of this size will attract new participants," Wendt said.

In a report also published yesterday, Macquarie Capital speculated that AT&T might up its stake in Mexico-based America Movil or pursue an acquisition in Canada.
The Times of India last week reported that AT&T was mulling a $3.5 billion investment in Reliance Jio Infocomm for a 25% stake.

Reliance Jio is ready to roll out 4G services later this year and in a surprise move, said it was going to build 100,000 of its own towers in lieu of co-locating. Most of the towers will be concealed and manufactured by Himachal Futuristic Communications, in which Reliance has a stake.
The structure's manufacturing cost is expected to be $2,500, according to the financial journal.
It is not known if there will be a channel conflict since one of Himachal's key clients is Indus Towers Limited, the world's largest tower owner with over 100,000 structures in India.

American Tower's portfolio in India totals approximately 10,100 structures.
Bizarre OSHA fine to AT&T in cell tech's death could set a ridiculous precedent
Commentary
March 12, 2013 - Under its General Duty Clause, OSHA has fined AT&T $7,000 for a serious violation in the death of a cell site technician because their worker could not "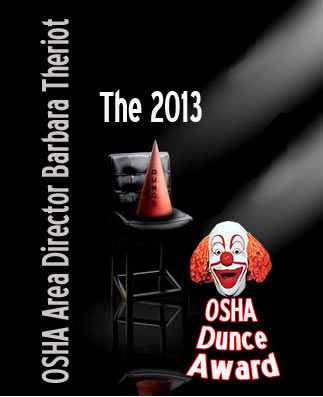 make positive contact with anyone to communicate his need for emergency assistance."

AT&T employee Kevin Mashburn, 58, after being severely clubbed with a crowbar while he was performing maintenance at a Gladstone, Mo. cell site about 3:00 a.m. on Sept. 19, 2012, was discovered unconscious after he texted his dispatcher for help.

"Approximately 19 minutes elapsed between time of injury and the moment someone became aware the employee was attempting to summon emergency assistance and 50 minutes before emergency assistance was able to locate the injured employee; the employee died of his injury," OSHA said in its notification to AT&T.

If Mashburn was at a work site and wasn't provided a phone to contact emergency service personnel then the fine would clearly be appropriate; in fact, it could have been elevated to a willful violation which would be $70,000.

But OSHA Area Director Barbara Theriot signed off on what appears to be an egregious complaint that has OSHA overstepping its enforcement and citation boundaries.

Under the general duty clause, AT&T is required to provide its employees with a place of employment that "is free from recognizable hazards that are causing or likely to cause death or serious harm to employees," according to OSHA.

However, AT&T could not have anticipated that Bryan Middlemas, 35, an ex-convict from Kansas City, who has been charged with first-degree murder, attempted robbery and armed criminal action following the incident, would club Mashburn to death.

More importantly, in a statement released by AT&T Friday, the carrier said: "OSHA's allegations are at odds with the facts and it's unfortunate that OSHA ignored the fact that Mr. Mashburn had multiple devices by which he could communicate his situation and, contrary to the citation, he in fact did so."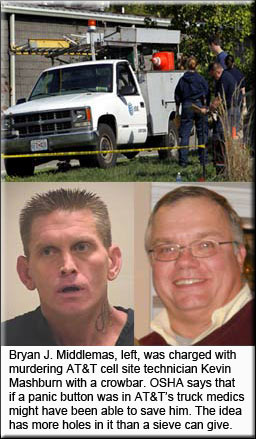 "We're committed to the safety of our employees and provide our technicians with extensive safety training and capabilities, including cell phones and laptops, to contact police, the company or other first responders in an emergency."
The agency, in a regulatory over-reach, suggested that AT&T should consider installing panic buttons in vehicles that would send a signal to emergency responders.

"These buttons would allow the employee to push a button attached to the vehicle key that would send a signal to emergency responders," OSHA said in its citation.
"Responders could then locate the employee due to [the] GPS system located in vehicles. Telephones mounted to the interior of the company vehicles could insure (sic) that there would always be a telephone available inside the truck for emergencies."
Ms. Theriot's kneejerk and sophomoric abatement suggestion has more holes in it than a sieve can give.
The industry might be better served if Ms. Theriot would investigate whether carriers and contractors are putting technicians at risk in an environment that requires them to work on unsafe, overstressed antenna mounts and platforms because of budgetary constraints that will not include a crane or appropriate rigging.
That's a panic button tower technicians would love to push.
Structure design appears to have contributed to Crown Castle monopole collapse in Missouri
March 7, 2013 - A monopole that was either incorrectly installed, under-designed or over-capacity partially collapsed Tuesday afternoon in St. Louis, Mo. in wind gusts that were well below required design standards.
There was damage to an adjoining building, but no injuries were reported.
The Crown Castle International structure buckled at approximately the top third of the monopole just above a carrier's antennas.
It is not known when the tower was constructed, but the maximum basic wind speed under design standard TIA/EIA-222-G is 90 miles per hour. According to the National Weather Service, Tuesday's maximum wind speed was 32 miles per hour and wind gusts only reached 44 miles per hour.
A security guard for a nearby grocery store captured a dramatic video last December showing the top of the structure swaying back and forth in what appeared to be two to three feet or more.
Although the date that he recorded the near failure was not identified by KTVI, the local station that aired the cell phone video, in December the maximum wind speed was 45 miles per hour with a high gust of 67 miles per hour.
After shooting the video late last year, Martin Howard said he was concerned enough that he had people parked nearby move their cars.
"There was like an uneven seam in it and they had already been out there before to fix it, and the seam was still there and it was swaying and I was saying, that sucker's gonna snap off because there was nothing tethering it down," he told KTVI.

The monopole, when first constructed, according to a Google map image of July, 2011, concealed all of its antennas and lines. An additional carrier was later co-located on the exterior of the structure using chain mounts.

Crown Castle did not return a call for comments.

To view the video of the swaying tower, click here.
Old school safety practices catch up to Massachusetts tech who died from his injuries
February 27, 2013 - Richard "Ricky" Phillips, who owned Bay State Erection Specialists, Inc., according to business associates, did whatever it took to get the job done, oftentimes not observing safe work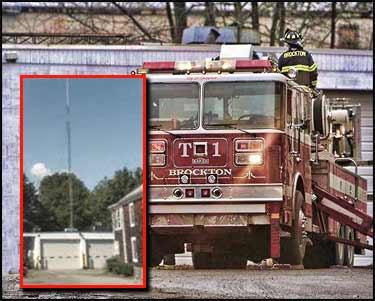 practices.

He established his company in East Bridgewater, MA in 1984 doing Motorola work for local emergency services organizations.

He never employed more than a few people, and in past years would perform work as an independent contractor for larger service companies in New England states.

There always appeared to be a project available for Phillips since his fees were inexpensive - from a more recent mid size project such as re-guying four 300-foot AM towers in Plymouth, MA, to minor service calls on communications structures.

On January 30, 2013 he was hired to remove a tower atop a garage owned by Ernie's Construction, Inc. on 1181 Main St. in Brockton, MA. The height of the structure is unknown, but a Google street view appears to show that it might have been 50 feet or more.

According to Tim Davison, in an interview with The Enterprise, Phillips arrived at the site, didn't have a ladder and climbed a nearby tree to gain access to the rooftop.

He then proceeded to remove sections of the lightweight, small-face tower.

When he was disassembling the tower, according to Davison, who was watching him from his second floor balcony, a strong gust of wind toppled the structure.

Tied off to the tower, Phillips landed on the roof of the garage, bounced up and landed on the garage once again as the tower fell on top of him.

Davison ran to the garage and shouted to the man, but there was nothing but silence. Then Phillips dazedly said, "Don't call 911, I'm all set," as if this was a commonplace expectation of working alone and he would be back to finish the job the following week.

Perhaps Phillips believed that would be possible. According to one industry veteran who knew him for a number of years, this was not the first time he had fallen.

Responding firefighters said Phillips was responsive and alert, but complained about shoulder and back pain.

But his injuries proved to be fatal. He passed away two weeks later at age 54 after being hospitalized at Boston Medical Center.

Phillips was the second industry worker this year to die after falling from a communications structure. A list of fatalities since 2003 is available here.
NATE show attendance spat may have triggered
a double homicide by Alaskan tower tech
February 21, 2013 - The National Association of Tower Erectors closed their Fort Worth, Tex. convention today with increased attendance and rave reviews from attendees and many exhibitors who saw card swipes almost double from 2012.
The NATE event has become the premier confab for the tower construction and maintenance industry, and employees covet the opportunity to attend, and are oftentimes disappointed if they haven't been selected.
But last year tower technician James Michael Wells, a civilian U.S. Coast Guard employee working in Alaska, became so enraged when he was told that he would not be attending the 2012 NATE conference, as he had in the past, that it could have set in motion a plan to kill his two coworkers who were selected to attend with Wells' supervisor, according to authorities.
Wells pleaded not guilty at his arraignment Tuesday evening in federal court in Anchorage on the indictment: two counts of first-degree murder, two of murder of an officer or employee of the United States, and two of possession and use of a firearm in relation to a crime of violence.
He has been jailed since his arrest Friday.
In the court documents, FBI Special Agent Elizabeth Oberlander identifies Wells as a disaffected, substandard Coast Guard civilian employee who frequently feuded with coworkers and supervisors.
The complaint describes a number of workplace arguments that preceded an April 12, 2012 shooting that left 51-year-old Richard Belisle, another civilian employee, and 41-year-old Petty Officer 1st Class James Hopkins dead. Hopkins was an electrician's mate.
U.S. Attorney Karen Loeffler said it's possible prosecutors will seek the death penalty for Wells who had been working for the Coast Guard for approximately 23 years.
Wells had been previously accused of failing to perform certain duties, as well as using a Coast Guard gas card for personal use and cutting down trees on government property that he used for firewood, according to the charges.
When Wells was informed that he would not be going to the convention in San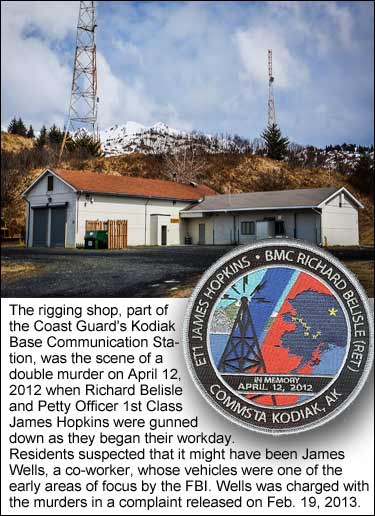 Antonio, Tex., a heated argument followed, one that people outside the office could hear. The supervisor told investigators that he warned Wells "it was time to get in line".
Shortly before the NATE convention, the commanding officer at the communications station presented Wells with a "letter of caution" regarding improper use of the fuel card and "informed Wells that he no longer trusted Wells," according to the charges.

"Wells repeatedly denied the accusation and repeated the phrase, 'It just doesn't sit right,' " the charges say.

According to the complaint, on the morning of the killings, Wells drove his white Dodge pickup to Kodiak State Airport where his wife had left her blue Honda CR-V when she flew out of town two days earlier. At the airport, Wells switched to the CR-V and drove to Communications Station Kodiak. A surveillance camera recorded a small blue SUV matching the Honda's description drive to the station.
In interviews with FBI agents, Wells said he left home about 6:50 the morning of the shootings but noticed his air pressure in one of his tires seemed to be low. He said he turned around and drove home.
When asked about the day in question by investigators, Wells stated that he had gotten a flat while on the way to work that morning. Cameras at the main gate captured his white pickup truck on video at 6:48 am going north. The vehicle was once again seen on the same camera traveling south at 7:22 am. Wells said that he discovered he had run over a nail then went home to retrieve a spare and a jack.
But an analysis of the tire showed that someone shot a nail into it using a nail gun. The nail's head was unmarked, which showed it had not punctured the tire while the pickup was being driven.
One witness who received a call from Wells that he would be late for work on the morning of the murders, thereby setting up his alibi, told investigators it was unusual for Wells to tell his supervisors of his whereabouts. The day before the killings, for example, he disappeared for three hours, the charges say.
Wells also left messages stating he would be late for work on the phones of the two men he reportedly killed after returning to his home, according to the criminal complaint.
At 7:47 a.m., Alaska State Troopers were called to the communications station where they found Hopkins suffering from a gunshot wound to his right torso and other wounds. They found Belisle in a separate office. He'd been shot at least once in the torso.
The Alaska medical examiner and Alaska Crime Laboratory later found that both men had been shot multiple times with .44-caliber, jacketed soft-point rounds, similar rounds found in a search of Wells' home.
Wells' wife Nancy, according to the complaint, said his guns were located in their home on a closet shelf. However, they were missing when authorities searched for them. Investigators never found the murder weapon, according to the complaint.
She said last Saturday that her husband is innocent. She told the Associated Press that she expects her husband "will be fully exonerated."
"I have full faith in my husband's innocence," she said. "I have no faith in the quality of the investigation."
An interview with a co-worker of Nancy Wells revealed that one week prior to the murders she confided that she was upset over a situation at Wells' job in which he was having problems with "the idiots that he works with."
When attending the NATE conferences in previous years, Wells would frequent the exhibitor sessions.
When the investigation dragged on for months and residents became concerned about another incident possibly happening, Kodiak Police Chief T.C. Kamai told msnbc.com that residents need to be patient and confident that federal authorities would solve the case and answer questions the violence raised.
After a reporter from KTUU found out that Wells was a possible suspect, they asked him to comment on the death of his two workers and he replied: "It's our policy not to talk to anybody."
No bail was set for Wells on Tuesday, but a hearing is scheduled on Monday morning to do so.
The U.S. Coast Guard has been an active supporter of NATE for a number of years.
The criminal complaint can be viewed here.
Insurer sues construction contractor for an additional $3 million premium assessment
February 15, 2013 - Tower contractors cringe when a workers' compensation policy audit is performed, oftentimes resulting in an additional premium. For larger industry
companies it can be as much as $200,000, which could be devastating if they haven't accrued the additional amount.

But one company appears to have captured the record, owing Commerce & Industry Insurance over $3 million dollars, according to a lawsuit filed against Preferred Tank & Tower, Inc. and Preferred Tank & Tower Maintenance Division, Inc. of Indiana and Kentucky.

Commerce & Industry is a subsidiary of American International Group (AIG), the former underwriter of the National Association of Tower Erectors' insurance program which was set up in 1996 by Arthur J. Gallagher to assist NATE's members in providing equitable rates and added services. In mid 2009, due to a soft and competitive market, as well as limitations placed upon the program, Gallagher informed NATE that it would no longer continue as the broker for the program.

But they maintained a number of clients such as Preferred Tank, perhaps, much to their chagrin.

In 2008 they wrote Preferred Tank's workers' compensation policy base upon then company president Herman Johnston's anticipated payroll for a premium of $20,426.

In early 2011 Commerce & Industry or its representative did an audit which identified that Preferred owed a staggering $1,560,198 for the premium period ending Aug. 11, 2009.

Why it took Commerce & Industry until 2011 to perform the audit is not known, but could have been because of AIG's disarray which began in 2008 when it suffered a liquidity crisis and had to receive a federal bailout.

But it appears that auditors quickly saw something amiss and then audited Preferred for 2010 and 2011 and found that another $1,500,000 was due.

Insurance audits occur every year, unless the carrier opts not to or forgets to perform one, and they're fairly simple: the auditor will review the premium paid during the policy year and adjust it based upon the actual payroll of the company, according to the work being performed at the appropriate National Council on Compensation Insurance code rate or a non-NCCI state's rate.

Preferred's increase in premiums may not have been based solely upon underestimating anticipated annual payroll, but could have been from Commerce & Industry identifying that Preferred's employees' times were being allocated to incorrect and lower NCCI codes.

A review by Wireless Estimator of their policies identified that Preferred presumed during 2008-2009 they would have minimal, if not any, iron or steel erection in NCCI code 5040 - iron or steel erection.

Preferred listed each state's expected payroll, which was negligible, but said that in Kentucky they would have only $9,600 for NCCI code 7612 at $76.74 per $100 - the most common code for tower maintenance and installations.

The majority of their work, Preferred said, would be under 8742 for salespeople or messengers which would be expected to be $100,000 at $1.10, and $300,000 for 8810 which is for clerical employees at 46 cents.

If Commerce & Industry found that some of Preferred payroll should have been in 5037, metal structures over two stories, an applicable code for water tank construction, the rate would have been $148.58 for a policy issued in 2009.

Commerce & Industry's last policy with Preferred, ending Feb. 2, 2012, was based upon a projected premium of $23,090. Preferred stated that their payroll would only be in Indiana and included $100,000 for NCCI code 5606, contractor-executive supervisor or construction superintendent at $1.90, and $300,000 for 0042, landscape gardening & drivers at $6.95.

The total amount owed by Preferred for their policies, according to Commerce & Industry, is $3,081,930.97.

Johnston, 49, passed away on July 15, 2012 of unknown causes. His wife, Karen, continues to manage the company.

Preferred did not return a call to discuss the complaint. Linda Collins, a spokesperson for Arthur J. Gallagher said that it is her company's policy not to discuss pending litigation, competitors or lawsuits involving specific insurance companies with the media.

Preferred must respond to the complaint by March 7, 2013.

A panel discussion will be held next week on the proper identification of NCCI codes and other industry insurance and safety concerns during NATE's annual conference in Fort Worth, Tex. on February 20, 2013.

Former head of OSHA Edwin Foulke will be a panelist along with Lisa Ramos of Zurich North America, Matthew Surface of SBA Communications and Bruce Eades of Insurance Office of America.

Among a number of topics to be discussed will be the lowering of workers' compensation premiums due to the migration of a number of NCCI codes, as well as some underwriters abandoning the industry, leaving two primary insurers for small and mid-size companies, according to Craig Lekutis of Wireless Estimator who will be moderating the educational session.
Company crane outrigger failure injures two techs
February 14, 2013 - Two tower techs suffered injuries when their company-owned crane collapsed on a church in Fairfax County, Va. Tuesday, but fast action by their operator possibly helped to save their lives.
Jim Perkins of B&M Tower Technologies of Hartland, Mich. and his coworkers were working on a cell tower steeple at St. Luke's Episcopal Church in Mount Vernon.
"I felt the crane start to shake a little bit, looked down and saw the rear hydraulic compressing, which it shouldn't do, and I just tried to get the guys as close to the roof as I could before I had to bail," Perkins explained to NBC News4.
Perkins's quick reaction prevented what could have been disastrous, Fairfax County fire officials said.
"We are very fortunate that the operator of the crane recognized that there was a malfunction in one of the outriggers, apparently, and during the crane descent, he was able to get the basket down a little bit and help those guys not have to fall very far," Battalion Chief Brian Brendel said.
Both technicians suffered minor injuries and were taken to an area hospital and released.
Tower Dogs' top hand Ernest Hart passes at 44
February 10, 2013 - Ernest T. Hart, who enjoyed a brief celebrity status in 2008 as a feisty top tower hand in NBC Dateline's Tower Dogs, died on Tuesday at age 44.
A friend of Hart's informed Wireless Estimator that the New Baltimore, Mich. resident had not been ill and his passing was not job related.
For months prior to the airing, Dateline 's producers followed subcontractor Nikki Collins as her crew worked on various projects. Hart was her top hand whose cocky attitude was obvious when he said, "I'm a bad ass tower worker. I've never found nobody better."
During the show's production 25-year-old Jonathon Guilford was also featured. He later died after he fell from a structure in Indiana.
Following the July 2008 highly hyped broadcast, Hart said he had been selling and using cocaine along with others in the company he was employed by, but that ended in 2006 and he had been clean for two years.
After leaving Collins's company he took a number of jobs, his most recent employment being with a Florida tower contractor. Prior to that he was working for a Texas contractor.
He is survived by his daughters Allison (Evander) Anria and Shayna Hart. Visitation will be from 3:00 p.m. to 9:00 p.m., Monday, Feb. 11 at Gendernalik Funeral Home, 35259 23 Mile Road, New Baltimore. Mich. A funeral service will be held at 11:00 a.m. Tuesday in the funeral home.
Sprint splits the tower contracting community
for quicker 4G LTE launches
Update: February 12, 2013 - According to Sprint spokesperson Kelly Schlageter, the carrier's preferred vendor program is just an outreach exercise to assist its OEMs.
"Sprint recognizes there is a nationwide shortage of tower climbers, so we are
working with our OEM partners to increase the available pool. When we come across companies that fit this skill set, we prequalify the company and immediately pass them over to our OEMs to execute a contract," she said.

A Midwest contractor disagrees with Schlageter's comments, believing that the preferred vendor program is not being publicized within Sprint due to possible contractual conflicts with their OEMs.

"It's doubtful that what she said is what is happening. Sprint is not about to undertake this exhaustive review of contractors just to find new ones to give to their OEMs. That's the prime contractor's job and I've already been contacted by one and I turned down working for them. I'm talking to Sprint though because I prefer working directly for them."

Another contractor said that if Schlageter's statement is correct, he would be concerned about Sprint's efforts to bring him on board. "With all of my conversations with Sprint's people, not once did they infer that I would be working for their OEM. This would be a terrible 'bait and switch'," he said.
- - - - - - - - - - - - - - -
February 7, 2013 - Sprint's $5 billion Network Vision plan to go live with 4G LTE in the U.S. hasn't changed, but since they're still in third place of the big four rollout race it appears they're running in a new direction to get there -- by having contractors work directly for them instead of their management firms.

Most of their cell site build-outs are currently being handled by prime general contractors such as Black & Veatch and OEMs including Samsung and Ericsson.

But it appears that next month there will be numerous contractors throughout the nation that will be committing crews to Sprint to best AT&T's LTE available 4G markets which currently total 141. Sprint is in around 58 markets and has another 141 to launch.

A number of contractors contacted by Wireless Estimator said that during the past three months Sprint has solicited their services for their preferred vendor program. However, part of the pre-qualification procedure was to identify if they have any unexpired contractual agreements with Sprint's prime contractors and OEMs.

The reason appears to be evident. Many subcontractors have non-solicitation agreements in their master services agreement that could prevent them from working for Sprint directly.

The incumbent prime contractors and OEM firms would need to either grant permission to work directly for Sprint or terminate the current MSA with the tower contractor prior to going to work for Sprint.

According to one contracting executive, "This could be a very slippery slope and one that could lead to a legal battle between the GCs and the smaller subcontractors that

"Bottom line is that the rollout of Network Vision is not easy; it is a very complex rollout. We have tens of thousands of towers that we need to modify and each one has its own unique characteristics. Whether it is the landlord, the zoning that is required, a particular municipality and their rules, or working with the different backhaul providers, there are many different complexities that may impact the deployment process at an individual site."


---Chad Elliott, Sprint's Director of Strategic Technology Programs in an internal correspondence that was distributed to Sprint employees last month.

Sprint is trying to hire directly."
Sprint's arduous preferred vendor pre-qualification program requires contractors to provide extensive background information as well as carry out an oral review. It's been emphasized by Sprint, according to contractors, that if a contract is offered it will not be open to negotiation since legal review could delay the site builds.

Pricing has not been discussed during Sprint's inquiries, but it is expected that there will be some model pricing thresholds as well as the need to bid some non-conforming sites, according to contractors. It is not known if subcontractor pricing will increase since services provided by the prime contractor will not be required, but will be performed by the individual contractor.

Sprint will also benefit from not having the layered markup in materials and services required.

Two contractors informed Wireless Estimator that they have received early offers of acceptance from Sprint.

An email request to Sprint for information on their preferred vendor program has not been answered.

Capable installation crews are in high demand as the 4G LTE ambitious build outstrips available manpower.

Numerous people last week contacted Wireless Estimator with their concern that Samsung was going to bring in approximately 300 South Koreans to assist with the Sprint build-out, since South Korea was the first country in the world to fully deploy 4G LTE last year, and resources were available.

The rumor could not be confirmed and an industry employment specialist, who requested to be unnamed, said that it is doubtful that Samsung could get the employment-based visas required to bring workers into the country.

"The U.S. allows employers to hire professional workers from overseas when there is a shortage in this country, but Samsung would be hard pressed to show that there is a shortage. They could only show that there is a rush to build out Sprint's network in the competitive timeframe they want it done."

"It's supply and demand and I think contractors and workers have a right to take advantage of it and not have other countries share in those profits," he said.
Verizon retrofitting turns into a removal project
February 5, 2013 - A fire on a Verizon Communications Inc. cell phone tower yesterday forced authorities to shut down the U.S. 95 exit and on-ramps to Jones Boulevard in Las Vegas.

An unidentified tower crew was welding and retrofitting the structure when the transmission lines ignited.

The ramps were closed because the tower was leaning toward NV Energy power lines.

Workers later used a crane to take the tower down. Power was shut while the work was under way, according to Las Vegas Fire & Rescue spokesman Tim Szymanski.
Risk factors soar as LTE installs overload
carriers' antenna mounts
January 31, 2013 - The issue isn't whether new LTE loading on existing antenna mounts will jeopardize the safety of telecom workers, the question is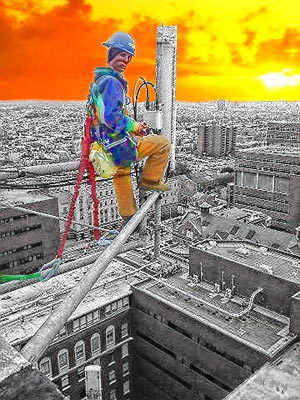 how soon will it be before there is a catastrophic failure?

Many manufacturers, engineers, carriers and installers will readily acknowledge that current loading configurations are overstressing scores of mounts that were not designed to handle the additional weight and flat plate loading of remote radio units required for LTE installations.

Although some carriers are mapping existing structures and requiring new mounts when they've been identified to be inadequate, in the feverish rush for LTE deployment, others are ignoring the problem and exposing tower technicians to fatal risks, even if they are properly tied off elsewhere on the mount's supporting structure.

Another inherent safety concern is the growing number of technicians who are extending their six foot lanyards and working on a mount above where they are tied off, allowing for the possibility of a deadly fall of 20-feet or more.

The unacceptable excuses commonly heard are the need for speed coupled with the client not willing to compensate the contractor for a bucket truck or crane when one is required.

For a number of months Wireless Estimator has been discussing these problems with a limited number of manufacturers, engineers and contractors. But to get as many stakeholders as possible to assess the current environment and dangers, and to move towards resolutions, we're inviting our viewers to contact us at info@wirelessestimator.com.

Your comments and suggestions and participation will be welcomed, and we will be pleased to keep your name and company in confidence, if requested. We need your help. Here's an opportunity where you can make a difference.
ATC snubs publicizing some mergers
and acquisitions, especially abroad
January 29, 2013 - American Tower Corporation has been on a buying binge ever s
ince Steven Dodge founded its predecessor in 1993, American Radio Systems Corporation.

ATC saw cattle-car-sized tower buys as a material definitive agreement and would file the required U.S. Securities and Exchange Commission form 8-K with details of the transaction.

However, during the past four years ATC, while seemingly observing SEC guidelines, has been selective in not providing shareholders and the public with information regarding major deals, many involving hundreds of millions of dollars.

Although companies are required to file an 8-K within four days following the inking of a material definitive agreement for a merger or acquisition, the required compliance threshold set by the SEC is when the sale exceeds 15% of their fixed assets.

With a Q3 2012 fixed assets total of $5.24 billion, ATC could acquire tower assets today from a company in an amount of $786 million and not have to file the 8-K since acquiring towers is done in their ordinary course of business.

In 2009, ATC filed an 8-K to announce the acquisition of 196 of Cincinnati Bell's towers for $100 million.

They also filed when they reached an agreement in 2010 with MTN Group Limited to purchase approximately 1,000 towers for $175 million in Uganda

ATC also announced in 2010 that it had struck an agreement with Millicom International Cellular and its subsidiary, Colombia Movil, to buy up to 2,126 towers in Colombia for $182 million, at an average price of $85,600.

Proud of their being able to secure a deal to buy from KPN 2,000 of its German subsidiary's towers for approximately $500 million last November, they made the announcement in an 8-K.

But an 8-K, although not required, was noticeably absent by ATC last Thursday when Mexican telecom operator Axtel S.A.B., Mexico's second-largest land-line company, said in a press release that a deal had been struck with ATC to sell their 883 towers for $250 million.

An email to ATC's investors' relations manager for additional information was not returned.

In November, Mexico's antitrust agency gave permission for Axtel to sell its towers to ATC to raise cash for the financially troubled company after it cut prices to be competitive with America Movil SAB in the wholesale market. America Movil, one of ATC's largest clients, is owned by the world's richest person, Carlos Slim.

Although it would appear that ATC would be in a position to take advantage of Axtel's immediate need to shore up its cash balance, the average $283,000 price per close to a single tenant tower was considerably higher than another Latin American tower buy of 800 structures in Brazil last month for an average price of $225,000 by SBA Communications of Boca Raton, Fla.

According to their fixed assets total of $2.05 billion, the trigger amount for an 8-K required filing would have been $307 million. SBA, however, filed the 8-K announcing the agreement price of $178 million.

World's most expensive boxcar buy
On March 1, 2011 ATC purchased 666 communications sites in Brazil for $585.4 million, at an average tower price of $878,978.

The company did not file an 8-K regarding the tower buy and provided few details about the agreement's structure. They also did not identify the company whose towers were purchased, but an individual familiar with the transaction said the seller was Site Sharing, a long-established Brazilian consolidator.

In ATC's 2011 annual report, the only details provided said: "The acquisition is consistent with the Company's strategy to expand in selected international markets."

A number of industry observers believe that the $879,000 per tower was at too high a premium. "But since there is no information on the seller or the average tenancy it's difficult to assess what that premium is," said one analyst.

However, an acquisition executive said he believes that the towers have two or three tenants on them and the lease rates being charged were above average in Brazil, driving high cash flows in the country which is beginning to embrace co-location.

Last March, ATC bought another 800 towers in Brazil from Telefonica arm Vivo S.A. for $151.7 million, an average of $189,625 per tower. In June, ATC purchased 700 more towers in Brazil from Vivo for $126.3 million, an average of $180,428 per tower.

The structures were reportedly single tenant towers.

ATC's $879,000 per tower Brazil deal appears to have eclipsed the highest price ever paid for a bulk tower buy which occurred in 2008 when SBA bought Optasite's 548 towers for approximately $425 million, averaging $775,000 per structure.
Tower tech rescue captured live in Maryland
January 24, 2013 - Still shots are the normal fare expected whenever there is an industry rescue, but a news station helicopter yesterday recorded the rescue of a tower technician who became hypothermic and could not climb down to the base of the monopole he was on in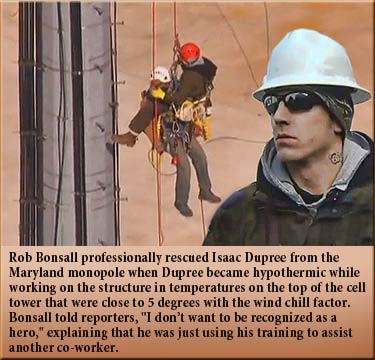 Gaithersburg, Md.

In what appeared to be a textbook rescue, 29-year-old tower technician Rob Bonsall brought his co-worker Isaac Dupree safely to the ground while the dramatic event was recorded by WJLA's helicopter.

Dupree, who has been in the industry for approximately four months, had never worked on a tower during cold winter weather which was close to 5 degrees at the top of the 210-foot Sprint monopole managed by Crown Castle International.

The New Jersey-based Pinnacle Wireless technician became concerned about his failing ability to climb down the tower at about noon and called 911.

However, Bonsall did not want to wait until emergency workers arrived and he wasn't sure that they would have the proper equipment and/or training to rescue Dupree.

Knowing that Dupree's hypothermic condition could result in serious injuries or possibly death if the rescue was delayed, Bonsall rigged his company's rescue equipment and proceeded to lower Dupree through multiple co-location arrays and quickly was able to bring him to the ground where Montgomery County Fire and Rescue transported him to Shady Grove Adventist Hospital for evaluation.

Following his release, Dupree, who had become dehydrated on the structure and was suffering from serious leg cramps, said, "My hands never froze up like that. I lost [my] grip completely; there was no way for me to get down myself!"

When interviewed by reporters at the cell site located off of Oakmont Ave., Bonsall, who has been climbing and constructing wireless projects for the past five years, unpretentiously dismissed the notion that his rescue of Dupree was anything other than what he was required to do.

"I don't want to be recognized as a hero I just want to know that my fellow co-worker is 100 percent okay, and I did everything the way I was trained," said Bonsall.

Bonsall said that Dupree did not lose consciousness at any time during the rescue.

Although it was Bonsall's birthday yesterday, Dupree received the best gift of all: being able to come home shaken, but safely at the end of the day thanks to the dedication and skills of his co-worker.

With the Upper Midwest still locked in a deep freeze stretching into a fifth day, and other states being pummeled with below-average temperatures, industry managers should ensure that their crew members are prepared for cold weather work. An excellent guide is available here.
Supremes seem to tilt towards the FCC's
shot clock during oral arguments
January 19, 2013 - Last November, researchers at the University of Arkansas found that during oral arguments U.S. Supreme Court Justices will eagerly interrupt and question counsel for the side with which they disagree. If the researchers' insight is
accurate, the wireless siting community might already be choreographing a celebratory dance for a pivotal and sorely needed FCC shot clock win.

In a one-hour session Wednesday, the justices heard arguments on whether the FCC, or any other regulatory body, has the authority to determine the limits of its jurisdiction when there is ambiguity in the statute over whether Congress has given it that authority.

Specifically, the Supreme Court is being asked to decide whether the FCC had authority to step in with a 90 and 150-day shot clock to speed up the process for approving or denying wireless communications tower and co-location installations when state and local authorities were slow to act upon siting requests in a "reasonable time".

The FCC says it is the authority, based upon the ambiguous language in The Telecommunications Act of 1996 since it was never clearly defined as to what a "reasonable" period of time should be for communities to act upon a siting application.

In 1984, the Supreme Court in Chevron USA Inc v. Natural Resources Defense Council Inc set out a test for when to defer to a government agency's interpretation of a law it administers.
Under that test, if Congress addressed the issue in dispute, then a court must honor that intent. But if the law were silent or ambiguous, then a court should defer to the agency so long as its interpretation is "permissible."

The attorney for the City of Arlington, Tex., Thomas Goldstein, argued before the Supreme Court that a court, not the FCC, should decide questions of whether Congress has given it a regulatory authority.

Solicitor General Donald Verrilli disagreed, stating that the FCC has the delegated authority from Congress to implement a statute and it also gets deference under the Chevron doctrine whenever the statute is ambiguous.

Leading off, Goldstein began to frame his argument when Justice Ruth Bader Ginsburg interrupted him stating that his case has been presented in a very complicated way, "...it seems to me that what we're dealing with is a rule adopted by the Commission, and the Commission's rule-making power, as you know, is very broad," said Justice Ginsburg. She questioned why it isn't just a proper implementation of the FCC's rule-making authority.

Goldstein began to answer when Justice Stephen Breyer interrupted, stating, "The question is just whether Congress intended them to have a degree of discretionary power. But all the arguments that we hear still count against you."

"But I mean, at some point, I will hope you -- I hope you will go into what I'd call the question of, we have a statute just as Justice Ginsburg said. It's an expert statute. It is a statute in an agency that has all kinds of discretionary authority," Breyer said.

Justice Breyer opined, "Congress, which is not expert, would have wanted the FCC to figure this one out."

Throughout Goldstein's half hour, Chief Justice John Roberts and Justices Antonin Scalia, Elena Kagan, Anthony Kennedy and Sonia Sotomayor also questioned Goldstein's arguments, interrupting him frequently. Neither Justice Clarence Thomas nor Justice Samuel Alito asked questions.

Chief Justice Roberts appeared to be more sympathetic to Goldstein's argument, but he was still tougher on him than Verrilli. At one point when Justice Roberts interrupted Verrilli he apologized for doing so.

In a discussion about separation of powers, Chief Justice Roberts said he rejected "the idea that there is no difference between the federal judiciary defining the limits between state and federal power, and having an agency of unelected bureaucrats responsible to the executive saying when the state controls and when the federal controls" – "those are vastly different propositions." Justice Kennedy agreed with Chief Justice Roberts.

Numerous times Goldstein interrupted the Justices and when Justice Sotomayor started to discuss giving the FCC deference, Goldstein cut into the conversation, repeating, "Here's where it went wrong. Here's where it went wrong. Here's where it went wrong."

Verrilli told Chief Justice Roberts that if the court agreed with Goldstein, it would unravel Chevron deference and "The good work that that doctrine does to stabilize the development of administrative law is gone."

Justice Kennedy quipped, "Chevron is at an end. It's unraveled." Goldstein's rejoinder was: "I've heard, and I regret that I have contributed to such horror. This is silliness."

But Justice Kagan didn't appreciate Goldstein's levity and fired back: "Well, Mr. Goldstein, I think with respect, it's not silliness."

Justice Kagan said that there is always a preliminary question as to whether Chevron applies, explaining that the court typically resolves that question by using "very simple rules," not the sort of "provision by provision, subsection by subsection" search that the City of Arlington sought.

University of Arkansas political science professor William Schreckhise said in a statement regarding his research, "The role of oral argument isn't necessarily what we think it is. It's really an opportunity for the justices to get the other justices on their side."

Based upon Schreckhise's studies, Goldstein's inability to provide a fresh perspective in his argument, and the Justices interrupting and frequently questioning him, it might indicate that the majority decision, expected in June, will be in favor of the FCC.

Two traveling techs rescue a climber in Kansas who was hanging from her harness
Update: January 21, 2013 - April Zumbrum, who had to be rescued last Wednesday from a tower she was doing a site audit on, is back to work and only suffered slightly from
hypothermia, according to David Losoncy, Vice President of Operations for SiteMaster, Inc., the company that had hired Zumbrum's company to perform the audit.
Losoncy said that SiteMaster's rescue training clearly paid dividends last week when two of his men were able to safely bring Zumbrum to the ground from the 196-foot self supporting tower she was on.
"We're particularly proud of foreman Ronnie Sloan and tower tech Travis Schupt. Once they were rigged up, they were able to bring April down to the ground in about ten minutes," said Losoncy.
Losoncy said that he believes that Zumbrum had been climbing for approximately two years.

When SiteMaster was contacted about Zumbrum's emergency situation, their GPS crew truck tracking identified that one of their 40-plus crews was within three miles of the site.
- - - - - - - - -
January 19, 2013 - A tower technician owes a debt of gratitude to two tower technicians from SiteMaster, Inc. who came to her rescue in Strong City, Kan. Wednesday.
The Chase County Sheriff's Department said that April Zumbrum was performing a site audit on a tower off of U.S. Highway 50 when she reportedly slipped and was saved by her safety harness, but still needed assistance.
She was accompanied on the site by her brother, who remained on the ground and called 911 when he saw that she had become stuck. He also contacted SiteMaster, the company that subcontracted their firm to do the audit.
Emergency personnel from Chase County were dispatched along with an ambulance from Emporia, but high angle rescue wasn't available in the county of 2,700 residents.
SiteMaster immediately looked for personnel in the area that were capable of rescuing ZumbrumIt.
A GPS truck reading showed that two men were on their way to Topeka to meet the rest of their crew and luckily for Zumbrum, who remained hanging on the tower for approximately an hour and one-half at 19 °F., the men were only three miles away and had rescue training and the proper equipment to safely lower her to the ground.
Zumbrum was transported to Newman Regional Health to be treated for hypothermia.
The 196-foot self supporting tower is owned by SBA Communications.
Last month, a tower technician in Spokane, Wash. had to be rescued after he slipped off a sector frame at approximately 105 feet, but was saved by his harness, even though it appeared to have malfunctioned or was not properly worn and the leg straps failed.

Gambling Dish Network chief uses
Ergenomics to up the Clearwire ante
January 10, 2013 - Satellite-TV magnate Charlie Ergen met Sprint's ante for Clearwire and raised the bid by $3 billion. But Sprint may already have the winning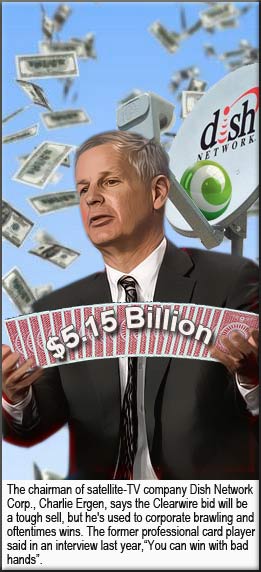 hand since it would have to sign off on Ergen's raise and said that it does not intend to do so.

Ergen, the chairman of Dish Network Corp. said its offer of $5.15 billion to Clearwire, is going to be a tough sell, especially since Clearwire makes most of the house rules and 51% of the house is owned by Sprint.

The counter offer has the characteristics of a high stakes poker game and that's exactly where Ergen excels.

A onetime professional gambler, Ergen launched EchoStar Communications Corporation in 1980 with a gambling buddy after they were both ejected from Las Vegas after being accused of counting cards at blackjack.

With practically nothing but junk bonds and his MBA, Ergen bet large, played for high stakes, and became a major figure in the television communications industry. In January 2008, Dish Network was spun-off from EchoStar.

Under the proposed deal, announced by Clearwire, Dish would buy close to 24 percent of Clearwire's spectrum assets for $2.2 billion, and Clearwire would build and manage a wireless network for Dish. Dish would also provide up to $800 million in front money to Clearwire.

In response to the Dish proposal, Sprint sent a letter to Clearwire stating, among other things, that Sprint believes that the deal is "illusory, inferior to the Sprint transaction and not viable because it cannot be implemented in light of Clearwire's current legal and contractual obligations."

Sprint stated that their current agreement would prohibit Clearwire from entering into agreements for much of the Dish proposal.

Prior to the announcement of the Sprint agreement, Dish provided Clearwire with a preliminary indication of interest solely with respect to acquiring certain of Clearwire's spectrum assets, on substantially the same pricing per MHz-POP as the spectrum purchase included in Dish's current proposal.

Clearwire said it had worked with Dish prior to the execution of the Sprint agreement for $2.2 billion to improve the overall terms of their proposal, but the Special Committee of the Clearwire Board determined that the Sprint transaction was, for a number of reasons, a more-attractive alternative for Clearwire's non-Sprint Class A stockholders than a transaction with Dish at that time and on the terms then-proposed by Dish.

Dish has gained a foothold in the U.S. wireless industry by amassing spectrum since 2008. However, Ergen doesn't have a network, which would cost billions of dollars to build and he sees the need to partner with Clearwire to avoid the high costs.

Ergen understands the need to diversify his business and add mobility to its fixed video direct broadcast model. Internet content delivery and the emergence of cloud-based services will soon be eroding his cash flow growth.

Or in the gambler's parlance, Dish won't be able to color up to its advantage.

Ergen has said he thinks of business as one big card game where he likes to "play the odds."

Ergen does know when to fold 'em, however. Late last year he confirmed that the company is abandoning its current efforts to challenge Netflix with Blockbuster after buying the bankrupt firm in 2011. He told Bloomberg, "Worst case, we'll take our money after having wasted some time, not much money, and life goes on."
First death of the year reported in Washington
Update: January 8, 2013 - The tower technician who fell to his death from a Mount Vernon tower Friday was identified as Michael Rongey, 32, of Maple Valley, Wash.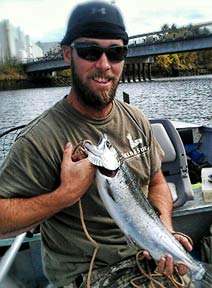 The 32-year-old man was a technician working for W S Consulting and Construction, based in Sammamish, according to the Mount Vernon Police Department.

He is survived by his father and mother, Pat and Kathy Rongey; and brother and sister, Jon and Katie Rongey.

Visitation will be at the Marlatt Funeral Home and Crematory, 713 Central Avenue N., Kent, on January 10, 2013, from 12 p.m. to 3:00 p.m.; services will be held on January 11 at 4:00 p.m.

A memorial fund has been put in place through W.S. Consulting. You may contact Dave Schnebele at DaveWS@comcast.net.
- - - - - - - - - - - - - -
January 6, 2013 - Just four days into the new year a tower technician fell to his death in Mount Vernon, Wash. The fatality underscored the need for industry vigilance for safe climbing and construction practices after 2012 was ushered out with a single fatality, the lowest in 10 years, possibly presenting a false sense of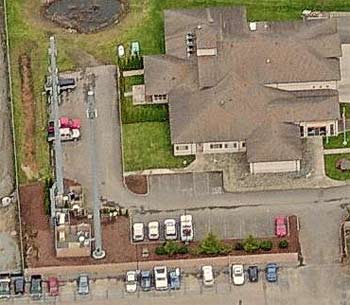 elevated safety awareness and compliance.
Medics tried to save the 32-year-old man after he fell just before noon on Friday at Mount Vernon Fire Station 2, 1901 N. LaVenture Rd. He was taken to Skagit Valley Hospital where he was pronounced dead.
The Skagit County coroner, state Department of Labor and Industries and Mount Vernon police are investigating.
Mount Vernon Police Chief Jerry Dodd said the man worked for a consulting and construction company in Sammamish.
Dodd said the tower is on the city property that is leased to commercial cellular providers.
A Google map search shows two monopoles constructed to the west of the fire station.
Although the Federal Communication Commission's database does not show any structures at that location, T-Mobile's database shows they have a 120-foot monopole at the fire station. Late last year, Crown Castle International bought the majority of T-Mobile's towers.
Neither American Tower Corp., ATT-Towers, SBA Communications, nor Global Tower Partners identify a company-owned tower on N. LaVenture Rd.
Crown Castle will not allow the media to access their database.
Wireless Estimator will provide updates when they become available.
End of the year buying binge was focused
upon international towers
January 3, 2013 - SBA Communications was in the holiday buying mood last Thursday and bought its shareholders 800 towers in Brazil from Telefonica's Brazilian
subsidiary Vivo S.A. for approximately $175 million.

"We are excited to begin operations in Brazil," Chief Executive Jeffrey A. Stoops said."This acquisition provides us with a national footprint of high quality towers, including leasing arrangements with all of the major broadband wireless providers, and establishes us as a substantial independent tower owner in an attractive and high growth market."

SBA's foray into Brazil puts it in competition with U.S. rival American Tower Corp. who already owns 4,311 towers in the country.

Upon closing the deal, SBA will have approximately 2,400 international towers, but they are dwarfed by ATC with 31,000 structures in 10 countries.

ATC announced in November that it was getting a foothold in Europe by buying from KPN, 2,000 of its German subsidiary's towers for approximately $500 million.

When the KPN agreement closes, ATC will own over 31,000 international towers. With its U.S. tower count at 21,668, their international structures will represent 59% of their tower portfolio.

Crown Castle International's 1,600 legacy structures in Australia represent only 5% of its total tower count.

InSite Wireless Group, a smaller tower consolidator owning approximately 580 towers in the U.S. was also bit by the international expansion bug last month and paid an undisclosed amount for majority ownership in Canadian tower owner Turris Sites Inc.

Turris owns 45 towers in Canada where its only U.S.-based competitor is SBA Communications. InSite is listed as the country's 15th largest tower owner, according to Wireless Estimator's research.

One death was too many in 2012
January 2, 2013 - There was excellent statistical news delivered in 2012 with only one tower technician death being reported, but it was devastating news for 19-year-old Jeremy Jo Froemke's family, friends and co-workers who will suffer the loss forever of the young Lisbon, N.D. tower technician.

Froemke, who graduated in 2011, worked on the family farm and saw an opportunity to become a tower technician and excelled at his job, as he did with any undertaking whether it was football, basketball or singing in the choir.

On June 23, 2012, Froemke, an employee of Midwest Steeplejacks Inc. of Fargo, ND, was working on an SBA Communications 300 foot guyed tower in Solway, Minn when he fell approximately 150 feet to his death.

MNOSHA is investigating, but will not release their report until such time as two serious violations are settled with Midwest Steeplejacks.

The state agency cited Midwest Steeplejacks and proposed a fine of $500 for a training violation. In part, the regulation states that the employer shall certify that employees have been trained by preparing a certification record which includes the identity of the person trained, the signature of the employer or the person who conducted the training, and the date the training was completed. The company, founded in 1997, also received a fine of $25,000 for an infraction of a personal climbing equipment regulation.

Midwest contested both charges on December 6, 2012.

Although awareness and compliance initiatives by the National Association of Tower Erectors as well as tower companies and installation and services companies have helped to stem the tide of industry deaths which peaked in 2006 with 18 fatalities, it may be a false achievement statistic to point to the single 2012 fatality.

But for the grace of their supreme architect or how they made impact with the ground, numerous falls last year should have been a fatality.

One example is tower tech Seth Burdette who spent Thanksgiving truly thankful that he lived after falling from a 150-foot elevation in November in Texas. The Douglasville, Ga. tech is home after numerous weeks in the hospital following treatment for a broken back, ribs and a leg as well as other injuries, but he still has to undergo rehabilitation.

Burdette landed on top of a waveguide bridge, estimated to be at the 12-foot level. The impact reportedly bent the bridge to within five feet of the ground. Had his fall been off a couple of inches he would have been impaled by a bridge post, according to technicians familiar with the incident.

However, Pearland, Texas's media weren't aware of the fall and the accident went unreported as well as unreported to OSHA since there wasn't a fatality and only one worker was seriously injured.

Burdette's employer, Chandler Telecom of Eatonton, Ga. will not provide any additional information. Attempts to contact Burdette have been unsuccessful.
WCP continues its national buying spree
with two lease deals totaling $1.4 million
December 28, 2012 - Bogota, N.J. Mayor Patrick McHale is expected to sign a contract that was approved at last week's Borough Council meeting, allowing future
revenues on its cell tower at 9 East Fort Lee Rd. to be received by Wireless Capital Partners, LLC, of Calif. The company submitted the highest of five bids, offering $722,000 for the lease.

The length of the lease was not specified in the resolution to award the bid to WCP. AT&T and T-Mobile co-locate on the 125-foot monopole which was built in 2010 and is owned by AT&T, according to FCC records.

McHale said there is additional space for three more tenants. The structure is located at the rear of a borough garage.

A leasing representative from ATT Towers said he was neither aware of the bid nor the anticipated award. A WCP representative said he would check into details of the deal, but did not respond with any information.

T-Mobile reportedly signed a contract in 2009 providing the borough with $25,000 per year with a 3% annual increase. A request to Bogota's administrator for additional information regarding the agreement was not provided, but according to Bogota's 2012 budget, the borough realized $50,350 from cell tower rental fees, approximating AT&T's annual payment at $23,800.

The borough's bid documents identified that the existing leases are with AT&T, ending in 2032, and T-Mobile, expiring in 2035.

McHale said he hopes to sign the contract by March, in time to include the funds in next year's budget.

WCP has been aggressively buying leases throughout the country and the Bogota buy might have been prompted by their successful Jamesburg, N.J. bid since both boroughs' bid documents were identical, except for the minimum bid amount and the current lease terms.

Whereas Bogota wanted a minimum bid of $500,000 for its $50,000 in annual revenues, Jamesburg requested $400,000 for the sale of their T-Mobile lease which generated $40,000 per year. WCP's winning bid was $664,000.

Jamesburg's T-Mobile lease commenced in 2002 with a maximum length of renewal terms to 2027. Other bidders were: Landmark Dividend, $609,000; Telecom Lease Advisors, $570,000; and Communications Capital Group, $464,500.

Both boroughs are required to provide space at no charge for police department antennas.

Although Crown Castle International closed on the purchase of 7,800 T-Mobile towers earlier this month, including the Jamesburg 100-foot monopine structure to the rear of city hall, the company may not have been aware of the August bid awarded in September.

According to industry observers, oftentimes municipalities do not alert major tower companies about their bids because they aren't aware of their existence even though they are key players within the acquisition community.

WCP, founded in 2001, sold ground lease-related assets to Crown Castle earlier this year for about $180 million in cash and the assumption of $320 million in debt.

Crown Castle acquired about 2,300 ground lease-related assets, including more than 150 related to its own towers.

WCP is funded and controlled by Blackstone Tactical Opportunities.
Spokane tower tech's fall is a reminder
to check your harness's leg straps
December 26, 2012 - Two tower technicians were performing service work on a monopole in Spokane, Wash. on Sunday when one of the workers slipped off a sector frame at approximately 105 feet, but was saved by his harness even though it appeared to have malfunctioned or was not properly worn and the leg straps failed.
Following the 2 p.m. accident, a ladder truck arrived on the scene on the north side of the Eagles Ice-A-Rena in the 6300 block of North Addison St.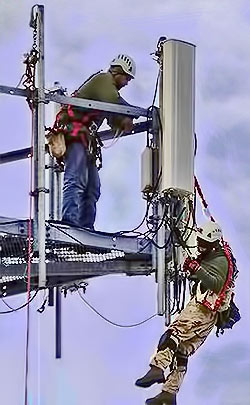 Firefighters raised their 110-foot ladder and pushed it up to the feet of the technician, and he was put in a fire department harness and brought down.
"He was only partway in" his safety gear, Battalion Chief Joel Fielder said. A picture, at right, appears to indicate that the Seattle-based worker's leg straps had failed.
The techs declined to answer questions from media representatives covering the rescue; therefore it is not known why the technician could not be pulled or climb to safety since the mounting frame was within an arm's reach of the technician.
They did not provide their names or their employer's name to emergency personnel on the scene.
A frequent error made by new and seasoned technicians is to step into their full body harness prior to climbing.
If the harness is placed on the ground it could pick up dirt and other contamination. There is the risk of complacency setting in. If a tech steps into the harness and fails to adjust the leg straps appropriately, a slack harness can lead to testicular trauma, rectal damage and possibly death due to suspension trauma or a complete malfunction of the full body harness.
An easy way to gage the correct tension of the leg strap is to tighten it until you can just about get two fingers between the webbing and the front area of your leg.
Also crucial to compliance, among other areas, is the placement of the chest strap and back D-ring. Chest straps must be positioned in the mid-chest area, and back D-rings must be located in the middle of the back between the shoulder blades. Both must have a snug fit.

Two rescued in Minnesota after harness malfunction
Several fire departments and first responders assisted in the rescue of two technicians at 13700 Schmidt Lake Rd. in Plymouth, Minn. around 5:45 p.m. last Thursday, in addition to Minnesota Task Force One, which specializes in high angle rescues.
The two hour rescue was completed after a fire truck with an extension basket was used to make two trips up to the 105-foot level of the tower in 15-degree weather with a wind chill registering between 5 and 10 degrees below zero.
Capt. Dave Dreelan, of the Plymouth Fire Department, said one worker's harness malfunctioned, making it so he couldn't get down.
The workers were employed by Sage Services, according to Plymouth Fire Chief Richard Kline.
Both technicians were taken to North Memorial Medical Center with hypothermic conditions and circulation issues.
Lodging conditions improve at 9,000 feet for four
stranded Oregon cell tower technicians
Update: December 18, 2012 - Four cellphone tower workers stranded since Saturday in foul weather on Steens Mountain have been rescued, according to Matt Fine, Harney County's search and rescue coordinator.

He said all four, although extremely hungry, were reported in good health, and an ambulance on standby wouldn't be needed.

The workers, employed by Legacy Wireless Services Inc. of Clackamas, were identified as Jeff Brown, 48, of Juneau, Alaska; Brandon Seaver, 36; and Jeffery and Ray Syversen, ages 49 and 48.
- - - - - - - - - - - - - - - - -

December 17, 2012 - Search and rescue teams will be out again tomorrow to rescue a tower crew that has been stranded in a mountain blizzard on Steens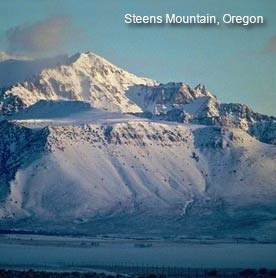 Mountain in Oregon since Saturday.
The men were installing a new cell tower when they were caught in a rapid weather decline. As they tried to leave the summit construction site their snowcat failed and they were forced to stay inside the vehicle overnight and on Sunday.
Haney County search and rescue teams attempted to reach them on Sunday but had to postpone the rescue when the Southeast Oregon mountain became too treacherous for them to risk lives in the blizzard-like conditions, according to the father of one of the workers who had limited phone conversations with his son.
The rescuers were able to get within three-quarters of a mile from the stranded workers before having to turn back due to rough terrain and white-out conditions.
With limited battery life on their phones, on Sunday the men were able to trudge 600 yards through the waist deep snow and white out to the cell site equipment shelter where there was electric and heat.
The weather didn't break today to allow rescuers to bring them down from the mountain whose summit peaks at 9,733 feet above sea level. The cell site is at the 9,000-foot level.
Harney County Sheriff Dave Glerup says they're safe, and conditions are too treacherous to send up a rescue team or to deploy a National Guard helicopter. He says another attempt isn't likely until Tuesday afternoon.
Winds in excess of 80 miles-per-hour were reported on Saturday.
Sprint seeks to buy wholesale partner
Clearwire at disputed fire sale pricing
UPDATE: December 17, 2012 - Clearwire's Board of Directors believes that a slightly sweetened offer by Sprint to acquire the remaining 50% of the company it does not own is acceptable, according to CEO and President Erik Prusch. The bid went from $2.1 billion to $2.2 billion, a price that many analysts thought was too low for the value of the spectrum Clearwire owns. But it appears that a special Clearwire committee saw two opportunities available. Either run out cash next year or accept the Sprint offer which was not being countered by any other suitors.
- - - - - - - - - - - - - - - - -
December 13, 2012 - Sprint confirmed today that it is in talks with Clearwire Corp. to buy out the remaining stake in the wholesale provider that it doesn't already own.
The company said it believes that it would cost $2.1 billion to purchase the remaining 49 percent stake in Clearwire, valuing the company at $2.90 a share, but many analysts believe that the buyout is at fire sale pricing.
Some owners of Clearwire Corp. may be hesitant to agree to the deal since a number of analysts believe that the price offered undervalues Clearwire's wireless spectrum.
Although Sprint is the logical buyer of Clearwire, and rumors of a pending deal had been circulating earlier this week, the sale will be opposed by some shareholders. Previous lawsuits had been filed by Clearwire stockholders alleging breach of fiduciary duty by Sprint and Clearwire.
Last month, investor Mount Kellet Capital Management informed Clearwire's board that it could sell its excess spectrum for up to $9 billion. Today's offer values Clearwire at just over $4.2 billion.
Mount Kellet, in a letter from its COO, Jonathan Fiorello, said it feared Sprint was trying to force Clearwire into a position where Sprint could buy the company outright at a depressed stock price and the board should prevent that move by selling off some of its excess wireless spectrum holdings.
Clearwire has about 160MHz of spectrum in most of the markets where it operates, and has said it only needs 80MHz to 100MHz, according to Fiorello.
Investor Crest Financial, which owns a 6.62 percent stake in Clearwire, filed a lawsuit yesterday against the company and majority stakeholder Sprint in a bid to prevent a potential deal between the wireless providers.
In September, Clearwire's CFO, Hope Cochran, highlighting the value of its spectrum, said that it is doubtful that they would ever use all of the 160 MHz, and alluded to the possibility of the company selling its excess spectrum.
Sprint needs approval from Clearwire's shareholders as well as from Softbank, the Japanese operator that is currently in the process of acquiring 70 percent of Sprint. The Clearwire offer is contingent on that deal going through.
A Sprint takeover of Clearwire would make things easier for Softbank. The company plans to take full control of Sprint next year as part of a deal to provide capital to the nation's third-largest wireless company to compete against larger rivals AT&T and Verizon.
Although Sprint may sweeten the deal a little, Clearwire's shareholders may not want to see negotiations fail since the company is in a serious cash crunch and its stock price could be seriously depressed, allowing for a lower offer.
In its most recent quarterly filing with the Securities and Exchange Commission, Clearwire posted a net loss of $41.3 million. The company is struggling with a debt load bigger than its market value.
Spectrum is one of the nation's most valuable assets. Last December, Verizon paid $3.6 billion for spectrum from Comcast, Time Warner Cable and Bright House networks. The cable companies had purchased it during the 2006 AWS auction for $2.4 billion.
T-Mobile comes out swinging in its
'War of the Roses' battle against AT&T
December 11, 2012 - The 1989 film, The War of the Roses, was a black comedy about a wealthy couple with a seemingly great relationship who decided it was time to end it. The animosity that followed was a continuing bitter battle. A similar script is
being followed by T-Mobile.

Last week, T-Mobile USA CEO John Legere, alluding to some of the problems caused by the failed proposal after AT&T pulled out of their marriage contract one year ago this month, said his company's goal is to aggressively undermine AT&T.

"You love your iPhone, but you hate AT&T. I want you to get used to that kind of tone, because that is the way we're going to play," Legere said at parent company Deutsche Telekom's annual investor conference.

Although AT&T provided T-Mobile with a separation settlement of $3 billion in cash and between $1-to-$3 billion in spectrum, depending upon which appraiser you go to, T-Mobile wants more. And they'll get it by digging into AT&T's iPhone subscriber revenues.

With unbridled joy and showmanship that competes with Sprint pitchman CEO Daniel Hesse, Legere, announced that T-Mobile would be offering Apple's iPhone next year and they would eliminate subsidies on new phones, meaning buyers would either pay the full price up front or pay off their handset in installments on their monthly bill. Or they could use their unlocked iPhone and use one of T-Mobile's lower value plans.

"This is a big deal, and it's step one of the kind of things we're going to do to disrupt the industry," Legere said, adding that in its frontal attack upon AT&T, he believes customers will say, "I can't believe they did that."

He said that "customers are really pissed off" at current contracts, pricing models and how the short-term inexpensive phone ends up being a considerably higher monthly bill that is oftentimes undecipherable.
T-Mobile's AT&T acrimony surfaced following what appeared to be a harmonious split after both carriers announced last October in the wake of Hurricane Sandy that they had entered into an agreement to enable roaming on their networks to customers of both companies in areas most affected by the hurricane and where capacity is available from one carrier or the other.
However, as part of the breakup agreement, AT&T and T-Mobile approved a seven-year roaming agreement, improving T-Mobile's coverage in 128 cities. The agreement appeared to benefit T-Mobile more than AT&T and the two carriers might have forged the post-storm alliance to counteract Verizon's far better cell service following the hurricane because it was good public relations - or possibly - it was in the divorce agreement.
Legere said that in the next phase of their advertising they were going to "shift away from the nice girl advertising and the kind of nice guy to more edgy, to more of a cool, un-carrier" image.
Therefore, before round two of T-Mobile's pummeling of AT&T starts, don't anticipate a sexy card girl to be parading around the ring, but expect to see something more un-carrier-like such as a strikingly beautiful ninja clad in head-to-toe motorcycle leathers administering the severing sword to AT&T - of course - at lightning-quick LTE speeds.
Tying off is only valuable if it is performed correctly, not as practiced by a Florida tower crew
December 4, 2012 - Idioms such as Tie off or fly off and If you are hooked off you

can't fall off are industry catchphrases that have focused upon workers' needs to stay 100% tied off on towers or other structures, but their simplicity could provide a false sense of security.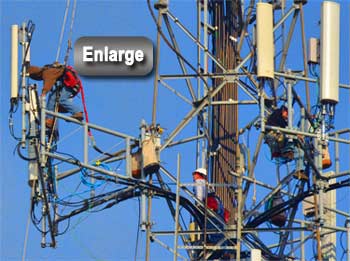 As this photograph shows, three crew members working in Bartow, Fla. for a major carrier on a major tower owner's structure last week should be partly commended for tying off.

The commendation, however, must be accompanied with a failing grade for how they were trained and/or an admonishment for how they are allowed to do it.

The tower technician standing on the mounting frame on the left (click here for enlarged photos) displays a number of safety issues. Although his fall protection lanyard is the maximum allowable length of six feet, he has added what appears to be an additional four-foot, possibly longer, lanyard to reach the antennas.

That violation is compounded by wrapping it around the top of a clamp set which has the potential to cut the sling in the event of a fall when it is impact loaded, according to John Paul Jones, Vice President of Training for Safety LMS.

Although he couldn't identify if it was an appropriate life safety sling, he noted that the choked connection de-rated the sling's capacity by at least 25 percent.

Because he is standing on the mounting frame, the technician could possibly fall approximately 26 feet, landing on the sector mount below.

His co-worker, standing behind the waveguide ladder, has his fall arrest lanyard connected to a six-foot nylon positioning lanyard which is choked back around the horizontal angle brace which could cut it upon a fall.

The other end is connected to the large hook on the end of one leg of the tech's fall arrest lanyard.

This is an incompatible connection, said Jones, and increases the total fall distance.

The technician working to his right has one leg of his positioning lanyard wrapped in a choked configuration around his tie off point. His fall arrest lanyard is connected to the tower leg which is not visible but it might be presumed that he shares the same bad habits as his crew members.

It would be too dangerous for a tower crew to stage these serious infractions, but sometimes life imitates the art of providing a poster perfect tailgate session.

The Florida contractor was notified by WirelessEstimator.com about these safety violations.
American Tower takes over Chicago's
fourth highest rooftop for $70 million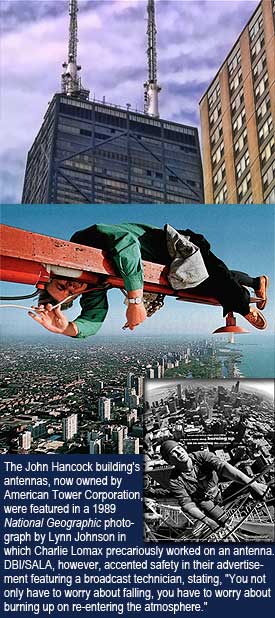 November 27, 2012 - A 3,400 square-foot condo in Chicago's John Hancock Center averages $459 per square foot, but if you want to purchase 34,000 square feet of telecom room space the price tag jumps to $2,059 per square foot. However, a few great perks come with the high acceptance price.

American Tower Corporation announced yesterday after the market closed the acquisition of the 93rd and 97th floors and the rooftop of the John Hancock Center, and the rights to the existing telecommunications leases associated with the property as well as all lease rights on the rooftop and two broadcast masts.

The price tag for the deal that closed in October, according to reliable sources, was $70 million.

American Tower bought the property from Deutsche Bank A.G. and NorthStar Realty Finance Corp., a joint venture which took control of the John Hancock Center after buying $218 million of debt in March after a Goldman Sachs Group subsidiary defaulted on about $400 million in loans.

The masts and multi-floor purchase was being shopped for at least four months, according to an industry insider.

The Hancock Center's owner has been selling off the 100-story building's parts separately, a strategy that could be more profitable than selling to one buyer.

Earlier this year, Prudential Real Estate Investors paid nearly $142 million for the center's retail and restaurant space, while Paris-based Montparnasse 56 Group paid $45 million for the observation deck.

The Willis trophy location could be a possibility
Although the Hancock Center has a healthy tenant base of two TV broadcasters, numerous FM stations and other telecom providers, the competing Willis Tower's rooftop and communications facilities are the premiere locations for TV broadcasters - or as Crocodile Dundee might describe it: "THAT'S a knife."

However, the Willis Tower crown could still be in American Tower's reach.

In mid-2011, the group that owns Willis Tower tested investors' appetites for a piece of the nation's tallest building to recapitalize it or an outright sale.

The owners, New Yorkers Joseph Moinian and Joseph Chetrit, and Skokie-based American Landmark Properties Ltd paid $841 million for the property in 2004.

The nation's tallest tower's marketing efforts weren't successful during a period when commercial property values remained flat and in October 2011 the owners pulled away from their sales effort.

The Hancock Center's piecemeal success may have the Willis Tower's owners entertain a new run at selling off their trophy broadcast facilities along with other assets such as their Skydeck and 103rd floor glass viewing platform, The Ledge, which attract more than 1.3 million visitors every year.

"We are pleased to be able to add the John Hancock Center to our portfolio of communications sites," said Steven Marshall, Executive Vice President and President of American Tower's U.S. Tower Division in a release. "Our experience in supporting the broadcast and wireless industries makes us a prime partner for both existing as well as new tenants at the property. American Tower continues to pursue opportunities to grow our portfolio through the acquisition and development of rooftop assets suitable for assisting our tenants in optimizing their networks."

According to American Tower's site locator, the closest broadcast structure they have to the Hancock Center is a 379-foot self-supporting tower in Arlington Heights, approximately 28 miles from their new assets.

A source familiar with the transaction said that Media Venture Partners LLC advised the seller. A call to the telecom business broker was not immediately returned.

Matt Peterson, Vice President, Communications for American Tower, said that the company will not disclose the agreement price, their advisor or anything beyond what is in their press release.
Feds indict two on tougher charges, but tower
copper theft sentences remain lenient
November 20, 2012 - A federal grand jury returned a two-count indictment last week, charging Thomas M. Carbone and Katie M. Stanton with the malicious destruction of
federally-licensed communications lines in Ohio after they allegedly stole copper from Radio One in North Royalton.

Although it is a more severe charge than a grand larceny complaint for a similar theft, and can carry a penalty of imprisonment up to ten years and a fine of up to $250,000, or both, it is seldom meted out as a deterrent.

While carriers are hardening their cell sites against theft, courts appear to be softening on prison time for people convicted of stealing copper from communications sites.

The industry's largest arrest was during 2008, in Virginia, when five people were arrested for stripping copper from 133 cell towers.

The highest sentence for one man was 5 1/2 years in prison, but the remaining sentences were minimal: 26 months, 14 months, seven months, and six months.

Yet in Tiffin, Ohio last April, a county court judge sentenced a Clyde man to eight years in prison for stealing copper stored outside of area businesses.

The most recent indictment said: "On or about August 17 to 18, 2012, Carbone and Stanton unlawfully entered the property of Radio One on Ridge Road in North Royalton, Ohio, and willfully and maliciously destroyed and removed copper material from four radio-station towers situated on the property."

The removal of copper depleted the signal strength of the supported radio station, thereby impeding the station's ability to broadcast emergency messages, according to the indictment.

Emergency repairs cost nearly $11,000 while permanent repairs will cost an estimated $125,000, the indictment said.

In addition, the indictment charges that Carbone and Stanton conspired together to commit these unlawful acts. They could be sentenced to an additional five years on that charge.

The thieves pulled up the four-inch copper strap surrounding all four antenna tuning units and disconnected all 480 ground radials in the process, according to Radio One Cleveland Chief Engineer Gary Zocolo in a statement to Radio Ink. "They effectively removed the total ground system from the AM antennas. Our 5000-watt station was only able to maintain 200 watts into the antenna system with such profound damage."

As a temporary fix, Zocolo said they deployed #4 copper strand on the surface in place of the four-inch strap, and soldered the radials to the wire strand.

Title 18, United States Code, Section 1362 is an expansive statute designed to protect any part of a communications system, including its transmission lines, that is either operated or controlled directly by the United States.

It protects any part of a private communications system that is used or is intended to be used by the United States for military or civil defense functions. Broadcast, cell towers and other structures are covered by Section 1362, but oftentimes when thieves are caught removing copper from a tower they will be charged by local authorities with grand theft.
FiberTower to go dark in many areas in December
November 19, 2012 - FiberTower Corp. said it wants to shut down its service next month in AR, FL, DC, GA, NJ,OH, PA,TX, MD, MA, MI and VA, according to an FCC filing.

T
he point-to-point wireless and fiber optic backhaul and transport services provider told federal regulators that it would shut down a major part of its operations after regulators terminated its wireless license and its $22.5 million bankruptcy sale of its operations disintegrated earlier this month.
FCC officials have to approve FiberTower's intention to cut their service.
"The commission normally will authorize proposed discontinuances of service unless it is shown that customers or other end users would be unable to receive service or a reasonable substitute from another carrier, or that the public convenience and necessity would be otherwise adversely affected," according to the agency filing.
FiberTower had requested an end date of Dec. 9, but the FCC said the earliest consideration for approval would be Dec. 16.
In the FCC filing, FiberTower stated that its customers have been aware for some time of a possible termination of service.
At the time of its bankruptcy filing, FiberTower listed Solus Alternative Asset Management LP, Arthur J. Samberg and Crown Castle Investment Corp. as each holding more than 5% of voting power.
In addition to Crown Castle and venture capitalists, in 2005 FiberTower's business model caught the attention of two major tower owners that provided funding, American Tower Corporation and SpectraSite Communications. SpectraSite was later acquired by American Tower.

At that time Ben Moreland, then Crown Castle's Chief Financial Officer, informed analysts that his firm was focusing upon the long term and he saw a tremendous opportunity to grow value in the FiberTower investment and consider liquidity options down the road.
But in 2008 Crown Castle reported that it had reduced the value of its FiberTower investment by taking a $75.6 million write-down during Q4 2007.
American Tower benefits from rubbing elbows with the world's richest men's businesses
Update: November 15, 2012 - American Tower Corporation announced this morning that it has secured a deal to buy from KPN, 2,000 of its German subsidiary's towers for approximately $500 million. To gain a foothold in Europe, Carlos Slim, the world's

richest man, made a hostile and successful bid to acquire 28% of KPN in June. KPN's brand E-Plus has provided an initial lease term of 15 years on the towers, providing long-term stability to anchor tenant cash flows, according to ATC.
- - - - - - - - - - - - - - - - -
November 15, 2012 - Relationships are the fuel that feeds the success of any business, and American Tower Corporation's achievements are through key alliances they've nurtured over the years.


But two men, through their various corporations, could be the most influential in their international growth: Carlos Slim Helú, 72, the richest man in the world, and Ricardo Salinas Pliego, 56, the planet's 37th wealthiest man with a net worth of $18.5 billion, according to Forbes.

Slim lost $2.9 billion November 1 after the Colombian government announced that his Mexico City-based telecommunications company, América Móvil SAB, will be partially excluded from participating in an auction next year of 4G licenses, but he still remains the world's richest person with a $74.7 billion fortune.

Although Slim and Salinas might not break bread often - or at all - with ATC CEO Jim Taiclet or Executive Vice President of International Operations Hal Hess, much of what ATC does assists their businesses, and it would be expected that their companies would want to further their relationships. (continued)

Please see: Success in many countries requires Slim's and Salinas's support
.
Veteran tower tech crushed by collapsed section
Update: November 21, 2012 - An assistance fund has been set up for Sammy Pacheco to help to offset some of the unanticipated expenses for his immediate family members as they travel from around the country to be with him while he remains in the hospital in still serious condition. You can make a donation to the "Sammy Pacheco Fund", account #156400197596 at any US Bank branch.
- - - - - - - - - - - - - - - - - - - - - -
Update: November 15, 2012 - Tower technician Sammy Pacheco is still in critical condition after self-supporting tower sections fell over and crushed him on Sunday. He remains in an intensive care unit, according to hospital spokesperson Kathryn Pettijohn.

Pacheco, 51, was part of a crew erecting the structure for their employer, L&B Telecommunications of McCrary, MS. L&B, on its web site, says that it has been providing services to its "clients for two decades".


The company, which was founded in 2008, does not have any OSHA citations, according to the federal agency's database, but according to a Navajo Nation Occupational Safety and Health Administration (NNOSH) official, L&B has been cited for workplace violations in the past.

L&B did not return a call requesting additional information regarding the accident.

The tower was being constructed on tribal land near Little Water for the Navajo Nation Tribal Utility Authority.

The New Mexico Occupational Health and Safety Bureau is assisting NNOSH in investigating the accident. A spokesperson for NMOHS said they could not provide any information at this time.
- - - - - - - - - - - - - - - - -
November 13, 2012 - An experienced tower technician was severely crushed Sunday in Little Water, N.M. after a tower section fell on top of him. He was transported by Air Care to San Juan Regional Medical Center where he remains in critical condition.
According to the Daily Times, Sammy Pacheco, 51, was working on a cell tower, about 23 miles south of Shiprock, when the crane holding the tower let go and the structure toppled.
Pacheco's family said he fell 40 feet, and the tower crushed him, and caused brain damage, a lung puncture and severe injuries to much of his body.
Individuals familiar with the accident said that Pacheco's unnamed company was erecting a self supporting tower and had 60 feet anchored to the foundation, and crew members were in the process of having the crane lift an additional 60 feet.
The crane reportedly did not have enough clearance to set the section and the structure was brought down to the ground to be re-rigged. According to a statement from a tower technician who was not at the scene, but said he was aware of some details, Pacheco was on the section to re-rig the slings when a gust of wind might have been partially responsible for blowing the structure over and crushing Pacheco.
Area weather data identifies that from about 10:00 a.m. to 3:00 p.m. there were steady wind speeds from 14 to 22 mph, with gusts up to 29 mph.
Pacheco has been a tower technician for over ten years, according to industry workers who know him, and previously worked in the copper mining industry in the Southwest. His brother is also a tower technician.
Wireless Estimator will provide additional details when they become known.
Design reduction eyed as the cause of a
590-foot Vietnam self supporting tower collapse
November 8, 2012 -The builder of a 590-foot self supporting television tower that collapsed during a typhoon in North Vietnam on October 28, 2012 may have reduced the structure's required wind load design by as much as one third.
Authorities are currently trying to figure out who is at fault and will be required to replace it - the owner, the builder or the tower manufacturer.
Following the collapse, Nam Dinh Radio and Television (NTV) blamed high winds for the destruction of the tower estimated to be worth approximately $2 million.
Nguyen Tat Son, director of the Nam Dinh Department of Construction, said yesterday at a meeting with contractors, investors, local officials and experts from the consultation group from the University of Construction, that he will be seeking weather data during the time of the collapse.
A tower sale contract signed September 13, 2006, between NTV and Vietnam Multimedia Corporation (VTC), said the tower was designed to endure wind speeds of up to 75 miles per hour.
However, according to Vietnamese standard TCVN 2737-1995, the structure was required to be designed to withstand wind speeds of 112 miles per hour when it was built in 2010.
Winds in Nam Dinh the night the tower collapsed reportedly reached 83 miles per hour.
According to an initial investigation by the Construction Ministry's State Authority for Construction Quality Inspection, the broadcast tower, which is the tallest one in northern Vietnam, was provided as a unit by the Malaysian Le BLANC company under a contract with VTC. VTC then sold it to the VTN.
In a statement provided to Wireless Estimator, Gary Blagdon, LeBLANC Communications General Manager said, "LeBLANC Communications has initiated an investigation into the determination as to what has contributed to the cause of the tower falling during the recent turbulent weather conditions experienced in the central province of Nam Dinh, Vietnam."

"There are a number of factors that need to be considered. Until an appropriate examination is complete we are not able to comment."
Nguyen Xuan Cuong, the director of VTC, said he could not officially comment on the contract as VTC was looking into the case.
He did tell a local reporter, however, that he was not provided with technical information about the impact of the loading capacity of wind speeds and earthquakes, adding that he was not told if the tower was designed, checked and accepted.
VTC is a Vietnamese State owned corporation under the Ministry of Post and Telematics
Le Phu Hai, director of the Company for Verifications of Techniques, Safety, and Construction Consultancy, said his firm was in charge of monitoring the construction of the tower, but was not involved in assessing whether the design met code regulations.
An NTV employee was slightly injured in the collapse.
AT&T Mobility's Project Velocity expected
to hike the industry's vitality
November 8, 2012 - AT&T Mobility unveiled a multibillion-dollar initiative yesterday to expand its LTE network to 300 million covered POPs and deploy more than 10,000 macro cells, 40,000 small cells and 1,000 distributed antenna systems.

The news resonated well with contractors, tower owners, DAS developers, equipment
makers and the head of the PCIA.
AT&T revealed details of its Project Velocity IP (VIP) plan during an investor conference where John Donovan, AT&T's senior executive vice president of technology and network operations, peddled the their existing wireless network, while promoting the company's expansion of LTE to 300 million POPs.
According to Donovan, the project will include a "densification" of the network where the additional macro cells, small cells and DAS will allow AT&T to improve spectrum efficiency, build more cost-effective radio access networks and improve in-building coverage. He added that the compression will also support Voice over LTE.
AT&T said that it plans to spend $14 billion on capital infrastructure over the next three years to expand its wireless and its wireline facilities, with the majority of it, $8 billion, to be allocated to the wireless segment.
"Our small cell strategy is aggressive," Donovan said. "We will not just deploy LTE small cells but also across other technologies such as UMTS and HSPA+."
In June, AT&T sent out small cell feelers to its vendors which was the first sign that the carrier was preparing to make big changes in the fundamental topology of its networks.
PCIA President & CEO Jonathan Adelstein said that his trade group applauds AT&T's investment commitment to expand and upgrade the nation's vital communications network.
" AT&T's 'Project VIP' is another example of the type of investment our industry makes to help achieve President Obama's goal of bringing wireless broadband services to at least 98% of Americans. Such investments bolster the nation's economy by creating jobs in building out the new networks, and erecting the platform for further job creation once they are built. It will bring the many benefits of mobile broadband to millions more consumers across the country, including new opportunities for improved healthcare, education and public safety," Adelstein said in a statement.
As a former FCC Commissioner in the Obama Administration, Adelstein was undoubtedly pleased by the President's reelection Tuesday since he worked with a number of key leaders whose goals have been to deploy wireless broadband throughout the nation.
NATE incumbents to be reseated along with
a new North Carolina board member
November 6, 2012 - While the nation anxiously awaits this evening's early election predictions and tallies, the National Association of Tower Erectors announced the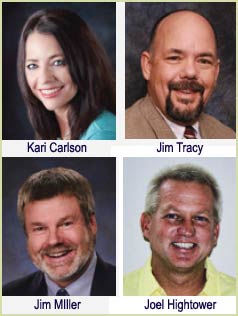 final voting results for its 2013 board of directors, and the possibility that 2014's election will be through a more contemporary voting procedure.

Three incumbents, Kari Carlson, COO of Tower Systems, Inc./Tower Systems South, Inc.; Jim Miller, President of EasTex Tower, Inc.; and Jim Tracy, President of Legacy Telecommunications, Inc. will retain their seats on the NATE Board of Directors.

Joel Hightower, owner of Hightower Communications, Inc. was also elected. He fills the vacant position which opened when Director Kevin Hayden decided not to seek re-election to the NATE Board

Also running for director positions were David Staten, COO of T3 Wireless & Associates, Inc.; Cliff Barbieri of Advanced Tower Services, Inc.; and Karen Kyman, Vice President of Precisions Communications, Inc.

The directors will officially begin their two-year term on February 18, 2013 at the beginning of the NATE 2013 Conference & Exposition in Fort Worth, Tex.

"NATE would like to congratulate the candidates who successfully emerged in this board of directors election process," stated Executive Director Todd Schlekeway. "Serving on the NATE Board requires a willingness to dedicate countless hours of time for the betterment of the association and the industry as a whole."

"NATE would also like to commend all of the members who stepped up and declared their candidacy for the board," said Executive Director Todd Schlekeway. "I was extremely impressed by the caliber of candidates our members had to choose from during this election. The association is strengthened due to their efforts and NATE is grateful for the leadership and initiative displayed by all of the candidates."

Schlekeway said it was a close race with only 20 votes separating the candidate who finished third and the nominee who came in sixth, and he hopes the candidates who weren't successful will run again next year when there will be five open board positions.

Through an ongoing effort to recruit more eligible members to run for leadership positions on the NATE Board, he anticipates that there will be a number of new candidates.

Schlekeway said he was excited that there will be a proposed by-law amendment change at the voting session in February.

"Next year, upon approval by the NATE voting members, members will be able to vote online for the NATE Board of Directors election. This will be a positive change and make voting even more accessible than ever before," said Schlekeway.

With a surname as appropriate as anyone could have in this industry, Hightower founded his company 16 years ago in LaGrange, N.C.

Prior to that he had the knowledge of wireless communications and installation of wireless systems through his military experience and by working for 10 years for a two-way radio shop.

As a new entrepreneur hiring his first employees, Hightower said he was struggling to set up a safety program.

"There was no safety standard that I was aware of until I came across the NATE organization. In 1998 I became a member of NATE and have continued to be involved with the association ever since."

As a new director of NATE, he said he was "honored to give back" from all that he has received from the trade group over the years.
Lawsuit attacks the absence of tower lighting
and marking requirements under 200'
Commentary
November 5, 2012 - If a lawsuit filed in California goes to trial next year, jurors will be tasked to decide: If a company built a tower in compliance with federal lighting and marking standards, and a pilot who might not have seen the structure crashed his plane into it, should the tower owner, installer and landlord be liable because they disregarded the safety of the pilot who died?
The lawsuit, stemming from a 2011 accident, appears to teeter on being a frivolous action, especially in its request for punitive damages. At best, it's a weak complaint in which the attorney for the pilot's family would likely not want to go to a jury trial, but would rather negotiate a settlement with the defendants' insurance carriers prior to a verdict.
The lawsuit says the defendants willfully, intentionally and with a conscious disregard for the safety of others chose to install the tower without markings, paint, lights, cable balls or devices to enhance visibility.
The nub of the lawsuit will be that a 198-foot guyed meteorological tower was erected in Contra Costa County, but the developer opted to keep it below 200 feet, as allowed by federal law so that it did not have to be lamped and possibly painted as required by FAA lighting regulations.
Corporate greed and a callous disregard for life will be the clarion call to jurors to award a multi-million dollar verdict for punitive damages.
The defense attorneys will argue that the tower's existence, built nine months before the accident, should have been known by the crop duster who had been flying for over 25 years, and it was negligence on his part.
However, the case does not hinge upon whether the pilot observed proper visual flight rules, it centers upon compliance with FAA obstruction marking regulations.
A tower owner using allowable selective design standards to reduce construction and operation costs can be easily shown to be effectively and safely used every day by almost every regulated profession.
In example, new Federal Americans with Disabilities Act guidelines enforceable this year require that all steps on a flight of stairs must have riser heights between 4 and 7 inches with treads a minimum of 11 inches.
Although peer reviewed studies identify that a riser height between 4 and 7 inches will result in lower accident rates, albeit minimal, due to less energy demand and other influences, architects - in full compliance with ADA building code requirements - design stairs at the maximum height wherever possible.
The plaintiff's attorney will single out the tower developer for his reprehensible manipulation of two feet in structure height to save on construction costs by not having to follow FAA marking requirements.
Here's their conundrum. The "despicable" conduct complaint cobbled together by the plaintiff has been the same procedure used by tower owners for the installation of tens of thousands of structures throughout America because the FAA requirements are not arbitrary and the practice is legal.

It's doubtful that the Sacramento Utility Municipal District would subscribe to the belief that it was contemptible when it permitted and constructed an unlit, unmarked tower at 198'-2" in order to reduce energy and infrastructure expenses.
There are no obligations for a manufacturer to meet member size dimensions for visibility for any structure height, below or above 200 feet. Many towers are designed up to 200 feet with a diminutive 11-inch braced equilateral triangle design with three 1-1/4" legs.
According to court documents, the meteorological tower was an 8" diameter galvanized pipe supported by 1/4" guy strand wire rope.
Last month, in Crowley, La., a helicopter pilot clipped a guy wire on a 900-foot tower and was killed when he crashed 250 feet from it. A tower technician working on the broadcast structure at the time was severely shaken, but uninjured.
The pilot was within 60 feet of the tower when he saw it, then veered to his left but, it was too late.
Having olfactory senses for blood money that would drown a shark in its own pool of embarrassment, some attorneys are sure to be circling professional guidelines conduct with cold call letters to the deceased's family. Or they'll write about the incident in an insipid blog to capture keyword searches that might tie them into this accident for relatives considering a lawsuit.
In this case, the tower was reportedly lit and painted in obstruction awareness bands of white and aviation orange, stymieing the use of the Contra County under-200-foot insensitive site build complaint.
However, a plaintiff could sue, alleging that the tower was built just below the 1,051-foot height to not have to pay for additional lighting requirements necessary above that level.
The tort system and the wireless industry will be better served if not one cent is awarded in the Costa Contra lawsuit. Hopefully, a summary judgment request will dismiss the case.
Wireless Estimator will keep you abreast of the lawsuit following a case management conference on January 23.
Verizon's hardened network stays on top as
Sandy's cell site outages drop to 19%
Update: November 8, 2012 - Verizon said that 99% of its cell sites are working following Hurricane Sandy's destruction. AT&T said more than 98% of its cell sites are working across the storm region, with about 95% in New York City. T-Mobile says that in the Northeast 95% of its sites are up and running and Sprint said they are now 92% operational in hard hit New York and New Jersey.
- - - - - - - - - - - - - - - -
November 2, 2012 - While workers are still trying to reduce significant flooding in Verizon's New York City headquarters on West St., creative directors at Verizon's West 26th St. ad agency might be storyboarding the wireless carrier's next campaign:
Reliability under fire.

Verizon spokesman Tom Pica said again Wednesday that 94% of Verizon's cell sites were up and running in Hurricane Sandy-affected areas, the same percentage the carrier quoted on Tuesday.

According to CNN Money, he took the FCC's report to mean that competitors were faring much worse.

"If nine out of 10 of our towers are running, and the industry as a whole has three of four, someone else is obviously dragging down the average," Pica said. "It's unlikely anyone else is better if we're at 94%."

On Tuesday, the FCC reported that an average of 25% of carriers' cell sites were down following Sandy's initial path of destruction.

Although carriers have had sufficient time to assess their network damage during the past three days, AT&T, Sprint and Metro PCS have not identified their current operational status.

T-Mobile has selectively reported a high 90% of cell sites running in Washington, DC, where Sandy swept by without causing considerable damage, and 80% in New York, but they're not releasing figures from hard-hit areas such as New Jersey.

Verizon said its wireless network performed well in the immediate aftermath of Hurricane Sandy due in large part to the billions of dollars of investment made to their Northeast wireless network, including the installation of permanent backup generators at most cell sites.

Contractors attest to Verizon's UPS and network service
A number of contractors who provide construction and maintenance services to both Verizon and AT&T informed Wireless Estimator that Verizon's uninterrupted power supply system - mostly generators - is more robust than AT&T's backup structure. They also said that during this week's restoration, Verizon's cell phone network was considerably better.

During interviews with Manhattan residents in the East Village and Greenwich Village, where power has been out since Monday night, The Wall Street Journal corroborated those findings yesterday, stating AT&T's network was hard to find and Sprint and T-Mobile's signals were elusive. Residents without wireless service said that they used their neighbors' Verizon phones when they had to make calls, according to their findings.

There have been no reports as to how AT&T's power restoration program is progressing, but during last August's Hurricane Irene devastation, there were logistical problems.

"It was completely unorganized last year," said one New York contractor. "I had guys waiting in a yard for six hours to get a generator, then they were told to go to a site. When they got to the site in Queens, it was a 10-story walk-up, with the site on the roof. The generator they were given had 25 feet of cable. After 17 hours they delivered and set a grand total of one generator," he said.

Although his company was paid for his employees' time, he said he was frustrated because he had other long-time customers who were more organized that he could have been assisting.

Reporting outages to the FCC during a disaster is voluntary, but the five top carriers have committed to providing the requested information.

However, the FCC only collates the data and will not release any specific information they obtain other than a summary of issues such as cell site and 911 call center problems.

Most current status provides an outage of 19%
Federal regulators said on Wednesday that the cell site outage fell to 20%.

In a statement Thursday afternoon, officials from the FCC said they were noticing "steady improvements" in telecom networks in areas affected by the storm, but that "much work remains to be done to restore service fully." They did not give an estimate on how long it would take for wireless service to fully recover.

The FCC's "steady improvements" for wireless reception only reduced cell site outage 1% from the previous day. Verizon doubled the industry recovery average, going from 94% to 96%.

"Replenishing fuel supplies for generators that are enabling communications networks to continue operating is a particularly critical challenge," David Turetsky, the FCC's public safety and homeland security bureau chief, said in a statement.

Don Train, owner of Train's Towers, Inc., located in Haddon Heights, N.J., said that fuel resupply is a serious problem not only for carriers, but for service companies as well. "My guys estimated this morning that a line to get gas in Huntington County was at least two miles long," said Train.

Verizon might make a marketing run on their 94% record
Verizon, however, using the FCC's 25% outage figure, would be expected to promote its high stability rate during one of the nation's most devastating storms.

How they craft it will be seen, but their past marketing efforts accented AT&T's failings.

In 2009, Verizon's TV commercials showed maps identifying that they had five times more 3G coverage than AT&T. They may use the same theme since, according to Verizon, their competition's average cell site outage was over four times more than their interruptions.

AT&T sued Verizon over the 3G maps, stating in its complaint that "Verizon embarked on an advertising campaign designed to mislead consumers about the scope of AT&T's wireless coverage."

AT&T didn't dispute that map's portrayal of the reach of its 3G coverage, but the carrier said they became concerned after they interviewed people in a shopping mall who had seen the ad and they found the graphics to be misleading.

The lawsuit, according to analysts, was a bad strategic move for AT&T because it had the exact opposite effect of its goal. AT&T had asked for an injunction to prevent Verizon from continuing the ad campaign so that customers won't continue to see the stark contrast of the 3G networks from each provider.

AT&T formally dismissed the lawsuit after a judge rejected the company's request to force Verizon to pull its "There's A Map For That" advertising campaign.

If Verizon were to advertise its stability versus other mobile carriers during this week's monster storm, AT&T would be hard pressed to refute the stark comparison without having to open up its outage records, something it may not want to do.

"Verizon should be all over their cell tower stability record they had during the storm," an advertising executive based in Manhattan told Wireless Estimator. "This is not one of those imprecise, typical feel-good promises that carriers are known for in their advertising. This is a real benefit that has been tested under emergency conditions."
Hurricane Sandy kayos 25% of cell sites in its path;
LTE, DAS to be assessed
Update: October 31, 2012 - Federal regulators this afternoon said that wireless networks are gradually coming back to normalcy after Hurricane Sandy, with about 1
in 5 cell sites still being out of service.

Although FCC Chairman Julius Genanchowski said his agency's belief was that outages could get worse than the 1 in 4 reported yesterday, it's one prediction that he's happy that didn't come true.

In an unprecedented move, AT&T and T-Mobile announced that they were taking an extraordinary measure to improve service by merging their networks for roaming in hard-hit areas.

AT&T and T-Mobile customers will be able to place calls just as they normally would, but their calls will be carried by whichever network is most operational in their area.
It's expected that the roaming between networks will be concentrated in New York and New Jersey where they were hardest hit.

- - - - - - - - - - - - -
October 31, 2012 - Carriers told federal regulators yesterday that Hurricane Sandy knocked out an average of 25 percent of service from cell sites through a loss of
power or equipment damage.
A "very small," but unspecified, number of 911 call centers have also been affected, but emergency calls are being rerouted, Federal Communications Commission Chairman Julius Genachowski said in a news conference call.
FCC officials declined to identify where the affected 911 centers were located, or which phone companies were responsible for servicing them.
Further disruptions are expected and the outage figure could climb after additional voluntary reporting is provided by carriers covering 158 counties from Virginia to Massachusetts.
"The storm is not over. And our assumption is that communications outages could get worse before they get better, particularly for mobile networks because of the flooding and loss of power," Genachowski said during the call.
The FCC uses the term "cell sites" in reporting outage locations, which would include many thousands of rooftop installations in New York City alone. However, most headline writers are inclined to label cell sites as towers.
Utility companies estimated that between 7 million and 8 million customers did not have power.
Many thousands of cell sites are currently running on backup power, but the FCC was unable to say exactly how many. Sites could also go down in the coming days, especially if crews are unable to get to sites that need battery replacements and generators that need refueling.
The FCC said that other cell sites were damaged by flooding and that some have also been damaged by snow.
However, there have been no immediate reports of severe structural damage to towers or collapses, according to a number of tower contractors currently providing support services to carriers and tower owners. An earlier report of a monopole collapse in Union, N.J. remains unconfirmed.
Although Genachowski provided more details last August immediately following Hurricane Irene's pummeling of the Northeast, it is expected that the FCC will provide additional information this afternoon.
Irene's initial impact caused an average of 29% of cell sites to be out of service, but Sandy's affect to mobile service will see a far greater number of sites inoperable.
Whereas Irene's primary devastation was in Vermont, where 44% of cell sites were down, Sandy's crippling path took it through some of the nation's most highly populated states.
Compared to the Northeast coast, New England was largely spared from Sandy's wrath. Coastal Rhode Island and Massachusetts were the hardest hit areas in the region.

LTE and DAS damage assessment to come
Carriers will be assessing how their newly installed LTE networks performed during the storm. Some remote radio units at high elevations on under-designed mounts could have been affected by Sandy's high wind gusts which in Islip, N.Y. reached 90 m.p.h.
T
he highest wind gust from Sandy's inland assault was recorded on Mount Washington, N.H. at 140 m.p.h., according to The Weather Channel.
Distributed antenna systems performance will also be assessed, especially in New York City's subway system.
Manhattan Transit Authority Chairman Joseph Lhota said yesterday that Sandy created historic damage to the metropolitan region's transportation systems.
"I can say unequivocally that the MTA last night faced a disaster as devastating as it has ever faced in its history," Lhota said.
Although his immediate concerns are far removed from how cell phone service was affected in the subway's limited DAS network, the MTA is sure to assess how damaging Sandy was to its DAS service.
Lhota said there was widespread flooding in the tunnels and he's still not aware of the total damage.
"The assessment will take more time than we thought," Lhota said. One thing found, he said, is that the water level at the South Street station downtown is "literally up to the ceiling."
It is expected that a recently awarded distributed antenna system project for the subway will be put on hold.
DAS provider Solid said last month that it was awarded a multi-year agreement by Transit Wireless to support the extension of wireless coverage throughout the subway system.
The project is reported to include 277 stations, with 30 that were scheduled to go live by the end of the year.

The deployment will include Solid's "neutral-host" DAS platform designed to support multiple carriers on a single piece of equipment.

The spin begins with fuzzy math
It appears that the carriers' spin masters are hard at work or the FCC's 25 percent average figure of cell sites that are dark is incorrect.
Verizon said in a release yesterday that 94 percent of its cell sites in the Northeast were online and their switching and data centers were running normally.
"Although our network teams are working to restore areas where customers may be experiencing some service issues, the majority of the problems are 'out-of-service' sites resulting from multiple factors, including telecommunications provider service disruption, power outages and flooding in low-lying areas such as the tip of lower Manhattan," said CTO Nicola Palmer.

Although some industry observers believe a 6 percent outage rate for Verizon seems too low based upon the industry average of 25%, wireless technicians informed Wireless Estimator that the carrier has a more robust generator backup system in place.

One technician performing storm restoration work in New Jersey emailed: "My AT&T iPhone works sporadically. There's no coverage at my house although there is a monopole within a mile. Their batteries [cell site] ran out after a little while. I get service in some spots driving around, then not in others. The guys in the truck that have Verizon have coverage everywhere."


AT&T has not identified its current operational status. "We are in the initial stages of performing an on-the-ground assessment of our network for damage and crews will be working around the clock to restore service," AT&T said in a statement.

"The vast majority of our cell sites in the Northeast are online and working," AT&T said but they were less than candid in not identifying "vast", which could be 55 percent, making Verizon's 96 percent claim more credible.

Sprint echoed AT&T's benign assessment status, stating, "Technicians are assessing the damage and servicing sites as they become known to us and as the areas are deemed safe to enter." They said that their outages were caused by "loss of commercial power, flooding, loss of cell site backhaul connections, site access and damaging debris."
T-Mobile heralded its recovery efforts and cherry picked Washington, D.C. where its network was more than 90 percent operational and in New York City where it was 80 percent. They declined to identify network problems in other states.
The FCC said yesterday that it has three "roll call" teams ready to deploy with specialized equipment that can analyze which frequencies are still carrying signals and which frequencies have gone dark. The information can help FEMA and state officials restore communications services. The FCC also has field engineers who can help FEMA's communications recovery efforts.
According to IHS Global Insight, the cost of the storm will represent about $20 billion in property damages and another $10 billion to $30 billion in lost business.
Residents steer clear of Sandy as
wireless workers prepare to move in
October 29, 2012 - Hurricane Sandy churned through the Atlantic Ocean today towards what forecasters are saying will be a devastating landfall which is expected to paralyze life for millions of people in at least six Northeast states, and possibly cripple
wireless service in thousands of locations.

When Hurricane Irene in August of 2011 threatened the East Coast, carriers were slow in contacting tower crews to be on standby until the last minute. However, four out of six Northeast contractors contacted by Wireless Estimator said that they were alerted on Friday to prepare for what might be an extended period that could dwarf Irene's maintenance and rebuilding phase by many weeks.

Some contractors are already topping off fuel at cell site generator locations. AT&T said it is testing and installing high-capacity backup batteries and quick connect generator plugs at sites which are expected to be impacted by Sandy.

Other major carriers said they are taking all necessary steps, from establishing regional staging areas to putting their network strike teams on standby.

Verizon, equipped with the industry's first environmental hazmat response team, said it is putting it on standby to deploy if necessary.

The FCC, which activated the Disaster Information Reporting System last year, an internet program that assists the agency in gathering information to assess the extent of damage to communications networks, reactivated it again today.

Broadcasters, cable operators, and wired or wireless service providers are requested to contact the FCC in the voluntary program about any Hurricane Sandy-related emergency communications issues.

"We are praying for the best, and preparing for the worst," said Julius Genachowski in a statement.

Figures released by federal officials following Irene's destruction showed that 6,500 cell towers and sites were damaged or disrupted after she made landfall.

Industry observers believe Sandy's destruction could surpass Irene's disruption of cell sites.

Sandy will provide a structural stress test
Sandy will provide a stress test for the East Coast's towers, most of which were designed under TIA/EIA-222-F, when the storm comes ashore this evening with 85 mph winds, according to the National Hurricane Center in Miami's latest tracker.

Although the average county basic wind speed design in N.J. is 80 mph, that doesn't imply that communications structures will fail when Sandy hits the Garden State at a higher wind speed since safety factors are built into the design which makes their survival wind speeds similar to the projected hurricane wind speeds, said Dave Brinker, Vice President of Engineering for Rohn Products, a major tower manufacturer.

He pointed out that failure could occur, however, if a structure has not been maintained, or if airborne objects damage bracing or create additional loading on the tower.


"If additional equipment has been added which was not in the original design, that could also cause a failure," Brinker said.
Although Sandy hasn't unleashed its full fury on N.J yet, according to a local contractor, a monopole collapsed in Union today as a result of strong outer wind bands.
Sandy put most of Atlantic City under water this morning and flooded other cities up and down the New Jersey shore as the storm approached for a predicted direct hit this evening.
Thousands of people were without power, and some were stranded in homes surrounded by water and had to be rescued. Officials said they expected conditions to get much worse at evening high tide.
Many contractors have open purchase orders for emergency services - mostly at their standard hourly rates and overtime rates for nights and weekends - and restoration projects due to the nature of their urgency can be very profitable for some.
If the work is being done in New Jersey on a municipal property, whether or not the customer is a government agency, prevailing wages will be required to be paid if the project is in excess of $14,178. If the work must be performed on a Sunday, double time kicks in and the prevailing wage compensation for a foreman can be as high as $221.46 an hour and a tower tech will receive an hourly rate of $181.38.

However, for those companies not doing repair and service work, a catastrophic hurricane can be an economic jolt to their bottom line as LTE and other projects are put on hold.

Worker safety following storm is a priority of NATE
The National Association of Tower Erectors, an industry trade group representing many workers who will be on the frontline of communications restoration projects, emphasized today to its members that each employer is responsible for the safety and health of its workers at all times, especially during post-Irene work when additional hazards will be presented.
"With Hurricane Sandy wreaking havoc on the eastern seaboard, NATE's thoughts and prayers are with those citizens who are currently working or living in areas that are in the path of this dangerous storm," said NATE Executive Director Todd Schlekeway.
Schlekeway said that an additional safety tool available by OSHA is its Response/Recovery page which provides a Hurricane eMatrix with information on hazard exposures and risk assessments for hurricane response and recovery work.
"The information in the matrix is organized based on the types of activities performed so that it is easy for workers to identify the precautions they should take based on the tasks they will be performing," Schlekeway said.
Craig Fugate, chief of the Federal Emergency Management Agency, said FEMA teams were deployed from North Carolina to Maine and as far inland as West Virginia, bringing generators and basic supplies that will be needed in the storm's aftermath.

"I have not been around long enough to see a hurricane forecast with a snow advisory in it," Fugate told NBC's "Today" show.
Millions of people along the east coast have been asked to evacuate their homes. In some cases, such as in lower Manhattan, it's mandatory.
Illegal sale of Andrew telecom equipment
to Iran exposé falls flat on facts
October 28, 2012 - The media dined upon Huawei/China-link U.S. security breach concerns last week and unsurprisingly became hungry again for any morsel of impropriety related to the embattled Chinese telecommunications equipment maker.
They found that snack. The latest violation reported by Reuters in its "exclusive" is that a Huawei partner reportedly acquired some telecom equipment from Andrew LLC and then tried to sell it to an Iranian carrier in violation of Washington's ban on the sale of U.S. technology to Iran.
The introductory text by Reuters, and the nation's cut and paste media, could have rivaled an opening paragraph of an espionage novel by legendary British author John le Carré.
But any resemblance to a credible book theme is quickly unraveled when the plot reveals that the embargoed goods order was cancelled after a purchase order error was found before any U.S. intervention, and no transaction occurred.
The article said the deal went down for "14,364 euros," forcing interested readers to turn to their smart phone currency converter to learn that it was - in today's exchange rate - a not so staggering $18,595.
According to Reuters, Soda Gostar Persian Vista, a Tehran-based supplier of Huawei equipment in Iran, had offered to sell to MTN Irancell 36 cell site antennas.
The equipment was to be delivered in Tehran on February 3, 2012, to "Huawei warehouse ready for installation," according to a MTN Irancell purchase order dated November 30, 2011.
South Africa's MTN Group, which owns 49 percent of MTN Irancell, said the Iranian company had requested 36 German-made antennas not subject to sanctions but that "Huawei, through its local partner Soda Gostar, mistakenly provided details of U.S.-manufactured" antennas.
"This was later identified as an error and as a result the tender request was canceled with Huawei and the German goods obtained from a local reseller," Paul Norman, MTN Group's corporate affairs officer, said in a statement. He added, "The incident is illustrative of the strong processes in place in MTN and Irancell to ensure compliance" with U.S. sanctions.
Huawei, based in Shenzhen, China, has an agreement with CommScope Inc. in Hickory, N.C. - which owns Andrew - to purchase Andrew antennas and other equipment and use the products in Huawei systems, according to CommScope.
CommScope has manufacturing and research and development facilities in Shenzhen and Suzhou along with an R&D center in Shanghai.
Earlier this year, CommScope received the "Golden Partner" award from Huawei, the fifth consecutive year in which it has been honored by Huawei.
As Andrew Solutions, CommScope entered the China market in 1997.

CommScope and Huawei are on the Board of Governors for 4G Americas, a wireless industry trade association.

Other board members include Alcatel-Lucent, America Movil, AT&T, Cable & Wireless, Ericsson, Gemalto, HP, Nokia Siemens Networks, Openwave Mobility, Powerwave, Qualcomm, Research In Motion (RIM), Rogers, T-Mobile USA and Telefonica.
Hesse and Son quickly throw Huawei under the
bus to appease regulators
October 19, 2012 - Sprint Nextel CEO Dan Hesse said that his company would not use network equipment made by Huawei (Pronounced: WAH-way) to comply with U.S. government concerns about the security threat that may be posed by the Chinese
company.

"Sprint is a big supplier to the U.S. government and that aside, I wouldn't put in any equipment that would raise any security concerns," Hesse told the Financial Times as part of a round of interviews he and SoftBank CEO Masayoshi Son are making to the investment community regarding SoftBank's proposal to acquire 70 percent of Sprint for $20.1 billion.

Hesse was responding to reports that SoftBank used Huawei equipment for its Japanese network and it might want to utilize it in the U.S.

To assuage any concerns from regulatory authorities, Hesse and Son said that they would not deal with Huawei.

"Sprint has crossed this bridge before and chose not to use equipment in our network that raised any security concerns, so we would always, regardless of the approval process before or after, be very sensitive to that issue," Hesse said.

U.S. Commerce Secretary Gary Locke called Hesse in 2010 to express "deep concern" that Huawei might win a contract to upgrade the mobile-phone carrier's network. After the call, Sprint awarded the work, worth as much as $5 billion, to other equipment manufacturers.

The House Permanent Select Committee on Intelligence recommended earlier this month that the U.S. should block acquisitions and mergers involving Huawei and ZTE. It also recommended that the U.S. government and U.S. companies avoid using equipment from the two Chinese companies.

On Wednesday, Reuters, citing unnamed sources, said that a White House review of security risks posed by Huawei, the world's second-largest manufacturer of networking equipment, found that there is no clear evidence that Huawei had spied for China.

A White House spokesperson said yesterday that the Reuters article was not true and that no investigation has been conducted that cleared anyone.

"The Reuters report, based solely on anonymous sources, is not correct: the White House has not conducted any classified inquiry that resulted in clearing any telecom equipment supplier, including Huawei," Principal Deputy White House Press Secretary Josh Earnest said in a statement. "In fact, last October, Huawei was excluded from taking part in the building of America's interoperable, wireless emergency network for first responders due to U.S. Government national security concerns."

Huawei is also getting some unfavorable attention in the UK where it has been a big equipment vendor since striking a deal with BT in 2004.

The U.S. House's intelligence committee said that security procedures used in Britain to vet Huawei equipment would be inadequate in the US.

The findings have increased scrutiny of Huawei in Westminster, where the Commons intelligence and security committee was already reviewing the company's deal with BT before the US report.

About 10 percent of SoftBank's capital expenditures goes to Huawei and ZTE for its 4G mobile network's TDD LTE gear. Alcatel-Lucent and Ericsson provide the core network.

Hesse said that because there will be extensive regulatory review, he does not expect to close the deal until the middle of next year.

The transaction must measure up with American regulators, including the Justice Department and the Federal Communications Commission. It must also be reviewed by the Committee on Foreign Investment in the United States, a government panel that determines whether a deal would pose a threat to national security.

Clearwire's Huawei relationship to be addressed
Clearwire's business dealings with Huawei will be reviewed by regulators since Sprint has become the majority - although not controlling - owner of Clearwire and has made overtures that it is looking to buy out other investors.

For the past three years, Clearwire has been buying some of Huawei's radios for its WiMax network. Edge radios aren't directly connected to the core systems that manage and process traffic on the network, Clearwire said, defending their vendor choice for base stations. Cricket Communications and Level 3 Communications also buy some network products from Huawei.

Huawei worked with Clearwire on the company's Phoenix LTE trials in 2010, according to Clearwire, to test multiple coexistence scenarios between LTE and WiMAX radio technologies.

Earlier this year, Clearwire announced that in conjunction with the Global TD-LTE Initiative it had teamed with China Mobile Communications Corp. to reach an agreement on common test specifications.

Ironically, Alcatel-Lucent, Ericsson and Nokia Siemens networks have all won contracts to supply network equipment — alongside both Huawei and ZTE — for what's likely to be the world's biggest TDD LTE network being built by China Mobile.

Therefore, if China wants to spy on its own people three more suppliers would have to be collusive.

But their domestic espionage officials might opt for an easier and even greater intelligence gathering solution than having to scrutinize

information from "back doors" of routers and switches: they'll simply monitor Facebook.


Sprint buy by SoftBank should assist in
strengthening towercos and contractors
Update: October 19, 2012 - SoftBank CEO Masayoshi Son said that he is ready and eager to consider other buyout possibilities in the U.S., according to the Wall Street Journal.


Although Son didn't cite any company, Sprint CEO Dan Hesse, who was also present during the interview, said that at some time in the future he could entertain his company merging with T-Mobile.
- - - - - - - - - - - - - - - - - - - -
October 18, 2012 - An industry axiom is if AT&T doesn't like something, it's probably good for the wireless infrastructure industry. And the nation's largest carrier doesn't like Tokyo-based SoftBank's announced Sprint acquisition plan.

Dallas-based AT&T Inc. threw out its first salvo yesterday to prevent the deal with a statement from spokesman Brad Burns that "SoftBank's acquisition of Sprint and the control it gains over Clearwire will give one of Japan's largest wireless companies control of significantly more U.S. wireless spectrum than any other company. We expect that fact and others will be fully explored in the regulatory review process."

Badly bruised by its failed attempt to take over T-Mobile USA, AT&T is expected to try and block SoftBank acquiring 70% of Sprint Nextel Corporation, especially since it was announced by Clearwire this morning in a regulatory filing that Sprint now owns 50.8% of the company.

Sprint was one of the companies which lobbied for regulators not to approve of the planned and failed AT&T and T-Mobile merger, costing the company $4 billion for a breakup fee.

Since the $20.1 billion deal will strengthen Sprint's balance sheet by $8 billion, and allow Sprint to retain its current executives, it will enable the carrier to continue and possibly accelerate its LTE vision for the future.

Sprint must launch its LTE nationwide in the next two years in order to compete with AT&T, Verizon Wireless's established LTE networks and T-Mobile's expected LTE launch.

In a rather myopic announcement, two major brokerage analysts were quick to let their subscribers know that the agreement could be beneficial to Crown Castle International and American Tower Corp.

The broader picture is that it will be good for every tower owner from SBA Communications Corporation and Global Tower Partners, Inc. to smaller companies such as Subcarrier Communications and InSite Wireless Group.

Contractors and suppliers will also benefit from working with a financially stable carrier. In March, there were reports that Sprint's subscriber market share losses and rocky balance sheet were moving it closer to bankruptcy.


Time Division Duplexing (TDD) – The communication is done using one frequency, but the time for transmitting and receiving is different. This method emulates full duplex communication using a
half duplex link.
Frequency Division Duplexing (FDD) – The communication is done using two frequencies and the transmitting and receiving of data is simultaneous.

Sprint's controlling interest in Clearwire is being seen as a major plus for SoftBank.

Although SoftBank has a TDD-LTE network and Sprint is FDD-LTE, what could be the primary deal sweetener is Clearwire's TDD-LTE network.

SoftBank in Japan has seen download speeds of TDD-LTE at 1.1 gigabyte, whereas every other network in the U.S. has download top end speeds of 28 megabytes per second.

Clearwire will become a major player as mobile video quickly reaches addiction status.

What SoftBank is betting on is that it will be able to disrupt the top mobile carriers in the U.S. just as it was able to grab a substantial market share from the existing and well established players in Japan.

SoftBank turned around Vodafone's former operations in Japan, using aggressive price plans, out of the box marketing and an exclusive hold on the iPhone to steal customers from AT&T and Verizon-type rivals, NTT DoCoMo Inc. and KDDI Corp.

However, duplicating the low price business model in the U.S will still keep Sprint in third place, battling with T-Mobile. In lieu of scuffling, SoftBank has the cability of raising capital to buy the discount carrier.

SoftBank gets more than two-thirds of its revenue from data services, about double the average in the U.S., according to the company.

SoftBank is also known for its phones. Earlier this year, The Pantone 5 was introduced with a built in geiger counter which measures safe levels of radiation.

"Starburst" and "Saturn" were the code names for SoftBank and Sprint. Fears that media leaks could scuttle Japan's biggest overseas buyout in many years pushed the deal forward after two weeks of final negotiations in New York.

An ethnic Korean born to an impoverished family, 55-year-old CEO Masayoshi Son has built SoftBank into a nearly $38-billion company, making himself Japan's second-richest man.

Tagged as Japan's Richard Branson, Son isn't as conservative as his fellow corporate leaders.

"I had set a management target of becoming debt-free … so I had bound myself by trying not to look at beautiful, wonderful things, like trying not to look at beautiful women. As a result, I felt I had become too defensive," Son told Japanese TV after announcing the Sprint deal.

With his current net worth edging towards $9 billion, in March of this year, Son ranked number 127 on Forbes' list of the world's billionaires. He used to be worth $69 billion until the dot-com bubble burst in 2000.
American Tower shows the nation
the REIT way to be successful in real estate
October 16, 2012 - American Tower Corporation's stock has increased approximately 19 percent since it merged with its subsidiary, American Tower REIT Inc. on January 1. The explosive rise is being seen as validation that the company's emergence as a real estate investment trust was an excellent move for investors
seeking secure dividends.

Early morning trading saw the stock reach its highest price ever, $76.22.

Since its REIT debut, the tower consolidator has become well-known in the investment trust community. Last month, Robert Meyer, SVP Finance & Corporate Controller for American Tower was a featured speaker at a REIT industry event about financial standards and Securities and Exchange Commission hot topics.

Its immediate prominence received a favorable boost by its size, making it the second largest REIT in the nation behind Simon Property Group, the U.S.'s largest mall owner.

However, whereas Simon owns or has interests in 386 malls, American Tower's properties total approximately 22,000 tower sites.

According to an industry trade group, as of May 2012, publicly traded REITs owned over 30,000 commercial real estate properties worth approximately $850 billion, and although some of American Tower's properties are near postage stamp-sized parcels compared to expansive shopping malls or office complexes, their tower count is impressive.

Whereas Simon Properties has a market cap of $46.7 billion compared to American Tower's $29.7 billion, the Boston-based tower owner has the ability to take advantage of accelerated growth opportunities not accorded the retail market.

Last month, American Tower CEO James Taiclet, Jr. emphasized that point during an interview on CNBC.

"Should we think of you as a real-estate company?" the news reporter asked.

"You should feel that we're a growth company that's taking advantage of the real-estate trust structure," Taiclet replied.

In REIT circles the video went viral, primarily because there is some unease that a new wave of applicants desiring to become REITs might be far removed from being a typical real estate investment trust, and might draw the scrutiny of regulators during a politically charged election where tax loopholes are key concerns.

Geo Group Inc., a penitentiary operator, and Iron Mountain Inc., a document and data-storage company, are among the companies planning to become REITs. Billboard advertising companies could also make the transition.

During an August investor call, Lamar Advertising Co. said that it is considering a conversion after a recent Internal Revenue Service ruling about the status of billboards as real property.

Congress created real estate investment trusts over 50 years ago to allow investors to enjoy the benefits of investing in real estate by owning shares of companies that own, operate, or finance income-producing real estate.

To maintain status as a REIT, the tax code requires that REITs comply with a series of requirements that ensure their business is focused on the long-term ownership or financing of income-producing real estate.

Additionally, REITs are required to distribute at least 90% of their taxable income to shareholders as dividends every year. If REITs meet these requirements, the code allows REITs to deduct the dividends they pay to their shareholders.

It appears that two of the nation's largest tower companies are contemplating the expiration of federal net operating losses (NOLs) that allow them to shield their income from taxes. It was the governing factor in the timing of American Tower's conversion earlier this year.

Crown Castle International recently adopted the REIT metrics of funds from operations (FFO) and adjusted funds from operations (AFFO), which has raised speculation that it may be looking to follow in American Tower's footsteps. FFOs are usually associated as a key financial metric in the REIT Industry.

Crown Castle's NOLs will allow it to hold off from having to move to a REIT status for at least another four years.

Although SBA Communications Inc. hasn't adopted those metrics, the company has acknowledged that the development of a standard definition of AFFO across the industry would be an ideal goal.

SBA CEO Jeffrey Stoops said during a February investor conference that it still has approximately $1.2 billion in NOLs, which would carry it "six, seven, eight years out, depending on future portfolio growth."
Crew performs a successful tower rescue in Ohio
October 16, 2012 - A tower construction crew was called upon to rescue one of their members this
afternoon in Dayton, Ohio.
Authorities said that a tower tech was working at approximately the 700-foot level of the Public Broadcasting Corporation's ThinkTV tower on Guthrie Rd. when he suffered a seizure.
Although many of the country's crews are trained in rescue, most often an emergency crew is called to perform the rescue, extending the time that it takes to put a rescue plan in place and transport the injured.
In this case, although fire rescue crews were called to the scene, the man's co-workers were able to lower him safely to the ground.
He was transported to Miami Valley Hospital. His name and condition have not been released.
He was employed by a Youngstown, Ohio tower company, according to authorities.
If you're knowledgeable about whom the man's rescuers were or the company they were employed by, please let Wireless Estimator know so that they can receive a well-deserved double tip of the safety hard hat.
Two techs remain in serious condition after
riding a collapsing tower to the ground
Update: October 13, 2012 - A doctor from Rio Piedras Medical Center said that Jesus Maldonado had broken both of his ankles when the tower collapsed. Co-worker Jaime Montero had a broken femur, pelvis, left ribs and a laceration to his liver. Although he is in stable condition, there is a concern that he could develop breathing
issues, said the hospital's spokesman.

Maldonado reportedly owns Wito's Communications.
- - - - - - - - - - - - - -
October 12, 2012 - Two tower technicians are still in grave condition a week after a tower they were working on collapsed in Camuy, located near Puerto Rico's north coast.

Authorities said that Jaime Montero ,48, and Jesus Maldonado, 58, were performing maintenance on the structure last Friday when it fell. They were unable to identify at what height both men were working.

A review of a number of photographs by Wireless Estimator indicates that the men might have been changing out braces near the 30-foot level at the time of the accident.

No redundant bracing appeared to be in place to prevent the 225-foot guyed angle iron tower built in 1981 from collapsing.

It is not known if the Occupational Safety and Health Administration is investigating the accident. The Guaynabo OSHA area office did not return a call requesting additional information.

The contractor is not required to report the accident since there was not a death, and three employees did not require overnight hospitalization.

However, OSHA can investigate an accident even if the basic reporting requirements are not met.

Both men were taken to the Rio Piedras Medical Center.

At least one worker was wearing a lineman's belt instead of proper fall protection equipment.
In addition, although it cannot be identified that it was being employed at the time of the accident, a wooden block with a severe crack through it was at the base of the tower.

Authorities said that the tower technicians were employed by Wito's Communications of Ponce.

Although two Puerto Rico tower company representatives said the company has been performing tower construction and maintenance for many years for numerous clients, a search of the Puerto Rico Secretary of State's registered companies does not show that Wito's is registered with them.

The AM tower is owned by Aurora Broadcasting Company, WMSW Radio Once 1120 AM, serving Hatillo with a news/talk format.

The station had a three tower directional antenna array, but earlier this year they were given approval to go to a two-pattern non directional mode and removed two of the towers.

It is unknown whether they will attempt to use the removed structures to cobble together a replacement tower.
Pilot dies after clipping a guyed tower with a technician working on it in Louisiana
October 11, 2012 - A tower tech foreman employed by Verticon of Louisiana was uninjured when he was working on a 900-foot guyed tower in Crowley, La. yesterday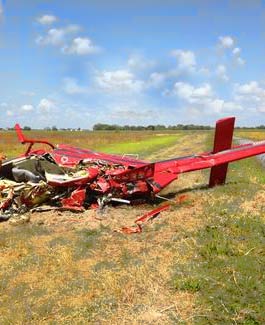 when a helicopter clipped a guy wire and crashed, killing the Texas pilot.

Authorities said that Hugh Kelley, 66, of Beaumont, who owned the Bell 206 helicopter, was flying low and clipped one of the structure's 10 guy wires and crashed roughly 250 yards from the tower.

Owned by Third Partner Broadcasting, Inc., the tower is used to broadcast "Big 102.1" KYBG, Lafayette, La.

Tim Langford was the only member of his crew on the structure when the incident occurred. He was at approximately the 250-foot level when he first noticed the helicopter.

He watched it from about a half-mile away and immediately became concerned when it appeared to be heading towards the tower.

Langford said it looked like it was inevitable that the helicopter was going to hit the tower when at the last minute - just 60 feet away - it veered off to his left and then hit the guy wire.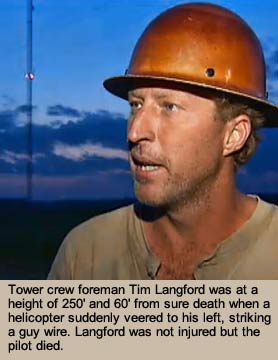 He said the tower then began "...shaking real bad, and I was hanging on for dear life, to be honest."

At the time of the approximately 11:00 a.m. crash, there were no visibility problems and wind speed was 4 miles per hour. The pilot had been in the Lafayette area for routine maintenance on the aircraft and was returning to Beaumont.
Built in 1999, the structure is painted in bands of white and aviation orange.
Federal Aviation Administration officials were scheduled to arrive today to investigate the incident.
The tower is located on farm land at 2163 Rd. The structure appeared stable after the crash after a tower crew reattached the guy wire and made temporary repairs.
Tower technicians often tell of being buzzed by aircraft, especially near a military post; however, this is the first known incident where a worker was on a structure when an aircraft struck it.

Last August, a helicopter heading to the San Antonio Military Medical Center from College Station collided with a cell tower owned by Global Tower Partners, causing no structural damage to the tower, but forcing the helicopter to make an emergency landing at a local airport.
Supreme Court to review whether
the shot clock should be thrown out
October 8, 2012 - The U.S. Supreme Court agreed on Friday to review whether the Federal Communications Commission's shot clock - the reasonable period of time communities must act upon an application for a wireless antenna co-location or a new site build - is legal.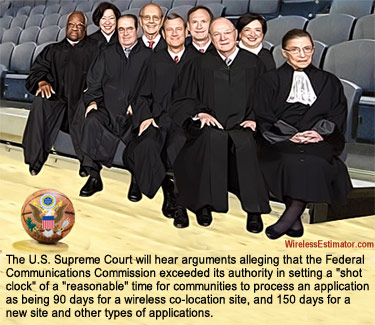 The high court will hear arguments stemming from two petitions alleging that the FCC has wrongly been awarded the capability of being able to set a standard for jurisdictional review that is allowing it to override state and local zoning laws for wireless facilities.
The court has joined the petitions brought by the City of Arlington Tex. and the Cable, Telecommunications and Technology Committee of the New Orleans City Council, allowing the petitioners to an hour's worth of argument.
The announcement provided an industry shockwave to the many state and national associations that were involved in shepherding passage of the wireless development ruling by the FCC in 2009.
When the 5th Circuit Court of Appeals affirmed the shot clock when they ruled against a petition by the cities of Arlington and San Antonio, Tex. last January, legal observers said it seemed improbable that a petition for a writ of certiorari - an appellate review by the Supreme Court - would be accepted given the nature of the ruling.

Court said it followed Chevron
The appeals court said it relied upon administering the Chevron two-step standard of review as the discipline to reach its decision.
Chevron U.S.A. Inc. v. Natural Resources Defense Council, Inc. was a 1984 case in which the Supreme Court set forth the legal test for determining whether to grant deference to a government agency's interpretation of a statute which it administers.
Getting the Supreme Court to grant a review - requiring a minimum of four of the nine Justices to agree - is seldom achieved since the vast majority of petitions for certiorari are routinely denied without comment. The grant rate of those petitions the court feels are sufficiently important is approximately 1% of all requests.
Attorneys for CTIA - The Wireless Association and Verizon filed a brief after the petitions were presented, stating that the FCC's jurisdiction in the declaration was
in fact clear under the statute and therefore, no Chevron issue was presented. They were relieved when Solicitor General Donald Verrilli, Jr. recommended to the Supreme Court on August 29 that both petitions had no merit and should be denied. The Supreme Court didn't agree. The industry's short-lived exuberance ended Friday.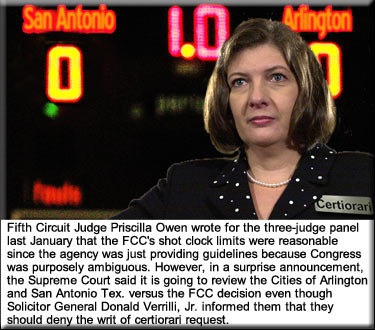 The Justices said that they are going to review: "Whether contrary to the decisions of at least two other circuits, and in light of this Court's guidance, a court should apply Chevron U. S. A. Inc. v. Natural Resources Defense Council, Inc., 467 U. S. 837 (1984) to review an agency's determination of its own jurisdiction."
The Supreme Court will decide whether the FCC has authority to interpret the phrase, "a reasonable period of time," as that term is used in The Telecommunications Act of 1996 under Chevron.

It appears that the high court, while addressing the FCC telecom issue, will also speak to Chevron itself, an undecided question of administrative law.

The 5th Circuit joined the 10th Circuit and the 3rd Circuit in applying Chevron deference to disputes over the scope of an agency's jurisdiction. However, the federal appeals court in New Orleans acknowledged that the Supreme Court "has not yet conclusively resolved the question of whether Chevron applies in the context of an agency's determination of its own statutory jurisdiction, and the circuit court of appeals have adopted different approaches to this issue."

Conversely, the 7th Circuit and the Federal Circuit have chosen not to apply Chevron deference.

On all of the issues brought forth in the Arlington and San Antonio petition, the court ruled in favor of the FCC, in general by applying existing Fifth Circuit precedent on the specific issues in question.

The Fifth Circuit covers the states of Texas, Mississippi and Louisiana.

Verrilli said that dissimilar to the petitioners' suggestion, the FCC's declaratory ruling did not adopt a federal zoning policy.
"It simply established presumptively reasonable timeframes for processing wireless facility siting applications. As the court of appeals correctly understood, those timeframes 'are not hard and fast rules but instead exist to guide courts in their consideration of cases challenging state or local government inaction.' Ultimately, the courts, not the Commission, will resolve issues of timing in lawsuits brought under Section 332(c)(7)," he stated in his request to deny the petitioners' writ of certiorari.

Shot clock sets 90 and 150-day guidelines
The FCC has defined the reasonable time for communities to process an application as being 90 days for a co-location site, and 150 days for a new site and other types of applications. It was based upon a large majority of community officials who said that they processed applications for wireless facilities in that timeframe.
When there is a failure to act on an application within the applicable time period, the aggrieved party can file a suit with a court of competent jurisdiction within 30 days and that court shall hear and decide such action on an expedited basis.
A review period of 30 days set by the FCC's mandate gives State and local governments sufficient time for reviewing applications for completeness, while protecting applicants from a last minute decision those applications should be denied as incomplete.
The FCC says the time it takes for an applicant to respond to a request for additional information will not count toward the 90 or 150 days only if that State or local government notifies the applicant within the first 30 days that its application is incomplete.

Ambiguous "reasonable" time frame helped the Fifth Circuit to deny
"We do not read the [FCC's] declaratory ruling as creating a scheme in which a state or local government's failure to meet the FCC's time frames constitutes a violation of the [Communications Act]," Circuit Judge Priscilla Owen wrote for the Fifth Circuit Court of Appeals' three-judge panel.

Whereas Congress was clear in The Telecommunications Act of 1996 that the FCC would not have authority to make new rules limiting or affecting state and local government, the court said that leaving in "within a reasonable period of time" was purposely ambiguous and allowed the FCC to use its general rulemaking power to provide guidance.

Some federal appeals courts have applied the standards outlined in Chevron, which requires courts to defer to an agency's interpretation of an ambiguous law, so long as that interpretation is reasonable and "permissible."

The FCC insisted that its jurisdiction fell within its general authority to carry out provisions of the Communications Act of 1934.

The court dismissed San Antonio's petition for review because they lacked jurisdiction to consider it since the city's filing for a judicial review was not done in a timely manner. As a result, a couple of arguments raised by San Antonio were ignored by the court.

Arlington's petition for review was denied.

Justice Kagan might be the one to watch
It is unknown why the Supreme Court didn't agree with Verrilli's recommendation to deny certiorari. The Solicitor General has oftentimes been called the "10th Justice" due to the relationship of mutual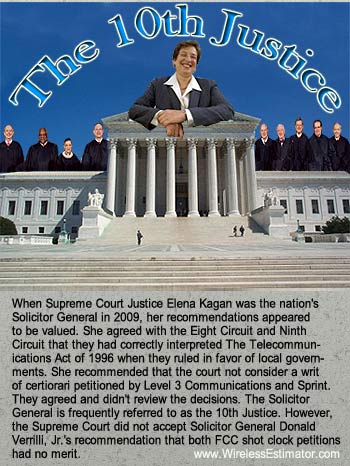 respect that develops between the Justices and the Solicitor General.
Supreme Court Justice Elena Kagan was the previous Solicitor General and it appears that her briefs might have been influential in many of the court's decisions.
In 2009, Kagan expressed the federal government's view that the Eight Circuit and Ninth Circuit correctly interpreted The Telecommunications Act of 1996 in their rulings in favor of local governments.
The Supreme Court agreed with her and denied certiorari in both cases.

The PCIA - The Wireless Infrastructure Association's new President and CEO, Jonathan Adelstein, who earlier this month said he would be working to build on the FCC's 2009 shot clock ruling, will now be occupied with ensuring that the federal siting foundation remains in place.

Adelstein is a former FCC Commissioner and former Administrator of the U.S. Department of Agriculture's Rural Utilities Service.

A spokesperson for CTIA said that they were not going to release a statement regarding the Supreme Court's decision to review the circuit court's ruling.

The Supreme Court is likely to hear arguments in the case in January or February. Wireless Estimator will provide updates and court filings as they occur.The outcome could have huge implications for the siting community.

When the FCC's rules were upheld in the Arlington decision, FCC Chairman Julius Genachowski said, "The FCC's tower siting policy upheld today advances the crucial national priority of ensuring American leadership in mobile innovation and is part of the FCC's relentless focus on unleashing the opportunities of wired and wireless broadband for all Americans, including job creation, increased investment, innovation

and economic growth."
T-Mobile is the hottest topic at the PCIA show
October 4, 2012 - The hottest topic at the PCIA - The Wireless Infrastructure Association show in Orlando this week was T-Mobile: T-Mobile USA selling its towers to Crown Castle International and T-Mobile merging with
MetroPCS.

Crown's tower buy was discussed at the Wireless Investors' Conference and other sessions as well as during breaks as the industry tried to assess its impact.

At the View From the Top tower CEO roundtable, W. Ben Moreland, President and CEO of Crown Castle, took the opportunity to promote the acquisition of the 7,180 towers, explaining that the sites are "relatively young and relatively unloaded." He also stated that they are "very complimentary to the business portfolio we already have."

The acquisition puts Crown as the nation's largest tower owner, eclipsing American Tower Corporation by almost 35%. American Tower was reportedly very aggressive in trying to win the deal.

In moderating the session, former CEO of PCIA, Michael T.N. Fitch noted that American Tower has also grown significantly and now has more international sites than their U.S. portfolio.

James Taiclet, Jr., CEO of American Tower, was quick to respond that his company's focus was still in the U.S. "We've grown significantly outside of the U.S. as you point out, Mike, but I'm also reminding everyone who is interested in American Tower, the U.S. is our home market," said Taiclet.

He noted that 70% of the American Tower's revenues are domestic even with all of the international advancement. He also said that 70% of future U.S. carrier needs will require colocation on traditional towers.

T-Mobile brokers a $250 million break-up fee and lower fees
Additional information regarding the acquisition of T-Mobile's towers was released in a regulatory filing Tuesday where it was identified that T-Mobile had negotiated a $250 million break-up fee should Crown back out of the $2.4 billion deal.

Crown also lowered its monthly lease price to T-Mobile on their former towers to $1,850 per site instead of the announced $1,905. The $1,850 monthly lease rate is discounted by $634 from what Crown currently charges T-Mobile on Crown-owned sites.

Crown has decided to issue $1.65 billion of senior notes, due in 2023, to finance the acquisition.

Tuesday's rumors were verified early yesterday morning when the parent company of T-Mobile, Deutsche Telekom, said its board of directors and MetroPCS's board have approved a merger with T-Mobile.

Although it wasn't discussed at PCIA's Wednesday roundtable, it is expected that the tower company CEOs were aware of the deal at the time. Within hours of the announcement, Crown's CFO, Jay Brown, who was a panelist at the Wireless Investors' Conference where the two-carrier merger possibility was discussed, put out a statement that T-Mobile and MetroPCS represented approximately 17% and 5%, respectively, of Crown's consolidated site rental revenues.

Earlier today, American Tower said that T-Mobile and MetroPCS accounted for approximately 7% and 2% respectively of the company's revenues.

During his keynote speech yesterday, Dish Network Chairman Charles Ergen didn't welcome the merger announcement as being healthy for his company's interest in competing in the mobile space.

Dish had acquired 40 MHz of spectrum from two bankrupt companies and has asked the FCC to allow it to use the spectrum to deliver terrestrial wireless broadband service.

Dish has considered partnering with another company to build the network, but the merger quickly lessened available candidates.

"It is not a surprise that there would be consolidation in the industry. We hoped that we would have had our license before consolidation started to happen because that would have allowed us to participate and you certainly have more options when there are a lot more people on the table that you can potentially partner with."

Many attendee conversations centered on the two carriers' dissimilar technologies and questioned whether this move would mirror the Sprint Nextel problems caused by incompatibility.

T-Mobile CEOJohn Legere wanted to immediately diffuse that concern, stating, "The sound bite that this is a Sprint Nextel do-over is absolutely completely wrong."

He said both carriers plan to move MetroPCS customers to the new company's network and repurpose MetroPCS's spectrum, "not to smash together two networks with different technologies."

Shares of MetroPCS dropped $1.26, or 9%, on Wednesday, following a roughly 18% gain buoyed by merger expectations a day earlier.

AT&T, Verizon and Sprint absent in $300 million Mobility Fund competition
October 3, 2012 - The Federal Communications Commission today announced the winners of the initial phase of its Mobility Fund auction which had 54 qualified bidders, as part of a program to expand mobile broadband coverage to rural and unserved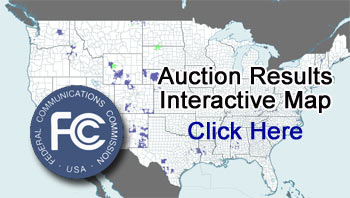 areas of the country. Bidding started on Sept. 27.
T-Mobile USA, U.S. Cellular, and NE Colorado Cellular are among the winners awarded a total of $300 million in a reverse auction where carriers competed against others across the country, and winners were chosen based on the lowest cost-per-mile bids to extend coverage.
"As a result of the auction, new mobile infrastructure deployment will begin in 31 states with areas that currently lack access to 3G or 4G mobile service," FCC Chairman Julius Genachowski, who was a keynote speaker today at PCIA's show in Orlando, said in a statement.
The networks set for construction through the program will span 83,000 new U.S. road miles.
The remaining bidders were small, regional carriers like Alaska's General Communications, Inc., which landed $3.24 million. A full list of winning bidders is available on the FCC's website. An interactive map of awarded contracts and their associated areas can be found here.

The FCC says the fund was created to cut "waste and inefficiency" from its Universal Service Program. The fund will also provide $500 million a year for "ongoing support" of mobile services.
There were 900 bids from 38 companies. Neither AT&T, Verizon nor Sprint participated in the auction. In July, the FCC denied a request by rural carriers to consider prohibiting Tier I carriers from receiving Mobility Fund support.
Following today's awards, Carri Bennet, general counsel for the Rural Telecommunications Group said, "Auction 901 is a prime example of how the FCC can positively promote rural broadband deployment — to the direct benefit of rural consumers — while simultaneously promoting a competitive marketplace that also includes small and rural service providers."
"For too many, dead zones in mobile Internet coverage are too common and today's winners will help the U.S. close those gaps. But today's real winners are the American people, millions of whom will soon have greater access to the job, education and health-care opportunities of America's world-leading mobile economy. Over the last few years, the U.S. has regained global leadership in mobile innovation – and today's successful auction will help our nation maintain that leadership in the 21st century," Genachowski said.
Crown Castle's T-Mobile tower buy could
easily be an industry game changer
September 28, 2012 - A public relations maxim is to never send a press release out on a Friday if it's good news, unless it precedes a major industry trade show. Crown
Castle International observed that principle today when it announced that it has entered into an agreement to acquire the rights to 7,180 T-Mobile USA towers in
advance of Monday's PCIA - The Wireless Infrastructure Association's show in Orlando, Fla.

Crown will have the exclusive right to lease and operate the T-Mobile towers for an average term of approximately 28 years.

The $2.4 billion agreement, expected to close in the fourth quarter, rockets Crown to the enviable position of being the nation's largest provider of shared wireless infrastructure, a position they are likely to maintain for many years.

Their U.S. tower sites will eclipse the current leader, American Tower Corporation by 35%.

In addition, Crown will have the option to purchase the towers at the end of the respective lease terms for aggregate option payments of approximately $2.4 billion.

As with any major acquisition, the deal may not be in the best interest of some suppliers, contractors and second tier tower owners. Some analysts also believe Crown ponied up too much for the structures in order to top American Tower Corporation's offer, according to industry insiders. (continued)

Please see: "Favorable" price questioned
-
FCC lighting fine doubled for Cox; tower painters benefitted from two additional inspections
September 27, 2012 - The FCC said today that it wants Cox Communications, Inc. to hand over $20,000 to them as a fine for a tower that did not have the proper medium
intensity obstruction lighting working when an agent found it unlit last year.

The FCC said that Cox did not provide a notice to airmen on October 24 to warn them of the outage. When a representative from Cox was contacted he said that the problem would be fixed immediately.

However, the agent visited the 310-foot tower in Portsmouth, Va. on October 30 and 31, and again on November 1, and observed that it was still not lit during daytime hours.

Cox said that they did repair the lighting system on November 9 and the reason that they weren't aware that it was not operating correctly is because due to a "previously unknown anomaly," the system failed to report the outage.

The FCC didn't buy the anomaly defense and increased the normal fine of $10,000 for the infraction, stating that because of Cox's ability to pay, and to serve as an effective deterrent, not simply a cost of doing business, an additional $10,000 was appropriate.

The FCC is also digging into the checkbooks of tower owners in Texas and Oklahoma for not having their structure visible to aircraft due to overdue painting maintenance.

FCC agents visited the tower site of CBTR Services of Bridgeport, Tex. and "observed that the structure's paint was extremely faded and rusted in several areas, reducing the structure's visibility."

The agents were unable to distinguish the alternating bands of paint on the tower from a quarter of a mile away from the structure.

CBTR admitted that it had not painted it since buying it in 2010, and also said that the last time it had been painted by a previous owner was 12 years in the past.

The FCC provided CBTR with a notice of apparent liability for $10,000.

The same fine amount was given to Allegiance Communications of McAlester Okla. Agents aid it was in a similar state when they "…observed that the structure's paint was extremely faded, rusted, and washed away in multiple areas, leaving the metal exposed and reducing the structure's visibility."
Top OSHA officials witness firsthand the challenges facing the nation's tower climbers
September 26, 2012 - The National Association of Tower Erectors (NATE) Legislative & Regulatory "travel squad" met last Thursday at the Department of Labor

with top OSHA officials to discuss the association's ongoing efforts to secure a modest modification to the existing riding the line policy directive.

At present, the directive permits tower workers to ride the line for tower construction activities, but not for tower maintenance or modification.

Following the meeting, seven senior OSHA officials toured two tower sites in Washington, DC with NATE Executive Director Todd Schlekeway, Don Doty (Doty-Moore Tower Services), Terry Sharp (Grant Tower, Inc.), and NATE's Washington representative, Jim Goldwater (Bob Lawrence & Associates, Inc.), to help them better understand tower climbing and the challenges associated with the activity. As part of the tour, Doty and Sharp explained the technique.

"I was impressed by the number of participants and the level of sophistication in OSHA's questions," stated Doty. "To me it showed the officials had done their homework and were well-prepared for our discussions. I appreciate the leadership demonstrated by OSHA's Jordan Barab and Jim Maddux in addressing worker safety for the tower industry."

The OSHA officials who went on the tower site visit were:

Jim Maddux, Director, Directorate
of Construction
Paul Bolon, Director, Office of Construction Standards and Guidance
Erin Patterson, Regulatory Analyst, Office of Construction Standards and Guidance
Gopal Menon, Structural Engineer, Office of Engineering Services
Tesfaye Guttema, Structural Engineer, Office of Engineering Services
Dean McKenzie, Occupational Safety and Health Specialist, Office of Construction Services
Sherman Williamson, Occupational Safety and Health Specialist, Office of General Industry
and Agricultural Enforcement (Directorate of Enforcement Programs)

To provide a deeper appreciation for the inherent dangers of tower work and the fatigue and repetitive stress injuries that can result from climbing – and the need to provide a safer, more efficient means of ascending and descending towers – NATE offered OSHA staff the opportunity to try on the equipment that tower workers wear when accessing their work stations. This equipment, including the harness and tools, weighed over 60 pounds.

"We emphatically believe that having OSHA officials visit several tower sites and wear or at least pick up the heavy equipment worn by climbers provided a tangible, compelling example to help them understand what tower technicians go through on a daily basis while performing work on towers," said Schlekeway.

The OSHA officials reiterated that revising the policy directive is a priority for the agency. Furthermore, they expressed their hope that the matter could be finalized before Inauguration Day in January.

"NATE was greatly encouraged by this latest visit to Washington and OSHA's abiding interest in addressing the issue," said Schlekeway. "The Association remains cautiously optimistic."

"Our March meeting with OSHA was tempered yet helpful because we identified what was impeding our progress to modify the CPL," said Sharp. "Our meeting last week was very candid, productive, and insightful for both sides. It appears we had all the right players from OSHA at the table eager to resolve our long impasse."
Tower site developer's fraudulent property transfers voided by Texas bankruptcy judge
September 24, 2012 - AT&T turfing contractor Clovis Prince's fraudulent house of cards completely collapsed last week when a U.S. bankruptcy judge ruled that eight properties he had put into a trust in which he was a beneficiary would be returned to his failed businesses' bankruptcy trustee.

The former cell site build-to-suit and project management
entrepreneur was sentenced in March to 30 years in prison and required to pay restitution of $13,640,425 following his conviction in 2010 of 23 counts of bankruptcy fraud and 15 counts of bank fraud. (See: Prince says he's been given a "death sentence")

Although Prince said he is incapable of paying back the $13.6 million and is not required to be charged court costs in his appeal, the asset value of the homes will assist in returning partial losses to banks and construction companies Prince never paid after a number of years of living off of loans fraudulently obtained.

The most expensive home in the trust was Prince's estate in Oklahoma City, Okla., valued by the Montgomery Property Appraiser's office as having a market value of $1,009,097.

Prince also owned one home in Tennessee and six in Texas whose titles will now be vested with the bankruptcy trustee.

Eastern District of Texas Bankruptcy Judge Brenda T. Rhoades in her final judgment also said that Katherine M. Robinson, a beneficiary of Prince's fraudulent trust, must turn over car insurance proceeds in the sum of $27,305.63.

In 2010, Prince tried to evade IRS agents and an Oklahoma City policeman in his 2007 Lexus with his lights off. He crashed and totaled his vehicle, a step down from his $200,000 Bentley that had been recently repossessed.

While in the hospital being treated for injuries, he tried again to escape through ductwork in a bathroom.
Ex-con charged with AT&T technician's death
September 24, 2012 - Gladstone Missouri police arrested and charged a Kansas City ex-convict Saturday with first-degree murder in the death of an AT&T cell site
systems technician as well as attempted robbery and armed criminal action.
Authorities say Bryan J. Middlemas, 35, clubbed to death with a crowbar Kevin M. Mashburn, 58, as the technician was performing maintenance at a Gladstone cell site about 3:00 a.m. on Wednesday.
According to released documents, Mashburn was able text his dispatcher, stating: "I need you to call me an ambulance. I have been attacked."
But, according to a probable cause document, the dispatcher didn't respond until 20 minutes later.
Then, after emergency workers and police were called, the tech's dispatcher texted: "You hurt bad?"
Mashburn replied: "Yes, head split open."
He was found unconscious inside his truck an hour later by police and was rushed to the hospital, but died from his injuries.
Police say that on Saturday, a former cellmate of Middlemas called them to say that Middlemas had informed him that he had attacked the AT&T worker.
According to his statement, Middlemas said he hit Mashburn with the crowbar when he would not give up his wallet, then ran from the scene and dumped the crowbar in a nearby pond.
Authorities said phone records showed that Middlemas had called his former cellmate and records also showed that Middlemas had been in the vicinity of the crime scene early Wednesday morning. They also found blood in Middlemas's truck.
Bond for Middlemas was set at $1 million.
In a written statement, AT&T officials said, "We are deeply saddened by the tragic death of Kevin Mashburn, a dedicated AT&T employee for more than 40 years. Kevin will be greatly missed by all of us at AT&T. Our heartfelt thoughts and prayers go out to his family, friends and co-workers at this time of great loss. AT&T is fully cooperating with authorities in their investigation."
AT&T had posted a reward of $100,000 for information leading to an arrest and conviction in the murder of Mashburn.
Mashburn is survived by his wife, Barbara, four children and a 10-month-old granddaughter.
ATC's delay in inking lease extensions
could be related to T-Mobile tower buy
September 22, 2012 - There's no reported deadline as to when T-Mobile USA's new CEO John Legere wants to finalize an agreement to sell the company's portfolio of
communications towers, but the carrier has informed tower owners that it wants to quickly complete new lease terms with permission to make improvements to manage its $4 billion in network investments leading to the launch of LTE services next year.
In July, Crown Castle International announced that it had reached an agreement with T-Mobile to extend the remaining term on 7,300 leases they have with them to 10 years, and granted the carrier rights to upgrade certain towers with radio equipment in connection with its network optimization plan.
On September 14, SBA Communications also announced an agreement with T-Mobile to extend their 2,800 existing leases to an average of seven years.
Crown Castle expects their agreement to contribute approximately $20 million, $20 million and $1 million in site rental revenue, Adjusted EBITDA and AFFO, respectively, to its second half 2012 results.
SBA expects their agreement to contribute approximately $5 million in site rental revenue, and approximately $1 million in both Adjusted EBITDA and AFFO to its second half 2012 results.
However, American Tower Corporation has yet to file a Form 8-K announcing an agreement with T-Mobile regarding their leases, leading an industry insider to question whether the delay is due to negotiations nearing completion to acquire T-Mobile's 7,000-plus towers.
"Attractive lease terms could be the tipping point as to the selection of the successful bidder in this deal," said a financial advisor knowledgeable about many of the industry's major tower purchases.
"It looks like it's down to the wire with Crown and American and I believe if American Tower can sweeten the deal with better terms, it could be the deciding factor," he said.
Although Global Tower Partners is capable of obtaining the capital for the deal that is expected to be less than $2 billion, and was listed as one of T-Mobile's suitors, most industry insiders believe that it will be between American Tower and Crown Castle.
SBA Communications said earlier this year that due to major acquisitions it had made it was not going to bid upon the structures.
Remote radio unit returns to its delivery vehicle
September 20, 2012 - Pictures of a remote radio unit that fell while in the process of being installed on a tower have been floating around in emails for some time, but the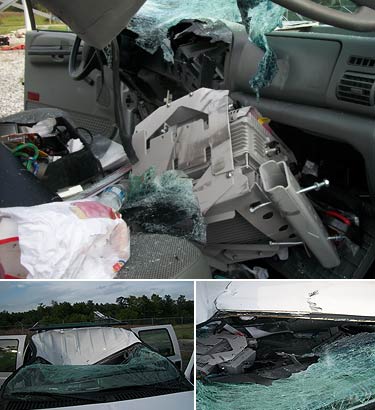 company that suffered the loss is still unknown and it's doubtful this was ever considered in Sprint's network vision.

Also unidentified is whether a load line broke or if the rigging was attached to inadequate lifting points.

What is known is the contractor was extremely fortunate that their supervisor was not in his vehicle doing paperwork.

If the RRU is relegated to boat anchor status, the contractor's insurance carrier is looking at a cost of approximately $22,000 plus the expense to repair the vehicle's damage.
Former FCC Commissioner Adelstein seen as
the ideal pick to lead PCIA for the future
September 17, 2012 - Today will be Jonathan Adelstein's first day in his first job in the private sector after 25 years as he takes over the

reins of PCIA – The Wireless Infrastructure Association as its President & CEO.

Adelstein comes to PCIA after serving as the 17th Administrator of U.S. Department of Agriculture's Rural Utilities Service, a position for which he was nominated by President Obama and unanimously confirmed by the U.S. Senate in July, 2009.

He previously served as a Commissioner of the Federal Communications Commission from 2002 to 2009. He has also held a number of senior staff positions in the U.S. Senate.

"Jonathan possesses the leadership ability, industry knowledge and policy experience to lead PCIA for the future," said Marc Ganzi, CEO of Global Tower Partners and chairman of the PCIA Board of Directors. "PCIA continues to grow and ably represent the rapidly evolving wireless infrastructure industry. Our next great challenge is to address the wireless data crunch. We will aggressively pursue policies that reduce barriers to network deployment, increase spectrum efficiencies and expand wireless infrastructure."

Adelstein has been a long-standing advocate for wireless services and policies that improve access to and promote broadband deployment—issues that are key to economic prosperity, public safety and improving lives in an increasingly mobile world.

"I'm thrilled to begin this new chapter in the private sector with a strong organization that has done so much to help an industry that is improving the American economy and quality of life," said Adelstein. "It's the ideal opportunity for me to continue my efforts to maximize wireless broadband everywhere, and to facilitate industry efforts to deploy urgently needed infrastructure to meet the exploding demand for wireless data."

As RUS Administrator, Adelstein managed a $60 billion portfolio of rural electric, water and telecommunications infrastructure loans. As part of the Recovery Act of 2009, he spearheaded the investment of $3.5 billion in rural broadband expansion to create jobs and provide new or improved broadband service to 7 million residents.

During the three years he headed the RUS, Adelstein took a hands-on active interest in understanding all aspects of the utilities and broadband industry, from visiting and learning about tower compounds to splicing fiber optic cable.

When he was at the FCC he often stated that the agency was too ideological. "We're supposed to be independent, we're not supposed to be influenced by politics, we have these fixed terms, but too often I do see decisions going—especially when I'm in the dissent on them—in a direction that I don't like, one that seems to be too cozy with the industries that we oversee," he said in an interview.

He cautioned his fellow Commissioners: "Let's not just ask the big media lobbyists who ply our halls in their Gucci loafers what they think. Let's go out and ask the public what's in their own interest and not think that we know what's in the public interest
better than the public itself."
As the new chief of the telecom trade group, he may not trade in his red power ties and Bostonians for Guccis, but his new role will require him to lobby FCC Commissioners and other federal agency leaders.
At the PCIA's annual trade show and conference set to begin Oct. 1 in Orlando, Fla., it is expected that Adelstein will introduce keynote speaker FCC Chairman Julius Genachowski.
"The National Association of Tower Erectors congratulates Jonathan Adelstein on his new position as President and CEO of PCIA," said Executive Director Todd Schlekeway.
"Mr. Adelstein's diverse work experiences at the Federal Communications Commission and with the Rural Utilities Service will provide him with the background and insight required to tackle the unique issues that confront the tower construction and wireless infrastructure industries."
"On a personal level, I had the opportunity to serve with Jonathan Adelstein's father Stan in the South Dakota legislature and I know firsthand that Jonathan comes from an accomplished and successful family," Schlekeway said. "NATE looks forward to forging a strong working relationship with Mr. Adelstein and collaborating with PCIA on issues of mutual interest facing our members."
Gary Shapiro, the president of the Consumer Electronics Association also believes that PCIA's pick was an excellent choice.
"Jonathan is a leader in the tech community and one who shares the passion of seeing how technology can shape and improve lives," he said. "We appreciate Jonathan's many years of public service and welcome him with open arms into the private sector. We look forward to working with him in his new position at PCIA."
Adelstein received an M.A. in History and a B.A. with Distinction in Political Science from Stanford University and is a graduate of Phillips Academy, Andover, MA. He replaces the resigning Michael T. N. Fitch, who has served as president and CEO since 2005 and is returning to Los Angeles where his family resides.
Terrorists' cell tower attacks in Nigeria kill 15
September 7, 2012 - Attacks targeting cell towers in Nigeria in recent days have left 15 people dead and buildings burnt, including two schools, according to officials.
Attacks yesterday alone have damaged more than 30 towers operated by all the major providers in the country, further straining the one link Nigeria relies on for communication in a country with nearly no landlines.
Boko Haram claimed the attacks on the towers in a statement yesterday, alleging telecom providers had assisted authorities in investigating the group.
It also threatened journalists for Voice of America radio, which operates a Hausa-language service listened to throughout Nigeria's north.
The threat follows a recent VOA report quoting a supposed Boko Haram spokesman saying dialogue was currently underway with the government.
Patrick Egbuniwe, police commissioner for Yobe state, confirmed that five people were killed during the attacks on the mobile phone towers in Damaturu, but a hospital source put the death toll at 15, including a protocol officer for the state government.
All of the deceased reportedly had gunshot wounds.
The assaults, which continued into yesterday morning, appear to be "an attack on the telecoms industry," said Gbenga Adebayo, the chairman of the Association of Licensed Telecommunications Operators of Nigeria. It also would be a further strain on people living in a region long under attack by the radical sect.
"We are worried because this infrastructure is meant to serve the public," Adebayo told The Associated Press. "So an attack on infrastructure is an attack on the public itself."
Tower owners are reluctant to sending technicians to cell sites because of the killings.
South Africa-based MTN Group Ltd, Nigeria's largest cell network provider had their corporate office burnt to the ground.
MTN acknowledged in a statement that "attacks have been made on some of its installations in northern Nigeria by unknown persons" and that customers may experience outright network failure following the attacks.
"We are intensifying efforts to restore normal services as soon as possible," MTN executive Akinwale Goodluck said in the statement.
Straight line winds topple Minnesota PBS tower
September 6, 2012 - An early morning storm on Wednesday toppled an Austin, Minn. broadcast tower owned by KSMQ-TV,
but the station returned to the air at about 8 p.m. using a temporary tower.
Its 444-foot tall guyed tower went down Wednesday in a parking lot in Riverland Community College.
KTTC's Austin newsroom facility was also affected by the tower collapse, since ENG and Skycam systems were mounted on the tower.
"I called our Master Control and they told us that we had been out but didn't know why," says Eric Olson, the President and CEO of KSMQ Television in Austin, describing the structure's collapse.
"First impressions were I was surprised," explains Olson. "I only live six blocks from here so as I was walking here I was surprised at the debris down and the trees down because I didn't think we had much of a storm. But I got here and said, 'Oh my goodness!'. It's just all a twisted mess."
Although KSMQ has insurance, they will have at least $10,000 in costs to install a new tower, according to Olson.
Wind speed in Austin gusted to 53 mph at the Austin Municipal Airport and as high as 74 in northwest Rochester, according to the National Weather Service in La Crosse, Wis.
Former Velocitel PM admits to defrauding
his employer of over $3 million
August 30, 2012 - Former Velocitel, Inc. project manager Craig B. Matuszak, Jr. pled guilty earlier this month to stealing more than $3 million from his employer.
Facing a jail term of 23 years, it is expected that Matuszak will be looking for a reduction in his sentence by providing information to investigators that will be used to charge a vendor and installation contractor who co-conspired with him to operate his fraudulent scheme.
Matuszak, 48, of Gansevoort, N.Y. is scheduled to be sentenced on November 28, 2012.
Richard S. Hartunian, United States Attorney for the Northern District of New York and Toni Weirauch, as Acting Special Agent in Charge, Internal Revenue Service, Criminal Investigation Division, announced that Matuszak pled guilty to one count of Mail Fraud and one count of Filing a False Income Tax return, both felony offenses.
As a result of the conviction for mail fraud, Matuzak is facing a term of imprisonment of up to twenty years, a term of supervised release of up to three years, a fine of up to $250,000, and a special assessment of $100.
He also faces up to three years incarceration, a term of supervised release of up to one year, a fine of up to $250,000, and a special assessment of $100 for the tax count.
Matuszak admitted before Judge Mae D'Agostino that he, together with an accomplice who was a vendor for Velocitel, a California-based company with an office in East Syracuse, and another accomplice who was a contractor for Velocitel, devised and executed a scheme to defraud his employer by billing them for services that the vendor and contractor never provided.
He acknowledged that the fraudulent billing documents that were submitted to Velocitel, caused Velocitel to remit payments to the vendor, that then came to him and the other accomplice.

Matuszak also admitted that he did not declare the income he received from the fraudulent scheme on his income tax return.
As part of the plea, Matuszak agreed to pay restitution to Velocitel in an amount to be determined by the Court and $439,019 to the Internal Revenue Service. Matuszak also agreed to the forfeiture of his home and two vehicles.
The investigation of Matuszak was conducted by the Federal Bureau of Investigation and the Internal Revenue Service.
During the time when Matuszak was with Velocitel he was managing AT&T UMTS and other projects, according to two contractors who spoke with Wireless Estimator.
Velocitel did not return numerous requests for information regarding Matuszak's employment with them.
The U.S. Attorney's Office did not respond to an inquiry as to the status of the investigation of Matuszak's co-conspirators.
Double tip of the hardhat to our industry's workers
Commentary
August 30, 2012 - For many, the Labor Day weekend will not be a walk on the beach or brats and beer at a barbecue as
technicians assist in maintaining and refueling cell sites as tropical storm Isaac continues to slash its way into the Gulf Coast.
The holiday pays tribute to the creators of so much of the nation's strength, freedom and leadership — the American worker.
Unfortunately, some carrier and turfing vendor managers do not see it that way.
Although they'll argue that they are not asking contractors to work during the weekend, their ambitious and imperative schedules dictate that many companies will not be able to provide their employees with a long weekend.
If the industry's men and women don't get a well-deserved break occasionally, the consequences can be catastrophic in the form of injuries.
A little relaxation recharges us and makes us more efficient and safer at our labors.
On Monday, please give your fellow workers, from site acquisition personnel to tower technicians, and every other industry professional, a double tip of the hardhat for deploying and maintaining one of the country's most valued assets - its communications networks.
If you do get a chance to walk along the beach and you view folks basking in the sun as they text friends, take pride in knowing that you've made that possible.
And if you happen to hear someone complain about a dropped call, inwardly smile and view it as job security.
Safety climb systems gain attention following falls
Update: August 30, 2012 - Following an initial investigation by SBA Communications Corporation of the climbing cable system on their tower where two men reportedly fell because the system failed, Risk Management Director David Sams said today that press accounts attributed to statements made by the Archer County Sheriff's Office conflict with their findings.


"Our top priority is the safety and security of our employees and vendors who access our cell sites. At this time, we do not believe that our safety climb system failed; the safety climb system on the tower is safe and attached. In no way does our investigation reveal that the system had any part in this incident. With the OSHA investigation ongoing, it would not be appropriate to comment further until those findings are officially released," Sams said.

A photograph published Tuesday, at right, shows the wire climb system to be intact on the climbing leg of the self supporting tower.

If the two Moriah Technologies employees' wire grabs were properly attached and failed, and the cable remained secure, it would be expected that they would have fallen directly next to the tower's leg.

In addition to inspecting the wire rope grabs of the injured workers, OSHA will be obtaining statements from first responders and reviewing photographs of the accident scene to identify where they hit the ground.
- - - - - - - - - - - - - - - - - - - - - - - - - - - - - - - -
August 28, 2012 - Two tower technicians employed by Moriah Technologies of Van Alstyne, Tex. are being treated for serious injuries after they fell last week (article below) from a self supporting tower near Archer City, Tex., reportedly after a safety climb system they were using on the SBA Communications-owned tower failed.
The few details provided to the media from the Archer County Sheriff's Office invoked more questions than answers as to how the accident occurred and whether two technicians are allowed to use a safety climb system at the same time.
In a statement to Wireless Estimator, Criminal Investigations Sergeant Simon Dwyer said the men were tied off to a 3/8" wire rope when a technician at the 30-foot level fell and his wire rope grab failed.
He said the sudden lateral movement of the safety cable, possibly caused the second technician, ten feet above him, to fall as well.
"The cause for both safety attachments failing to lock and hold in the same incident is still being investigated," Dwyer said. OSHA is also investigating the accident.
An industry safety professional who has investigated many tower climbing-related accidents over the years, said he couldn't fathom how two safety grabs failed.
"It is my understanding in talking with someone knowledgeable about the accident that the cable did not come lose at all, so it seems unlikely that someone falling would cause the person to fall above him," he said.
"And then even if it did, two safety grabs failing seems hard to envision. But let's wait and see what OSHA identifies as the cause."
A picture of the tower taken shortly after the accident shows the safety climb cable apparently intact on the right hand leg. Rigging and/or safety ropes are hanging from the inside of the structure. Moriah Technologies was working for Sprint at the time of the accident.
Following the Aug. 22nd accident, industry workers started to discuss safety climb systems on Facebook groups and other social media, pointing out that safety climbs are rated for only one person, and OSHA also limits its use to one employee.

Not so, says Joey Deuer, President of Tuf-Tug Products, one of the nation's largest manufacturers of safety climb and fall arrest systems.
Deuer said that if the structure can provide adequate support at the top of the system for two climbers, then it's permissible.
"We maintain a minimum design for two people on a system if the structure has those supporting capabilities, and we test all of our attachments to ensure that they're in compliance," Deuer said.
There should be an ID tag at the bottom of the structure, detailing the wire rope size, and the maximum number of climbers it can support, according to Deuer.
On July 25, a N.C. tower technician fell approximately 40 feet after his cable grab failed. He had reportedly been attached to a safety climb cable at the time, but his wire grab malfunctioned when he fell, exploding the bottom bracket at approximately the 8-foot level on the monopole.
His current condition is unknown. As of August 7 he was in an induced coma.
Two techs fall from 250-foot tower in Texas
August 23, 2012 - The condition of two tower technicians is unknown after they fell from
a cell tower outside of Archer City, Tex. yesterday at approximately 4:35 p.m.

Two helicopters transported the men to an area hospital.

Although their names were not released, the Archer County Sheriffs Office said that one tech, 32, was from Raleigh N.C., and the other, a 24-year-old, resided in Alpena, Ark.

In a statement to Wireless Estimator, Criminal Investigations Sergeant Simon Dwyer said, "It is believed that both men were using the safety climb apparatus, but that it may have failed allowing the first [Raleigh] technician to fall, and then, perhaps by the sudden lateral movement of the safety cable, caused the second [Alpena] technician to fall as well."

Dwyer said the Alpena technician was at approximately 30 feet from the ground. He lost his footing/handhold and fell due to the safety apparatus failing; then the Raleigh climber, at an approximate height of 40 feet, was pulled from the tower by the apparatus and also fell.

"The cause for both safety attachments failing to lock and hold in the same incident is still being investigated," Dwyer said.

According to a news report, Jayce Graham said she knew four men were outside working on the tower located on their family's property and didn't think much of it until there was knock on the door.

Graham explained, "It's one of the guys, he's in his harness and he is panting and he's sweating and he's saying somebody, two people just fell off the tower and need you to call 911."

Graham said emergency crews were quick to respond.

"They are attending to the guys, putting them in the neck braces," Graham said. "They were talking, they're groaning and the other two guys are standing there shaken up watching them. It was really horrible."

The 250-foot self supporting tower is owned by SBA Communications, Inc. The single tenant on the structure is Sprint.

The name of the technicians' employer has not been released.
FCC Chairman Genachowski to keynote
Wireless Infrastructure Show
August 23, 2012 - PCIA – The Wireless Infrastructure Association announced today that Federal Communications Commission Chairman Julius Genachowski will deliver a keynote address at its 2012 Wireless Infrastructure Show on Wednesday, October 3
at the Peabody Orlando.

The Wireless Infrastructure Show is the industry's premier event focusing on mobile infrastructure for 4G and beyond. The three-day conference and trade show draws technology and telecom executives, policy-makers, financial analysts and national media for unparalleled education, business development and networking.

Bob Friday, Chief Technology Officer of Cisco's Wireless Networking Business Unit Network Services Technology Group and AT&T Vice President, Antenna Solutions Group, Chad Townes will deliver keynotes on Tuesday, October 2. Concurrent sessions in four distinct tracks will explore the rapidly growing indoor distributed antenna system (DAS) sector, business and financial issues, regulatory and policy developments and emerging network architecture issues.

A broad array of capacity solutions and network management innovations will be on display in the exhibit hall. Leading infrastructure providers, systems integrators and equipment manufacturers will offer hands-on demonstrations and in-depth information about emerging products and services. For the first time, the exhibition hall will feature a Small Cell Pavilion, showcasing the latest trends in small cell network components, testing, measurement and more.

Distributed Antenna Systems and small cell innovations will also be highlighted during the pre-conference DAS in Action: Orlando event, an intensive six-hour program of expert panels, a case study and tour of Orlando's Amway Center, home to the Orlando Magic and the 2012 NBA All-Star Game. Sessions include LTE and DAS, DAS in the enterprise and best practices for DAS integration.

Registration is open for the 2012 Wireless Infrastructure Show. Click here.
AT&T's 2G towers partially blamed for loss of emergency communications in California
Update: September 6, 2012 - Problems with the Oakland police radio system over the past year were not caused by interference from AT&T cell phone towers, according to the company.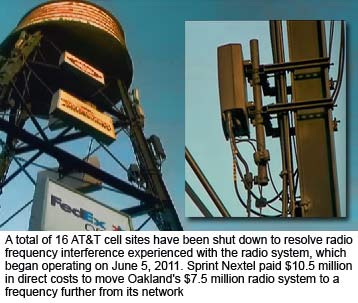 Independent testing at 16 cell sites identified as sources of interference by Oakland found all but one operating within FCC guidelines, the company said in a statement released Wednesday.

The one cell tower where the independent evaluator discovered a local site issue, located in Hayward, was too far away to have caused communications blackouts, AT&T said.
- - - - - - - - -
August 22, 2012 - AT&T Mobility said earlier this month that it would be shutting down its 2G network by the end of 2016, but the carrier quickly ended second generation service last week in areas of Oakland, Calif. after it was alerted that its system might be interfering with the public safety communications frequency and causing radio failures among police and firefighters on city streets.
Oakland officials say they and the FCC discovered last Thursday that the interference was coming from AT&T's 800 MHz 2G tower operations, and as soon as AT&T was notified they disabled 16 towers on Friday.
The towers frequently interfered with police radios, but the problems became particularly pronounced when a police car was within a quarter to a half mile of a tower, said David Cruise, Oakland's public safety systems adviser, according to the San Francisco Chronicle.
"If the officer is in an area close to one of their cell sites, essentially the cell site overpowers their radios," Cruise said.
Cruise said the number of officers reporting no radio connection dropped immediately after the frequency was eliminated at the first cell site.
When President Barack Obama visited Oakland on July 23 for a fundraiser at the Fox Theatre, communications were lost frequently, but authorities say that the problems occurred after the president had left town.
Cruise said that cell tower interference was only one part of the city's examination and the investigation is continuing. He said that Oakland will be looking at the cell phone towers of other carriers, especially T-Mobile which uses a frequency that might also interfere with police radios.
AT&T spokesperson John Britton said the company policy would not allow him to identify how many towers they had in Oakland, but did state that there were more than a thousand towers in the Bay area.
The wireless carrier issued a statement Monday, saying "AT&T is working closely with the City of Oakland to understand if the issues they've raised are connected in any way to AT&T's network. In the interest of public safety and as a cautionary measure while we're looking into the matter, we have temporarily taken some 2G frequencies out of service at some cell sites in Oakland. We continue to operate on other 2G frequencies and our 3G and 4G service throughout the area is unaffected."
Port Authority of New York and New Jersey experienced a similar problem last fall with their radio system.
AT&T said in a regulatory filing that 12 percent of its customers, 8.4 million subscribers, have 2G phones. They began shutting down their 2G network in New York City earlier this year.
By shutting down 2G and using the same space on the airwaves for 4G, AT&T said it can increase data capacity by more than a hundred-fold.
Other carriers are also "refarming" 2G spectrum. Sprint Nextel is shutting down the Nextel 2G network and moving subscribers to Sprint 3G.
SBA takes a proactive role in ensuring tech safety
August 20, 2012 - Waukesha, Wis. was recently selected by Money Magazine as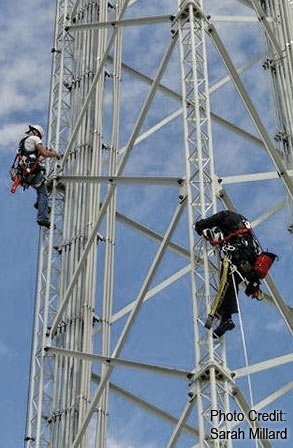 being one of the top 100 cities in America to live in. It might also be one of the safest communities for tower technicians if they are ever in need of being rescued on a structure, thanks to SBA Communications.

Last week, employees from the nation's third largest tower owner assisted the Waukesha Fire Department in understanding the finer details of high angle rescue when it comes to communications towers.

While most tower techs are trained to self rescue, there have been numerous instances in the past where co-workers thought it would be more expedient to contact the local fire rescue company. In addition, there are times when civilians have climbed a tower and needed to be extracted.

Deputy Chief Kevin Johnson welcomed the opportunity to have his men taught how to safely climb the structure and bring the victim down to safety.

Jeremy Buckles and Matt Surface of SBA, who were on hand to provide the training session, received a double tip of the helmet from Chief Johnson's firefighters.
Two turfers toughing it out before a judge over
purchase orders and employee solicitation
August 15, 2012- Two of AT&T Mobility's contracting heavyweights, WesTower Communications, Inc. and Nsoro Mastec, LLC weren't able to settle their purchase
order disputes involving Southeast LTE projects and will rely upon a Mississippi U.S. District Court to assess whether WesTower is owed $1,707,445.

WesTower is also stating in the suit that it is entitled to punitive damages in the amount of not less than $5,000,000 for Nsoro's bad faith failure and refusal to pay WesTower in a timely manner without justification.

In the complaint, WesTower says that it contracted with Nsoro to provide labor materials, equipment, services and supplies, and was provided with an initial purchase order for preliminary work for each site.

Following each project completion, WesTower was required to provide the AT&T turfing contractor with additional quantities of work that were necessary for the LTE project and in turn Nsoro provided a final purchase order, the suit states.

WesTower identified the process in a court filing document for an AT&T LTE build in North Florida.

The original anticipated cost was for $45,125; however, additions to the project were required for auxiliary materials that went from $409 to $12,701, and a second purchase order was issued by Nsoro for $57,417.

But WesTower said that other requests for final purchase orders were never honored and says the amount they are due is $1.7 million.

Nsoro disagrees, asking the court to dismiss WesTower's complaint, stating, amongst other reasons, that WesTower has put in claims for work which they did not do and/or performed improperly or inadequately.

Nsoro said it is entitled to offsets against amounts claimed by WesTower for costs
incurred by their company to complete or correct work not fully or properly completed by WesTower.

The Florida-based contractor also said that it was entitled to be compensated for breaches of their agreement, alleging that WesTower violated the non-recruitment and non-solicitation of employee clause as well as a non-compete agreement.

WesTower now shares AT&T Mobility's turfing contractor business in competition with Nsoro in KY, TN, NC, SC, Al, MS, and LA, six of the seven states that they performed services to Nsoro as a former sub contractor.

The agreement stated that "... [WesTower] will not In any manner offer to perform the same type of work that is or has been provided under the MSA directly or indirectly for the owner, during the term of this agreement and for a period of one (1) year following the completion of the work."

WesTower's complaint did not identify the last time that they worked for Nsoro.

Their agreement was signed in February 2009 and stipulated a pay when paid arrangement.

An April 2011 addendum revised pay terms to payable upon receipt of payment from AT&T or net 90 days from the date of the invoice, without discrepancies, whichever is earlier.

According to their contract, both companies agreed to waive the right to a trial by jury.
Near tragedy provides for a seasonal warning
August 13, 2012 - In the US there is more lightning in the spring and summer, and Central Florida leads the nation in lighting strikes in a zone which meteorologists call "Lightning Alley."
So it's natural for tower technicians to scan the horizon for lightning flashes and acutely listen for thunder. However, neither warning sign was available to two techs working from a man-basket next to an AT&T monopole in Northwest Jacksonville before they were struck by lightning.
The two tower workers received their unexpected visit from Mother Nature and, thankfully, it wasn't followed up by an appointment with Father Time last Wednesday at approximately 1:00 p.m.
Their supervisor said that both men had burns on their stomachs near their safety harness belts and were taken to Shands Jacksonville Medical Center. They were later released.
Shortly after they were hit, a storm rolled into the area and there were numerous times when there were more than 1,500 strikes in ten minutes.
On average, lightning causes more casualties annually in the US than any other storm related phenomena, except floods.
Over the years, many tower technicians have said that shortly before a nearby lightning strike they could feel a buildup of positive charge in their body and their hair standing on end. There have even been stories where climbers identified that they saw small sparking discharges from their fingertips.
To the best of the industry's knowledge, no tower technician has been killed by lightning; however, numerous personnel have been hit.
External burns are the first visible signs of an injury, but bones can oftentimes conduct electricity and will actually heat up internal muscles and organs.
Some contractors practice the "30-30 rule". The first 30 refers to the number of seconds between "flash" and "bang" that initiates safety precautions. The second 30 refers to the number of minutes after the last flash or thunder in order to establish an "all clear" signal.

Here are some first aid steps to immediately follow if a co-worker is struck by lightning:

Go or call for medical help immediately
Call 911 immediately. On occasion you might be in an area that doesn't have cell service or communications have been knocked out by the lighting strike at the tower. That's why it is imperative that you have located on the jobsite additional emergency contact information. See: Emergency Services Locator.

Assess the situation
Check out the situation. Was only one person struck or are there multiple victims? Is the storm still raging? Are you safe when you administer first aid? It's important not to create more casualties. Be aware of continuing lightning danger to victims and rescuers. Don't expose yourself, the victims, or rescuers to additional lightning risk. If necessary, move the victim to a safer location before providing first aid. Also consider if the victim was directly struck by lightning or struck by ground currents. Direct strikes are, of course, much more serious.

Check for breathing and heartbeat
Next step is check if the victim is breathing and has a heartbeat. The best places to check for a pulse are at the carotid artery in the neck and the femoral artery behind the knee. Lightning often causes cardiac arrest.

Administer CPR
If he isn't breathing and doesn't have a heartbeat, immediately begin providing CPR, following the current Red Cross specifications. Continue CPR until rescue arrives.

Other lightning injuries
Besides cardiac and respiratory arrest, other lightning-caused injuries are burns, shock, brain injury, muscular and skeletal damage, and sometimes blunt trauma including broken bones and ruptured organs. Some victims also experience nervous system disruption with loss of consciousness and amnesia. Treat all these injuries with basic first aid until help arrives. Death by lightning usually results from cardiac arrest.
Nsoro said to be investigating accident
that has tech in an induced coma
August 7, 2012 - A North Carolina tower tech has been in an induced coma at the University of Alabama Hospital since July 25 after he fell approximately 40 feet off of a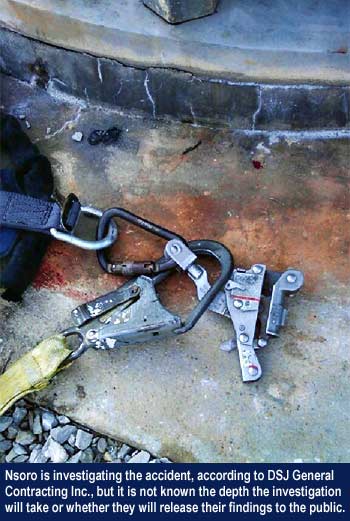 monopole in Tuscaloosa, Ala.

James "Wes"ley Anderson was performing an AT&T LTE audit for his employer, DSJ General Contracting, Inc. of Jasper, Ga., when the accident occurred, according to information obtained by Wireless Estimator.

DSJ was a subcontractor to Dynamic Tower Services, Inc. of Pelham, Ala., whose contract to perform the work was from Nsoro MasTec, LLC., an AT&T turfing contractor.

Neither Nsoro nor AT&T replied to requests for information regarding the incident.

Anderson, 39, has been climbing for approximately five years and was employed at DSJ for a few months. The Lenoir, N.C. resident has an 11-year-old daughter.

Earlier this month, doctors attempted to take him off of his ventilator, but suspended the action when he had complications breathing on his own. Although his pelvis has been shattered, according to hospital reports, the extent of any internal organ damage is not known.

Anatomy of the accident might be up against legal walls
Dale Ziegler, CEO of DSJ, said that he did not contact OSHA following the accident, citing the federal agency's requirement that a report must be made only if there is a death involved or if there is a work-related incident that requires in-patient hospitalization of three or more employees.

Ziegler said that Nsoro was investigating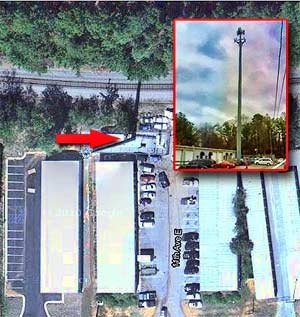 Anderson's accident.
However, as much as Nsoro's safety professionals might want to identify what caused the accident, it might only be a cursory review.
Most contractors want to remain detached from investigating their subcontractor's subcontractor so that they are not added as a defendant in any lawsuits that might follow the accident.
In addition, Nsoro does not have the investigatory authority and the ability to secure the accident scene and related equipment as accorded to OSHA officials, as well as the capacity to perform metallurgy and other tests if required.
Another concern is that Anderson's serious injuries could have been augmented by a missing or faulty step bolt and/or cable climb system which could be the linchpins of a liability lawsuit against the owner of the monopole, Nsoro's client, AT&T. The 175-foot monopole is located at 1102 13th St. E.
Although they did not witness the fall, according to two industry workers who said they were knowledgeable about the accident, Anderson, an imposing 6'-8", 275-pound former basketball player, was at the 40-foot level on the monopole when a step bolt broke.
Anderson had reportedly been attached to a safety climb cable at the time when he fell, but his cable grab did not work and he fell, exploding the bottom bracket at approximately the 8-foot level on the monopole.
Doctors treated Anderson for a severely lacerated right arm which may have been a result of his hugging the safety cable while attempting to stop his fall.
Ziegler said that he has been in contact with Anderson's mother, Mae, also of Lenoir, and has been receiving daily updates on his condition.

A three man crew was at the site when the accident occurred. DSJ was founded in 2009 and has no OSHA citations, according to the agency's establishment search database.
Largent to give the keynote address at NATE's
18th annual convention and expo
August 3, 2012 - The National Association of Tower Erectors (NATE) announced that Steve Largent, President & CEO of CTIA-The Wireless Association, will be the keynote speaker at the 18th Annual NATE Conference & Exposition, which will be held in Fort Worth, Tex., Feb.18-21, 2013.


NATE's Annual Conference is widely regarded as the premier and most comprehensive educational event in the broadcast and telecommunications tower industry.

"NATE is very excited to have Steve Largent provide the keynote address at our conference in February," stated NATE Executive Director Todd Schlekeway. "Mr. Largent's accomplished background as an executive in the wireless communications industry, as a former member of Congress, and as a Hall of Fame NFL receiver will be subjects of immense interest to our conference attendees."

"It is my privilege to welcome Steve Largent to our 2013 Conference & Exposition," added NATE Board Chairman Jim Coleman. "The tower erection, service and maintenance industry, and the wireless communications industry continue to work together closely on issues of mutual interest and Steve Largent has played a critical role in this relationship during his tenure at CTIA."

The Association encourages anyone interested in attending, sponsoring, or exhibiting at the NATE 2013 Conference & Exposition to make plans today and visit www.natehome.com for further details.

Largent took over as President & CEO of CTIA in November 2003. He also served for more than seven years as a member of the United States Congress, representing Oklahoma's First Congressional District.

A member of the National Football League Hall of Fame since 1995, Largent was a record setting wide receiver with the Seattle Seahawks for 14 years. He set six career records and participated in seven Pro Bowls.

Largent has also worked as a consultant for Washington, D.C. based Wiley Rein & Fielding and traveled the country as a highly sought-after motivational speaker.
-
Crown in the lead to acquire T-Mobile's towers
August 1, 2012 - Crown Castle International has emerged as the lead bidder for T-Mobile's 7,000-plus towers. According to The Wall Street Journal, a deal for more than
$2 billion could be struck soon.

Rival bidders American Tower Corp. and Global Tower Partners, which is owned by Macquarie Group, are still in the mix, but talks with Crown Castle are more advanced after final bids landed in early July, according to the news report.

However, as has happened on numerous occasions when a cattle car buy is being bid, the deal with Crown could falter if a new structure is offered by its competitors such as more equitable lease terms.

Deutsche Bank AG, which is advising the sellers along with TAP Advisors, is reportedly offering financing for the buyers at a multiple of 12 times the tower unit's cash flow.

The high multiple is expected to allow potential buyers to pay as much as 18 to 19 times the unit's cash flow, or in the low $2 billion-range, according to the article's sources.

News reports have stated for a number of years that T-Mobile's tower count totals 7,000. However, according to T-Mobile Towers' web site, the company has identified that it has approximately 8,900 structures, a 27% increase.

A representative from American Tower and Global Tower Partners said that their non-disclosure agreement prevented them from discussing the number of towers being bid upon or any other details regarding their negotiations.

If Crown Castle was successful in their bid they would own approximately 30,000 towers in the U.S. and would eclipse American Tower's stateside holdings by approximately 36%.
Faulty swivel snaphook notification is issued
July 27, 2012 - Guardian Fall Protection has placed a notification to customers who purchased GFP products featuring a specific swivel snaphook, shipped after August 26, 2011, that they must take them out of service.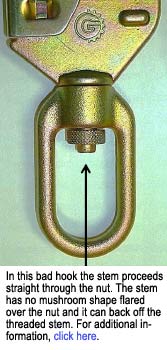 The company was made aware of a non-injury incident involving a GFP self-retracting lifeline where a swivel snaphook experienced a failure. The nut that holds the swivel eye to the hook body backed off the hook stem and came loose. The non-injury incident was discovered during initial inspection of the equipment performed by a user.

The potentially dangerous and faulty condition was caused when GFP's supplier of a particular swivel snaphook missed a swaging operation that encapsulates the swivel eye and prevents the threaded nut from backing off of the hook stem.

This situation is restricted to a certain type of swivel snaphook supplied to GFP and is identified in their notice.

Upon discovery, both GFP and the supplier increased inspection processes to ensure this cannot occur in the future. Supplier and GFP inventories have been inspected for this condition upon the discovery and no defective units were found in their inventory, according to GFP.
Gin pole summit to be held in Dallas/Fort Worth

July 26, 2012 - The National Association of Tower Erectors will be co-hosting a Gin Pole Summit in conjunction with Safety LMSystems LLC, Consolidated Engineer, Inc. and Doty Moore Tower Services, LLC on July 27 and July 28 at the Dallas/Fort Worth Airport Marriot.

Over thirty industry professionals including some members of the NATE Board of Directors are expected to attend the summit. The meeting will be facilitated by Gordon Lyman, Chairman of the NATE OSHA Relations Committee and A10.48 Committee.

The intent of the summit is to review the existing TIA 1019-A-2011 construction standard in regards to the requirements for gin poles, the training for gin poles and the necessary associated training that goes along with working with gin poles.

The training discussions and input received from the participants will be reflected in the new ANSI A10.48 Standard and also will assist tower owners along with education and training companies in developing training modules to fit the needs of the industry.

For additional information about the TIA 1019-A-2011construction standard, click here.
Worker's fall was not from a communications tower
Update: August 3, 2012 - A report from the Mills, County Sheriff's office that a tower
technician died on July 19 while working on a 50-foot communications tower near Brownwood Tex. for his employer, Chapman Construction, was incorrect, according to company spokesperson Johnny Grimm.
Grimm said Jesus Goves, 52, was working on a Newton to Brown transmission line tower when he fell.
He said that Chapman's wireless group has never experienced a fatality and this was the first one the company has incurred in more than 10 years.
Goves fell as he went to tighten a bolt on a brace. When retrieved from the tower, Goves' hydraulic impact wrench was in reverse mode, which appears to have loosened the brace that he was tied to, according to Grimm.
Only one person has died from falling from a communications tower this year. Jeremy Jo Froemke, 19, of Lisbon, N.D. died June 26 after falling from a cell tower in Minn. See: Fatality Tracker
- - - - - - - - - - - - - - - -
July 21, 2012 - OSHA's Fort Worth, Tex. office is investigating the death of a 52-year-old Corsicana man who died Thursday morning after falling approximately 50-feet from a tower off of County Road 573 S. near Mullin.

Authorities said that Jesus Govea fell from the cell phone tower while he was performing an installation project for Chapman Construction, of McKinney, Tex.

Mills County Chief Deputy Clint Hammonds said that Govea was working on the tower at approximately 11:45am when a brace gave way causing him to fall approximately 50 feet.

Govea was taken to Brownwood Regional Medical Center, where he later died of internal injuries.

Chapman Construction, a division of Willbros, has been specializing in electrical construction since 1948 and recently expanded their service offerings to provide fiber optic communications systems and wireless base station transceiver construction and maintenance, according to their web site.

Born Sept. 25, 1959 in Hacienda Poz-Hondo, Mex. to Manuel and Maria Govea, Jesus is survived by his wife, Irene; five children, two brothers and seven sisters.
Visitation will be Mon., July 23, 2012 at the Knights of Columbus.
Funeral service will be 11am Wed., July 25, 2012 at the Immaculate Conception Catholic Church. Burial will follow at Calvary Cemetery.
Project pricing, employee compensation and safety will be affected
LTE workforce shortfall could result in increased
pricing, injuries and fatalities
July 19, 2012 - There's no need to speculate whether the current shift from 3G to Long Term Evolution (LTE)-based networks will strain the available installation workforce; it already has,
and some industry executives believe that in the next six months it could rival the manpower shortages seen in the late 1990s after the FCC auctioned off the first PCS licenses.

The National Association of Tower Erectors' Executive Director, Todd Schlekeway, said that in polling a number of the trade group's members last week he found a robust backlog of work.

"Those contacted indicated that their schedules are booked for the remainder of 2012 and most anticipate 2013 to be even busier with LTE work," Schlekeway said.

Although wireless technology has changed since the PCS build-out, two constants might remain from a lack of resources, according to industry leaders interviewed by Wireless Estimator: increased project pricing and a greater number of injuries and possibly deaths due to an unskilled workforce.

However, whereas almost all of 1990s' salaries saw hockey stick rises due to respectable margins coupled with the scarcity of talent, today's workers will not benefit as much from a high demand from a limited talent pool since the greater portion of new hires will be for entry level positions.
Please see: Tower techs appear to be in great demand


Recall notice issued on
3M self-retracting lanyards
July 18, 2012 - A number of THOR self-retracting lanyard units are being recalled by 3M as a result of concerns with the brake pad material that was used.

The company was informed that due to the material used, it could potentially affect the performance of the unit and it would fail to properly arrest a fall, and ultimately, in a small number of instances, lead to the total disengagement of the lifeline assembly from the drum and housing assembly.

It is being requested by 3M that you immediately stop using and quarantine all your inventory of the affected products identified here and return them directly to the 3M fall protection product distributor where you purchased them.
Flyover will assess whether tower owner
violated wildlife rules with faux bird
UPDATE: July 24, 2012 - The Florida Fish & Wildlife Conservation Commission found no evidence of fledglings, eggs or any birds inhabiting an osprey nest on Holmes Beach.


The FWC's investigation was a result of neighbors contacting them and stating that two workers for Crown Castle International hung a fake bird to scare away other birds while chicks were in a nest on the tower.

However, an FWC law enforcement officer said that after they took pictures from a helicopter they found nothing out of the ordinary in their investigation of the incident, including the company's required permits for the tower.
_________________________

July 17, 2012 -The Florida Fish and Wildlife Conservation Commission is investigating the installation last week of a faux bird on a Holmes Beach cell tower owned by Crown Castle International.
According to residents living near the monopole, two tower technicians installed the bird to scare off other birds on July 11, but they say that there are currently a number of osprey chicks in a nest on the opposite side of the antenna platform, and it could affect the raising of the fledglings.
It could also be illegal to interfere with nesting birds, and a permit is required if a company is working on a cell tower where birds are nesting, according to the FWC.
Wildlife officer Gary Morris said he and FWC Capt. Dave Adams will fly over the cell tower in the FWC's helicopter and observe any nesting activity through binoculars and a video recording.
Morris told The Islander, the helicopter would be high above any nest and would not interfere with any chicks, birds or mating.

A Holmes Beach Police representative said a maintenance representative from Crown Castle visited the department July 13, saying his company will cooperate with HBPD and FWC.


Morris said he would report on what he and Adams observe soon after the tower flyover.
The two Crown Castle subcontract workers reportedly said the faux birds are used to scare other birds because too many birds on the tower can cause service interference.
Crown Castle did not respond to a request for additional information.
Instead of trying to scare off ospreys, David Hollis and two other co-workers from Pamlico Tower rescued one on July 5 in New Bern, NC off of a 150-foot U.S. Cellular tower.

Hollis first tried to put a blanket over the raptor's head, but the blanket blew off. He grabbed the bird by its legs and hollered to the ground that there were two birds, one alive that would not let go of another osprey that was dead.

Hollis was able to separate the birds and get the live osprey into a cage that his crew hoisted up to the platform.
The osprey is expected to survive and should be released in a month or so.
Ospreys can live and reproduce for approximately 20 years and typically mate for life.
AT&T and Verizon to step up their commitment
to small cells later this year
July 17, 2012 - In its latest issue of outdoor small cells market data, ABI Research forecasts that the equipment market will grow to be worth $14.3 billion by 2017.
Including outdoor femtocells, picocells, microcells, and carrier Wi-Fi access points, at just over 1 million units forecast in 2012, the number of outdoor small cells sold will surpass the 954,000 macrocells forecast for this year.

"We believe that outdoor small cells have distinctly different characteristics, including the need for carrier grade software, wider temperature ranges, and more sophisticated RF from indoor consumer and enterprise femtocells and we are now forecasting these separately from indoor residential and enterprise units," says Nick Marshall, principal analyst at ABI Research.

LTE is expected to be the biggest driver for small cells, which will be predominantly deployed for capacity and coverage in high traffic public areas. They are expected to become a mass market phenomenon in 2014 and the key challenges holding them back are backhaul and deployment issues such as power and placement.

AT&T and Sprint have committed to rolling out 3G small cell services later this year. A recent study found that even a relatively conservative small cell deployment with 4 devices per macrocell would increase typical data rates by over 300% and offload 56% of data.

However, public access small cells could also have an impact in rural and developing markets.

Outdoor small cell units will grow at 53.8% compound annual growth rate (CAGR) to reach 9.3 million units by 2017, according to ABI. The fastest growing small cell class is the outdoor femtocells, with output power less than 1 Watt, which will grow at 81.5% CAGR to reach 1.5 million units and $5.4 billion by 2017.

The emerging carrier integrated Wi-Fi class of small cells will also grow rapidly at 60% CAGR to reach 6.8 million units and $1.7 billion in 2017. "We forecast that the femtocell and carrier Wi-Fi small cell classes will make up 50% of the revenue and 89% of the units in 2017. The remaining 50% of the revenue and 11% of the units in 2017 are represented by the more expensive pico and microcell classes," Marshall said.

ABI Research believes there is now real momentum in the outdoor small cell market and expects significant growth moving forward, however, the industry will need to deal with some challenges including backhaul provision, interference mitigation, network management, policy integration, and roaming. Innovative solutions are now being offered by many vendors in the ecosystem and these challenges are well on the way to being solved which will accelerate service provider adoption.

What is a small cell?
Small cells are low-power wireless access points that operate in licensed spectrum, are operator-managed and feature edge-based intelligence.

Small cells provide improved cellular coverage, capacity and applications for homes and enterprises as well as metropolitan and rural public spaces.
Types of small cells include femtocells, picocells, metrocells and microcells. Any or all of these small cells can be based on "femtocell technology" - i.e. the collection of standards, software, open interfaces, chips and know-how that have powered the growth of femtocells.
Small cells also facilitate a new breed of mobile service that exploits the technology's ability to detect presence, and connect and interact with existing networks.
It's not my tower defense doesn't fly with the FCC
July 16, 2012 - Ely Radio, licensee of KWNA (AM) of Winnemucca, Nev. has lost their appeal to the FCC and was fined $11,000 for lighting and registration violations, but in
the process found that they are the owner of the tower from which they broadcast.

In 2008, the San Francisco office of the Enforcement Bureau originally fined Ely $13,000 because its red obstruction lights were out and the licensee had not notified the Federal Aviation Administration of the outage.

The commission also found that Ely had failed to notify the FCC about a change in ownership information for the tower. Ely Appealed in 2009.

The FCC sent a Letter of Inquiry to KWNA's former owner, Sheen Broadcasting Co., which confirmed it's no longer a commission licensee.

Sheen told the commission the company sold all of the equipment used to operate the station, including the tower, to Ely in 2006.

Ely's attorney provided a legal opinion to the FCC stating that "based on Nevada statutes and case law," Sheen, not Ely, is the legal owner of the land on which the antenna tower is located. He further stated that because the antenna is part of the land, Sheen is presumed to be its owner.

But the FCC said that they were not provided with any case law in the appeal and didn't find that argument credible, stating in its decision that "at best, it appears that Ely and Sheen may have a continuing disagreement" about how each of them interprets their sale agreement."

The FCC stated, "we find that the preponderance of the evidence supports the Forfeiture Order's conclusion that Ely was (and is) the owner of the subject antenna structure."

"There is also a statement in the record from Ely's owner about his future plans to move the antenna structure to a different location. This statement, in our view, appears to concede ownership."

"At the time of the violations, Ely was the only licensee using the antenna, and the record evidence suggests that Ely ceded to taking responsibility for the antenna, whether it believed it was the antenna owner or not, since it previously took steps to notify the FAA about past antenna light outages," the FCC said.

In addition, they said the record shows, it was Ely's employees that purposely turned off the flashing obstruction lights on the antenna because they believed that the lights were responsible for generating noise into the station's audio feed; and "they kept the lights off until they could confirm that the lights were not the source of the problem, and then turned the lights back on again. This level of control over the antenna lights, and without Sheen's involvement, further supports our belief that Ely knew it had responsibility for the antenna structure based on actual ownership, which it denies, or an understanding with Sheen, which it refuses to acknowledge."

Because of Ely's past history of good compliance with commission rules, the agency knocked off $2,000 from the penalty, bringing the amount to $11,000.
Four tower techs indicted for setting up a
Maryland motel meth lab
July 9, 2012 - Four tower technicians have been indicted by the Howard County Grand Jury for their involvement in a methamphetamine lab set up inside an Elkridge Holiday Inn Express in Md., the state's attorney's office announced last week.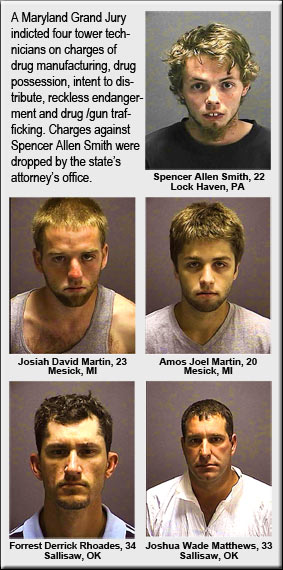 Brothers Josiah David Martin and Amos Joel Martin, of Mesick, Mich.; and Forrest Derrick Rhoades and Joshua W. Matthews, of Sallisaw, Okla., were indicted July 3 on charges including drug manufacturing, drug possession, intent to distribute, reckless endangerment, and drug/gun trafficking.
Similar charges against Spencer Allen Smith, of Lock Haven, Pa., were dropped by the state's attorney's office.
Police had responded to an anonymous call on June 4, reporting that a meth lab was being operated inside Room 427 at the Holiday Inn Express, located off of Marshalee Dr.

Officers arrived at the scene and "detected a strong, unusual odor near the door of a room on the fourth floor," police said.

After knocking on the door and being allowed in, the officers found the chemicals and placed the three men in custody. A fourth man showed up at the room and also was arrested.
Police served a search warrant and also found heroin and a handgun.
Smith, who police initially said was also staying in the room, was found in the parking lot following an interview he had with a TV station and arrested, but the charges against him were later dropped.
During the interview with WMAR (seen here) in front of the Holiday Inn, Smith said he had just left his room to get dinner when he saw four or five police vehicles go by, "so I turned around to see what was going on and all of a sudden more of them pull in here."
He said he stayed out of the motel when he saw an officer asking people to not go in.
Smith said that he was heading home the next day, but it didn't appear to be a scheduled break.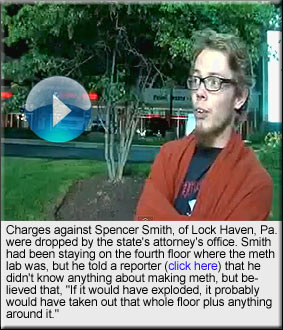 When asked by the reporter what he did for a living he replied, "Ah, yea, I used to climb. Ah, well, I was working for a previous company at climbing cell phone towers."
Although it is not known whether Smith's charges were dropped because he was not in the room at the time the police entered, or he possibly could have been staying in another room on the same floor, it appears that he might have known Josiah Martin.
On May 23, in Howard County, Martin filed second degree assault charges against tower tech Herbert Bruner whose address in court documents was listed as the Elkridge Holiday Inn Express's address.
On May 27, Smith also filed a second degree assault charge against Bruner.
Both men dropped those charges on June 29.
According to Maryland law, if you touch someone else in a manner that could be perceived as unwanted, offensive, or potentially harmful - whether or not it causes injury - you could be charged with second degree assault, a misdemeanor.
Investigator had previous presumed that the techs manufactured the drugs because they were unable to find methamphetamine locally, according to investigators, but the Grand Jury said they intended to distribute it.
Bail was set for the Martins and Rhoades at $40,000; Matthews's was $45,000.
Super derecho KOs power in 10 states
and plays havoc with cell sites
July 3, 2012 - Millions of people learned a new word over the weekend: "derecho," a Spanish term for what is in essence a storm line that moves across the landscape
causing serious devastation normally associated with a hurricane.

Wireless carriers also learned that they weren't fully prepared to deal with a derecho, and government agencies found out that their emergency alert and 911 systems didn't handle the tasks expected of them during the storms that killed 22 people and knocked out power for some 4.3 million customers in 10 states.

Many cell sites had no power as of Monday, according to regional carriers. The storm damaged some cell towers, cut off power at tower sites and destroyed connections between the towers and the nearby switch facilities.

When a hurricane is forecast, carriers have the time to marshal manpower and backup power units to ensure services past the FCC mandated eight hours at wireless sites and 24 hours at central offices or switch sites.

However, this weekend's storm caught all carriers off guard and restoration efforts and fuel deliveries were hampered.

Reports indicate that there were over 3,000 cell sites still running on emergency power yesterday as electric companies worked to restore power.

Once substations are repaired, workers restore power first to hospitals, police stations, fire stations, water treatment plants and other facilities that are essential for public safety.

And, although safety is severely impacted when there is no cell phone coverage, many cell sites will not have their power restored due to their non-prioritized rural location.

Some of the hardest hit areas may not see service restored until Monday, according to utility officials.

Fairfax County, Virginia's 911 emergency center operated at just half capacity Monday as Verizon tried to figure out why both its primary and backup power systems failed after Friday night's storm and left much of Northern Virginia without 911 service during the weekend.

Emergency callers received a recorded messages saying the line was inoperative or dead silence, even after Verizon's service was restored, local officials said.

On Thursday, a new text message alert system, called Wireless Emergency Alert (WEA), was launched by the National Weather Service (NWS) in coordination with the Federal Emergency Management Agency and the assistance of CTIA.

The alert system, which sends text messages to people in areas threatened by severe weather, has been in testing and limited use since 2010, but will now begin to see widespread use.

"Ultimately, though, it's the wireless carriers that are implementing it; it's happening on a rolling basis across the country," NWS spokeswoman Susan Buchanan

Although not all cell phones have WEA compatibility, it appeared that it hadn't been rolled out in the Mid-Atlantic states on Friday since many smart phone users said that they didn't receive a message.

The alerts do not use GPS to locate users, but are rather sent by cell-site region. A cell phone user from Seattle, WA vacationing in Washington, DC, for example, would receive alerts from only the tower in the District of Columbia from which he or she currently receives a signal.

The derecho didn't spare the overly-touted-secure cloud.

The weekend storm caused a number of outages at facilities run by major communications providers other than wireless carriers. One of those was a data center in Virginia operated by Amazon.com, resulting in a Friday night-Saturday morning shutdown for major customers that rely on Amazon's cloud to keep their services running. --