First 2012 tower fatality claims life of 19-year-old
Update: June 28, 2012 - Services have been announced for Jeremy Jo
Froemke, 19, of Lisbon, N.D., who died Tuesday after falling from a cell tower in Minn. The funeral will be July 2, 10:30 a.m. at Anselm Lutheran Church, rural Lisbon. Burial will be in the Anselm Lutheran Cemetery. Visitation is Sunday, from 4 to 7 p.m. with a prayer service at 7 p.m. at Armstrong Funeral Home, Lisbon.

Beltrami County Sherriff Phil Hodapp said that Froemke was equipped with a safety harness. An earlier report attributed to a dispatcher said that the tower technician wasn't wearing one.
_______________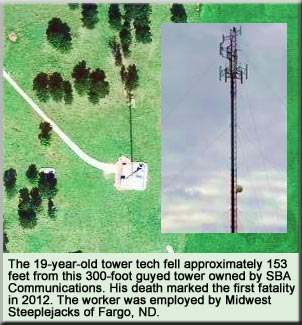 June 27, 2012 - A 19-year-old man working on a cell phone tower fell and was killed Tuesday evening directly south of Solway Elementary School in Solway, Minn.

An emergency call came in to a Beltrami County Sheriff's dispatcher at 5:50 p.m. Tuesday. Emergency crews were called to a tower at 134 Loman Ave.

According to a Beltrami County Sheriff's official, a Midwest Steeplejacks Inc. employee fell 153 feet from the cell tower and was killed on impact.

The man, who will remain unidentified until all family members are notified, is from North Dakota.

The tower tech who made the emergency call, also a Midwest Steeplejacks employee, called from 160 feet up the tower. Authorities said the man was in shock and was unable to comment on what happened.

A dispatcher said the person who fell was not wearing a harness. However, initial reports are oftentimes skewed based upon an emergency responder's lack of knowledge about the industry or the equipment could have been removed to perform CPR.

Shortly after 6 p.m., the crews called to airlift the man to the hospital were called off because the man had died.

The 300-foot guyed tower he was working on is owned by SBA Communications. The customer Midwest Steeplejacks was working for is not known at this time.

Owned by Rory Kiland, Midwest Steeplejacks was founded in 1997. In addition to a considerable amount of cellular experience, the company has performed many years of tall tower and broadcast work.
The fatality was the first death within the industry this year. See: Fatalities.
Sources: Don't give TowerCo the 10-count
June 27, 2012 - After employees were told to start polishing their resumes after TowerCo sold its entire portfolio to SBA Communications, the media started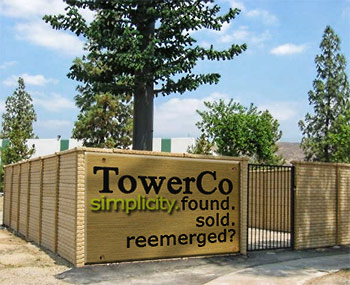 referreeing the 10-count to CEO Richard Byrne's company he co-founded in 2004 along with his COO, Scot Lloyd.
However, following yesterday's article, a number of industry insiders contacted Wireless Estimator and said that Byrne may not be planning on retiring to a secluded island off of Bimini any time soon, but may reemerge with an even larger TowerCo buoyed by T-Mobile's 8,900 towers.
"It makes sense that TowerCo would go in that direction," said one investment banker. "Their backers more than doubled their investment in less than four years. Byrne has a proven track record and you would expect them or other PE firms to know that he could do it again."
One source familiar with ongoing negotiations informed Wireless Estimator that TAP Advisors had contacted TowerCo and the Cary, N.C.-based consolidator had been taking a serious look at the T-Mobile towers.
TAP, a boutique investment bank, was hired to look for potential suitors for the T-Mobile deal and they're intimate with TowerCo's operations. Prior to joining TAP as a Vice President, Aye Thiha was involved in TowerCo's acquisition of Sprint Nextel's tower portfolio which was sold to SBA yesterday.
In addition, TAP's senior advisor, Ronald LeMay, served as the first employee and CEO of Sprint PCS and guided it from start-up to $10 billion in revenue.
Another investment banker believes that Byrne and his management team will continue to look for acquisitions. "It wouldn't surprise me if they stay in - everyone does," he said.
Analysts peg T-Mobile's tower assets at approximately $3 billion, but some industry insiders believe it could be considerably lower.
Soros Strategic Partners, Tailwind Capital, Vulcan Capital and Altpoint Capital Partners are TowerCo's equity partners.
SBA buys TowerCo's portfolio for $1.45 billion
and sidesteps a T-Mobile bid
June 26, 2012 - SBA Communications Corp. is buying 3,252 towers from TowerCo in a cash-and-stock agreement valued at about $1.45 billion. The deal essentially pulls away TowerCo's entire portfolio and thwarts SBA's ability to bid upon T-Mobile's tower
assets.
The towers are located in 47 states and Puerto Rico. SBA says the towers will be in great demand for future cell-splitting needs of U.S. wireless carriers.
In an SBA conference call this morning, Jeffrey Stoops, SBA's President and Chief Executive Officer, said that TowerCo's CEO, Richard Byrne, initiated the deal in early May.
"Let's really give this a college try and see if we can get this done," Stoops told Byrne, who he worked with to ink a 430 tower buy from TowerCo for $193.5 million in 2008. At that time the towers had a tenancy rate of 1.5.
Today's buy, according to Stoops, averages 1.8 tenants with additional tenant capabilities of 2 per tower.

Stoops is pleased, but Byrne's investors might have fared better
"This is definitely the deal we wanted to do at the price we wanted to pay," Stoops said.
The price that TowerCo wanted to pay when they bought the towers was considerably less.
TowerCo's portfolio was obtained when the company purchased Sprint Nextel's 3,300 towers for $670 million in cash in 2008. Byrne had been previously employed as the national director of business development at Nextel.
A number of TowerCo's structures have Nextel as a single tenant, and Stoops said that they might have to be decommissioned when Nextel removes its iDEN network.
However, Stoops said, he anticipates that continuing lease agreements with Nextel should offset the cost to remove the towers which is expected to cost between $15,000 to $25,000 per site to drop the tower and rehabilitate the compound.

While Sprint's iDEN leases expire between 2015 and 2018, Stoops said there would be no decommissioning until 2015.

After the deal, Sprint's contribution to SBA's revenue will increase to 27 percent from 23 percent, he said.

Stoops said he believes that TowerCo's assets, primarily urban and suburban, will be attractive to two underrepresented carriers. "These are clean towers for AT&T and Verizon to get on," he said.

Macquarie Capital analyst Kevin Smithen suggested in a report today that the changes at Sprint may have influenced TowerCo's strategy.

"We believe that TowerCo's financial sponsors, including Soros, opted for a strategic sale instead of an IPO given the long-term overhang of the iDEN decommissioning and were able to achieve a robust exit multiple," Smithen wrote.

A run at T-Mobile's towers is off the table
The cattle car buy has put SBA out of the running in the underheated race to purchase T-Mobile's 8,900 towers that are currently being shopped by Crown Castle International and American Tower Corp. as well as some private equity firms. T-Mobile represents approximately 18% of SBA's leasing revenue.
Stoops said that SBA would not be looking at acquiring T-Mobile's towers or any other major acquisitions this year and favored international buys for future expansion to benefit stockholders.
"As a practical matter, as you look around what is available in the U.S., we might find more opportunities outside the U.S.," he said.
In February, SBA bought Mobilitie LLC's 2,300 tower sites in the U.S. and Central America and other assets in a cash and stock deal valued at $1.09 billion.

Sale will see an end to "must be seen at" parties
TowerCo has a staff of approximate 70 people. Byrne said that employees have been offered the opportunity to remain with the company until the deal closes.

TowerCo's marketing budget was one of the largest in the industry and the tower consolidator was known for media advertising and its convention galas, the most recent, a packed crowd last month at Pat O'Brien's in the French Quarter during the CTIA show.

Although TowerCo was dwarfed by competitors eight times its size, the company held a corporate presence that made their events the place to be seen at if you were a mover and shaker.

Byrne is on the PCIA - The Wireless Infrastructure Association's board of directors, a position he has held since 2009.

JPMorgan Chase & Co. provided $900 million in financing and acted as financial adviser for SBA, while Greenberg Traurig LLP provided legal council. Wells Fargo & Co. acted as financial adviser to TowerCo, and Paul, Weiss, Rifkind, Wharton & Garrison LLP was its legal adviser.
It's a go to just say no to some existing tower
obstruction lighting requirements
June 25, 2012 - If a tower owner wants to flash or omit steady-burning red lights from several obstruction lighting configurations, they'll be able to do so after they electronically file for a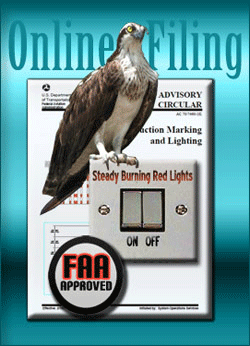 waiver.
Using the Federal Aviation Administration's "Deviation from Red Obstruction Light Standards" request, which should be available in early July, according to an FAA official contacted by Wireless Estimator, tower owners can take advantage of three new lighting configurations available for review here.
Studies by numerous avian groups have determined that abandoning the use of steady-burning obstruction lights in favor of flashing lights will help to reduce migratory bird fatalities.
The FAA's Airport Technology Research and Development Team released a study last month that stated that they agreed, and their researchers went further in their proposals adopted by the FAA to assist in lowering the mortality rate of birds killed after flying into communications towers.
FAA Style A, a standard for red obstruction lighting, has been changed, allowing owners of towers 351 feet and taller to turn off or remove their smaller steady-burning side lights.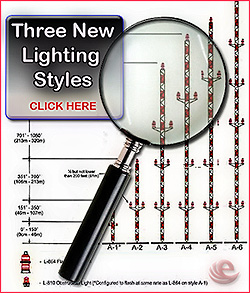 Towers from 151 to 350' feet will still require midpoint side lights (L-810) that must flash at the same rate as the top beacon (L-864).
Towers using medium intensity dual lighting from 351 to 700 feet, Style E, will also be allowed to abandon side lights, but from 151 to 350 feet, midpoint flashing side lights will be required.
From 501 to 2,200 feet on dual high intensity lighting, Style F, sidelights will not be required, saving tower owners the requirement of installing and maintaining up to six additional levels of L-810 lighting.
A number of broadcasters are anxious to reconfigure their lighting systems to reduce power consumption.
The researchers determined that the proposed lighting configuration on the WPBN tower in Harrrietta, Mich. they studied should be flashed as close to 30 flashes per minute as possible to provide the optimal presentation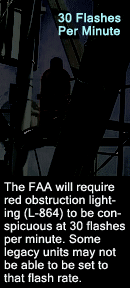 to pilots.
When flashed more slowly, the FAA's test pilots said there was too much time between flashes, making the tower dark, which could potentially be a safety issue for pilots approaching the tower.
When the lights flashed more quickly, the L-864 fixtures were unable to achieve full intensity for long, which reduced the exposure time for pilots to see the lights.
Numerous circular routes were flown around the tower while the WPBN technicians turned the L-810s on and off again.
The researchers found that the tower was still visible from 20 miles away. In addition, the 30 fpm kept the lights on long enough so the location of the tower was never lost. The omission of the L-810s did not create any unusual presentation or adversely affect the overall appearance of the lighting configuration.
The purpose of the L-810 side lights, when used in conjunction with the L-864 lighting configuration, is to provide a point of reference for the pilot when the brighter flashes of the L-864 could not be seen.
The FAA said that technologies for flasher units and for the lights themselves now allow tower owners to select a specific flash rate or flash pattern to achieve an instant and accurate result.
However they acknowledged that older mechanical flasher units are not as accurate and cannot be set to an exact flash rate.
In order for the tower owner to remove the side markers a new L-864 lighting system that can meet the 30 fpm requirement must be installed.
The FAA is revising Advisory Circular 70/7460-1K, Obstruction Marking and Lighting to incorporate the new lighting styles.
Billions and bragging rights are on the line
with T-Mobile tower bids
June 22, 2012 - T-Mobile USA Inc. received a second round of bids for its cell towers, attracting offers from companies such as American Tower Corporation and Crown Castle International, according to a report in Bloomberg.com.


T-Mobile, which owns approximately 8,900 towers in the U.S., has also received bids from private equity firms, said the unnamed Bloomberg source.

The deal would help the carrier's self funding strategy for additional wireless spectrum and network enhancements. It also makes sense since AT&T gave T-Mobile a seven-year UMTS roaming agreement that will allow T-Mobile to expand its coverage an additional 50 million POPs.

If American Tower or Crown Castle were successful in their bid, the deal will be accompanied with bragging rights as to who will be the largest tower owner for years to come, possibly forever with approximately 31,000 towers.

According to Crown Castle's marketing materials and financial reports, the company owns approximately 22,250 towers in the U.S.; American Tower's database shows 22,050. See: Top Tower Companies .

The towers were being shopped last year, but there were no further negotiations after AT&T announced that it had agreed to buy T-Mobile USA from Deutsche Telekom for $39 billion.

The deal that would create the largest wireless carrier in the nation fell through.

The highest concentration of T-Mobile's towers are located in Calif.
.
Michael Fitch honored by NYSWA as PCIA
searches for his replacement
June 21, 2012 - Michael Fitch, president and Chief Executive Officer of PCIA – The Wireless Infrastructure Association, was honored with the Wireless Warrior award by the New York State Wireless Association at their 2012 Annual Trade Show &
Conference this past week in Niagara Falls, NY.

Fitch announced in April that he was resigning his position and returning to Los Angeles where his family resides and engage in telecommunications consulting work. Fitch has been the President and CEO of PCIA since 2005.

He said he will continue in his position while the search for a new President & CEO is conducted. He will work with the Board of Directors and his successor to ensure a smooth transition.

A spokesperson for PCIA said yesterday that it was not known whether a new President &CEO would be selected before the trade group's annual show, Oct. 1 through 4, in Orlando, Fla.

Fitch was recognized by the NYSWA for his preeminent role in the wireless industry and his significant contributions to furthering the industry.

"We thought it fitting to begin the tradition of formally recognizing those who have not only made an impact on NYSWA's mission, but have made a significant impact on the wireless industry," said NYSWA vice president Chris Fisher. "Mike Fitch has stood out for his tireless effort to implement wireless in every way - every day, and is a shining example of dedication and commitment to our cause."

"PCIA has enjoyed great success under Mike's stewardship," stated Marc Ganzi, Chairman of the PCIA Board of Directors and CEO of Global Tower Partners.

"We have greatly advanced the wireless infrastructure advocacy agenda at the local, state and federal levels, making it easier for millions of Americans to enjoy ubiquitous use of their wireless communications devices. It has been an honor and a privilege to work with Mike. He leaves the association strong, prosperous and positioned for continued success, meeting the challenges to advance this industry he cared passionately about as our leader," Ganzi said following Fitch's announcement that he was leaving.

Major accomplishments during Fitch's tenure include: the historic passage of federal collocation by right legislation this year; state legislation streamlining wireless siting in New Jersey, Georgia, North Carolina and California; creation of The DAS (distributed antenna systems) Forum; expansion of State Wireless Associations; and significant growth of PCIA membership and the association's annual Wireless Infrastructure Show.

"It has been an honor and a pleasure to serve as President & CEO of PCIA," Fitch stated. "PCIA's members play a crucial role ensuring that coverage and capacity are available to meet the exploding demand for wireless services. We have worked successfully for greater recognition of the importance of wireless infrastructure and more pragmatic approaches in policy making."
Puerto Rico code change adds to mainland
tower contractors' backlogs
June 16, 2012 - In February 2011, the U.S. territory of Puerto Rico adopted the 2011 Puerto Rico Building Code, which references nine 2009 International Code Council
model codes, and many legacy towers are in the process of being retrofitted to meet new co-location design requirements.
There is no consensus of how many structures need to be rehabilitated, but there is a considerable demand for experienced island crews.
Last week an Edmond, OK construction company was advertising that it needed five to seven crews for modification work in Puerto Rico, and the companies "Must be willing to deploy quickly," their ad said.
Other stateside contractors are also trying to fill the growing demand by tower owners who have a considerable presence in Puerto Rico and are requiring structural upgrades.
Towers exceeding capacity range from a low of 15 percent, according to a tower manufacturer's engineer, to close to 80 percent, based upon what a Puerto Rico ISP representative said he has heard from a number of co-location personnel.
On Tuesday, the transmission lines on an SBA Communications tower off of PR-22 near Manati caught fire as welders were reportedly retrofitting the 190-foot self supporter.
Major Puerto Rico tower owners include AT&T Mobility, Crown Castle International, Global Tower Partners, Puerto Rico Telephone Company, SBA Communications, Inc., T-Mobile and TowerCo.
Noticeably absent is American Tower Corporation. The second largest tower owner in the U.S. doesn't own one tower in Puerto Rico. Its sole presence is managing a shopping mall rooftop near San Juan.
Answers at a glance available for ANSI/TIA-222-G
standard's questions
June 14, 2012 - The TIA TR14.7 Steering Committee is now providing a publically accessible system to view frequently asked questions pertaining to the ANSI/TIA-222-G standard.

New submissions and the committee's responses will be automatically uploaded to Wireless Estimator's module located here.

One of the most recent requests for clarification was from a viewer inquiring as to whether there is reciprocity between the ANSI/TIA-222-G standard and the Canadian Standards Association's CSA S37-01.

The TIA TR14.7 Steering Committee members include: Brian Reese, Chairman; John Erichsen, Vice Chairman; Dave Brinker, Mark Malouf, John Wahba and Steven Yeo.

The TR-14 committee recently changed its title to Structural Standards for Communication and Small Wind Turbine Support Structures (formerly Point to Point Communications Systems).
Schlekeway to lead NATE's drive for a unified voice
Update: June 22, 2012 - Due to his new position as Executive Director of NATE, Todd Schlekeway said he will not be seeking re-election to the South Dakota State Senate in November.


"Serving the people of District 11 and the city of Sioux Falls in the state legislature the last four years has been an incredible honor and experience. I have enjoyed working with my constituents, legislative colleagues and state government employees during the last four years. "I have loved every minute of it," Schlekeway said.
_____________

June 13, 2012 – The National Association of Tower Erectors (NATE) headquartered in Watertown, S.D., has announced that Todd Schlekeway has joined the organization as the trade group's Executive Director, replacing Patrick Howey who resigned in Sept.

"After a thorough search, we feel fortunate to welcome such an outstanding individual to our organization. We are excited about Todd's commitment and enthusiasm for our mission of providing a unified voice for safety, standards and education for tower erection, service and maintenance companies. His expertise comes at an essential time as we continue to advance NATE's mission of safety and pledge continued focus to reduce risk in every project of which we engage. We are pleased to have Todd as our new Executive Director," said Jim Coleman, NATE Chairman.

Schlekeway joins NATE after working the last seven years in the public affairs industry. As the founder and principal of a public affairs and communications firm called Full Court Strategies Group LLC, Schlekeway has extensive experience in the areas of government relations, media relations, client relations, issue advocacy, event management, strategic planning and budgeting.

Prior to working in the public affairs arena, Schlekeway worked on the U.S. Presidential Inaugural Committee in 2004-2005 and on several high-profile U.S. Senate campaigns in S.D.

Schlekeway has also served two terms in South Dakota's state legislature where he represented a Sioux Falls legislative district in both the State House and the State Senate.

Schlekeway received his undergraduate college degrees from the University of Sioux Falls (USF) with a B.A. in History/Political Science and a B.S. in Exercise Science. He also earned a Master's degree in education (M.Ed.) from USF. Todd participated in collegiate athletics as a member of the University of Sioux Falls basketball team during his tenure.

"I am very excited about this exciting professional opportunity to work for a dynamic national association like NATE that is headquartered in my home state," Schlekeway said. "NATE has an outstanding leadership structure in place led by its Board of Directors. I also look forward to working with NATE's dedicated and talented staff to continue to advance the mission of the association."
Anatomy of a cell tower death is quickly
cut off by undisclosed payments
June 8, 2012 - An investigation by ProPublica and Frontline into the death of 43-year-old William "Bubba" Cotton who was killed while working on an AT&T UMTS upgrade project has provided an exhaustive look at a fatality that could have been
prevented.

If the need to provide additional cell phone coverage for an upcoming Talladega, Ala. NASCAR race didn't impose deadline pressures upon two contractors, Cotton might still be alive, according to his family members.

Cotton, an employee of Betacom Inc., died immediately on March 10, 2006 after he stepped outside of an equipment shelter and was struck in the head by an antenna that fell from an adjacent guyed tower.

Tower techs from ALT Inc. had been in the process of lowering the antenna when a rigging rope broke at about the 260-foot height of the 400-foot tower. Cotton was not wearing a hard hat, according to OSHA.

Following the fatality, OSHA cited ALT for failing to inspect and remove the defective rope and fined the Missouri-based company $2,000. Betacom received a $4,900 fine for not ensuring that their workers were wearing hard hats.

In an industry enured by frequent climber fatalities, especially in 2006 when there were 19 deaths, the accident received no media coverage other than a short overview in Wireless Estimator's fatality database.

However, according to the joint ProPublica/Frontline report written by Liz Day and Ryan Knutson, immediately following the accident, Cotton's daughters filed a wrongful death lawsuit in Talladega County Circuit Court against AT&T and Betacom, later amending it to include ALT, WesTower Communications, Inc. and the owner of the tower, Crown Castle International.

Who controlled the tower site and who was responsible for the safety of the subcontractors working on it were essential questions explored by attorneys.

A personal injury suit was filed in October by Cotton's cousin and co-worker, Charles "Randy" Wheeler, who said he received a back injury after diving away from the falling 8-foot tall, 50-pound antenna.

WesTower and Crown Castle were later dismissed as defendants in both cases.

Remaining unanswered is why Nsoro, the turfing contractor that subcontracted the AT&T work to WesTower, who subcontracted it to ALT, was not a defendant in the lawsuits.

Betacom worked directly for AT&T.

According to court records and depositions, attorneys for Cotton's family and Wheeler argued that AT&T had created a work environment where "time and money took precedence over safety," and had repeatedly pressured subcontractors to meet an "unreasonably dangerous schedule."

Testimony was also obtained from ALT's foreman that he had asked an AT&T project manager to provide additional time to complete the installation because he felt unsafe working above other workers on the site.

AT&T reportedly denied his request. The foreman also related that information to OSHA, but the agency did not open an investigation regarding his charges.

Although it could be argued that AT&T was in a supervisory role on the jobsite because its project manager was directly handling scheduling requests and safety concerns, in a request for a summary judgment, AT&T claimed that the multi employer doctrine that identifies whether the carrier would have any liability at the jobsite, had been abandoned by the agency and was never recognized in the Eleventh Circuit, the jurisdiction where this case was being heard.

Settlements end digging into contractor safety responsibilities
What could have explored important contractor safety issues came to a sudden halt in August 2008.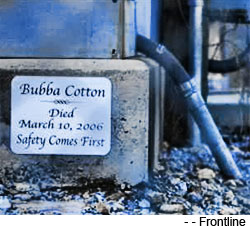 Without admitting wrongdoing, AT&T entered into a confidential settlement with the Cotton family. In approving the deal, the judge said AT&T's "potential exposure in this wrongful death case is significantly higher" than the amount of the settlement.
Two months later a judge dismissed AT&T as a defendant in the Wheeler case, deciding that Wheeler had not proved that the carrier controlled the subcontractors' activities when the accident occurred or that the carrier knew ALT's crew would be working over Betacom's employees that day.
Wheeler appealed the decision, but AT&T notified him that they intended to seek more than $14,000 for the costs associated with the taking and obtaining copies of the transcripts of the more than 20 depositions taken in the case.
Wheeler caved in and dropped his appeal when AT&T agreed to drop its claim for reimbursement.
He did receive an undisclosed settlement amount from ALT. The contractor also settled with Cotton's children.




AT&T LAWSUIT DOCUMENT LINKS:
Through research and Freedom of Information Act requests, ProPublica has provided a number of documents pertaining to the lawsuits and OSHA investigations.
Karen Roth Deposition - AT&T Senior Project Manager Karen Roth is an AT&T Senior Project Manager and was in charge of the Talladega upgrade. As a representative of AT&T, her testimony was key in the plaintiffs being able to prove that AT&T was aware of the potential hazards of multiple crews on a job site and ALT's request that it wanted an extension of time to complete the job safely. It's 72 pages, but many of the more relevant statements are highlighted.
Betacom and Nsoro Agreements with AT&T Nsoro's contract was the result of an RFP that was issued to 9 vendors. The estimated value of the agreement was $4.5 million based on the anticipated award of 40 sites. The contract included liquidated damages for delays and quality defects. The services covered under the agreement also included all construction management activities, but the turfing contractor was not a defendant in the lawsuits.
Nsoro's Talladega agreement with WesTower WesTower Communications, Inc. of Dallas, Tex. was provided the contract to remove nine antennas and install nine new antennas along with installing TMAs, diplexers, running the lines to the new equipment shelter, color code the lines, and test the antennas and lines for $21,000. The company subcontracted the work to ALT.
ALT OSHA documents and Betacom OSHA documents The redacted files pertaining to ALT's investigation and subsequent citation and fine is available along with photographs of the defective rope. The Betacom documents contain photographs of the Talladega cell site and the antenna which fell and killed their employee.
ALT's statement to OSHA regarding site concerns In a statement to OSHA, ALT's foreman said, "I told them that I was not gonna work above others and I was gonna have a hard time completing the job because of poor planning on the job. They made some phone calls on my behalf asking for another week to complete the job. They got denied and told me it needed to be able to test on Tuesday." OSHA did not investigate the foreman's concerns
AT&T's motion for summary judgment In its motion for summary judgment, AT&T said it required the contractors working at the Talladega site to comply only with the contract specifications for the upgrade and to meet the project deadlines. "This level of oversight does not constitute control over the manner in which the independent contractors performed their contractual obligations," AT&T said.
Cottons' civil action complaint The wrongful death suit regarding William Eugene Cotton, II alleged that AT&T repeatedly pressured contractors to meet their deadline and insisted that antennas be replaced at the same time other work was going on above Cotton. It was also purported that there was an unreasonably dangerous schedule and time and money took precedence over safety.
Lack of a $10 gate hasp costs AM station $7,000; obstruction light outage is $10,000
June 6, 2012 - An unlocked fence gate of a York, Pa. AM station might have provided WOYK Inc. with a reprimand from FCC agents when it was discovered, but the station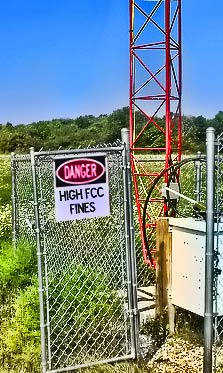 was cited with willful and repeated violations for not having the gate secured.
Based upon the condition of the hasp, the agents said it appeared to have been in disrepair for an extended period of time, allowing unrestricted access to the base of the antenna structure.
Although the president of the station alerted the FCC that he had fixed the problem immediately upon learning of the trouble, the Acting District Director of the Philadelphia office's enforcement bureau, Kevin Doyle, fined him $7,000 on May 22, 2012 for the violation that was discovered on December 17, 2010.
The term "repeated," according to the FCC, means "the commission or omission of such act more than once or for more than one day." Based upon the condition of the damaged hasp, the agents said the condition had existed for multiple days.
The tower site was near a residential area and the RF potential at its base could have caused serious injuries to those entering the unlocked facility, according to the FCC.
No lights, no camera, FCC takes action
In another FCC Notice of Apparent Liability, a number of obstruction lights on a broadcast tower in Beaumont, Tex. weren't working when an FCC agent paid a visit on November 28, 2011, resulting in a $10,000 fine for the structure's owner, Martin Broadcasting, issued on June 5, 2012.
According to the FCC agent, who responded to a complaint, the top and midpoint red obstruction lights and the three quarter side lights were not lit. The agent also made phone calls and determined that the FAA had not been informed about the outage.
The agent reached the tower's owner who stated that he learned of the light outages on the 575-foot tower from previous voice messages left by the agent. He also admitted that the lights on the structure were not being observed on a daily basis by a spotter or with a camera, and that the structure did not have an alarm system to monitor the lights.
TR-14 tackles turbines along with towers
June 1, 2012 - The Telecommunications Industry Association (TIA) Technical Committee approved a significant change to the title and identified scope of its TR-14 committee which reflects industry developments that have evolved the work it is doing.
The TR-14 Committee changed its title to Structural Standards for Communication and Small Wind Turbine Support Structures (formerly Point to Point Communications Systems).
More specifically, the new scope of TR-14 is to: Maintain and provide interpretation of ANSI/TIA-222, "Structural Steel Standards for Steel Antenna Towers and Supporting Structures" and TIA-1019-A, "Structural Standards for Installation, Alteration and Maintenance of Communication Towers, Antennas, and Antenna Supporting Structures". The committee is also working to develop a design supplement to ANSI/TIA-222 for small wind turbine structures in response to industry demand in this area.

These changes reflect the recent standards development work the committee has been doing in the area of design and analysis of structures supporting small wind turbines. Wind turbines are increasingly being used to power communications towers – an important development as the ICT industry seeks to increase energy efficiency.
Brian Reese, Chairman of TR-14, said, "The program of work in the TR-14 committee has changed as the uses for antenna towers have also modified over time. The change in title and scope for the committee formalizes what the industry has been doing in TR-14."
"The current direction of the new scope of TR-14 is encouraging to a fledgling product line determined to impress its mark on the tower industry. These standards should bolster our credibility as a real-world alternative energy production platform considerably," said Kerry Donnelly, president of Windular, a manufacturer of wind turbines for communications structures.
"The timely adoption of such standards could prove to be a boon to proponents of wind energy generation on communications towers. These new standards should provide much needed confidence in new technologies promoting hybrid use of telecom assets for alternative wind energy production."

"Any time we can apply a well thought out body of standards, modified to apply to cutting edge technologies, makes the adoption of such technologies that much easier for tower owners, carriers and zoning authorities," said Donnelly.
Wireless industry veteran Keith Duckwitz passes
June 1, 2012 - Keith M. Duckwitz, 57, passed away May 30, 2012 at Wellstar Kennestone Hospital, Marietta, Ga. after a short illness. Duckwitz was in key management positions for multiple companies in the wireless communications industry such as American Tower Corporation and Gibson Technical Services, Inc.
He owned several businesses with his brother-in-law Cliff Padgett.
Born June 22, 1954 in Alexandria, Va., he is survived by his wife, Sherrie, of Port Orange, Fla.; daughter, Samantha Richardson; sons Brennan M. Duckwitz and Burton Stacey III; and his mother Joanne Davis Prass, and three grandsons and a granddaughter.
The family will hold a memorial service at their home at 2492 E. Cherokee Dr., Woodstock, Ga. on Saturday, June 2, 2012 from 2:00 to 4:00 pm.
In lieu of flowers the family requests you make a donation to your local Humane Society. Online condolences are here.

Climber's fall on AT&T project may have forced
Goodman Networks' unconventional stand-down
Update: May, 25, 2012 - 3:30 P.M. ET - A spokesperson for the Austin, Tex. Police Department has identified that the 31-year-old tower technician who fell 100 feet off of a monopole was employed by Goodman Networks. They also said that the last report that they had was that Shad Lierley was in stable condition. A Goodman employee said that they could not find Lierley in the company directory.
- - - - - - - - - - - - - - - - - - - - - - - - - - - - - - - - - - - - - - - - - - - - -
May 25, 2012 - It is still not known if a 31-year-old Austin, Tex. tower technician survived a 100-foot fall from a monopole in Southeast Austin on May 16 around 6:20
p.m.
Police say that 31-year-old Shad Lierley was working on the structure along with at least one other employee when he fell.
He was transported to University Medical Center at Brackenridge. A hospital spokesperson said earlier this week that they could not release any information regarding his injuries. Today, a spokesperson said that he is no longer at the hospital and would not release information as to whether he was transported to another trauma center.

A spokesperson for the Austin Fire Department said that they and the city's police department had been told by OSHA not to release any information regarding the incident.
Waverly Kennedy of OSHA's Austin area office said he could not provide any details regarding the accident. Wireless Estimator has filed a Freedom of Information Act request with OSHA for all details regarding the incident that are able to be provided as well as a copy of all citations to the unnamed contractor, if the agency does find Lierley's company at fault.

In OSHA's database, there is an inspection information report for Platinum Communications Inc. of Austin that was opened on May 17 for the accident location, but it shows a closed conference date of May 18.

Photographs provided to Wireless Estimator indicate that Lierley was working on an AT&T project when he fell. Following the accident, AT&T's equipment shelter door was open. The Crown Castle-owned tower also has Clearwire as an additional tenant.
Damage to the waveguide bridge indicates that Lierley hit the structure when he fell. An unconfirmed news report stated that a second tower technician also suffered minor injuries to his hand.
AT&T did not respond to a request to verify whether it was an AT&T project that Lierley was working on. The carrier was also asked what turfing contractor was managing the contract.
Industry insiders believe that it might be Goodman Networks, Inc. of Plano. The company manages many AT&T projects throughout the nation.
Speculation is based upon Goodman issuing a stand-down to its contractor after the close of business yesterday.
Stand-downs, a practice where all employees in a company as well as the company's subcontractors are required to stop all of their client's project work until a safety meeting is held addressing specific concerns, is typically required following a spate of fatalities.
However, there is no industry information available that any death has occurred and Goodman's request to their contractors neither addresses a fatality nor any other reason for a mandatory stand-down.
Their request for the immediate training required states that, "This bulletin is being issued as a reminder of the dangers involved in our industry and to remind all of our employees and contractor personnel of the importance of planning safety into every project."
Goodman did not respond to a request by Wireless Estimator inquiring whether the stand-down was a response to Frontline's documentary and ProPublica's articles earlier this week regarding tower construction safety or whether it was a result of the tower technician who fell, or both. The turfing contractor was also asked if they were managing the Austin project at 2230 E. Ben White Blvd.
Goodman is requesting that the stand-down training must be completed by Tuesday, a deadline that a number of contractors told Wireless Estimator was going to prove to be difficult.
"Many of our people are off today because they've requested it months ago so that they could enjoy a long weekend," said one Midwest contractor. "With Monday being a holiday how do they expect us to get everybody together on Tuesday? We can't."
Another contractor registered concern that Goodman's stand-down is going to affect schedules for all of the other projects they are committed to on Tuesday.
Stand-downs have been criticized by many in the industry as being reactive to client concerns rather than a proactive approach to safety.
The joint Frontline/ProPublica investigation identified that the fatalities on AT&T projects totaled 15 since 2003 – more than at the other three major carriers combined over the same period.
Wireless Estimator's fatality database was used as a resource to be able to identify climber fatalities and then complete the additional research necessary.
AT&T did not go on camera with Frontline, but provided a statement emphasizing that fatalities are going down since 2003. They also pointed out that last year there were no fatalities of tower technicians working on their sites.
The company did not discuss the workers who are seriously injured for life on their projects, such as the Austin worker and others who are not captured in media reports.
In 2010, a 35-year-old Massachusetts tower tech survived a 60 foot fall off of a monopole in Hartford, Vt. He was working on an AT&T project.
Cutting edge second generation of industry
safety tools are a collaborative effort
May 21, 2012 - Wireless Estimator has introduced its second generation Emergency Services Locator and Job Hazard Analysis (JHA) forms to assist the industry in greatly reducing administrative time, but more importantly, to keep workers OSHA compliant and safe.


Using cutting age technology, the all new Emergency Services Locator (ESL) is the nation's only interactive program that - once you enter a job site's address or latitude and longitude - immediately provides fire and law enforcement contact information as well as the nearest hospital information and a route to it along with a map.

The ESL's first version, introduced in 2010, was used to successfully send more than100,000 forms that allowed companies to provide the emergency services information required by OSHA to be accessible on every job site.

Version 2, using three mapping services at one time, a programming breakthrough ensuring accuracy, can also auto-fill a newly introduced JHA that was the collaborative effort of 16 of the industry's leading safety officers in an effort that spanned one year.


The best practices JHA meets and exceeds the ANSI/TIA-1019-A's Check List for Site Evaluation for projects for elevated work that is now required to be used as a minimum assessment.

Since approximately 40% of all wireless projects do not require elevated work, a best practices JHA is also available for civil, electrical and other work. A forms library is also offered.

Wireless Estimator has also introduced its New Project Tracker where you can easily see where wireless projects are being processed in real time during the past two weeks as well as a year to date summary.

Try the ESL and New Project Tracker once, and like other industry contractors, you'll be hooked.
N.J. targeting wireless contractors for not paying prevailing wages to their employees
May 18, 2012 - Prevailing wisdom of many N.J. communications contractors has been that you only have to pay your employees higher prevailing wages if you are working on a project owned and funded by a public agency.
Not so, says the N.J. Department of Labor and Workforce Development, and depending upon the work window of a project a company could be required to compensate a foreman as much as $221 an hour for hanging antennas and lines while he's on the job.
If the threshold amount of $14,178 for a project is exceeded for telecom work on any public property, even absent a contract or funding from a public agency, prevailing wages must be paid, said Ashleigh Chamberlain, Section Chief of the Division of Wage and Hour Compliance.
He said that many communications contractors have recently been cited for failure to comply with the state's Prevailing Wage Act and the Public Works Contractor Registration Act.
In addition, a number of investigations are underway of contractors who performed work on cell towers and they could also be fined for violations of the acts, and be required to compensate their employees for lost wages and benefits, Chamberlain said.
Those wages would be the difference between what the employee was originally paid in his hourly rate and company benefits, and what the county in which the project was located in requires to be paid in prevailing wages and benefits - which could be a considerable amount.
As an example, if a company is doing an LTE upgrade on a structure located on public property in Bergen County, a northern county sitting across the Hudson River from New York, a tower technician running lines and installing antennas - required by the state to be identified as a journeyman electrician - would have to be paid $47.29 an hour and receive an additional $27.66 an hour in benefits.
However, like a number of the state's 21 counties, electricians performing elevated work on a tower must receive an additional percentage of the total. It's 21% in Bergen, so the hourly wage for an L&A climber climbs to $57.22 and benefits jump to $33.47.
If a company's benefits are calculated to be $12.00, a typical amount which would include employer contributions such as paid medical premiums, 401K contributions, etc., the difference in the county's required amount must be paid to the employee in cash or placed in an approved benefits plan.
If compensating a tower tech $90.69 per hour seems problematic with some of today's razor-thin margin carrier projects, it will be even more troubling when overtime kicks in.
Since it's rare that a crew will not work a 10 hour day to complete a project, companies will be required to compensate their tech for two hours of overtime at $136.04 an hour.
But company compliance doesn't stop there. On any job where there are two or more tower technicians, one must be a foreman.
And when a carrier informs the contractor that work must be performed on a Sunday, double time kicks in and the prevailing wage compensation for a foreman would be $221.46 an hour.
"In addition to new construction, work constituting repairs, renovations, alterations, and demolition may be subject to the acts," Chamberlain said.
If a tower consolidator or any other entity is going to erect a tower or do renovations or maintenance on structures on any publically owned land such as along the Garden State Parkway or in a municipality's park, police, fire or any other department's property, such as a community's water tower, prevailing wages must be paid, according to the state's Prevailing Wage Act.

L&A installers compensated more than tower erectors
Although prevailing wages for an ironworker's hourly pay in Bergen County are less than an electrician's at $38.84, the benefits that must be provided are higher at $39.47; however, unlike technicians who are installing antennas and lines on a tower who get an additional 21% of their total compensation for working at heights, ironworkers - who are subject to additional dangers while erecting a new tower or installing antenna booms - are excluded from that benefit.

"It makes absolutely no sense," said one veteran N.J. contractor. "The only thing I can think of is that the IBEW was more powerful than the iron workers' union."

New Jersey's wage act requires the tower owner or carrier lessee on public property to identify in their request for proposal to contractors that prevailing wages must be paid if the total is expected to be over the threshold amount.
In addition, they're required to specify in the contract itself what the prevailing wage rate in the locality is for each craft or trade required for the project.
Carriers don't, said two east coast contractors who actively build sites in N.J. Although Verizon is known on occasion during a bid walk to identify that the project is required to be governed by prevailing wages, others don't, they said.
Chamberlain said, although the lessee would be in violation of the Prevailing Wage Act if they did not include this information in their quotation request and issued contract, it does not absolve the contractor from paying his employees the required county-identified compensation.
Although carriers or their turfing contractors and tower developers/owners can be cited and fined for non compliance with the act, N.J. appears to be primarily focused upon ensuring that workers are compensated fairly since there are no known citations given to the lessee of the telecom property.
"I don't know if they (carriers) are ignorant of the fact that the project must be performed under the prevailing wage act or they just don't want bidders to know about it so that they don't have to spend the additional money," said one contractor.
The added contractor cost is substantial. Since oftentimes 90% of the project is labor, prevailing wage requirements could raise the contract price by as much as 140% or more.
State prevailing wage laws vary greatly. In states where organized labor is comparatively weak, such as Neb., the wage determinations are close to the competitive market rates. Where organized labor is powerful, as in N.J., the prevailing wage law mandates rates that are close to or even exactly the same as construction union rates.
The state's tower maintenance contract requires its contractors to compensate their employees with prevailing wages.
A four year maintenance bid, expiring in 2015, was awarded to Jacobs Telecommunications Inc. for their man-hour bid of $145.75. Trains Tower Inc. also shares the state's work at $207 per hour.
The state is required to pay the companies time and one-half and double time when it is required.
Illinois tower contractor killed in motorcycle crash
May 15, 2012 - Well-known and respected communications contractor Clifford E. Bryan, 36, was killed Sunday afternoon after he reportedly lost control of the
motorcycle he was operating and struck a tree in Bolingbrook, IL.
Bryan was taken to Adventist Bolingbrook Hospital. He was pronounced dead at 7:40 p.m., police said.
Bryan was the President and CEO of Communication Builders, Inc. of Carol Stream since 2002. The company began operations in 1998.
Although he owned the company, he was frequently on site to help his customers conquer their challenging projects.
The full service tower construction and maintenance contractor is also a preferred electrical contractor for a number of carriers.
He is survived by his parents, Judi and Jim Bryan, and his wife, Beth; and their two daughters, Rebecca, 6 and Samantha, 4; and his sister, Shannon.
Visitation will be held at Salerno's Rosedale Chapel, 450 W. Lake St., Roselle, Friday, May 18, 2012, from 3:00-9:00 P.M. A funeral service will be held at 7:00 P.M.

The family is in the process of setting up a trust fund for Cliff's daughters, and they request that in lieu of flowers donations be made to the fund.
LightSquared's future darkens following
Chapter 11 bankruptcy filing
May 15, 2012 - LightSquared Inc., the LTE wholesale network that was heralded in 2010 as the business that would provide robust industry growth for tower owners, contractors and suppliers with its plan to build 40,000 sites that would be up and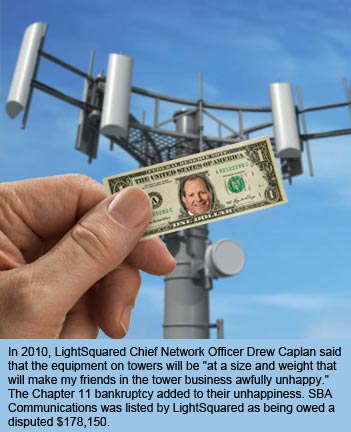 running at the end of 2015, pulled the plug on those ambitious plans yesterday with a Chapter 11 bankruptcy protection filing.
"Today's filing was not an option the company embraced quickly or easily, but it was necessary to protect LightSquared against creditors who were looking for a quick profit, as opposed to our goal to create long-term market competition, job creation, and the promise of wireless connectivity for every American," said Philip Falcone, whose Harbinger Capital Partners is LightSquared's main backer.

In a press release, LightSquared stated that the bankruptcy filing was meant to give it "breathing room" to battle regulatory hurdles while continuing to operate its network.
The filing is the latest setback for LightSqauared's bid to launch a nationwide wireless- network using airwaves previously reserved for satellite use.
The company received an almost fatal blow in February when U.S. regulators rescinded a decision granting the company the right to build its network, based upon studies that showed that it would interfere with GPS signals used by the military and law enforcement agencies.
The company said it fully expects to continue normal operations throughout this process. All LightSquared distribution partners and customers, including public safety, emergency response, government and military users of LightSquared's satellite-based communications services can continue to rely on LightSquared to provide them with mission critical communications services, according to their statement.
However, infrastructure suppliers and contractors might be weighing whether they want to continue supporting what may be an inescapable failure.
"I don't know what our position is going to be on accepting any additional orders. We are just going to have to see what their plan is in order to make any valid decision," said one major manufacturer's sales executive whose company has been providing materials for the build-out, but was owed little in project receivables.
SBA Communications was identified as being one of the Reston, Va.-based company's top 20 creditors with unsecured claims. Although the amount is disputed, LightSquared listed owing SBA $178,150.
Boeing Satellite Systems Inc heads the list in the bankruptcy filing at $7,483,005 followed by Alcatel at $7,343,549.
FCC issues guidance on antenna structure registrations' environmental process
May 14, 2012 - The FCC has released guidance on the December 2011-approved changes in the process required for applicants to file FCC Form 854, Antenna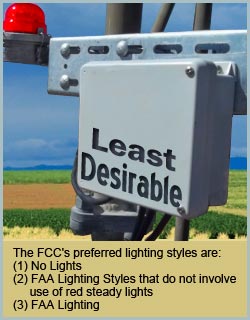 Structure Registration and on the new process for members of the public to file requests for environmental review.

The public notice also states that in the future the FCC intends to provide additional guidance materials relating to the process on their web site page by today.

To assist filers with questions they may have, the FCC's Wireless Telecommunications Bureau will be holding a live webcast on the changes to the filing procedures on May 21, 2012, at 11:00 AM, EST. The webcast will be available at www.fcc.gov/live.

The environmental notification process applies to the following types of filings that are submitted in the ASR system:

1. All new tower registrations unless:
• Another federal agency has taken responsibility for the environmental review; or
• An emergency waiver is granted.

2. Modifications to existing tower registrations if:
• An antenna is being placed on an existing tower or non-tower structure and the placement of the antenna would increase the existing height of the structure by more than 10% or 20 feet, whichever is greater; or
• Lighting is being added to a previously unlit tower; or
• Existing lighting is being modified from a more preferred lighting configuration to a less preferred lighting configuration.

3. Amendments to pending applications outlined in 1 and 2 above if:
• There is any change in the type of structure; or
• There is any change in the coordinates of the tower location; or
• There is an increase in the overall height of the structure; or
• There is a change from a more preferred lighting configuration to a less preferred lighting configuration; or
• An Environmental Assessment is added.

The FCC's preferred lighting styles are (1) No lights; (2) FAA Lighting Styles that do not involve use of red steady lights; and (3) FAA Lighting.
Climber safety and cost cited for change
in design of 1 World Trade Center
May 12, 2012 - It's challenging to identify if this week's announcement that 1 World Trade Center will not have a radome covering its 408-foot antenna structure was due to a $20-million construction
savings or because the developers were concerned about the safety of climbers accessing it, or both, but what is known is that the change could strip it of its title as North America's tallest building when it's completed in 2013.
Omitting the shroud on the 1,776-foot New York building raises the question of whether the spire at the top would be counted toward the official height of the structure, or whether it would rank as the third-tallest in the nation, at 1,368 feet to the roof—behind Chicago's Willis Tower and a Donald Trump-built tower.

In the traditional way of measuring height, architectural spires are included, while antennas aren't. While the Port Authority of New York and New Jersey and developer Douglas Durst, owners of the building, insist it is still a spire, the authority on such matters—the Council on Tall Buildings and Urban Habitat—hasn't yet weighed in.
"Eliminating this integral part of the building's design and leaving an exposed antenna and equipment is unfortunate," David Childs, the building's lead designer, said in a statement. "We stand ready to work with the Port on an alternate design."
Durst said that it would have been almost impossible to carry out repairs on the exterior of the shell, as maintenance workers wouldn't be able to safely access it. "They should have done a better job designing it," Durst said of the radome.
Removing it "is not the end of the world," he said in an interview in The Wall Street Journal.

Childs also said that the tower's architect, Skidmore Owings & Merrill LLP, had devised a workable maintenance plan with engineering consultants hired for the purpose.
In order to repair or replace a broken panel on the structure's proposed enclosure, a climber would have to scale the spire, attach a cable to the top, lower the cable about 2,000 feet down, and then use it to hoist a 2,000-pound piece of fiberglass back to the top, said Jordan Barowitz, a spokesman for the building's developer, according to the Associated Press.
Although tall tower riggers used to erecting structures higher than the 1 World Trade Center and installing antennas six times the weight of the building's radome panel might disagree, Barowitz said, "This is the stuff of 'Mission Impossible,' not skyscraper construction."
Defending the structure's tallest building status, Barowitz said when the building is complete in 18 months or so, there will be no broadcast equipment on the spire.
"It will be a spire, lit with LEDs. I don't know how you could call that an antenna. It's a spire from which broadcast equipment will be suspended."
For additional information about the possibility of the building being declassified as the U.S.'s tallest building once it is completed, click here.
Crown Castle gets a second pass on quarterly lighting inspection requirement
May 9, 2012 - The Wireless Telecommunications Bureau (WTB) of the FCC granted a waiver from the quarterly inspection requirement for antenna structure lighting monitoring to Crown Castle USA Inc. and AT&T Services Inc.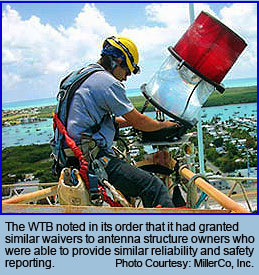 Crown leases 1,564 towers from AT&T that fall under the quarterly inspection requirement.

The country's largest tower owner employs remote automatic monitoring systems on some of the leased towers. The systems are equipped with tracking mechanisms that evaluate the remote monitoring technology.

Crown Castle and AT&T informed the FCC that the quarterly inspections of antenna structure lighting monitoring systems have been rendered unnecessary because of technological advancements associated with the particular monitoring systems that Crown Castle employs -- the Opto 22 B3000 and Simple Com Tools Com 3000 Monitoring Systems, a monitoring system developed by Crown Castle.
The WTB agreed, and issued the order after receiving input from the Airspace and Rules Group of the Federal Aviation Administration that the agency did not oppose Crown's system.
In 2007, the WTP issued Crown Castle and American Tower Corporation a similar waiver.
American Tower's approved monitoring system was the Eagle Monitoring System, a product of Flash Technology.
At that time the Aircraft Owners and Pilots association (AOPA) objected to the annual request, stating that the technology used by American Tower required further evaluation.
AOPA indicated that it favored introduction and use of new technologies, but believed that quarterly inspections should continue until these new technologies have been thoroughly evaluated.
The FCC did not find their concerns persuasive. View article.
"Cell Tower Deaths" rescheduled for May 22
May 1, 2012 - The PBS Frontline documentary, "Cell Tower Deaths" - originally scheduled for Feb. 21 - will air on May 22.
A spokesperson for Frontline would not identify why the program had been pulled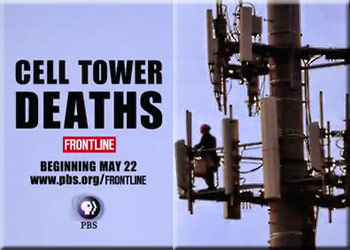 from PBS's schedule earlier this year. However, the production company for Frontline had reportedly been filming additional interviews as of mid April.
Information in their promotional trailer identifies that, according to their interviews and research:

• Independent contractors who are building and servicing America's cellular infrastructure are 10 times more likely than an average construction worker to die on the job;

• Complex layers of subcontracting insulate the carriers against liability, despite the fact that they set the aggressive schedule that can force subcontractors to cut corners in order to meet deadlines, and those ambitious timeframes may be one of the reasons why workers are dying;

• There is a hidden cost that comes with the demand for better and faster cell phone service.

Although some tower climbers have said that they are under pressure to cut corners, layers of subcontracting make it difficult for OSHA inspectors to determine fault when a tower worker is killed or injured, according to Frontline.
Due to a perceived higher fatality rate on AT&T projects over the years, the carrier is expected to be discussed in the 30-minute program.
An AT&T spokesperson said that the company had been contacted by Frontline, but he declined to state whether they had changed their earlier decision not to appear on camera.
Following Frontline's air date announcement in February, AT&T appeared to be concerned about how the program might impact their image.
"AT&T is concerned that a Frontline investigation is being conducted to provide information for a program they will run later in February," a Black & Veatch Corporation turf director informed the firm's contractors on February 8 in an email, cautioning them to avoid any media contact.
AT&T also fired up its public relations firm, Brunswick Group, to research climber fatalities.
"Cell Tower Deaths" is a joint investigation of Frontline and web-based ProPublica.
ProPublica was a recipient of the 2011 Pulitzer Prize in National Reporting and a 2010 Pulitzer Prize in Investigative Reporting.
See related articles.
It's no longer a walk in the park for governments expecting high income from towercos
April 16, 2012 - The lure of easy money from tower companies to help fund operational budgets for county and state parks may not be as available as park directors think, and requests for quotations may go unanswered if legacy revenues are expected, which recently occurred in Miami-Dade County, Fla.


To prop up services, the Parks, Recreation and Open Space's Department put out a proposal to towercos to install and operate cell towers in up to 22 parks across the South Florida county.

However, not one company offered a proposal for the January bid and Miami-Dade's optimistic annual income of $2.64 million from tower companies is still no closer to being put into county coffers.

Two tower company developers who reviewed the bid for Wireless Estimator believe the revenue baselines were too high.

"Miami is a very mature market, and it looks like the county backed into the numbers based upon an unduly rosy scenario that they found out was impossible to replicate," said tower site developer John Paleski, President of Old Bridge, N.J.-based Subcarrier Communications.

Miami-Dade PROS originally thought that they could receive revenues of $80,000 to $120,000 per cell tower. The presumption was based upon current income being obtained by two towers on park land as well as guidance from a Michigan law firm specializing in telecommunications.

One tower in Tamiami Park had revenue from October 1997 to July 2010 of $1.21 million, averaging $88,000 per year. The second structure in Haulover Park has received an income from its sole tenant, AT&T, of $19,998 per year from 1992 to 2010, according to county documents.

The minimums in the RFP required an annual ground lease of $24,000 and a 3% per year increase as well as a 40% sublicense fee for each of up to four tenants, with an increase to those revenues of 3% per year.

The RFP required individual site bidding with a one-time, non-reimbursable option fee of $5,000.

Paleski, who has been developing and leasing tower sites since 1986, said that the lengths of leases being offered by some park systems and municipalities are oftentimes unacceptable.

Kevin Asher, Supervisor of Special Projects for the Miami-Dade PROS, believes that the RFP might have been a little ambitious in its expectations after he spoke with nine tower companies during a work session in order to review how the bid could be more equitable so that it could be reissued within a month or two.

"They found that when they ran the numbers it didn't make sense for them to bid," he said.

Asher said that the 120-foot limitation for the flagpoles, without a flag, was an issue and it will most likely be changed to 140 feet to accommodate carriers.

The minimum annual ground lease of $24,000 might see a considerable reduction, according to Asher. It is expected that it will be approximately $18,000 and will also include the first tenant.

Revenue sharing from additional tenants may drop from 40% to 30% and the lease term will most likely change to a more palatable 20-year term with two additional five-year options. Miami-Dade originally offered a 10-year term with four additional five-year options.

The bid will also cap the contractor's cost at $50,000 at each site for the bid requirement to provide lightning prediction equipment, security cameras and wireless internet access.

Asher said that one tower company has expressed an interested in a majority of the sites. Nevertheless, it will not be known until bid opening day whether they move forward on placing a $5,000 non-refundable option fee on multiple park locations.

"If they do, it will give them the opportunity to see if they can make the deal work. If they can't they'll just forfeit it. It's small change for them," said Ken Schmidt, President of Steel in the Air, Inc., a tower leasing consulting firm.

Average expected revenue amounts are elusive
A provision in a bill now before the Connecticut General Assembly, An Act Modernizing the State's Telecommunications Laws (SB 447), would allow communications companies to build towers in state parks and forests, with the approval of the commissioner of the Department of Energy and Environmental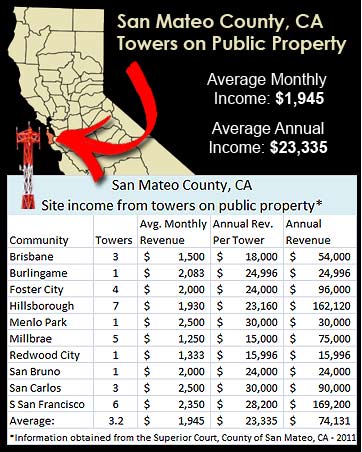 Protection.

This would fundamentally change the current state practice of not allowing towers on watershed land, state parks or state forests.

Although there are a number of organizations and residents against it, some state park officials are looking forward to the revenue sharing opportunities that will be presented.

However, it will be a work in progress for state officials as they try to find out what are reasonable fees in an industry where there are few common denominators due to site-specific metrics.

Lease rates vary from state to state and even from city to city where leases are on public property.

In example, Miami-Dade failed in its attempt to get a minimum of $24,000 for a ground lease and 40% of tenant revenues, but Ramapo, NY is looking to ink a deal where they will receive $36,000 a year for a Sprint tower and 25% of the revenue from each additional co-locator.

Yet, this week Sprint is building a cell tower on school property in Scottsdale, Ariz. under an agreement where the school district receives an annual payment of $14,400.

Head 750 miles northwest to San Mateo County in Calif. and you'll find the total annual revenue per tower at $23,335 - see chart above.

Earlier this year the Lynchburg, Va. City Council was approached by a site development company to consider partnering with them.

It was presented during a February council meeting that the fiscal impact upon the city would be: when a tower was built the city would receive a one-time payment of $20,000 and $5,000 each time a carrier co-located on the structure.

In addition, annual revenue of $12,000 would be provided to the city for each carrier that was a tenant on the tower.

The projected $36,000 per three-tenant tower appeared attractive to council members, but the city's staff recommended that proposals should be obtained from other companies if they were to move forward with a tower revenue sharing plan.

With each carrier's revenue to the city of $1,000 per month it is difficult to identify what percentage Lynchburg would be receiving from the carriers, but it could represent as much as 60% or higher.

There is no definitive average price a carrier is paying for a co-location. A pure guesstimate from those entrenched in tower leasing and ownership believe it's anywhere from $1,500 to $2,100 per month.
Crop duster survives crash after clipping guy wire
April 10, 2012 - A Colorado crop-duster pilot didn't walk away from a serious accident yesterday, but miraculously only suffered a broken arm, collarbone and severely injured his leg after his 1999 fixed-wing plane crashed at the base of an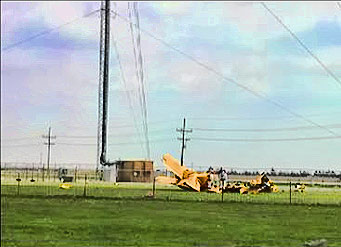 American Tower Corporation 306-foot guyed tower in Lakin, Kan.
The pilot, identified as 58-year-old David Burr, of Montrose, was taken to Kearny County Hospital and later to Wichita's Via Christi-St. Francis Hospital, where he was listed in critical condition Monday afternoon.
The Kansas Highway Patrol said the aircraft's right wing clipped a guy wire on the cell tower. The plane hit the ground nose-first near U.S. 50 and flipped over.
The crop-duster was registered to Tri Rotor Spray and Chemical, in the southwestern town of Ulysses.
The emergency call was reported to KHP dispatch about 9:30 a.m. The plane went down soon after taking off from an airport about three miles east of Lakin. Flying conditions were reportedly cloudy at the time of the accident.
American Tower dispatched a tower crew to identify the damage to the tower and what procedures will be necessary to stabilize the structure.
The Kansas Department of Transportation had closed US-50 in Kearny County, approximately three-and-a-half miles east of the junction of US-50 and K-25.
Hazardous materials teams were also called to scene because the plane was full of chemicals at takeoff.
Last month, neighboring Idaho Gov. C.C. "Butch" Otters signed into law a bill that will assist crop-duster pilots.
Although the new law requires owners of rural towers between 50 feet tall and the minimum Federal Aviation Administration regulation threshold of 200 feet tall to be clearly marked for low-flying aircraft, it excludes communications towers and power poles.
The law was passed after pilots registered their concerns about meteorological towers popping up throughout the state to gather data for siting wind turbines.
Cramer's romancing the steel of
American Tower seems to be cooling
April 5, 2012 - CNBC's popular "Mad Money" host Jim Cramer has had a love affair with American Tower Corporation since 2009, calling the Boston-based tower consolidator "the gold standard" to be used for investing in tower
companies.
The financial analyst, who will moderate a May 8 roundtable discussion at the CTIA Wireless 2012 show along with AT&T, Sprint Nextel, T-Mobile and Verizon CEOs, has entitled American Tower the "tsunami" stock to hang on to.
Cramer has highlighted ATC and has had CEO Jim Taiclet on his show more than any other tower company.
"I like that stock so much. I've always been behind it... that is just one smoking good company," Cramer said during a broadcast earlier this year.
But last night the former hedge fund manager announced to over 300,000 viewers that he is now smitten with SBA Communications and it appears that his smoking hot affair with American Tower is cooling. He called SBA a "red hot stock".
Cramer said that both SBA and American Tower are superior to Crown Castle, but among the two, he likes SBA more, "because it has one of the highest quality tower portfolios in the industry, meaning their towers are in the right places. And it's much more of a growth play, given that it's only a quarter of the size of American Tower."
He noted that SBA recently closed a secondary offering of stock which will give investors a rare opportunity to buy shares at a discount to where they would normally trade.
Cramer told his audience to use this weakness to buy in to SBA, stating it's become a "rocket ship" of a stock. Although stocks traded flat in mid morning, American Tower was up $0.41; SBA gained $0.85.
Indian portfolio could be troubling
American Tower's presence in India has always been a primary reason why Cramer believes that the company will do well with its international expansion program.
However, lately India has become one of the more difficult countries for tower owners to maintain their profit levels.
Oversupply of towers in urban areas and viability issues in rural areas have cut into new builds in the country. In addition, cut-throat competition between carriers has forced tower owners to renegotiate lease costs.
Limited fiber and microwave backhaul have created problems in the country where the tenancy rate for towers is 1.6 versus approximately 2.75 in the U.S.
Because more than 70% of towers in India receive grid power for less than 12 hours a day, tower companies must use diesel generators half of the day costing three times more.
India's Supreme Court yesterday further crippled expected opportunities for industry growth when it didn't overturn an appeal by several local operators calling for it to review its controversial decision two months ago to cancel a number of 2G licenses.
Indian tower consolidator Viom Networks announced that it will cut 40 percent of its workforce since the company is expecting to lose its biggest client, Uninor due to the supreme court decision.
It is not known how the license cancellations will affect American Tower. According to their latest published documents, the company has approximately 22,500 towers in the U.S. In India their tower count is 8,000.
Financial media sells other potential
T-Mobile tower suitors short
April 2, 2012 - Every time that T-Mobile's towers go back on the bidding block financial writers and analysts highlight only three players that appear to be capable of making the approximately $3 billion deal.
Last Thursday was no exception when the long-rumored sale of T-Mobile's towers was recycled again by Bloomberg, in a short article authored by three reporters that T-Mobile's parent company, Deutsche Telekom, has hired the boutique investment bank TAP Advisors to assist in disposing of the assets.

They cited unnamed sources familiar with the matter.

In the article, Kevin Smithen, an analyst at Macquarie Capital USA Inc. rounded up the usual suspect suitors, American Tower Corp., Crown Castle International Corp. and SBA Communications Corp. as potential buyers.
Dozens of media outlets cut and pasted Bloomberg's article reporting that Crown Castle and SBA declined to comment and American Tower didn't return calls seeking comment.
Clayton Funk, Managing Director for Media Venture Partners, LLC believes that the top three U.S. tower companies could see other competitors.
"I think that it's easy to assume the public tower companies, because of their low cost of capital, will be the most aggressive on price, but it would be shortsighted to rule out private tower companies being in the mix to buy the T-Mobile portfolio," Funk said.
Although Marc Ganzi, Chief Executive Officer of Global Tower Partners, said that GTP is not currently looking at T-Mobile's towers and he could not comment on whether or not they have a process in place to sell their tower assets, he said, "We have looked at many tower portfolios through the years and T-Mobile assets have been no exception."
While larger privately held companies like GTP and TowerCo could be interested in the towers, there could also be other management teams and smaller companies who could raise a significant amount of capital to make a run at the portfolio, Funk said.
"Mobilitie, as an example, was able to amass a significant number of towers in a relatively short time period by offering the anchor tenants attractive lease terms," Funk said.
He believes a deal like that could give T-Mobile a lot of operational freedom on their tower post-closing and it could be as big of a factor as the highest price.
Mobilitie raised $1.1 billion in capital through a sale of over 2,300 tower and DAS sites to SBA . The deal, announced in February, was finalized today, according to SBA.

SBA said that Mobilitie will sell all of the 5.3 million shares of Class A stock it issued as part of deal.

TAP is on top of major tower deals
It is expected that TAP Advisors will not have to rely upon Bloomberg's article to find potential bidders. In January, the company provided financial advice to Wireless Capital Partners LLC for a deal where Crown Castle paid $500 million for the company's assets.
TAP was also the financial advisor for GS Cell Site Holding LLC. GTP bought the property interests of 1,600 of their communications sites last September for an undisclosed price.
Prior to joining TAP as a Vice President, Aye Thiha was involved in Verizon Wireless' acquisition of Alltel and TowerCo's acquisition of Sprint Nextel's tower portfolio as well as the sale of SureWest's tower assets to GTP.
In addition, TAP's senior advisor, Ronald LeMay, served as the first employee and CEO of Sprint PCS and guided it from start-up to $10 billion in revenue.
"GTP would look at any portfolio of size that entered the market and has been historically one of the most active buyers of tower assets in the sector since its inception. In fact, we have closed 297 distinct M&A transactions since 2003, so we would have great interest in the T-Mobile portfolio," Ganzi said.
As the nation's largest private owner of towers in the U.S., if GTP were to be successful with an acquisition of T-Mobile's towers, their portfolio would surpass the tower count of their Boca Raton, Fla. neighbor and competitor, SBA.
Four months after T-Mobile first announced that it was going to sell its towers in 2007 GTP was acquired by Macquarie Group.
Unless AT&T sold their approximately 10,000 towers, if Crown Castle or American Tower purchased the T-Mobile structures, they would maintain bragging rights for years to come with over 30,000 towers in their U.S. portfolio.
The highest concentration of T-Mobile's 8,700 towers is in Calif.
T-Mobile has considered the sale as part of its self-funding strategy. The towers were being shopped last year, but there were no further negotiations after AT&T announced that it had agreed to buy T-Mobile USA from Deutsche Telekom for $39 billion.
The deal that would create the largest wireless carrier in the nation fell through.
AT&T officially backed out of its proposed merger with T-Mobile last December. The deal had been undergoing intense scrutiny from the FCC and DOJ. A $4 billion breakup penalty was received by Deutsche Telecom.
T-Mobile has said that it will launch LTE service in its AWS spectrum sometime in 2013 as it seeks to regain its competitive edge slowed by the failed merger.
NATE lives up to its reputation for providing
the industry's highest-rated show
March 29, 2012 - What has become known as the top-rated industry event for the tower and wireless infrastructure community again didn't fail to disappoint 850 attendees last month at the National Association of Tower Erectors 17th Annual
Exhibition and Show.
Initial reports from attendee surveys indicate it was one of the trade group's best conferences ever.
The safety-driven show saw more than 500 NATE members and guests at the opening reception kicking off the four-day event for the first time in San Antonio, Tex.

Pictures of the networking mixer, educational sessions, meetings and participating exhibitors can be seen here.
According to NATE Chairman of the Board Jim Coleman, conversations with attendees were very up-beat, with the majority having and continuing to expect to have a good business year.
"I hope everyone enjoyed all the great educational sessions, not to mention the opportunity to visit and network with each other. In addition, I hope all who attended left re-energized and with a resolve to improve and approach each day as an opportunity to renew their commitment to safety," said Coleman.
He further stated that NATE needs everyone's voice to help face issues challenging the organization on a daily basis and he invites current and new members to become active in the association's mission. "After all, it is our differences, yet our common goals, that help make NATE great," said Coleman.
NATE Operations Director Paula Nurnberg credits the host city's beautiful and friendly environment for providing the icing on the convention's cake.
Nurnberg said that many first time visitors to San Antonio were captivated by the city's hospitality and the world-famous San Antonio River Walk, an urban sanctuary of shops and restaurants that winds one story below the bustling street level.
She said that the association is grateful to the numerous supporters of the event, from financial underwriters to the more than 80 exhibitors as well as the members and other participants that assisted in providing 18 outstanding educational sessions.
Trade Show Chairman Ken Meador said that the diversity of exhibiting companies offered a wide range of products geared to the industry.
"NATE greatly appreciates the continued and growing support of all the exhibitors. Individually and collectively the exhibiting companies at the annual NATE event reaffirm their commitment to the industry by presenting the very latest and best products and services. And, again this year, these participating companies afforded our attendees a true 'one-stop-shop' in aiding the business of doing our business more safely and effectively," Meador said.
With the emphasis on safety, the Best of Show Awards went to PRINOTH, Primus Electronics and Anritsu Company.
"If you missed this year's conference, plan to join us next year for another first time venue in Fort Worth, Tex.," said Nurnberg.
The 18th annual NATE Conference & Exposition will be held Feb. 18-21, 2013.
The first registrant for the show is expected to be Wayne Busby of Atlantic Tower Services, Inc. who won this year's grand prize drawing which included round trip airfare and accommodations to next year's conference.
ERI Installations and IOSHA agree to a fine
of $18,000 and a new business venture
March 28, 2012 - ERI Installations, Inc. and the Indiana Occupational Safety and Health Administration have reached an agreement where ERI's fines and safety violations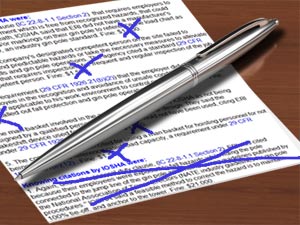 have been greatly reduced.
Two of ERI's tower erectors were killed on April 13, 2011 when they fell approximately 320 feet from a tower being constructed in Lafayette. They were reportedly attached to a 90-foot gin pole that was being jumped prior to the crew raising additional sections when a rigging failure caused the pole to come free of the tower.
Last September, IOSHA proposed a $91,500 fine for the Chandler, Ind. company and ERI contested the charges and negotiated the violations and fines down to $18,000, less than 20% of the original proposed amount, according to documents provided by IOSHA to Wireless Estimator.
Four "Serious" citation fine amounts, each at $1,500, were reduced to $1,000 for each violation. A fifth citation - using a man-basket not being designed by a qualified person familiar with structural design - was deleted.
A "Knowing" citation, equal to a "Willful" citation under Federal OSHA guidelines, was also deleted.
Under the general duty clause, ERI was cited because their employees were exposed to fall hazards while riding the gin pole and "not following guidelines published by the National Association of Tower Erectors (NATE industry guidelines for gin pole procedures)."
IOSHA said a feasible method to correct the hazard is to maintain 100% tie-off, and anchor to the tower. The fine was $21,000.
A "Knowing" citation for regarding the use of personal fall protection was reduced to a "Serious" citation and the fine was lowered to $7,000 from $21,000.
IOSHA originally said that ERI's employees installing sections "were not provided with adequate fall protection."
The negotiated citation now reads: "On or about April l3, 2011, in violation of 29 CFR 1926.95(a), the employees were exposed to fall hazards while performing duties on the tower being erected."
It also states that ERI is not admitting to failing to provide fall protection.
A "Knowing" citation identifying that ERI's erectors were not provided fall protection during the gin pole jumping operations and were not 100% tied-off when moving from point to point as well as not having fall protection when they were accessing the man-basket was also reduced to "Serious" and the $21,000 was reduced to $7,000.
IOSHA also said that ERI "is not admitting to failing to provide fall protection and is not admitting that safety nets are necessary or advisable in tower erection or service work."

The revised citation states ERI's "employees were exposed to fall hazards while performing duties on the tower being erected."
Under 29 CFR 1926.105(a) of which IOSHA used for the original violation charge, it is stated that safety lines or safety belts should be used, but if they are impractical a safety net shall be provided.
A citation stating that ERI failed to mark its gin pole with the safe working load limits was deleted along with its $21,000 penalty.

Agreement requires ERI to provide training to industry
IOSHA imposed two requirements upon ERI that have not been proposed by federal or state OSHAs in any of the more than 50 closed cases reviewed by Wireless Estimator since 2003.
ERI agreed to "conduct training regarding proper rigging and operation of gin poles for tower erection and Respondent shall offer such training to other persons and contractors in the industry on a 'fee for training basis'."
"Why Indiana's OSHA would require them to provide a training course and allow them to charge whatever they want for it is incredible," said one safety training company executive who requested that his name not be published. "Doesn't ERI or OSHA know that there is already a standard out there that covers the proper use and rigging of a gin pole?"
IOSHA also wrote that ERI must agree that "any training regarding safe climbing technique and/or fall protection will instruct that climbers shall maintain 100% fall protection by use of [a] fall protection system which must always include a full body harness and connecting means between the harness and an anchorage or anchorage connector. Such connecting means may consist of a lanyard, energy absorber, fall arrester, lifeline, self-retracting, lanyard or suitable combinations of these."

The negotiated agreement must still be formalized by being presented in April to the Indiana Board of Safety Review to become a final order, according to Indiana Department of Labor spokesman Robert Dittmer.
IOSHA spent over four months investigating the fatalities.
Crown Castle's peek at contractor's full set of books is disallowed by high court
March 27, 2012 - The Wisconsin Supreme Court has ruled that a non-judgment debtor third party, Orion Logistics, LLC, does not have to testify at a supplemental proceeding
where Crown Castle USA, Inc. intended to examine Orion's assets to determine if money was transferred by the tower construction contractor to evade paying a judgment.
Crown had obtained a judgment in Pennsylvania against Orion Construction Group, LLC, a Wisconsin company whose sole owner is Douglas Larson.
The default judgment for $496,000 was based on Crown Castle's claim that Orion performed defective structural reinforcement work to cellular towers in Chicago.
Three years ago, Crown sought to enforce the judgment in Wisconsin and a court commissioner gave Orion one month to provide Crown with all records pertaining to its assets.
Six months later, Orion provided Larson's personal tax returns from 2005, 2006 and 2007, and an accounting spreadsheet indicating a $210,831 account receivable from Crown.

A letter from Orion's attorney advised that there were no separate tax returns for Orion because it was a single-member LLC and the company had no assets.
Crown then sought and obtained an order requiring financial disclosure from a different LLC owned by Larson, Orion Logistics, LLC. Orion Logistics appealed, but the Court of Appeals affirmed in an opinion by Judge Edward R. Brunner in 2010.
The court of appeals supported its conclusion by stating that property transfers between a judgment debtor and related business entities present the risk of fraud and Crown should have the opportunity to ensure that fraud doesn't take
place.
Orion Logistics then sought review before the Wisconsin Supreme Court and last week in a 4-3 vote, the court overruled the appellate court's decision, stating that it created a narrow rule to harmonize two statutes that were otherwise in conflict, but did not create a general rule that allowed Crown to require Orion to testify.

Chief Judge assails the decision
Chief Judge Shirley S. Abrahamson strongly disagreed, stating, "The majority opinion is an anti-creditor opinion that emasculates Chapter 816 of the statutes. It empowers debtors to hide their assets from creditors who have procured valid, enforceable judgments. It will hinder the ability of all judgment creditors to recover payment from all judgment debtors (individuals and corporations alike)."

Justices Ann Walsh Bradley and N. Patrick Crooks agreed with her dissention.
Orion's attorneys may have benefited by Justice Walsh's inability to sway Justice David Prosser's opinion.
Last year, Justice Walsh accused Justice Prosser of grabbing her neck in a chokehold during an argument. A special prosecutor said last August that no charges would be filed.
Justice Abrahamson's chance of convincing Justice Prosser that the decision would be injurious to creditors would be equally as difficult.
In a 2010 incident, Justice Prosser reportedly told Justice Abrahamson, "you are a bitch," and also stated: "There will be a war against you and it will not be a ground war."

To add to the Supreme Court's tarnished reputation, Justice Michael Gableman, who wrote the opinion that ruled against Crown's law firm, should have recused himself from the case due to a conflict of interest, according to legal observers.

The tower owner's legal firm, Michael Best & Friedrich, LLP, defended Justice Gableman and provided him with two years of legal work at no charge when he was alleged to have violated judicial ethics rules by lying in a campaign ad.

Although he ruled against the firm and showed that there was no bias in his judgment, a number of attorneys believe that he should have stepped aside prior to hearing the case because of his relationship with the firm.

Attorney Nathan Moenck told the court that Crown has started an action for fraudulent conveyance. Oral arguments can be viewed here.
Prince says he's been given a "death sentence"
AT&T cell site developer sentenced to 30 years
for bank and bankruptcy fraud
UPDATE: March 23, 2012 - Following Clovis Prince's sentencing to 30 years in prison on March 9, 2012, the court allowed him to not pay court costs for any further legal action due to his lack of financial resources. It also assigned Tyler, Tex. attorney Carlo D. Angelo to represent Prince in his appeal.
Prince said they had no right to designate Angelo, and on March 20, 2012 he filed an emergency motion with the court stating that he was capable of defending himself pro se.
"The facts and circumstances of this case is of such a nature that it would take an appointed counsel years to adequately be able to understand, discuss and argue the facts and issues," Prince said.
Prince said he "is formally trained from the University of Oklahoma, School of Law as a legal assistant, and is capable of making his argument on his direct appeal."
The university doesn't have a School of Law, but a College of Law and although they issue a certificate, it is accompanied by a statement that "the legal assistant cannot represent clients in court or perform any legal service without the supervision of a licensed lawyer."
If the court takes Prince's certificate into consideration, it will first have to see if it is a forgery.
During Prince's trial he was found guilty of forging two ING annuities and altering two cashed in annuities valued at millions of dollars. They were used as collateral for loans.
- - - - - - - - - - - - -

March 15, 2012 - U.S. District Court Judge David Folsom sentenced former cell site build-to-suit and project management entrepreneur Clovis Prince to 30 years in prison on Friday and required him to pay restitution of $13,640,425 following his conviction in 2010 of 23 counts of bankruptcy fraud and 15 counts of bank fraud.

Jurors had previously returned an additional verdict of a judgment in the amount of $15,477,554, money illegally obtained by Prince, most of which is unaccounted for in his bankruptcy financial statements.
Following the jury's Dec. 9, 2010 verdict after less than three hours of deliberation after his 14-day trial, Prince's standby attorney, Don Bailey, filed a motion, approved by Judge Folsom, to have Prince evaluated to see if he suffers from a narcissistic personality disorder.
Bailey said if Prince is found to have the disorder, following the $16,000 study, it would not fit the basis for an insanity or competency defense, but would show a diminished capacity that should be considered at sentencing.
Judge Folsom may have taken the sealed psychiatric report into consideration last week by allowing Prince's jail sentences to run concurrently.

Sentenced to maximum possible on first count
However, Folsom did sentence Prince to the maximum allowable of 30 years for one count of trying to defraud eight banks by pledging non-existent assets, among other misrepresentations.

An attorney familiar with federal sentencing said he was not aware of 30 years ever being given in Texas in recent years for bank fraud.

Last June, U.S. District Judge Richard Schell, also serving in Judge Folsom's Eastern District of Texas, sentenced a Texas man to eight years for bank fraud. He was accused of submitting fraudulent personal financial information to a bank and causing losses to investors through his radio talk show of up to $7 million. His restitution amount was $4.6 million.

It was acknowledged during Prince's trial that he had forged signatures on annuities valued at approximately $5 million that were pledged for bank loans.

Two annuities owned by Prince were used as collateral in 2008, but had been cashed in during 2006. Another two were counterfeit documents, reportedly cut and pasted together by Prince.

He was also given 10 years each for 14 counts of illegally transferring millions of dollars in fraudulently obtained money, but the concurrent sentencing requires him to serve only 30 years.
Prince received an additional five years for bankruptcy fraud, but that will also run concurrent with the 30 year sentence. He could have received the maximum allowable sentence of 15 years.

If Prince serves his full term, he will be released when he is 92-years old, but will be required to be on supervised release for another 5 years.

Assistant United States Attorney Randall Blake, who prosecuted Prince, informed Wireless Estimator that he fully expects that Prince will serve his entire term.

According to Federal good conduct guidelines, the earliest Prince could be released would be after he served more than 26 years.

Judge Folsom also recommended that while incarcerated, Prince should participate in the Inmate Financial Responsibility Program in addition to a program of mental health treatment.

Prince says the court gave him a death sentence
In a motion filed yesterday by Prince for miscellaneous relief, he argued that the court had imposed a death sentence upon him, citing that the average life expectancy for a black male is 72 years, according to a statistic he found in USA Today.

He further stated that the reason the court imposed such a harsh sentence is because Judge Folsom said that he "showed no remorse, even today."

Prince said that he had argued his innocence of the alleged crimes and "rejected multiple plea agreement offers by the prosecution prior to trial, even the day of trial commencement; and after the close of the government's case."

He maintains that after the jury verdict, "the prosecution attempted to enter into a plea agreement post verdict."

An attorney familiar with the Prince trial stated that it was "very unlikely" that the prosecution offered him a plea following his conviction. He said the prosecution had offered Prince a 30-year term accompanied by his agreement to forfeiture and restitution in exchange for a plea of guilty and his waiver of appeal.

Bank recoveries appear to be limited
"Clovis Prince's fraudulent schemes harmed many people and we are pleased that Mr. Prince has been brought to justice," said Dallas attorney Stephen Rasch of Thompson & Knight LLP.

Rasch represented American Bank of Texas in litigation against Clovis Prince. His client lost $4,882,879 through Prince's corrupt dealings.

Six other financial institutions suffered an additional $8.75 million in losses. Although a number of homes with some equity in addition to some other assets were found by the bankruptcy court, it is likely that the banks will not recover much of their shortfalls.

Based upon observing the defendant during the trial, Bailey said that Prince appeared to be suffering from a personality disorder which showed that he was preoccupied with fantasies of unlimited success, power and brilliance; required excessive admiration; had a sense of entitlement; was arrogant and had a lack of empathy towards others, among other areas identifiable with a self-absorbed personality.

Prince didn't object to Bailey's analysis since it could result in a reduction of the time he would have to serve.

Prince had elected to serve "pro se" as his own counsel for the bank fraud and money

laundering counts and was found by Bailey and Judge Folsom as being competent to represent himself in the proceedings.

Please see: Roadmap for incompetence of all his attorneys is drawn
FCC issues $33,000 in fines after weak excuses
March 11, 2012 - Ignoring what sounds like the dog ate my homework defense, the FCC fined two broadcasters a total of $33,000 for violations.
WNFO's owner, Walter Czura, was fined $25,000 for tower fencing, public inspection
file, and Emergency Alert System equipment violations.
In addition to replying to the notice about the fine, Czura has 30 days to submit a sworn statement certifying that the Hilton, Head, S.C. AM tower compound fence is repaired, its EAS gear is operational and its public inspection file is complete.

The agents found an EAS encoder/decoder in the transmitter building plugged into a power source, but the ENDEC was not connected to any receivers or to the transmitter.

Czura claimed there was nothing wrong with the tower fence when he last saw it and that an act of vandalism had occurred after his visit to the tower site. He told investigators that he believes that's when the EAS equipment was disconnected and the EAS logs were taken.

The FCC didn't find Czura's story about the fence convincing. They also found the transmitter equipment building was locked with a padlock and established that it was difficult to believe vandals would have disconnected EAS equipment and stolen the logs, but then locked the building before they left.

Of Czura's $25,000 fine, $7,000 was for failure to maintain an effective locked fence, $8,000 for failure to install EAS equipment and $10,000 for failure to maintain and make available a complete public inspection file.
The FCC also fined WRFM in Wilkinson, Ind., $8,000 for having its antenna mounted on a farm silo in Jackson Township, approximately three miles from the station's authorized transmitter location.
On Sept. 28, 2010, an agent from the FCC's Chicago office met with Hoosier Public Radio Corporation's president, Martin Hensley, and informed him of a complaint that he was broadcasting from an unauthorized location.
Hensley provided the agent with a copy of a letter dated Jan. 5, 2009 in which Hoosier advised the FCC that it had moved from its licensed facilities and requested authorization to locate its facilities to another site.
The FCC said it did not have a record of Hoosier's request and the educational station should not have moved without being granted a special temporary authorization.
Hensley believed that by requesting the STA he was able to move even if he never received approval.
On Feb. 10, 2011, in response to a complaint from the FAA concerning harmful interference, it was found that the problem was coming from Hoosier's barn silo antenna.
On Feb. 16, 2011, Hoosier filed an STA request for authorization to operate from a nearby church and the FCC granted it the following day.
On Aug. 2, 2011, an agent monitored the frequency 89.1 MHz in Wilkinson, Ind. and found that the station was not broadcasting.
Hoosier was fined $8,000 for transmitting from an unauthorized location and its "egregious behavior", and was also required to submit a statement reporting the station's status as to whether it is currently broadcasting and the location of its transmitter.
It's a battle of Manhattan's tallest collocation titans
March 6, 2012 - Officials at the 1,776-foot tall 1 World Trade Center want to install a broadcast facility in an effort to pry off radio and television station antennas currently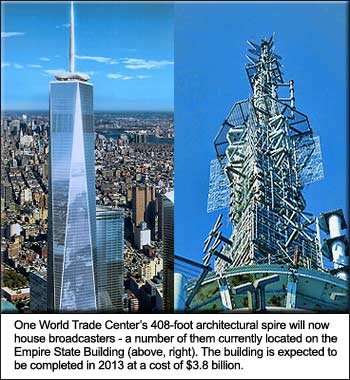 broadcasting from the 1,454-foot Empire State Building, relieving the Malkin Holdings building of as much of their $16 million in annual revenue as they can.
"Our expectations would be to become the premiere broadcast facility in New York City," said Thomas Bow, senior vice president at the Durst Organization, the development firm that controls 1 WTC in a partnership with the Port Authority of New York and New Jersey, according to The Wall Street Journal.
The Durst Organization expects to be able to take in about $10 million a year in rents and fees from television and radio stations drawn to the tower, the company said.
The Empire State Building has approximately 130 antennas on its 203-foot broadcast structure. The 1 WTC building, formerly known as the Freedom Tower, is slated for completion at the end of 2013.
Durst will put up the approximately $7 million of infrastructure and approximately $20 million of costs to build out the broadcast space for tenants, the company said. The proceeds would be split between the two owners.
In 2008, The Port Authority would not agree to a broadcast facility, stating that there wouldn't be enough interest from broadcasters after a deal with the Metropolitan Television Alliance, a consortium of 11 local television stations, had fallen apart.
However, the Durst organization has apparently received renewed interest from some broadcasters, although several of them have leases that will not end until 2018.
It is expected that Durst will be promoting the same approach with its broadcast marketing of 1 WTC as it has at 4 Times Square by building a common infrastructure of backup generators and cooling that all stations will share.
Some broadcasters might move to 1 WTC, but still maintain redundant transmitters at the Empire State Building.
A number of broadcasters located on the Empire State Building maintain backup facilities on a West Orange, N.J. 388-foot tower owned by Richland Towers reaching 1,006 feet above sea level.
Other backup options are at another Richland tower at 941 feet atop the 806-foot Bloomberg Tower at Lexington Avenue and 58th Street and Durst's 4 Times Square Conde Nast Building with an antenna height of 1,143 feet.

Durst's new plan requires changes to the planned 408-foot spire on top of 1 WTC. Its architectural cone would be stripped away, putting in place a thinner, more functional spire that the organization said would save about $20 million.
The designer of the master plan for the 16-acre former World Trade Center site in New York had previously promoted an open off-center antenna as the crowning facet of architect David Childs' 1 WTC design.
However, broadcast engineers said that putting the mast off-center would interfere with their ability to transmit their signal from the building.

In addition, it was found that the open design would cause the potential for ice to accumulate and fall to Manhattan streets and make the mast impossible to maintain at such a height.
Monopole fire's cause remains undetermined
March 6, 2012 - The cause of a St. Simons Island, Ga. 150-foot monopole fire last night is still unknown, according to fire officials.
Glynn County firefighters were concerned about the integrity of a cell phone tower that had caught fire off Skylane Rd. next to the McKinnon St. Simons Island Airport as they
fought the blaze.
They were afraid that the fire might have weakened the monopole which at one point was bent in the middle and leaned towards the airport, an official informed Wireless Estimator.
A county fire official said he did not know who owned the tower. The monopole is used by AT&T, Sprint and Verizon.
Firefighters fought the fire for just under an hour before getting it under control around 8:50 p.m.

A local merchant, Monty Vagtbor, whose business is in front of the structure, said that ospreys had nested at the top of the tower.

Monopole fires are typically caused when highly flammable transmission lines catch fire during a retrofitting project requiring welding.
However, it appears that the fire might have been caused by other means.
Two calls came into emergency services at 7:36 and 7:40 p.m., more than an hour after sunset. Both callers said that they could see that the monopole was on fire from a distance from the cell site.
Second trial finds cell tower shooter guilty
March 5, 2012 - In 2008, Cumberland, Wisc. resident William Lindsley was arrested for shooting at an Alltel (now Verizon) cell tower, causing an estimated damage of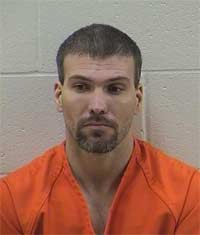 $45,000.
The Barron County man was found guilty in January 2010 and was sentenced to five months in jail for criminal damage and required to pay restitution, and do 100 hours of community service.
Lindsley appealed his conviction and received a new trial, but he was found guilty in his second trial last week and the judge also ordered restitution, five months in jail and ordered Lindsley to not possess any guns.
An Alltel network technician had documented approximately 20 bullet holes in their transmission lines.
It was a tower technician from Midwest Tower Erection, Inc., however, who helped a Barron County Sheriff's deputy arrest Lindsley.
The technician took photographs of the bullet holes' trajectory and identified a bullet path that lined up to Lindsley's home.
Further investigation by deputies found witnesses that identified that Lindsley would frequently use the tower for target practice.
Lindsley's sentence was light considering that in addition to the restitution, he could have also been fined $10,000 or imprisoned for not more than three and one-half years, or both.
His court battles are not over.
He was charged Feb. 16 with sexually assaulting a teenage girl for about five years and reportedly punching the girl in the stomach while she was pregnant, causing her to lose the child.
The felonies have a combined maximum penalty of 80 years in prison.
World's tallest communications tower completed
March 2, 2012 - Construction of the Tokyo Sky Tree, the world's tallest self-supporting communications tower, finished yesterday, two months late because of the quake and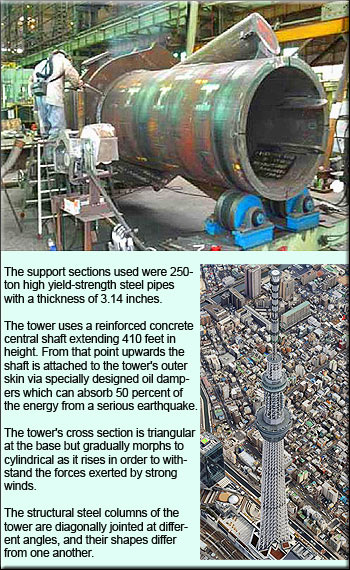 tsunami that struck Japan last March.

"The construction was originally scheduled to finish in December 2011 but was delayed due to a shortage of supplies after the disaster," said a spokeswoman for the operator, adding that the finished structure is sound.

The good news: More than 580,000 construction workers were involved in constructing the 2,080-foot communications tower and there was no fatality during the erection which began in July 2008.

The bad news: Tourist buses and additional vehicles came to view the construction of the eye-catching broadcast tower and the area has seen a considerable increase in driver fatalities.

There were 41 deaths in the four wards closest to the tower last year, up 12 from the previous year.

In addition, falling ice from the structure has been a problem for nearby companies and residences in Sumida Ward on the eastern bank of the Sumida River.

The Sky Tree's central column is a hollow concrete tube housing elevators and stairs. It's structurally separate from the exterior truss but is joined by oil dampers, which help reduce quake shaking.


The tower alleviates the problem broadcasters were having with the 1,093-foot Tokyo Tower with signal propagation because of surrounding high rise buildings.

The structure will also include office space, broadcasting facilities, dining and shopping areas, and two observation decks.

In 2009, the tower's engineers did an antenna stretch to capture the title of the world's tallest self supporting communications tower.
Fall from tower severely injures Montana man
February 29, 2012 - A 30-year-old Montana man suffered severe trauma injuries after
falling 20 to 30 feet off a communications tower onto a roof in downtown Bozeman on Monday afternoon.
According to a medical technician on the scene, the man's father said he'd heard a loud thud from inside the building.
The father said he then went to the rooftop and found his son who had landed on a support structure on the roof.
It took Bozeman emergency workers about an hour to get the man, who "suffered significant, traumatic injuries," off the roof at 101 E. Mendenhall St., Bozeman Fire Capt. Jason Kolman said.

Firefighters rigged a rope system that allowed them to carefully guide the injured man down in a litter along the ladder truck's ladder. In the meantime, EMTs were able to stabilize the man, who was taken to Bozeman Deaconess Hospital with broken bones and other unspecified injuries.

According to emergency responders the man, whose name was not released, did not appear to have been wearing any fall protection gear.

The structure is owned by Big Sky Mobile.
Suit states American Tower uses illegal tactics
with landowners during negotiations
February 27, 2012 - In a lawsuit filed in Texas Circuit Court on Feb. 16, TriStar Investors, Inc. is accusing American Tower Corporation of unfair competition and false advertising.

The complaint follows what appears to be a failed attempt by TriStar to sell American Tower property rights underlying over 300 tower locations leased or subleased by the Boston-based company.


Labeling American Tower Corporation the "Goliath" of the tower industry, the attorneys for David - in this case David Ivy, Chairman, CEO and co-founder of TriStar - submitted seven counts against American Tower: Violation of the Lanham Act, 15 U.S.C. 1125(a); Unfair Competition; Business Disparagement; Tortious Interference with Existing Contract; Tortious Interference with Prospective Business Relations; Breach of Contract.
In their Application for Permanent Injunction charge, the Pittsburgh-based plaintiff stated that "TriStar has been and will continue to be severely injured by American Tower's unfair and unlawful actions throughout the United States. American Tower's false statements and misrepresentations about TriStar will continue to cause a loss of reputation, goodwill, and competitiveness in the market, which cannot be adequately compensated by monetary damages."
In addition to the injunction, TriStar is requesting a monetary judgment for damages, costs and attorney's fees; interest; and any further relief that might be accorded them following their requested jury trial.
TriStar said in the filing that "American Tower, a massive corporation, has resorted to unfair and illegal tactics in negotiations with landowners for cell tower sites when faced with competition from a tiny competitor, TriStar. Rather than competing fairly and acquiring sites through superior offers, American Tower has systematically misinformed and deceived landowners to acquire sites under less favorable economic terms than those offered by TriStar, to the material detriment of TriStar and landowners nationwide."
Branding itself a minute lease acquisition firm in the lawsuit, TriStar has acquired over 600 tower locations in the nation.

According to an industry analyst, if TriStar was successful in taking over ownership of these towers at the expiration of the ground lease, they would be worth a minimum of $750,000 apiece, assuming there were three carriers on each tower - valuing TriStar's assets at approximately $450 million.

A blanket buy of TriStar's easements turned down
Although TriStar doesn't state in the lawsuit that it had approached American Tower to sell approximately 300 lease interests they own underneath the company's towers, an outside counsel for American Tower said there was an offer.
In an unrelated lawsuit filed by American Tower against Wisdom Four LLC, a subsidiary of TriStar, American Tower's Arkansas attorney, Edward T. Ogelsby, stated in a Nov. 9, 2011 email to Wisdom Four's counsel, H. Bradley Walker, "...with respect to your assertion that American Tower has recently 'made overtures' about potentially acquiring TriStar, we note that Tri Star offered to sell American Tower all of the easements it has acquired under American Tower cell towers (not TriStar itself) and American Tower has informed TriStar in writing that it has no interest in any such acquisition."
Please see: Lawsuit: ATC says it will run TriStar out of business
PCIA hails bill that speeds access to
wireless services, spurs investment
February 25, 2012 - PCIA – The Wireless Infrastructure Association applauds the passage of legislation that will enable wireless infrastructure providers to upgrade and expand existing facilities efficiently and cost-effectively.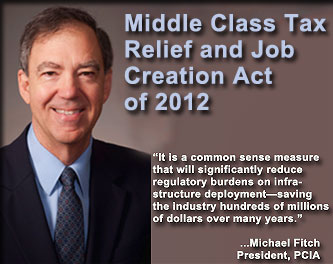 The wireless facilities siting provision of the Middle Class Tax Relief and Job Creation Act of 2012 streamlines collocation on and modification of an existing structure that does not substantially change the physical dimensions of the structure. This measure will increase capital investment, spur job creation and accelerate the advance of all wireless networks.
"This legislation is a significant victory for our industry and for all consumers, businesses and public safety agencies that rely on wireless connectivity," stated Michael Fitch, president and CEO of PCIA–The Wireless Infrastructure Association.
"It is a common sense measure that will significantly reduce regulatory burdens on infrastructure deployment—saving the industry hundreds of millions of dollars over many years. The ultimate beneficiaries are the nation's wireless users, who will gain access to better, faster and more ubiquitous service as a result of the accelerated pace of deployment."
PCIA has worked consistently to educate policy-makers about the importance of network infrastructure to the national economy, public and private safety, and efficiency in all aspects of life today. Our multi-year effort has included PCIA member companies and state wireless associations.
"Simpler and faster wireless infrastructure deployment is needed for world-class technological innovation and to ensure that robust wireless networks can meet skyrocketing capacity and coverage demands," Fitch stated.
SBA's Mobilitie buy might hamper a T-Mobile bid
February 22, 2011 - Tower operator SBA Communications Corporation will buy more than 2,300 tower sites in the US and Central America and some antenna assets from Mobilitie LLC for about $1.09 billion.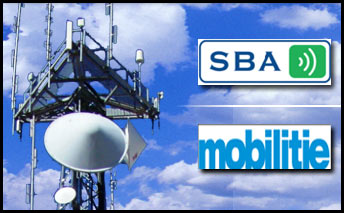 The indoor and outdoor distributed antenna system (DAS) assets are in Chicago, Las Vegas, New York City and Auburn, Alabama. SBA did not identify where the Central America towers were, but Mobilitie owns structures in Panama where SBA also has a presence.
For the Mobilitie assets, SBA will pay $850 million in cash and 5.25 million shares of stock, worth a little more than $240 million based on Friday's close.
"We are very pleased with the opportunity to acquire these assets," commented Jeffrey A. Stoops, SBA's President and Chief Executive Officer in a statement.
"We believe these assets are high quality, relatively new, well located and have ample capacity for additional tenants. The towers will be very complementary to and readily integrated into our existing portfolio, as they are all located in areas where we are currently conducting business. We are particularly excited about the prospects for these towers to serve the future cell-splitting needs of US wireless carriers, which needs we anticipate will flow from the continued growth in consumer demand for wireless data services. We expect this transaction will be immediately accretive to equity free cash flow per share," Stoops said
Barclays Bank plc and J.P. Morgan Chase & Co. are providing $500 million in financing to help cover the cash portion of the buyout.

Upon completion, this will be SBA's largest deal, topping the $1 billion purchase of AAT Communications Corp., which owned 1,850 towers, in 2006.
Macquarie Research analyst Kevin Smithen said the price that SBAC paid to Mobilitie was higher than current deals.
"Ideally, each tower should have been valued between $300,000 and $400,000, but SBAC paid $500,000," he said.
The company said it would will sell the small-antenna assets to Chicago-based telecom infrastructure company ExteNet.
In January 2012, SBA made an equity investment in Extenet and also sold its distributed-antenna-systems business to the company.
There will be considerable interest by analysts regarding the deal during SBA's Q4 conference call scheduled for this Friday.
One question that might asked of Stoops during the call is, following the closing of the Mobilitie towers, whether SBA will be able to have the debt capacity to bid upon T-Mobile USA's towers if the company puts its 8,700 towers on the market.
T-Mobile had previously explored a sale. With the collapse of its sale to AT&T Inc., the company could seek bids from interested buyers.
Estimates put the tower portfolio's worth at between $3 billion and $4 billion.
Hundreds concerned about the film shoot
that wasn't heard or seen around the world
February 21, 2012 - For over a week Frontline trumpeted "Cell Tower Deaths" on its Public Broadcasting Service stations. It was expected to air today, but the eight-
months-long investigation was unexpectedly canceled last Wednesday.

A spokesperson for the WGBH-TV-produced program informed Wireless Estimator he could not discuss the reason why the prime time investigation was suddenly yanked, but did state that it would be rescheduled.
However, many industry workers, family members of deceased tower technicians - the genesis of the investigation - and the general public are concerned that Frontline might permanently shelve the program, and they have started a petition for Frontline to air the industry probe.

Within four days, over 500 people have signed the petition with approximately 75 signers voicing their opinions regarding worker deaths, turfing contractors and the generally unprofitable state of wireless contractors - other than turfing firms.

Corporate pressure a concern
Commenters on the petition site and individuals contacting Wireless Estimator registered their concerns that PBS and their partner in the investigation, Pro-Publica, buckled in to corporate censorship because they would lose their funding or have advertisers such as AT&T pull their ads.
Although it is unknown why the documentary was pulled at the last moment, based upon the independence accorded to the two non-profit media outlets, it would seem unlikely that outside pressure resulted in the cancellation.
Funding for Frontline is provided through the support of PBS viewers and by the Corporation for Public Broadcasting as well as a number of institutions such as the Catherine T. MacArthur Foundation.
As the nation's third largest advertiser, AT&T's ad spend last year was approximately $3 billion, an impressive sum which floats in with a cloud of clout. It also spent $40 million on advertising between May and October to promote its failed $39 billion purchase of T-Mobile,
But the telecom giant doesn't provide funding to Frontline. Although the carrier might occasionally underwrite a local PBS station's programming, public broadcasting is not a target for AT&T's philanthropy.
ProPublica is primarily foundation supported, but last year allowed advertising to be placed along with rigid guidelines. To date, neither AT&T nor any other carrier has placed ads with the Pulitzer Price-winning website.

Deceased's family members press for its release
"Frontline needs to air their probe into cell phone worker's deaths immediately. The public does need to know and understand that their communications service does come at a very high cost," wrote Gina Kopfman on the petition website. Her 21-year-old stepson, Jacob, was working in Missouri when he fell to his death August 11, 2011.
Bridgette Hubble said, "My husband was killed on the job...yes, air this!" Jonce Hubble and Barry Sloan, 37, were killed in 2010 when a bucket truck cut a guy wire, collapsing the tower they were working on in Anniston, Ala.
Mariah Remington talked about her dad, Dirk, who died after a fall.
"My nephew died in a cell phone tower accident and something needs to be done to protect these workers better," said Sara Pearson.
After learning about the dangers involve in working aloft, a number of mothers voiced their concerns about their children. "My son is in this business and I want him to be safe. Big corporations make millions and these guys risk their lives for almost minimum wage," explained Barbara Lewis.
The Frontline trailer said that complex layers of subcontracting insulate the carriers against liability, despite the fact that they set the aggressive schedule that can force subcontractors to cut corners in order to meet deadlines, and those ambitious timeframes may be one of the reasons why workers are dying.

Some petition signers said they were hoping that the investigation would focus upon the turfing model, a price point program that may set contractors up for failure.
The petition reads: "We request you to air your episode delving into cell phone worker's deaths immediately. Our plight to bring cell reception to every corner of this beautiful nation should not go unnoticed. People need to know that for every bar of service they see looking down at their cell phone, it comes at a cost."

For other comments regarding the cancelled Frontline investigation, click here.
Accused murderer of Wisconsin tower owner
might try an insanity plea defense
February 16, 2012 - A defense attorney for Lynn Hajny, 49, who is facing charges in the grisly murder of John Aegerter, president of Air Page Corp., a Wisconsin two-way
shop and owner of a number of communications towers, says he will be able to determine within a month whether his client will plead not guilty by reason of insanity.
Waukesha County Circuit Judge Patrick Haughney was informed by attorney Michael Hart on Tuesday that he was still trying to assemble all of the past mental health records for Hajny to see if she qualifies for the plea.
Hart said Hajny has also met with a doctor who is evaluating her mental health status.
Hajny will return to court March 1 to allow Hart to provide an update on the potential insanity plea.
Jury selection for Hajny's trial will begin May 3 with opening arguments on May 4.
Hajny is charged with one count of being party to first-degree intentional homicide. A criminal complaint alleges she and her boyfriend Tommy Douyette, 42, killed Aegerter, 63, inside his Brookfield residence last June.
Douyette pled guilty last month and was convicted of a reduced felony charge of first-degree reckless homicide under a plea deal with prosecutors.
Prosecutors will recommend Douyette serve 35 years in prison, followed by 15 years on extended supervision, but Haughney does not have to follow the recommendation and could sentence Douyette to the maximum 40 years in prison and 20 years of extended supervision that the conviction carries.
Douyette will not be sentenced until after Hajny's case is resolved. The plea bargain requires him to testify at her trial.
Tower owner was killed for tech's back pay
Court documents allege that Douyette and his girlfriend Hajny went to Aegerter's home to "hit and hurt him," because he owed Hajny's husband, Albert, a tower technician, two to three months of pay.
According to police, in an article last year, Hajny told her cousin Brenda Eddy that she and Douyette were going to get a freezer and get hydrogen peroxide so that they could attempt to dissolve the body. She said they also told her that there were soda cans in the refrigerator with their prints, but they were going to return to Aegerter's house and clean them up.
When the suspects were taken into custody, investigators found Aegerter's wallet, credit card and keys in Hajny's purse. One key ring was found in a towel with blood on it, according to court documents.
Both suspects also had blood drops on their shoes, and a shirt of Douyette's was found covered in blood.
-
Faux cell tower palm frond nearly skewers motorist
February 16, 2011 - Falling palm fronds are known to cause electrical outages and serious injuries to pedestrians as well as hundreds of broken windshields every year, but a Texas man was almost skewered to death on Tuesday when a palm frond sliced through his car's windshield while he was driving through Central El Paso.
This wasn't the fibrous kind, but a metal frond from a T-Mobile faux palm tree near Piedras St. and Altura Ave.
Authorities say Sergio Gonzales was nearly impaled when the frond fell from the cell tower and almost speared his head by inches as the frond caused minor scratches on his face and caused glass particles to remain in his eye.
According to T-Mobile, the palm tree received new fronds in 2010, and back in March 2011, the site was checked as part of a new standard the company created for all palm tree cell phone towers that have been erected in El Paso.
"The palm frond that fell broke in the middle of the frond, not at the point of attachment to the primary structure," said spokesperson Anna Friedges via email.
T-Mobile said that the fronds will all be removed and inspected closely before the structure is pieced back together. They also stated that high winds caused the frond to snap.
TIA/EIA 222-G, the industry code for tower design, construction and maintenance, provides guidelines for ensuring structural integrity.
The standard says, the maximum intervals for maintenance and condition assessment shall be performed as follows:
a) Three-year intervals for guyed masts and five-year intervals for self-supporting structures.
b) After severe wind and /or ice storms or other extreme conditions.
c) Shorter inspection intervals may be required for Class III structures and structures in coastal regions, in corrosive environments, and in areas subject to frequent vandalism.
-
Frontline unexpectedly yanks "Cell Tower Deaths"
February 15, 2012 - A spokesperson for Frontline informed Wireless Estimator this afternoon that PBS has rescheduled its "Cell Tower Deaths" investigation until a later date, but could not offer any further information as to when the program might appear or the reason for its
removal from its previously scheduled Feb. 21 air date.
ProPublica's deep-content articles will also be rescheduled until such time as the Frontline piece is aired.
Oftentimes news programs such as 60 Minutes will reschedule segments or an entire program based upon breaking news events such as NBC Dateline did with its special on Sunday about the life and death of Whitney Houston, but the investigation on wireless worker deaths scheduled for next Tuesday is being replaced by a rerun.
In place of "Cell Tower Deaths," PBS stations will now show a Frontline encore performance of "Educating Sergeant Pantzke," an investigation into whether for-profit colleges deliver a high quality degree.
PBS stations have been heavily promoting the wireless industry investigation for the past 11 days, and most of them still show the trailer and the Feb. 21 air date as of 6 p.m.
Frontline is produced at WGBH-TV in Boston, Mass. and distributed through the Public Broadcasting Service.
The station has kept its promotional trailer on its website, but notes at the bottom of the video, "Due to a scheduling change, this program will not air on Feb. 21."
The spokesperson said that Wireless Estimator would be contacted when a new program date is available.



National media will investigate carriers
and contractors in "Cell Tower Deaths"
UPDATE: Frontline has unexpectedly rescheduled their program investigating tower deaths in America. They could not provide a date for a future airing. See above article.
- - - - - - - - - - - - - - - -
February 15, 2012 - Three years ago, NBC Dateline's "Tower Dogs" trafficked in sensationalism, depicting tower technicians as conflict-ridden, hard drinking workers building out the country's wireless networks.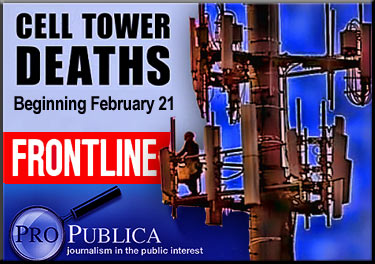 Last Tuesday, Dirty Jobs by Mike Rowe clearly rehabilitated that image when a tower erection project displayed the exacting procedures and equipment as well as the professionalism needed to perform a quality-driven safe installation.

But information is limited about the direction where PBS's Frontline and web-based ProPublica will take America on February 21 in their joint investigation, provocatively titled "Cell Tower Deaths".

Information in their promotional trailer identifies that, according to their interviews and research:
• Independent contractors who are building and servicing America's cellular infrastructure are 10 times more likely than an average construction worker to die on the job;
• Complex layers of subcontracting insulate the carriers against liability, despite the fact that they set the aggressive schedule that can force subcontractors to cut corners in order to meet deadlines, and those ambitious timeframes may be one of the reasons why workers are dying;
• A contractor can be cited by OSHA after a fatality and be given a minimal fine;
• There is a hidden cost that comes with the demand for better and faster cell phone service.

Please see:Training certifications and turfing firms might be explored
-
FCC axes LightSquared's network plans
February 15, 2012 - The Federal Communications Commission said yesterday that it will not approve LightSquared's proposal to build a national 4G-LTE network, after testing showed that the network would interfere with most existing GPS devices - presenting an unwelcomed Valentine's Day gift to the wireless construction and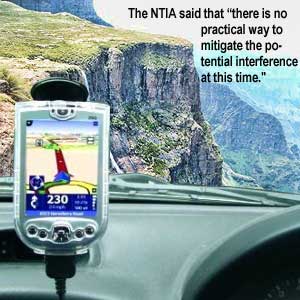 siting community.
When LightSquared's network plans were first announced it was anticipated that there could be as many as 40,000 sites to be built.

The FCC's decision came immediately after the National Telecommunications and Information Administration warned the FCC that "LightSquared's proposed mobile broadband network will impact GPS services and that there is no practical way to mitigate the potential interference at this time."
The FCC responded by suspending LightSquared's conditional waiver issued January 2011 to operate the network.

The FCC will also issue a public notice today seeking comment on the NTIA's conclusions.
The news appears to crush the near-term optimism for the network pressed by LightSquared, a Virginia company that is majority-owned by Philip Falcone, a New York hedge fund manager.
LightSquared said on Tuesday that the testing of the network was "severely flawed." It "remains committed to finding a resolution with the federal government and the GPS industry to resolve all remaining concerns," the company said in a statement.
Government testing showed that the network would harm performance of 75 percent of GPS devices. GPS makers and the airline industry were among numerous groups objecting to the plan, raising pressure on the FCC to block it.
LightSquared can still move on with its plans, but the NTIA recommendation and subsequent FCC decision severely reduce its chances of success.
LightSquared controls spectrum originally intended for satellite communication, and wants approval to use it for terrestrial broadband service.
The spectrum is adjacent to that used by GPS, and GPS makers complain the LightSquared signals will be so powerful they would cause widespread interference of GPS devices.
The FCC could have identified that GPS users and systems manufacturers were at fault for letting their devices stray into nearby airwaves, but that would mean overhauling a powerful legacy industry.
-
FCC Maps 3G dead zones eligible for
the Mobility Fund; RCA cries foul
February 13, 2012 - The Federal Communications Commission has established the Mobility Fund in order to close the gaps that exist in the nation's mobile wireless service, but the Rural Cellular Association says it is designed to reward large carriers like AT&T Mobility and Verizon Wireless.
The FCC has scheduled a reverse auction to award $300 million in one-time Mobility Fund Phase I support to carriers that commit to provide 3G or better service to areas where such services are not available.
The auction is scheduled for September 27, 2012 and is being referred to as Auction 901.
The below interactive map details which areas in all 50 states plus Puerto Rico are in need of assistance. Zoom in on the map for additional details.
This map is made with data current as of January 2012, showing areas identified as potentially eligible for Mobility Fund Phase 1 support. Eligible counties are shaded light gray, and as you zoom in and mouse over these counties you will see more information on the potentially eligible blocks, including population, road miles, and the name and number of the CMA in which the blocks are located. Further zooming in allows you to see the US Census tracts that contain these blocks.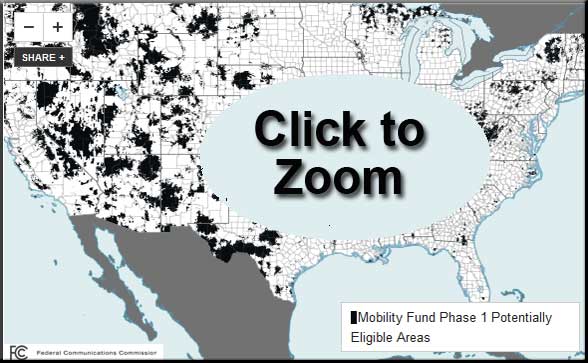 "RCA members have been providing service to rural and high-cost areas for decades, and it is unfortunate that procedures in the FCC's public notice seem to reward large carriers like AT&T and Verizon. The mobility fund is not a predictable or sufficient mechanism to advance universal service. Further, it seems to reward large carriers who have not yet built out their spectrum in rural and hard-to-reach areas," RCA President & CEO Steven Berry said in a release.
"Our carriers have already deployed 3G services in many rural and high-costs areas, yet they might not be able to participate in the mobility fund. I do not see the logic behind this thinking. Why penalize those carriers who have been providing services to customers in rural areas for years," Berry said.
-
Dirty Jobs with Mike Rowe elevates
the tower construction industry
Commentary
February 10, 2012 - Dirty Jobs with Mike Rowe saved the best for last in this week's episode when Rowe featured a tower erection project in North Dakota,
commemorating a program in all 50 states for the Discovery Channel series.
It was also a celebration for the wireless construction community since the episode accented the positive and professional aspects of the industry.
The program, which will be seen again in season reruns, featured Rowe assisting a Great Plains Towers crew during the final erection of a 330-foot guyed tower in Dickinson.

The Reski and Rowe show
The West Fargo company's president, Kevin Reski, and Rowe humorously connected as if they were long-running morning drive time radio hosts chatting on top of the tower instead of in the studio.

Rowe also connected tower sections and pulled guy wire, attaching it to one of the structure's anchors.

Rowe said, "This might be our most dangerous [job] ever," even though he's dangled high above a city in a previous episode featuring window washers.
However, he was confident in Reski's ability to keep him safe during the installation.
"I'm in good hands. These guys are first class professionals," Rowe said, although at times it was obvious that he was tense during the filming.
Reski picked up on it, ribbing Rowe as he was tying off with: "Did you squeeze all of the water out of that hook?"
The industry will surgically dissect the filming frame by frame and look for a safety violation. They might even find one, especially due to the influences of the additional personnel filming on the tower.
That could certainly happen during two days of capturing a crew's every movement.
As an example, when an expensive tower industry training video was made a number of years ago - under the critical direction of some of the nation's leading safety professionals - it had to be reedited after safety violations were later identified.
During the Tower Top Hand program, 100% tie-off was promoted by Rowe and Reski.
The show also featured the obligatory likeable, but often razzed tower hand, Crispy, a nickname he acquired because he once set himself on fire.
In addition to head cams on two of Great Plains' workers, eight other cameras were constantly filming. Up close views were excellent since one videographer was always atop a 300-foot guyed tower only 50 feet away.
Plus, a specially equipped helicopter assisted with many extraordinary aerial views.
The show was aired on Tuesday while approximately 1,000 attendees were at the National Association of Tower Erectors' annual convention in San Antonio, Tex.
Unfortunately, the convention center and host hotel didn't have Discovery Channel programming and Reski, his crew members and others viewed it at a Riverwalk restaurant.
"This, ladies and gentlemen, is why we owe a huge debt of gratitude to the men and women who do jobs like these," said Rowe who requested that America think about them when they're using their cell phones.
The industry owes a double tip of the hardhat to Reski, his crew and Rowe for providing the nation with an opportunity for an armchair view of wireless professionals building the nation's networks.

You can view the YouTube videos here and provide your comments.



New Orleans will see the first decommissioning
of 30,000 Nextel cell sites
February 10, 2012 - Sprint executives have previously said that their Network Vision plan is underway to reduce its Nextel network from 68,000 cell sites to 38,000.
On Monday they unveiled another way to track it via a new site detailing when and where the carrier will remove its iDEN sites as it prepares to shut down the network.
While most of the cell site modifications will begin this spring and move through September, some will begin earlier. Acording to the website, they will decommission around a dozen iDEN cell sites in New Orleans starting in late February.
However, in many other markets where there are no sites specifically marked for decommissioning, Sprint states that "select towers in this area are under evaluation" and may be impacted.
Approximately 9,600 sites will be decommissioned by the end of 2012, according to a Sprint executive during the carrier's Q4 earnings call.
Sprint launched its CDMA Direct Connect service last fall as part of its plan to migrate iDEN customers. Sprint said the new service, which rides on Sprint's 1900 MHz spectrum, offers improved in-building coverage and will triple the square-mile reach of its current iDEN-based PTT service.
Sprint's Network Vision is a program where they are consolidating the iDEN and CDMA networks, closing some sites, opening a number of new ones, and replacing the antennas, radio heads, wiring and more on almost every other site.
Sprint Sprint said it would boost its capital spending to about $6 billion this year, compared to $3.13 billion last year.
Between the decommissioning and site upgrades, installation contractors are expected to benefit from Sprint's Network Vision plans, and although tower owners will profit from network upgrades, those increases will be later offset as Sprint removes antennas.
Sprint anticipates having the entire network built out by no later than the first half of 2014.
-
Naked climber is lured down by two burgers
February 9, 2012 - A tower climber ascended a 228-foot communications tower in downtown Los Angeles yesterday without a safety harness as well as no shoes, socks or
any other apparel.

The au naturel man, a 45-year-old Arizona resident, came down from his perch after police fulfilled his request for a late night dinner of two hamburgers from McDonald's.

Firefighters from the Los Angeles Fire Department set up air cushions to catch the man in case he fell following his 4 p.m. climb, police said.

The man was wrapped in a blanket, lowered to the ground in a basket by a makeshift pulley system and taken into custody at approximately 10 p.m.

It was not yet clear what prompted the emotionally unstable man to scale the tower and maintain a standoff with police for six hours.

The man will not face criminal charges for his actions, according to police.

In June, an Arkansas man also had a six hour standoff with police in Benton County, but was enticed to come down after an uncontrollable craving for a cigarette.

Police say Ronald Jeff Grigg was sitting on top of the tower with five guns, but either because he was intoxicated, clumsy, or afraid of heights, he began to accidentally drop most of them.

Then while trying to light a cigarette he dropped his lighter.

Towers become an instrument for suicide
Communications towers have also become a magnet for a number of people committing suicide.

Alori Joh, an emerging 25-year-old singer on the hip hop scene leapt to her death on Monday from a broadcast tower in unincorporated Rancho Dominguez near Compton, Calif.


On January 31, a body found in Richland Hills, Tex. was the result of a suicide of a man in his 20s jumping from a tower, officials said.

Tower technicians were at the tower to perform routine maintenance when they found a hole on the roof of an equipment building and a body on the floor.

There was no word on how long the body may have been there

-
Forty percent of industry employers receive
no fines following a worker's death
February 3, 2012 - A review by Wireless Estimator of 80 tower construction and worksite-related fatalities investigated by the Occupational Safety & Health Administration from 2003 through 2011 identified that 40% of the deceased's employers did not receive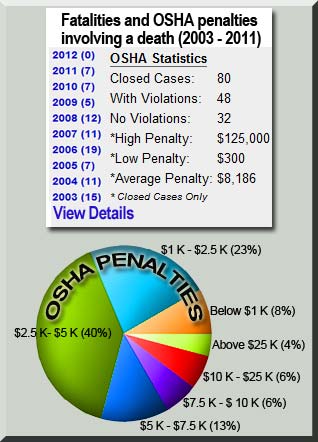 fines after the investigations were closed.
The lowest penalty was set at $300 with the largest fine, $125,000, being assessed against Colorado Cellular Inc. Dba Viaero Wireless.
In 2005, according to OSHA records, a Viaero tower technician was installing a carrier's antenna on a self supporting tower's sector frame when he fell approximately 180 feet and was killed.
OSHA said that he was incorrectly using his work positioning lanyard and he was not tied off with his fall arrest lanyard. OSHA alleged the 35-year-old tech's positioning lanyard had been previously damaged.
Viaero received a serious citation for violating training requirements and two serious general duty clause violations. In a formal settlement more than a year after the accident, a willful citation for a fall protection systems criteria and practices infraction was deleted, but Viaero agreed to pay $9,500 in additional fines.
The average penalty received by a company having a fatality from 2003 to 2011 was $8,186, but the typical fine is skewed by Viaero's penalty.
Although ERI Installation has contested their $91,500 penalty set by the Indiana Department of Labor as a result of two fatalities they had last April when the men fell with a gin pole while constructing a 500' tower, if IOSH doesn't mitigate the fine the average death penalty will rise to $9,886.

A median value, however, of those companies that incurred penalties is currently $3,500.

Although OSHA sets maximum dollar amounts for serious and willful violations, an evaluation of all penalties for the past nine years appears to indicate that inspectors and area directors rely more upon their judgment or their government solicitor's advice to assess and mitigate fines than by reviewing case histories or the revenues of companies and the number of employees.
Oftentimes, they are required to refrain from investigating a fatality if they can't establish an employee and employer relationship which may be the case involving a couple of unrecorded fatalities which may be due to the deceased being an individual working as an independent contractor, typically identified as a 1099-M contractor.
OSHA can also cite a company for violations and not issue a penalty.
OSHA inspectors might have cited a company for numerous violations, but prior to closing an investigation area directors or administrative law judges have the authority to vacate them.
In 2010, an administrative law judge said a New Jersey tower erector was compliant with industry safety standards and should not have been cited following the death of an employee.
Judge Covette Rooney's ruling also provided a stinging rebuke to the OSHA compliance officer, stating that she misinterpreted the statements of witnesses.
-
Federal appeals court upholds 90 and 150-day
FCC's shot clock time frames
January 27, 2012 - A federal appeals court has upheld a decision limiting the time it should take state and local governments to consider cell tower siting applications.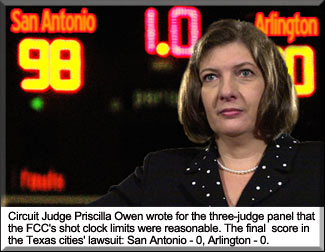 The opinion handed down Jan. 23 by the U.S. Court of Appeals for the Fifth Circuit leaves in place a ruling by the Federal Communications Commission in November 2009 in which the FCC states that a "reasonable period of time" for state and local governments to act on applications for co-located sitings is 90 days, and for all other applications is a 150-day period.

Under the FCC's ruling, if local officials fail to either approve or deny an application within the time periods, an applicant can file a claim for relief.
The Texas cities of Arlington and San Antonio filed lawsuits challenging the ruling on several grounds, but the court sided with the FCC this week.

"We do not read the [FCC's] declaratory ruling as creating a scheme in which a state or local government's failure to meet the FCC's time frames constitutes a violation of the [Communications Act]," Circuit Judge Priscilla Owen wrote for the three-judge panel. "The time frames are not hard and fast rules but instead exist to guide courts in their consideration of cases challenging state or local government inaction."
FCC Chairman Julius Genachowski said in a statement, "The FCC's tower siting policy upheld today advances the crucial national priority of ensuring American leadership in mobile innovation and is part of the FCC's relentless focus on unleashing the opportunities of wired and wireless broadband for all Americans, including job creation, increased investment, innovation and economic growth."

The Fifth Circuit's decision will have an impact on issues of important to local jurisdictions.
While siding with the FCC, the court said Section 332(c)(7)(A) of Communications Act states Congress's desire to make section 332(c)(7)(B)'s limitations "the only limitations confronting state and local governments in the exercise of their zoning authority over the placement of wireless services facilities," and prohibits the FCC from imposing restrictions or limitations that cannot be tied to the language of the Act.
However, whether the FCC retains the power of implementing those limitations remains "unresolved," the court said.
The court rejected the cities' claims that the 30-day time frame for alerting an applicant to incompleteness created an unreasonable new "completeness" requirement.
The Court also rejected claims that the FCC had violated due process by issuing the declaratory ruling without serving notice on every state or local government
Although this is a major achievement for the siting community in deploying broadband, the industry is still waiting for the FCC to clarify the shot clock's applicability to DAS.
For the court's opinion, see: Shot Clock
-
FiberTower's assets up for sale after backhaul provider's revenues plunge
January 24, 2012 - Wireless backhaul carrier FiberTower, with 3,354 sites deployed in 13 major U.S. markets, is in the process of looking for a buyer of its assets as the company's revenues free fall, losing about $180,000 per month, as detailed in a company report released in
December.
According to a tower company executive familiar with the proposed sale, FiberTower said it wants to sell its core business and its 24 GHz and 39 GHz spectrum licenses, however, the company will also entertain buyers who are only interested in specific markets or spectrum licenses.
At the end of the second quarter in 2011, FiberTower valued its FCC licenses at $287.5 million. In the third quarter of 2011, the company said it had fallen to somewhere in the range of $87 to $129 million.
Although 2010 was a strong year where the company grew revenue 20%, year over year, FiberTower experienced several crippling events in 2011.
Clearwire cancelled services representing approximately 10% of FiberTower's revenue and AT&T began a trend of disconnecting T1 circuits.
FiberTower said it did not believe either of these customer-specific actions were a result of service quality, but were caused by an increased level of TDM network churn as carriers convert to asynchronous Ethernet.
Approximately one third of FiberTower's sites have an Ethernet connection, but the company has acknowledged in the past that they could not fund the capital necessary to provide Ethernet at their other locations.
The impact of these events on FiberTower's financial position prevented it from raising new capital necessary to fund growth opportunities and it was unable to refinance its approximately $172 million outstanding debt which included roughly $36 million of convertible senior secured notes maturing in 2012.
FiberTower did not make a $1.3 million November 15, 2011 interest payment on the notes.
In November, FiberTower announced that it had reduced its workforce approximately 40%, and had halted all capital and project-related spending in an effort to conserve existing liquidity.
The company employs technicians that are certified to climb towers. A number of them were let go following FiberTower's downsizing.
Last year, FiberTower had listed for leasing its 24 GHz and 39 GHz portfolios of spectrum with Comsearch, a CommScope company.
On January 13, CFO Thomas Scott tendered his resignation. He has agreed to remain available to FiberTower on a consulting basis to provide transition services.
Nasdaq notified FiberTower last month that it has until June 11 to get its company's stock price up to a minimum of $1.00 or it will be delisted. It opened this morning at $0.38.
FiberTower is approaching an accumulated net loss of $700,000,000.
An early investor in FiberTower, Crown Castle Corporation was stung by the company's poor performance and reported that it had reduced the value of its FiberTower investment by taking a $75.6 million write-down during Q4 2007.
American Tower Corporation also invested in FibreTower, providing about 13% of the company's seed money.
-
Settlement of $6 million expected for tower techs' families following Alabama tower collapse
January 18, 2012 - Barnhart Crane and Rigging Co., Inc. of Decatur, Ga. has agreed to a $6 million settlement to the families of two men who died last year after falling from
a McClellan, Ala. guyed tower, according to Montgomery attorney Chris Glover.
The July 22 incident involved tower technicians Jonce Hubble, 41 and Barry Sloan, 37. The men, employees of Anniston-based McCord Communications, were just completing their work on the 190' tower off of Alps Drive when the Barnhart bucket truck clipped a guy wire.
Both workers were at approximately the 40-foot level when the structure collapsed. Sloan was pronounced dead at the scene. Hubble died in surgery at UAB Hospital at 9:00 p.m.
Glover said truck operator, David Stephens, was in the process of moving the truck. "He did not manage the space around the vehicle well and became entangled in the support wire."
According to Glover, the tower then began to fall, but Stephens probably didn't realize it until the tower was already down.
The tower is located on property leased to the Alabama National Guard. It is part of a system that provides communication to personnel at Pelham Range through the Chemical Stockpile Emergency Preparedness Program.
Barnhart has over 20 branches across the U.S. and is frequently used by the industry to install and maintain communications structures.
The company decided to settle out of court a week before the scheduled trial date in December. The two men, both of Albertville, each had four children. Both families will receive half of the settlement.

This settlement may be one of the highest paid in the tower construction industry. However, there may have been higher awards made to the families of tower workers who have been seriously injured or killed on a worksite, but did not become public due to a non-disclosure agreement.
Glover, who represented Sloan's family in the lawsuit, informed Wireless Estimator that he was pleased with the result as was his client. "The family was relieved to put this stage of this awful tragedy behind them. Our goal at Beasley Allen was to help the widow and the children and I think we've accomplished that goal. This didn't have to happen. We felt like a couple small safety precautions would have avoided this entire incident. I hope this type of tragedy can be avoided in the future."

Birmingham attorney David Marsh, who represented the Hubble family, also agreed that their deaths were avoidable.

"This was, plain and simple, a tragedy. Two young men, who were husbands and fathers, died terrifying deaths. Their deaths were preventable. The men did everything right. They wore their safety belts, attended safety meetings, followed the rules. But one careless act, the result of poor planning and the failure to follow a simple safety rule - get out of your vehicle and look before backing and use a spotter - proved to be fatal. We hope that this lawsuit and settlement will result in changes, better planning and coordination where tower workers are doing their jobs, and prevent future tragedies."
-
Land grab continues with Crown Castle deal
January 13, 2012 - Crown Castle International Corp. announced that it has entered into an agreement to acquire from Wireless Capital Partners, LLC a portfolio of ground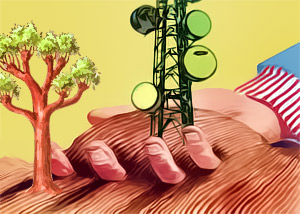 lease related assets for approximately $180 million in cash and the assumption of approximately $320 million of debt.
The portfolio includes approximately 2,300 ground leases, including over 150 related to Crown Castle's towers. The assets being acquired generate annual cash flow of approximately $42 million, with 80% generated from the big four carriers.
The agreement is expected to close in the first quarter of 2012.
The half billion dollar deal matches what American Tower Corporation paid Unison Site Management II in September for a portfolio of property interests of 1,800 communications sites, with approximately 200 of them under Crown Castle towers.
Also in September, Global Tower Partners acquired 1,600 property interests from Goldman Sachs for an undisclosed premium.
Goldman Sachs bought the assets from Unison in 2007 for $375 million.
Tower consolidators over the years have been at odds with lease buyout companies such as Unison, labeling them as site revenue scalpers, vultures and other pejorative names.

Crown Castle even devotes a page on their website, identifying what they say are scams by third party agents.
The company cautions their lessors that if they sell the land to unauthorized parties, they could potentially lose their rental income: "If Crown Castle finds that another company has purchased the property beneath a tower that we own, we review the potential to relocate our customers to other towers or relocate our tower to another location. If that happens, there will no longer be any revenue generated from your property."
-
After being paid to replace stolen coax,
tech steals it the following day
January 11, 2012 - Sheriff's deputies in Denton County, Tex. and Pilot Point police officers arrested a tower
technician and his son while they were reportedly stealing coaxial cable and recovered about $30,000 worth of transmission lines last Thursday in an unincorporated area near Pilot Point, according to authorities.
An AT&T employee contacted 911 at approximately 4 p.m. stating that two men were stripping coax from an AT&T tower located in the 1000 block of Washington St.

Pilot Point officers and county deputies arrived to find a white Ford Econoline van backed past the unlocked gate to the fenced cell tower compound.

One of the men was in a harness, hanging from the tower, according to the report, cutting wire with an electric saw when officers arrived.

The 37-year-old Farmersville man, Charles Kitchens and his 19-year-old son, Marcus, from Wylie, said they were employed by a tower contractor that had requested them to take the transmission line.

They said the cell tower was inactive so they believed it was OK to sell the corrugated copper coaxial cable.

But the AT&T representative identified that the collocated tower was not inactive and sheriff's deputies arrested the two men.

The deputies determined that Charles was a technician for a local company that works on cell towers.

He had been working on the tower Wednesday to replace wire at the AT&T cell site that had previously been stolen, returning the next day to undo his installation and sell it to a scrap metal dealer, according to authorities.
Investigators are trying to identify whether the Kitchens were responsible for the original theft.

Deputies found that a lock on the gate had been replaced with another lock and believed the man had replaced the lock with his own the day before, according to the report.
Authorities recovered approximately 1,248 feet of coaxial cable that had been stripped from the tower.
Both Kitchens were released the day after their arrest after they each posted a $20,000 bail bond.

See Comments on this article.
-
Erectors expected to have a cleaned up image
next month on Rowe's Dirty Jobs
January 7, 2012 - At The National Association of Tower Erectors' annual convention in San Antonio on February 7 there will be a number of social events competing for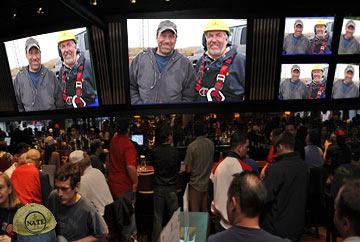 attendees' attention. Add to the mix media personality Mike Rowe, best known as the popular host of the Discovery Channel series Dirty Jobs.
Tower erectors will take center stage on his Tuesday evening program, according to a producer for the show.
Rowe scours the country looking for unsung heroes who are willing to get dirty - "hard-working men and women who earn an honest living doing the kinds of jobs that make civilized life possible."
Rowe's production company thought a tower erection project was an ideal assignment that would appeal to their millions of viewers and filmed for two days in Dickinson, ND, alongside employees of Great Plains Towers, Inc. of West Fargo last April.
Kevin Reski, President of GPT, and a former board member of NATE, had Rowe assist in jumping a gin pole and stacking the remaining sections of a 330-foot guyed tower.
Rowe also gave a hand in pulling guy wires and attaching them to their anchors.
Reski said he believes that Rowe will "present the industry in a favorable light, as it should be," unlike an NBC Dateline special in 2008, "Tower Dogs," which showed crew member conflicts and questionable climbing practices.
Last month, NATE cautioned its members to beware of reality show requests to film tower crews.
NATE Chairman Jim Coleman reminded those considering requests that the camera never stops rolling and that "only the producer knows what footage will end up on the show."
He pointed to past industry experiences wherein "the media can bring unwanted and even negative attention by sensationalizing every aspect possible to increase ratings."
Rowe, a former QVC host, is known for his spontaneous wit during his unscripted segments as well as his professional singing voice.
His alignment with tower technicians could be a plus for the male-dominated industry.
On any given day Rowe is flooded with emails for dates and even marriage proposals, and at one point it was rumored that he was being considered as a replacement judge on American Idol.
-
New Texas law prohibits insurers from adding client's wish list on certificate of insurance
January 6, 2012 - Effective this week, if you're expected by your customer to add all sorts of contract verbiage to your certificate of insurance in Texas, your insurer or
agent can expect to pay a civil penalty of up to $1,000 per violation if they comply.
Under Senate Bill 425, only certificates of insurance approved by the Texas Department of Insurance may be issued.
According to CSSB 425, a certificate of insurance may not contain a reference to a legal or insurance requirement contained in a contract other than the underlying contract of insurance, including a contract for construction or services.
CSSB 425 states that a document would not qualify as a certificate of insurance if it altered, amended, or extended the coverage or terms and conditions of the insurance policy referenced on the certificate or document.
A certificate or document would not be able to convey a contractual right to a certificate holder.
"The State is only reinforcing the fact that these certificates are for information only and not binding on the insurance company," said Patrick Shea, co-owner of Tower Program Insurance Services, Inc.
Through Zurich North America, TPIS maintains the largest insurance program in the US for tower construction companies, doing business with over 80 tower companies through more than 30 insurance agents.
"Only the policy can bind the insurer for claims," Shea said. "If an agent issues a certificate of insurance that is false or indicates coverage or endorsements that are not on the policy, they can be found liable if claims occur that are not covered."
"Lawyers are getting smart and many are now asking for copies of policies and actual endorsements which helps the industry at large," Shea said.
The new law will no longer allow insurers to show specific parties as additional insureds on the certificate of insurance unless those parties have been endorsed on the policy.

These endorsements are expected to result in additional premiums.
Insurance agents state that it would be helpful if their clients can convince owners and contractors that special endorsements are not needed where there is a blanket endorsement on the policy that will include any entity as additional insured or with a waiver of subrogation if it is required in a written and executed contract.
According to the Association for Cooperative Operations Research and Development (ACORD), similar laws governing certificate of insurance forms have also been filed in Kansas, Kentucky, Louisiana, Minnesota, Missouri, North Carolina, Oklahoma and Wisconsin.
-
Mexico tries to dismantle telecom system
aiding a prominent drug cartel
January 2, 2012 - The Zeta wireless network was built out in most of Mexico's 31 states and parts of northern Guatemala in a record six months in 2006. It was an ambitious
time frame placed upon Jose Luis Del Toro Estrada, the network's mastermind known as "Tecnico".
However, when you don't have to deal with zoning officials and communications, environmental and historical agencies as well as building departments, the task isn't as daunting.
Adding to the ease of Estrada's network rollout, it was doubtful that any citizen would complain about the possibility of long-term radiation effects of a suddenly erected tower site when to do so could lead to immediate death for exposing the location to government officials.
Estrada's radio network was built by the Gulf Cartel, a drug-trafficking gang that employed a group of enforcers known as the Zetas, who have since split from the Gulf Cartel in 2010 and became one of the nation's most dominant drug cartels.
The Zetas have since branched out with profitable sidelines such as kidnapping, extortion and human trafficking. Their wireless network makes those activities even easier to traffic in.
Estrada's network is primarily an early warning reconnaissance system. "Halcons," or "hawks," holler on the handhelds when the federal police or soldiers roll through cartel territory.
Zetas operatives were able to conduct encrypted conversations without depending on the local cell phone network, which is relatively easy for the Mexican authorities to tap into.

In the last four months, three large raids conducted by Mexico's beleaguered security forces have attempted to disrupt the radio network by snatching up its hardware. But much of the infrastructure — the towers, the transceivers — is cheap enough to be easily replaced. The network is "low-cost, highly extendable and maintainable," a security consultant told the AP last week.

Zeta divides up territory into "plazas." The plaza boss has the responsibility for establishing nodes on the network — getting the antennas in place, concealing them as necessary, making sure the signal-boosting repeaters extend the network's reach, equipping cartel personnel with handheld radios, and replacing what the security forces destroy.
Much of the Zeta's equipment came from U.S. manufacturers or distributors. In remote locations where power wasn't available, solar panels powered the transceivers.
The Mexican army seized a total of at least 167 antennas, 155 repeaters, 166 power sources, 71 pieces of computer equipment and 1,446 radios in December. The equipment has been taken down in several cities in the Gulf coast state of Veracruz and the northern states of Nuevo Leon, Coahuila, San Luis Potosi and Tamaulipas.
Confirmation of the illegal communications network was revealed when Estrada testified that he had built the system and provided some details of the network as part of a guilty plea agreement in the U.S. of conspiracy to distribute cocaine in federal court in Houston, Tex. two years ago.
Estrada maintained a staff of tower technicians tasked with building and maintaining the system.
According to his plea agreement, Estrada collocated his antennas on existing towers, including towers used by police station towers, and used both directional and omni-directional antennas. He also employed specialists to research new technology to be able to have the most advanced system possible and to be able to monitor law enforcement activities.
The cartel's multi-million-dollar network often changes the frequencies upon which the radios work.
-