Zoning restrictions benefit many high
income tower sites
May 16, 2005 -- Invigorating growth in wireless services data revenue, increased minutes of use and subscriber additions are creating daily deployment challenges for siting professionals tasked with obtaining new sites for the infrastructure required to meet customer quality and service demands.
Many local zoning authorities focus upon general aesthetics, instead of particular characteristics of the proposed facility, or engineering considerations of antenna system configurations. Some tony communities will only allow expensive concealment structures to provide for the least-intrusive site installation.
In an attempt to reduce the proliferation of towers, many jurisdictions now require that new towers must be designed to co-locate a minimum of three wireless carriers and call for the tower owner to certify that the tower will be reasonably available for co-location.
ROI is high on multi-tenant towers
For tower owners that have built sites upon speculation or have the capacity or retrofitting capabilities, this zoning requirement can provide an excellent return on
investment by creating a Mona Lisa site, an industry term coined by many to describe a site with multiple tenants. However, multi-carrier sites can oftentimes provide an overwhelming visual presence, according to the site's neighbors as they watch the ever-expanding tenancy.
Many communications ordinances contain provisions that attempt to mitigate aesthetic concerns, but when zoning officials enforce co-location requirements, it is not always possible to stealth the structures. Courts have oftentimes ruled in favor of the tower company or carrier when onerous concealment requirements are set, providing zoning limitations that have the effect of inflexibly denying wireless service. There have been numerous contrasting state Supreme Court decisions on tower siting application denials, but it is generally accepted that the local government cannot deny applications to co-locate upon an existing tower.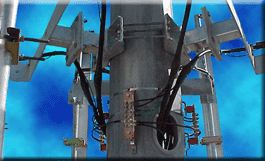 Non-ionizing radiation concerns created by multiple tenants have provided heated discussions at public hearings, but zoning and building authorities cannot deny an application for a new site or co-location over these apprehensions if the site meets federal safeguards. However, a local government can adopt more stringent RF radiation standards if they are acting as the lessor of their community's property.
3G to impact co-location requirements
There is a general consensus that as many as two to four additional antenna locations will be required by carriers to serve the same area for 3G services, placing more capacity requirements on existing sites. While residents may not appreciate the visual clutter, tower owners welcome the increase in tenants to offset underperforming sites.
The structure of choice in residential areas for many municipalities is a slip fit or tapered flanged monopole. Based upon the reception and transmission requirements of the site, flush-mount antennas using chain mounts can be less intrusive; however, frequency and other constraints will require sectorized mounts. Since most PCS antennas are smaller than cellular antennas because antennas are manufactured to be proportional in height to their wavelength of the frequencies being used, and the PCS wavelength is shorter than cellular, the visual impact is less. However, in order to prevent signal weakening or fading, two receive antennas are used per sector for diversity and one transmit antenna.
Mounting frames add site sight blight
Although PCS antenna size is smaller, the receive antennas are usually placed a minimum of five feet apart with the transmit antenna in between. But it's the antenna mounting frame that casual observers notice on the structure.
The antennas' wind loading area is not the sole criteria used to design the mounts. The mounting structure must be designed to meet the basic wind speed requirements of the permitting authority under TIA/EIA 222-F. In addition, many of the platforms are designed to accommodate installation technicians. Manufacturers are always introducing low profile mounts that can assist in minimizing the tenant's presence. They frequently design new mounts to assist in ease of installation as well as providing a reduction in wind loading.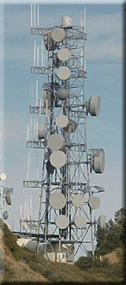 Eight is enough? Not for tower owners
Tower owner CFOs will frequently remind their co-location managers that they can never have enough tenants on a site. However, the location, location, location adage is the prime driver of hugely profitable sites. While some of their nearly bare steel rural sisters may never turn a profit, many sites that cost a tower consolidator $400,000 to develop three years ago see revenues in excess of $150,000 per year, with multiple co-location opportunities still available.
From $400 a month for a paging company on a rural Tennessee site to $3,900 or more for a New England prime highway corridor, rates are based upon the location of the tower and the location and size of the antennas and lines as well as the ground space required.
Strained carrier-tower owner relations aired
Carriers are continuously looking for opportunities to reduce their monthly lease rates in addition to renegotiating shorter leases. Tower owner and carrier relationships have oftentimes been tenuous throughout the years. Concerns surfaced at the Tower Summit conference last March in New Orleans at the CTIA wireless show. During the keynote session AAT Communications CEO Jerald Kent voiced his concerns about the adequacy of internal communications with carriers.
"One thing that drives us crazy is when we work with field personnel and construction activity and all of a sudden someone at corporate says, 'That's not what we're going to do.' We've wasted a lot of time for both companies. It doesn't facilitate either of our business models. It's frustrating to get mixed messages," Kent said.

AATCommunications owns approximately 1,600 sites and manages over 6,000 more. Although many tower owner executives did not attend the Tower Summit, they privately agree with Kent's comments.
Neville Ray, vice president of engineering and operations for T-Mobile USA's Northeast region said that he appreciated Kent's comments about customer service and they were good to hear, but he believes that the tower companies should consider reducing the length of new and current leases, a position also shared by Kurt Gastrock, vice president and general manager of wireless sites at Sprint.
"We signed a ton of 10 and 20-year leases in a technology space that changes every three years. We're looking for partners who will take more of that risk," Ray said.
At the end of the session both groups were conciliatory, acknowledging that each other's success will help both the carrier and consolidator. However, stockholder expectations and strained balance sheets on both sides will require cost reductions and risk aversion wherever possible.
Show us your Mona Lisa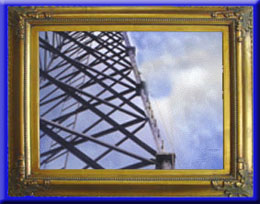 If your company portfolio has a tower with eight or more tenants on it, or if you are a contractor and are aware of one that does, WirelessEstimator.com and Fryer's TowerSource would like to have a picture of it for publication.

We would like to identify the country's most co-located structure in the following categories:
Monopole
Self Supporting Tower
Guyed Tower
Broadcast Tower

Along with your .jpg or .gif, please provide the number of tenants, the tower's location and owner and send it to info@wirelessestimator.com.

Copyright © Wireless Estimator, Inc. Please request reprint permission.