Product Information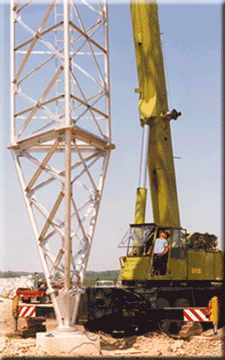 Guyed Towers
Guyed towers are utilized to achieve the maximum in elevation and loading at an economical cost. The addition of heavier braced sections and torque arm guy points allow a tower to be engineered custom to its loading specifications.
The face width is the measurement of each side of the triangular structure that sits upon a tapered bottom section that is anchored to the foundation base by a pivot pin. The tower is supported by galvanized steel guy cables of varying sizes.
Many tower manufacturers' models end in two numbers that indicate the face width size in inches. However, the same model has various loading capabilities based upon the thickness and size of steel pipe or angle members used for vertical support and horizontal and diagonal bracing.
The height and economies of design will dictate whether the structure has three or six anchor points at 120 degrees. Standard
design is for the outer anchor to be at a distance between 70% to 80% of the height of the structure. Therefore, a 400' tower might have the anchor placed at 320' from the center of the guyed tower. If property constraints will not allow an 80% radius, you can order the tower to be designed with a shorter guying distance as low as 40%. You can also specify that you would like single anchor points for many heights. However, be prepared to increase your budget considerably since the beefed up structure will cost more and the downward pulling force of the guy wires will result in a more expensive guy and foundation anchor system. As manufacturers will often say, almost any design is possible if your budget can afford it.
Manufacturers provide multiple designs from tubular or round solid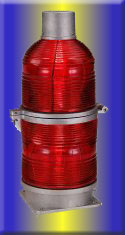 to angle iron legs; either knock down or all welded sections are fabricated.
If the tower structure's elevation is over 200 feet it will be required to have obstruction lighting. Some structures close to an airport will require lighting no matter what height the structure is. If lighting is required you'll find additional information by going to:
If you have an existing guyed tower that is over capacity, there are various strengthening systems that are available to reinforce the structure in order to increase its co-location capability. Also, there are engineers whose specialty is in designing retrofitting systems.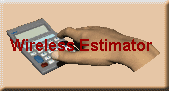 Pricing for your site specific guyed tower is available from our valued tower manufacturers. Many of them have on line quotation request forms for a quick and accurate proposal. In addition to your system's requirements, you will be requested to provide the design wind speed for the structure's location.
To identify the wind speed, please visit ABOUT WIND SPEEDS . Minimum basic wind speeds (MPH) are presented so that
the Wireless Estimator user can identify the requirement in each county in all states, for estimating purposes only. Keep in mind that in each county or city there might be a special wind region or an increase in the basic wind speed to accommodate hurricane prone coastlines. In addition, the owner may require an increased wind speed to protect further his structure.
When effective January 1, 2006, the new TIA/EIA Revision G standard will incorporate sweeping changes. To get a headstart on learning about some of the new purchaser and manufacturing requirements, please view TIA/EIA Revision G .


NOTE: Before ordering a tower, identify the TIA/EIA revision the building department requires as well as any special design requirements. Although Revision G goes into effect January 1, 2006, some jurisdictions may require the design to meet Revision F until IBC adopts Revision G or their code books are updated and reference Revision G. However,

if required, towers can be designed to meet both revisions. For additional information on Revision G, contact the following tower manufacturers and engineers:
Radian Rohn, Sabre Communications, Valmont Communications or Weisman Consultants . Also, review our Tower Design Checklist to ensure that you can easily provide the necessary information to your tower manufacturer to ensure that it meets your specific requirements and not the default design.