South Carolina's OSHA finds worker had personal protective equipment but did not tie off
September 26, 2007 -No violations of safety and health regulations were found in the death of a worker who fell from a communications tower in Bluffton, SC on June 28, according to a report by the South Carolina Department of Labor, Licensing and Regulation.

Charlie Moore, 31, of Woodstock, GA, was installing transmission lines about a third of the way up the 480-foot tower on Ulmer Road before he fell. He was wearing a harness and hard hat, but state OSHA officials said that when workers are stationary they sometimes detach from the safety wire.

Other employees said Moore had cut his finger and was taking a cigarette break when he lost his balance. Moore worked for TriCon/TowerWerks Inc. of Acworth, Georgia.

There was no evidence Moore was tied to the tower at the time, the report said.

West Virginia man falls to his death in Pennsylvania while dismantling tower
September 25, 2007 - (Updated September 26, 2007) -A 51-year old tower worker fell to his death yesterday afternoon from a radio tower he was disassembling near Cambria Drive in East Deer Township, Pennsylvania.
It is not known when the accident occurred since the tower technician was working alone when he fell. He was discovered by a young girl walking her dog in the field surrounding the self supporting tower.
East Deer Fire Chief Tim McGorty identified the man as Daniel Plants, 51, of Triadelphia, West Virginia. Plants had been hired by gospel radio station WGBN to dismantle the tower which had been severely damaged during a spring thunderstorm.
A neighbor near the tower site said she saw Plants working alone using a torch to dismantle the tower piece by piece at approximately 2:00 p.m. Hours later she heard emergency vehicle sirens and learned of the death.
Plants had been using a ladder placed horizontally at the 100-foot level as a work platform and may have fallen from that location, officials say, but it is not clear since no other workers were on site when the accident occurred. Officials said the man was wearing a harness when he fell, but they said it's unclear if the harness was tied to anything.
Firefighters who examined the tower said a buckled ladder may be to blame, but they will have to wait until the Occupational Safety and Health Administration inspectors investigate the fatality to find out what actually happened.
A nearby 450-foot guyed tower had been recently painted by Plants and his son.

Plants' family says he had been working on towers since he was 16 years old. His three sons often worked with him.

His widow and sons need help paying for the funeral. The Daniel Plants Memorial Fund has been established. Donations can be sent to WesBanco, 1 Bank Plaza,
Wheeling, WV 26003.

The worker's death was the ninth fatality this year of a telecommunications worker falling from a communications structure

Tower receives the most damage in collision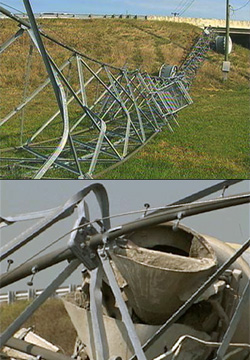 September 23, 2007 - Cement trucks are common sights on tower sites, but not after the foundations have been poured and certainly not underneath the structure after it has been erected. However, that's what happened yesterday morning when a cement truck driver lost control of his vehicle as he was exiting I-465 at Harding Street in Indianapolis, IN, and demolished a 120-foot self supporting microwave tower at the location.
Firemen extricated him from his trapped vehicle under the collapsed base of the tower. His injuries were not serious and no other vehicles were struck by the falling tower. The tower is owned by the Indiana Department of Transportation. The tower compound's equipment shelter was broken into by firemen who were concerned about the structure's antennas and generator causing injuries to rescuers.

Global Tower Partners expands its national
footprint through purchase of AT&T urban towers
September 17, 2007 - Global Tower Partners of Boca Raton, Florida, has announced the acquisition of 549 communications towers from AT&T Inc.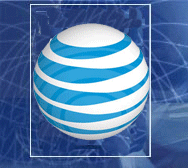 "The acquisition of these AT&T towers marks another major milestone in the growth of our company," said Marc C. Ganzi, chief executive officer, Global Tower Partners. "We are very excited about the prospects of this unique set of urban tower assets, as well as increasing our relationship with the wireless division of AT&T."
The towers are located in 27 states throughout the U.S. Financial terms of the transaction were not disclosed. RBC Daniels, L.P. acted as exclusive financial advisor to AT&T in the transaction.
AT&T Towers, formerly Cingular Sites is a group within the new AT&T dedicated to managing a tower portfolio of over 9,500 towers and is a competitor of GTP and other tower owners.
As a carrier operated tower company, AT&T Towers is the third largest national tower portfolio providing co-location opportunities. Last week the company loaded 8484 AT&T tower sites into their new co-location database.
With the new AT&T towers, GTP will own approximately 3,100 towers. GTP was acquired by Macquarie, Australia's largest investment bank, for $1.43 billion dollars from Blackstone Group. Macquarie is looking to further expand GTP's portfolio by offering to buy T-Mobile's 5,500 towers that are being sold by the carrier.
Macquarie is in the planning stages of contracting for due diligence inspections for their T-Mobile proposal.

North Carolina tower planners will welcome state's new law that will streamline co-location process
September 11, 2007 - North Carolina Governor Michael F. Easley has signed into law NC Senate Bill 831, which
streamlines and standardizes the process for siting wireless facilities within the state. The ratified bill, effective December 1, 2007, can be reviewed here. The legislation was sponsored by State Senator David Hoyle.
The law encourages streamlined processing by not having a co-location be subject to zoning requirements, including design or placement requirements, or a public hearing review if the additional co-location does not exceed the number of wireless tenants previously approved for the support structure. In addition, its placement must not increase the height of the tower or the size of the originally approved compound.
A provision for placing a cap on fees that third-party consultants can charge applicants was struck from the bill prior to its passage. The new law states: "Any charges or fees assessed by a city on account of an outside consultant shall be fixed in advance and incorporated into a permit or application fee and shall be based on the reasonable costs to be incurred by the city in connection with the regulatory review authorized under this section."
The Carolinas Wireless Association will begin educating the planning community about the new siting requirements during their luncheon meeting on September 20, 2007 in Greensboro, NC. For information about this meeting and other state wireless association events, click here.

Sprint / Nextel and broadcasters request the FCC to extend tomorrow's deadline another 29 months
September 6, 2007 - As expected, Sprint / Nextel Corp. and U.S. broadcasters said they can't meet a September 7 deadline to move television equipment to digital signals, and asked FCC regulators for a 29-month extension.
The project "has proven far more complicated and time-consuming" than expected, Sprint, the Washington-based National Association of Broadcasters, and two other broadcast trade groups informed the Federal Communications Commission yesterday in a joint filing.
Sprint is working with nearly 1,000 local TV stations to move electronic news-gathering systems, which transmit reports from remote locations to the studio, to digital signals. The transition will free up some airwaves for other uses.
The FCC agreed in 2005 to let Nextel Communications Inc. use some of that spectrum for wireless service. As part of the deal, Nextel agreed to finance the transition and give up other airwaves to reduce interference on public-safety communications systems. Sprint Corp. bought Nextel later that year to form Reston, Virginia-based Sprint Nextel.
Postponing the deadline until 2010 would allow for the fastest possible spectrum relocation and ensure that U.S. viewers "can continue to receive important local news, weather and sports reports from the field," Sprint and the broadcast groups told the commission.
The broadcast auxiliary service move has been a continued source of income for tower erection and maintenance companies specializing in the broadcast industry. On July 10, two Missouri men fell to their death while installing Nextel equipment on a guyed tower as part of the federally-mandated program.

Artist finds spiritual aspect to communications towers, others find them controversial
September 1, 2007 - An artist's view of how antenna towers have altered the rural and suburban landscape in America was well-received at a Saranac Lake, NY gallery exhibit.
Lake Placid resident Peter Seward's exhibit entitled "Stealth Towers," provided an oil and watercolor look at how antenna towers have become ubiquitous in much of the 21st Century landscape, yet remain a controversial issue, especially in the North Country.
In early January the death of a 63-year-old man advanced long-sought-after communications towers in the area. The Brooklyn, NY man died from hypothermia after driving off a remote location of Interstate 87 in the Adirondacks and his wife was incapable of calling for help because of a lack of cell phone coverage in the area.
Seward said that at the show's opening, "One elderly gentleman earnestly brought up the life and death issue of not having a communication infrastructure in the North Country."
"He lobbies for service because he has a friend who lives in 'the hole in the donut' and has a medical condition. He is afraid of an emergency when driving around," Seward said.
Seward said his art, to some extent, "creates a fiction where there is some spiritual aspect to the telecommunications towers, a sacred image we look up to."
He said he's centered the towers in the compositions to be iconic with the landscape ordered around it. Click here for additional pictures from the exhibit.

Court's RF exposure ruling could have significant financial impact for the wireless industry
August 23, 2007 - Stemming from a 1998 incident, the Alaska Supreme Court last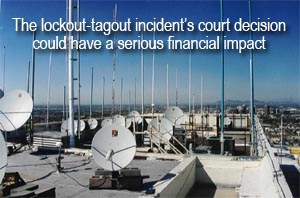 month affirmed a state ruling awarding an AT&T Inc. equipment installer total disability and medical benefits as a result of health problems tied to exposure to radio frequency radiation levels deemed to be slightly above those set by the Federal Communications Commission.

The court's decision to uphold Alaska's Workers' Compensation Board has potentially major implications for the tower construction and maintenance industry, according to a consumer advocacy group specializing in wireless health issues.
Please see: Case seen as precedent-setting

Industry safety report card:
IT'S APPALLING!
August 16, 2007 - Last year was a slightly safer one in general for workers in the United States; 5,703 died on the job, down from 5,734 deaths during 2005. The rate was 3.9 per 100,000 workers, minimally lower than the 4.0 per 100,000 in 2005.
Unfortunately, for workers earning their living by erecting or installing equipment or providing maintenance on communications structures, the fatality rate skyrocketed making the niche industry construction group the most dangerous profession in America.
*The most dangerous jobs by fatality rate in 2006:

Rank

Occupation

Death rate
per 100,000

Total deaths

1

Tower erectors/climbers

183.6

18

2

Fishers and fishing workers

141.7

51

3

Aircraft pilots

87.8

101

4

Logging workers

82.3

64

5

Structural iron and steel workers

61.0

36

6

Refuse and recyclable material collectors

41.8

38

7

Farmers and ranchers

37.1

291

8

Electrical power line installers/repairers

34.9

38

9

Roofers

33.9

82

10

Driver/sales workers and truck drivers

27.1

940

*Bureau of Labor Statistics. Tower erectors/climbers statistics from WirelessEstimator.com
Eighteen workers died in 2006 from falling from a communications tower in a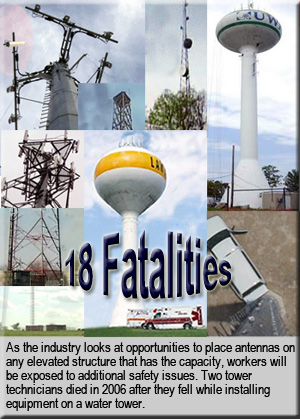 profession that has approximately 9,800 employees that work on elevated structures primarily for the cellular and broadcast industries - although broadband activity is increasing throughout the country and wireless internet service providers' installations are adding to the current busy workload.
With a failing report card of 184 deaths per 100,000 employees, tower climbers surpassed fishing workers' 142 fatalities. Aircraft pilots came in third with 88 fatalities and structural iron and steel workers were at 61 deaths per 100,000 workers, according to annual statistics released last week by the Department of Labor's Bureau of Labor Statistics. Fatal tower worker injuries and the national number of climbers were compiled by WirelessEstimator.com.
BLS statistics have become the recognized bellwether for annual rankings for identifying dangerous professions although some of the data is based upon surveys that might be skewed by incorrect fatality classifications.
Please see:Cause for rise remains elusive

Illinois tower worker's estate says Klein's harness snap hook design was defective
August 2, 2007 - A safety harness manufactured by Klein Tools, Inc. was defectively designed, according to a wrongful death suit filed on behalf of Daniel Arnold of Alton,
Illinois. The Madison County Circuit Court suit, filed Tuesday by Arnold's next of kin, Arthur Arnold, says the gate keeper on the decedent's lanyard failed.
The 37-year-old tower worker fell approximately 80 feet from a guyed tower that was being erected by his employer, Tower Maintenance & Erection Co. of Illinois in Butler County, Missouri.
The complaint states that on August 3, 2005, Arnold was wearing full fall protection equipment, however, the gate keeper on his lanyard snap hook failed and he fell to his death.
"...Plaintiff, while wearing an appropriate safety harness, was using its lanyard to assist him in his climb when the gate keeper of the lanyard snap hook remained open...," the complaint states.
Arnold's suit claims the safety harness did not have adequate instructions as to its use "when defendant knew, or should have known, that such was a hazard to users."
Arnold was alive for a short time following his fall and was treated at the scene by paramedics. He was later pronounced dead at Poplar Bluff Regional Medical Center. Co-workers believe that Arnold was in the process of attaching his safety lanyard when he fell, but there were no eyewitnesses to events preceding the fall.
Butler County Coroner Larry Cotrell said that 37-year-old Daniel Arnold fell from the structure and bounced off of a guy wire before landing in a field.
The suit also names as defendant Haun Drop Forge and/or Pensafe, Inc., alleging it designed and manufactured the snap hook and its gate keeper.
Other defendants in the civil lawsuit seeking in excess of $250,000 in damages include Miller Safety and First Aid Products, Elk River and Marcal Rope & Rigging, Inc. The manufacturers informed WirelessEstimator.com that they would not comment on the suit.
Arnold is represented by Bruce N. Cook of Cook, Ysursa, Bartholomew, Brauer & Shevlin of Belleville, Illinois.

Texas erector suffers second fatality this year in Louisiana after tower tech falls to his death
July 30, 2007 - (Updated July 31, 2007) - A 29-year-old climber from Texas fell approximately 400-feet to his death at approximately 5:30 p.m. Friday afternoon outside of Centerville, Louisiana.
The Saint Mary Sheriff's Office informed WirelessEstimator.com that a late afternoon accident killed a tower technician, Gerald Waits of Tomball, Texas, who was working with three other crew members at the 400-foot-plus guyed tower site.

Although a department spokesman said there was a slight amount of inclement weather, it is not known why the man fell.

Some of the workers at the American Tower Corporation-owned site said that they believe their co-worker thought he had his safety equipment properly attached to the structure.

The man worked for Gritz Towers of Goliad, Texas. The tower erection and maintenance company had previously lost an employee on February 7 when he fell from a 330' self supporting tower in Golden Meadows, Louisiana. The OSHA investigation by the Baton Rouge office was closed on February 26 and Gritz Towers was not cited for any workplace safety violations.

OSHA officials were on site this morning investigating the fatality. The crew had the tower rigged with a gin pole in preparation for raising the structure's height.

American tower officials were not notified of the event until early this morning.

The worker's death was the eighth fatality this year of a telecommunications worker falling from a communications structure.

Industry investigating monopole failures
July 28, 2007 - There have been multiple monopole failures this year such as this Sprint/Nextel monopine that fell in California in early May.

Although some of the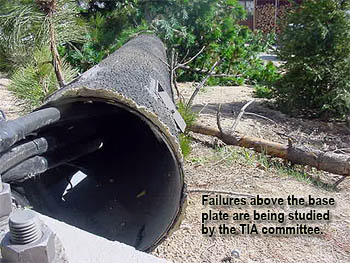 structure failures can be attributed to winds in excess of jurisdictional design requirements, some monopoles reportedly failed at wind speeds that should not have caused the poles to collapse.
One commonality is that numerous failures were directly above the base plate or above flange locations.

In an industry where the speed of rumors, misstatements and misunderstandings can make the highest ASCE three-second gust blush with envy, industry observers are quick to fault poor engineering, manufacturing and/or metal fatigue as the usual suspects.
Some structural engineers believe that design aspects of monopole engineering should require a closer look, and the TR14.7 TIA-222 committee agrees since they will be reviewing base plate design methodologies and weld details of the base connection on monopoles. They'll also be investigating fatigue categories on welded joints. Their findings and recommendations will be included in Revision H of the tower standard. However, it could be a year or two until this area of concern is fully explored.
If you or your company can provide any research, structural testing data or photographs of failed monopoles, please send them to info@wirelessestimator.com so that we can share this information with the industry.
Monopoles, the structure of choice for most planning and zoning officials, have a life cycle in excess of 50 years when maintained, according to manufacturers, but many of them that were installed during the industry's greatest growth period require retrofitting solutions for additional capacity.

American Tower 177-foot monopole crippled while being rehabilitated in Michigan
July 24, 2007 - While working on a
reinforcement project to add additional capacity to a Howell, Michigan monopole, a contractor accidentally set the structure's transmission lines on fire, causing the American Tower Corporation monopole to be completely destroyed.
The fire, which started at about 9 a.m., burned itself out by 10 a.m., but left a leaning unstable 177-foot telecommunications tower that served AT&T, Sprint, and carried the internet connections for five Howell schools.

A COW (cell on wheels) is expected be placed in service until a new monopole can be installed.


"AT&T is currently cooperating with local officials and working with the vendor of the structure as they assess the safety of the tower," said AT&T Spokesperson Meghan Roskopf.

Fire officials on site said the project, under the supervision of CommStructures of Pensacola, Florida, required cutting and welding and they believe that the coaxial cable was accidentally set on fire.

Paul Roberts, Vice President of Compliance for American Tower, said there is a very low probability that the tower will topple. He said the steel structure sometimes straightens itself out when it cools following the fire.

"However, we take no chances," Roberts said. "We will keep a 250-foot clearance until we can get a crane out there and it's secured."


The tower is next to the Howell High School bus garage. Buses already parked near the monopole were not in danger, but buses that came in with students had to park farther away than usual to stay out of the way of the fire.

People in a bus garage and those students and teachers in the part of the school complex containing a swimming pool, were evacuated, police said. The school is on Highlander Way, off M-59.No injuries were reported.

Senate approves North Carolina cell phone tower application streamlining

July 19, 2007 - Legislation designed to make cell phone tower construction applications more uniform cleared a North Carolina Senate committee Wednesday after wireless industry associations reluctantly agreed to the removal of several provisions that local governments opposed.

The current version of S.831 does not include a proposed cap on the fees charged by consultants who evaluate permit applications for cities and counties.

A key measure that was eliminated was a requirement for local governments to decide within 90 days whether to issue a new construction permit. However, the legislation is still expected to help expedite the approval process.

Lobbyists representing county commissioners and municipal leaders said they expect other areas of the bill will need to be addressed if the measure goes over to the House.

North Carolina's State Wireless Association and PCIA - the Wireless Infrastructure Association - have been strong industry advocates for uniformity in cell site applications in North Carolina.

While some North Carolina local ordinances do promote the co-location of wireless facilities, others do not and the PCIA said that too many jurisdictions still have an exhaustive process in which an applicant must go through to place additional equipment on a tower that already exists and has already been locally permitted.

"Since the structures have already been approved, collocation does not raise new environmental or aesthetic issues. Accordingly, there is no need for the permitting process that applies to new structures," said Michael Fitch, President and CEO of PCIA.

Former Aussie tower tech targets his previous employer's cell sites with stolen APC
July 17, 2007 - The high price being paid for salvage copper has been responsible for many U.S. tower sites having service interrupted when thieves remove grounding systems and coaxial cable. In Sydney, Australia this weekend seven sites were out of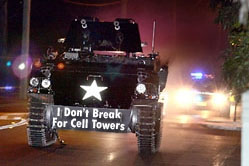 commission when a former cell site technician formerly employed by Telecom felled four Telstra towers and damaged three Optus towers with a stolen privately-owned armored personnel carrier.
Authorities said John Robert Patterson took a privately-owned APC on a 90-minute cell site demolition derby. After crashing through fencing and destroying a number of towers, equipment shelters, transmission line bridges and other infrastructure items, Patterson was on his way to his eighth site when his vehicle stalled and he was apprehended.
Neighbors said he was a former tower technician for Telecom - now Telstra - who received a compensation payout about 15 years ago after a head injury. Patterson's former employer said that the tower worker held a grudge against Telstra and this might have been his way of retaliating.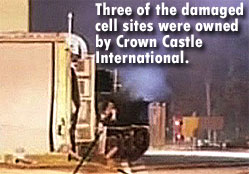 Patterson was charged with a number of offences, including predatory driving, possessing a prohibited drug and using a weapon to avoid apprehension - a restored army tank.
In refusing bail, the magistrate recommended that 45-year-old Patterson, who had facial cuts and a swollen left eye, get medical and psychiatric care.
The damage is estimated to be close to $6 million dollars. Cell phone service was severely interrupted and carriers are operating from cells on wheels (COWs) that were brought in Sunday.
Initial reports said three of the damaged sites, Plumpton, Emmerton and Mt. Druitt, were owned by Crown Castle International.

Two technicians trolleying on guy wire fall to their death while installing station's antenna
July 10, 2007 - (Updated July 11, 2007) Two tower technicians died at 9:30 a.m. today after falling approximately 500 feet from a tower south of Kansas 10 near Eudora, Kansas.

Authorities have identified the men as Jerry Case, 54, of Kansas City, MO, and Kevin Keeling, 33, of Independence, MO.

Case was the owner of Structural Inspections Inc. of Blue Springs, MO. Keeling was his employee.

Douglas County Sheriff Ken McGovern said the men were 500 to 800 feet high, riding in a man-bucket running along one of the guy wires supporting the 1,000-foot four tenant tower owned by TFM Communications, Inc. of Topeka. Something caused the bucket to crash to the ground.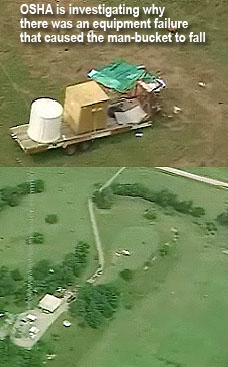 The sheriff's office is working with the federal Occupational Safety and Health Administration to determine what equipment malfunctioned.

Paramedics, who were on the scene when deputies arrived, pronounced the victims dead at the tower site.
The men were hired by television station KSHB to install an antenna for NBC Action News.

A broadcast engineer who knew Case said the climber was a nationally-renowned engineer and tower worker, and a phenomenal person.
"There were times when he climbed out on the tower with two, three and four inches of ice on it in the middle of winter to get us back on the air," said Mike Cooney, director of engineering for Entercom Communications Corp. "He would do whatever it took. And there's the attitude that the tower crews are crazy and he wasn't. He was a sane and normal, incredibly intelligent and very passionate about what he did."

The bodies of the deceased workers were taken to the Shawnee Coroner's Office in Topeka, where an autopsy on each was to be performed.

The deaths became the sixth and seventh fatality this year of telecommunications workers falling from a communications structure.

FAA's 7/8" deletion places lighting compliance burden on tower owner's and FCC's interpretation
July 2, 2007 - Without any fanfare last February, 18 changes were made to the Federal Aviation Administration's Obstruction Lighting and Marking Advisory Circular, AC 70/7460-1K. The majority were comprised of editorial housekeeping corrections such as changing website addresses and incorrect punctuation.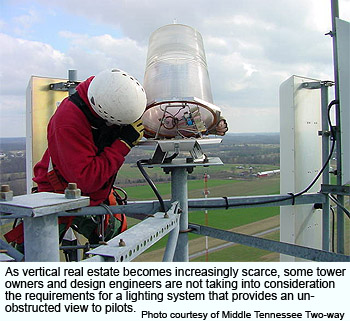 One revision specified that the number of light levels recommended for communications towers with high intensity lighting depended upon the height of the structure, "including" antennas and similar appurtenances. The previous AC stated that it "excluded" antennas and other accessories.
The very last change, pertaining to a diagram of medium intensity lighting for the top of towers, said: "Verbiage removed under first structure."
What the FAA deleted from the former advisory circular drawing, referencing medium intensity lighting systems (L-864 or L-865 or a combination of both) for towers up to 500-feet, stated: "Obstruction light should be mounted above all appurtenances excluding anything less than 7/8-inch (2.2cm) diameter."
Obstruction lighting professionals who monitor the advisory and who were instrumental in advising the FAA to make many of the changes that became effective following Revision K's sweeping overhaul of the 1995 Revision J advisory circular, said the 7/8-inch rule was introduced to allow lightning rods to be placed upon the top of the tower, above the lighting system and to allow small whip-type antennas to exceed the top of the tower and have lighting systems still provide unobstructed 360-degree coverage. Please see: Obstruction size muddied by deletion

Second South Carolina death within a week stuns communications climbers
July 1, 2007 - Communications workers were shaken by a second fatality within a week when a Georgia man fell 177-feet to his death Saturday afternoon in South
Carolina.
Arthur Lee Snelling, 40, of Rex, was working on a Summerville cell phone tower near Yancey Street at approximately 3:50 p.m. when he fell to the ground and died upon impact, said Dorchester County Coroner Chris Nisbet. The coroner said Snelling was wearing fall protection equipment, but was not attached to the tower.
Snelling owned his own line and antenna company. Two of his employees on site witnessed the fall.
The tower technician's death was the second fatality in South Carolina within a week. On June 28, a 30-year-old worker, also from Georgia, fell 150-feet to his death in Bluffton. The climber was the fifth fatality this year of a telecommunications worker falling from a communications structure.
The year began with a low fatality rate, but saw a dramatic increase with three fatalities in June. During 2006 there were 18 deaths.

Georgia man succumbs following fall off of Bluffton, South Carolina 480-foot tower
June 28, 2007 - (Updated June 30, 2007) - A Woodstock, Georgia man fell 150' while working on a 480-foot guyed tower this morning, dying upon impact, according to Beaufort County South Carolina Coroner Curt Copeland. The 10:45 a.m. accident took place at a tower located at 48 Ulmer Road in Bluffton.


Authorities said 30-year-old Charles Moore worked for TriCon/TowerWerks Inc. of Acworth, Georgia, and was installing transmission lines when he fell. Four other crew members were on site when the accident happened.

According to Kirk O'Leary, spokesman for the Bluffton Township Fire Department, "The victim had cut his finger and was bandaging the cut with electrical tape, and all of a sudden, he just fell. We don't know if his line got clipped or what."

O'Leary said, according to a contractor on the ground, Moore tried to grab a guy wire on the way down. The technician fell past two fellow-workers working below him. He was wearing fall protection equipment, but it is not known if he was attached correctly to the tower or if there was an equipment failure.


O'Leary pointed out that this isn't the first time that his department has responded to an accident on this tower.

"We've had a couple in the past, nothing this severe as far as this height of a fall, but there have been a few other accidents on this tower, injuries sustained from putting equipment up," said O'Leary.

The worker's body was transported to Charleston where an autopsy will be conducted tomorrow at the Medical University of South Carolina.

Officials from the federal Occupational Safety and Health Administration from Columbia were investigating the fatality this afternoon at the Crown Castle International-owned tower site.

The climber was the fourth fatality this year of a telecommunications worker falling from a communications structure.

Services set for July 1
Survivors include his wife, Melissa, and a son, Austin. Funeral services are
scheduled for 2:30 p.m. Sunday, July 1, from the Sosebee Memorial Chapel, 191Jarvis Street, Canton, GA. The family will receive friends after 7:00 p.m. Saturday and until the funeral hour Sunday. In lieu of flowers contributions may be made to the Austin Moore Trust Fund c/o Regions Bank, 9045 Hickory Flat Hwy., Woodstock, GA 30188.

Winds possibly in excess of 110-miles-per-hour topple two Seminole, Texas towers
June 27, 2007 - Two communications towers were felled in Seminole, Texas by devastating winds and rain that tore through Gaines County last night. Only minor injuries were reported.
The National Weather Service said winds were recorded at 97.5-miles-per-hour at a nearby weather station, but it was likely that the winds were higher since the recording instrument was rendered inoperative during the storm.
A 300-foot four-leg cell tower collapsed on top of the Agape Church, resulting in heavy damage to the roof and one of the church's buses being crushed. The structure fell into church property, sparing a residence a few yards from the base of the self supporting tower. A smaller guyed tower also fell in Seminole, damaging the roof of a butane company's office building.
Although the self supporting structure had been built many years ago, the design code for Gaines County in TIA/EIA-222-F is 80 mph. Revision G is 90 mph , based upon 3-second gust wind speeds. Weather Service officials said the winds could have been in excess of 110 mph.

Cingular flu infectious to all sectors of wireless industry, but some contractors are immune
June 12, 2007 - A wireless tower accessories manufacturing executive says that he's pleased that his firm is maintaining its 2006 levels of business this year. One of his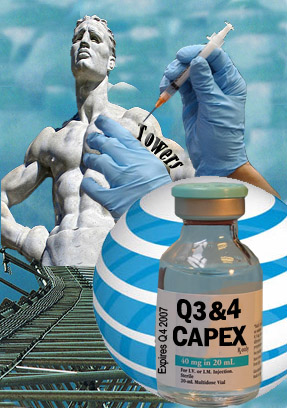 regional sales managers disagrees, saying that sales are down more than 10% in a number of their markets and margins have been severely cut on some products.
Conversely, a northeast site development and construction firm is inundated with work and can't solicit enough qualified site acquisition and field employees to staff their ongoing projects. Major distributors are witnessing a drop in certain lines, but find their sales buoyed by Wi-Fi broadband equipment.
Yet out of necessity, a tower foundation contractor has moved almost entirely into the wind power industry where the margins are better and the work is plentiful.
Last month an equipment shelter manufacturer, whose primary market is in the telecommunications industry, was forced to lay off 80 employees. And as the orange Cingular jacks logo fades to at&t black, some small tower contracting businesses are joining its demise as the industry tries to weather a general slowdown that hasn't been seen since 2001.
In a cyclical business where multi-million dollar projects can stop on a dime and businesses will fold as easily as an empty wallet, some company owners are concerned about 2007's second half outlook and are cautiously optimistic about reports that at&t's wireless unit is going to significantly ramp up capex spending.
Please see: Mergers crippling to many

Indiana man dies after falling from Florida tower
June 7, 2007 - A 21-year-old Mount Vernon, Indiana man was killed this morning in Mandarin, Florida when he fell from a monopole behind a Food Lion grocery store on Old St. Augustine Road, according to a sheriff's official.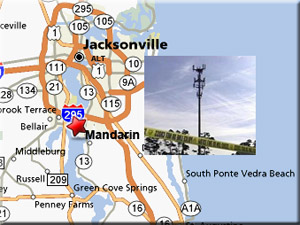 Sgt. Rick Hike of the Jacksonville Sheriff's Office said that Nicholas A. Fischer was pronounced dead at the scene when he fell 100 feet and landed upon an equipment building.

Hike said that patrol officers responded to an emergency call at 8:21 a.m. and that three other tower technicians were working on the cell phone tower when Fischer fell.

The men were employed by Tower Reinforcement, Inc. based out of Evansville, Indiana. It is not known whether Fischer was wearing or tied off with personnel protection equipment at the time of his fall.

Fischer was reportedly setting up the rigging on the 150-foot monopole to hoist reinforcement materials for the four-carrier site when he fell.

One of Fischer's coworkers told police he heard a click and then heard Fischer yell as he fell from the tower.

An Occupational Health and Safety inspector was at the accident site this afternoon.

The climber was the third fatality this year of a telecommunications worker falling from a communications structure. During 2006, an industry-shaking 18 deaths were reported.

Climber critical following 52-foot fall

June 6, 2007 - A 31-year-old Lake City, Florida man is being treated for serious head trauma as well as injuries to his arms, legs and abdomen, after falling 52 feet to the ground in Morganton, North Carolina on Monday.



According to Major Ken Anthony of Burke Emergency Services, the technician was tied off to the tower with a safety harness while working.

Anthony said it is possible that the man fell after unhooking his harness as he started to climb down the tower.

The tower tech was installing a new microwave dish on the Burke County 911 tower. Two other workers were on the ground when the accident occurred.



The climber's name hasn't been identified by authorities because his family hasn't been notified. He's being treated at Carolinas Medical Center in Charlotte where he was immediately airlifted by helicopter.

Paramedics were already at the building for a paramedic class and were able to administer assistance within seconds. Anthony said it was less than 40 minutes from the time he fell to the time he was on the operating table in Charlotte.

The North Carolina Department of Labor is investigating the accident. An investigator at the scene said the technician, who was involved in a microwave path alignment project, might not have been wearing safety equipment. North Carolina is the only state in the nation to provide a standard for fall protection .

ATC and Crown get FCC okay to cut back light monitoring inspections from quarterly to annually
May 16, 2007 - The Federal Communications Commission released an order yesterday allowing American Tower Corporation and Crown Castle International to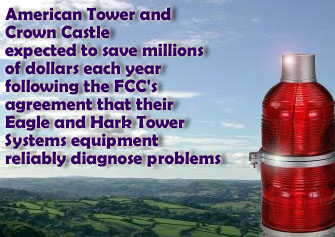 inspect their lighting monitoring systems once a year instead of the required intervals not to exceed three months.
Removing the quarterly requirement is expected to save both companies millions of dollars each year. ATC filed a request for a waiver for towers utilizing the Eagle Monitoring System, a product of Flash Technology, on May 19, 2005. On January 24, 2006, the Wireless Telecommunicatons Bureau released a Public Notice seeking comment on the waiver.

Global Signal, Inc. (acquired by Crown Castle International earlier this year) responded, requesting that it also be granted a waiver with regard to its towers that are monitored by HARK Tower Systems' equipment. Please see: AOPA Objects.

Maintenance at guyed tower believed to have touched off
Santa Catalina Island fire
May 11, 2007 - Firefighters turned back flames today that threatened Santa Catalina Island's main city and some residents planned to return to their homes this afternoon after thousands were forced to evacuate yesterday.

The 6 square mile California wildfire began in the area of an AM Christian radio station broadcast tower, KBRT-AM 740.

The cause is still under investigation, although Steven Hofs, chief of the Avalon Fire Department, said a tower crew changing out guy wires on the radio tower may have inadvertently started the 4,000 acre wildfire.

Bill Agresta, chief engineer at station KBRT, said tower workers had been cutting the guyed wire tails with a gas-powered circular saw when the fire ignited.

Agresta said he saw a small blaze and ran inside the station to call 911. By the time he returned, it had moved several hundred feet downhill and engulfed the tower crew's tool truck.

The men unsuccessfully fought the fire with two handheld extinguishers, Agresta said.

Station management did say that although they were unable to broadcast, their transmitter had survived the fire.

Most of the 76-square-mile island is owned by a land conservancy, home to wildlife including the Catalina Island fox, North American bison and bald eagle.

Florida thief unknowingly poses for police as states and carriers try to stem copper thefts
May 11, 2007 - A copper thief who vandalized a Riverview, FL tower site and stripped #2 ground wire from a carrier's transmission lines and equipment, wasn't aware that his exploits were being captured digitally to assist the Hillsborough County Sheriff's department to make an early arrest if someone identifies the person.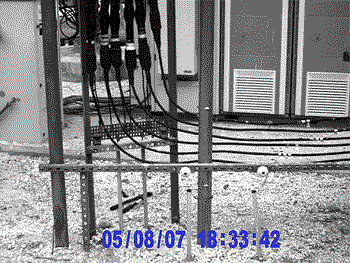 The tower site theft Tuesday evening in the small community southeast of Tampa was just one of dozens throughout the country this month, from Murfreesboro, TN to San Diego, CA. A Biloxy, MS AM station was unable to broadcast when thieves stripped transmission line from their tower two weekends in a row.

The high value of scrap copper has made tower sites high profile targets for thieves, some of them industry workers who can quickly strip transmission lines and grounding systems. To stem the increase in thefts, carriers are using multiple preventative measures. Please see: Carriers trying new options

Former American Tower exec wants restraining order against company he helped found
May 8, 2007 - J. Michael Gearon Jr. had been one of the driving forces behind American Tower Corporation's success. The former vice chairman and director now wants to be their competitor, but he must first win a lawsuit his high profile attorneys have filed that alleges ATC is unfairly preventing him from getting back in the business following his resignation on February 27.


At stake for Gearon, in addition to being restricted from broadly working in the industry for two years, is the forfeiture of $2,915,468 payable to him by ATC secured by Gearon's requirement to comply with his non-compete agreement.

After discussions with ATC failed, the competitive owner of Atlanta Spirit, LLC, the parent company of the NBA's Atlanta Hawks, the NHL's Atlanta Thrashers and the Philips Arena, hired former Georgia Gov. Roy Barnes of the Barnes Law Group as well as the firm of Ashe, Rafuse & Hill to represent him in the suit. Please see: American Tower is not wavering

Two tower techs arrested while stripping coax
May 4, 2007 - Two tower technicians were arrested yesterday morning while they were attempting to remove coaxial cable from American Tower Corporation towers in Lakeland, Florida, according to the Polk County Sheriff's Office.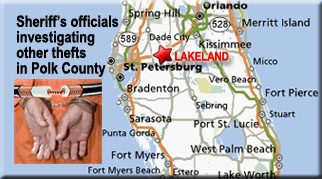 Officials say Toby Lee Coker, 32, of Tampa and Daniel A. Nevis, 50, of Bushnell were arrested for stealing more than 2,000 feet of copper wire, valued at over $10,000, from the two structures.

Coker was charged with two counts of burglary and one count each of grand theft, possession of burglary tools and marijuana possession, the Sheriff's Office said. Nevis was charged with one count each of armed burglary, burglary, grand theft and possession of burglary tools.
An American Tower site inspector from Atlanta saw the men loading copper wire into a trailer Thursday and questioned the men who claimed that they had been instructed by their south Florida tower construction employer to remove the coax.

After checking with American Tower management, the inspector found that the two men, both wearing a company hat, were not employees of that firm, were not scheduled to remove the transmission line, and called the Sheriff's Office. Three loaded weapons were found in one of the two vehicles driven by the men, the Sheriff's Office said.

Sheriff's detectives are investigating whether the men are responsible for other copper coaxial cable thefts in Polk County. The technicians might have used their knowledge of which transmission lines were decommissioned so that they were able to remove them from the towers without the carrier identifying that the cell site was down.

Last December, a former American Tower employee and his two co-workers were arrested in Georgia for felony burglary when an explosion occurred as the tower technician and his two co-workers were stripping copper from a Dahlonega site. Police were suspicious after an electrician suffered severe burns and was admitted to the hospital.

PBS tower collapse being investigated
April 23, 2007 - Mountain Lake PBS of Plattsburgh, NY, is still dealing with the
aftermath from the collapse of its transmission tower early Wednesday morning. The 400 foot tower guyed collapsed completely, and partially damaged the transmitter building at its base on Lyon Mountain. The full extent of the damage to the operating equipment situated on the tower, and within the transmitter building itself, is still unknown. It is believed that an increase in ice and snow build-up due to the nor'easter storm that passed through the region is the primary cause for the destruction. However, forensic engineers have yet to draw any conclusions as to what the actual cause may have been. In upgrading to digital last year the station reinforced the structure's foundations. The station leased tower space to at least a dozen emergency services and communications companies.

Berliner becomes third largest US wireless contractor with acquisition of Radian

April 16, 2006 - Rich Berliner, CEO of Berliner Communications of Elmwood Park, NJ, announced today that his company has acquired the U.S. wireless infrastructure construction and installation business of Radian Communication Services, Inc. Radian has operations in six western states, including key locations in Los Angeles, Seattle and Las Vegas. Radian, a Canadian based company, will continue its operations in Canada and its Rohn Tower division in the U.S.

Berliner is ranked third below Andrew Systems, Inc. and WesTower Communications, Inc. which have approximately 350 employees each.
Please see: Breakthrough for BCI

Supplying wireless devices benefits owners by providing more productive employees

April 11, 2007 - Outdated beliefs held by some management that wireless devices are a luxury or a privilege are no longer supported by lower airtime rates and the relatively low cost of devices, according to Bill Hughes, principal analyst at In-Stat, a high-tech market research firm.

In addition, the cost in employee time spent filling out expense reports and lost productivity due to self-restraint in using wireless service amounts to $2 billion each year under a conservative estimate, says Hughes.
Please see: Phone is necessity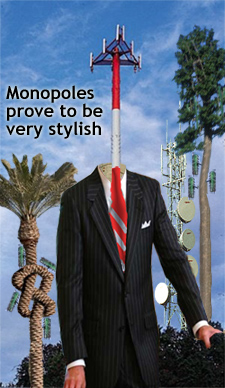 Monopoles are first choice
picks for cellular installations
April 6, 2007 - As communities strive for unobtrusive structures for a cell sites, concealment towers such as monopines, flag poles and cacti have been increasing, but the perennial favorite is the monopole. Of 210 structures reviewed by WirelessEstimator.com from selected tower owners that were either built in the past six months or are in near-term development stages throughout the country, monopoles led the steel pack for cell sites with a total of 132, 60% of the total. Guyed towers, more susceptible to be installed in rural areas, were only 8% of the installed structures.
Towers Built In Past Six Months or Planned*

Guyed Tower
16
8%
Self Supporting Tower
36
17%
Concealment Tower
26
12%
Monopole
132
63%
Total Towers
210
*Statistics are not reflective of all national tower consolidators or owners