Tower fall fatality was not industry related
October 31, 2008 - Messages on bulletin boards, emails and a news site article had the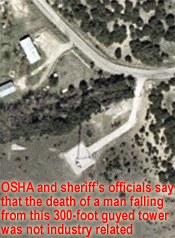 industry concerned about a Houston, TX internet service technician becoming the nation's 12th fatality this year after falling from a tower in Liberty Hill on Monday.

However, according to Austin OSHA investigator Juan Padron, his office has identified that, although a man had fallen from a tower, the deceased was neither employed by a service company nor was supposed to be on the tower.

A Williamson County Sheriff's officer said that 26-year-old Haven Cross may have had some emotional problems and decided to climb the tower. The compound's gate was still locked when authorities arrived and it appears that access was obtained by climbing a fence.

It is not known if the man had committed suicide or lost his footing since he fell on the inside of the tower.

There is no next owner in Nextel's future
October 31, 2008 - Sprint Nextel CEO Dan Hesse told the Kansas City Star that the carrier would retain the Nextel business and "rejuvenate this important asset."
In a statement, Hesse said, "The iDEN network is a key differentiator for Sprint as it allows us to offer products and services no other carrier in the industry can match."
Earlier this year, Nextel said it might unload the division, which it purchased nearly three years ago for $36 billion. The expected offering price was between $4 and $6 billion.
In making the announcement, Hesse also said the company would renew its relationship with Motorola that supports the iDEN network and devices.

DOJ gives green light to Verizon-Alltel merger
October 30, 2008 - The Justice Department signaled today its assent to the Verizon Wireless-Alltel merger on the condition that the merged entity divest radio spectrum in 100 markets across 22 states where the combined companies overlap.

Police seeking to identify if deceased worker fell from tower prior to falling through skylight
October 24, 2008 - Update 10/25/08 - Ellensburg, Washington police say that they are investigating the death of a 24-year-old man who died yesterday afternoon after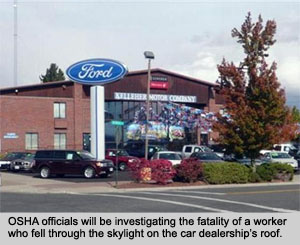 a 35-foot fall through a skylight from a tower atop the roof of Kelleher Motor Company.
"A worker on the roof fell through the skylight onto the concrete floor in the shop," said Dave Radcliff, captain paramedic with Kittitas Valley Fire and Rescue.
According to a police official, Gary D. Sivey, a Central Washington University student was an employee of Cascade 1 Inc., a wireless internet provider.
Radcliff said the man may have either walked onto the skylight and fell or fell from even higher up from a tower on the roof.
The worker was taken to Kittitas Valley Community Hospital, suffering from "massive multi-system trauma." He was suffering from a cardiac arrest when emergency personnel arrived.
On September 12, a Washington tower technician fell to his death from an elevator shaft in Port Angeles while performing a night cut.

Two tips of the hardhat to NATE
Finally, there is a webinar available on tower site safety that will surely not disappoint
COMMENTARY - October 24, 2008 - The National Association of Tower Erectors recently held a live webinar, The Critical Aspects of Tower Site Safety: From Top to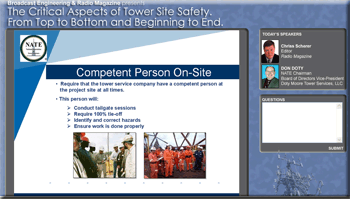 Bottom and Beginning to End.

Oftentimes webinars are self-aggrandizing promotional pieces that offer a sophomoric approach to a subject, leaving the viewer wishing they had done something more constructive with their time, such as making sure there are actually 100 Post-it notes in each pad of a 12-pack without taking the cellophane wrap off.
However, NATE's presentation didn't disappoint, proving to be one of the most interesting discussions about worker safety that has ever been presented by the tower erectors' association, or any other group aligned to the industry.
The discussion by NATE Chairman Don Doty about tower site safety was informative to contractors and workers as well as tower owners. But the staccato burst of questions provided by attendees proved to be equally as educational, and they were answered without being couched in cover your buttocks banter.

Doty was joined in his presentation by NATE legal counsel Mark Lies. Defective safety climbs and owner liability issues were discussed regarding everything from RF exposure to site fencing. There were excellent questions and the answers were exceptional as well.

The typically ignored 300 pound gorilla in the front office was finally recognized and drug usage in the tower construction industry was discussed. Lies commented that in some cases post accident results showed drugs in the deceased's system.

Unfortunately, many of the questions posed by attendees were left unanswered due to time constraints of the live broadcast.
The good news: Doty and Lies have provided answers to all of those questions and they have been posted on the NATE website. To view those questions and answers, as well as a written transcript of questions that were answered on the live broadcast, visit the NATE home page at www.natehome.com.
The Critical Aspects of Tower Site Safety webinar, sponsored by Sabre Towers & Poles, may be viewed in its entirety by clicking here.

Train station video confirms that tower's lighting system was operating prior to fatal crash
October 23, 2008 - Last week's fatal Air Angels helicopter crash in Aurora, IL was not caused by the absence of obstruction lighting on the guyed tower that the chopper struck, according to a preliminary report being issued by the National Transportation
Safety Board.
NTSB investigator John Brannen said yesterday that strobe lights on the tower owned by WBIG-AM were operating prior to the helicopter's rotor clipping a guy wire and killing four people when it crashed.
That determination came from video shot by a parking lot surveillance camera two miles away at the Route 59 train station, which was turned over to authorities earlier this week.
"At the approximate time the collision occurred, the lights stop blinking," Brannen said, suggesting that the lights were knocked out by damage from the crash. When fire and police personnel responding to the crash just before midnight on Oct. 15 saw no lights on the tower, some wondered whether lack of lighting had contributed to the crash.
The video did not show the tower or the helicopter, but provided coverage of the flashes of the lighting system.
The 750-foot tower had two levels of white obstruction lights.
WBIG President Rick Jakle says he never doubted the lights were on, though he was relieved to hear the tape supported his belief.
"Those lights are extremely reliable," he said. "They don't go out unless there is a thunderstorm or lightning. We're happy to hear the corroborating evidence, but the fact is, we knew they were on."

Reason for tower collapse in Kentucky questioned
October 22, 2008 - A 300-foot guyed tower between the Ashland building and Stratton parking lot of Eastern Kentucky University in Richmond, KY collapsed today. The lightly loaded tower was the property of the Kentucky State Police. The tower, fencing and two buildings were damaged. Weather was not seen as a factor in the collapse and the anchors and guy wires appeared to be intact following the collapse.
Police communications personnel are investigating why the guyed tower with a two-foot face failed. No injuries were reported.

Most wireless infrastructure companies indicate they'll not be adding to unemployment lines
October 21, 2008 - The financial services crisis of 2008 spurred by the housing
downturn of 2007 has caused the current unemployment rate to jump from 4.7 percent to 6.1 percent.
The National Association of Home Builders is forecasting housing starts will drop to 806,000 in 2009 compared with more than 2 million during the boom year of 2005.
But the majority of wireless construction, engineering, and management companies appear to be bucking national trends and are looking to hire additional employees in the next six months, according to a survey conducted by WirelessEstimator.com this month.
In a questionnaire submitted to industry hiring officers, 102 responded with 71% stating that they would be hiring new employees within the next six months. Twenty-two percent of the respondents said they were going to keep their same staffing levels, and 7% said that they would be letting employees go.
Three construction companies said they would be hiring field hands, but did not see a need for adding management personnel.
One contractor explained that their hiring is typically done prior to year-end so that they can train their employees over the close-out months before the new year so that they can be ready for the projects that get released in January.
Respondents ranged in size from a major tower owner to a Texas contractor that will increase its staffing by 50% by adding one more employee to assist with lighting service needs.
A number of downsizing contractors said employee cuts were a result of some 3G projects winding down in their markets.
Ron Deese, Vice President of AllState's Technical Services' Telcom Division, one of the nation's largest staffing firms, says he sees a great demand for industry workers to fulfill carrier projects in the ensuing months.
October 16, 2008 - On a day when shares across the world were being pummeled by signs that the world's biggest economies were headed for recession after a month of financial sector turmoil, the chief executives of the country's four largest non-carrier tower companies depicted a healthy 2009 for the industry.
Speaking during the PCIA's final day of The Wireless Infrastructure Show in Hollywood, FL yesterday, the titans of towers were enthusiastic about lease-up opportunities for the coming year.
Please see: Most see 2009 as an excellent year

Authorities will investigate if lighting system was malfunctioning prior to fatal chopper crash
October 16, 2008 - Investigators from the National Transportation Safety Board ruled out weather as a factor in a helicopter crash that killed four people late last night in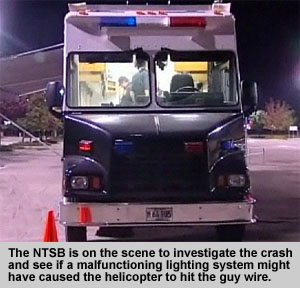 Aurora, IL after it struck a tower's guy wire. However, they will be looking to see if the 750-foot tower's obstruction lighting was working properly.
"I can say that when I was out here last night after the accident that the lights on the tower were not lit," said John Brannen, of the NTSB.
Brannen said the helicopter was flying about 50 feet below the top of the tower when the wire was clipped.
The helicopter that was transporting a one-year-old girl to a Chicago children's hospital when it apparently struck a radio tower guy wire before it crashed and burned.
"There was very little left of the aircraft itself," said John Lehman, of the Aurora Fire Department. "The impact was tremendous."
Authorities will identify if the tower's lighting system was damaged after the helicopter struck the guy wire and crashed. If the structure's lights were not working they will see if the owner had filed the proper notice to airmen to alert pilots to the malfunctioning obstruction lighting on the tower.
Aurora fire officials say the 750-foot tall tower for radio station WBIG 1280 AM is now about 15-feet out of plumb and one of the guy wires has been severed. That prompted officials to evacuate some residents from a nearby apartment complex.

Sprint's Nextel iDEN unit could be sold if credit
market doesn't tank
October 9, 2008 - Sprint Nextel CEO Dan Hesse said yesterday that recent rumors that there have been companies looking to bid on the Nextel iDEN business unit are correct, but he said that today's economic climate may make it difficult for a bidder to raise the capital.
Speaking at a WiMAX conference yesterday, Hesse said that there was significant interest by a number of companies. However, the $5-to$6 billion expected offering is considerably lower than the $35 billion which was originally paid by Sprint for the company.
Deutsche Telekom was rumored earlier this year to be eying a possible takeover of Sprint Nextel. At the time it was felt that a network operating on CDMA, GSM and iDEN would prove problematic and that the iDEN section would most likely to be sold off.
Alltel's previous owners TPG Capital and GS Capital Partners have been named as possible bidders, however it's likely the venture capital firms would have to wait until their proposed sale of Alltel to Verizon Wireless is complete, which is expected to occur by year-end.
The purchase of Sprint's albatross, would prove to be beneficial to wireless suppliers and contractors.
Despite the credit crunch, Hesse said he remained optimistic about closing a
separate deal with Clearwire. The pair announced plans earlier this year to fold their WiMAX operations into a new company which will also be called Clearwire but will be 51% owned by Sprint Nextel.
Under the agreement, which has yet to receive regulatory approval, a group of investors led by Comcast, Time Warner Cable, Intel and Google, plan to invest an additional $3.2 billion in the venture.
FiberTower Corporation is under contract with Sprint to deliver Ethernet-based WiMAX backhaul for the Clearwire project.
The wireless backhaul services provider announced earlier this week that all of its Area-Wide licenses in the 38.6 to 40.0 GHz spectrum bands received either renewals for another ten years or construction extensions until June 1, 2012 from the Federal Communications Commission. These 566 licenses, coupled with 103 licenses for 24 GHz spectrum, allow FiberTower's hybrid microwave/fiber network to extend over virtually the entire continental U.S. covering 284 million people.

Wireless legend Dale Hatfield to give opening keynote at PCIA confab
October 8, 2008 - Dale Hatfield, wireless veteran and renowned technologist, will give the opening keynote at the 2008 Wireless Infrastructure Show on Tuesday October 14 at 9:00 a.m. in Hollywood, FL.
He will address the unlimited potential of wireless and present his views on important new trends, opportunities and the future of wireless.
Hatfield has served in top positions involving the wireless industry in government, industry and the academic community. He has served as Chief Technologist, Chief of Plans and Policy, and Chief of Engineering and Technology at the Federal Communications Commission. He was Acting Assistant Secretary and Administrator of the National Telecommunications and Information Administration of the Department of Commerce. He was appointed by the Federal Trade Administration as the Monitor Trustee in the AOL-Time Warner merger.
He was the CEO of Hatfield Associates, a multidisciplinary telecommunications consulting company, served on the Board of Directors of public television station KBDI in Denver, and is a member of the Board of Directors of Crown Castle International. He has also been a consultant and advisor to the International Telecommunication Union.
He has taught at many universities, including Georgetown, the University of Denver, and the University of Colorado where he is currently Adjunct Professor in the Interdisciplinary Telecommunications Program.

Among his many awards are the Federal Communications Commission Gold Medal, the Department of Commerce Silver Medal, the U.S. Attorney General Distinguished Service Award, the PCIA Foundation Eugene C. Bowler Award, and election to the Wireless Hall of Fame.

Popular topics at this year's show include LTE, WiMax, Backup Power, Backhaul and DAS. You can view the schedule for more information on show sessions.

Report in fatal crash indicates crew thought tower
was nine miles further away
October 8, 2008 - In a military accident report issued this week, the U.S. Navy said that helicopter crew members were confused about their location when they clipped a Texas 1,000-foot television tower in a January accident that killed three men aboard the craft.

Investigators attributed the January 16 crash of the MH-53E Sea Dragon from Naval Air Station Corpus Christi to a "loss of situational awareness," blaming the crew's misinterpretation of the navigation information and cloud cover.

Radio transmissions from the helicopter showed that before the crash the crew believed the helicopter was nine miles closer to town, and clear of the Public Broadcasting affiliate KEDT tower.

There was heavy fog near the tower site located at County Road 59 and County Road 20 in Corpus Christi when the accident occurred. The structure's obstruction lighting system was operational at the time of the impact.

Former wireless worker could be responsible for
$6 million in cell site thefts
October 1, 2008 - A Georgia cell site thief's business model was cleaner and considerably more profitable than commonplace copper pilferage, a labor intensive criminal enterprise that nets less than $3.35 a pound.

Within the past year, it also allowed him to drive a Mercedes, and on an income that reportedly exceeded at least a half million, live comfortably in two homes by simply stealing circuit boards valued at about $23,000 each from Metro PCS and Verizon Wireless cell sites in the Atlanta area.

Unfortunately, Dwayne Horton's business plan didn't have a credible exit strategy and the former Metro PCS employee is being held without bond at the Gwinnett County jail after he was arrested this week for allegedly stealing $1.8 million in circuit boards from cell sites.
Please see: Number could reach $6 million.


Initial tower infrastructure damage assessment has Ike surpassing Katrina's devastation
September 17, 2008 - Updated September 24, 2008 with numerous telecom damage photos. Wireless and wireline carriers studied their Hurricane Gustav handbook to prepare for Hurricane Ike. And it worked. They were better-prepared to
begin assessing damage and restoring service with significant resources. That's the good news.
The bad news is that the early on site reconnaissance in Texas and Louisiana is now showing a greater number of cell sites in need of repair, a number that far exceeds the shocking post Katrina count.
Numerous contractors have said that the damage that they are seeing is widespread, especially in areas within 100 miles of the Gulf Coast.
However, Ike's punishing path continued throughout the U.S. leaving its mark on many communications structures - from felling a TV tower onto the greens at Valhalla Golf Club in Louisville, KY to toppling a cell tower in Pataskala, OH.
"We're finding that almost 80% of the approximately 285 towers we have inspected so far have considerable damage to them or are down due to power or other issues such as site egress," said Bruce Budagher, Vice President of Data Cell Systems of Winnsboro, LA.
"There are issues from the site being under water, whole sectors being blown off, single antennas and coax dangerously dangling in the air, entire structures stripped clean and even several towers that have collapsed," he said.
Please see: No comparison to Katrina in scope

AT&T night cut proves to be deadly for 33-year-old Washington tower technician
September 16, 2008 - Updated September 19, 2008 - A Bonney Lake tower technician fell to his death from an elevator shaft in Port Angeles, Washington while performing a night cut.


Authorities say 33-year old Jeremy Combs died just after midnight last Friday when he fell from the exterior of the elevator shaft on top of the Elks building in downtown Port Angeles.

Port Angeles police received the emergency call at 12:01 a.m., and Combs was still alive when paramedics and police officers arrived.

He was pronounced dead at Olympic Medical Center at 1:43 a.m.

Combs was about 32 feet up the shaft when he fell to the building's rooftop. According to Port Angeles police, Combs was part of a crew of Emerald Wireless Communications, Inc. sub-contracting for AT&T.

According to Rick White, Labor and Industries compliance officer, Combs was not wearing safety equipment when he fell.
White said the antenna mounts were about 4.5 feet high, and stood atop the building's elevator shaft.

Combs lost his balance and fell backward onto a lower roof on the fourth floor, White said.

The Buckley antenna and line company was established in 2000.

Combs was the tenth communications worker killed this year from falling from an elevated structure. Four of them were on AT&T projects.

Funeral services for the well-respected tower foreman will be held at Yahn and Son Funeral Home, 55 West Valley Highway, Auburn, on Wednesday, September 17 from 4:00 to 7:00 p.m.

Jeremy is survived by his wife, and their two children, Robert Allen Scott and Ashley Joy. He is also survived by his Grandfather Robert White, Mother Susan Combs, Sisters, Cindy Bates (Joey), Kristen Kirkland (Jay), and Michelle Manuel (Steve), and many nieces, nephews, extended family and dear friends.

Prior to his employment with Emerald Wireless, he worked for Brookstone Construction, Wren Construction and Steelhead Construction.
See: Four hundred pay tribute to Combs

Tower jump results in one arrest and one injury
September 15, 2008 - One BASE jumper was badly burned when his parachute touched a power line near Cuba, MO and another was arrested by police for trespassing and property damage.


According to a Crawford County Sheriff's Department officer, the men were believed to have been attempting a BASE jump from the AT&T tower west of Cuba on Old Springfield Road.

The incident allegedly took place around 10:30 p.m. on Tuesday, Sept. 9.

County deputies and EMS were called to the scene after one of the men had jumped from the tower and gotten his parachute caught in power lines near the tower site.

The injured man is expected to face criminal charges when he is released from burn treatment.

The second jumper, David Lee Overland, 42, of St. Louis, did not jump but was arrested. The men cut through a fence to climb the tower.

BASE is an acronym for four categories of fixed objects from which one can jump: Building, Antenna, Span, Earth.

During 2005, a BASE jumper became entangled in the guy wires of a Walnut Grove, CA broadcast tower. His 16-minute chilling 911 call can be heard here.

Court ruling could make it more difficult for siting community, more profitable for concealment firms
September 15, 2008 - A federal appeals court reversed itself last week and said cities and counties can regulate the appearance and location of wireless towers and poles.
The Ninth U.S. Circuit Court of Appeals in San Francisco upheld San Diego County's limits on the placement, size and design of towers and poles that are needed for companies to provide cell phone service and wireless Internet connections.
The ruling might have other municipalities considering the visual impact of proposed structures and require aesthetic design demands that could become cost-prohibitive.
The court also voted 11-0 to discard a standard it had established in 2001 that barred local governments from adopting any restrictions that "may have the effect of prohibiting" wireless services.
Courts in the nine-state circuit have relied on the 2001 ruling to overturn restrictions on telecommunications structures in several communities, including San Francisco and Berkeley. The court said Thursday that it had misinterpreted federal law when it issued the earlier ruling, and that local governments can regulate wireless towers and poles as long as they don't actually prohibit wireless service within their borders or create a "significant gap in service coverage."
In 2003, the County of San Diego instituted rules requiring that all poles in residential areas be camouflaged, not exceed a certain height and be subject to a visual impact analysis. Sprint sued claiming that the rules violated the Telecom Act of 1996 by prohibiting their provision of its wireless telecommunications service.
The court ruling is available here.

Working safely should impact cost of tower contractors' storm restoration project bidding
September 11, 2008 - When Hurricane Andrew hit South Florida in 1992 it was recorded as the second most powerful, and last of three Category 5 hurricanes that made U.S. landfall during the 20th century.
It also created a license to print money for most Florida tower erection companies that took advantage of the communications catastrophe as government and the private sector had to rely upon a small labor force already capitalizing upon the burgeoning cellular build-out.
Following the disaster, the state's largest utility, Florida Power & Light Company, put in place a detailed plan from their lessons learned and were better equipped to weather and service their communications towers when Hurricane Charley decimated southwest Florida in 2004.
State police and other government agencies also organized response teams and realistic time and material contracts for future disasters, but interest outside of the state waned until Hurricane Katrina decimated the Gulf Coast.
Please see: Sharp spike in tower service requests

Two suspects identified in NY, but PA police are still looking for tower thieves
September 10, 2008 - Sprint Nextel was able to retrieve cut copper from a rooftop
site this week in the borough of Queens, NY, but a Windber, PA tower owner says police are still looking for his 120-foot guyed tower that was reported missing on Monday.
Somerset County, PA police say they believe a number of people collapsed the tower by tying cables to the guyed wires and yanking it down with a truck.
They said that they found cut bolts and torch marks on nearby grass, but can't figure out how the thieves were able to do it in the heavily trafficked area.
"There's probably a half a dozen routes that come in and out of that area. At least 20 four-wheelers and ATV riders go through there a day," said Paint Township Police Chief Rick Skiles.
The radio tower hasn't been used for years, but the family who owns it was in talks with a company to use the tower to bring wireless Internet to Windber.
Who says wireless competitors don't cooperate?
Little Neck police are investigating the theft of copper off of a rooftop site located off Littleneck Parkway.
A MetroPCS construction manager was inspecting a co-located site when he saw two men with copper that had been taken from a Sprint Nextel site.
The men claimed to work for a general contractor that does work in the market, but that has turned out to be false, although it can be suspected that they may have once been in the industry since they so easily dropped a company name that they were allegedly doing work for, said a MetroPCS employee familiar with the incident
After the MetroPCS CM took a couple of photographs they dropped the copper ground bars and leads and took off running.

Coast Guard and Louisiana firefighters' air rescue saves tower tech with chest pains
September 9, 2008 - The Coast Guard and Bogalusa firefighters rescued a 44-year-old man from a 400-foot tower near Bogalusa, LA. Sunday.
Coast Guard Sector New Orleans received a call from the Louisiana State Police at 5:40 p.m. reporting a man working on a 400-foot self supporting tower was experiencing chest pains and needed to be lowered to an awaiting ambulance on the ground.

Coast Guard Air Station New Orleans launched an HH-65 Dolphin rescue helicopter crew at approximately 6 p.m., arriving at 7:45 p.m. just as firefighters Jamie Hemphill and Wes Harper were about 100-feet from tower tech Jesse Powers who was working on Hurricane Gustav damaged antennas.

"It was an amazing job. These guys came out here, not knowing what to expect. They jumped into their gear, and without any hesitation, went up the ladder," said Bogalusa Police Capt. Joe Culpepper.

Harper said that when they got close to Powers they "heard him scream really loud, so we knew he was in a lot of pain. And we could tell by that time, he was hanging from his harness, he wasn't sitting on that pedestal anymore."

By the time they were close, the tower tech had stopped talking to paramedics on the ground.

Using the tower's ladder, the firefighters secured themselves with a rope on the self supporting tower's safety climb. After reaching Powers they gave him an IV.

What appeared to be a lightning dissipation umbrella over the tower prevented the Coast Guard from dropping a line straight down, so they swung it to Hemphill. The Coast Guard then lowered one of their rescue personnel and raised the two men to the helicopter.

Carriers continued to provide wireless service as Gustav storms through Louisiana
September 3, 2008 - Hurricane Gustav's Category 3 impact on New Orleans paled in comparison with Katrina's 2005 devastation, but carriers were ready for it this time
and their dry runs were put through a test this week. They received scored high with emergency service providers and their cell phone customers.
Most carriers said that fewer than 1% of their cell sites were affected, and most of those were not damaged, but were affected by power outages.
"The main reason it would go down is because power is out. What we have done to some key sites is we've added permanent generators with those sites,' said Sprint communications manager Kristin Wallace.
In 2007, Sprint installed permanent generators at more than 1,300 sites throughout the Southeast and Gulf Coast. In addition, through the first six months of 2008, Sprint has invested more than $140 million for network enhancements throughout the Gulf Coast states.
AT&T had more than 2,000 employees assessing damage and completing repairs to restore service in affected areas. They said that crews will continue to work around the clock to repair damage and reroute traffic, making sure that all of its cell sites are functioning properly.
Alltel's disaster recovery crews, equipped with electrical generators and fuel trucks, are currently restoring wireless communications service in the affected areas as quickly as possible. The carrier made arrangements with vendors to provide fuel for trucks and generators, and to provide lodging, recreational vehicles and food and water for technicians working in areas affected by the storm.
Verizon Wireless marshaled a flotilla of Cells on Wheels (COWs), Cells on Light Trucks (COLTs) and generators on trailers (GOaTs) for hard-hit areas. It also dispatched its new Disaster Response Trailer to be used as a temporary customer service location.
Gustav was responsible for the collapse of two towers in Louisiana.
Carriers are preparing for the potential impact of Hurricane Hanna threatening to make landfall along the Atlantic coast on Friday.

Worker falls 56 feet in Florida and lives as police try to identify his employer
August 27, 2008 - A tower technician fell from the 56-foot level of a 268-foot guyed tower in Ocala, FL yesterday and might be released this week from Shands at the
University of Florida in Gainesville, where he was airlifted, according to one industry worker who is familiar with the incident.
However, a Shands hospital representative said that they would not release any information regarding Stephen Jasztal, 44, of Hudson, who fell at approximately 1:00 p.m. and landed on an air conditioning unit at the base of the structure.
According to police reports, co-worker Robert Eschenfelder said that Jasztal was replacing a transmission line and said that he wasn't feeling well. Eschenfelder informed authorities that he then provided Jasztal with a "nitro pack".
Shortly thereafter, Jasztal fell off the tower and Eschenfelder contacted 911. He reported to Ocala police that they were doing subcontract work for Davis Telecom LLC of Tallahassee, FL.
However, company owner Al Davis said, although he knew and had previously had Jasztal on other projects, the accident victim was not working for him at the time of the fall. In addition, he said, he had no contract to do any work on the guyed tower located at 1904 NE Jacksonville Rd.
He also informed WirelessEstimator.com that he did not know Eschenfelder.
Following his statement to police, Eschenfelder was arrested on an outstanding warrant for a suspended license charge.
Police say that Davis later contacted them and said that the men were not working for him on the tower.
A representative of the Bible Broadcasting Network, a tenant on the tower, told WirelessEstimator.com that they were aware of the incident and have a contract with Davis Telecom to provide installation services.
BBN is a listener-supported global Christian radio network staffed and headquartered in Charlotte, NC.
A spokesperson for Ocala Fire Rescue said that they were unable to assess who Jasztal worked for since his work truck did not have any company identification on it.
Incorrectly identified by Associated Press as a TV tower, the owner of the co-located tower, Baxley Oil Co., provides Alltel Communications of Little Rock, AR for its FCC registration contact address. Calls to the Ocala petroleum bulk station were not returned.
At the time of his transport, Jasztal was conscious and communicating with Ocala Fire Rescue personnel. He was able to advise them that he'd not been feeling well and was resting before climbing down from the tower when he fell.
Police reported that Jasztal had been wearing a fall protection harness and their initial investigation indicated that it had not been damaged. It is being held in their custody until they can turn it over to OSHA investigators.
They also said that Jasztal had rope burns.

With OSHA's resources taxed, tower companies, individuals are policing free climbing violations
August 22, 2008 - Continuing education about the dangers and the resulting deaths caused by free climbing is believed to have reduced the high fatality rate of workers
falling from an elevated structure, but there are many climbers nationwide that continue to recklessly ignore adhering to 100% fall protection requirements.
In an effort to reduce free climbing, stem fatalities and ensure that tower workers maintain 100% tie off, field personnel of some of the major tower owners are taking a proactive role in ensuring that violators are identified.
A number of them have photographed or videoed free climbing activities on their competitors' structures and have contacted the owner of the tower to alert them to the crew members' careless disregard for safety, requesting that they too be accorded the same courtesy if free climbing is observed on any of their structures.
One tower owner company is taking their employees' documentation of a violation on another company's site to decide whether they will allow continuance of the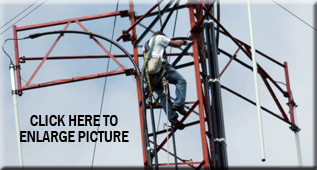 contractor's work on their towers.
Individual tower workers and employees of management companies are also becoming vigilant in letting companies know of violations on their sites.
"Ideally, the thing to do is to contact OSHA, but the chances of them showing up on time are slim," said one Milwaukee project manager. "But the alternative is to get those companies kicked off approved vendors' lists and put the word out about the company or at least the individuals," he said.
An OSHA official informed WirelessEstimator.com last month that inspections on wireless construction job sites are not at the level that they would like to see and "it is unlikely that you will ever see a crackdown targeting the tower construction industry. We just don't have the resources," he said.
Tower Climbers Hall of Shame candidates were captured last week on a video taken in South Carolina . A site supervisor noticed the free climbing and filmed it a thousand feet away through his rear view mirror. The owner of the tower, one of the two largest companies in the industry, has been notified of the incident.
A photograph was taken in upstate New York earlier this month by a retired tower technician who said that he is still concerned about the number of people that do not tie off. He said that the two men on the tower noticed that he was photographing them, but they continued to free climb on the carrier-owned site.
A safety director for one of the nation's largest tower consolidators said that he believes that it might be advantageous to the industry if the major tower owners would get together to specifically identify companies that have had numerous violations. However, he said that he wasn't aware of what the legal considerations might be and preferred not to comment.
If you have any Tower Climbers Hall of Shame candidates, send them to info@wirelessestimator.com , but more importantly, let the tower owner know about the serious safety infractions that you observed.

Tall tower is shortened to five minutes of video
August 14, 2008 - It took almost two months of hard work to safely erect a 1,500-foot guyed tower in Deland, FL last October and November, and almost a half
million viewers around the world watched a portion of the construction in real time while it was being videotaped.

While many people remained glued to the tower's erection, some days as many as 14,000, others preferred to view the daily time-lapse photography provided each morning.

Many people have requested a shortened version of the erection and a five-minute time-lapse video has been completed with Through the eye of a Rigger.

WirelessEstimator.com is interested in speaking with erectors and manufacturers that have tall broadcast structures that will be erected in the near future and would prove to be ideal candidates for real time coverage. Please contact info@wirelessestimator.com

Life's crooked stairway to heaven found in NC
August 11, 2008 - Tower maintenance workers might consider combining a safety tailgate session and prayer meeting prior to climbing this AM gospel radio station's tower in Plymouth, NC.
Tower techs Phil Miller and John Powell of Excel Tower Services were heading down US 64 recently and - almost as if they had been drawn by an overwhelming spiritual calling - they hurriedly pulled over, got out of their truck and stared in unison in disbelief.

They had finally seen the light. Well, not quite. In fact, they could barely see the light at the top of the twisted tower.
Chances are that if the structure collapsed, it would end up being straighter than its current profile that looks like it's stretching in preparation for some serious Pilates training.
If the station's management wants to heal the structure, it's not advisable for them to turn to a higher authority, but to the industry's TIA/EIA 222-G standard that states: "The horizontal distance between the vertical centerlines at any two elevations shall not exceed 0.25 percent of the vertical distance between the two elevations."

Here's where math becomes electrifying and the job so satisfying
And here comes the most exciting part of tower work where the coveted opportunity arises where any tower technician worth his salt would immediately break his date with Plymouth's voluptuous diner diva to break out his calculator.
Using TIA's factor for a 200' tower, 0.25 percent of 200' is .5' or 6", allowing the structure to be off 6" between two vertical points, whether it is 20' or 200'. Therefore, a 400' tower could be out of plumb 12" and a 100' tower's acceptable tolerance would be 3".
And if anybody ever dares to question you about those facts, you just get right in their face and tell 'em: "Hell yeah, it's true, I've seen it! It's right there in the tower and antenna design bible!"

They'll surely wilt with embarrassment and thank you for not being meek, and throwing away your only opportunity to inherit the Earth, which would have included this
structure and all of the other hundreds of thousands of towers around the globe, putting all of the tower CEOs' options under water.

But, more importantly, you will have discovered that, this finely weathered 320' southern beauty is allowed to be out of plumb by slightly over 9-1/2".

However, this one is so, so crooked that tower techs Miller and Powell are willing to bet six months of per diem that if they can bend it just a few more inches it will easily fit into any airline's carry-on luggage measuring device.

Former cop turned T-Mobile employee arrested
in Florida copper caper
August 7, 2008 - A former Polk County Florida police officer was arrested last Friday, accused of stealing tens of thousands of dollars of excess cell site wire from T-Mobile where he was employed.
Authorities say John Richard Lefan Jr., 41, of Winter Haven faces a felony charge of grand theft.
Police say Lefan repeatedly ordered extra material for jobs for cell site builds and then sold the excess copper wire to a Tampa recycling company.
Lefan began working last September for T-Mobile's Tampa office at 3407 W Dr. Martin Luther King Jr. Blvd., according to the Tampa Police Department.
Prior to the construction management position he did volunteer work for a year at the Sheriff's Office in 2004, and worked at the Mulberry Police Department from March 2006 to March 2007, according to Florida Department of Law Enforcement records,
He was fired from T-Mobile in March, the Tampa Police Department arrest report says.
Police say that during the previous seven months, he stole nearly $130,000 worth of copper wire and obtained more than $43,000 from selling it to CMC Recycling at 1900 N 62nd St. Confronted by an internal investigator from T-Mobile, Lefan admitted the thefts, according to the report.
Lefan is being held in lieu of $15,000 bail.

NATE cautions its members about rappelling
August 1, 2008 - The National Association of Tower Erectors issued an industry safety alert yesterday evening to its members regarding controlled descent from an
elevated structure, more commonly referred to as rappelling.

In a statement from the association, Chairman Don Doty said NATE was reminding its members that if they are utilizing controlled descent methods while descending a tower, they were still required to utilize recognized fall arrest equipment.

"The fall arrest equipment should be attached to separate engineered anchorage points and when executing a controlled descent, a secondary means of fall protection is required," Doty said.

NATE did not state why the alert was being issued, but those close to two recent industry fatalities said that they occurred while the technicians were rappelling.

Site capacity was overwhelmed following quake
July 30, 2008 - Cell carriers reported that wireless service was disrupted over a widespread area of Southern California following yesterday's 5.4 earthquake, but not due to equipment damage.
An overload of callers shut down service for many cell phone users due to tremendous increases in calls. Of the many hundreds of media photographs that were taken following the earthquake, the majority of them showed people using their cell phones.
Complicating the problem were the many people that kept trying and trying to make a call after their first attempt failed.
Sprint Nextel said that they had an 800% spike in calls and Verizon Wireless said their volume was 40% higher than what they predicted would happen in an emergency.
The state's Office of Emergency Services urged people to curb non-emergency calls because they could cause 911 calls to be blocked. Carriers reported that their service was back to normal by yesterday evening.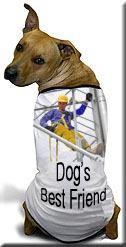 "Tower Dogs" takes a media cat nap
July 28, 2008 - NBC Dateline's July 21special about tower workers had no follow-up coverage by the mainstream media in the past week, much to the pleasure of many viewers who commented that the "Tower Dogs" crew that was featured projected an unprofessional image of the industry.

A press release issued by the National Association of Tower Erectors following the show was picked up by two industry web sites, but major media outlets have been noticeably silent following the broadcast.

"Because we're so close to the day-to-day requirements for climber safety, we see everything through a magnifying glass, through a thicker lens of emotion than the general public that viewed the special," said one industry observer.

New York man dies from apparent fall from tower; California woman is brought down by rescue crew
July 28, 2008 - High angle rescue by the Barstow California Fire Protection District helped save a woman's life after she climbed to the top of a 60-foot tower on Saturday, but a young man in his early 20s - not employed as an industry worker -wasn't as fortunate over the
weekend when he fell from a cell tower in North Tonawanda, NY.
Barstow authorities said the 31-year-old woman had to be rescued after she climbed to the top of the tower and could not get down, screaming until a witness heard her cries for help and called 911.
After the estimated 45 minutes she spent clinging to the tower, the woman was suffering from sun exposure and her legs were too numb to climb down, firefighters said. She was strapped into a harness and lowered to the ground.
North Tonawanda police say that Michael J. Wolf, 21, of 248 Bryant St, apparently fell to his death from a communications tower owned by American Tower Corporation.

Falling is being considered the most obvious cause of death, but nothing has yet been ruled out, North Tonawanda Police Patrol Captain Roger Zgolak said.
"It appears as though the male fell from the tower but the circumstances of the fall, as well as what the male was doing inside the secure site are still under investigation," said a press release issued by police.
Police said the property was totally secured and locked and the deceased did not possess any type of equipment or tools used for climbing.
The Tonawanda fatality was the fourth death in the past four months of a resident
falling from a communications tower in a secured site.
On May 17, a Westwood Kansas 17-year-old was climbing a 500-foot guyed tower when he fell to his death. Four days earlier a 42-year-old died after falling from a monopole in Travis County, Texas. He became wedged between the pole's safety climb and an accessory on the tower and dangled there until a resident noticed him hanging at the 30-foot level.
On April 26, a despondent 20-year-old man reportedly ended his life after he climbed a communications tower in Warwick, NY and then jumped to his death.

"Dogs" diminished on Dateline say some; others believe it's a mirror image of some crews
July 24, 2008 - Some viewers said Monday's NBC Dateline 's "Tower Dogs" was a slice of life program that was very accurate in portraying life on the road of a number of tower crews. Others said it rendered a poor image of the tower maintenance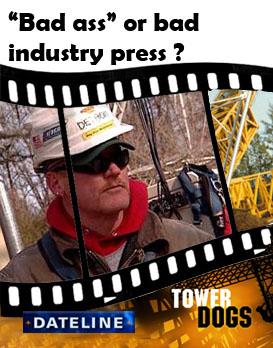 and construction industry, revealed nothing positive, and wasn't reflective of professional crews.
And there were many industry folks who maintained the convictions that they held, prior to the broadcast, that it would be a show that pandered to a larger audience with an insatiable appetite for reality programming that relies heavily upon danger, drama and employee conflict peppered with deleted expletives.
They were correct. "Tower Dogs" delivered that and more, and came in number two in its time period behind CSI, with approximately 5,120,000 viewers.
The opening narration set the stage: Tonight, take a never before journey into their perilous world where one false move can cost a life, and change everything.
They spend long days and nights on the road. A family, whose bonds are forged in blood, sweat and steel.
They live their lives in the air for their loved ones on the ground. And tonight, somebody won't make it down alive.
The common thread holding "Tower Dogs" together was Assistant Secretary of Labor Edwin Foulke, Jr.'s February statement to members of the National Association of Towers Erectors: "Tower climbing remains the most dangerous job in America."
And the producers took advantage of it. Some viewers felt that the tower crew members overemphasized the inherent perils of the job, as if the general public observing the high altitude working conditions were incapable of discerning the dangers involved in the profession.
Intertwined throughout the 42 minutes were numerous conversations regarding safety. There was a tailgate meeting, an equipment inspection, a classroom session and frequent comments from the narrator, crewmembers and others in the program about the need for 100% tie-off and the requirement to observe proper safety procedures.
"Tower Dogs" also had a short segment where Kevin Hayden of NATE reminded viewers to become acutely aware of their environment and to be tied off 100% of the time. "Talk the job out before you start. Constant reminder is a very important aspect of safety," Hayden said.
However, NATE said in a press statement that it was disappointed with the approach that Dateline took with its special, and was concerned that the program did not present an accurate view of the professionalism and work habits of most tower crews.
Please see: Viewers surgically dissected each frame

Painter succumbs at base of broadcast tower site
July 21, 2007 - A tower painter was discovered by a broadcast engineer at the
base of WDAZ's 1,400-foot tower in Petersburg, ND yesterday.
The Nelson County Sheriff's Department responded to a call at about 6:00 P.M. from the station's engineer, Nate Millard, who discovered the body of 38-year-old Darrel Hovde of Mandan.
Authorities said Hovde worked for All State Tower Company of Bismarck.
Hoyde was working alone painting the tower, Millard said, at about the 100-foot level. When Millard looked out a second story window he said he discovered the tower painter laying on his side in a semi-fetal position.
It appeared to Millard that Hoyde had fallen from the TV tower. "You could see where a trail of paint ended about 50 feet up," Millard said.
Millard said Hoyde still had his safety equipment on. Hovde's body has been sent to Bismarck for an autopsy to determine the cause of death. If the coroner identifies that Hoyde died from blunt trauma, he will be the ninth communications worker that was killed this year from falling from a communications tower.

New Jersey tech is the nation's eighth fatality
July 19, 2008 - Vineland New Jersey Police Chief Timothy Codispoti has confirmed that the nation lost another tower technician this year when a Franklinville man died yesterday after falling approximately 60 feet from a cell phone tower yesterday.


Gerard M. Leclercq, employed by Paramount Advanced Wireless LLC of Pennsauken, was working with two other crew members when he fell. The 55-year-old tower technician had been working on a Crown Castle International tower off of Panther Rd.
Leclercq, who reportedly had family working for him in the industry, fell at approximately 10:50 a.m. while his two coworkers were on the ground, according to Vineland Detective Sergeant Len Wolf.
Investigators from the federal Occupational Safety and Health Administration were on the scene and investigating the incident until late Friday evening.
Paramount Advanced Wireless LLC is a well-known, long-established company that has its roots in the communications industry since the early build-out days of cellular communications. The firm has taken an active role in tower safety and is a participant in an industry OSHA safety alliance.
Leclercq's death was the eighth fatality in 2008 of a worker falling from a communications structure.

Climbers to get their day in the sun
NBC's "Dateline" to explore the perilous world of tower dogs on July 21
July 16, 2008 - NBC's "Dateline Presents" says it will take "a never-before-seen journey into the hazardous world of the tower climbers who work on the frontlines of America's high-tech communications system."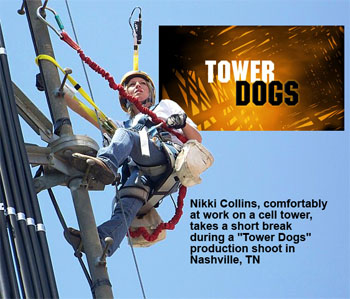 The program, "Tower Dogs," will air on Monday, July 21 at 10:00 PM/ET.

The hour-long broadcast is expected to give an up close and personal no-holds-barred look at tower dogs' lives - up in the air and on the ground.
"We experience their on-the-job tension and watch them work hard, play hard, and mourn when they lose one of their own," NBC said in a press release.
In a twist on all the dangerous-job programs that solely feature males, typically narrated with muscular prose, "Tower Dogs" follows an unusual tower crew boss: a woman named Nikki Collins, a single mom, former cheerleader, and the person keeping her tough-guy charges in one piece.
Although there has been a noted increase in tower construction company owners and climbers that are women, they are in a small minority in a predominately male profession.

The "Dateline" team worked for four months documenting this group of tower climbers as they worked their way through 40 towns and cities in 24 states. During this time there were seven fatalities nationwide, including five deaths in a 12-day period in April. Please see: National exposure long overdue, say many

North Dakota's broadcast tower will be taller, but riggers are on their own for dinner
July 14, 2008 - Construction is set to begin this month in Sumida, Tokyo's less developed
eastern side, on the 2,000-foot Tokyo Sky Tree tower slated to be completed in 2011 when Japanese broadcasters switch entirely to digital communications.
Although it is guyed, the world's tallest communications tower is located in Blanchard, ND where KVLY-TV's tower gingerly pierces the clouds with the third planet from the sun's finest solid rod body jewelry fashion statement extending 2,063 feet.
The Tokyo Sky Tree will be the world's highest self-supporting broadcast tower with a gourmet restaurant near the top.

Unfortunately, North Dakota tower techs are unable to enjoy fine culinary offerings at the Blanchard site, but riggers can still heat up their dinner from the available KVLY radio frequency, even at reduced power levels, unless they'd rather sample sashimi.
In another year, the Tokyo Sky Tree will be a bit short, however, of the tallest multi-use tower in the world, with the Burj Dubai nearing completion at over 2,953 feet in the Gulf Emirate.
With tens of thousands of hand holds, it might be tempting for King Kong to climb the Tokyo Sky Tree and disrupt digital broadcasters. The biological anomaly's last visit to Tokyo from Skull Island was in 1955.
But it has been documented through tests on the Empire State Building beginning in 1933 that gigantic gorillas suffer from vertigo while climbing on structures 1,500 feet or more above ground level, become easily disoriented and plummet to earth, killing hundreds of sub-primate mortgage brokers below -- giving rise to the Japanese maxim of Hear no evil, speak no evil, but enjoy evil to the hilt when it's rightfully deserved.

It would be easy to presume that the Japanese communications tower was named Tokyo Sky Tree so that after a 15-minute visual balloon test it would receive zoning approval when Tokyo's eight million residents would not even notice it since it
blended so nicely into the city's surroundings, such as the 2,000-foot DoCoMo church steeples, pagodas, Hinomaru flagpoles, barn silos, monopines and other faux tree-like structures that invisibly line Tokyo's bustling streets.
Not so, explained Sumida's mayor, Noboru Yamazaki, who said a nationwide poll was held to choose the name, and concealment was not an issue.
"The name gives an impression of a new town striving towards the sky while adapting to the natural environment," said Mayor Yamazaki, one of the members of the name selection committee.

Jack and the Digital Beanstalk was reportedly axed in the first elimination round.

DC Court temporarily pulls plug on FCC's backup power requirements
July 9, 2008 - The Federal Communications Commission's rules for backup power at cell sites were short circuited yesterday after the U.S. Court of Appeals for the District of Columbia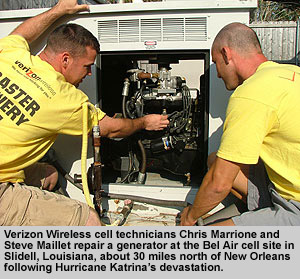 Circuit said it will not rule on wireless providers' challenge to backup power rules until federal administration budget officials complete their review of the controversial guidelines designed to respond to communications failures from Hurricane Katrina.
"We are pleased with the court's decision to keep the stay in place while the FCC completes its work on this item," CTIA spokesman Joe Farren told the Associated Press.
The CTIA, Sprint Nextel and others sued, stating that the rules would require backup power in tight, urban locations and would be a financial burden upon the nation's wireless providers. They said the thousands of generators or battery systems required would be expensive and local zoning rules or structural limitations could make installation impossible in some places.
The FCC previously offered a compromise to carriers, saying there can be exemptions wherever it's impossible or unsafe to install generations or alternative backup power sources. However, the FCC never presented its rules to the federal Office of Management and Budget, which is required by law.
"Because none of the backup power rule's requirements takes effect until OMB approves the information collections, the case is unripe and we shall hold it in abeyance pending OMB's decision," the court wrote.
The FCC Katrina guidelines call for a minimum 24 hours of emergency backup power for telecom assets inside central offices and eight hours for other facilities such as cell sites, remote switches and digital loop carrier system remote terminals.
FCC spokesman Robert Kenny said the agency had no comment on the court's action. He said the FCC was reviewing the ruling to decide when and if it would submit the rules to the Office of Management and Budget.
There are about 200,000 cell sites in the U.S., with tower companies operating about 115,000 sites and operators controlling 85,000 sites, according to RCR Wireless News.

Minnesota mount failure serves as an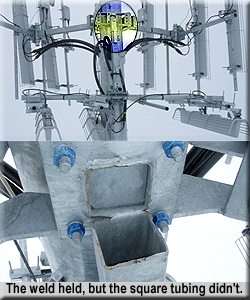 excellent tailgate session
July 9, 2008 - A mid-June T-arm failure in Minnesota is being given serious scrutiny by the wireless carrier it serviced, but more importantly, the full sector collapse is serving as an excellent reminder to climbers throughout the country: rely upon the tower structure or a man basket for safety, not a mount.

Although the failure looks like the heat-effected zone of the weld was either under-designed or overstressed and the square tubing steel yielded over time, an exact cause has not been identified.

Safety directors and operations managers of many companies are using the photographs to remind their employees that man baskets and/or controlled descents are the only ways to approach T-arms or other mounting accessories.

Thieves take out 360-foot guyed tower
while taking out copper in Tennessee
July 7, 2008 - To combat the growing problem of copper and other metal thefts throughout the state, a new Tennessee law went into effect on July 1, requiring scrap metal dealers to only take a valid ID such as a drivers license or state identification
from those people selling them scrap metal. Buyers are also required to take a right thumbprint on ink or by scan.

Tower owners were cautiously optimistic that it would help to cut down on the number of larcenies within the state. Their hopes were short lived.

On Saturday morning, thieves attempting to steal copper coaxial cables from a Tracy City 360-foot guyed tower, cut the guy wires, and caused the entire structure to collapse.

The tower is owned by Wireless Properties and was leased by DTC Wireless. A replacement tower had been obtained in Iowa over the weekend and erectors will begin installing the tower this week.

Grundy County Sheriff Brent Myers says the two suspects in this case could be responsible for another theft.

Even without toppling a tower, copper thieves can cause tens of thousands of dollars worth of damage, according to tower owners, both large and small.

Last month, Frosty Towers, Inc. of West Plains, MO had one of their 80-plus tower site compounds broken into in Hollister. The thief removed a ground halo system, severely damaged an entry door and cut the fiber optic cables to the site.

According to Blake Bowers, Frosty's Vice President of Operations, the thieves started to remove the coax from a lower power translator station, causing it to go into high VSWR alarm and it possibly scared them off.

An additional alarm was installed at the site, and just five days later, on June 22, a Taney County Sheriffs Department officer responded to its activation and arrested Carl Thompson, 43.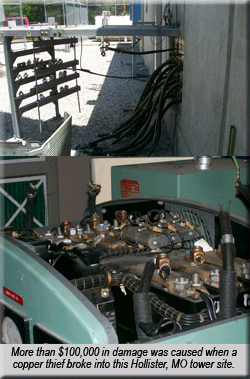 Thompson, this time, allegedly cut locks, removed air conditioner coils, took more wiring and did additional damage to the former AT&T Long Lines site.
Thompson is charged with theft/stealing, a class C felony in MO, but according to the prosecuting attorney, further charges are pending. Thompson has a number of previous felony convictions, and the Taney County Prosecutor's Office is expected to charge Thompson as a habitual offender, with a 20-year no parole sentence.
The Hollister site damage total was in excess of $100,000, according to Bowers. This was the fourth break-in Frosty had in a week's time in three states.
Missouri requires scrap metal buyers to keep records of all transactions.
Copper theft is an endemic problem throughout the nation and is being combated on multiple levels, from new legislation to increase penalties for those convicted of stealing, to measures such as recently undertaken by Albany, GA police who will have officers at each of the three recycling businesses in the area.
Within Frosty Towers' portfolio of towers on their web site, there is a listing for a site in Pen Mar Park in Hagerstown, MD. An added benefit, it says, is: "24-HOUR ARMED GUARDS!"

What could serve as a model for the nation,
Encompassing Michigan tower safety standard set for July 15 public hearing in Lansing
June 30, 2008 - New safety requirements to protect workers on communication towers have been proposed by the Michigan Occupational Safety and Health Administration, MIOSHA, which will hold a public hearing on the new regulations on
July 15.

Michigan will follow North Carolina as the second State OSHA to specifically address communication tower construction safety. North Carolina approved their standard in 2005.

Concerned about tower workers' safety, MIOSHA wanted to develop a safety standard that incorporated the most up-to-date best practices for working aloft, but the effort to draft a standard failed on the state's first try because a workable committee couldn't be assembled.

However, MIOSHA never lost sight of the importance of ensuring that communications tower workers arrived home safely every evening and under the guidance of Construction Safety and Health Division Supervisor Tony Allam and Terry Sharp, Jr., co-chairman of the standard's group, tower company management and MIOSHA officials sat down again in March 2006.

This time the committee knew it had the talent and cooperation from tower industry professionals to put together a draft standard that represents the best practices across the nation.
Please see: Disagreements were resolved

Drinking on the job is highly recommended
June 26, 2008 - The high temperature yesterday in Phoenix was 105° F. Miami topped out at 86° F. So, does an Arizona tower tech have a more excruciating
summer work environment than his Florida counterpart?

When you factor in humidity, it could be exactly the same conditions.

Known for its high humidity, oftentimes at 90%, Florida's 86° F temperature would be equal to Arizona's 105°, according to heat index calculations.

But company managers will tell you it's not the bragging rights that concern them, but the potential for hot weather to lead to dehydration, heat exhaustion and heat stroke if their tower workers fail to properly hydrate themselves.

Such was the case yesterday evening when an unidentified tower worker in Queen Creek, AZ, had to be rescued by Rural Metro when he became light-headed and had to call for help.

The tower tech was reorienting two antennas that became misaligned after a storm blew through the Phoenix area yesterday when he suddenly felt like he was going to pass out at approximately 90-feet on a self supporting tower.

"Once I got up there, I got pretty thirsty, and I think that led to it. It was from the heat of the day, working hard all day, working this late and exerting too much energy," he said.

His two co-workers contacted Rural Metro and a special rescue team was sent up to bring him back down at 8:30 p.m.

The National Institute for Occupational Safety and Health provides many excellent tips about working in hot environments. They point out that in the course of a day's work, a worker may produce as much as two to three gallons of sweat.

They note that most workers exposed to hot conditions drink less fluids than needed because of an insufficient thirst drive. The health group also cautions that salt tablets should not be used, and if for some reason salt replacement is required, adding a little extra salt to food should be enough.

Gatorade is a common work site staple, but seasoned climbers recommend that it should be mixed with approximately two parts water to reduce the sugar content.

Coffee and soft drinks should be avoided during extreme temperatures. The caffeine can have a dehydrating effect on a worker's body as well as cause a racing heartbeat.
Arrest of Florida woman puts an end to
illegal family-run cell site enterprise
June 24, 2008 - Volusia County, FL sheriff's deputies said they apprehended an Edgewater mother and her son while they were stripping a cell site of its copper.

The two, along with a third man who got away, are linked to as many as 20 other thefts from across Central Florida.

Workers at the fairgrounds near DeLand spotted a suspicious truck near an AT&T tower and noted that the fence around the tower had been cut.

The suspects ran, but deputies found tools and several pieces of cut copper at the tower site.

Thirty-six-year-old Maria Fish was found hiding in the truck and her 17-year-old son later came out of the woods nearby.

Deputies think he was the lookout. They also found copper, likely stolen from a tower in Umatilla, in the truck.

The widespread theft of copper from grounding systems as well as copper transmission lines is fast becoming one of the tower industry's most prevalent and costly problems. Although many states are getting tough by providing increased penalties and jail time, thefts are rising steadily across the nation.

Alltel's CEO reveals failed attempts to acquire Sprint Nextel, AT&T Wireless and T-Mobile
June 23, 2008 - According to a report in the Arkansas News, Alltel had tried to buy Sprint Nextel before Verizon Wireless acquired Alltel on June 5.
In an exclusive interview with the Arkansas News Bureau, Alltel CEO Scott Ford told columnist Roby Brock that the company tried to do "everything we could to get a national platform," including making three bids for Sprint, as well as trying to acquire T-Mobile USA and AT&T Wireless. Ford reportedly said that in these bids it sometimes went in with partners and sometimes tried on its own.
"The credit markets fell apart and Sprint fell in the tank almost right on cue, but they fell so, they fell so totally apart that there wasn't really an opportunity to go get them either," Ford said.
Alltel also found itself on the ropes after it failed to acquire any spectrum in the Federal Communications Commission's 700 megahertz wireless spectrum auction dominated by AT&T and Verizon, Ford said.
Ford also reportedly said he is working with Arkansas's Governor Mike Beebe on ways to counteract the possible major layoffs in the state. Verizon is reportedly considering maintaining a call center in Little Rock, and positioning a regional headquarters at Alltel's campus, but it remains likely that the area will suffer cutbacks and some employees may have to relocate.
Verizon's acquisition of Alltel, expected to close toward year's end, raises concern among Alltel employees and Arkansas officials as hundreds of jobs hang in the balance. Infrastructure providers are also concerns as to how the deal will effect their business.
The Verizon/Alltel deal was reportedly put together in less than a month, say informed sources.
.

ATC's CFO Brad Singer leaving to join Discovery
June 16, 2008--American Tower Corporation announced that its Chief Financial Officer, Brad Singer, has decided to leave the company to pursue an opportunity as
Senior Executive Vice President and Chief Financial Officer of Discovery Communications, LLC. Singer joined American Tower in September 2000 and has served as its Chief Financial Officer and Treasurer since December 2001. His last day as Chief Financial Officer is anticipated to be June 30, 2008.

He is credited by many as one of the primary leaders responsible for the success of American Tower.

Analysts said that the Singer hire is a clear sign that Discovery's IPO is well in hand, and that the transaction should close before the end of the third quarter. As CFO, Singer will be responsible for leading the global financial functions and future financial strategies of the company and will direct all accounting, treasury, budgeting, and tax activities.

Jean Bua, Executive Vice President, Finance and Corporate Controller, will serve as interim Chief Financial Officer upon the departure of Singer. Bua will report directly to Jim Taiclet, American Tower's Chief Executive Officer. The company will be initiating a selection process that will consider both internal and external candidates to succeed Singer.

Taiclet said, "On behalf of all of us at American Tower, I want to thank Brad for his tremendous contributions during his more than seven years at the Company. Brad played an integral role as part of our senior leadership team and in developing and implementing our operational and financial strategy, and his efforts have helped establish the strong position that our Company enjoys today. On behalf of everyone at American Tower, I wish Brad every success in the future."

Commenting on his time with the ATC, Singer said, "I have enjoyed my years at American Tower, and I believe that this is the appropriate time to begin the next stage of my professional career. American Tower has great employees, outstanding assets and has the strategy in place to capitalize on them. I am gratified with what we have achieved together, and I believe that American Tower's strategic and financial position and talented leadership team will enable the company to continue to succeed as a leader in the telecommunications industry."

Verizon's acquisition of Alltel is a go, but its effect upon the industry is uncertain
June 5, 2008 - The following news is five bars clear: Verizon Wireless said today that it will buy Alltel to beef up its network for about $28.1 billion.
Once completed, the deal will catapult Verizon's wireless business ahead of AT&T Wireless, which falls to an enviable and close No. 2, followed by Sprint/Nextel and Deutsche Telekom's T-Mobile. The combination of Verizon, based in New York, NY, and Alltel, based in Little Rock, AR, will create a company with more than 80 million subscribers.
What is not obvious is what the effect will be upon tower owners, contractors and suppliers. And if it was possible to track down Verizon's horn-rimmed glasses-wearing test technician, it's doubtful that he could add much more. The industry expressed almost similar results.
"I can't forecast what could possibly happen with our business," explained one west coast Alltel cell site contractor. "I don't know what to think yet; it's either a blessing or curse. Only time will tell," he said.

However, management from two of the major U.S. tower owners said that they believe that the news doesn't bode well for their companies.
Although their current contracts will secure Alltel lease revenues for a period of time, once the deal closes at the end of the year, Verizon will begin to assess what redundant sites will be decommissioned. Tower owners' lease-ups were effected following the AT&T and Cingular merger when approximately 6,000 to 8,000 cell sites were decommissioned.
It is too early to assess how many sites will be redundant following the Verizon/Alltel merger, according to industry observers. A number of them believe that, percentage-wise, it will be less than the AT&T acquisition since Alltel has a considerable number of sites in rural markets not covered by Verizon.
One national tower owner executive thinks that there could be a benefit to vertical realtors following the sale. Since Verizon said it would save around $1 billion in incremental cost savings in the second year after the agreement closes, he believes that the savings might possibly be used to expand their network where they still lack coverage.
In addition, he said, when Verizon finds underperforming or duplicated towers in a ring, they might sell those to tower consolidators that will be able to fill a void in their coverage areas.
Some companies might be unaffected or positioned to benefit from the sale, such as Harris Stratex Networks, Inc. Providing turnkey microwave radios for backhaul and point to point systems for Verizon and Alltel, they can now focus upon serving one client.
But there might be a need for them to review consolidating their installation and maintenance contractors.
Some of Alltel's contractors for co-locations and new builds are concerned as to their business outlook since many of them are not entrenched with Verizon's construction group.

It is not known how the merger will affect KGI Wireless. The Austin, TX firm currently manages Alltel's 3,500 cell site locations, representing more than a third of their managed sites.
Verizon is not known for actively marketing their towers, providing an opportunity for KGI to assist them with both portfolios. However, there is the possibility that Verizon might bring the co-location business in house.
Alltel and Verizon Wireless both use a common network technology, which provides advantages of a seamless transition for Alltel customers, ease in integrating the two companies' networks, and scale efficiencies in operating the larger integrated network.
Identifying an accurate number of the two companies' towers is as elusive as what might happen to site acquisition, contractors, suppliers, tower owners and others that will feel the merger's effect.
Verizon doesn't provide any published statistics, but industry estimates indicate that the carrier owns between 3,000 to 4,000 towers. KGI says that Alltel has more than 3,500 towers.

From the landowner's perspective...
"Why is there all of this interest in my cell tower
lease all of a sudden?"

By Ken Schmidt
June 2, 2008 - In the last few years, landowners with cell tower leases or rooftop cell site leases are being bombarded by inquiries from the lessees and from third parties alike. To the uninformed landowner, the bombardment appears to suggest that there is increased value in the underlying lease agreement. If not, why would all of these third party companies be contacting the landowners?

The inquiries take the following shapes:

Cell Tower Lease Renegotiations - Direct: A tower company or cellular carrier directly contacts the landowner in an attempt to negotiate a reduction in the lease rate. There is often either an implicit or direct threat that failure to negotiate will cause termination of the underlying lease agreement.


Cell Tower Lease Renegotiation - Indirect: The tower company or cellular carrier retains the services of a third party optimization company that will attempt to negotiate a reduction on behalf of the carrier for a percentage of the savings going forward. These companies can collect upwards of 30% of the savings. The optimization firms typically use high pressure sales techniques from salesmen who have little to no experience in wireless.


Cell Tower Lease Buyouts - Direct: The large tower companies attempt to purchase the remainder interest in the ground lease from the landowner. Typically, these transactions are structured as a purchase of a perpetual easement in exchange for a lump sum of 10 years or more worth of the current rent amount.


Cell Tower Lease Buyouts - Indirect for the cash flow: There are a number of companies that were created solely to target the acquisition of the ground leases and rooftop leases. The companies purchase the leases via a fixed term easement or an assignment of lease and a successor lease that kicks in for a defined number of years at expiration of the original lease.


Cell Tower Lease Buyouts - Indirect for takeover of the tower: There are a few companies and individuals who are aggressively contacting landowners with towers who have multiple tenants. These companies are buying the ground rights under the tower under a perpetual easement with the purpose of taking over the ownership rights in the tower directly at the expiration of the ground lease. These companies target towers in difficult zoning areas where replacement or relocation would be impossible. Then at the expiration, they will negotiate a reduced lease rate with the current tenants in an attempt to get the wireless carriers to "encourage" the tower company to silently release the tower. The tower companies call them "vultures".
Please see: Landowners find inquiries baffling