View Current News Articles
Carlson, Lyman honored at NATE UNITE 2014's keynote luncheon for their safety service
February 26, 2014 - The National Association of Tower Erectors honored Bill Carlson, President and CEO of Tower Systems, Inc. and
Gordon Lyman, Vice President of Safety at WesTower Communications, during the keynote speaker luncheon at NATE UNITE 2014 in San Diego, Calif.

Carlson was honored as the inaugural recipient of the Lifetime Service Award. This prestigious award recognizes a primary voting member who has made a significant and long term contribution to the success of the NATE Mission and has served continually for a minimum of 15 years. The award, to be renamed the Bill Carlson Lifetime Service Award, will subsequently be presented to one outstanding industry contributor each year at the annual NATE event.

Carlson is a wireless infrastructure industry trailblazer whose career in providing tower construction, service and maintenance to clients in the U.S. and around the globe has spanned nearly five decades. In 1995, he demonstrated tremendous foresight and leadership to bring together an initial group of 60 tower contractors to establish NATE.

"Mr. Carlson is a visionary who has led by example and worked tirelessly to establish a culture of safety and professionalism in the wireless infrastructure and tower construction communities," stated NATE Member Services Committee Chairwoman Pat Miller. "In a career filled with outstanding achievements, perhaps Bill's greatest legacy is his role as the founder of the National Association of Tower Erectors."

Lyman was honored as the inaugural recipient of the Distinguished Service Award. This prestigious award recognizes a past or present standing committee member who has demonstrated direct and individual contributions to the mission of NATE and whose performance has proven so exceptional that it profoundly affects the success of the Association.

Lyman has over 45 years of experience in all phases of the telecommunications industry. For the past 20 years, Lyman has focused his efforts on industry safety and has served as the Chairman of NATE's OSHA Relations Committee since 2006. He who also serves as the President of training company Safety LMSystems, LLC, is playing a leadership role in writing the ANSI A10.48 Telecommunications Standard that is currently under development and he previously helped complete the ANSI TIA 1019-A 2011 Telecommunications Construction Standard.

"Mr. Lyman has been a devoted NATE member since the Association was founded and has dedicated thousands of hours of volunteer time to help write and produce safety resources, develop industry standards and conduct tower technician sessions," said NATE Board of Directors member Jim Tracy. "Gordon is a worthy recipient of the Distinguished Service Award as his contributions have had an immense impact on enhancing safety in the wireless industry," stated Tracy.

The Lifetime Service and Distinguished Service awards were made possible due to the contributions made by the NATE Member Services Committee and the awards will become an annual fixture at future NATE UNITE annual events. For additional information on NATE, visit www.natehome.com.
Industry support needed to bring a severely injured tower tech home to his family
February 24, 2014 –A New York tower technician fell 80 feet last Thursday and only suffered a sprained ankle, and returned home the same evening.

Unfortunately, after falling 50 feet from a tower last June, a Sacramento, Calif. tech can't even come home from therapy on weekends until the funds are raised for an access ramp to his home and to purchase a bed suitable for his convalescence. But you can make that happen.
Friends and co-workers of Tommy Jeglum are reaching out to the industry to seek donations to assist the seriously injured worker who currently suffers from brain injuries that impair his speech and mobility.
Although the fund is just shy of reaching its $5,000 goal, the Jeglum family could use additional financial assistance during Tommy's rehabilitation.
After being in a coma for two months, he beat the odds of survival accorded similar accident victims his doctors said; 90% eventually die or remain in a vegetative state.
After Tommy was able to sit up and eat, and started to regain some control of his speech, he and his fiancée, Regina, were married on Christmas day.

But, with two children to raise, limited income and staggering medical expenses that may or may not be covered, these are trying times for the Jeglums.
How the accident happened is still not clear since Tommy's employer, JTI Telecommunications, Inc. is not responding to requests for information, OSHA will not discuss the citation they issued which identifies a missing or malfunctioning step bolt, and first responders obtained limited information. JTI Telecommunications is contesting the citation.
However, Regina said that from her knowledge of the accident, "What I was told in the hospital was when Tommy hooked on to it that it did not support his weight and came out of the structure and made him fall."
Although securing a lanyard to a step bolt does not comply with safety standards, Tommy may not have known that he was non-compliant.
He was hired on April 28, 2013 and the accident occurred on June 15, 2013. During that 48-day period, according to Regina, Tommy did not have any climber training.
She said at the time of his hire he was informed by JTI Telecommunications that they would be sending him to a recognized training company for formal training.

A lawsuit has been filed against AT&T, the owner of the tower, said Regina.
Wireless Industry Safety Task Force launches its 100% Tie-Off 24/7 campaign
February 24, 2014 - The Wireless Industry Safety Task Force today officially launched the 100% Tie-Off 24/7 awareness campaign at the NATE UNITE 2014 conference in San Diego, Calif.
The task force consists of top safety and operations executives representing wireless carriers, tower owners, OEM's, turnkey/construction management firms and the National Association of Tower Erectors.
The task force has been established in order to collaborate on best practice solutions to achieve sustainable safety improvements in the industry.
"The Association is excited to officially kick-off the 100% Tie-Off 24/7 awareness campaign at our NATE UNITE 2014 conference," said NATE Chairwoman Pat Cipov. "One hundred percent tie-off is the law and needs to be strictly emphasized and adhered to at all times," stated Cipov.

Cipov said that the initiative should be committed to by all tower companies, whether or not they are NATE members.

An aluminum tower was unveiled at the show that can be signed by attending members committing to the tie-off campaign.

"One of the early issues identified as a result of the task force's collaborative efforts is the fact that many of the tower-site accidents that compromise safety involve situations where the tower technician was not properly tied-off to the structure," said task force member Sonya Roshek from Black & Veatch.
"We believe strongly that everyone involved in the industry has a role to play when it comes to emphasizing 100% tie-off in order to ensure a safer work environment and prevent future accidents," added Roshek.
In order to educate industry stakeholders, the campaign will involve a comprehensive grassroots approach that includes the filming of public service announcements, paid advertising, earned media efforts, a social media component and collaborating with State Wireless Associations in order to expand the campaign's reach.
"Our company is proud to participate in this campaign by affirming our commitment to 100% tie-off at all times," said Jake Washington from Jacobs. "With the collective, industry-wide influence of the companies represented on the task force, we have a unique opportunity to raise the profile around the 100% tie-off requirement and drive home the message that there should be a zero-tolerance policy regarding this law."
Participating companies and organizations affirming their commitment to the tie-off campaign include: Alcatel-Lucent, American Tower, AT&T, Bechtel, Black & Veatch, Crown Castle, Ericsson, General Dynamics, Goodman Networks, Jacobs, MasTec Network Solutions, Motorola Solutions, National Association of Tower Erectors, Nexius, Nokia Solutions and Networks, SAI Communications, Samsung, SBA Communications Inc., Sprint, T-Mobile, U.S. Cellular, Velocitel, Verizon Wireless and WesTower Communications.

It was announced by Aaron Pitts, chairman of the trade show committee, that registrants for the event have topped, 1,300, one of the trade group's largest shows ever.
Tower tech gets up after an 80-foot plunge
off of a New York self-supporter
February 21, 2014 - A 20-year-old Coxsackie, N.Y. tower technician fell 80-feet off of a self-supporting tower in Harriman, N.Y. and is home now, resting comfortably.
The man, employed by Advanced Network Services of Albany, N.Y. can probably thank two feet of snow for saving his life.
Police say Anthony Greco fell from the structure Thursday around 11 a.m. in a remote area of Harriman Mountain.
Emergency workers had trouble getting to the scene because access roads had not been plowed yet to the top of the mountain.
It is not known who the carrier was that Greco was installing antennas for or who owned the tower which is not registered in the FCC's database.
Greco did not respond to a request to identify how the accident occurred.
On his Facebook page, Greco said that directly below the tower there was a barbed wire fence, an equipment building and a generator.
"I somehow landed in between it all in two feet of snow. I jumped up realizing I was still alive and fell back over when I noticed the shooting pain up my leg," said Greco.
He was transported to Westchester Trauma Center by helicopter. First responders said he had suffered severe internal injuries, but Greco was treated and released.
According to Greco, his injuries were minimal: a sprained right ankle, a swollen left ankle, a black eye and a small burn on his finger.

OSHA is not required to investigate the accident.
OSHA pulls out all of the stops to create safety awareness following multiple tower tech deaths
February 14, 2014 – From a new tower industry-focused web page to a veiled threat by the Occupational Safety and Health Administration chief, the federal agency is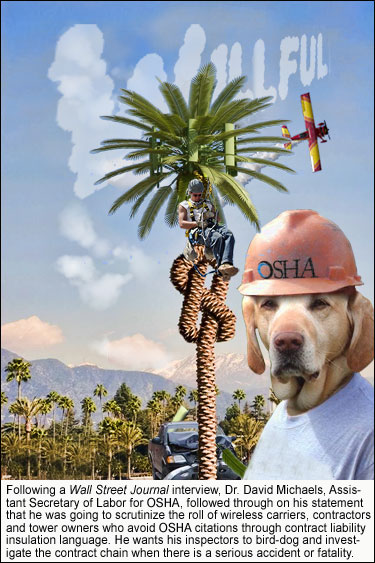 charging hard in numerous directions to end the spiraling accident and death rate in the wireless construction and maintenance industry.

Thirteen industry fatalities occurred in 2013, more than in the previous two years combined, according to Wireless Estimator data, and OSHA is concerned by this disturbing trend that appears to be continuing, with four deaths occurring in the first five weeks of 2014, one being a firefighter who was killed when a tower collapsed as he was rescuing injured tower techs.

Last August, Dr. David Michaels, Assistant Secretary of Labor for OSHA, said in an interview in The Wall Street Journal that he was going to scrutinize the roll of wireless carriers and contractors who avoid OSHA citations for fatalities and accidents by not directly hiring contractors who violate safety standards.

A number of industry observers thought it was a public relations gesture to identify that OSHA was troubled by tower construction and maintenance companies' high fatality rate, but little would be done by the bureaucracy which is oftentimes accused of moving at glacial speeds.

However, on Tuesday, Dr. Michaels quickly delivered on his commitment and sent a letter to contractors indicating the seriousness of his concern, and implied that carriers, contractors and tower owners could be held responsible for their subcontractors' violations of safety practices – an aggressive warning that could test the legal boundaries of the agency's multi-employer worksite doctrine.
Please see: Construction contract chain to be targeted
Three dead in a catastrophic collapse in West Virginia; fourth man dies in Texas
February 2, 2014 – Two Oklahoma tower technicians and a Nutter Fort, W. Va. firefighter died yesterday morning after a cell tower in Clarksburg collapsed while workers were reinforcing the structure to increase its capacity. Another tower technician died Friday when he fell from a tower near Bluetown, Tex.
West Virginia State Police this morning said Kyle Kirkpatrick, 32, from Hulbert, and Terry Lee Richard, Jr., 27, of Bokoshe, were killed at approximately 11:37 a.m. on Saturday. The deceased firefighter, Michael Dale Garrett, 28, was from Clarksburg, W. Va.
West Virginia State Police Cpl. Mark Waggamon said three of the workers were more than 60 feet up on the 270' SBA Communications tower. One of those techs was killed along with a co-worker who was about 20 feet up when the tower collapsed.
The workers were replacing diagonal supports with newer, heavier supports. During the process, the tower began to topple to the ground, crushing and trapping the workers, Waggamon said.
"Two of their co-workers who were on the ground called 911 and began working to free them," Waggamon said. He also noted that there were two additional workers from a different company also on the scene.

Firefighters from the Summit Park Volunteer Fire Department and the Nutter Fort Fire Department as well as six other departments responded to the scene and immediately identified that two of the techs employed by S&S Communications Specialist, Inc. of Hulbert, Okla. were dead and the other two required immediate treatment.
Nutter Fort firefighter Garrett, was hit by a nearby small-faced guyed tower which fell as a result of the larger tower collapsing on its guy wires. He was stabilized by rescue personnel on site and taken to Ruby Memorial Hospital in Morgantown, but died from his injuries.
Summit Park Volunteer Fire Chief Brenda Fragmin said that first responders noticed the other tower coming down. "Everybody was scrambling trying to get away, and that tower hit one of Nutter Fort's firemen," she said.
In announcing the firefighter's death, Nutter Fort Fire Chief Jeremy Haddix said, "It is with great sadness that the Nutter Fort Fire Department is confirming the line of duty death of one of our members. The firefighter was injured on scene in Summit Park during a secondary collapse at the cell tower, and transported to United Hospital Center. While being treated the firefighter succumbed to his death."
The two injured technicians were flown by helicopter to Ruby Memorial Hospital. The extent of their injuries is not known.
Lynne Hopkins, spokesperson for SBA Communications, provided the following statement to the media yesterday evening: "Late this morning, we were made aware of a tragic incident that occurred at one of our tower sites in Clarksburg, West Virginia. We are deeply saddened by the loss of life and the injuries to the other individuals and our prayers and concern go out to the families involved."
" SBA Communications is cooperating fully with any type of investigation being conducted by governmental agencies. We realize the sensitivity surrounding such an unexpected event and have mobilized our team to be on the scene to assist with any information needed."
SBA representatives did not respond to requests for additional information.
About three dozen people from eight fire departments in the area responded. Rescue personnel had to use four-wheel-drive and all-terrain vehicles because snow had made a mess of the gravel road leading to the site.
S&S Communications Specialists, Inc. is owned by Kenneth Shankle. He and his brother, Randall , have 65 years of experience between them. They established their business in 2000.
On Sept. 14, 2009, one of their employees, a 26-year-old tech from Wagoner, Okla., fell 300 feet off a tower and died in Thomasville, Mo. after he transitioned without tying off. The company received two Serious violations and was fined $3,000 by OSHA.
Kirkpatrick leaves behind three children — sons Ben, 9, and Gage, 2; and a daughter, Khayden.
Richard was neither married nor had children.
Texas tech's death raises concerns about company's safety practices
A tower technician was killed on Friday when he fell off of a 1000-foot guyed tower located south of La Feria, Tex.
Cameron County Sheriff Omar Lucio said Ronaldo Eduard Smith, 62, was providing maintenance on a tower that belonged to a church when he fell.
Deputies located the man about 30 feet from the tower with serious head trauma following the fall. They did not know how long he had been dead.
Communication with the man and his company was reportedly lost throughout the day and his office became worried and contacted authorities who found the man dead at the scene.
Lucio did not have the name of the company that employed Smith.
Wireless contractors maintain a safety policy that requires a minimum of two men must be on site whenever there is elevated work being performed.
Willful citation is the order of the day
OSHA is investigating the fatality and it is expected that if the employer was at fault and contributed to the man's death, the agency will issue a Willful citation.
Last November, OSHA's Director of Construction, James Maddux, told his area directors, "When workers are not using effective fall protection, the fall hazards are obvious, well known and potentially fatal. In appropriate cases, Area Directors should work closely with their Regional Solicitor to develop willful fall protection citations, including, when applicable, citations of the general duty clause." See memo.
To address the sharp rise in fatalities and accidents, Maddux requested that whenever an area office became aware of communications tower work being done, that compliance officers should be directed to inspect the worksites to ensure compliance.
ATC's seven year savings itch is to ditch
annual inspections of its lighting systems
January 30, 2014 – If the FCC agrees with American Tower Corporation's request, the Boston-based tower owner will not be required to inspect over 7,000 of its towers
throughout the country each year to ensure that their obstruction lighting systems are working properly.
The move would save ATC close to $2 million a year if it did not have to inspect and document that "all automatic or mechanical control devices, indicators, and alarm systems associated with the antenna structure lighting to insure that such apparatus is functioning properly," but ATC said the reason they want to be relieved of the annual obligation by the FCC is that it "no longer serves any discernible purpose, and would further the public interest by encouraging other tower owners to implement technologically advanced monitoring systems."
The Commission granted ATC a partial waiver of the rule in 2007; allowing ATC to make annual rather than quarterly inspections. This waiver was predicated on ATC's use of its continuous remote tower monitoring system.
In 2007, ATC used the Eagle Monitoring System developed by Flash Technology, a company they used to own, but sold to SPX in 2003.
ATC then designed and changed over to their ATC System that incorporates a backup NOC by employing virtual private network technology, allowing technicians at any location with an internet connection to log in to a cloud-based virtual NOC in the event the primary Cary, N.C. NOC is not functioning.
When ATC applied for their waiver in 2007, AOPA, representing over 406,000 general aviation pilots, opposed the request indicating that although it favored the introduction of new technology, the quarterly inspection should continue until these technologies have been thoroughly evaluated.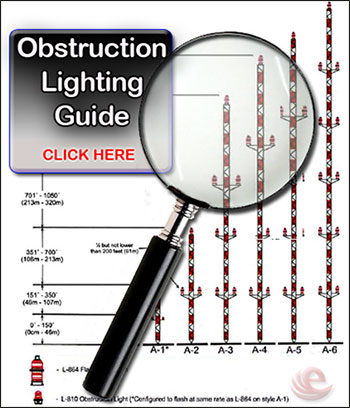 The FCC disagreed, stating, "Such advanced technology provides the benefits of more rapid response where there has been a lighting failure, and thus the public interest is served with respect to aircraft safety."
Comments to the FCC are due February 14, 2014 and replies are due February 21, 2014. Comments may be filed electronically by accessing WT Docket No 10-88.
In April of 2012, Crown Castle International was also granted a waiver to go from quarterly to annual lighting inspections. It is expected that the nation's largest tower owner will also request that all inspections should be waived if ATC's request is approved.
For the most complete and up to date tower obstruction lighting regulations, click here. Join thousands of other Wireless Estimator viewers who have bookmarked this resource for easy reference.
Velocitel might be out $3.2 million as their former manager serves a five-year jail term
January 29, 2014 – A New York wireless manager has been sentenced to more than five years in prison for defrauding more than $3 million from Velocitel, Inc., his Syracuse employer. He was also required to reimburse Velocitel $3.2 million, but it's
doubtful that they'll ever see the repayment.
U.S. District Judge Mae D'Agostino sentenced Craig B. Matuszak Jr. to 63 months in prison for mail fraud and filing a false income tax return for the fraud scheme he executed with two accomplices, one still unnamed.
He was facing a term of imprisonment of up to 20 years, supervised release of up to three years, and a fine of up to $250,000.

Matuszak, 49, of Gansevoort, pleaded guilty in 2012, admitting that he defrauded Velocitel by conspiring with a vendor and a contractor for the company. They billed the California-based company for services that had never been provided, but were paid by AT&T. All three shared in the payments.
A former Velocitel executive told Wireless Estimator that it's doubtful that Matuszak will ever be in a position to reimburse the money he swindled.
"He's going to be in his mid-fifties when he gets out of jail and it's doubtful that he'll be entering this industry again since no company would want to hire not only an ex con, but a thief that stole money from his employer," he said. "I doubt that there's anything he can do that would allow him to pay off this enormous debt."
Matuszak and his wife filed for bankruptcy last year, listing assets at $871,673 and liabilities of $1,182,085.
Another New York resident, David Olek, of Olek, Inc., conspired with Matuszak and also pleaded guilty, and was scheduled to be sentenced this month.
A former Velocitel site acquisition specialist, Christopher Bevans, 39, was sentenced to three years' probation by Judge D'Agostino last October for not reporting to the IRS an additional $221,150 he was paid for moonlighting for a company that received money fraudulently in a conspiracy with Matuszak.

Bevans' lawyer stated that Bevans has a gambling problem and that played a major part in his decision to not report his full income.
"His gambling losses prevented him from paying all his taxes," the defense lawyer wrote. "He mistakenly believed that he could recoup the tax owed through gambling," lawyer Michael Vavonese informed Judge D'Agostino.
According to a court transcript, Matuszak had an accomplice set up a company, Capital Solutions.
Following deliveries of materials to AT&T cell sites, Capital no longer provided any services, but Matuszak and Olek received checks from Capital for work that was never performed, but approved by Matuszak.
A court document identifies that all checks were sent to Capital Solutions at 24 Golf Course Parkway in Hadley, N.Y.
It is not clear as to who the sole proprietor of Capital was and if that individual assisted in the joint investigation conducted by the Internal Revenue Service, Criminal Investigations and the Federal Bureau of Investigation's Syracuse, New York Resident Agency, or if the prosecutions were initiated by the investigation of Bevans.
Velocitel provides complete wireless site development and engineering services. Last July the company acquired Doty Moore Tower Services, LLC, and hired Don Doty and Patrick Moore, founders of DMTS, each joining the Velocitel team as Vice President of Operations.
NATE expecting a high attendance spike in San Diego next month as registrations climb
January 24, 2014 – Stop inside NATE's headquarters in Watertown, SD and you'll find their personnel abuzz with the essential pre-show jitters, but there is a communal s
mile as they tie up last minute details for the Feb. 24 – 27, 2014 conference in San Diego, Calif. – knowing that NATE UNITE 2014 will probably be one of the largest and most significant shows in the trade group's history.

At this time, registration coordinator Nikki Gronau couldn't state that the show will be able to boast the most attendees ever, a number that would have to exceed Orlando Fla.'s 2002 show which set the organization's record of 1,481 attendees, according to attendance figures obtained by Wireless Estimator.

But she said that a surge in recent registrations could certainly result in "one of NATE's largest events".

Gronau said that a large draw will be keynote speaker Dr. Martin (Marty) Cooper, a pioneer in the wireless communications industry, an inventor, entrepreneur and executive.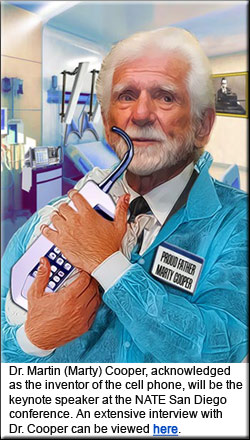 Cooper has been a contributor to the technology of personal wireless communication for over 50 years. He conceived the first portable cellular phone in 1973 and is cited in the Guinness Book of World Records for making the first cellular telephone call.

According to Gronau, registrants for the optional certification training courses are filling up fast and she suggests that attendees should maximize their time during the conference by additional, certification all in one location.

"Whether you are a seasoned professional or a first-time attendee, these courses offer additional training at a reasonable cost. You must be a NATE Member with a full-conference pass for the annual conference to sign up for these optional certification courses," said Gronau.

Courses offered are:
NATE Authorized Climber – This course is designed for new climbers who have not previously been exposed to the use of fall protection equipment or have limited experience.
OSHA 10-Hour Training Course – This course and the topics discussed will focus specifically on the unique hazards and concerns facing the telecommunications industry.
Medium Intensity Lighting (LED) Installation and Maintenance Course – The goal of the course is to provide the factory recommendations for installations and also provide the best tips to diagnose and repair the latest LED systems in the event of a failure.
PIM Testing Certification Course – In this advanced certification course, students will learn the fundamentals of PIM, sources of PIM, various techniques to detect and measure PIM including Range-to-Fault (RTF), and how to use a Kaelus PIM tester.
NATE Competent Climber/Competent Rescuer Training Course – This course meets the adult training criteria for accepted practices in Safety, Health and Environmental training (ANSI Z490.1-2001), the highest industry standard for safety training. It also meets and exceeds the current OSHA regulations along with the ANSI A10.32-2004 Fall Protection Regulations for Construction and the Z359.2-2007 Standard for the minimum requirements for a Comprehensive Managed Fall Protection Program found in the ANSI Z359 group of fall protection standards.
Competent Rigging/Signaling Course – This training class covers everything that is required for qualifying riggers and signalpersons and EXCEEDS OSHA minimum requirements.
For further information on NATE UNITE 2014 and their optional courses, view the NATE UNITE 2014 Event Brochure or visit their website
Details into tech's shooting death quashed by $700,000 payment from the city of Charlotte
January 14, 2014 – A lawsuit filed in 2007 was expected to provide answers to a Charlotte, N.C. tragedy where a tower technician might have been a victim of an overzealous or frightened police officer who shot him to death on July 20, 2006 while he was working in an equipment shelter in the early morning hours.
However, the city of Charlotte will pay $700,000 to the estate of Anthony Wayne Furr to avoid a protracted jury trial, and a possible appeal if they lost.
The City Council approved the settlement during a closed session last week.
A bartender working nearby saw Furr's AFL Network Services truck and called police at about 1 a.m. about a suspicious vehicle at the Albermarle Rd. cell site.
When three Charlotte-Mecklenburg police officers showed up at the site, Furr, who was wearing his AFL Network Services uniform, police said, pulled a gun and did not immediately obey a command to drop it.
One officer, Anthony Payne, fired three times. The tech died shortly thereafter.
Payne said Furr was moving towards him with a gun and he felt his life was in danger.
The weapon was found outside of the equipment shelter, but investigators said they couldn't tell how it got there, speculating that either Furr had tossed it there before the shooting or it had flown out of his hand when he was hit.
In a pretrial interview for the lawsuit, attorneys questioned police on why they pulled their weapons when the company logo on Furr's work vehicle was clearly visible and the gate to the tower compound had been unlocked and still had the key in the lock.

The officers' answers: They were responding to a call in a high-crime area and did not know whether someone had broken into the tower.
"The shooting death of Wayne Furr in the early morning of July 20, 2006, was a tragedy for all those involved," the city of Charlotte said in a statement Friday. "Wayne Furr was a loving father and valued member of his community. Officer Anthony Payne is an 18-year veteran of the CMPD who has an excellent record of service and numerous commendations."
Whereas initial reports of the shooting said Payne was fully visible to Furr when he shot him when he felt that his life was in danger, the suit argues that Payne ducked behind the doorframe of the concrete shelter, reached around with his hand and fired three shots. One round struck the door outside of which Officer Payne was standing and two of the rounds hit Furr in the chest area.
It's clear that a chain mount failure caused
climber's death, but who is to blame?
January 8, 2014 - Last January, a 32-year-old veteran tower technician, Mike Rongey, an employee of WS Consulting and Construction, climbed a Crown Castle International monopole in Mount Vernon, Wash., to perform an antenna installation for Clearwire's network when he fell and died. A year l
ater the question remains: who is to blame?
Attorneys for his family filed an amended wrongful death lawsuit on Monday, stating that contributory to his death were Crown Castle, Clearwire, Ericsson and Pacific Coast Tower, the contractor that allegedly installed an antenna mounting system on the multi-carrier tower.
However, judges do not act as neutral fact finders, and it may never be known who was at fault in the Rongey case since many in the legal system place a higher value on winning than on truth seeking.
What is known is that Rongey, wearing a full-body harness, climbed the monopole using its step bolts while he was attached to a fall restraint cable.
At approximately the 90-foot level he secured his lanyard to the antenna's chain mount and shortly thereafter fell to his death in the early afternoon of Jan. 4, 2013.
His foreman, Brian Mudwilder, witnessed the fall, but was not in a position to see how it happened.
Washington's Department of Labor and Industries believes that Rongey tied off to the chain on the mount, then it separated from its keyhole attachment point, causing him to fall.
The family's lawsuit states that the reason it failed is because it was installed upside down by Pacific Coast Tower six years prior to the accident.
The state Department of Labor and Industries has fined Rongey's employer, WS Consulting and Construction, $450 for a serious violation of not following its written safety plan.
Attorneys for WS Consulting told the state that neither WS nor Rongey could have known that the mount was upside down.
A wireless component product engineer believes that it would be difficult to assess whether it was installed correctly, based upon the above photo, and thought, without the benefit of an installation drawing or a better photograph, that it could have possibly been installed correctly since the weight of the mount and antenna could force the chain into the slot and keep it from detaching.
A seasoned foreman shown the photograph, who had never installed that type of chain mount, said he believed it was installed correctly.
The complaint says that the defendants "failed to inspect and correct the chain mounting bracket that was installed upside down on the cell tower."
Although the mount was installed upside down, according to Andrew product drawings, it is expected that the plaintiffs will argue that Rongey should not have tied off to the mount.
In an article for NPR station KUOW, journalist John Ryan quoted Mudwilder: "He was always safety conscious. That's one of the hardest things for me to understand what the hell happened. He's not the gung-ho, 'Nothing bad will ever happen to me' mentality at all. He's safe. He's been through all the training."

However, climbing instructors and OSHA emphasize that any anchor point used to tie off upon should be rated for 5,000 lbs.
Few, if any of the hundreds of thousands of mounts used on towers and other structures can comply with that requirement.
Most climbers know that, yet some continue to tie off to them while performing installations and services.
Two components manufacturers contacted by Wireless Estimator said that none of their mounts are man-rated, allowing a worker to safely tie off to the mount.
Although they said that their chain mounts are designed to accommodate a 250 lb. vertical man load, they stressed that the tech should be tied off elsewhere and not on the mount.
The 250 lb. man load, however, is oftentimes not even advisable, they said, as carriers continue to provide remote radio heads and antennas that outweigh the mount's original design maximum for flat plate loading and weight.
"Had the chain mount been installed correctly, it still could have failed if the man fell and was attached to it," said a manufacturer's engineer.
Most chain mounts use ¼" chain with a safe working load of approximately 2,600 lbs.
The civil trial is scheduled to begin Aug. 8, 2014.
Former FCC chief Julius Genachowski joins buyout king that once owned CommScope
January 7, 2014 - Julius Genachowski, who left as Federal Communications Commission Chairman in May, has joined Carlyle Group's U.S. buyout unit, according to the equity firm in an
announcement yesterday.
Genachowski joins a team with a fresh $13 billion fund at its disposal to carry out corporate buyouts and minority investments in the U.S. As a managing director and partner, he will specialize in telecom, Internet, mobile and other technology deals.
The Carlyle Group had acquired Hickory, N.C. based CommScope two years ago for $3 billion requiring their stock to cease trading on the New York Stock Exchange on Friday, January 14, 2011.
Sales picked up under Carlyle's ownership, growing 11 percent to $1.7 billion in the six months that ended June 30, 2013. The company reported net income of $17 million for that period, compared with a loss of $11.4 million a year earlier.
In October, Carlyle sold the company to public investors at an initial offering price of $15.00 a share. The stock closed at $19.19 yesterday.
In May 2012, Carlyle and Blackstone cancelled a $4 billion bid to buy India's Reliance Communications. The company has 50,000 towers across the country.
The Carlyle position is the latest in a long and diverse career for Genachowski, a former law clerk for Supreme Court justices David Souter and William Brennan Jr. and founder of LaunchBox Digital, a D.C.-based startup accelerator that moved to North Carolina in 2010. Since leaving the FCC, Genachowski has taught a joint class at Harvard's Business and Law Schools.
He served as FCC chairman from 2009 to 2013, a tenure that included a bitter interference dispute between 4G wireless startup LightSquared and the GPS industry.
The last FCC Chairman Carlyle hired was William Kennard. He previously served on the board of Sprint Corporation.
Workers gear up for this week's brutal Arctic blast
January 6, 2014 - Tower construction and maintenance companies are preparing for brutal weather from a dangerous Arctic blast that could send US temperatures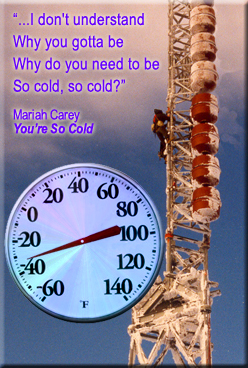 plummeting to their coldest in 20 years.
The northeast of the country and parts of Canada have been in the grip of crippling heavy snow and deadly sub-zero conditions at the start of 2014 and the deep freeze is now ripping through the US Midwest and threatening usually mild areas further south.

OSHA does not identify what temperature is safe for an employee to work in, especially a tower technician who oftentimes is subjected to sub-zero wind chills that are not recorded by weather services since the average reporting height is five feet above ground level.
The common sense of a supervisor is the best barometer, but if a climber believes it is too cold or icy to work safely, the majority of the nation's companies will rely upon their employee's judgment.
However, the hockey stick growth of the industry in past years has created acclimation problems for some workers.
Whereas an established Michigan company might have seasoned techs who are used to working in bitter cold weather, major companies are relocating workers to cold temperature project states from wherever they can hire them, oftentimes from south of the Mason-Dixon line.

It could create an unsafe situation where a worker unaccustomed to extreme cold weather wants to show that he is able to withstand the cold.

For Great Plains Towers, based out of West Fargo, N.D., it was business as usual this morning, said Kevin Reski, President. His primary concern is to ensure that all of his vehicles' diesel fuel does not gell.
Although it was 20 below zero with wind chills running between 50 and 70 below, Reski said his men were loading up their trucks and anxious to tackle some of the week's projects such as building a self-supporting tower and performing tower inspections.
Here are the temperature lows that the crews of the following companies will be experiencing today: Midwest Underground Technology, Champaign, Ill., -18 degrees; TowerMRL, Sun Prairie, Wis, -17 degrees; Vertical Limit Construction, Wanamingo, Minn., -15 degrees; Speelman Electric, Inc., Tallmadge, Ohio, - 7 degrees; and Augusta Tower Technologies, Grand Rapids, Mich., -2 degrees.
If you're travelling up Interstate 29 in S.D. to visit the National Association of Tower Erectors, Sioux Falls Tower & Communications or Tower Systems, Inc., expect a winter welcome of -17 degrees.

And if you are performing a project in Crane Lake, Minn., the coldest place in the nation, be prepared to work in 36 or more below zero temperatures.
A drive testing team for 3Z Telecom of Miramar, Fla. is going to have to weather 81 degrees today, but they may not know how to handle tonight's devastatingly cold 46 degrees.
The good news for workers and their clients, The Weather Channel says, is that by Wednesday, sub-zero high temperatures will be virtually gone from the Lower 48 States. Thursday, highs in the 20s or 30s in much of the Great Lakes and Northeast will seem downright balmy compared to earlier in the week.
For some great cold weather working tips and an excellent tailgate session (preferably indoors) for the wireless construction industry, click here.
Fraud charge, contractor status dispute and lawsuits trail the passing of two techs
December 19, 2013 – Stating that a tower erector fraudulently represented the scope of work it was performing on a Verizon LTE 4G upgrade and other projects, insurance carriers have denied workers compensation and indemnity coverage to a Texas contractor, although they acknowledge that there was a policy in force when two men were killed in Mississippi.
The managing contractor says that they were independent contractors. As a result, the families of the deceased might have no one to turn to for assistance other than seeking a settlement from a protracted lawsuit that could take years.
On May 28, 2013, Michael A. Castelli, 42, of Baton Rouge, La. and Johnny D. Martone, Jr., 32, of Taylorsville, Miss., were on a 300-foot tower in Georgetown, Miss., performing work for Byrd Telcom on a Verizon project when a gin pole broke from its rigging, striking them and causing the technicians to fall to the base of the structure where they were pronounced dead.
According to a lawsuit filed in July in U.S. District Court of the Northern District of Texas by Byrd Telcom and an associated company also owned by Lloyd Byrd, Circle B Electric and Tower, the plaintiffs said they notified Hartford Insurance of the Midwest and a subsidiary of the Hartford Financial Services Group, Sentinel Insurance Company, about the accident, but they were unresponsive.

Please see: Insurers refuse to honor active policy
Sprint/T-Mobile merger could be tough on tower companies and wireless contractors
December 17, 2013 – According to a recent Wall Street Journal report, Sprint is considering a merger with T-Mobile and could place a bid within six months in a deal that could cost more than $20 billion.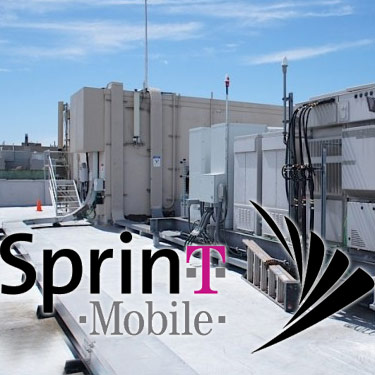 However, Sprint could face opposition from antitrust regulators, who might register their concerns about having one less national carrier and therefore less competition in the industry.
The nation's major tower owners, which appear to be quite content at totaling three, might not be as pleased with seeing the major carriers taper down to three, although they will not publically state their concerns.
Two years ago when AT&T placed a similar bid for T-Mobile, the towercos identified that they did not see it as a detriment for future lease-ups and growth, possibly stated at the behest of AT&T, one of their primary tenants. Possibly to minimize the impact it could have on stock prices.
Following Friday's report, American Tower Corporation announced yesterday that for the quarter ended Sept. 30, 2013, Sprint and T-Mobile accounted for approximately 16% and 10%, respectively, of the company's consolidated operating revenues. ATC currently has separate leases for antenna space on the same site at approximately 5,500 locations.
Crown Castle International also announced that at the end of Sept. 30, 2013, Sprint and T-Mobile represented approximately 23% and 22%, respectively, of its consolidated site revenues.
The company said that it had approximately 8,000 towers on which both carriers currently reside.
SBA Communications has not released the impact it could have upon their revenues.
Wall Street, during yesterday's session which saw the Dow climb 129 points, viewed the merger as a negative for the three publically traded tower companies with AMT down 0.87%, CCI down 2.35% and SBAC down 2.39%.
As was the case with the failed AT&T bid, contractors will likely be unanimous with their concerns about taking another carrier out of the marketplace and having one less mobile operator to work for.
A merger of the third and fourth largest wireless carriers may not bring the severe regulatory concern expressed during the AT&T bid for T-Mobile, but it could easily provide shareholder angst over the kind of operational complexities that Sprint would have to face in merging and managing different networks.
Medley Global Advisors policy analyst Jeffrey Silva believes that the deal might have some timing problems.
Silva said that a deal at this time could face headwinds at the FCC and Justice Department, with federal regulators and antitrust officials possibly preferring to see how Sprint and T-Mobile fare in light of transactions and spectrum opportunities that could further improve each carrier's competitive posture.
"The policy calculus could change if one or both companies have significant difficulty in a 4G LTE market in which Verizon and AT&T have made significant strides," said the Washington-based analyst.
Silva said the issue is one of sustained competition of Sprint T-Mobile.
"If either or both companies show signs of wavering/faltering quarter-after-quarter as the 4G LTE market further develops, we believe the regulatory case for a Sprint/T-Mobile merger will be substantially stronger."
"Indeed, we would not be surprised to see the US wireless market come to settle at three national operators in time," said Silva.
NATE announces 2014 board election results
December 17, 2013- The National Association of Tower Erectors released the results of the 2014 Board of Directors election. Candidates Pat Cipov, President of Cipov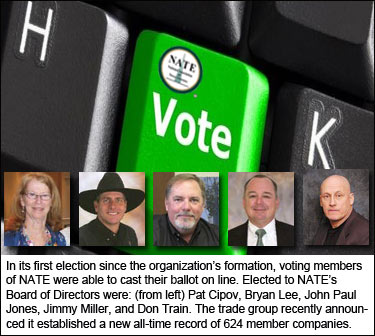 Enterprises, Inc. in Sumter, S.C. and Bryan Lee, President of Lee Antenna & Line Service, Inc. in Hellertown, Pa. were re-elected and will retain their seats on the NATE Board of Directors.
Candidates John Paul Jones, President of Tower & Turbine Technologies LLC in Austin, Tex.; Jimmy Miller, President of MillerCo, Inc. in Gulfport, Miss.; and Don Train, President of Train's Towers, Inc. in Haddon Heights, N.J. also assumed seats and will be serving as new members of the Association's Board of Directors.
The industry leaders will officially begin their two-year terms on Feb. 23, 2014 at the NATE UNITE 2014 conference in San Diego, Calif.
NATE extends our congratulations to the candidates who emerged successful in the 2014 Board of Director's Election," said Executive Director Todd Schlekeway. "Serving on the NATE Board of Directors is a tremendous commitment and we appreciate their willingness to contribute their time and talents to continue to help the Association fulfill its mission of raising the bar on industry safety, standards and education."
"NATE would also like to commend all of the members who stepped up and became Board of Directors candidates during this election," stated Schlekeway. "This was the largest slate of candidates the Association has had for a Board of Directors election and that is a testament to the momentum and influence NATE has established in the industry," added Schlekeway. "I was extremely impressed by the caliber of candidates our members had to choose from and NATE is strengthened due to the leadership and initiative displayed by all candidates."
New York tower crew gets to ensure troupe's
safety in holiday sidewalk spectacle
December 12, 2013 – Tower technicians often state that one of the true enjoyments of the profession is the varied projects and sites that they are able to assist with, each one requiring different and exacting disciplines. However, a crew from Wireless
Network Group ushered in the holiday season with a truly unique rigging challenge. Safely drop a dance troupe from the top of a Fifth Avenue, Manhattan department store.
That's what six crew members of Wireless Network Group were tasked with on Nov. 19, 2013 when luxury goods retailer Bergdorf Goodman unveiled their holiday window displays revealing what many from the fashion set consider works of art. For the first time it included a spectacular public event.
Hundreds of onlookers stared skyward in disbelief as a five-member Brooklyn-based acrobatic troupe, STREB Extreme Action Company, descended the iconic midtown building. The presentation was under the direction of award-winning choreographer Elizabeth Streb.
For additional photographs, click here.
Propelled by pulsating holiday themed music, the dancers, standing at 90 degree angles, made it seem as though the facade of the building was the street as they walked their way down to their audience while throwing glitter and sparkles to the crowd, overshadowing the highly focused WNG crew on the sidewalk who orchestrated the lowering of the troupe in their show-stopping performance.
Although the entire acrobatics lasted approximately 10 minutes, according to Michael Fox, WNG's President and CEO, the event took a number of days to plan and rehearse.
The crew, supervised by WNG's safety and quality manager Jared Davignon, included Roger Vasquez, Mark Nicholas, Jermaine Nichols, Jodaine Britto and Mike Alatiff from the company's RF team.
Since the crew could not rehearse on the Bergdorf Goodman building, there were three, three-hour rehearsal days on a 30-foot wall which was located at the STREB facility in Brooklyn. Each dancer was coupled with a belayer based upon the performer's weight.
Rigging plan ensured the world-renowned troupe's safety
Fox said the Fifth Avenue building's roof had HVAC units with adequate structural steel for anchorage for four 60-foot slings and one 140-foot sling.
The custom length slings were necessary to avoid any contact with the original slate roof on the building. Attached to the slings was a carabiner. They ran the rope through it with one end to the dancer and the other to the belayer.
Due to the larger surface area they used synthetic slings instead of rope over the roof's edge because there were points where they would not be able to reach to protect the rope if it was used.
They also had the assistance of two additional SPRAT/riggers from Universal Steeple Jacks of NYC, who were located on the roof with separate gear ready for a rescue in the event one was needed.
Working around a sidewalk closure permit, crew members rigged the building the day before the event and brought safety system back on to the roof during the night for protection and to comply with NYC regulations. The following day they had three hours to set up ropes to each sling and have everything ready an hour before the event was slated to start.
Crew members used a fisk to descend the dancers during the performance which had STREB's troupe buffeted by almost steady 15-mile-per-hour wind and an occasional gust.
Davignon said it was locked out when the dancers came out of the windows and until the cue was given to start to descend which was signaled by the program manager through ear pieces from his position across the street.
"There was stopping, quick drops and continued descents during the whole event once they started their descent; so once started the fisk had to be kept unlocked and ready for the next move. We also trained the helpers on the ground that were part of STREB to keep a hand on the rope just in case something happened to one of the belayers so that the dancers were still kept safe," said Davignon.
Bravo's Andy Cohen introduced the special event unveiling Bergdorf Goodman's 35 windows with their designers' nods to secular holidays, ensuring that there were points of interest from all vantage points – from their sidewalk, from a across the streets, from a cab or even from a vertical position 20-feet off the ground while tethered to an WNG employee.
Founded in 2000, Wireless Network Group is based in New York and New Jersey. The firm has offices throughout the Northeast and recently expanded into the Carolinas. The site development, integrator and maintenance contractor is currently servicing over 20,000 cell sites for RF/tower, HVAC, power and general maintenance. The company is SPRAT certified for controlled descent in NYC.
Two companies cited by OSHA following three climber deaths in Mississippi
December 11, 2013 – A Destin, Fla. contractor is contesting two serious OSHA violations it received and the accompanying $14,000 penalty after two of its men were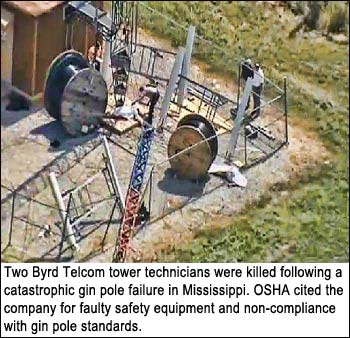 killed when a gin pole's rigging failed, and a Scott, La. company has until Dec. 19, 2013 to contest its $50,400 willful fine for not ensuring that its climbers were using proper fall protection equipment.

On May 28, 2013, two employees of Byrd Telcom, Michael A. Castelli, 42, of Baton Rouge, La. and Johnny Martone, 32, of Taylorsville, Miss., were on a 300-foot SBA Communications tower, working for their employer Byrd Telcom on a Verizon project when a gin pole broke from its rigging, striking them and causing the technicians to fall to the base of the structure. A third crew member was on the tower, but was able to climb down uninjured.

The tower was located off of Highway 27 in Georgetown.

Byrd received two citations, each requiring a $7,000 penalty.

The company was charged for not furnishing their employees a place of employment which was free from recognized hazards that were causing or likely to cause death or serious physical harm to employees.

According to Jackson OSHA area director Clyde Payne, Byrd exposed its employees to fall hazards while working on communications towers.

In the citation he said that fall protection equipment used by the employees was not inspected and showed signs of deterioration and fraying on the climbing harness and lanyards.

The second citation identified that the two men "were exposed to struck-by hazards from improper gin pole assembly and rigging of a hoisting system for lifting a gin pole to the top of a cell tower."

The charge said that while working on the tower the two techs were not protected by a properly secured top block as the gin pole was being raised.

It also stated that the two-section gin pole was assembled with used 5/8" bolts that were not tested to ensure that the engineered procedure and test were met.

They also identified that the gin pole "was not permanently marked with an identification number that references a specific load chart and gin pole weight."

One of the abatement methods suggested was to secure the top block to the tower "with a fabricated steel jump block attachment identified in the National Association of Tower Erectors publication, 'Gin Pole Erection Profile and Use Procedures –1988'."

Byrd contested the citations on October 28, 2013.

Willful charge against Custom Tower is more serious
Although Byrd's citations were an unpublicized administrative listing on OSHA's web site, last week Payne issued a press release acknowledging his office's concern about a willful violation by Custom Tower LLC which contributed to the death of 44-year-old Shelton Cormier, Jr. of Scott, La.

On Aug. 17, 2013, Cormier had been installing a microwave dish at a height of approximately 125 feet when he fell off of the 357-foot C-Spire tower located off of Highway 149 in Louise.

Following OSHA's inspection, Cormier's employer, Custom Tower, LLC received a citation for a willful violation and a fine of $50,400 for not ensuring that workers wore and used fall protection equipment properly while working from heights greater than 6 feet.

The citation said that Cormier was wearing a body harness, "but did not have a lanyard attached to the upper back D-Ring or the safety slide guard for the front D-Ring."

"This preventable tragedy underscores the legal responsibility of employers to follow OSHA standards and procedures to ensure workers use fall protection equipment correctly. Employers must ensure a safe and healthful workplace for their workers," said Payne.

A willful violation is defined as a violation in which the employer either knowingly failed to comply with a legal requirement (purposeful disregard) or acted with plain indifference to employee safety.

The maximum allowable fine for a willful violation is $70,000. If a willful violation results in the death of an employee, employers can also be punished by a court-imposed fine or by imprisonment for up to 6 months, or both.
Safety One featured in Ohio newscast on climbers
November 27, 2013 – Identifying tower climbers as a dedicated group of individuals, Central Ohio's WBNS Channel 10 ran a special on tower technicians yesterday evening after filming a number
of them being trained by Colorado-based Safety One Training.
Todd Horning, the company's director of training, was featured in the news segment about safety in the tower industry.
The report recognized OSHA's concern about the high number of fatalities in the business, as well as the number of hours that climbers are required to work.
With the industry's focus upon two recent deaths where the deceased reportedly did not have any training to certify that they were competent climbers, one technician at Safety One's training in Jefferson, Ill., said he had been in the business for two years and this was his first training class.
To view the Channel 10 broadcast, click here.
Storm cuts into T-Day time off for many techs
November 27, 2013 – The Weather Channel has decided that it has exclusivity on naming the massive winter storm blamed for at least 14 deaths in the Plains and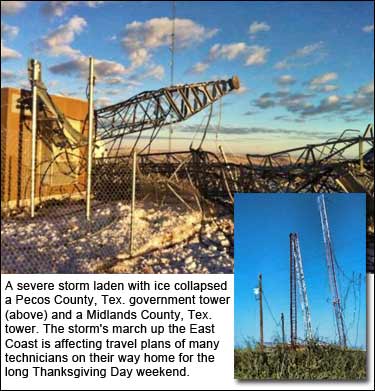 West, and is parked over the East Coast today. They're calling it Boreas, after the Greek god of the cold north wind.
But if you ask tower techs stuck in traffic on their way home for Thanksgiving to title it, it probably would be less mythology and more scatology with names that Richie Incognito wouldn't even use in the Dolphin's locker room.
Although the storm is derailing on-time travel for all wireless workers, techs are oftentimes on the road for weeks on end – sometimes months – and they look forward to the limited time off to gather with family and friends over the long holiday weekend.
"The timing of the storm couldn't be worse," said a Florida contractor who paid for three of his men to fly home for the weekend. "Two of them are now sitting in Atlanta because their flights have been cancelled."
Although there have been no reports of communications structures failing on the East Coast, over the weekend a tower collapsed in Pecos County and Midland County, Tex., reportedly from excessive ice loading.
Whether you call the storm Gobblegeddon, The Butterball Blizzard or that $#&! Storm, we hope your inconvenience is minimal and you arrive safely to share your blessings with others.
At this Thanksgiving holiday our thoughts turn gratefully to you with warm appreciation for your work in keeping families connected every day of the year.
Crown Castle's employees warned to be vigilant after payroll records were hacked
November 26, 2013 – An undisclosed number of Crown Castle International employees are being notified that their payroll and other information may have been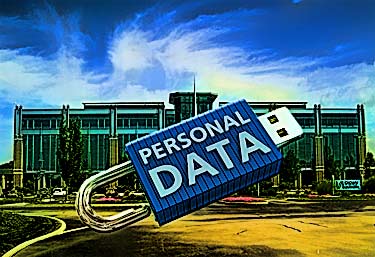 accessed by hackers.
IT personnel for the country's largest tower owner in the U.S. determined that on Oct. 31, 2013 an unknown person or persons bypassed Crown Castle's security system and accessed an e-mail containing an attached payroll file that listed U.S. employees' names, Social Security numbers and compensation.
"Our e-mail filtering and screening process helped to identify an irregularity in our e-mail system which prompted our investigation," company president and CEO W. Benjamin Moreland wrote in a notification letter to employees on Nov. 11, 2013.
Moreland said that the data breach is a very serious matter and that Crown Castle has taken aggressive steps to address it by conducting a comprehensive internal investigation of the theft.
He also said that the company has hired a forensic analyst to determine the cause of the incident, the scope of the access and to further secure the company's network.
Moreland said that the theft has been reported to the FBI and they are fully cooperating with their ongoing investigation.
Crown Castle is offering employees a complimentary membership of Experian's ProtectMyID Elite for one year and is urging workers to vigilantly monitor their bank and credit card accounts.
Tech succumbs from severe injuries sustained after falling from a Kansas tower
November 24, 2013 – A 27-year-old tower technician died yesterday as a result of injuries he received on Friday when he fell off of a 340-foot self-supporting tower in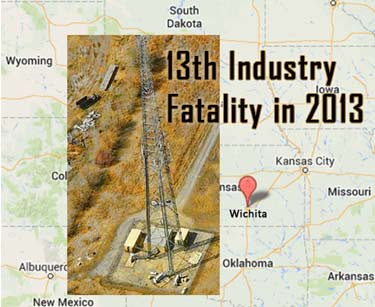 Wichita, Kan.
Douglas Klein, who resided in the N.J.-N.Y. metro area, had been working with a three-member tiger team troubleshooting a carrier's equipment failure on the SBA Communications-owned structure located at 441 East 29th St. North.
At approximately 5:30 p.m. he was coming down the tower after the problem was resolved when he fell.
Klein was employed by PinPoint Towers whose corporate office is in Omaha, Neb. The company did not immediately reply to a request for additional information regarding the incident.
According to workers familiar with the accident, the crew was working for Ericsson on a Sprint Network Vision project maintenance call.
Klein reportedly had been tied off to the structure's safety climb cable, according to two sources contacted by Wireless Estimator, and somewhere at or above the 60-foot level he fell.
It is not known if Klein's equipment failed or if he disconnected to get past an intermediate cable guide, but a co-worker said that he was attached to the safety climb during his initial descent.
When Klein fell he was severely injured after coming in contact with an ice bridge post. Emergency workers transported him to Saint Francis Hospital.
Klein's parents were able to fly into Wichita to be with him before he passed away.
Klein, according to knowledgeable sources, had only been working for PinPoint for approximately three weeks and did not have a certificate of competent climber training from PinPoint.
It is not known whether he had previous experience prior to being hired by PinPoint.
Klein's passing was the 13th fatality this year. OSHA has been notified of the accident and is expected to investigate.
Huge tower tech workforce commitment will create thousands of new jobs and climber training
November 22, 2013 – The White House and Warriors 4 Wireless announced Wednesday in Washington DC that it has made a commitment to connect veterans with jobs, and many of the 5,000 positions anticipated to be filled by 2015 will supplement tower climber technicians in the workforce.


According to the White House Office of Science and Technology Policy, it is teaming with private sector partners from the telecommunications industry to launch Warriors 4 Wireless, a program designed to help address the shortage of skilled jobs for returning veterans while satisfying the wireless industry's immediate need for skilled tower climbers to rapidly, efficiently, and safely deploy wireless telecommunications equipment and facilities.
Two trade groups have stepped forward to contribute financial and material support to Warriors 4 Wireless, and to address the workforce shortage of tower technicians, PCIA – The Wireless Infrastructure Association and the Competitive Carriers Association.
It was announced at the launch presentation that MasTec Network Solutions is providing training facilities and instructors to support Warriors 4 Wireless, and has committed to connect 1,500-plus expected job openings in the first half of 2014 to veterans and service members participating in the Warriors 4 Wireless program.
American Tower Corporation is also partnering with Warriors 4 Wireless to help launch careers in the wireless industry. ATC will provide participants access to select towers for training and certification and is working to help connect program graduates with potential employment opportunities at ATC. Additionally, ATC is supporting the design and implementation of the Warriors 4 Wireless training program at Aiken Technical College in S.C.
Dynis has trained and employed more than 50 servicemen and women through the Warriors 4 Wireless pilot program over the past year. Dynis said it will continue to support an expanded program through equipment contributions and curriculum development, and by providing training opportunities, training instructors, and funding. Earl Scott, CEO of Dynis, is a co-founder of the organization.
Dynis, MasTec and PCIA sponsored an industry reception Tuesday at the W Hotel in Washington DC.
Scott said, "We are thrilled that the program has grown into an industry-wide effort, independent of us, supporting thousands of veterans as they make the transition from military to civilian careers."
Jonathan Adelstein, President of PCIA, added, "Our returning heroes who wore the uniform are a perfect fit to fulfill the wireless industry's urgent need for a skilled workforce to rapidly, efficiently and safely deploy next-generation wireless facilities. They already have many of the technical skills and also possess the strong work ethic we need."
Federal Communications Commission Chairman Tom Wheeler said, "I wholeheartedly salute the Warriors for Wireless initiative aimed at connecting our Nation's veterans and returning service members to jobs in the rapidly growing wireless telecommunications industry. It's a win for the increasing number of Americans across our Nation who rely on wireless networks at work and at home, and the exciting new opportunities that these networks are helping create in health care, education and every corner of our economy. Let's work together to make it a success."
For additional information, click here.
Full slate of executives seeking election to five NATE board seats in a pivotal race
November 19, 2013 – With three directors opting to retire after long years of service on the National Association of Tower Erectors Board of Directors, and two directors up for re-election, NATE could see its biggest ever leadership shift in 2014.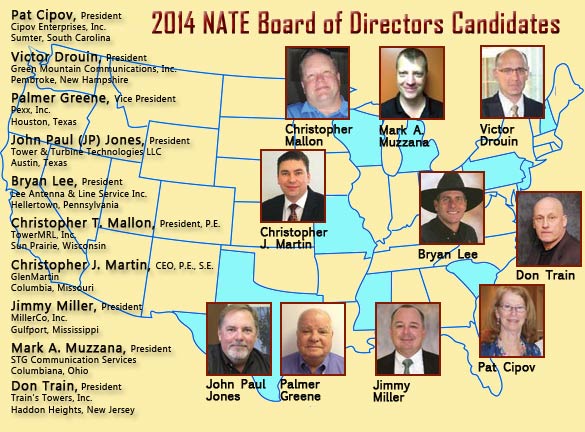 Ten candidates are running for the five vacant director seats, the highest number of nominees to ever throw their hardhat into the trade group race.
Long-time directors David Anthony of Shenandoah Tower Service, Ltd. and Ron Romano of Installation Services, Inc. are not seeking re-election; former director and chairman, Jim Coleman, resigned this summer due to a new position assignment with Sabre Industries which precluded him from serving on the board.
Directors Pat Cipov of, Cipov Enterprises, Inc. and Bryan Lee of Lee Antenna & Line Service Inc. are running for re-election.
Eight other industry executives seeking a two-year director term are: Victor Drouin of Green Mountain Communications, Inc.; Palmer Greene of Pexx, Inc.; John Paul (JP) Jones of Tower & Turbine Technologies LLC; Christopher T. Mallon of TowerMRL, Inc.; Christopher J. Martin of Glen Martin; Jimmy Miller of MillerCo, Inc.; Mark A. Muzzana of STG Communication Services; and Don Train of Train's Towers, Inc.
Online voting began Nov. 1 and will end Dec. 1. To be elected to the board the candidate must receive a majority of the votes cast. However, with 10 candidates for the five seats, it is likely that all available board positions might not be filled on the first ballot and a runoff election will be required to fill the remaining seats on the basis of a plurality of the votes cast.
The newly elected board members, along with sitting board members Kari Carlson, Jim Miller, Joel Hightower and Jim Tracy, will choose their executive officers at the association's annual meeting to be held next Feb. in San Diego, CA.
About 45% of the organization's approximately 625 members are eligible to vote for directors. According to the association's by-laws, full members must be engaged in servicing, construction, erecting and maintaining communications towers and similar structures
To become a director the candidate must be a managing owner of a voting member company, defined as a person who can legally encumber the company.
It has been discussed over the years to allow all members to be able to be a board member and/or vote upon association changes at the annual meeting, but voting members have not supported a by-law change.

In their candidacy statements, the over-riding theme was the experience that the nominees can offer the organization.

This year's new candidates include engineers, safety-driven executives, multi-degreed business owners and a board hopeful that would strive for greater membership representation and participation.

Another candidate believes that it's important to continue to educate members' customers on standardization of qualifications for climbers and technicians.
Tech's 100% tie-off saves his life in Virginia Beach
November 13, 2013 – A Virginia Beach Fire Department crew practiced rope rescue training on their city-owned tower on Saturday, probably thinking that it might be some distant time before they were able to apply those skills, if ever. Approximately 48
hours later they were called upon to help save a tower technician's life.
The unidentified worker was providing antenna maintenance on a water tower off of Chantry Drive and was using a Petzl descent control device when it failed, possibly through his error, according to one rescuer. However, his lanyard on his back D ring was attached to a safety line and kept him from falling.
But his co-worker neither had the rescue experience nor equipment available to lower the tech from approximately the 110-foot level and contacted the VBFD for emergency assistance.
Firefighters used an aerial ladder, but it was a dozen feet short from the hanging climber. It was then decided to send a rescuer from the top of the tower who was then lowered to where the technician dangled. The firefighter transferred the man to his own rope and both were lowered to a bucket on a fire truck ladder.
Before the tech was lowered, he had been hanging in his harness for approximately 40 minutes following the 4 p.m. accident on Monday, according to Amy Valdez, a fire department spokeswoman.
Valdez told Wireless Estimator that although the worker was very cold, he was evaluated by medics at the tower site and declined to be taken to a hospital.
The tower tech refused to talk to reporters covering the rescue and quickly left the area.
Valdez said that onsite personnel did not identify who the man was employed by or what carrier's antennas he was servicing on the water tower.
Although the tech's company's rescue training capabilities were reportedly inadequate, the climber's adherence to 100% tie-off unquestionably saved his life.
Prepare to go public with your company injury reports if OSHA's initiative is approved
April 13, 2013 - The Occupational Safety and Health Administration has issued a proposed rule to improve workplace safety and health through improved tracking of workplace injuries and illnesses that will most likely require the tower construction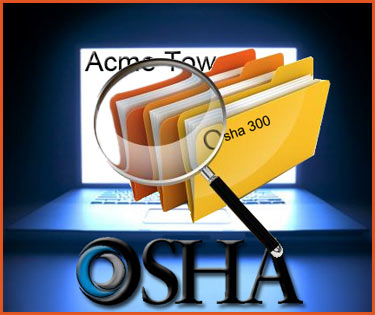 industry to abide by if it's approved.
OSHA's proposal does not add any new requirement to keep records; it only modifies an employer's obligation to transmit these records to OSHA, according to a statement provided by Assistant Secretary of Labor for Occupational Safety and Health Dr. David Michaels.
The first proposed new requirement is for establishments with more than 250 employees, such as WesTower Communication, Mastec Network Solutions and other larger contractors - who are already required to keep records - to electronically submit the records on a quarterly basis to OSHA.
Also in the proposal is OSHA's plan for companies with 20 or more employees, in certain industries with high injury and illness rates, to submit electronically their OSHA 300 summary of work-related injuries and illnesses.
The information submission would be only once a year so the administrative requirements wouldn't be overly burdensome.
It is expected that the wireless construction industry will be targeted.
In an August article in The Wall Street Journal, Dr. Michaels acknowledged that the tower construction industry had an unacceptable death rate, and he was going to take a close look as to why there were so many fatalities.
OSHA said it plans to eventually post the injury data online, as encouraged by President Obama's open government initiative.
A major business concern is that Dr. Michaels has made it known that the data will help OSHA target its compliance assistance and enforcement resources more effectively by identifying workplaces where workers are at greater risk.
According to a report released last month by the Center for Effective Government, OSHA inspects only 1 percent of workplaces in the United States in a given year.
Dr. Michaels said that the safety initiative would "enable employers to compare their injury rates with others in the same industry."
Nonetheless, it might be challenging for the tower construction industry to assess that information since wireless construction is not recognized by the Bureau of Labor Statistics as an industry identified by a North American Industry Classification System Code (NAICS).
It also creates a dilemma for Dr. Michaels and the BLS to target the wireless infrastructure industry since many primary NAICS codes for industry companies are not in the high-death, high-injury profession of structural and steel erection, but in less injurious trades such as electrical contracting or other NAICS occupations.
When a tower climber had a fatal fall in 2004 in Ohio, the company's OSHA citation listed their NAICS code as 238320: Painting and Wall Covering Contractors.
Public statistics provide a great opportunity for misuse
There is also a concern that allowing a company's information to become public could present problems when insurance and contracting companies start to assess and evaluate that data for premium and safety culture considerations.
A number of industry executives contacted by Wireless Estimator are concerned that carriers and management companies such as Goodman Networks, MasTec, and Bechtel will select their preferred vendors based upon the injury statistics.
They say that process could result in an underlying motivation for management to discourage employees from reporting injuries that on the surface could appear to be minor, but later cause more serious health problems.
Dr. Michaels believes that a strong benefit of the proposed electronic filing requirement will be its ability to allow employees to see and monitor the data and it will help keep their employers honest in their reporting.
Although many customers currently assess a company's safety status and vendor acceptance by relying upon their employer modification rate (EMR), it, like the proposed availability of data by OSHA, is a lagging indicator and might only provide a snapshot of the previous year and not what employers are currently doing to prevent injuries.
Some wireless industry risk management directors believe that a review of a number of years of claims reports identifying the frequency and narratives of accidents provides a more accurate profile of a company's safety program.
Since OSHA's proposal announcement on Nov. 7, 2013, business groups say they are likely to oppose the plan, contending that raw injury data can be misleading or contain sensitive information that can be misused.
"Just because you have an injury, it does not mean there was employer fault," said Marc Freedman, executive director of labor law policy at the US Chamber of Commerce. "Reporting the injury records does not tell the full story of the company."
Todd Schlekeway, Executive Director of the National Association of Tower Erectors, said he is currently briefing his executives and directors, and the organization's Washington lobbyist on the proposed changes.
Celeste Monforton, a lecturer at George Washington University's School of Public Health who specializes in work health and safety policy, and who has researched the high death rate in the wireless construction industry, said mining companies have had their injury reports posted online for years on the Mining Safety and Health Administration's website. That has allowed the public and employers to compare safety records and has pressured some companies to improve.
"Mine operators have been doing this forever and the world did not come to an end," Monforton said. "It's all about disclosure," she told the Associated Press.
The public will have 90 days, through Feb. 6, 2014, to submit written comments on the proposed rule. On Jan. 9, 2014, OSHA will hold a public meeting in Washington, D.C. on their safety reporting proposal.
The cost of compliance, according to OSHA, would be $183 per year for affected workplaces with 250 or more workers and $9 per year for those with 20 or more employees.
Hiring a military vet today would provide a great thank you and an excellent employee
November 11, 2013 – Veterans Day is an ideal time to thank America's men and women who have served our nation with honor and courage, it's also the opportunity to
think about the benefits of hiring former military members for a number of reasons.
Many wireless infrastructure employers are quickly becoming aware of the unique strengths that former military personnel can bring with them to a civilian job.
A primary benefit observed is the military's culture of loyalty to the team. It's a clear cost-saving to human resources' budgets by not having to absorb the expense of short-term new hires that don't appreciate the need to invest in the company with hard work, motivation and dedication.
Employers also give former military personnel serious consideration based upon a work ethic that requires the need to be flexible as well as to adhere to company safety and work procedures.
It's also known that military personnel have been trained to work toward efficiency, ask for guidance when needed, and exercise self-discipline in professional settings.
Although minimal compared to the cost of hiring, training and equipping a new hire, there are two tax credits for hiring currently unemployed military personnel: 40 percent of the first $6,000 of wages for employers who hire veterans who have been unemployed for at least 4 weeks, and 40 percent of the first $14,000 of wages for veterans who have been unemployed longer than 6 months.
Don't bank on your 911 jobsite call getting an immediate response, especially in Texas
November 11, 2013 – For project managers, foremen, administrators and others who are tasked with providing maps to hospitals and jobsite locations and coordinates for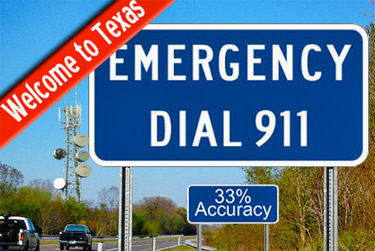 each project, and at times grouse about that important safety requirement in case there is no phone service available, here's a sobering statistic to highlight that necessity: In an emergency 911 situation, there's a good chance first responders will be incapable of locating an injured co-worker, especially in Texas.
An advocacy group says two-thirds of all wireless 911 calls in Texas don't provide enough location information for the caller, violating federal requirements.
Find Me 911 Coalition reported last week that recent Federal Communications Commission data shows the rate of Texas wireless emergency callers with detailed location information has fallen by about half since 2011.
Statewide data released by the FCC shows that 403,571, or 67 percent, of the 601,106 wireless 911 calls in June didn't provide full location information.

In most instances those calls only showed the location of the cell tower where the call originated.
Although there's a likely chance that the cell site is where the worker is calling from, that may not be the case since the work could be on a raw land site or the cell site could be down and the call might be handled by another location miles away. And seconds count.

Texas doesn't have exclusivity on location tracking failures
A California study analyzed more than 3 million wireless 911 calls made from 2008 through 2012 handled by emergency call-takers in Bakersfield, Pasadena, San Francisco, San Jose and Ventura County.
It found that in all five areas, fewer than half reached dispatchers with an estimate of the caller's location in December 2012.
Other states tracking 911 wireless call data on the FCC's page include, N.C., Ore., Pa., Utah and Wash.

Wireless Estimator's Emergency Services Locator provides location maps and other emergency jobsite information. The free service, available since 2010, has seen hundreds of thousands of jobs rolled using the program to send the emergency information by email.
Many thousands of additional users utilize the program to capture information for their company-required forms.
The ESL also provides integrated Job Hazard Analysis best practices forms developed by the nation's leading carriers, contractors and safety professionals. The JHAs meet and exceed all project JHA requirements set forth in ANSI/TIA-1019-A's Check List for Site Evaluation for projects.
The ESL also tracks the number of pdfs that were sent during the past two weeks as well as a yearly count.
Selling at SBA's high could have provided a handsome profit if you had caught their 2002 low
November 7, 2013 – If you had ignored frequent rumors that tower companies were going to go bankrupt in 2002 and invested $10,000 in SBA Communications and sold
it yesterday at its all time high of $91.83, you would have seen a hefty profit of $4.8 million.

In a similar investment of American Tower Corporation and Crown Castle International, the profits would have also been respectable, earning $1.4 million and less than a half million respectively.

But analysts' hunt for red October ink in 2002 following the dotcom bubble burst, high interest rates and continued operating losses for tower companies, it was a risky gamble as executives tried to allay fears that their future was limited.

American Tower had been dogged by rumors that it might file for bankruptcy protection.

Crown Castle and SBA were also considered to be at risk.

"It's the nature of the beast in the telecom market right now," American Tower's chief financial officer, Brad Singer, told the Dow Jones newswire in October of 2002. "We have not filed Chapter 11, nor do we plan on filing Chapter 11."

Steve Dodge, American Tower's chairman, said that reaffirming guidance was an unusual step for American Tower, but his concern was American Tower's stock plummeting from a 52-week high of $16.30 to $.74.

"However, the interests of our stakeholders, including our employees, are being undermined by false rumors and innuendo. The fact is, we are experiencing strong sequential quarterly EBITDA growth and margin expansion, as we drive toward free cash flow in the first quarter of 2003," Dodge said in a statement.

On May 21, 2013, American Tower's stock hit a historical high of $85.26.
Site acq specialist avoids jail time after hiding $221,150 from funds linked to $4 million fraud
October 29, 2013 – A former Velocitel, Inc. site acquisition specialist was sentenced to three years' probation for not reporting to the IRS an additional $221,150 he was paid for moonlighting for a company that received money fraudulently in a conspiracy with a Velocitel manager.


U.S. District Judge Mae D'Agostino carried out the sentence last Tuesday for Christopher Bevans, 39, who pleaded guilty June 13, 2013, and could have received the statutory maximum of three years in prison.
He could have also received a $250,000 fine for filing false income tax returns, but was only ordered to perform 200 hours of community service for not reporting the money that mostly likely was obtained through fraud by his past bosses.
Please see: Forrmer bosses could get 23 years in prison and a $500,000 fine
MPR charges its partner swindled them out of $315,000 or more in a co-location deal
October 28, 2013 – Had Minnesota Public Radio gone to the 12th floor of the Acme building and asked private eye Guy Noir from their signature program, A Prairie Home Companion, if they were getting a fair deal on a co-location partnership, they might not have had to wait almost three decades to find out they were being deceived.
He could have answered one of life's persistent questions: Am I being taken to the cleaners?
MPR has filed a lawsuit against the head of a Rochester radio station which it had a profit sharing co-location agreement, alleging that the owner embezzled hundreds of thousands of dollars and engaged in "other accounting machinations".
The suit was filed in Ramsey County District Court on Friday against United Audio Corp. and its chief executive, Thomas H. Jones.
MPR claims that nearly $315,000 is owed to them, and it could be higher once financial records are scrutinized.

MPR and United Audio, which operates local station KNXR, formed a 50-50 partnership in 1985, and then formed a third company called Silver Creek Tall Tower Associates, according to court documents.
The purpose of Silver Creek was to lease property on which a broadcast tower was constructed along with a small equipment storage building just east of Rochester.

Under the deal, Silver Creek licensed to themselves and to other broadcasters the right to co-locate antennas on the tower and install other electronic equipment in the building.
Silver Creek subleased the tower space back to MPR and United Audio rent-free for a 99-year term, and other TV and radio stations use the tower space.
United Audio was appointed managing partner under the 1985 deal, until MPR took over that role last spring when the financial misconduct alleged in the lawsuit was discovered, the documents say.
MPR allegedly was kept in the dark about day-to-day financial decisions of Silver Creek's operations, including loans taken out by Jones and payments he made to himself above those allowed in the contract.
United Audio was allotted a fee of about 10 percent of the partnership's gross income as the managing partner under the agreement.

The alleged misappropriation of money by Jones unraveled when in 2009 the Internal Revenue Service issued a notice of levy of more than $50,000 for taxes owed.
Jones told MPR it was a bookkeeping error, but earlier this year, the IRS issued a summons to MPR to assist in identifying United Audio's tax liabilities.
When MPR began delving deeper into the matter, court documents show, numerous misappropriations became apparent.
"We are not only extremely disappointed that someone - who once had been a trusted partner -- has embezzled hundreds of thousands of dollars from our partnership, but also disappointed that he refused to negotiate a settlement to re-pay the damages. As good stewards of our investments, we must account for this money and unfortunately, this legal action was our only recourse at this point," said MPR Director of Communications Angie Andresen in a statement.
Jones was inducted into the Museum of Broadcasting Hall of Fame in 2009. He also has a second station, KRPR.
An 8% tower license fee could cripple
profitability for tower owners in India
October 28, 2013 - Last year, India's government passed legislation that requires tower owners to migrate 50% of all cell towers in rural areas and 20% in urban areas
to hybrid power by 2015.
Hybrid power, a mix of renewable energy based on solar, wind, biomass or fuel cells, will get more stringent by 2020, when the operators will need to run 75% and 33% of cell towers in rural and urban zones respectively on hybrid supplies.
It hasn't been embraced by the industry, and to date, only 1% of the country's towers have gone green.
According to India's Tower & Infrastructure Providers Association (TAIPA), the telecom industry is already stretched and reeling under a huge amount of debt and the green energy dictate is disturbing since the industry cannot shoulder the cost.
If that's not troubling enough, TAIPA's overly concerned about the government's move to have tower owners pay eight percent of their annual revenues as license fees.
Tower companies like American Tower Corporation, Bharti Infratel and Indus Towers were previously exempt from paying the fee because they held an infrastructure provider status which prohibited taxation, but the Department of Telecom has decided to bring tower companies under the direction of the unified license requirements.
The license fee will "strongly hit the bottom line and would drive some companies out of business," TAIPA wrote in a statement.
TAIPA and its member companies are fighting the new license fee.
Tower companies are also burdened by diesel fuel pilferage, graft, corruption and a lack of skilled workers.

American Tower does not provide financial details about its India operations in any of its filings.
At $4.85 billion, Crown Castle announces
the AT&T tower deal is official
October 21, 2013 – At this month's PCIA conference it was widely discussed that Crown Castle International was going to be the successful suitor for AT&T's close to 10,000 towers. Yesterday evening, Crown made it official, announcing that AT&T has agreed to sell or lease 9,708 of their structures.


The deal gives AT&T the cash it needs to shore up its balance sheet as it undertakes a $14 billion network upgrade.
Crown's $4.85 billion it paid to buy 600 AT&T towers and lease 9,108 others for an average 28 years also puts it in the position of being the country's largest tower owner with close to 40,000 in the U.S.
At the end of the term, Crown has options to purchase the sites outright for approximately $4.2 billion
"We are very pleased with our agreement with AT&T, which strengthens our position as the largest provider of shared wireless infrastructure in the U.S.," W. Ben Moreland, president and CEO of Houston-based Crown, said in its statement.
Percentage point could cost over $1.3 billion
Dallas-based AT&T will lease capacity on the towers from Crown for a minimum of 10 years for $1,900 a month per site, with a 2% annual rent increase. AT&T has the option to renew for a total of 50 years, according to a statement.
The announcement was coupled with Crown's third quarter earnings report that identified a 9% increase in net income to $45.8 million, as sales rose 21% to $749 million.
The 2% annual rent increase is approximately 1% less than AT&T and other carrier escalators. Over the next 28 years it represents approximately $1.3 billion. in lost revenue.
As part of the deal, AT&T will also have access to additional reserve capacity on the towers for future use.
But Crown believes those negotiations were well-worth it since they'll have an additional chunk of cash flow next year estimated at $250 million before financing costs. Plus, nearly half of AT&T's sites are in the top 50 basic trading areas with an average existing tenancy of 1.7. Crown's portfolio average tenancy for sites operated for more than 5 years is 2.8 tenants.
The deal affects all contractors
Although AT&T's LTE build-out will continue on course, many of AT&T's raw land and other construction and maintenance contractors could see their revenues from the carrier in a free fall following the closing which is expected by the end of the year.
However, Crown's preferred vendors will benefit by the 9,700-plus tower portfolio increase.
Crown's retrofitting contractors might not be immediately taxed with addition work since Crown said in today's conference call announcing the deal that most of AT&T's towers had the ability for an additional tenant before the structure would require capacity work.
Crown's focus is in America
In their Q3 presentation, Crown emphasized its continued belief that the U.S. market represents a compelling risk-adjusted environment for capital investments. They noted that American Tower Corporation's international site mix was at 57% of its portfolio and SBA Communications at 24%
Four percent of Crown's sites are in Australia.
At PCIA's conference, Moreland said the company remained bullish on the domestic tower market, more specifically, carrier-owned assets. At that time, Moreland and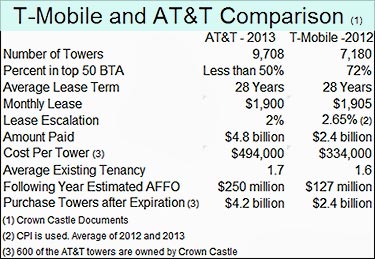 Crown's competitors knew that the AT&T deal was almost ready to be inked.
Just before the PCIA's 2012 show, Crown announced that it was going to acquire the rights to T-Mobile's 7,180 towers for $2.4 billion. The leases were also at an average term of approximately 28 years.
The monthly lease terms are comparable as well as other considerations with the new deal; however, the AT&T structures cost an additional $160,000 more per site primarily based upon estimated adjusted funds from operations (AFFO) for 2014 of $250 million from the AT&T towers compared to the T-Mobile 2013 AFFO of $127 million.
Although the multiples appear to be similar, the AT&T towers, although slightly higher in tenancy with an unknown additional reserve of space by AT&T, were typically built with co-location in mind whereas T-Mobile's towers were designed with less capacity.
AT&T shares have risen 2.7% this year to $34.61, while Crown's stock has gained 5.3% to $75.96.
Following the announcement, in mid-morning trading, AT&T was up 1.6% and Crown was down 3.2%.
Fatality causes to be identified as accidents compromise workers comp market
Update: October 26, 2013 - According to NATE Executive Director Todd Schlekeway, meeting participants at the summit mutually agreed that the time to work together is now in order to impact positive change and achieve sustainable safety improvements.
"To continue the work and meet the objectives outlined at the summit, an industry-wide safety task force made up of representatives from the companies present at the summit will be established," said Schlekeway.
Stakeholders attending the meeting were: Alacatel-Lucent, American Tower Corporation, AT&T, Bechtel, Black & Veatch, Crown Castle International, Ericsson, General Dynamics, Goodman Networks, Jacobs Telecommunications, Inc., Mastec Network Solutions, Motorola Solutions, Inc., Nokia Network Solutions, SAI Communications, Samsung Telecommunications America, SDT Network Services, SBA Communications, Sprint, U.S. Cellular, Velocitel, Verizon Wireless and WesTower.
T-Mobile and WFI were invited to participate, but did not send a representative.
- - - - - - - - - - - - - - -
October 18, 2013 – When key wireless infrastructure companies meet next Tuesday in Dallas, Tex. at the Telecommunications Safety Summit advanced by Black & Veatch and the National Association of Tower Erectors (below), amongst other areas of concern they're going to discuss leading indicators to identify root causes and trends.


The primary cause for fatalities since 2003, when Wireless Estimator began tracking industry deaths, has been violating 100% fall protection requirements, and it again represents 2013's principal reason for worker fatalities.
Of the 12 deaths to date, seven, representing 58% of all fatalities, were initially found to have been caused by not tying off 100% of the time while on a structure. Although one of the seven men who died was tied off, he was knocked off the tower after a worker fell who was not secured while transitioning, according to workers knowledgeable of the incident.
While it is oftentimes reported that young inexperienced workers filling the workforce shortage will contribute to higher industry deaths during the fast-paced LTE build-out, tower techs who died this year have been primarily seasoned employees. Their average age was 37-years-old.
In 2013 there were two fatalities, one involving a worker operating a crane when it tipped over, and the other when an aerial lift also fell over.
Mississippi saw the most fatalities, three within three months.
The three-hour invite only summit is structured to establish work groups comprised of representatives from carriers, tower owners, OEMs, construction management firms and NATE.
It is anticipated that one of the committees will be tasked with exploring serious accidents not resulting in a fatality.
Three accidents might see $9 million in reserves
According to Wireless Estimator's research, a number of severe injuries have occurred this year, some of them not reported because they did not meet OSHA's notification threshold.
It is likely insurance carriers will be required to set reserves for four of them which could total in excess of $9 million, affecting other companies' premiums and destabilizing the workers compensation insurance market for smaller contractors.
Although most of the summit's attendees are legally insulated from exposure to worker deaths and accidents, there is a financial downside to their business as their contractors' insurance premiums rise or sorely-needed companies are no longer capable of being competitive if they're assigned to a state workers compensation insurance pool.
Lawsuit could cost a major tower company
Tower owners are also affected by accidents on their structure, especially in New York.
In example, an attorney representing a climber who fell in upstate New York is involved in a civil action against a major tower owner. The technician was not tied off, according to photographs of his personal protective equipment, but fell when he was reportedly moving across the face of a tower.
The plaintiff is expected to charge that even though there was a safety climb system in place, the bracing was too large to allow the worker to properly tie off with his PPE and the tower owner should have provided additional safety attachment points.
Under a New York "safe place to work statute," the labor law has been upheld to impose an absolute, non-delegable duty on all owners, their contractors and agents.
This means that owners of the property where accidents occur are liable to the injured worker, even if their only involvement is simply to allow the work to occur on the tower site since the statute is not based upon control over the work, but ownership of the property.
Attorneys for the tower company will reason that it is unmanageable to anticipate every location where a tower technician might be required to tie off, and the employer's company should have installed a temporary fall restraint system in place, which could have been accomplished by observing all safety requirements while working on an elevated structure.
In New York they cannot, however, claim that they have been indemnified by the tower contractor for any damages caused by the plaintiff's actions.
Most states allow a tower owner or general contractor to avoid liability if they delegate the responsibility of the carrier's work, by contract or otherwise, to another and no longer control the work which caused the injury.
Tower tech tats take on a wide spectrum
of excellent art and industry pride
October 17, 2013 – After Thomas Edison invented the perforating pen which was later redesigned for tattoos in the late 1800s, the nation became divided into two groups: those who had tattoos and those who were afraid of people with tattoos or thought they had a deviant personality.

But inking has gone from aberrant to acceptable to a 21st century must-have body fashion statement with over 25% of Americans under the age of 30 inking their skin.
The tower construction industry has a unique and proud culture of art that is not found in other professions. And it makes sense, especially when you can proudly proclaim that you're a Tower Dog, as seen on many workers' tattoos.
What other crafts are as closely knit and clearly defined as Tower Dogs?

Sheetrock Shelties, Fed-Ex Felines, Landscaping Labradors, Pug Pipefitters and Wind Power Whippets just don't have the panache and pride of Tower Dog; someone who has to climb hundreds of feet straight up with maybe sixty or more pounds of tools and equipment.
Reasons for getting industry-related tattoos vary as much as pricing. They are oftentimes a work in progress and a chronology of experiences, sometimes tragic memorials.
Industry veteran Chas Wagner, a project manager for Morrison Hershfield, had been erecting towers for a number of years for another firm when he decided to get a tattoo in 1993, at a time when it wasn't de rigueur for riggers to sport large inkings.

A co-worker, Stan Krasnodebski, had an inking which appeared to be close to a Rohn 90, and in a bit of one-upmanship on detail and product appearance, Wagner settled upon a Rohn SSMW structure.
Over the years he complemented it with the sun and clouds, and thought that a recoloring would be the last of any more body art.
But on September 15, 1995, Wagner and his close friend and co-worker, 25-year-old Dalton Lynn Hunsacker, were installing a Bogner antenna for Bell South Mobility in Key West, Fla. on a 280-foot-tall tower when Hunsacker fell 130 feet, landing on a 12-foot dish's supporting brackets at the 150-foot level.
Wagner said that Hunsacker, who suffered serious trauma injuries, died in his arms during the rescue as the crew was ready to lower him to emergency services personnel.
"Shortly thereafter, I went to the closest tattoo shop in Key West and I had his name added to my tower tattoo," said Wagner. "I don't think I have ever come to peace with his loss, but that day assured me that honoring him as I did was something necessary for me. Maybe it's my way of thanking him for being who he was."
For additional tattoo pictures, please see: Tats mirror the wearer's pride
Key players collectively challenged to achieve sustainable safety improvements
October 15, 2013 – Key industry company executives will meet next Tuesday in Dallas, Tex. to begin the task of establishing work groups to develop and execute an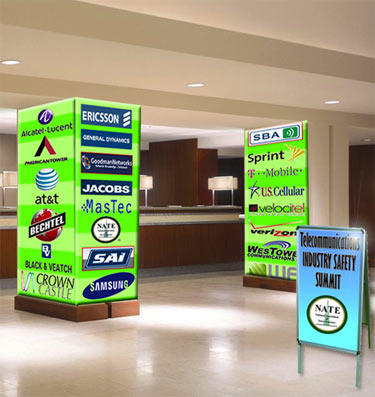 action plan that will help to reduce an alarming spike in industry accidents and fatalities on tower sites.
The safety summit, by invitation only, is limited to industry executives who can impact these issues. The three-hour initial conference will be held on October 22, 2013, from 1 p.m. to 4 p.m. at the Hyatt Regency at the Dallas/Fort Worth Airport.
According to NATE Executive Director Todd Schlekeway, the National Association of Tower Erectors and Black & Veatch cradled the need for a taskforce after discussing their joint concerns at a recent meeting.
"It is our desire to have principal stakeholders from throughout the wireless and infrastructure community come together to discuss major areas of concern, examine leading indicators and cooperate to adopt industry safety expectations," said Schlekeway who announced the summit last week at the PCIA show in Hollywood, Fla.
Although NATE has met with major firms in the past to address worker safety issues, this is the first time the organization has sponsored an industry-wide conference to address safety and compliance concerns.
Invitees include: Alacatel-Lucent, American Tower Corporation, AT&T, Bechtel, Crown Castle International, Ericsson, General Dynamics, Goodman Networks, Jacobs Engineering, Mastec Network Solutions, SAI, Samsung, SBA Communications, Sprint, T-Mobile, U.S. Cellular, Velocitel, Verizon, WesTower and WFI.
Jim Miller, President of EasTex Tower, Inc., will moderate the conference.
"The time to collaborate is now in order to impact positive change and achieve an industry-wide culture of safety," said Schlekeway in his invitation to shareholders.
Having your pedicurist galvanize your toenails won't save you from OSHA
October 10, 2013 – Advertising agencies and marketing personnel have a singular mindset: use an appealing graphic accompanied by a clever turn of phrase or a
message that resonates with and motivates their audience.
And sometimes they step on their toes.
In a full page ad in this week's PCIA show program and directory a software company published an excellent graphic of a tower technician hard at work at his craft high above the skyline.
Unfortunately, he wasn't wearing steel-toe boots or any footwear that would protect his toes as he fashionably sported sandals, perhaps to tie into the Hollywood, Fla. oceanfront conference atmosphere.

And it appears that he has pulled his annoying shoulder straps behind him to enjoy a comfortable break with a V8 or whatever he's getting ready to uncap.

It is not known if the advertiser had been alerted to the safety faux pas and hired tiger teams to sketch in Red Wing boots and straps in approximately 2,000 programs.

Sandalman has been added to Wireless Estimator's Tower Climbers Hall of Shame.
Wireless construction companies demonstrating a higher commitment to safety
October 10, 2013 – It's easy to adorn email signatures with hackneyed stay safe-type phrases and decorate brochures with the ever-popular, safety is priority one.

But 106
National Association of Tower Erectors' members say they want to take safety a step further and have been approved to participate in the organization's STAR Initiate program for the 2013-2014 year.
The initiative is the association's signature program designed to help companies operate safely and recognize tower contractors, tower owners and carriers who voluntarily adhere to higher safety standards.
The acronym STAR program emphasizes Safety, Training, Accountability and Reliability by asking participants to commit to requisite levels of training, site safety audits and the implementation of safety programs while adhering to industry best practices.
"NATE Star Initiative participants are among a growing community of NATE members who demonstrate a commitment to the highest levels of tower safety," said Senior Staff Associate Shelly Trego.
"Thanks to the leadership and attention to detail by the participants, the implementation of the practices defined by the STAR Initiative will continue to increase the level of safety and vigilance in the industry," Trego said.
NATE is excited to see the continued growth and momentum of the STAR Initiative program," said Executive Director Todd Schlekeway, who announced the organization's program participants during the PCIA conference in Hollywood, Fla. today.

Participants in the STAR Initiative are:
| | |
| --- | --- |
| ADB Wireless | Mountain Valley Tower Service, Inc. |
| Advanced Tower Services, Inc. | Murphy Tower Services, LLC |
| Advanced Wireless Solutions, Inc. | MUTI - Sabre Industries Telecom Services |
| Alpine Tower & Technology | Nex-Tech Wireless |
| Amatel, Inc. | Nex-Tech, Inc. - Mobile Radio Div. |
| AMF Electrical Contractors, Inc. | North Sky Communications, Inc. |
| Atlantic CommTech Corporation | Northeast Towers, Inc. |
| Atlantic Tower Services, Inc. | Northern Pride Communications, Inc. |
| B-C Walker, Inc. | Olympus Communications, Inc. |
| Black & Veatch | Omega Development Company |
| Bright Lighting, Inc. | OSO Met Tower Services |
| BTE Management Group, LLC | Penn-Tech International, Inc. |
| Centerline Solutions | Pexx, Inc. |
| Cipov Enterprises, Inc. | Phoenix Tower Service, LLC |
| Clifton's Tower Service, Inc. | Pioneer Telephone Cooperative, Inc. |
| COM-TECH CONSTRUCTION | Property & Technical Services Ltd |
| D & H Builders, Inc. | R & M Electrical Telecom/Maint., Inc. |
| Data Cell Systems, Inc. | Radiofrequency Safety International (RSI) |
| Deerfield Construction Group, Inc. | Ray Angelini, Inc. |
| DESIGN Telecommunications | RIO Steel & Tower, Ltd. |
| Dietz Brothers, Inc. | Rolcom Corporation |
| Diversified Communications Services | SAC Wireless LLC |
| Doty Moore Tower Services LLC | SAI Communications |
| E.M. Enterprises General Contractors, Inc. | Shenandoah Tower Service, Ltd. |
| Eastern Communications, Inc. | SiteMaster, Inc. |
| EasTex Tower, Inc. | Sky Jack Communications |
| Elexco, Inc. | Speelman Electric, Inc. |
| Elite Telecom Tower, Inc. | STG Communication Services |
| Emergency Radio Service, Inc. | Structural Tower Services, Inc. |
| Enertech Resources, LLC | Synergy Concepts, Inc. |
| ERI Installations, Inc. | Technical Solutions, LLC |
| Excalibur Builders and Maintenance, Inc. | Tiller Engineering Inc. |
| FDH, Inc. | Tilson Technology Management |
| GlenMartin® | Timberline Construction Corporation |
| Grapevine Solutions, Inc. | Total Service Telecom, Inc. |
| Great Plains Towers | Total Telco Specialists, Inc. |
| Green Mountain Communications, Inc. | Tower & Turbine Technologies LLC |
| Hayden Tower Service, Inc. | Tower 16, Inc. |
| Herca Telecomm Services, Inc. | Tower Access Group |
| Hightower Communications, Inc. | Tower Inspection, Inc. |
| Industrial Communications, LLC | Tower Systems, Inc. |
| Integrated Installations, Inc. | Tower Technologies, LLC |
| JBL Electric Inc. | TowerMRL, Inc. |
| JT Tower Service | Towers Unlimited |
| Keegan Wireless, LLC | Train's Towers, Inc. |
| Lee Antenna & Line Service, Inc. | Tri State Tower, Inc. |
| Legacy Telecommunications, Inc. | Trusty Construction, LLC |
| Long Wave Inc. | United States Tower Services, LTD |
| Lowe-North Construction, Inc. | US Tower Services, Inc. |
| Mercury Communication, Inc. | Velocitel, Inc. |
| Mid Atlantic Contracting, Inc. | Vertical Limit Construction, LLC |
| MILLENNIA CONTRACTING, INC. | Wireless Horizon |
| MillerCo, Inc. | Wireless Infrastructure Services |
PCIA conference in full swing as the industry awaits an AT&T announcement
October 9, 2013 – Although it's expected that AT&T's anticipated tower sale will be a subject at this morning's The View From the Top – a tower CEO roundtable, there will
only be generalizations offered by the panelists at PCIA's Hollywood, Fla. conference until the sale is announced.

It will be particularly interesting to hear Crown Castle International President & CEO W. Benjamin Moreland's comments since two tower industry executives with knowledge of the negotiations have privately said that Crown is in the lead to buy AT&T's structures at a price that might reach $5 billion or more.

The deal could still fall apart if AT&T's oftentimes tough terms aren't met. It is known that a number of agreements have been made with the carrier by major tower companies that do not comply with the terms stated in published documents.

Along with Moreland, speakers on the panel moderated by Jonathan Adelstein, President & CEO of PCIA, include Marc Ganzi, CEO of Global Tower Partners; Jeffrey Stoops President & CEO of SBA Communications; and Steven Marshall, Executive Vice President, American Tower Corporation.

American Tower President & CEO James Taiclet, Jr., who has been a roundtable panelist for many years, is being replaced by Marshall who also replaced Taiclet on the trade group's board of directors.

On Monday, Taiclet sold 100,000 shares of American Tower Corp stock for a value of $7,275,982. He executed his options and sold the same amount of shares in July, August and September. Taiclet now owns 100,041shares.

CTI in smaller acquisition spotlight
CTI Towers, Inc., a wireless tower operator with more than 800 towers, announced at the show this morning a purchase of five towers from a major wireless carrier and that it has secured up to $30 million in debt financing.

"We remain committed to helping our customers meet deadlines for new cell sites and network deployment," said Tony Peduto, CEO, CTI Towers. "We will continue to seek strategic acquisitions to fuel growth as the wireless industry responds to the demand for wireless broadband services."

Tony had served five years as Vice President of the West and Northeast Regions of American Tower.

Buzz is consolidation, insurance, where are the CEOs?
Staffing company exhibitors Telforce Group and Skyhawk, had heavy traffic at their booths from many infrastructure contractors seeking to supplement their current hiring practices as the demand for tower crew members, especially foremen and lead hands, outstrips available resources to build out LTE networks.

Discussions about contractor consolidations to acquire available workforce talent was also a hot topic yesterday.

A number of contractor company acquisitions have been recently announced, such as Sabre Communications' purchase of Midwest Underground Technology and Mastec's acquisition of Data Cell Systems.

Another key player informed Wireless Estimator that they were currently in the process of being acquired to complement a major company's workforce.

Rising Workers Compensation Insurance costs was also a frequent discussion amongst attendees.

"What I'm really concerned about and I think others will agree is pretty soon, unless you're one of the majors, you might be dropped. And if you can find someone to write you, it's going to be too huge of a cost to pass on to your customers," said an established service contractor owner with approximately 12 field employees.

If companies are unable to get Workers Compensation insurance from traditional companies marketing the industry they will be forced to use a state insurance pool which oftentimes can cost them 25% or more in premiums.

WesTower Communications sponsored the opening reception last night which was well-attended. Although Adelstein, well-respected by the industry as an affable and progressive PCIA chief, socialized throughout the evening, noticeably absent this year were many executives of the major tower companies.
Tech killed when crane flips lifting a gen set

Update: September 30, 2013 - Services will be held for Mitchell Ray Morgan, 25, who died Friday when a crane he was operating flipped over. Visitation will be on Thursday, Oct. 3 from 3:00 p.m. to 9:00 p.m. at the Flanner and Buchanan Funeral Center, 5463 Kentucky Ave., Indianapolis, Ind. Funeral services will be held at 11:00 a.m. on Friday, Oct. 4 at Flanner and Buchanan, with a burial service with military honors at Crown Hill Cemetery.

Mitchell is survived by his parents, Terry and Rhonda Morgan; three sisters and his grandparents.
-- - - - - - - - - - - - - - - -
September 29, 2013 – A 25-year-old tower technician died Friday morning in Indianapolis when the crane he was operating tipped over and crushed him, according to Indianapolis Fire Department Captain Rita Burris.
The accident happened in a staging area of B-MAC Wireless, in the 8900 block of Rawles Ave., according to
Burris.
Initial reports indicate that the man was moving a 5,000 pound generator, but didn't put out the crane's outriggers.
Witnesses said other workers told their co-worker to use the outriggers, but he didn't do it, thinking that the generator wasn't heavy enough to tip over the crane.
At some point the operator saw that the crane was starting to lift off the ground and he tried to leave from the exterior control area and ran, but he was unsuccessful and was killed after being crushed by the crane.
Burris said the worker, who had been employed by B-MAC for approximately one year, a company with approximately 60 employees, had a commercial driver's license. It is not known as to what type of crane operator training he had.

He was pronounced dead at the scene.

His name will not be released until his family is notified.

Founded in 2010, B-MAC's president is Brian R. Wilson.

A tower tech died Aug. 23, following injuries he received when his aerial lift flipped over and crushed him in Oregon. The man-lift did not have outriggers.
Anatomy of a $38 million tower erection bid
reeks of fraud or incompetence at best
September 26, 2013 – West Virginia lawmakers found out on Tuesday that a Lewis County bid for a 340-foot self-supporting Homeland Security tower awarded for $
192,318, morphed into an illegal mega-deal for 16 additional towers at a cost of $38 million.

"Clearly, what was illegal is that they didn't bid the contract out as required by the Government Contract Act," said Legislative Auditor Aaron Allred, who prepared the report. "That's clear. They simply broke the law."

At the center of the state's scathing report which could lead to criminal charges, is Premier Construction, LLC, a company based in Jane Lew, and Joe Gonzalez, communications director for the state Office of Emergency Medical Services.

If industry contractors were aware that there was the possibility of a $38 million contract in the Broadband Technology Opportunities Program, which didn't appear in the solicitation ad, Gonzalez's mandatory pre-bid conference for one tower would have had an overflow crowd of interested companies.

Gonzalez, who also lives in Jane Lew, was hired in 2005 for his expertise in radio communications from his experiences as the Chief of the City of Clarksburg Fire Department and part owner of tower construction company Tri Star Communications.

Bid chief keeps the project under wraps
Instead of assisting Lewis County in reaching out to additional bidders known to him, Gonzalez was fine with the county's RFQ tucked away in a small legal advertisement in the Weston Democrat, a local newspaper with a circulation of approximately 6,000, for the July 20, 2009 pre-bid conference.

An unorthodox inclusion in the 136-word bid request was, "The request for proposal accompanying information may be obtained at this meeting only," again limiting bidders who might have wanted to look at the RFP, before sending someone to attend the mandatory pre-bid conference and site visit.

Also restricting participation was a six-day window to provide a very extensive bid with hundreds of price points.

The highly restrictive measures worked and only three bidders showed up: Bossie Electric, a cell tower services provider from Charleston, W.Va., Premier Construction; and GlenMartin Inc. of Boonville, Mo.

At the conference, Gonzalez informed the three attendees through the documents that in addition to their bid for the Roanoke tower, they would be required to submit a "menu bid" outlining their quotes for many specific tower erection configurations and civil work for an indefinite number of future state projects that would piggyback on the Lewis County contract.

Additionally, bidders were asked to provide a quote to dismantle, transport and re-erect an historic Division of Natural Resources fire tower.

When the Lewis County Commission opened the bids they relied upon Gonzalez's expertise to assist Lewis County 911 Director Bill Rowan, and then-Lewis County Chief Deputy Coffman, both of whom had no experience in tower construction or microwave technology.

Bossie's bid was $233,440 and Premier's was $192,318. GlenMartin did not bid the project.

Fifteen minutes or less spent to research hundreds of line items
It took Gonzalez ten to fifteen minutes to review the proposals and documentation and he told the County Commission that they should approve Premier's low bid which was immediately done.

Gonzalez initially informed members of the Legislative Auditor's staff that the bid reviewers "looked through" the menu bids, but he could not recall if menu bid line items were compared directly. He stated that it was possible that Bossie's menu bid could have contained lower prices than Premier for some items other than the 340' tower erection, and that it was also possible that the quote for the Roanoke tower from Bossie could have had additional line items that the bid from Premier did not contain.

Gonzalez later said that he did review the menu items and Bossie was higher. However, it's unlikely that a thorough examination of the bid packages and documents could be done effectively in ten or so minutes.

Bidders were required to quote prices for a wide variety of items, including civil work site preparation, civil work roadway, foundation work, electrical work, tower installation, tower demolition, fencing, grounding, antennas and lines, and a wide range of general "menu bid options."

Each category was further broken down into specifics; the tower installation section alone contained 33 varieties of tower erection, as well as boom, ice shield, and ice bridge installation.

Competitive bid missing from County records
The Legislative Auditor could not make a driver pricing comparison since he could only find a copy of Premier's bid in county records; Bossie's was missing from the file and Bossie said they could not locate a copy of their bid for comparison. Even GlenMartin's no bid letter was missing.

Gonzalez did not make the Commission aware that he had existing professional relationships with both bidders and presented just the opposite to Commissioners who were under the impression through comments he made that Gonzalez was meeting them for the first time at the pre-bid meeting.

Gonzalez informed the Legislative Auditor's staff that before the July 2009 pre-bid meeting he had no personal knowledge of Premier Construction. He later remembered that he had met the owner in a professional capacity three years earlier. He made the similar statement and retraction regarding Bossie.

The County's sole copy of Premier's bid not contain their proof of five years' experience in "Communication Tower installation" and proof of similar work required by the RFP. Premier later provided a copy of what they said was included in the bid and Gonzalez was listed as their reference for their proof of experience.

Gonzalez said that he didn't recall seeing that in Premier's proposal during the review and therefore didn't recuse himself from the bid review committee.

In addition, the RFP was approved by Gonzalez even though he knew that state law required contractors to provide a bid bond and it was not a requirement of the bid he authored.

When state purchasing director David Tincher was alerted that the tower projects had not been competitively bid, he warned Gonzalez that the awarding of the contract "may not have been done in accordance with appropriate procedures."

The audit says that despite Tincher's recommendation to Gonzalez that he stop construction, the work continued.

Premier subcontracts to five contractors
Premier only erected one of the towers, subcontracting the rest to Allstate Tower, Inc, Henderson, Ky. (3); Installtek, Richmond, Ky. (3); Quality Tower Service, Houston, Tex., (1); Shenandoah Tower, Staunton, Va., (3); and Vertical Tech, Hagerstown, Md., (3).

In early 2011, State Homeland Security Director Jimmy Gianato and Gonzalez notified Lewis County officials about plans to use the county's contract with Premier because the federal government required that the tower project be "shovel-ready."

The stimulus guidelines included no such stipulation, according to the audit.

The Premier contract required all subcontractors to be pre-approved, but that may not have occurred since Quality and Installtek were not registered with the Secretary of State's Office, a requirement to do work in West Virginia, according to the audit.

Tower construction didn't start until 2011, and five of the 17 towers weren't built until this year.

According to the audit, West Virginia had received more than $126 million in federal funds to expand high-speed Internet, and that funding also included $38 million to upgrade the state's emergency communication towers.

More than $10 million was appropriated for tower construction, close to $600,000 per site to provide the foundation, erection and civil work for each structure.

The 41-page audit highlights bidding irregularities, purchasing violations and misuse of federal grant funds.

Allred told the Charleston Gazette that he would recommend that the U.S. Attorney's Office in Wheeling investigate the tower project for possible fraud.

"I'm not saying there was fraud. I'm not saying there wasn't," Allred said. "I can say that things look screwy. You've got millions of dollars of federal funds involved."
True cost of AT&T towers may never be known
September 24, 2013 – It's known that the major vertical realtors are shopping AT&T's towers and an announcement might be in the wings, according to a report from Bloomberg. What is not known, and may never be known is the cost per tower site for
analysis with other recent large portfolio buys.
But even with current deals, such as American Tower Corporation's $4.8 billion September acquisition of Global Tower Partner's 5,900 towers along with approximately 1,100 managed revenue-producing sites and 800 ground leases, analysts find it difficult to assess an accurate price paid per tower site.
Estimates run from 19 to 23 times cash flow for the structures in the GTP deal which is expected to generate approximately $345 million in revenues and approximately $270 million of gross margin during 2014, according to American Tower.
According to JPMorgan research, AT&T's towers generate about $326 million in annual revenue and they might generate a cash flow of $216 million.
The cash flow is likely to include an AT&T leaseback agreement, according to an industry insider.
If, however, AT&T negotiates additional space and/or equipment on the structure in its lease as part of the agreement, it could impact capacity concerns and skew comparisons with other deals.
The carrier represents an average of 25% of the revenues of the country's three largest tower owners and is known for using that leverage to capture preferential pricing.
Crown Castle is said to have a leg up in the negotiations. Last year, Crown purchased the rights to operate 7,200 T-Mobile towers for 28 years for $2.4 billion, approximately $333,000 per tower.
Although AT&T's towers have an estimated price by analysts as high as $500,000 per structure, the $167,000 difference from the T-Mobile price could be a result of a 28-year agreement versus whether there is an outright purchase of the AT&T sites which is presently unknown.
Also, it is generally acknowledged that AT&T embraced co-location on their structures in the late 1990s, whereas T-Mobile's focus wasn't on capacity.
Additionally, AT&T may have a respectable amount of co-location deals that are in the pipeline.
"I think Crown Castle is still in the driver's seat on the AT&T towers," Jonathan Schildkraut of Evercore Partners told Bloomberg.
When Crown Castle bought T-Mobile's towers Schildkraut said that Crown paid about $400 million more than he would have liked.
"As people start to pull apart the numbers, it doesn't look that great," Schildkraut said following the T-Mobile tower sale. He said that Crown Castle "needed to do it for growth."
Whether it's the buyer or the seller, they'll spin the sale to their advantage, and "the buyers will try to shield themselves from a reputation of paying too much," said one industry executive who believes that oftentimes analysts are fed misinformation and run with it, followed by media lemmings.
"It's a staged event," he said regarding the conference call for analysts typically held following a major sale announcement. "When things settle in what they've provided is not an accurate representation of the agreement."
The house odds are that the successful bidder will be announced shortly before the PCIA conference in Hallandale, Fla. next month.
AT&T Towers is a sponsor of the event. Last year, when Crown Castle acquired T-Mobile's towers, it was announced on the Friday before the Monday PCIA Conference.
T-Mobile was an exhibitor and used a creative marketing approach by putting up a realtor's sign reading "For Sale – T-Mobile towers" with another sign on the top of the cross arm stating "Sale Pending." T-Mobile had negotiated a $250 million break-up fee if Crown Castle backed out of the deal.
Boots no longer on the ground
Army trains its soldiers to work on its own towers as it weans itself from contractors
September 19, 2013 – While the wireless industry is courting former military members to become tower technicians, the military is now training their personnel in
Ft. Drum, NY, to do the tower work previously assigned to the private sector.

In a tower climber training and rescue session open to the press yesterday morning, Army Lt. Col. Jeffrey Schroeder, division chief information officer said, "As we shrink down to a smaller base structure, we're going to have to re-position the communications architecture. That's going to force us to de-install some of that equipment at some locations and re-install it at other locations."

As the war in Afghanistan continues to wind down, the Army is scaling back on the use of the Air Force and civilian contractors to build and maintain their tower structures.

Soldiers from the 10th Mountain Division were seen training on a 180-foot self-supporting tower. The approximately 12 soldiers, primarily cable system installers, were rescuing fellow soldiers.

"When it comes to proper installation of actual cable antenna systems on a tower, they need to know how to properly get up that tower," said Staff Sgt. Christopher L. Penn of the 364th Training Squadron, one of the instructors, out of Sheppard Air Force Base in Wichita Falls, Tex.

Sgt. Penn says that one part of the training is getting soldiers over any fear of heights and the first part of their training requires them to climb 30 to 40 feet to gauge their reaction and climbing ability.
"They've got to have nerves of steel," said Lt. Col. Schroeder.

The training appears to have been prompted by an expected division deployment in 2014 to Afghanistan, although it has not been formally announced by the Department of Defense.

To view a video of the Ft. Drum training, click here.
Check Your Six seen as an opportunity to prevent climber complacency and deaths
September 12, 2013 – As a new business owner, Michael Graham could have bannered his office with a number of hackneyed safety slogans such as Tie off or fly off, but he's selected a military phrase, Check Your Six, and he's coupling it with real time relevancy for his employees.

Graham, a 20-year industry veteran who started with Signal Point Systems, recently left LTI DataComm and has put together two four-man crews who previously erected and maintained towers for a number of years, mostly
for the U.S. Department of Defense and other government agencies.
"We're going to grow smart and grow slow and get additional qualified people as we need them," said Graham.
He's also going to develop his business, Atlanta-based Pýrgos Communications, Inc., with a strong safety initiative that he hasn't seen practiced elsewhere.
"As I researched the numerous fatalities in our industry, it became pretty clear that the common denominator in fatalities related to tower work was complacency."
"How do we have so many fatalities resulting from falls if we are all 100% fall protected? The answer is complacency. A technician works for several hours in one spot and then shifts positions for the next task and forgets to tie off and then works for another 20 to 30 minutes."
"He decides to stretch a bit, leans back and then a few very short seconds later, he has left his wife without a husband, his children without a father, his parents without a son and his employer without a family member," said Graham.
Beginning next week, Graham will enact a safety measure, Check Your Six, that could help prevent this scenario
Graham said every 30 minutes throughout the day while working at elevation his field superintendent or foreman will radio to the entire team to Check Your Six.
That military phrase, which was originated by fighter pilots, means to check your back and references the pilot's rear at 6 o'clock which is his most vulnerable spot.
"As fall protection is tied to the D-ring on the back side of the harness, it reminds our teams to check their fall protection and all other PPE to ensure it is safely in place," said Graham.
He believes that by verbalizing this reminder throughout the day, complacency will not have as much opportunity to wreak havoc.
Graham said that if a foreman forgets to call it out, it's the responsibility of another crew member.
"They'll be required to do it no matter how junior they are in the industry. Safety is everyone's responsibility," said Graham.
"In our industry we spend millions on safety gear; this initiative doesn't cost a dime and is easily enforced," said Graham.
If it took five seconds for a tower tech to view his safety equipment following a CYS request by a Pýrgos foreman, it might add a minute or more a day to comply.
Graham knows that's a small investment to save a life or prevent a serious injury that could last a lifetime.
AZ tech crushed by 30-ton boulder in rockslide
September 11, 2013 – Authorities say that a tower tech was attempting to move a boulder that blocked his crew's route to a tower site they were going to work on when another 30-ton boulder became dislodged in a
rockslide and crushed his legs and pelvis in northern Arizona.
According to Coconino County Sheriff's Office spokesman Gerry Blair, the incident occurred early yesterday morning on Mount Elden Lookout Rd., which is about three miles from the bottom of the mountain in Coconino National Forest.
The 27-year-old was attempting to move a large boulder blocking the road when another one weighing more than thirty tons slid down the mountain side crushing the victim's legs and pelvic area.
When responders from the Coconino County Sheriff's Office arrived shortly after 7:23 a.m., three crew members the man was traveling with had removed him from underneath the boulder.
An ambulance and fire truck were not able to get to the location because of poor road conditions. Several rescuers used a four-wheel drive vehicle to reach the area.
The worker was then driven out and transferred to an awaiting ambulance.
Investigators learned that the men were from the Phoenix area, but did not release the name of their company or the name of the injured worker.
The Coconino National Forest has closed Elden Lookout Road and may be temporarily closing other trails and areas affected by the recent rains.
The man's condition was not available as of this morning. Wireless Estimator will provide additional information as it becomes known.
AM's newcomer tower rules defined in FCC order which should cut down on time and expenses
September 10, 2013 - AM radio appears to be dying, but the FCC has at least promulgated new rules to let it finish its golden years with a clear signal following the
agency's introduction of a streamlined process establishing a single protection arrangement to prevent signal pattern distortion from neighboring tower construction or modification.
Unlike a cell tower which is the structural support for the required transmit and receive antennas for carriers, the entire tower for an AM broadcaster is the antenna. It can be omnidirectional which would require one tower, or directional which requires multiple towers on the same acreage.
The AM broadcaster's signal is established by antenna height, spacing, ground radials and a host of other parameters to ensure that it is compliant with its license to reach a certain market for its assigned frequency.
However, if another tower is built too close to the existing AM structure it could reradiate the signal and distort it, creating a loss of audience for the station, or an intrusion upon a bordering broadcaster's market.
This activity is similar to placing two tuning forks next to each other. Strike one and the sister fork will begin to vibrate as well.

No magic elixir, but electrical height will help
It would be great if there was a magic elixir or spray can concoction that would prevent reradiation, but unfortunately physics rule and it has been an expensive and arduous task in the past to ensure that a new tower wouldn't create any problems for a nearby AM station.
That's been somewhat relieved by the FCC's new procedures that establish a zone of protection based on the electrical height of the AM tower and the proposed tower.
A fixed distance approach has now been replaced by one that defines the critical distance from AM stations based on the incumbent's frequency and the proponent's tower height.
The new FCC rules exempt short towers from the AM proximity analysis requirement because such structures are minimal radiators that would not generally affect an AM broadcast pattern.
AM stations have been protected for some time by FCC rules, but those regulations only applied to commercial communication carriers and other broadcasters. The new rules now apply to all licensees, including critical infrastructure and public safety.
The FCC also made it clear that the distortion of an AM station's pattern would be measured by the moment method modeling (MoM), a computer program that will determine if there is a disruption to the pattern, rather than by actual field strength measurements.
Proponents of construction or significant modification of a tower which is within the lesser of 10 wavelengths or 3 kilometers of a directional AM station, and is taller than 36 electrical degrees at the AM frequency, must notify the AM station at least 30 days in advance of the commencement of construction.
However, the construction of new towers that are short or beyond the normal protected distance from the AM tower can still trigger serious financial obligations if the AM station can show, within two years of the new tower's construction, that there is a disruption to the pattern of the AM station.
The construction of a new tower is considered to be significant if it distorts the AM pattern by more than 2 db.
At this juncture the structure would require a detuning skirt system.
Armed copper thieves provide a new concern
September 9, 2013 – If a day passed when there was not a copper or other metal theft at a communications site in the U.S., that would be worthy of a news story as the
nation tries to stem the ever-increasing tide of robberies.
However, on Thursday, two men entered a Heartland Tower, Inc. tower site southeast of Louisburg, Kan. with one man protecting the other thief with a scoped long rifle as they stole material from the site.
Although it appears that their intent was to break into the equipment shelter, according to surveillance photographs, they settled for an aluminum ladder safety cover, multiple buckets full of microwave couplers and two feedhorns.
According to Robert Nall of Heartland, his company which has more than 80 towers, mostly in rural areas, has several videos of thieves at their sites, "but this is the first that I've seen where the criminals actually carried a rifle with them while committing their felonies."
Even though the thieves cannot be charged with armed robbery, had a technician stopped by the site during the noontime theft, it could have resulted in a life-threatening situation and authorities would like any information regarding the incident. Contact the Miami County Sheriff's office at 913-294-8477, reference case number 2013-2401.
The vehicle used by the two men appeared to be a silver four-door Grand AM.
Nall has provided a video and additional photographs of the two thieves on his Facebook page.
Carriers and contractors need to calculate the financial impact of LTE antenna misalignment
By John Vetter
September 6, 2013 - The crucial role of the antenna as the interface within the wireless environment should not be underestimated. The slightest inaccuracy in the
transformation and shaping of the RF signal due to antenna misalignment has critical and sometimes detrimental impact on the performance of the wireless system. A 1° to 2° variation can affect network performance, while a larger misalignment will result in costly re-climbs and re-visits.

Antenna attributes, such as pattern, height, and orientation, are essential elements for the original RF design to be maintained by the network. Deviations in the actual value of these parameters will lower network performance, and can ultimately adversely affect the bottom line for both carriers and general contractors hired to install and maintain the systems.

Guidelines must be established for adjusting the antenna alignment (azimuth, tilt, and roll) during installation of new towers or realignment of existing antennas. Adhering to these guidelines is vital for efficient operation of any wireless system, and is even more critical for LTE networks.

Please see: Accurate alignment is key concern
$4.8 billion deal puts most of Global Tower Partners' assets into American Tower's portfolio
September 6, 2013 - American Tower Corp. announced this morning that it has agreed to pay approximately $4.8 billion to acquire MIP Tower Holdings LLC, a real-estate investment trust whose holdings include about 5,400 communications
towers in the U.S and 500 sites in Costa Rica.
MIP Tower is the parent company of Global Tower Partners, which in turn is majority owned by Macquarie Infrastructure Partners. In addition to the U.S. towers it owns and operates, Global Tower has 800 domestic property interests under third-party arrangements and management rights to more than 9,000 domestic sites.
The $3.3 billion agreement required American Tower to accept approximately $1.5 billion of MIP's debt.
American Tower said it expects the portfolio to generate about $345 million in revenue next year and about $270 million of gross margin.
When the deal is completed, the Boston-based company will own approximately 27,700 structures in the U.S., slightly eclipsed by Crown Castle International's roughly 29,600.
Crown Castle had also placed a bid for GTP's sites and was actively performing due diligence on many of the structures late last month.
GTP's sites have an average tenancy of 2 versus American Tower's 2.6 tenants per tower.
The purchase did not include GTP's 620 sites in Mexico and 4 sites in Canada.
Last month, a number of analysts estimated that the deal would be over $4 billion, but did not expect it to be almost $5 billion.
Last September, Crown Castle paid T-Mobile USA $2.4 billion for 7,200 towers, but the deal was structured on a 28-year lease.
Three months prior to the T-Mobile agreement, SBA Communications purchased 3,252 tower sites from TowerCo in the U.S. and Puerto Rico for $1.45 billion.
Due to the managed sites, Costa Rico towers and other assets in the sale, it will be difficult for analysts to compare tower cash flow multiples for GTP's 5,400 structures in the U.S.
When the question was asked this morning during American Tower's conference call announcing the deal, analysts were informed that American Tower believes the multiples were in line where they should be.
Jim Taiclet, Chairman, President and Chief Executive Officer of American Tower, said: "GTP has constructed and acquired an outstanding U.S. portfolio of tower, rooftop and land assets, which is highly complementary to that of American Tower. Moreover, GTP's management of these assets has been excellent, as confirmed through our rigorous due diligence process. GTP's towers boast a high quality customer base, a strong position with respect to ground ownership and lease terms, and additional structural capacity available to facilitate future leasing activity."
"With all four major domestic wireless carriers engaged in aggressive multi-year 4G LTE deployments, we believe our acquisition of GTP solidifies our path to achieving our strategic goals related to growing our AFFO over the next five years."
The transaction is expected to close in the fourth quarter of 2013.
American Tower, with tower sites in the U.S. and abroad, has steadily posted double-digit revenue growth amid strong demand for broadband-data services in the U.S.
At noontime trading AMT was up $3.00 to $71.75.

Global Tower Partners' CEO, Marc Ganzi, did not comment upon the deal. Ganzi founded GTP in 2003 after buying 187 towers from American Tower. Earlier this week, upon GTP making the Inc. 5000 list of fastest growing private companies in America, Ganzi said he was "proud every day to witness the focus and commitment of our team members who are poised to make 2013 a historic year for the company."

Indeed it will be a memorable year for GTP.
Tech succumbs to injuries; contractor had been cited three months before lift failure in Oregon
September 5, 2013 – Services were held on Friday for David Huynh, 31, of Gresham, Ore. who passed away on Aug. 23, after he was severely injured when the aerial lift he
was using fell over in Eugene, Ore. on Aug. 9.

His employer had already been a focus of Oregon OSHA after a complaint was made against the firm in April.

Huynh, who had two children, was working on a Samsung project under the direction of General Dynamics. He was employed by North American Power Line Construction Services, Inc. (NAPLC) of Arlington, Tex.

Miscommunications from a family member following Huynh's fall had General Dynamics' project management team distribute an email that said he had passed away on Aug. 11.

"David's condition was grave after the accident," a co-worker told Wireless Estimator, "and although we all prayed for his recovery, he never did because his injuries were so severe."

Social media and other posts said Huynh had a wonderful disposition and outlook on life. "He was always smiling, I don't think a frown ever crossed his face," said a fellow employee.

Huynh's death brought this year's worker fatalities to 11 technicians who have died while working on a communications site as a result of an accident.

OSHA said today that they are investigating the fatality.

Employer cited for employees not being trained
NAPLC began business in 2011 in Arlington and its service offerings are affiliated with RAB Communications of Plymouth, Mass. Russell Blow is president of both companies. RAB's chairman and CEO, Mark Metz, is also a director along with Blow of NAPLC, according to state documents.

NAPLC was cited in June by Oregon OSHA for violating workplace practices at a cell site during April in Portland after the state agency followed up on a complaint.

Oregon OSHA charged the firm with six violations. Of the three serious violations they received one was for not complying with: "The employer shall provide for prompt rescue of employees in the event of a fall or shall assure that employees are able to rescue themselves."

The compliance officer said that NAPLC's employees were climbing towers while using personal fall arrest systems, but were not trained and evaluated to assure "self-rescue and were not provided a method of prompt rescue in the event of a fall resulting in suspension in the harness."

Another serious violation was charged because a 16-foot extension ladder used for access to an ice bridge extended only 18 inches above the bridge and was not compliant with a 36-inch requirement.

The third serious violation was for having a flatbed truck with holes in the bed which would allow employees to step into and strain or break a limb.

NAPLC was also cited because they could not provide their 300A and 300 log for the multiple years requested.

The inspector also noted that while techs were working on the structure that ground men were working below them.

"At no time can workers be below workers aloft without falling object protection adequate to prevent penetration and injury. A hard hat is not adequate protection for this purpose," the report stated.

The NAPLC crew said that they were instructed in the event of a dropped part or tool to follow the procedure that when the worker on the tower yelled "headache," that they should stand still and not look up."

Upon interviewing workers the officer found that the company had only been in the cell tower construction business for less than one year. Previously they were cable TV installers and none of the workers interviewed had previous cell tower experience.

The compliance officer also found that RF badges were not being worn; portable fire extinguishers had no tags and weren't being inspected and electrical cords used on job sites were damaged, with conductors showing through the cut sheathing.

The address of the work site where the inspection took place was 6936 NE Martin Luther King Blvd. According to an online database, the monopole is owned by Crown Castle International.

Two separate inspections were made, one from the agency's safety side and another the following day after a referral was made to their health side. Both inspections were prompted by the same complaint.

NAPLC contested the charges on Jul. 18.
OSHA doesn't need to take a "close look" into climber fatality factors; they're already known
Commentary
August 29, 2013 – The U.S. Bureau of Labor Statistics (BLS) released its annual Census of Fatal Occupational Injuries last week showing a preliminary total of 4,383 fatal work injuries in the U.S. in 2012, down from a revised count of 4,693 deaths in 2011.
Steel and iron workers, who were sixth in 2011's top ten deadly industries, were raised a notch by the BLS as the fifth highest in 2012 based upon their fatalities compared to their workforce size.
The wireless construction industry, with seven fatalities in 2011, helped with the drop in deaths, recording only one in 2012.
However, this year's 10 fatalities to date will add to the 2013 census, making the tower erection and maintenance industry one of the most deadly professions in America based upon its employee count.
And it's captured the attention of Dr. David Michaels, Assistant Secretary of Labor for the Occupational Safety and Health Administration, who recently informed The Wall Street Journal that "OSHA is taking a close look into factors that may be responsible for this tragic increase in fatalities and, based on those findings, we will initiate additional measures to improve safety in the cell-tower industry."
One of those measures, according to the WSJ, would be to explore whether the industry's deadline pressures are contributing to the increase in fatalities.
That appears to be something that OSHA shouldn't single out the wireless industry for since it's endemic in all industries, especially in the transportation-related profession where fatalities totaled 1,789 last year, 41% of the nation's deaths, many of them from driver fatigue and having to live with razor thin margins if operators aren't always on the road.
Please see: Climbers would be better served with other options
Fire cripples service from Florida monopole
August 21, 2013 – Blistered panel antennas and charred remote radio heads topped o
ut a Sanford, Fla. monopole this afternoon after welders working on the tower set the transmission lines on fire.

Four members of a five-man crew were reportedly on the structure when it caught fire this morning, according to Sanford Fire Chief Tim Robles.

"They got down before we even got fire crews on the scene," he said.

Robles said one man was suffering chest pain, but he was treated at the scene without any further attention required.

The contractor, according to firefighters, is Sabre Communications.

The monopole is owned by Crown Castle International. The company is well-known for having stringent welding procedures that are covered in a pre-construction visit to ensure, among other areas, that there is an adequate water supply with a pressurized pump to reach the work area.


Wireless Estimator will provide additional information as it becomes available.

The 127-foot structure is located at 13th Street and Highway 17-92.

A representative of the contractor may have misrepresented the structure's engineering design when he told authorities that the tower was designed to lean when damaged.

The structure will be dismantled tomorrow.

The popular bar, The Barn, and a restaurant were both evacuated and traffic was detoured around the area for much of the day.

On June 21, 2013, a 110-foot monopole in Bucks County Pa. was structurally damaged and had to be removed after welders ignited the AT&T structure's transmission lines.

A month earlier on May 21, 2013, Crown Castle had another one of their monopoles destroyed by fire. The tower was located on property adjacent to the Middletown fire academy.
Weekend accident takes the life of a tenth climber
Update: August 21, 2012 – The Humphreys County Sheriff's department has stated
that the the tower technician who fell to his death on Saturday was 44-year-old Shelton Cormier, Jr. of Scott, La.

Services will be held Saturday, August 24, 2013, in Lafayette, La. Click here for additional information and to sign the guest book..

It has also been identified that the 357-foot structure is owned by Cellular South, now C Spire Wireless.
- - - - - - - - - - - - - - -
August 19, 2013 – Mississippi OSHA Area Director Clyde Payne has confirmed that a tower technician fell to his death Saturday morning in Louise, a small community of approximately 300 residents.
According to Payne, the 44-year-old man was a resident of Scott, La.
The technician fell approximately 125 feet at 8:30 a.m. OSHA began their investigation shortly thereafter.
The worker was employed by Custom Tower LLC of Scott, La. Owner Rick Guidry informed Wireless Estimator that he would not be providing any comments to the media.
The business was founded in 2006.
The accident occurred at 5181 Highway 149. It was not immediately known who the tower owner was and who Custom Tower was providing services for.
Payne said he was upset to learn of the fatality, the third climber to die in Miss. this year. On May 28, 2013, two men were killed in Georgetown when gin pole rigging reportedly failed.
"We went a long time without any (deaths) and we did well for a good while. It's sad," said Payne.
The last fatality was in Leland when a 28-year-old technician fell on June 3, 2009.
Saturday's death was the nation's tenth fatality of a technician dying while working on a communications structure.
Anger over her husband's death is channeled
to assist climbers nationwide
August 19, 2013 – Bridgette Hester has never climbed a tower, might not know the difference between a D ring and an O ring, and could possibly think that pulling tension is related to stress management.
So how did she quickly become the Mother Jones-type advocate for climber safety and enforcement as well as a non-profit foundation president to assist spouses and children of deceased or severely injured tower technicians?
"I did not choose this industry. It chose me," said Bridgette who is certain her calling surfaced on July 22, 2010, a typical day for many thousands of tower technicians like her husband, Jonce Hubble, 41, and his close friend and co-worker Barry Sloan, 37.
It was a humid 96 degrees throughout most of the afternoon in Anniston, Ala. and both men coveted an occasional breeze as they attached coax to the 300-foot guyed tower they were on.
With another 50 feet to go, both climbers would soon call it a day, sadly, their last day after a third party bucket truck operator backed his vehicle into the structure's guy wires, causing the small-faced tower to buckle and collapse, killing both men.

Bridgette recalls seeing Jonce on a metal table in the hospital.

"He was missing an arm and a leg. And I kept thinking, he's going to wake up. I know he's going to wake up. Whatever it takes; we'll get bionic prosthetics. Wake up!"
He passed away several hours later.

Please see: Anger channeled in the right direction
General Dynamics' death notice proves to be incorrect and tech is alive, but critical
Update: August 15, 2013 – Last Friday, Eugene, Ore. authorities announced that a tower technician had been on a man lift when it fell over, requiring emergency workers to transport the non-responsive worker to the hospital.
Two days later, General Dynamics issued an email stating that the man had passed away on Sunday from his injuries. Fortunately, that's not true.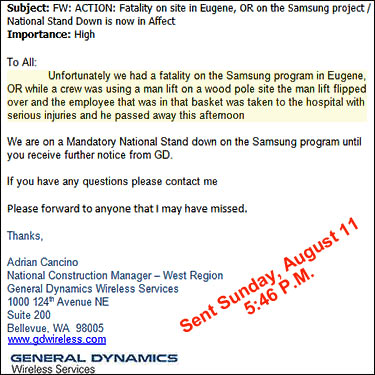 According to the worker's employer and hospital authorities, the technician did not die, although he is still in critical condition as of last evening.
The email, which also announced a mandatory national stand down, was sent to General Dynamics Wireless Services group's national managers and forwarded to their contractors.
National Construction Manager – West Region Adrian Cancino said, "Unfortunately we had a fatality on the Samsung program in Eugene, OR. While a crew was using a man lift on a wood pole site the man lift flipped over and the employee that was in that basket was taken to the hospital with serious injuries and he passed away this afternoon."
Cancino's announcement was published by Wireless Estimator, but the man's name and employer could not be confirmed on Monday.
Numerous Facebook posters said the man's name was David, and a picture of a shrine with flowers and a hard hat with "David H, you'll be missed," written upon it was published.
One poster said that his supervisor just passed away from the man lift tip over in Eugene and said, "It's all under investigation right now. We will know more within a couple days."
It became known yesterday that the injured tower tech, David Huynh, 31, of Gresham is alive.
A representative of North American Power Line Construction Services, Inc. contacted by Wireless Estimator said that he wanted everyone to be aware that Huynh had not died, as stated by General Dynamics, but remains hospitalized at Oregon Health & Science University.
He said Huynh suffered serious lung and many other injuries.
Cancino did not respond to requests to identify why he was reporting that the worker had died. The announcement might have been responsible for the rumors that three men had died on a General Dynamics guy-wire change-out project in Michigan over the weekend.
The viral Facebook announcement was incorrect, according to a MIOSHA representative contacted by Wireless Estimator.
- - - - - - - - - - - - -
August 12, 2013 – A tower technician passed away in Eugene, Ore. yesterday afternoon after the man lift he was on flipped on Friday evening while he was working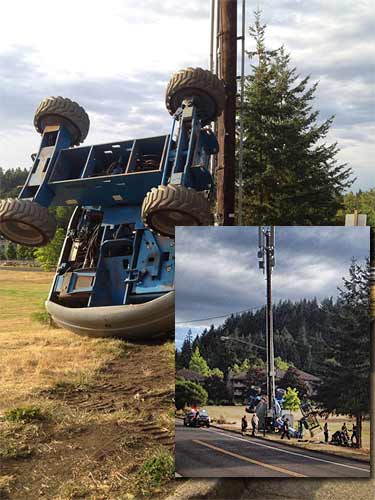 on a Sprint / Samsung project.
Details about the deceased and the company he worked for were not immediately available.
The man was unresponsive when paramedics put him in an ambulance, officials said. It was reported that he had belabored breathing and was not responsive.
The technician was working with his crew on a wood pole site.
National Construction Manager for General Dynamic Wireless Services' west region, Adrian Cancino, alerted contractors Sunday that General Dynamics was on a national stand down on the Samsung program until companies were notified to resume their projects.

In an email sent Sunday evening, Cancino said: "Unfortunately we had a fatality on the Samsung program in Eugene, OR while a crew was using a man lift on a wood pole site the man lift flipped over and the employee that was in that basket was taken to the hospital with serious injuries and he passed away this afternoon."

The deceased, who was the only man in the bucket, was wearing a harness when the lift tipped over.
He was the ninth tower technician to die this year after falling from a communications structure. A technician fell and died in Va. two days prior to the Ore. fatality.
Wireless Estimator will provide updates when they become available.
Viral three Michigan tech deaths' rumor is baseless
August 13, 2013 – Three people reportedly died while they were on a guy-wire change-out project in Michigan on either Saturday or Sunday,
according to one Facebook post which went viral to other groups as well as to company safety directors. The good news is that it isn't true.
According to Andrea Miller of the Michigan Occupational Safety & Health Administration, MIOSHA researched their records and found that there is no incident of any communications worker dying during the past week and the deaths appear to be an unsubstantiated rumor.
A Florida tower tech posted that he had been informed that members of a tower crew working for General Dynamics were attempting to change out guy wires and removed one of the wires improperly and the structure collapsed, sending three climbers to their death.
He said it was just a rumor, but later posted that he had verified it.
Another poster on another group said that their sources, "which are reliable," said it happened.

When contacted by Wireless Estimator, one poster who said, "I know people at that company and it happened," said he didn't want to release the company's name until they gave him permission.

Many others also said that they had heard it was true.

Posters were already judging the deceaseds' mistakes because they didn't use a temporary guy wire in the change-out; another even turning it into an employment sales pitch for their company's safety program.

Another said it was caused by an ambitious deadline to get the job done.

One major carrier development firm discussed the seriousness of the Michigan deaths on a conference call and a number of social media posts said that it was probably being covered up to protect the contractor.

In addition, a reporter for The Wall Street Journal contacted MIOSHA to inquire about the rumored deaths.

Dozens of emails were received by Wireless Estimator, many of them asking why the Michigan fatalities were not being covered.

The answer is now obvious. There weren't any.
Tenth tech succumbs following 200-foot NC fall

August 13, 2013 - An unconscionable tenth death this year occurred last evening when a Georgia man fell approximately 200 feet to his death off of a monopole near Coats, N.C. It appears that he was not 100% tied off.

Officials say John Dailey, 49, of Silvester lost his balance while trying to hook off to a tower member and fell. EMS personnel determined he was deceased on the scene.

The body was transported to Betsy Johnson Memorial Hospital.
Dailey and another tower technician were working on the structure at approximately 5:20 p.m. when the accident occurred.

They were employed by Transmit PM LLC, of Duxbury, Mass.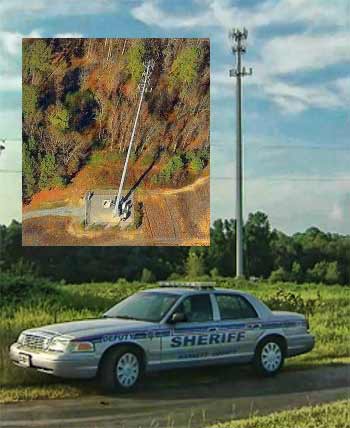 Limited web site information for the firm says the company was founded in February 2009 to fill a need for professional management in the wireless deployment industry.

The Transmit crew was performing installation services for Sprint under the direction of Alcatel-Lucent.

The tiger team was changing out a radio when Dailey fell.

According to workers who knew Dailey, the tech had approximately 25 years of industry experience.

The 225-foot monopole, constructed in 1999, is owned by SBA Communications.

A spate of fatalities has hit the industry in past weeks. Six technicians have died since July 8, 2013.
Wireless Estimator will provide updates as they become available.
nTelos requested to assist in investigating
37-year-old green card tech's death in Virginia
UPDATE: August 12, 2012 - The Waynesboro Police Deparment has confirmed the notification of the next of kin for Payman Biazarikari, 37, a native of Iran, who fell to his death last Wednesday.
UPDATE: August 9, 2013 – Waynesboro police have not released the name of the tower tech who died Wednesday since his parents have not been contacted yet, but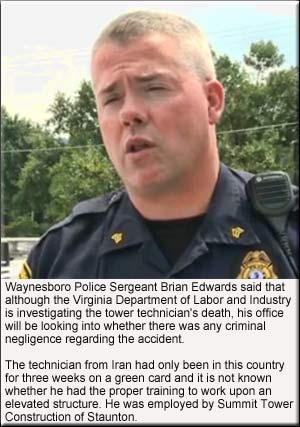 according to police sergeant Brian Edwards, the 37-year-old man was a citizen of Iran who came to the U.S. just three weeks ago on a green card.
In a release, Edwards said the technician was not married and had no children.
Waynesboro police were able to track down his parents in Canada with the help of distant relatives he stayed with in Northern Virginia, but have not been able to contact them to let them know of their son's death.
It is not known whether the man had any safety training for working on elevated structures.
His employer, Summit Tower Construction, is not replying to requests for information.

Police originally said he fell from the monopole approximately 100 feet, but now say the height was 160 feet.

A major difference between a work visa and a green card is the green card is identification that a person has a permanent residence in the U.S. and can work in the country. It is good for a period of ten years and can be renewed. A work visa is set for a specific period of time.
- - - - - - - - - - - -
August 8, 2013 – The Virginia Department of Labor and Industry is investigating the death yesterday of a 37-year-old man who fell from an nTelos tower in Waynesboro, Va. He was the eighth tower technician to die this year after falling from a communications structure.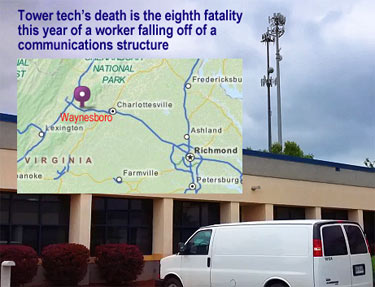 It is not known whether the man was working on the regional carrier's Alcatel-Lucent 4G LTE services project expected to be rolled out by the end of this year in select markets.
Authorities did not release the name of the worker, but said that he was employed by Summit Tower Construction, LLC of Staunton.
The company does not have a web site, but Va. corporate records identify that it was formed in October of 2010.
Authorities said that the technician fell approximately 100 feet. A medical helicopter was not immediately available so he was transported by ambulance to Augusta Health, but reportedly died in route.
Mike Minnis, public information officer for nTelos, offered few detail but was quick to point out that the worker was not an nTelos employee.
Another Virginia contractor believes that nTelos has a moral obligation to follow through on this accident since it occurred on a tower located on their corporate campus.
"This is not the time for nTelos to separate itself from the accident and pass the buck to the contractor, although the contractor is ultimately responsible for workplace safety," he said.
"It provides the opportunity for them assist in finding out what happened and not let a lengthy OSHA investigation let it become just another statistic."
An executive for a major climber training company, also requesting anonymity, said that nTelos has been given a "golden opportunity" to take the lead in ensuring that only qualified climbers and companies work on their sites.
"AT&T and all of the other carriers are turning a blind eye to the problem of worker deaths. Their focus is solely on building out their networks. They (nTelos) can reach out to NATE (National Association of Tower Erectors) and others and become known as the carrier that not only cares about their employees, but all workers who help to deliver that service for them."
nTelos operates in Va., W. Va., Md., Ohio, Ky, and N.C.