Eleven powered ascender manufacturers, the Wireless Infrastructure Association (WIA), and NATE: The Communications Infrastructure Contractors Association have petitioned Assistant Secretary of Labor for Occupational Safety and Health Douglas Parker to extend the December 31, 2024 deadline set by OSHA requiring all tower climbers to be equipped with a powered ascender.
The enforcement agency cautioned contractors during a panel discussion at the South Wireless Summit in Nashville on Thursday that beginning in 2025 if a tower technician is caught on site without one and is using the old-school climber's three points of contact while tied-off method to ascend, their employer will be cited for a serious violation and fined $15,625.
Preventing sluggish work at a second job is the key concern 
"Yes, like OSHA, we want tower climbers to come home safely every night, but more importantly, fully rested after being chauffeured to their elevated workstation during the day so that they can arrive wholly energized and engaged at the start of their second job that is now required to make ends meet during these days of rampant inflation," the jointly signed request stated.
The manufacturers said that it is impossible to meet the deadline, especially since they have no idea how many aerial wireless workers there are in America. "Neither does the Department of Labor nor any organization have this data. Whenever we set a benchmark, no matter how ridiculously high the total is, we're always told there is still a shortage of at least 10,000 workers to ensure federal training grant money. Go figure that one out," their statement dated today said.
The new regulation was promulgated after an OSHA Orlando area office secret shopper visited NATE-UNITE 2023's exhibit hall in February and watched a demonstration. "The technician effortlessly floated to the top of the tower while enjoying a company-mandated and paid rest period," the investigator, who requested anonymity, informed Wireless Estimator.
Fast federal three-week turnaround touted  
OSHA investigator Emmett T. Witlinger said he proposed the idea to Parker, who escorted the regulation that was adopted in a record-setting three weeks.
"I already knew a little about ascenders," Parker said last month when introducing the regulation. "Plus, NATE already had a guidance thing or a pamphlet, news brief, podcast, flyer, Post-it note or something like that on ascenders, so we just used whatever that was."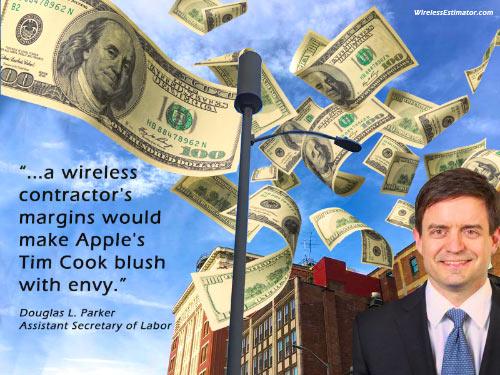 "Plus, we didn't have to go through that federal agency cost-benefit rulemaking nonsense because we were able to prove through exhaustive research by AT&T through an Avetta survey that a $164,312 average annual outlay for mom-and-pop wireless contractors wasn't a significant cost burden in an industry that is extremely profitable due to America's carriers' generosity. I've been fully briefed by T-Mobile that a wireless contractor's margins would make Apple's Tim Cook blush with envy," Parker explained.
"Plus, carrier CAPEX is expected to be lower next year, so there will not be as much climbing; I'm sorry, powered ascending. So here's my final and fourth plus. Plus, the regulation complies with the paperwork reduction act since all a crew leader would have to do is check off on their job hazard analysis form, 'Is there an outlet available on the tower to recharge ascender batteries during lengthy ascent layovers?' "Parker said.
Lobbyists unintentionally opened up the market to competitors 
Unbeknownst to Witlinger, three ascender manufacturers had been lobbying Parker since 2019, when he was chief of California's Division of Occupational Safety and Health, and believed the regulation would be enacted. But, unfortunately, they didn't consider that passage of the regulation would create a cottage industry of ascender manufacturers, some selling user-assembled Chinese knockoffs, who were willing to invest in a sector that couldn't identify a quantifiable number of sales opportunities.
Edsel/Segway has cornered the market with its Ascender +, which can provide transportation within the tower site's property, serve as an ascender, and allow contractors to provide the added employee benefit of a take-home vehicle.
Long-established furniture manufacturer but a new entrant in the ascender market, La-Z-Boy has introduced a recliner model at a base price of $14,613. However, accessories can drive the cost up to $26,419 or more.
Some available options include a mini-fridge, retractable sunshade awning, built-in PIM tester, and wireless syncing with red, white, or Bluetooth-compatible catheads and electronic rigging blocks. An added feature of solar battery charging panels on the awning will set you back $1,862 but will minimize swapping out batteries at every third tower section.
Smaller-sized ascenders are getting a tailwind of support from tower techs. Still, larger system manufacturers, like La-Z-Boy, promote their mini arks with: "You wouldn't settle for a crew cab that looks like a moped with saddle bags, so why get stuck with a low load-carrying oversized yo-yo with annoyingly abrasive cheek straps."
---
CORRECTIONS/ADDITIONS: Assistant Secretary of Labor Douglas Parker acknowledged that he did state: "…a wireless contractor's margins would make Apple's Tim Cook blush with envy." However, he informed Wireless Estimator that he misspoke and should have said Cook would "blush with embarrassment over how tight contractor margins were" and not trusted T-Mobile's assertion as gospel. He did not want to comment on the incongruity of both blushing statements since he knows that Cook suffers from a rare ailment called Disrushilin that causes the skin to turn albino white as blood vessels contract when stimulated by high or low-margin conversations.
---
Additional April 1 exclusive and investigative Wireless Estimator articles can be found here:
Interagency squabble ends with OSHA requiring the nation's revered raptors to harness up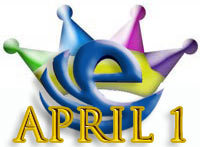 Nationwide strike of contractors averted after carriers and towercos agree to meaningful concessions
From monopoles to barber poles, NWSA adds a new certification to buoy lack of broadband funding
American Tower shocks industry analysts with its planned acquisition of China Tower for $17.4 billion
Shocking 5G study: Tower techs and nearby residents are a minimum of 8.7% smarter than general public
FCC to unveil breakthrough technology to replace billion-dollar spectrum bids
New structural corset could sound the death knell for tower technicians' retrofitting work

Huawei CFO's release requires her to show how she swapped out cell site circuit boards
Giant step back for mankind: Supreme Court scrubs Nokia's 4G Moon network launch

Ivanka puts in a hostile bid for 3M, wants crown jewel DBI-Sala
Guyed tower collapses on White House lawn hurling lighting debris into President's office
Anritsu's global success tagged to God and one misspelled word in 1844
American Tower takes AT&T to court and wins a $132 million judgment
From broadband to a blues harp, PCIA Chief splits his time with Broadway